Bread Machine Monkey Bread, inspired by Helen Corbitt, is a yeast bread without the usual cinnamon and sugar coating.
The recipe is mixed and kneaded in a bread machine, then baked in a conventional oven. No bread machine? No worries! Instructions for mixing by hand or with a stand mixer are included in the notes at the end of the recipe. 
As you can see, this is not the usual biscuits-out-of-a-can-rolled-in-a-ball-then-coated-with-cinnamon-and-sugar kind of monkey bread. Oh no!
You don't have to roll any little balls. This version is not cinnamon-sugary sweet, although you could easily modify the recipe if desired.
This recipe is probably the favorite bread recipe(along with Cheesy-Crusted Yeast Rolls) in my family–especially with the grandkids.
Before children, I worked at The Greenhouse, a luxury health spa back then with connections to Neiman Marcus. Ms. Helen Corbitt, a celebrated chef at the time, had planned all of our menus using her recipes. That's where I learned about this beautiful and buttery, brioche-like bread.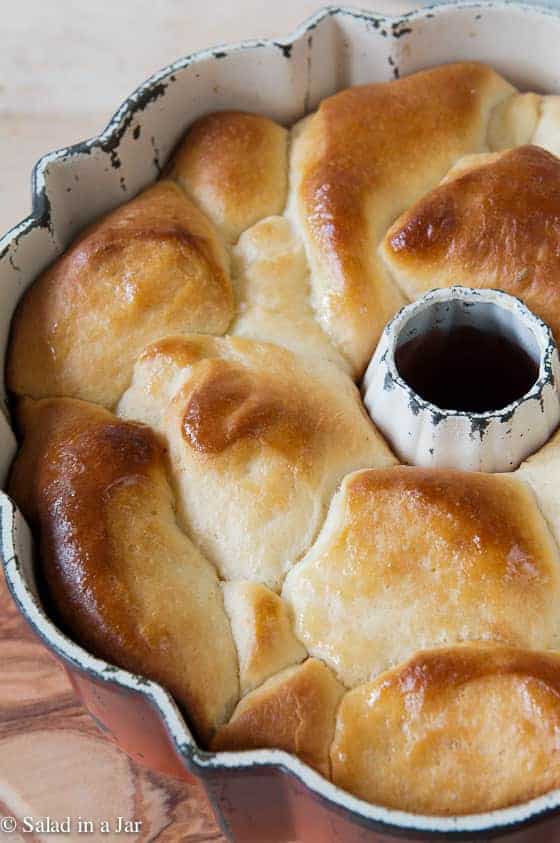 The original recipe was published in Helen Corbitt Cooks for Company back in 1957. Of course, Ms. Corbitt did not have access to a bread machine, but I'm pretty sure she would be thrilled to see how much easier it is mixed and kneaded with a bread machine.
IMPORTANT TIPS for making Monkey Bread in a Bread Machine:
#1
Open the bread machine lid
After the machine has been on about 8-10 minutes, open the lid and check the progress. Several things might be going on you will want to remedy immediately.
#2
When the dough is too wet
You may have forgotten part of the flour. Maybe you counted the cups wrong. I've done that.
Perhaps you substituted a different flour, i.e. whole wheat, bleached, or bread flour for the unbleached flour. It makes a difference! Add flour one tablespoon at a time until it looks like the bottom picture.
#3
When the dough is too dry
Does it beat against the side of the pan rather loudly? You may have added too much flour or not enough liquid.
Maybe you used a smaller egg than specified or perhaps you miss-measured the flour. Add 1 tablespoon of liquid at a time until the dough looks like the bottom picture.
#4
What will the dough look like when it's perfect?
The perfect dough will gather up into a ball that sticks slightly to the sides, then pulls away. That being said, there may be slight variations among recipes, for example, my Bread Machine Ciabatta. But the recipe will usually tell you what to expect.
#5
Another reason to open the lid
One more good reason to check your bread is to ensure you have pushed the pan down tightly so the kneading blade is engaged. Otherwise, absolutely nothing will be happening in your pan even though you hear the bread machine running. Likewise, the same thing happens if you forgot to put the blade in the pan.
How To Roll Out Dough for Bread Machine Monkey Bread:
Please ignore the condition of this pan. It's seen a lot of monkey bread in its time.
Advice about serving Bread Machine Monkey Bread:
If you serve this on a buffet to people who don't know about it, they often won't touch it, thinking it is a dessert or some kind of cake. But once somebody pulls off the first piece, it's "Katie, bar the door!" because it will be disappearing in a flash.
Pin the picture below to save for later.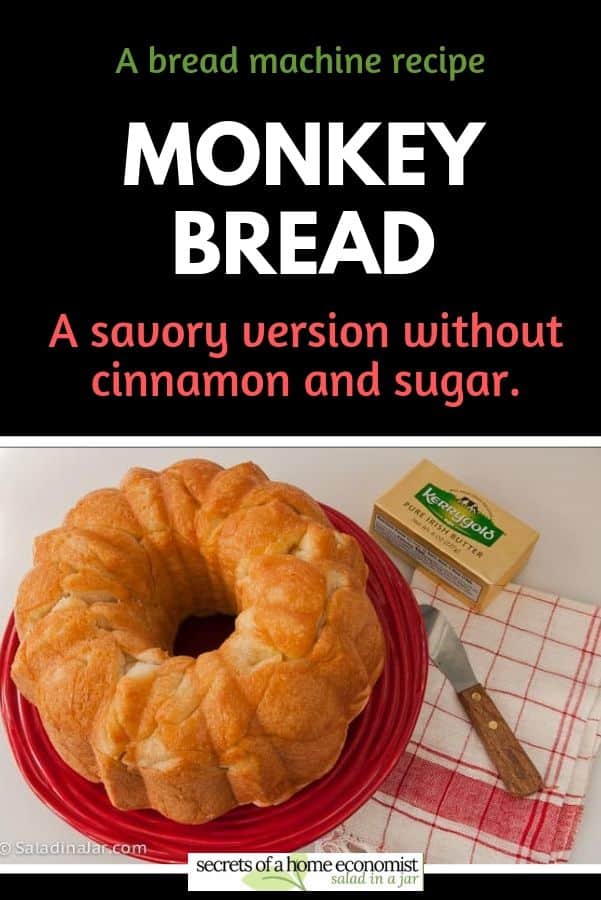 If you make this and enjoy the recipe, it would help me and others if you would return to this post and leave a rating (on the recipe card itself underneath the picture). Although always appreciated, no comment is required. Thank you for visiting! Paula
Looking for more bread machine recipes?