Bread Machine Monkey Bread You'll Be Excited To Share
Sneak Peek: This Bread Machine Monkey Bread is a scratch recipe you can mix and knead in a bread machine. Make it sweet or savory. It's so buttery and soft, that you'll be excited to share it with people you love.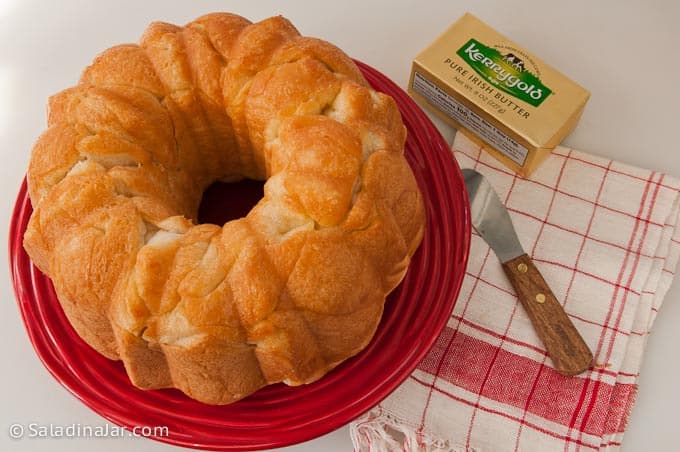 As an Amazon Associate, I earn from qualifying purchases.
As you can see, this is not the usual biscuits-out-of-a-can-rolled-in-a-ball-then-coated-with-cinnamon-and-sugar kind of pull-apart monkey bread. Oh, no!
There are no small balls to roll. So instead, use a pizza cutter to cut the dough pieces quickly. Then, drag the dough through a bowl of butter on its way to the pan. (I don't usually coat the pieces with cinnamon and sugar, but you can. See the variation below.) You're going to love it!
As usual, I designed this recipe to be mixed and kneaded in a bread machine. I much prefer to bake it in my oven, but if you need to use the bread machine to bake your bread, I have included instructions for how to do that below.
No bread machine? No worries! See the notes at the end of the recipe for mixing by hand or with a stand mixer.
It's hard to resist so much buttery goodness.
This recipe is one of my family's favorite bread recipes (along with Cheesy-Crusted Yeast Rolls). Don't miss the traditional sweet monkey bread version below.
Recipe inspiration:
Before children, I worked at The Greenhouse, a luxury health spa back then with connections to Neiman Marcus. Ms. Helen Corbitt, a celebrated chef at the time, had planned all of our menus using her recipes. That's where I learned about this beautiful buttery, brioche-like bread.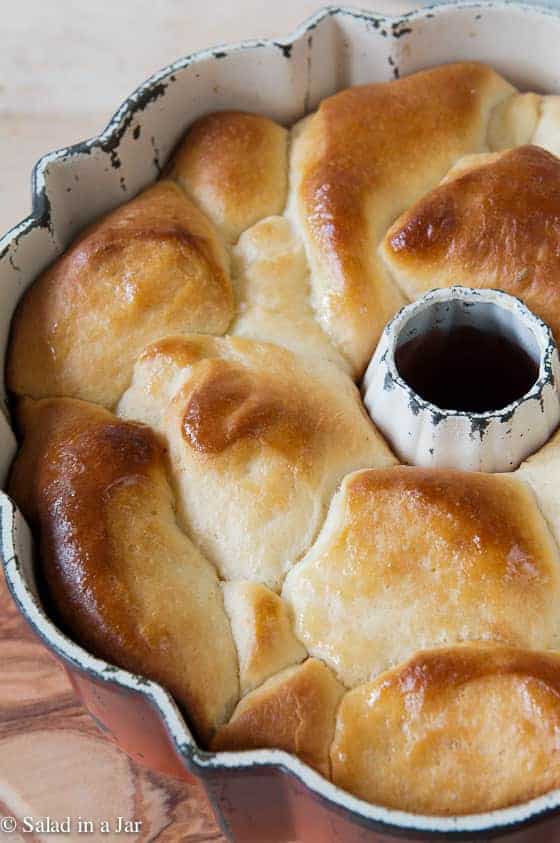 I found this recipe in Helen Corbitt Cooks for Company. Of course, Ms. Corbitt did not have access to a bread machine, but I'm pretty sure she would be thrilled to see how much easier it is when mixed and kneaded with a bread machine.
How I converted this old traditional recipe for a bread machine:

This recipe was published in the '70s. I converted it to mix in a bread machine and match my preferences. Here's a list of the changes I made:
First, I looked at the flour. I knew it would fit into my bread machine so I wouldn't have to scale it down drastically.
Flour for bread recipes does not need to be sifted. Cross that out. I also wanted to go with 3 cups of flour (360 grams) because it's easier to remember.
Eggs add tenderness and flavor. Added one. Reduced milk by 2 tablespoons because of the added egg.
Sugar is not crucial like flour, liquid, and salt. These are savory rolls. I go back and forth between 3 and 4 tablespoons depending on my mood.
The general rule for salt is 1/2 teaspoon per cup of flour, so I increased it to 1-½ teaspoons. You could reduce it to a teaspoon without much harm but don't leave it out entirely.
The directions for the butter were not clear in the recipe. I divided the butter in half–1/4 cup for the dough and the other half to dip the rolls in before baking. Instead of melted butter, I add room-temperature or cold butter whenever adding it to bread.
Instant yeast is my go-to with all bread doughs. I don't keep active-dry yeast in the house. 2 teaspoons is a good place to start with 3 cups of flour.
Why I check the dough after the bread machine starts:
A bread machine doesn't have a brain. So sometimes, you need to help it out. But don't worry. It's not hard to open the lid and have a look.
Suppose you forget to add all the flour. Or maybe you were in a hurry and didn't measure the flour correctly. Perhaps you are experiencing high humidity or substituting a different flour than called for in the recipe.
Your bread machine will keep on mixing without regard to any of these issues. However, peeking at the dough after the machine has been kneading for a few minutes will give you a chance to make adjustments.
Open the bread machine lid.
After the machine has been on for 10-15 minutes, open the lid and check the progress. Several things might be going on you will want to remedy immediately.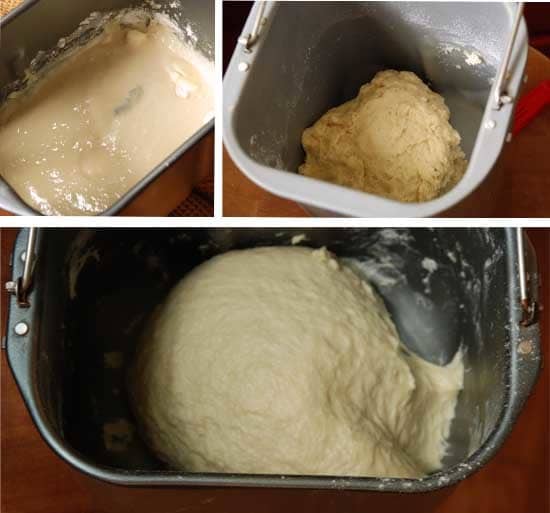 1. What will the dough look like when it's perfect?
The perfect dough will gather up into a ball that sticks slightly to the sides, then pulls away.
2. If the dough is too wet:
Your dough is too wet if it looks like pancake batter. It's also too wet if the dough sticks to the side but won't pull away.
Add flour one tablespoon at a time until it looks like the bottom picture.
3. When the dough is too dry:
Your dough is too dry if it doesn't stick to the side at all. For example, if the dough spins around on top of the paddle, the dough is too dry.
Add one tablespoon of liquid at a time until the dough looks like the bottom picture.
4. Another reason to open the lid
Another reason to check your bread is to ensure you have pushed the pan down tightly, so the kneading blade is engaged. Otherwise, nothing will be happening in your pan even though you hear the bread machine running. The same thing happens if you forget to put the blade in the pan.

Serving bread maker Monkey Bread:
If you serve this on a buffet to people who don't know about it, they often won't touch it, thinking it is a dessert or cake. But once somebody pulls off the first piece, it's "Katie, bar the door!" because it will disappear in a flash.
Cinnamon-sugar Monkey Bread variation:
After dipping the dough pieces in butter, coat them with a mixture of 1 cup granulated white sugar and two teaspoons of cinnamon. Arrange pieces randomly in a bundt pan. Let rise until almost double. Bake as directed.
More Variations:
I have another recipe very similar to this with lemon flavors. If you are a lemon lover, check out this Lemon Pull-Apart Bread Machine Recipe. Another monkey bread variation that's a bit more trouble but also unique is my Party Bread with Three Flavors. If you love adventures in the kitchen, don't miss this one.
How to mix, knead, and bake in a bread maker:
Baking bread in your machine doesn't mean you are limited to ugly and weirdly-shaped loaves. Yes, the final product will still be in the general shape of the bread machine pan, but the top will be different depending on how you shape it.
If you want to, pull the dough out of the bread machine before the last rise. Then, remove the paddles and shape the dough by hand. Then, place the dough back into the machine.
Baking bread this way will result in a crust that is thicker, and less tender than if you bake your bread in a conventional oven using the method shown below.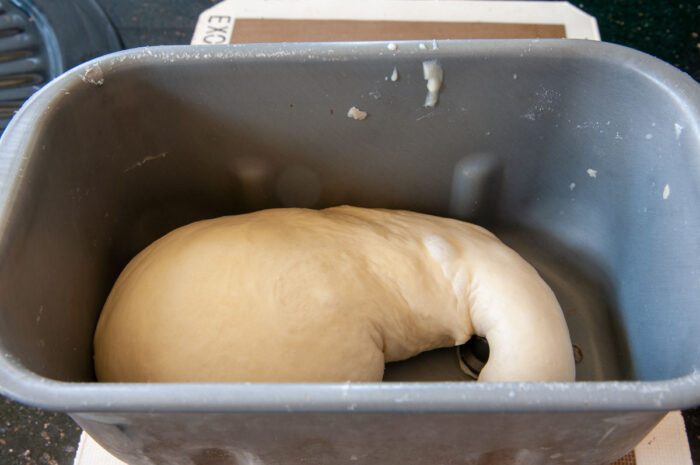 1. Remove dough before the last rise.
2. Remove the paddles if stuck in the dough.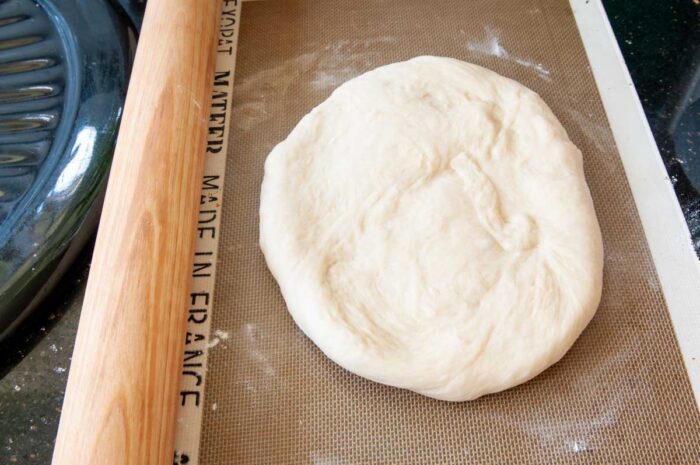 3. Shape it into a rough circle.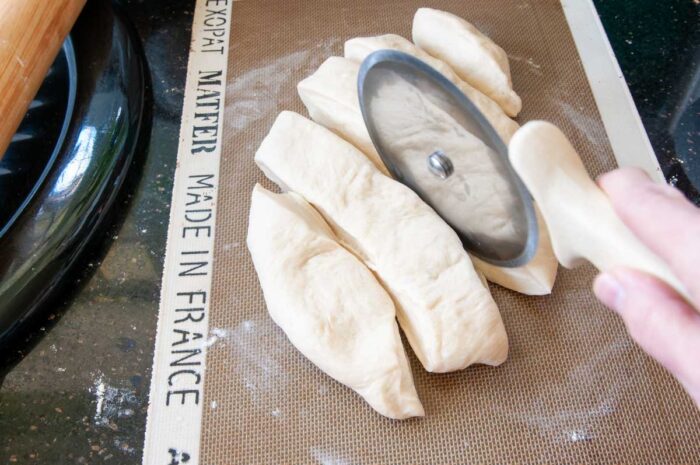 4. Use a pizza cutter to make diamond-shaped pieces.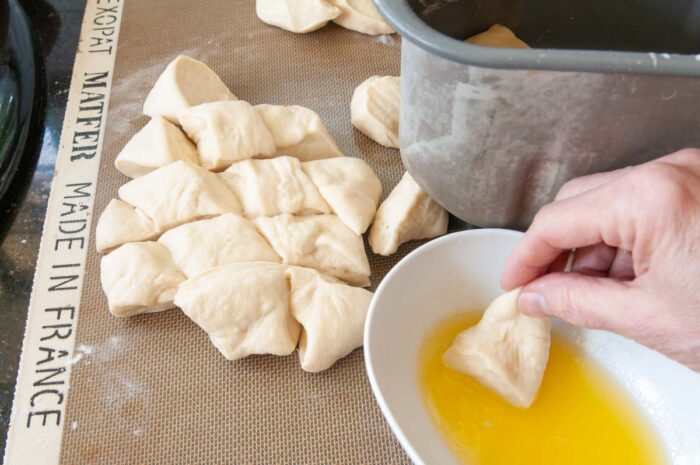 5. Dip dough pieces into butter.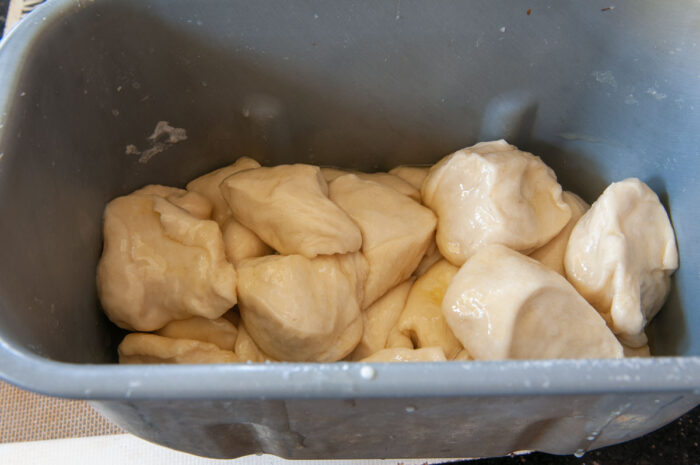 6. Layer dough pieces inside the pan.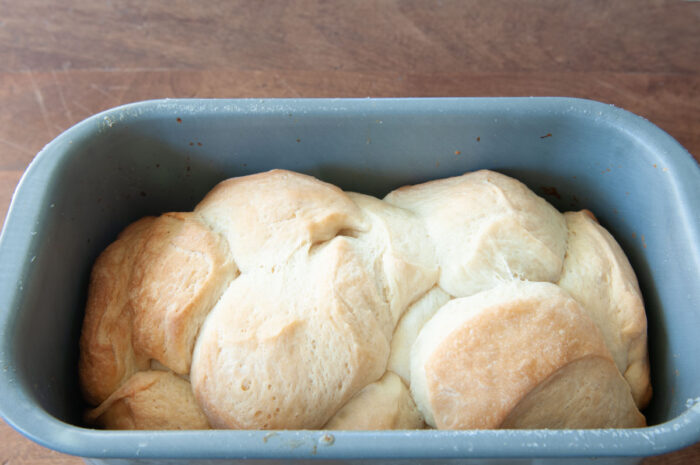 7. Allow the bread cycle to continue and bake.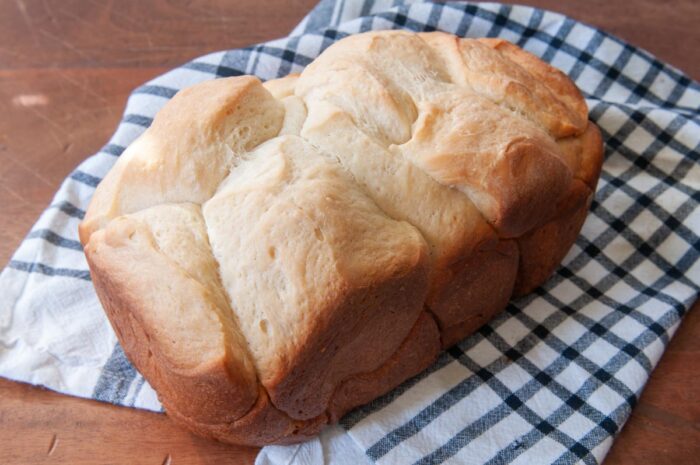 8. Immediately remove bread from the pan and allow it to cool.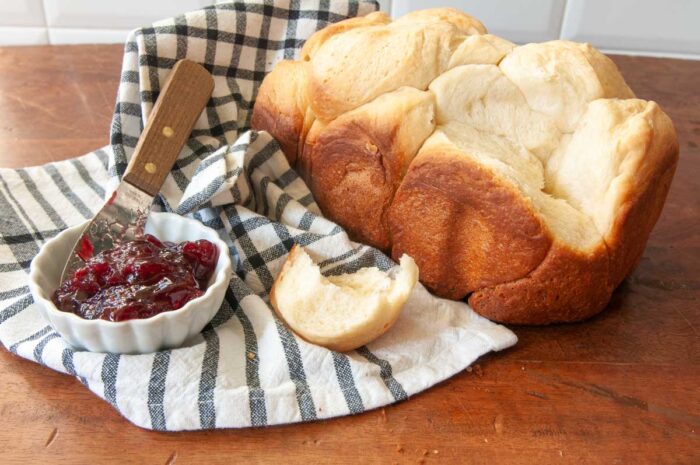 Allow your guests to pull apart the rolls.
---
How to roll out the dough for savory bread machine Monkey Bread when baking in the oven:
I use this method when I use the bread machine on the DOUGH cycle. Baking this bread in a conventional oven makes the best crust and a beautiful golden loaf in a bundt pan.
Follow steps one through five above. Then, use a bundt pan to hold your dough pieces. The dough will rise in the pan one time, then you will bake it in your conventional oven.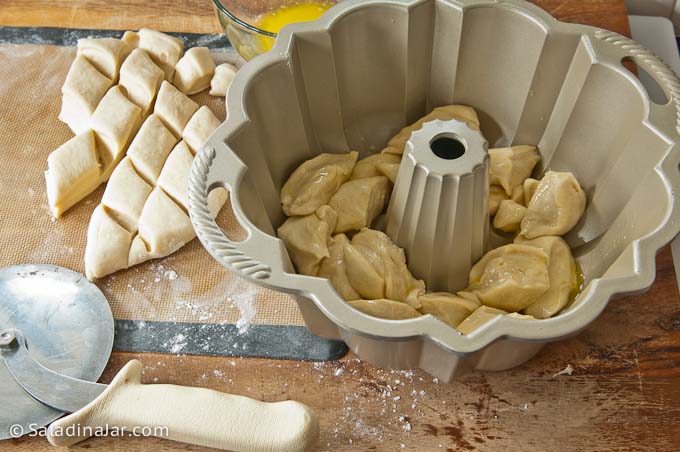 Dip each piece into melted butter and layer them somewhat haphazardly into a nonstick bundt pan. Cover with plastic wrap, a cheap shower cap, or a tea towel.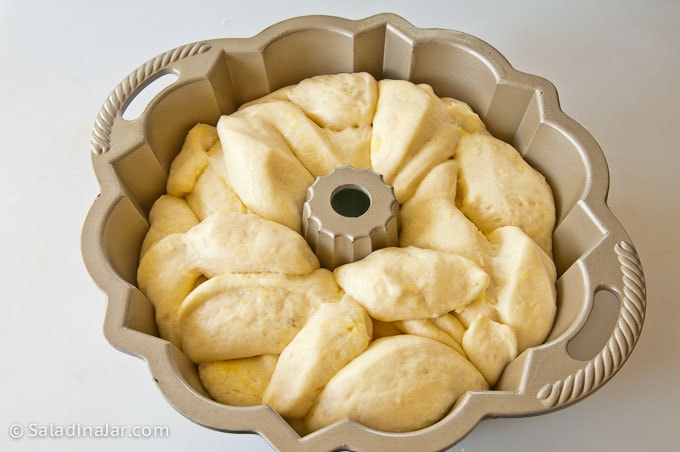 When the bread has risen to almost double its original size, place it into a preheated oven. (Don't let the dough rise to the top of the pan. That likely means it is overproofed and may fall when it hits the high heat in the oven.)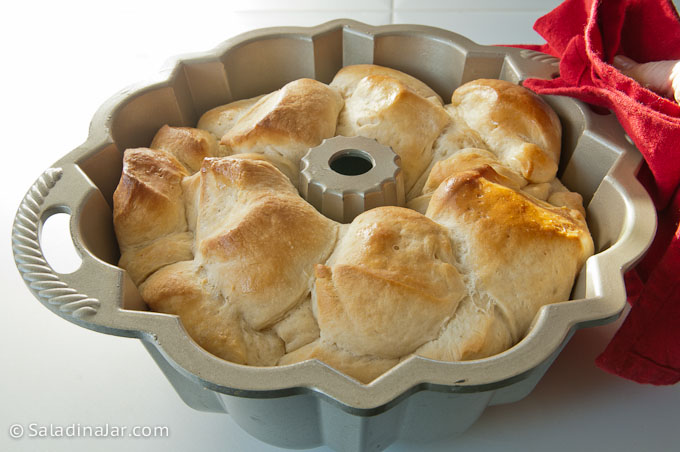 Bake at 375˚F (190˚C) for 30 minutes or until the internal temperature in the middle of the bread reaches 190-195˚F.
FAQ about Bread Machine Monkey Bread
Why is my bread so dense in my bread machine?
There are many reasons for dense bread when using a bread machine. Inaccurate measuring can result in a dough that is too dry or too wet among other things. Other causes include an extremely cold or hot kitchen, old yeast, inappropriate substitutions (using whole wheat flour instead of bread flour), or leaving out certain ingredients such as salt.
Can you substitute another pan for a Bundt pan?
Yes. You won't get the same effect but a loaf pan or a 1-piece angel food cake or tube pan will work. The pan you use needs to be leak-proof, so a 2-piece angel food cake pan or a springform pan is risky. Opening your hot oven to smoke because the buttery coating or sugary mixture has leaked onto the oven floor is not a pleasant experience.
How do I make my bread more fluffy?
1. Weigh the flour instead of using measuring cups.
2. Open the lid of the bread machine and check the dough as it kneads. Add flour or water if needed.
3. Provide the optimum temperature (75˚F) for the bread to rise–not too hot or too cold. A microwave with a hot cup of water set inside is the perfect incubator. Yeast loves the humidity.
Can I make this recipe with whole wheat flour?
Try substituting 1/2 cup of wheat flour for 1/2 cup of white flour. If that goes well, you can inch upward the next time. Whole wheat makes a denser loaf and may require slightly more liquid and rising time. If you substitute wheat flour for more than half of the white flour, you may find yourself with a brick.
If you have questions or suggestions, email me privately to Paula at saladinajar.com. Hope to see you again soon! Paula
---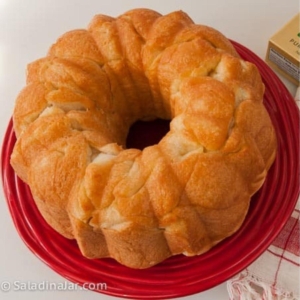 Bread Machine Monkey Bread Recipe
A pull-apart, brioche-like yeast bread, mixed and kneaded in a bread machine, then baked in the oven in a bundt pan.
Ingredients
¾

c.

+ 1 tablespoon warm milk

-

184 gr

1 ½

t.

salt

-

9 gr

1

large egg

-

50 gr

3

tablespoons

sugar

-

37 gr

½

cup

butter (divided: half for dough, half for dipping)

-

114 gr

3

cups

unbleached all-purpose flour

-

360 gr

2

teaspoons

bread machine or instant yeast

-

6 gr
Instructions
Dump all ingredients into the bread machine in the order listed. Select the DOUGH cycle and start.

Check the dough at least twice during the mixing and kneading phase by lifting the lid to take a peek. The first time, look immediately after the machine starts mixing to ensure the paddles are engaged correctly.

Look again 15 minutes into the DOUGH cycle to assess the consistency of the dough. For most recipes, the dough should stick to the side, then pull away cleanly.

If your dough is too wet, add flour one tablespoon at a time.

Conversely, if the dough is too dry, add one tablespoon of liquid at a time until the dough looks just right. Read more about this surprising secret to success with a bread machine here.

At the end of the dough cycle, remove the dough to a floured surface. (It should be doubled in size. If not leave it in the machine until it doubles.) Roll or press until about 3/4 inch thick. No need to get the ruler. Preciseness is unimportant at this point.

Slice dough into approximately 1-inch diamonds or squares. I do not roll the dough into balls. It's part of the tradition. In fact, I use a pizza cutter.

Melt 1/4 cup butter. Dip each piece in butter and layer rather haphazardly but evenly into a greased or nonstick bundt pan. Cover and let rise until double.

Bake at 375˚F for 30 minutes or until golden brown and/or temperature registers 190˚F. Cover with foil after 10 minutes to keep the top from over-browning. If not as brown as you would like, remove the foil for the last few minutes. This burns easily on top, so watch carefully.

Turn out onto a serving plate. Serve uncut and let people pull off what they want.
Notes
Directions for making bread with a stand mixer or by hand:
To make this recipe in a heavy-duty stand mixer: Add ingredients to the bowl in the same order. Turn on LOW to mix until all ingredients are moistened. Then, using a dough hook, turn the speed to 2 or 3. Continue beating/kneading until dough becomes smooth and elastic (about 5-10 minutes). Cover and allow to rise in a warm place. Deflate dough gently and shape as indicated in the recipe.
If making by hand: Combine all ingredients into a shaggy ball in a large bowl. Turn dough out onto a floured surface. Knead with your hands until the dough becomes smooth and elastic. Kneading will likely take 10-20 minutes, depending on your experience. Place the dough ball into a greased bowl. Cover and allow to rise until double. Deflate the dough gently and shape as indicated in the recipe.
Please note: If you only have active dry yeast, use 1/4 teaspoon more than called for in the recipe.

It no longer needs to be dissolved first

, but you can if you prefer.
Nutrition
Nutrition Facts
Bread Machine Monkey Bread Recipe
Amount per Serving
% Daily Value*
* Percent Daily Values are based on a 2000 calorie diet.
Like this recipe? Thanks for leaving a 5-star rating inside the recipe at the top! 🤩