Fabulous Monkey Bread with a Little Help from a Bread Machine
Sneak Peek: This fabulous Monkey Bread is an easy scratch recipe you can mix and knead in a bread machine or a stand mixer. This pull-apart bread is so buttery and soft that your family and friends will quickly devour it!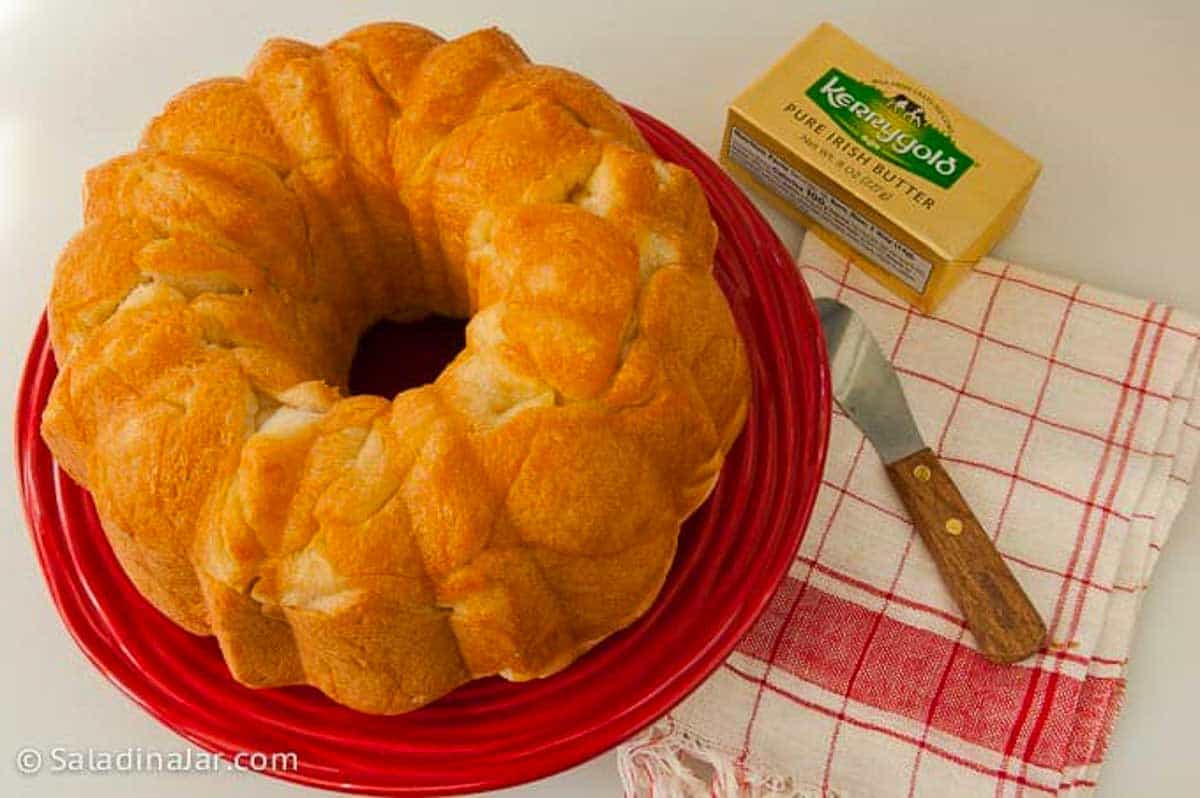 As an Amazon Associate, I earn from qualifying purchases.
As you can see, this is not the usual biscuits-out-of-a-can-rolled-in-a-ball-then-coated-with-cinnamon-and-sugar kind of pull-apart monkey bread. Oh, no!
There are no small balls to roll. Instead, use a pizza cutter to cut the dough pieces quickly. Then, drag the dough through a bowl of butter into the pan. (I don't usually coat the pieces with cinnamon and sugar, but you can. See the variation below.) You're going to love it!
I designed this recipe to be mixed and kneaded in a bread machine. I much prefer to bake it in my oven, but if you need to use the bread machine for baking your bread, I have included instructions for how to do that below.
No bread machine? No worries! See the notes at the end of the recipe for mixing by hand or with a stand mixer.
Happy Bakers Speak Up:
"Yum yum yum!!! Served it with a pork roast sliced thin for folks to nosh on during a group get together and everyone agreed….yum yum yum!" — Sue
---
This recipe is one of my family's favorite bread recipes (along with these Fluffiest Cheese Buns Ever. Don't miss the traditional sweet monkey bread version below.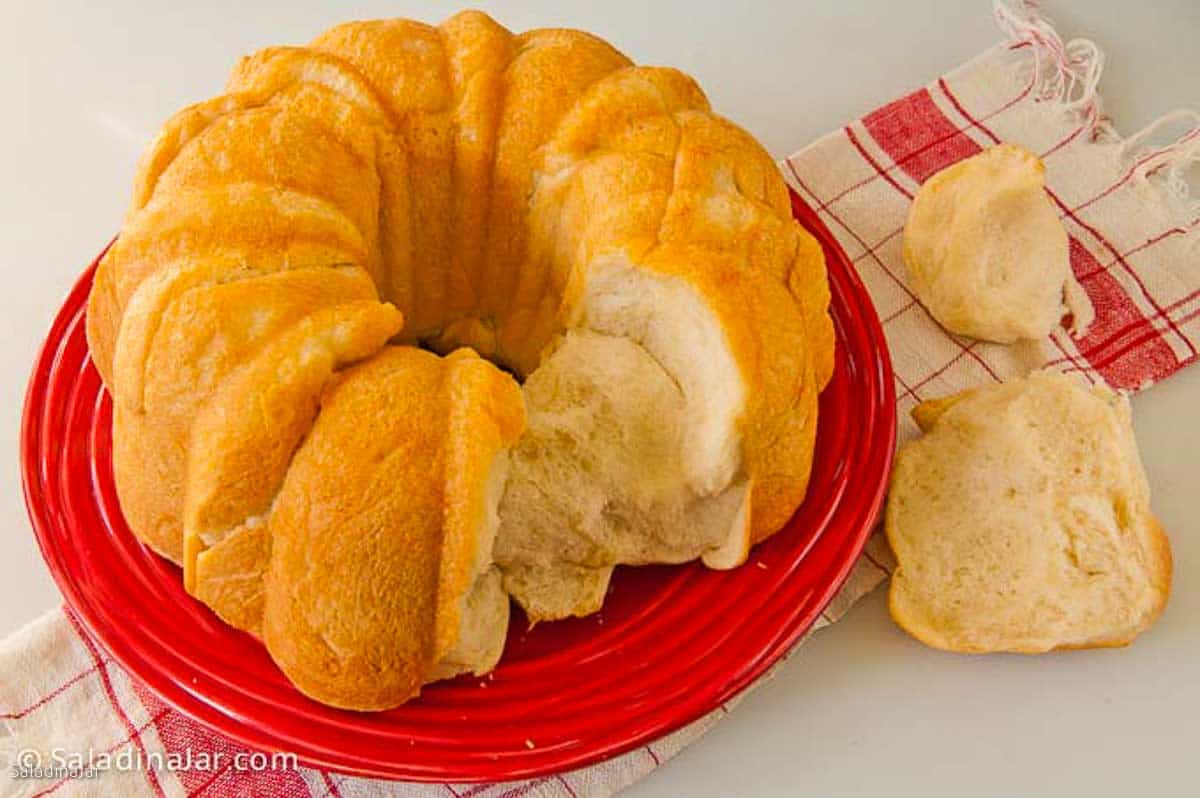 Recipe inspiration:
Before children, I worked at The Greenhouse, a luxury health spa back then with connections to Neiman Marcus. Ms. Helen Corbitt, a celebrated chef at the time, had planned all of our menus using her recipes. That's where I learned about this beautiful buttery, brioche-like bread.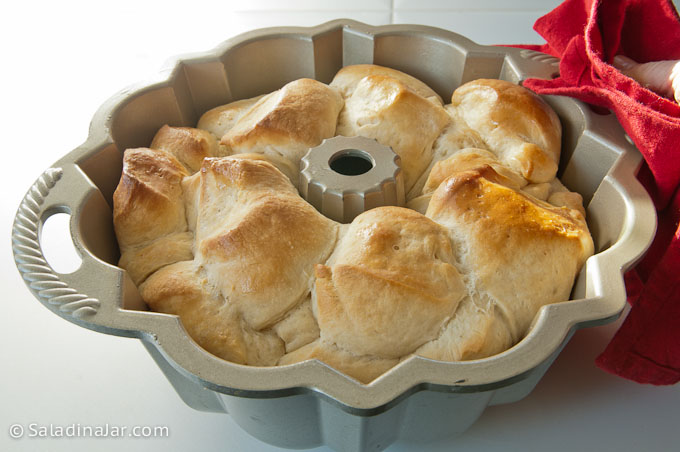 I found this recipe in Helen Corbitt Cooks for Company(paid link). Of course, Ms. Corbitt did not have access to a bread machine, but I'm pretty sure she would be thrilled to see how much easier it is when mixed and kneaded with a bread machine.
This recipe was published in the '70s. I converted it to mix in a bread machine and match my preferences.

---
Cinnamon-sugar Monkey Bread variation:
After dipping the dough pieces in butter, coat them with 1 cup of granulated white sugar and two teaspoons of cinnamon. Arrange pieces randomly in a bundt pan. Let rise until almost double. Bake as directed.
More Variations:
Garlic-Butter Monkey Bread: Add three chopped garlic cloves to the butter you dip your rolls in before placing them in the pan.
Bacon Monkey Bread: After dipping the dough in butter, sprinkle lightly with cooked bacon bits.
Herb Monkey Bread: After dipping the dough in butter, roll each piece in finely chopped fresh herbs like parsley, thyme, or rosemary,
I have another recipe very similar to this with lemon flavors. If you are a lemon lover, check out this Lemon Pull-Apart Bread Machine Recipe. Another monkey bread variation that's a bit more trouble but also unique is my Party Bread with Three Flavors. If you love adventures in the kitchen, don't miss this one.
---
How to roll out the dough for savory bread machine Monkey Bread when baking in the oven:
I use this method when I use the bread machine on the DOUGH cycle. Baking this bread in a conventional oven makes the best crust and a beautiful golden loaf in a bundt pan.
Then, use a bundt pan to hold your dough pieces. The dough will rise in the pan one time, and then you will bake it in your conventional oven.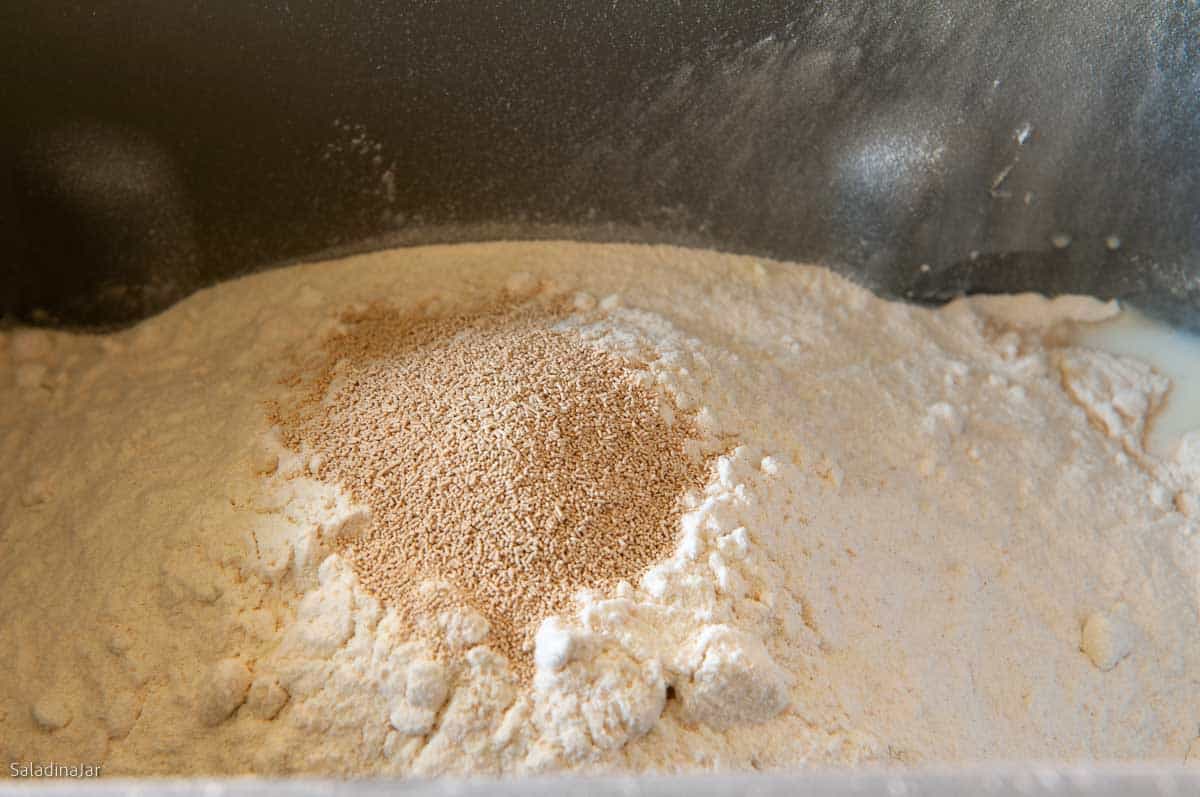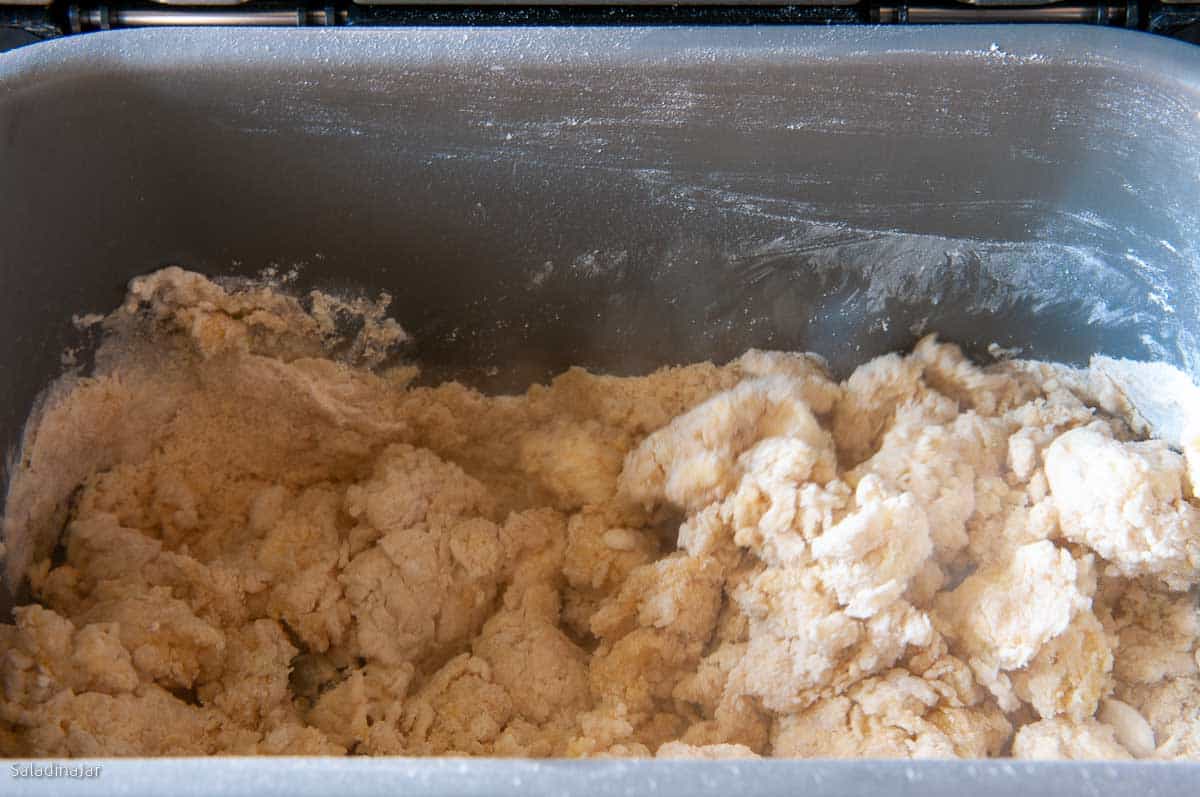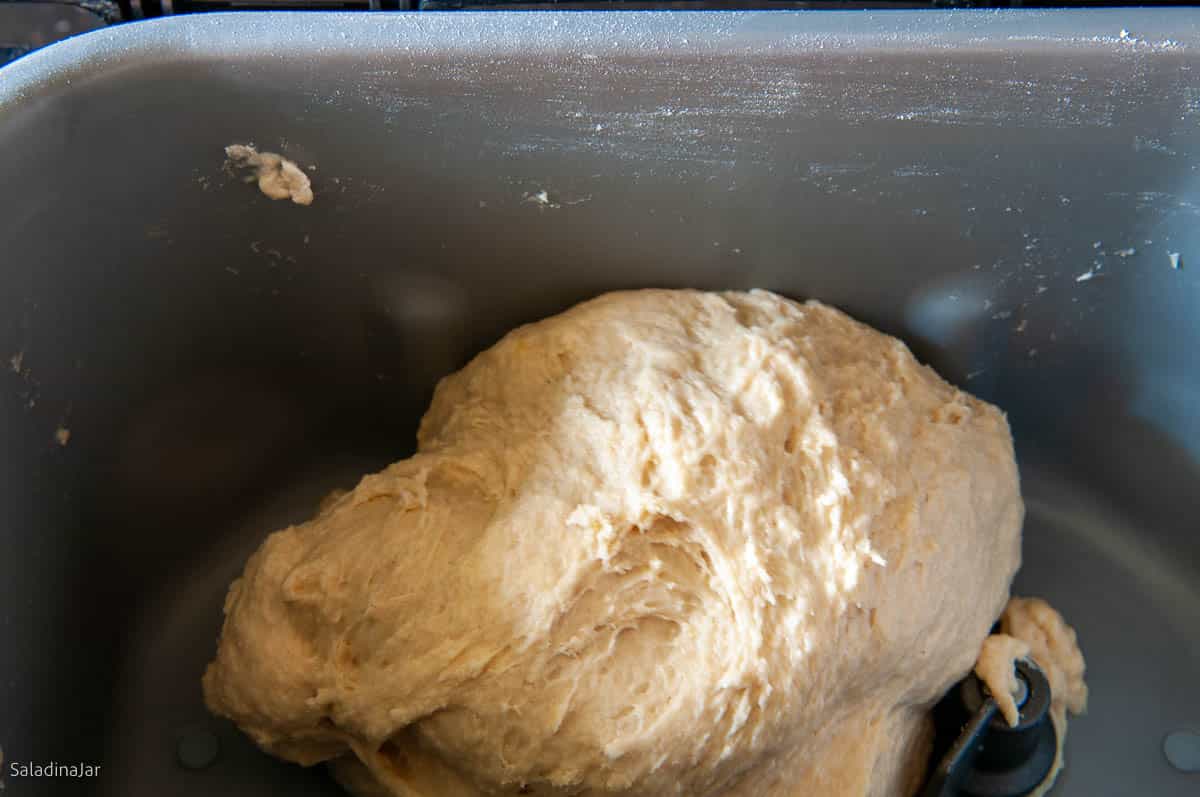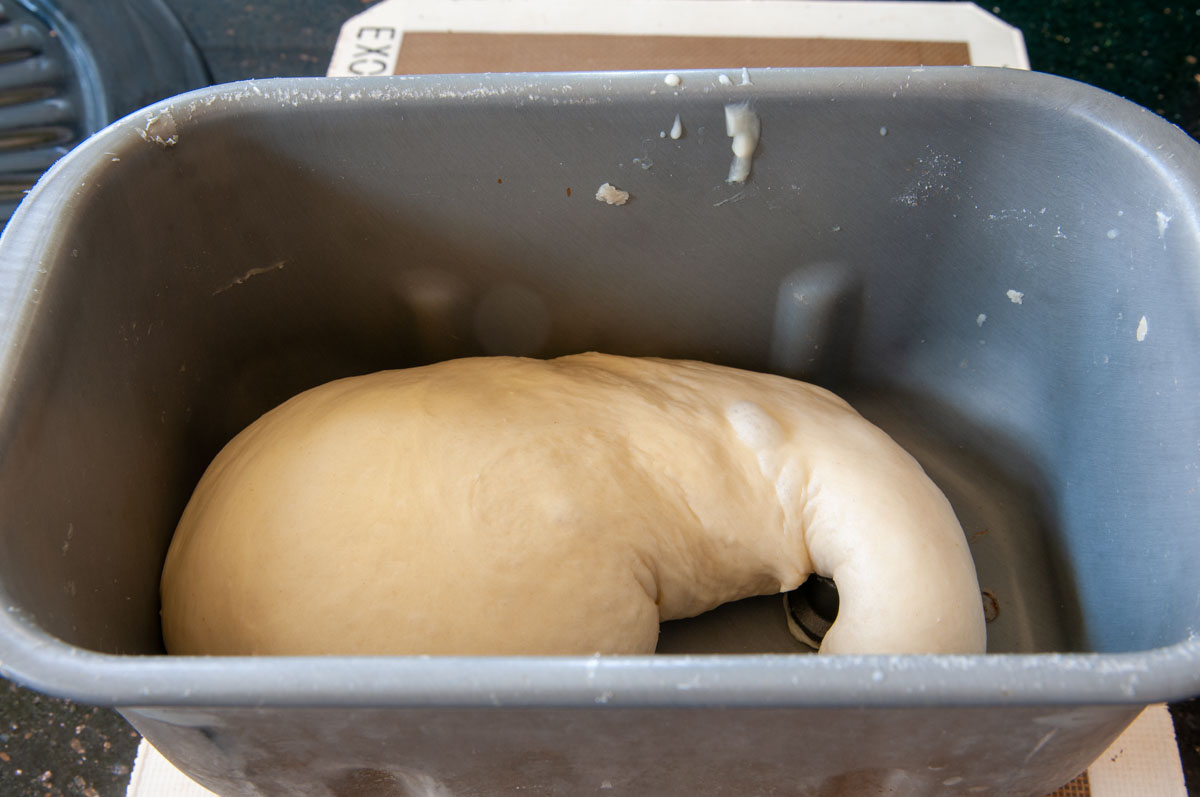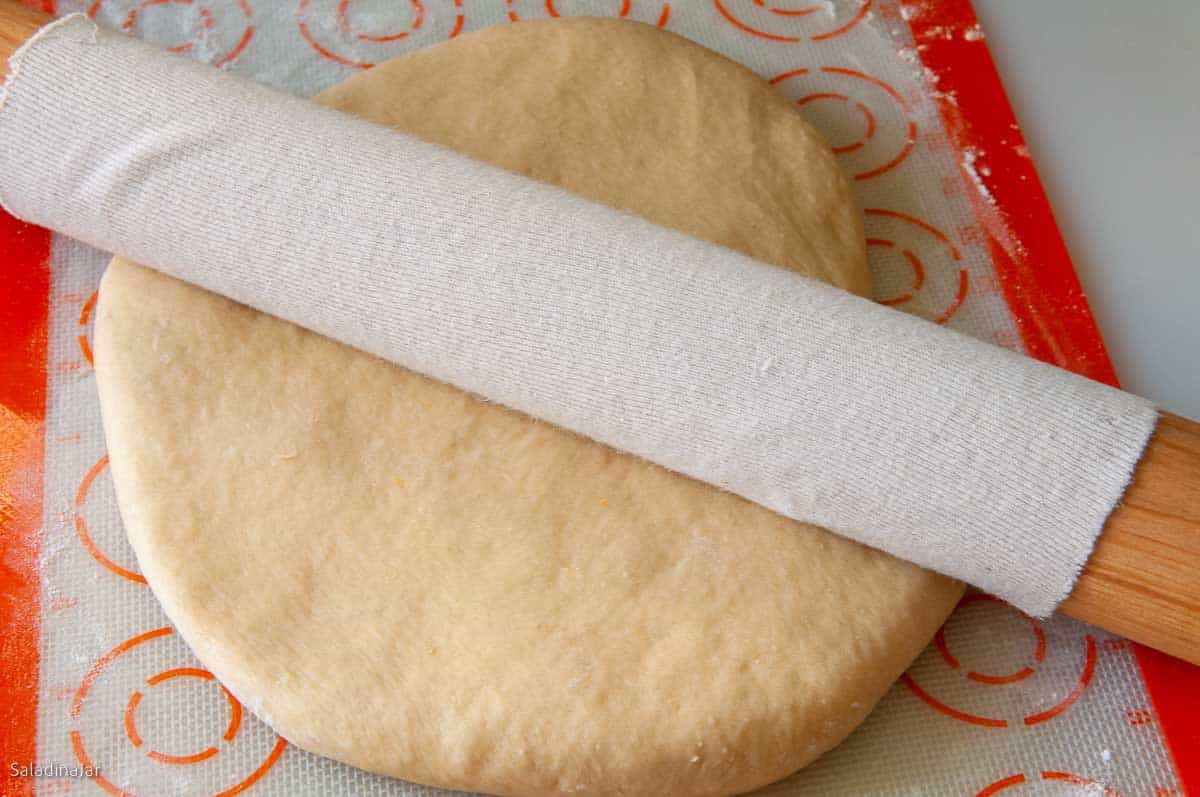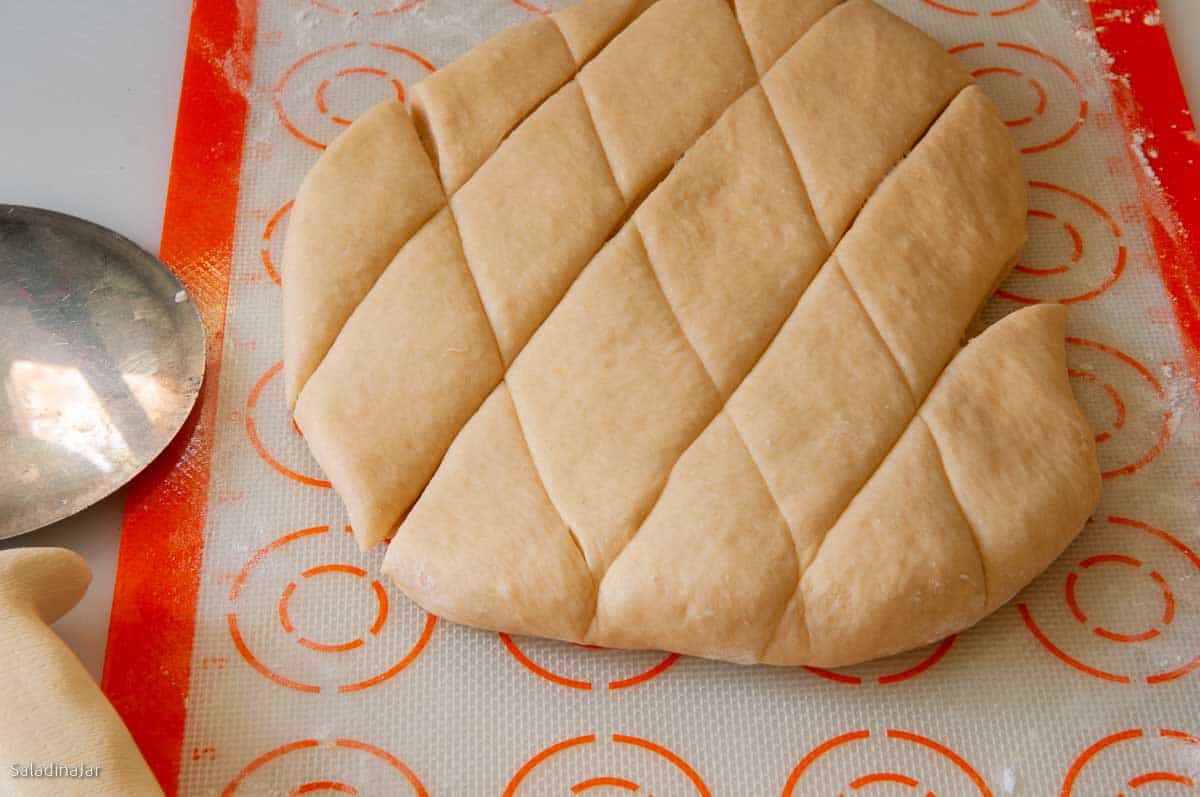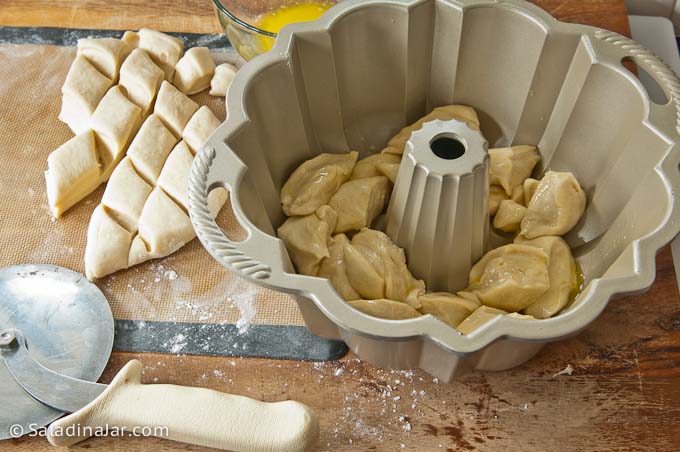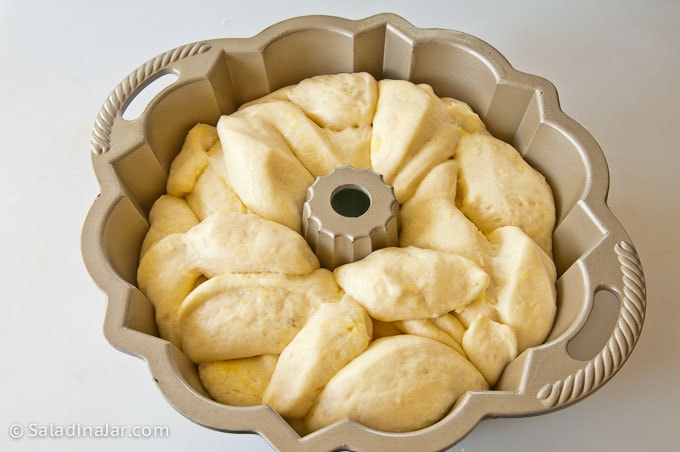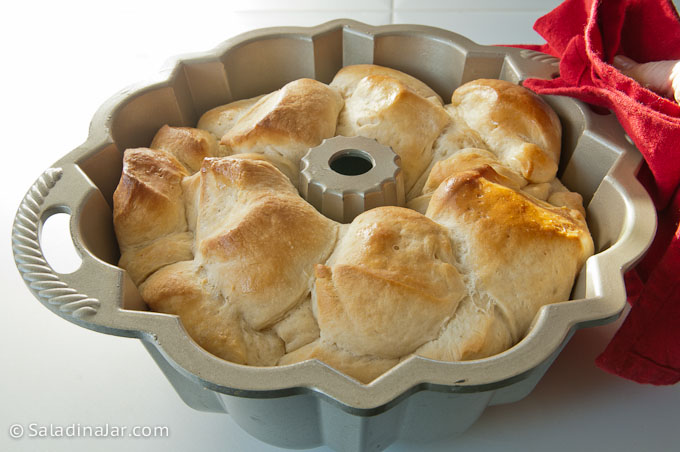 ---
How to mix, knead, and bake in a bread maker:
Baking bread in your machine doesn't mean you are limited to ugly and weirdly shaped loaves. Yes, the final product will still be in the general shape of the bread machine pan, but the top will be different depending on how you shape it.
Summary: Select the REGULAR BAKE cycle. Pull the dough out of the bread machine before the last rise. (Check your manual.) Then, remove the paddles and shape the dough by hand. Then, place the dough back into the machine for the dough to rise before the baking phase of the bread machine starts.
Baking bread this way will result in a thicker and less tender crust than if you bake your bread in a conventional oven using the method shown below.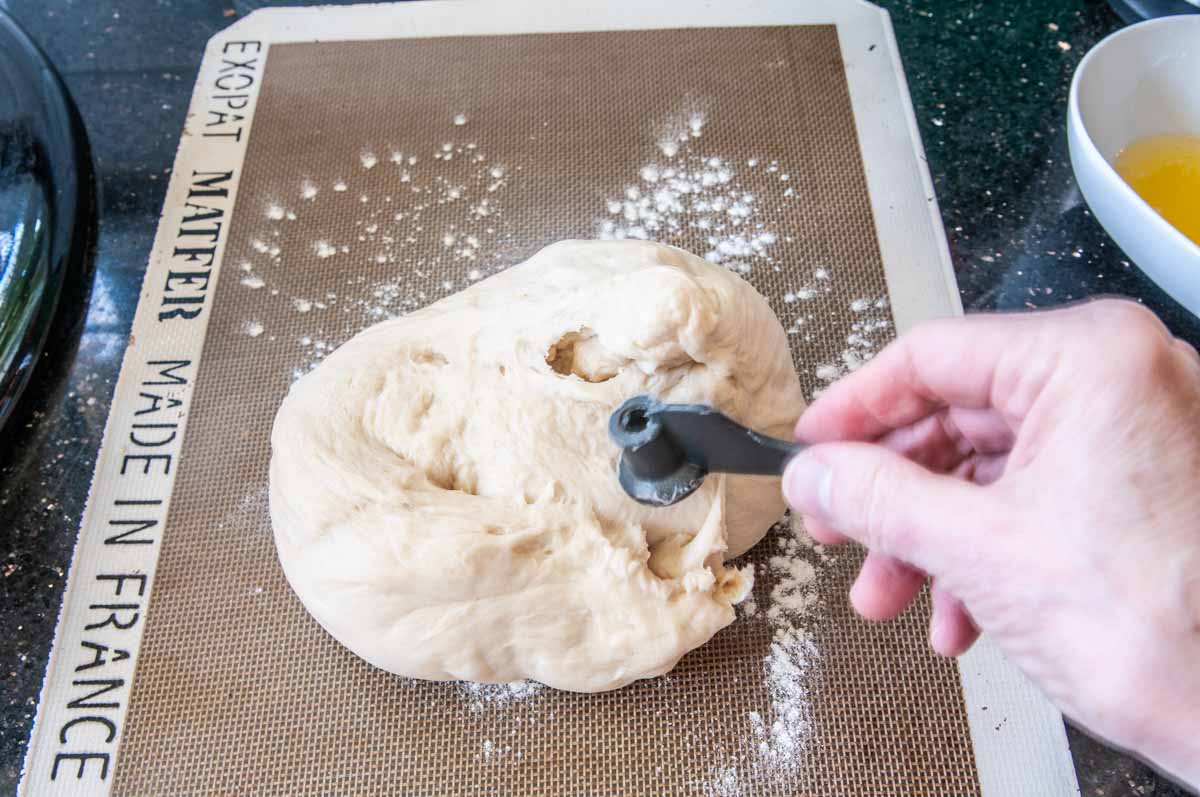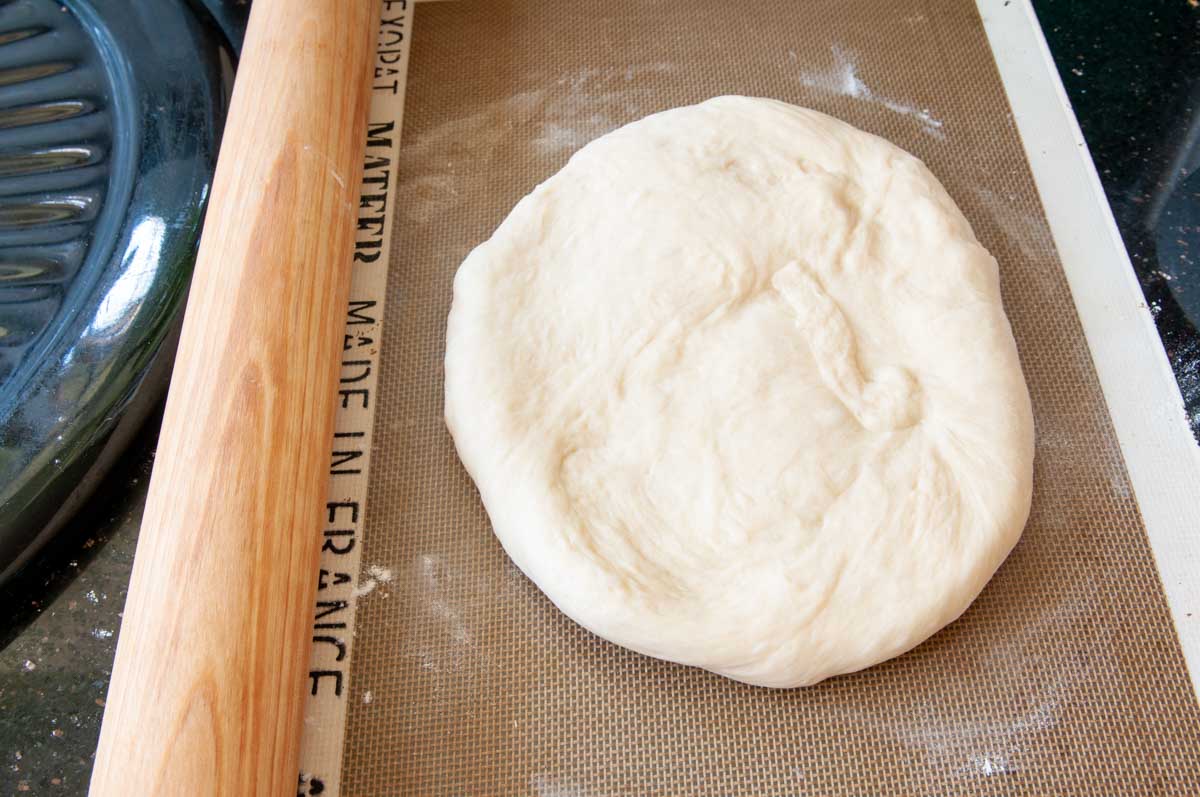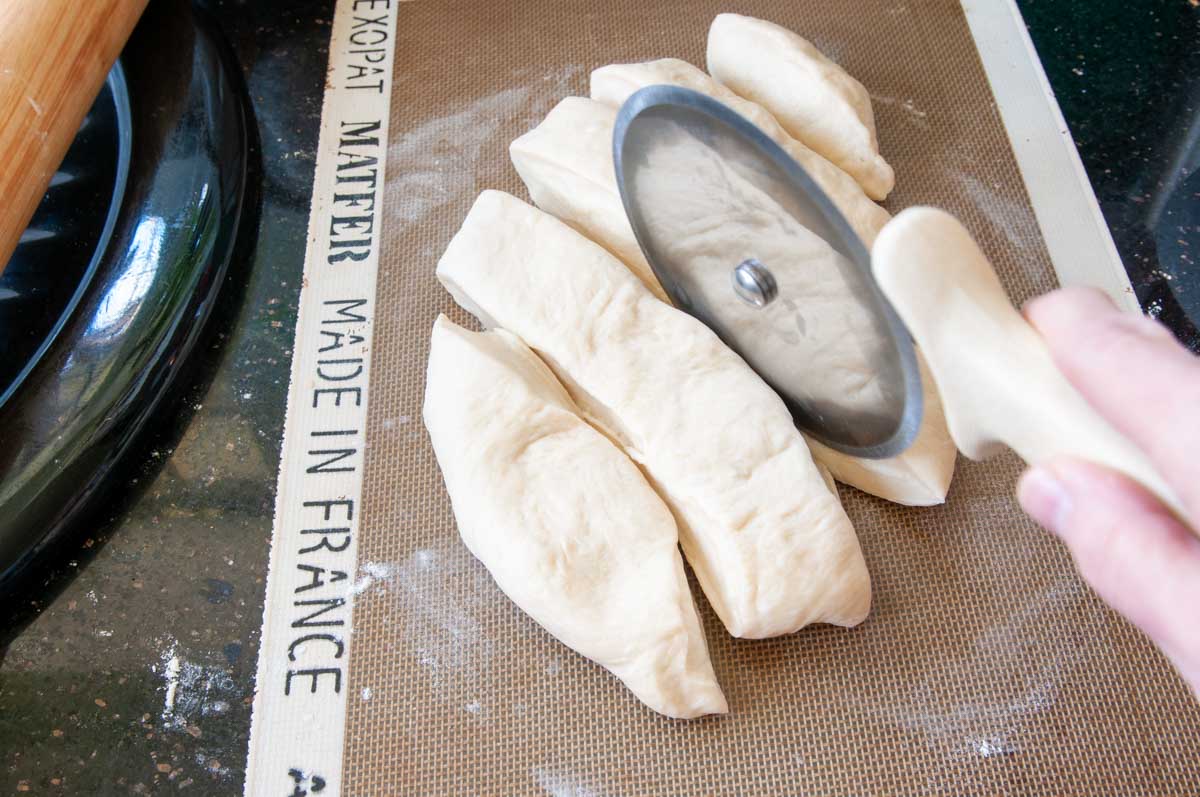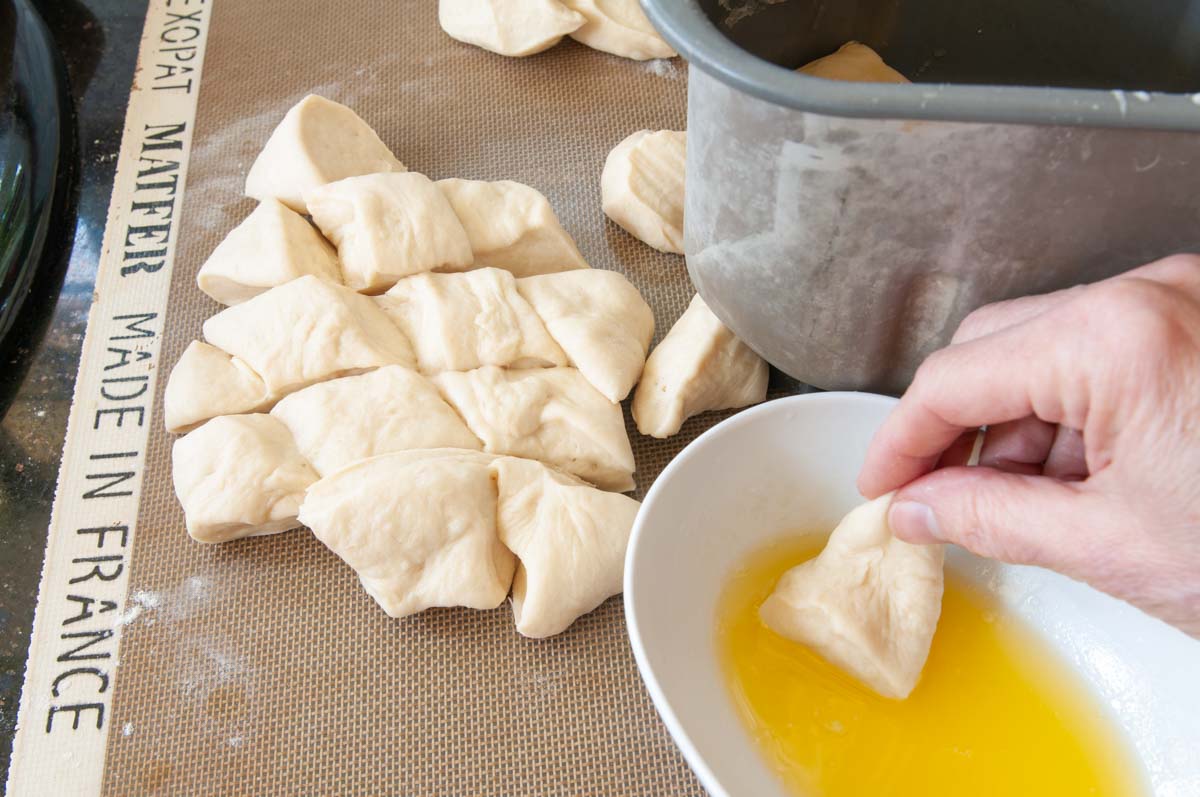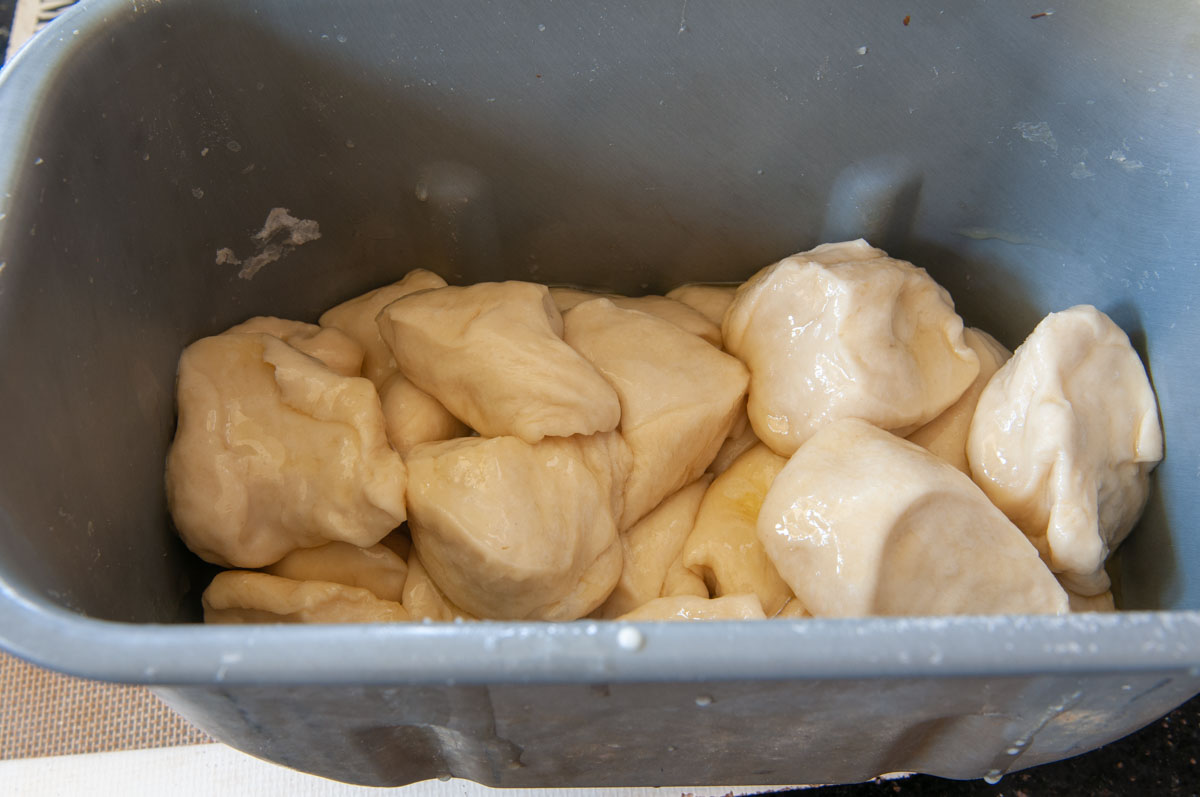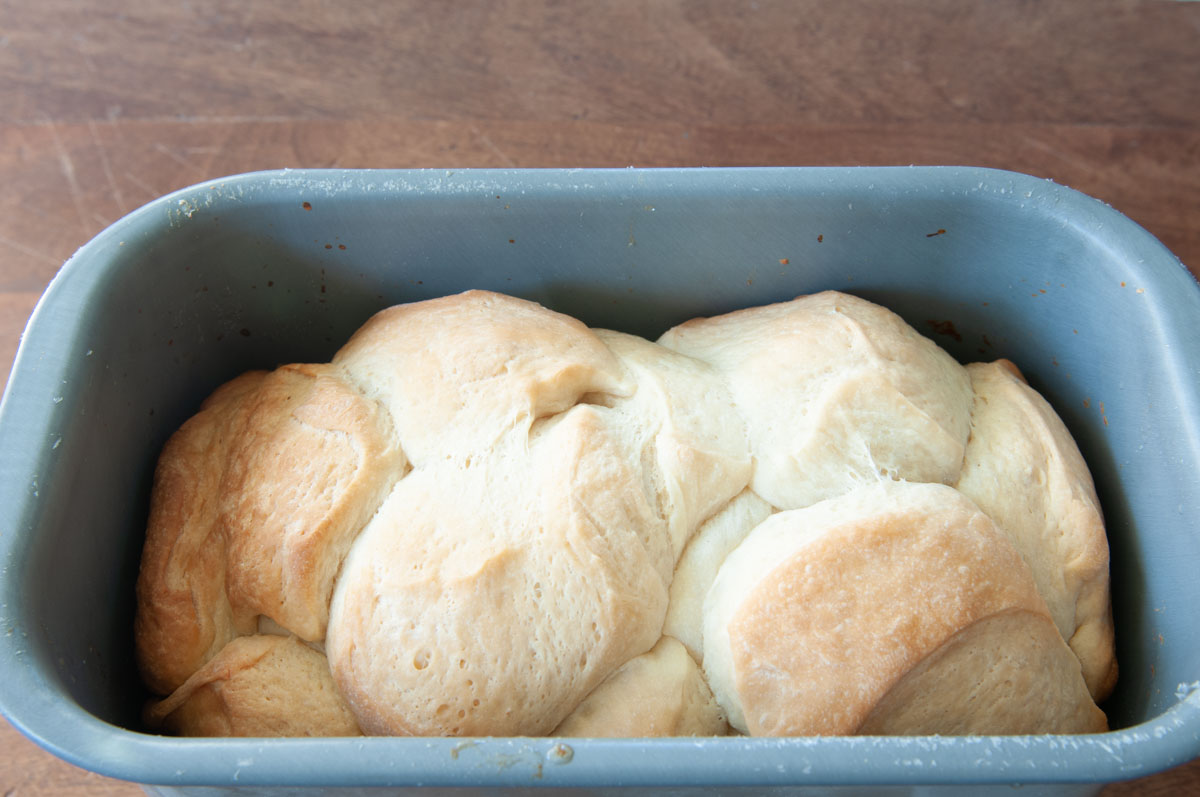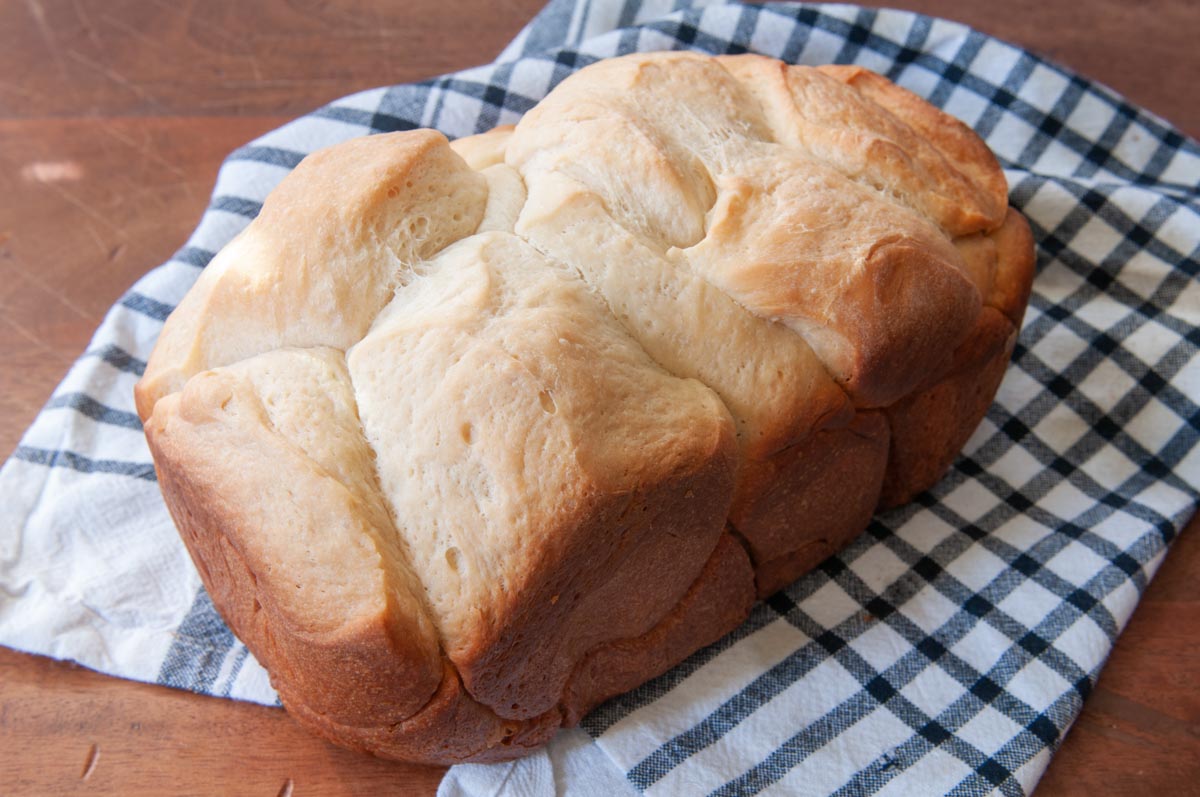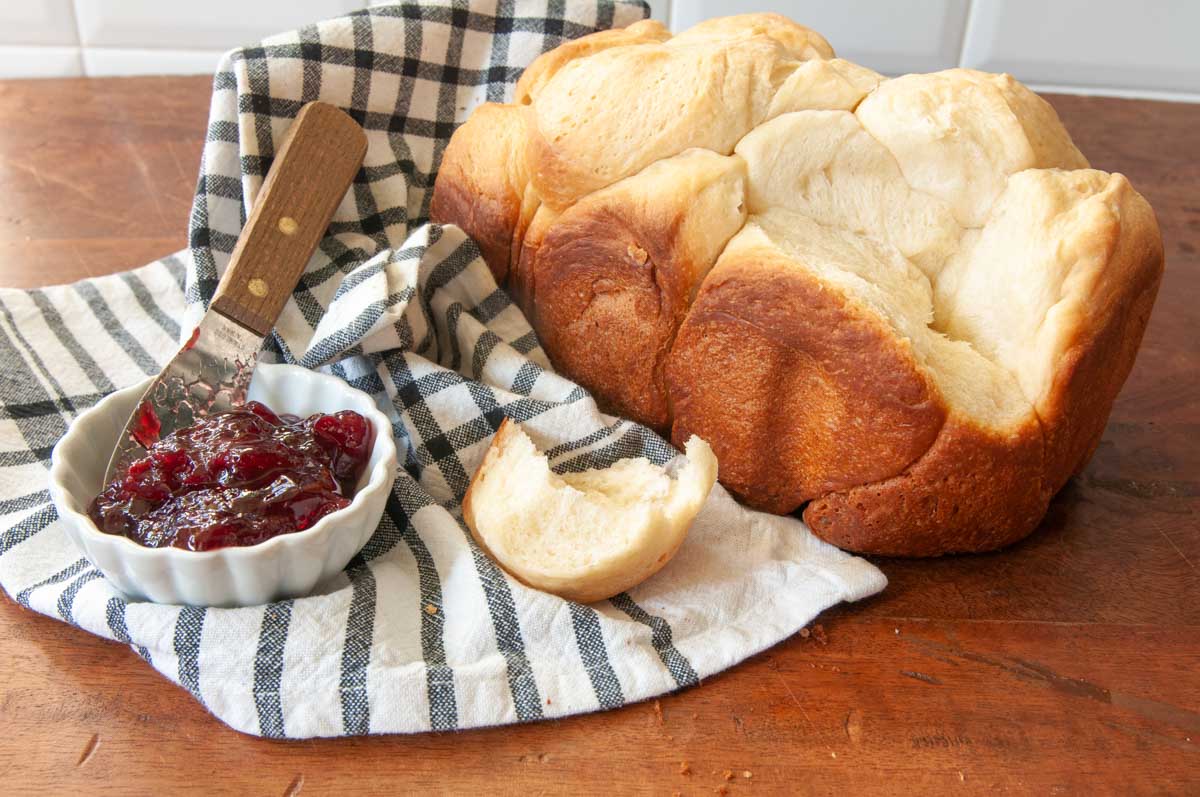 ---
FAQ about Bread Machine Monkey Bread
Why is my bread so dense in my bread machine?
There are many reasons for dense bread when using a bread machine. Inaccurate measuring can result in a dough that is too dry or too wet, among other things. Other causes include an extremely cold or hot kitchen, old yeast, inappropriate substitutions (using whole wheat flour instead of bread flour), or leaving out certain ingredients such as salt.
Can you substitute another pan for a Bundt pan?
Yes. You won't get the same effect, but a loaf pan or a 1-piece angel food cake or tube pan will work. Your pan must be leak-proof, so a 2-piece angel food cake pan or a springform pan is risky. Opening your hot oven to smoke because the buttery coating or sugary mixture has leaked onto the oven floor is not a pleasant experience.
How do I make my bread more fluffy?
1. Weigh the flour instead of using measuring cups.
2. Open the lid of the bread machine and check the dough as it kneads. Add flour or water if needed.
3. Provide the optimum temperature (75˚F) for the bread to rise–not too hot or too cold. A microwave with a hot cup of water set inside is the perfect incubator. Yeast loves the humidity.
Can I make this recipe with whole wheat flour?
Try substituting 1/2 cup of wheat flour for 1/2 cup of white flour. If that goes well, you can increase it slightly the next time. Whole wheat makes a denser loaf and may require slightly more liquid and rising time. If you substitute wheat flour for more than half of the white flour, you may find yourself with a brick.
How do I serve this bread?
If you serve this on a buffet to people who don't know about it, they often won't touch it, thinking it is a dessert or cake. But once somebody pulls off the first piece, it's "Katie, bar the door!" because it will disappear quickly.
Can I make this the day before and bake it the next morning?
Yes. Mix and knead the bread with your bread machine or stand mixer. When the DOUGH cycle finishes, pull the bread out of the machine onto a lightly floured surface. Cut the dough into pieces as directed in the recipe, dip them in butter, and lay them into your bundt pan. Don't let the dough rise now. Instead, cover the pan and place it into the refrigerator overnight. The next day, set the dough on your kitchen counter (or a warm place) to warm up and get puffy before baking as directed in the recipe.
Parting Thoughts: I cannot express how much my family has enjoyed this recipe. It's fun to make, especially with a bread machine, to do the hard work. I hope it will bring you as much joy and satisfaction as it has to us.
Help at Your Fingertips: For questions or suggestions, email Paula at saladinajar.com. If you need help, I'm happy to troubleshoot via email (faster than leaving a comment). Attach pictures and as many details as possible for the best advice.
---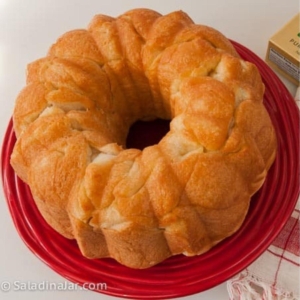 Buttery Monkey Bread: With a Little Help from a Bread Machine
I think you will love this pull-apart, brioche-like yeast bread, mixed and kneaded in a bread machine, then baked in the oven in a bundt pan. Kids go crazy for it.
Share recipe love here. ⬇
Ingredients
¾

cup + 1 tablespoon

(

184

g

)

milk

–

cool

1½

teaspoon

salt

1

large

(

50

g

)

egg

–

cool

3

tablespoons

(

36

g

)

sugar

½

cup

(

114

g

)

butter (divided–half for dough, half for dipping)

3

cups

(

360

g

)

unbleached all-purpose flour

2

teaspoons

bread machine or instant yeast
Instructions
Dump all ingredients into the bread machine in the order listed:

¾ cup + 1 tablespoon

(

184

g

) milk,

1½ teaspoon

salt,

1 large

(

50

g

) egg,

3 tablespoons

(

36

g

) sugar,

½ cup

(

114

g

) butter (divided–half for dough, half for dipping),

3 cups

(

360

g

) unbleached all-purpose flour, and

2 teaspoons

bread machine or instant yeast Select the DOUGH cycle and start.

Check the dough at least twice during the mixing and kneading phase by lifting the lid to take a peek. The first time, look immediately after the machine starts mixing to ensure the paddles are engaged correctly.

Look again 15 minutes into the DOUGH cycle to assess the consistency of the dough. For most recipes, the dough should stick to the side, then pull away cleanly.

If your dough is too wet, add flour one tablespoon at a time.

Conversely, if the dough is too dry, add one tablespoon of liquid at a time until the dough looks just right. Read more about this surprising secret to success with a bread machine here.

At the end of the dough cycle, remove the dough to a floured surface. (It should be doubled in size. If not leave it in the machine until it doubles.) Roll or press until about 3/4 inch thick. No need to get the ruler. Preciseness is unimportant at this point.

Slice dough into approximately 1-inch diamonds or squares. I do not roll the dough into balls. It's part of the tradition. In fact, I use a pizza cutter.

Melt 1/4 cup butter. Dip each piece in butter and layer rather haphazardly but evenly into a greased or nonstick bundt pan. Cover and let rise until double.

Bake at 375˚F (190˚C)for 30 minutes or until golden brown and/or temperature registers 190˚F. Cover with foil after 10 minutes to keep the top from over-browning. If the bread is not as brown as you would like, remove the foil for the last few minutes. This burns easily on top, so watch carefully.

Turn out onto a serving plate. Serve uncut and let people pull off what they want.
Notes
Directions for making bread with a stand mixer or by hand:
To make this recipe in a heavy-duty stand mixer: Add ingredients to the bowl in the same order. Turn on LOW to mix until all ingredients are moistened. Then, using a dough hook, turn the speed to 2 or 3. Continue beating/kneading until dough becomes smooth and elastic (about 5-10 minutes). Cover and allow to rise in a warm place. Deflate dough gently and shape as indicated in the recipe.
If making by hand: Combine all ingredients into a shaggy ball in a large bowl. Turn dough out onto a floured surface. Knead with your hands until the dough becomes smooth and elastic. Kneading will likely take 10-20 minutes, depending on your experience. Place the dough ball into a greased bowl. Cover and allow to rise until double. Deflate the dough gently and shape as indicated in the recipe.
Please note: If you only have active dry yeast, use 1/4 teaspoon more than called for in the recipe.

It no longer needs to be dissolved first

, but you can if you prefer.
Nutrition
Serving:
1
|
Calories:
160
kcal
|
Carbohydrates:
21
g
|
Protein:
4
g
|
Fat:
7
g
|
Saturated Fat:
4
g
|
Polyunsaturated Fat:
0.4
g
|
Monounsaturated Fat:
2
g
|
Trans Fat:
0.2
g
|
Cholesterol:
28
mg
|
Sodium:
275
mg
|
Potassium:
62
mg
|
Fiber:
1
g
|
Sugar:
3
g
|
Vitamin A:
207
IU
|
Vitamin C:
0.03
mg
|
Calcium:
22
mg
|
Iron:
1
mg
HELP OTHERS find this recipe. Leave a 5 🌟🌟🌟🌟🌟 rating at the top of the recipe card if you enjoyed it. No comment is required.