Preview: This bread machine Monkey Bread is a scratch recipe you can mix and knead in a bread machine. Make it sweet or savory. So buttery and soft–kids go crazy for it! No bread machine? No worries! Instructions for mixing by hand or with a stand mixer are included in the notes at the end of the recipe.
As you can see, this is not the usual biscuits-out-of-a-can-rolled-in-a-ball-then-coated-with-cinnamon-and-sugar kind of pull-apart monkey bread. Oh, no!
No little balls to roll. Cut dough pieces quickly with a pizza cutter. Drag the dough through a bowl of butter on its way to the pan. (I don't normally coat the pieces with cinnamon and sugar, but you can. See the variation below.) You're going to love it!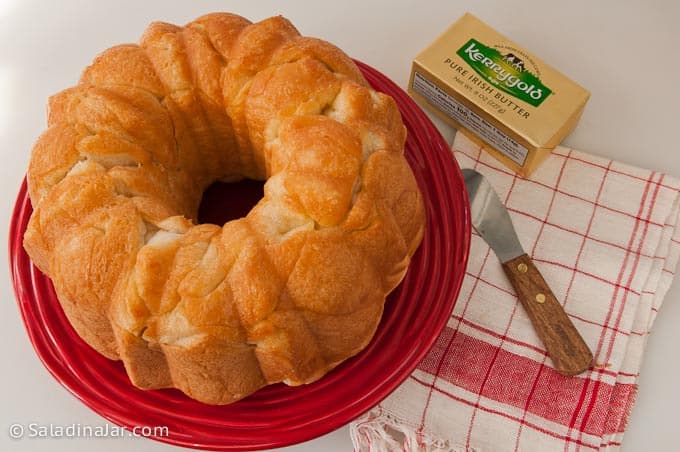 It's hard to resist so much buttery goodness.
This recipe is one of the favorite bread recipes (along with Cheesy-Crusted Yeast Rolls) in my family–especially with the grandkids. Don't miss the traditional sweet monkey bread version below.
Recipe inspiration:
Before children, I worked at The Greenhouse, a luxury health spa back then with connections to Neiman Marcus. Ms. Helen Corbitt, a celebrated chef at the time, had planned all of our menus using her recipes. That's where I learned about this beautiful and buttery, brioche-like bread.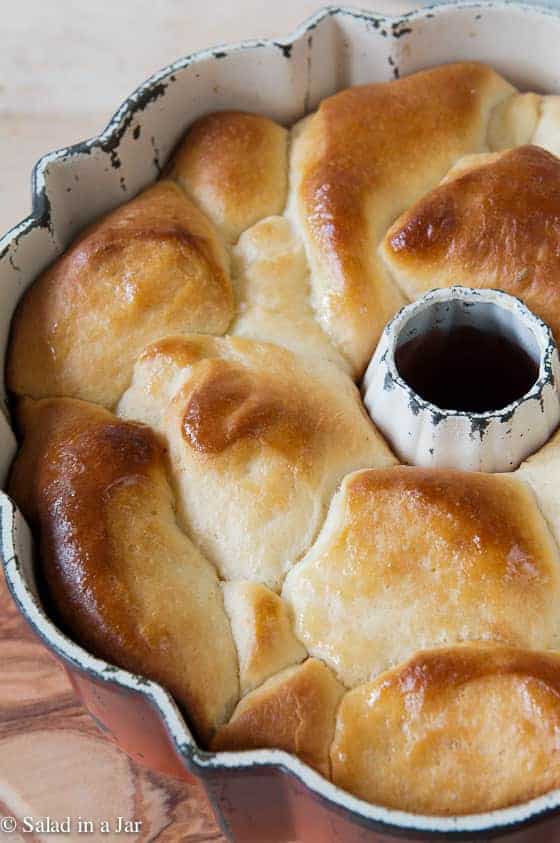 The original recipe was published in Helen Corbitt Cooks for Company. Of course, Ms. Corbitt did not have access to a bread machine, but I'm pretty sure she would be thrilled to see how much easier it is mixed and kneaded with a bread machine.
How I converted this old traditional recipe for a bread machine:

This recipe was published in the 70's and was probably written even earlier. I converted it to mix in a bread machine and match my preferences. Here's a list of the changes I made:
First, I looked at the flour. I knew it would fit into my bread machine so I wouldn't have to scale it down drastically.
Flour for bread recipes does not need to be sifted. Cross that out. I also wanted to go with 3 cups of flour (360 grams) because it's easier to remember.
Eggs add tenderness and flavor. Added one. Reduced milk by 2 tablespoons because of the added egg.
Sugar is not crucial like flour, liquid, and salt. These are savory rolls. I go back and forth between 3 and 4 tablespoons depending on my mood.
The general rule for salt is 1/2 teaspoon per cup of flour, so I increased it to 1-½ teaspoons. You could reduce it to a teaspoon without much harm but don't leave it out entirely.
The directions for the butter were not clear in the recipe. I divided the butter in half–1/4 cup for the dough and the other half to dip the rolls in before baking. Instead of melted butter, I add room-temperature butter whenever adding it to bread.
Instant yeast is my go-to with all bread doughs. I don't keep active-dry yeast in the house. 2 teaspoons is a good place to start with 3 cups of flour.
---
Why I check the dough after the bread machine starts:
A bread machine doesn't have a brain. Sometimes you need to help it out. But don't worry. It's not hard to open the lid and have a look.
Suppose you forget to add all the flour. Or maybe you were in a hurry and didn't measure the flour correctly. Perhaps you are experiencing high humidity or you are substituting a different flour than called for in the recipe.
Your bread machine will keep on mixing without regard to any of these issues. Peeking at the dough after the machine has been kneading for a few minutes will give you a chance to make adjustments.
1. Open the bread machine lid.
After the machine has been on about 10-15 minutes, open the lid and check the progress. Several things might be going on you will want to remedy immediately.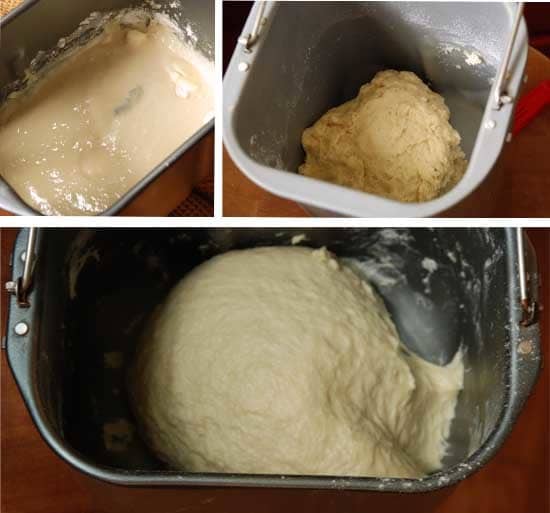 1. What will the dough look like when it's perfect?
The perfect dough will gather up into a ball that sticks slightly to the sides, then pulls away.
2. If the dough is too wet:
Your dough is too wet if it looks like pancake batter. It's also too wet if the dough sticks to the side but won't pull away.
Add flour one tablespoon at a time until it looks like the bottom picture.
3. When the dough is too dry:
Your dough is too dry if it doesn't stick to the side at all. If it stays in a ball and spins around on top of the paddle, it's too dry.
Add 1 tablespoon of liquid at a time until the dough looks like the bottom picture.
4. Another reason to open the lid
Another reason to check your bread is to ensure you have pushed the pan down tightly so the kneading blade is engaged. Otherwise, nothing will be happening in your pan even though you hear the bread machine running. The same thing happens if you forgot to put the blade in the pan.
---

How to mix, knead, and bake in a bread maker:
Baking bread in your machine doesn't mean you are limited to ugly and weirdly-shaped loaves. Yes, the final product will still be in the general shape of the bread machine pan, but the top will be different depending on how you shape it.
If you are willing and able, pull the dough out of the bread machine before the last rise. Remove the paddles and shape the dough by hand. Place the dough back into the machine.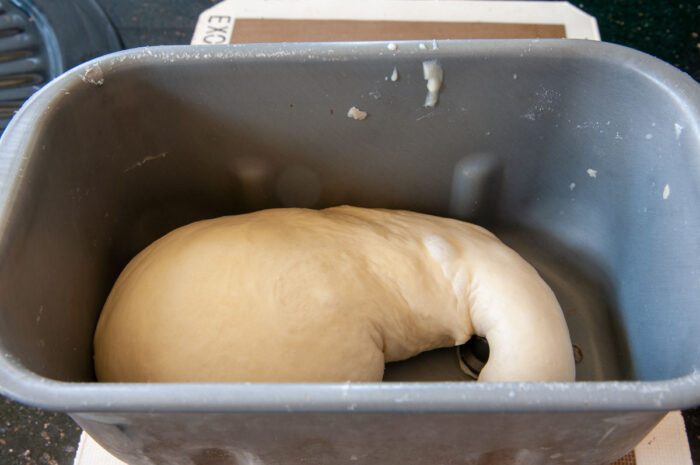 This is a good way to make this recipe if you don't have an oven. However, the crust will be darker, thicker, and less tender than if you bake your bread in a conventional oven using the method shown below.
---
How to roll out the dough for savory bread machine Monkey Bread:
I use this method when I use the bread machine on the DOUGH cycle. Baking this bread in a conventional oven makes the best crust and a beautiful golden loaf in a bundt pan.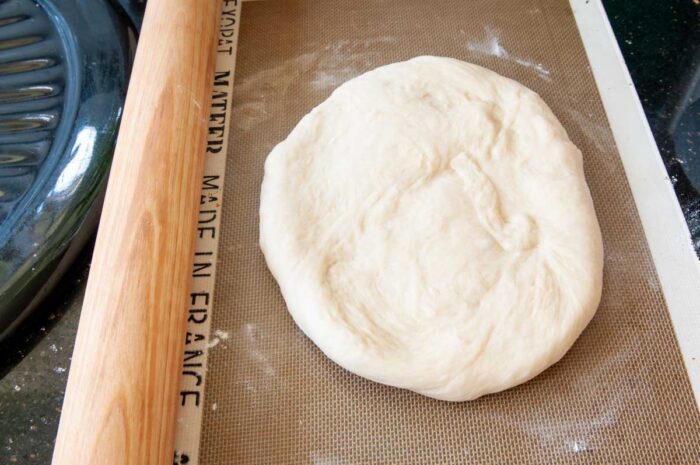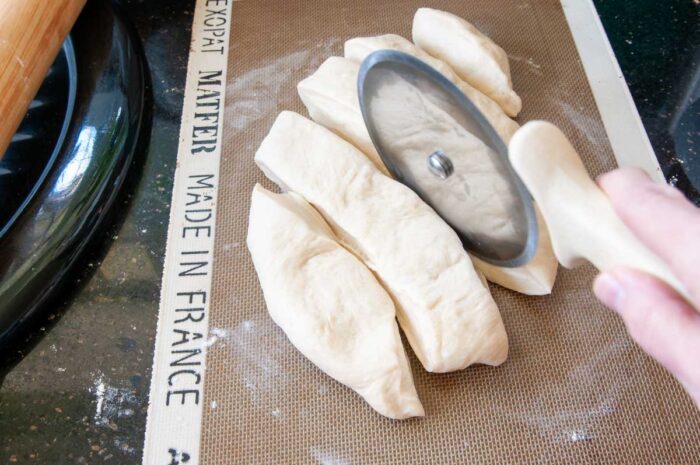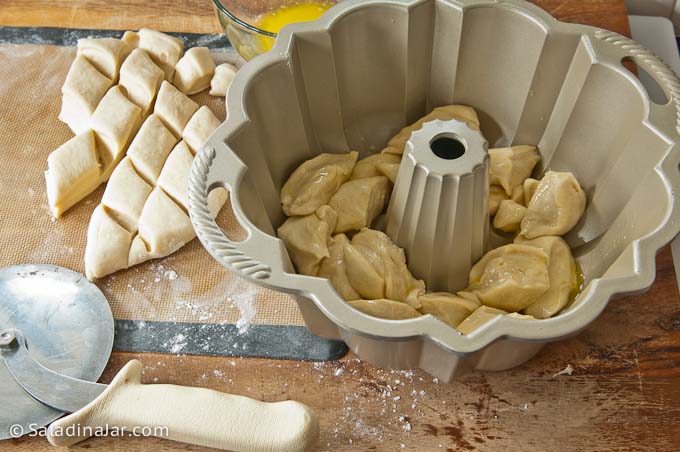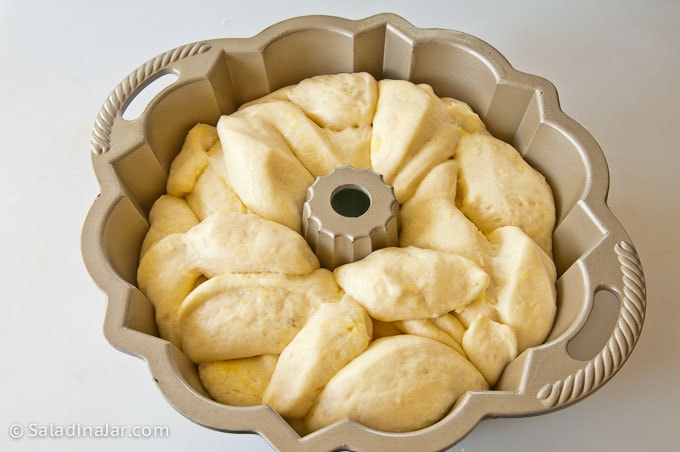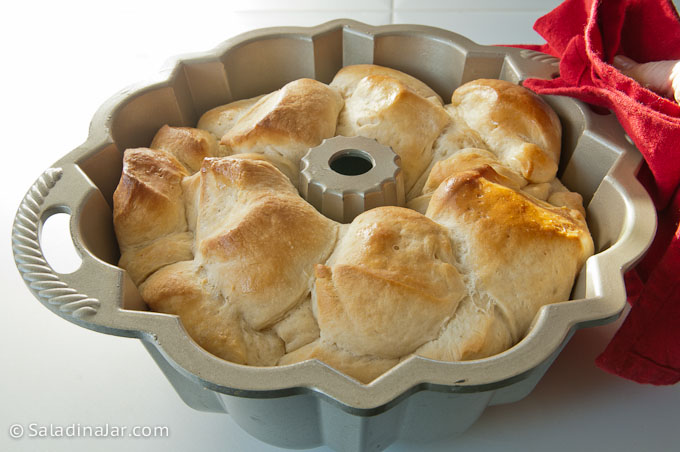 Serving bread maker Monkey Bread:
If you serve this on a buffet to people who don't know about it, they often won't touch it, thinking it is a dessert or some kind of cake. But once somebody pulls off the first piece, it's "Katie, bar the door!" because it will be disappearing in a flash.
Cinnamon-sugar Monkey Bread variation:
After dipping the dough pieces in butter, coat them with mixture of 1 cup granulated sugar and 2 teaspoons of cinnamon mixed together. Arrange pieces randomly in a bundt pan. Let rise until almost double. Bake as directed.
More posts for Monkey Bread Lovers:
If you enjoyed this recipe, it would help others and me if you gave it a five-star rating inside the recipe card below. 🤩 No comment required. Thank you.

Hope to see you again soon!
Paula
p.s. Questions or suggestions? Please email me: Paula at saladinajar.com.