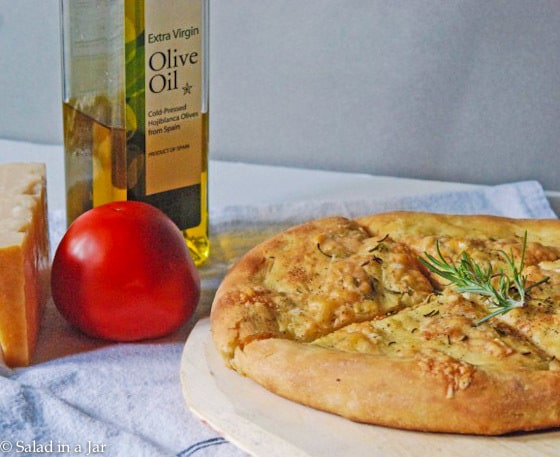 My Favorite Pizza Dough makes another appearance today as Rosemary Parmesan Foccacia.   This is even easier than pizza.  Again, I recommend a bread machine.  Use it to mix and knead the dough only.  Baking is always done in a conventional oven.
This is great with pasta.  Also good for sandwiches.

Bread Machine Rosemary Parmesan Foccacia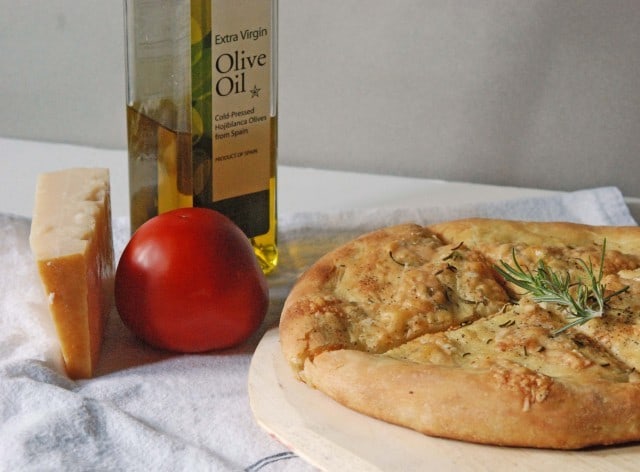 Ingredients
1 cup water, warm
1 teaspoon sugar
1 teaspoon salt
2 tablespoons olive oil
1 tablespoon honey
3 cups unbleached all-purpose flour
2¼ t. bread machine yeast
Instructions
Add ingredients to bread machine in order given. Run the dough cycle. Take bread out of machine and place on floured board. Divide in half and form into two smooth balls. Let rest approximately 10 minutes.
Spray deep dish pizza pan with olive oil. Or you can brush bottom of pan with olive oil. Place dough in pan and flatten with your finger tips. (Using a roller will tend to compact your crust.)
Sprinkle with 1 tablespoon olive oil, then approximately 1 teaspoon fresh rosemary and freshly ground pepper. Sprinkle freshly grated Parmesan Cheese on top.
Bake at 425 degrees for 8-10 minutes.
Nutritional Stats for 2 slices based on 16 slices per recipe. (2 pans of 8 slices each)
Calories 242

Fat 6.5 g

Sodium 340 mg

Carbohydrates 39 g

Fiber 1.5 g

Protein 6.5 g