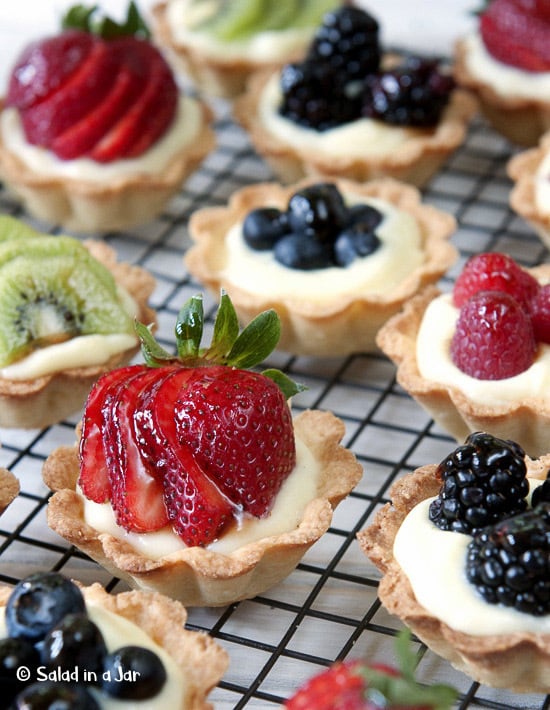 We're back! We've been out of the country and now we're in recovery mode.
While I'm putting together a few of my favorite food shots from the Holy Lands, I thought I would share some easy fruit tarts we served at a wedding shower recently.
You might notice this is one more way to dress up cream pie filling–an obsession with me here lately.  It's just so easy with a microwave!
 Note regarding the crust:
A few people have reported some difficulties with the crust, so I went back to another favorite recipe originally published here. I like the texture better and hope you do too. Nevertheless, they are still somewhat tedious and not recommended for people who have never made a pie crust. Store-bought, pre-baked mini crusts are readily available and highly recommended if you are a novice baker or trying to make these in quantity.
Keep the following things in mind if you decide to proceed:
1. Unless you are using silicone molds (I totally love 'em) like those pictured, you must grease and flour your molds generously. Baker's Secret is perfect for the job.
2. Freezing the tart crusts before you bake them is ABSOLUTELY ESSENTIAL. Otherwise, they will shrink and melt the minute they hit the oven.
3. Place foil inside crusts, pressed down into the shape of the crust. This will keep them from rising up in the middle. No other weight is necessary. Save foil. It's reusable.
4. Turn the crusts out of the pan within 3-4 minutes after coming out of the oven. Do it quickly, but gently.  These are a bit fragile. On the other hand, they taste like a cookie so the broken ones make great eating all by themselves. (The crusts NEVER sticks to the silicone molds. I can't recommend them enough.)
I have included this picture from my post about Chocolate Ganache Mini-Tarts to illustrate the process of making the tart crusts.
Fruit and Cream Mini-Tarts
These shortbread-crusted tarts are filled with a light, creamy custard and topped with fresh fruit of your choice.
Ingredients
Tart Crust:
1-1/2 cups unbleached flour
⅓ cup powdered sugar
¼ teaspoon salt
½ cup butter (1 stick), chilled
1 egg yolk (from a large egg)
1 tablespoon heavy cream
Cream Filling:
2-3/4 cups milk (I use 2-1/2 cups nonfat milk + ¼ cup whipping cream but any type will work)
⅔ cup sugar
¼ cup cornstarch
⅛ teaspoon salt
4 egg yolks
2 tablespoons butter
1 teaspoon vanilla extract
Glaze
Instructions
Crust:
Combine flour, sugar and salt in food processor. Cut butter into 8 slices and add to flour, pulsing several times until mixture resembles oatmeal. Add egg yolk mixed with cream. Pulse until all ingredients are moistened. Then allow machine to run a few seconds until dough starts to stick together. (Add additional drops of cream if dough seems too dry.) Press dough into a roll like refrigerated cookie dough. Wrap in plastic and chill 30 minutes.
Spray molds generously with Baker's Secret or something like it. (Baker's Secret is an aerosol spray that mixes flour and oil.) If using silicone molds, no greasing is necessary.
Slice roll of dough into 12 pieces. Using a rolling pin, roll dough between two pieces of plastic wrap into a circle slightly larger than tart molds. Press into mold with fingers being careful to keep thickness consistent. Use a knife to trim off any extra at the top. I usually have enough scraps to make another tart or two. Freeze for at least 30 minutes, overnight or up to a month.
Place frozen tart shells on cookie sheet and press a small square of foil down into each crust that molds to shape of crust. See picture above. Bake at 400 degrees for 10 minutes. Remove foil and continue to bake until golden brown, usually about 3-4 minutes.
Cream Filling:
Add milk, sugar, cornstarch, salt, and egg yolks, (in that order) to blender. Blend 5 seconds and pour into 2-quart glass microwave-safe bowl. Microwave 6 minutes on HIGH, whisking until smooth after 3 minutes, then every minute thereafter.
Add butter and vanilla and whisk until smooth.
Assembly:
Fill each baked tart shell with cream filling. Top with fruit of your choice. Melt ¼ cup currant jelly and use a brush to dab some shininess on each piece of fruit. It's OK if some drips onto the cream.
Notes
1. If dough in food processor seems too dry to press into a ball, add a teaspoon or two of milk or cream. 2. Tarts are best eaten the day they are assembled. 3. A dollop of whip cream makes these even better.
 RELATED POSTS:
Banana Cream Pie
Chocolate Cream Tart (Made in the Microwave)
Glazed Fresh Strawberry Pie
Amazing Microwave Custard for a Pie or Tart and My Favorite Cookie Crust
Lemon Curd (Microwave)
Chocolate Ganache Mini-Tarts