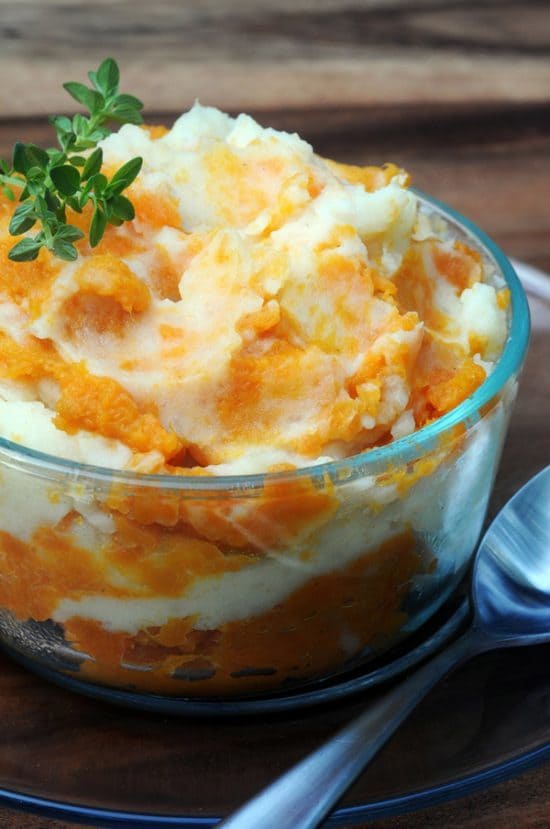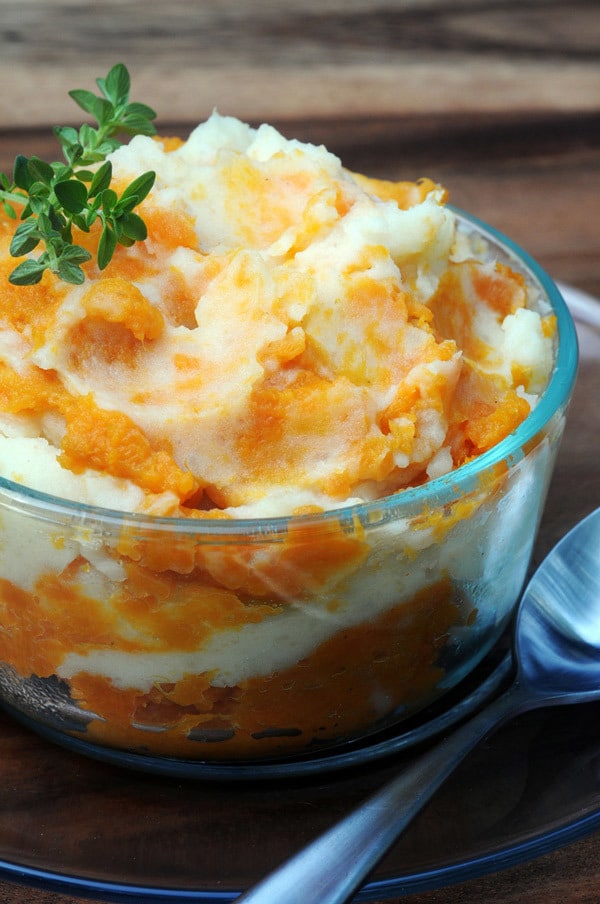 Traditional mashed potatoes are comfort food for me.  But adding sweet potatoes makes them so much more interesting and breaks the monotony of plain mashed potatoes.
On the other hand, a dish of 100% sweet potatoes can be cloying and somehow seems to end up mixed with lots of butter, sugar and spices. While I like that on Thanksgiving and Christmas, I don't want it very often.  Adding white potatoes seems to mellow out the sweet potatoes in a nice way.
Don't save this dish just for fall and winter holidays.  It's perfect with grilled meats–especially something spicy. My favorite is sausage for a quick weeknight meal.
Sweet and White Mashed Potato Swirl
White potatoes and sweet potatoes mashed and then swirled together make a great side dish.
Ingredients
1½ pounds white potatoes, peeled and diced in 2-inch pieces
1½ pound sweet potatoes, peeled and diced in 2-inch pieces
4 Tablespoons butter (divided)
½ + cup warmed milk (divided)
Salt
Pepper (I use white pepper)
Instructions
Place white potatoes in bottom of saucepan, then sweet potatoes on top. Barely cover potatoes with water. Bring to a boil, then reduce to simmer until potatoes are fork tender but not falling apart.
Drain potatoes. Remove sweet potatoes from the pan and place in another bowl. Mash white potatoes your favorite way. I normally use a masher--sometimes a portable mixer. Add 2 tablespoons (or more) butter and ⅓ cup (+ more as necessary) milk until desired consistency. Season with salt and pepper to taste.
Repeat step two with sweet potatoes. Start with about 2 tablespoons of milk, adding until consistency matches white potatoes.
Plop mashed sweet potatoes back into pan with mashed white potatoes and take a couple folds with a spoon to barely mix. Move to serving dish being careful not to mix too much.
Sweet potato lover??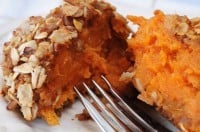 Streusel-Crusted Sweet Potato Balls[/caption