Perfected Potato Hamburger Buns (Mixed in a Bread Machine)
Sneak Preview: These Potato Hamburger Buns (mixed in a bread machine) will make your next outdoor party more memorable. They are soft but sturdy buns and flavorful without tasting like dessert. Fresh potatoes are the secret ingredient.
As an Amazon Associate, I earn from qualifying purchases.
Do you need an idea to make your next cookout memorable? Even if you're having plain hamburgers, cheeseburgers, or grilled chicken, these homemade hamburger buns will definitely cause a commotion.
I was distressed at the irregular appearance when I started making hamburger buns many years ago. But, as it turns out, the "homemade look" makes these buns even more charming and impressive.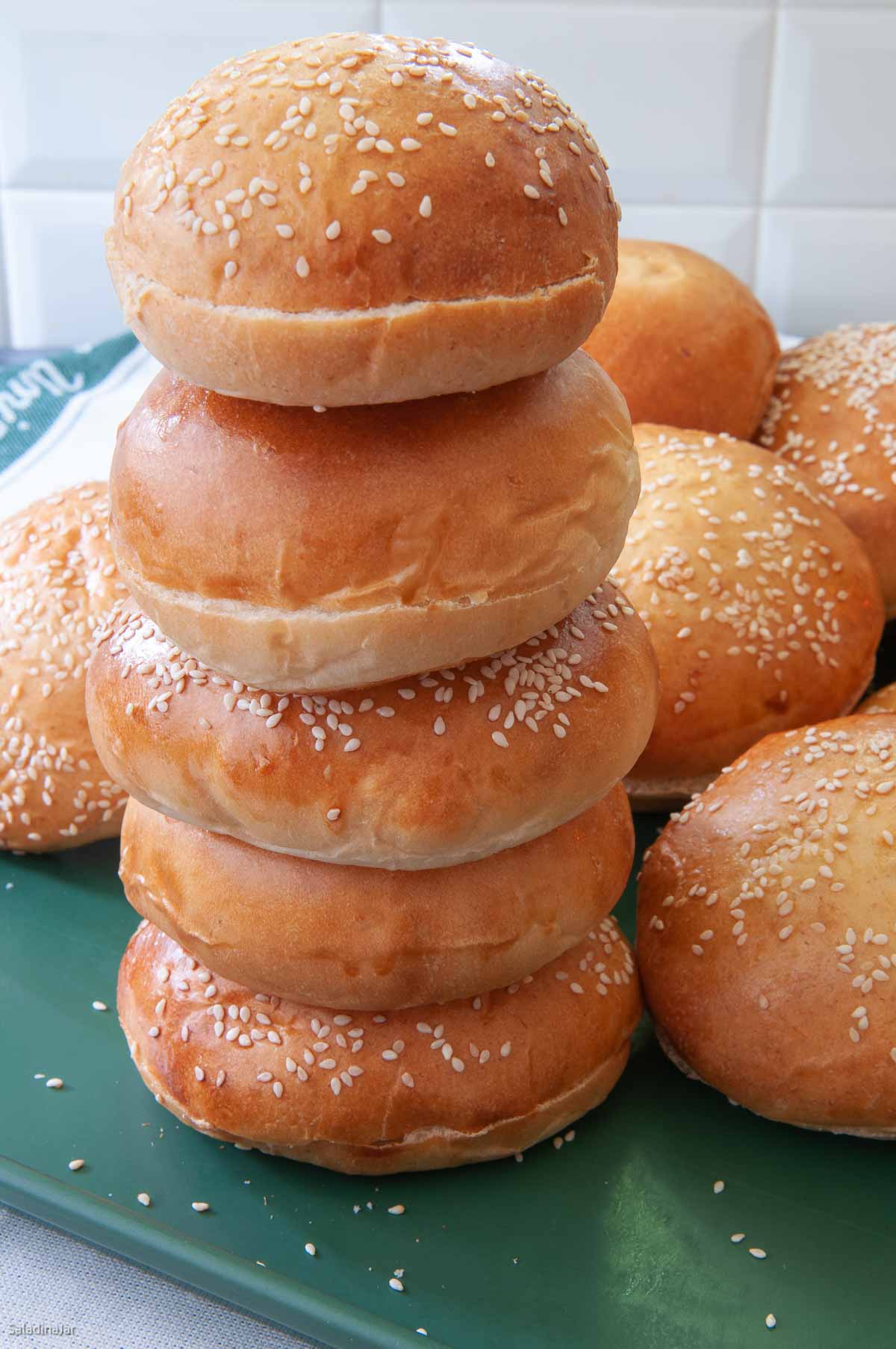 If you get the texture and taste right, your buns will be a hit when you share them. The shape doesn't have to be perfect, but I'll show you how I shape a bun that works best for me.
What makes a good burger bun?
Not too rounded (like a ball): It's hard to eat a sandwich when the bun is smaller in diameter than the meat. It's also a challenge to get your mouth around a ball-shaped bun.
Not too flat: Unless you're going for skinny buns, making them too flat will affect their sturdiness.
Not too dense. Have you ever had a sandwich with a thick and "bready" bun? When it feels like there is more bread than filling, I pick off part of the bun to get the right proportions of filling to bread in my sandwich.
Ingredients and substitutions: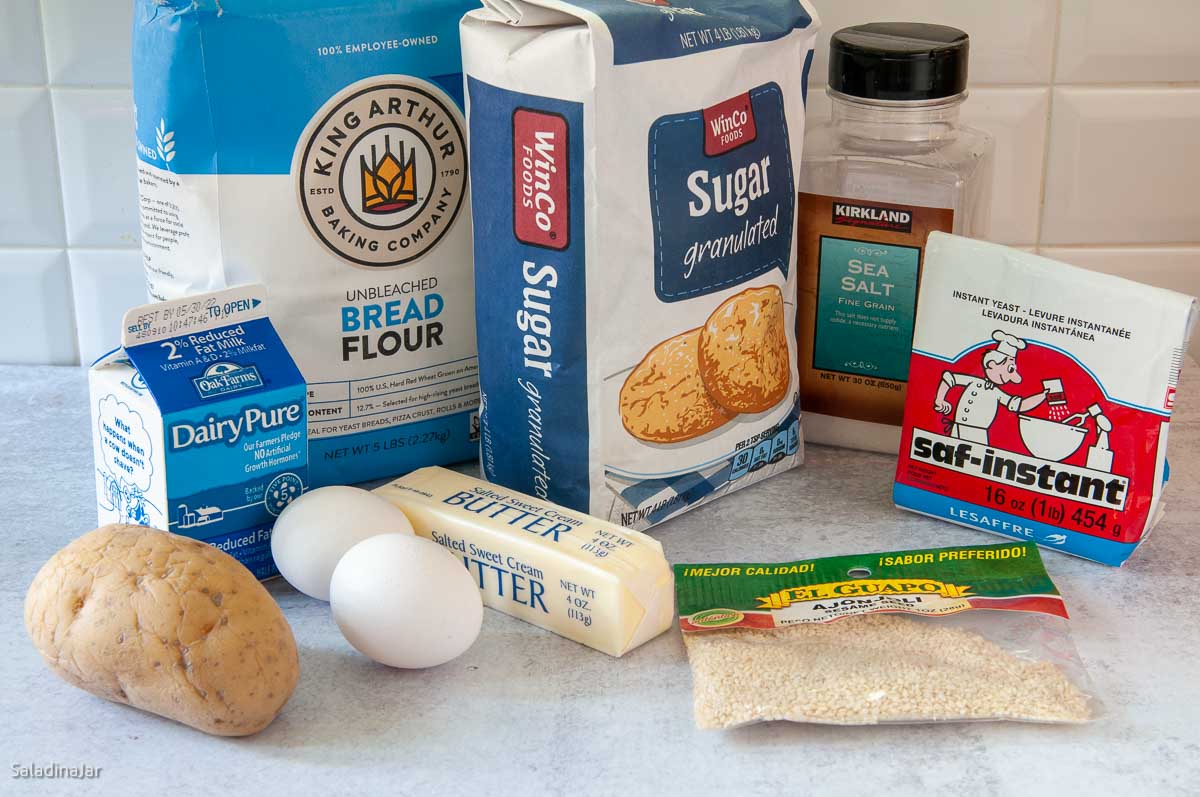 Potatoes: I prefer russet potatoes because they have the most starch. However, Yukon Golds will also work.

Even leftover mashed potatoes can be substituted with this caveat. The additional moisture in the potatoes will affect the moisture level of the bread dough. Always peek while the dough kneads in the machine to see if you need to add more flour or liquid. Read more about this surprising secret to making better bread with a bread maker.

One more note: if the potatoes are hot, put them into the bread machine pan first. Pouring cold milk over the potatoes will cool them down and warm up the milk. How convenient!

Milk: Use any milk that you have on hand. Non-dairy milk will work as long as you are OK with the flavor. The more fat in the milk, the richer your bread will be. Substitute water if you like, but the texture will not be as tender. The milk does not need to be warmed when using a bread machine.

Eggs: I always use large-size eggs. If you use a larger egg, reduce the liquid accordingly. Reduce the flour or add a teaspoon or two of extra liquid if you use a medium-sized egg. You can make that judgment after you begin mixing the dough.

Butter: Use salted or unsalted butter. I usually have salted butter on hand, which I use. I like a lot of salt for the best flavor, but you can reduce the salt you use if you use salted butter.

There is no reason to melt or bring the butter to room temperature. Chop it finely with a table knife before adding it to the dough mixture. The friction caused by the kneading paddles will melt the chopped butter as it mixes into the dough.

Sugar: Granulated white sugar is my sweetener of choice in these lightly-sweet potato rolls. I haven't tried honey or maple syrup. If you want to try syrup, check the moisture level of the dough, as you may need to add more flour.

Salt: I use sea salt in this recipe. Table salt is a good substitute. If you use Kosher salt, add ¼-½ teaspoon extra.

Bread flour: Bread flour makes your bun sturdier–a good thing when you want to hold a sandwich together. However, you can substitute all-purpose flour if you enjoy a softer bun.

Instant yeast: I always use instant yeast in my bread machine. If you need to substitute active dry yeast, add a ¼ teaspoon extra. Although modern formulations mean you no longer have to dissolve active dry yeast, you can if you want to. Use part of the milk listed in the recipe, but warm it first.

Seeds: Seeds are optional: they make your buns look fancy and cover many shaping errors. I like sesame seeds. However, other possibilities exist for everything but the bagel seasoning, poppy seeds, and dried grated onion flakes.
---
How to mix and knead the dough for Potato Burger Buns with a bread machine:
Start by baking a medium potato in your microwave. An 8-ounce potato will take around four minutes on HIGH power in a 1000-watt oven. The cooking time will vary according to the size of your potato and the power of your microwave.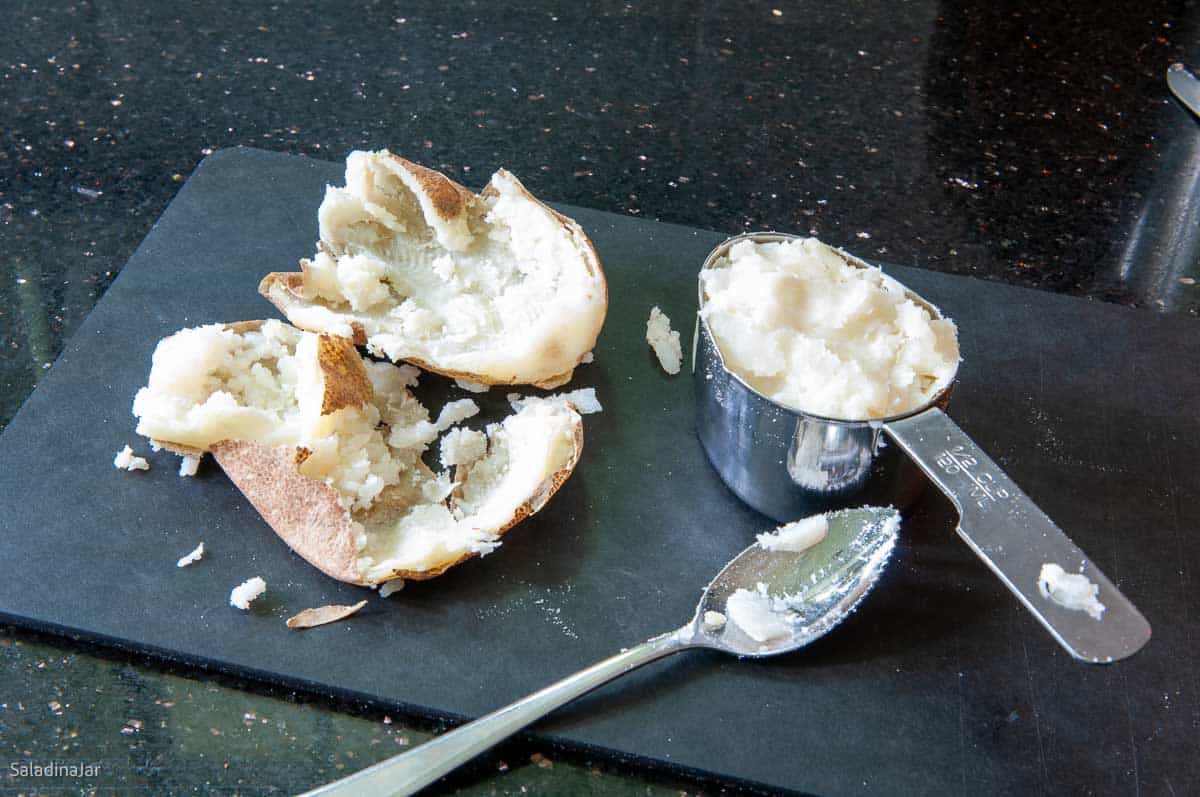 Wrap the potato in a towel and let it sit for 5 minutes. Cut the potato in half and scoop out the innards. You need 1/2 cup of potato flesh. No need to mash the potatoes except to stuff them into a measuring cup.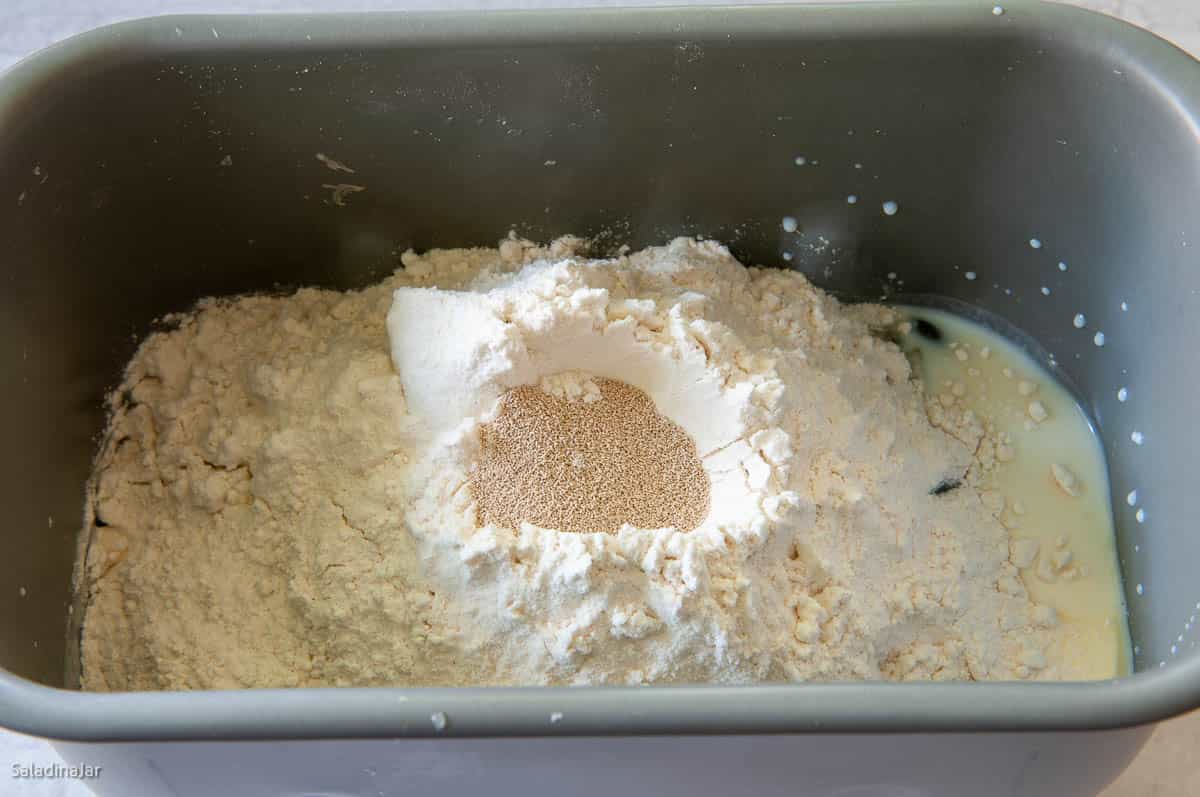 Add the dough ingredients to the bread machine pan in the order given, starting with the potatoes. It is not necessary to warm milk, egg, or butter. The friction of the bread machine paddles will warm everything in short order.
Close the lid and choose the DOUGH cycle. Press START.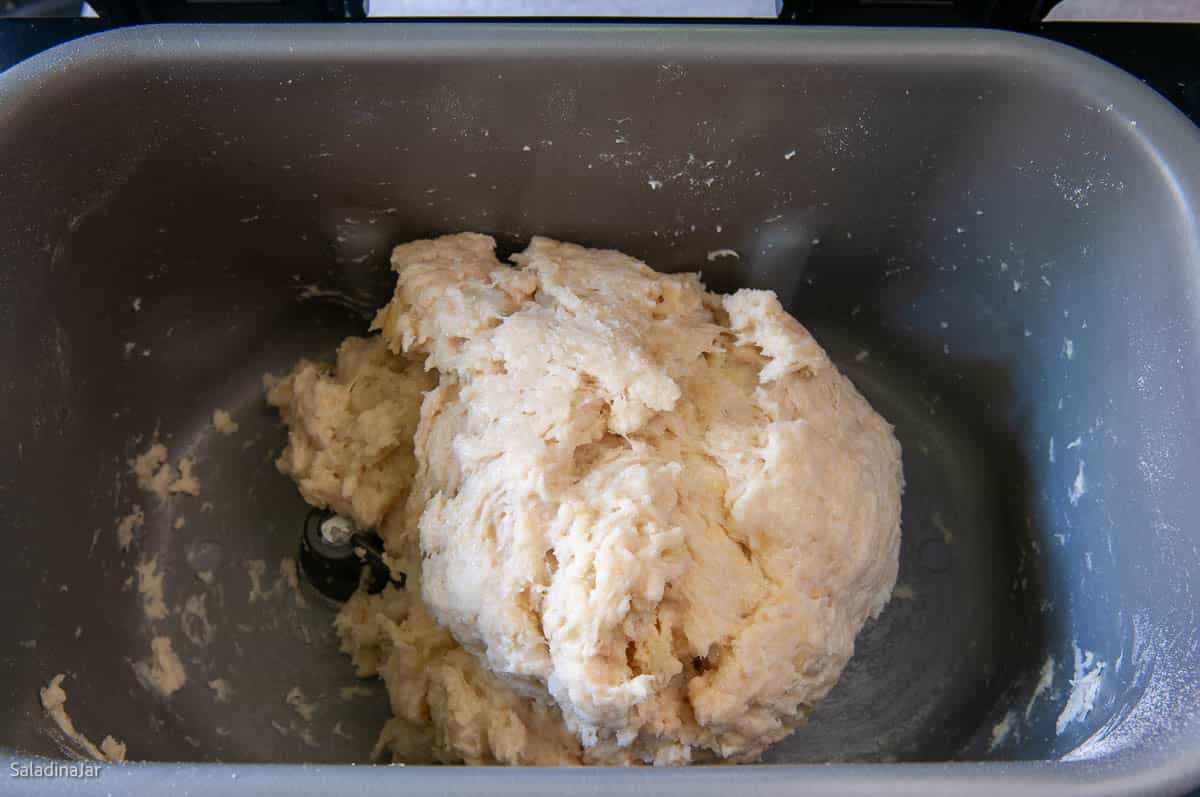 Open the bread machine after the first minute or two to ensure the paddles are engaged, and the dough starts clumping together. If your dough looks like pancake batter, biscuit, or pie dough before you add the water, you have most likely made a serious measuring mistake. Add small amounts of liquid or flour until the dough clumps together.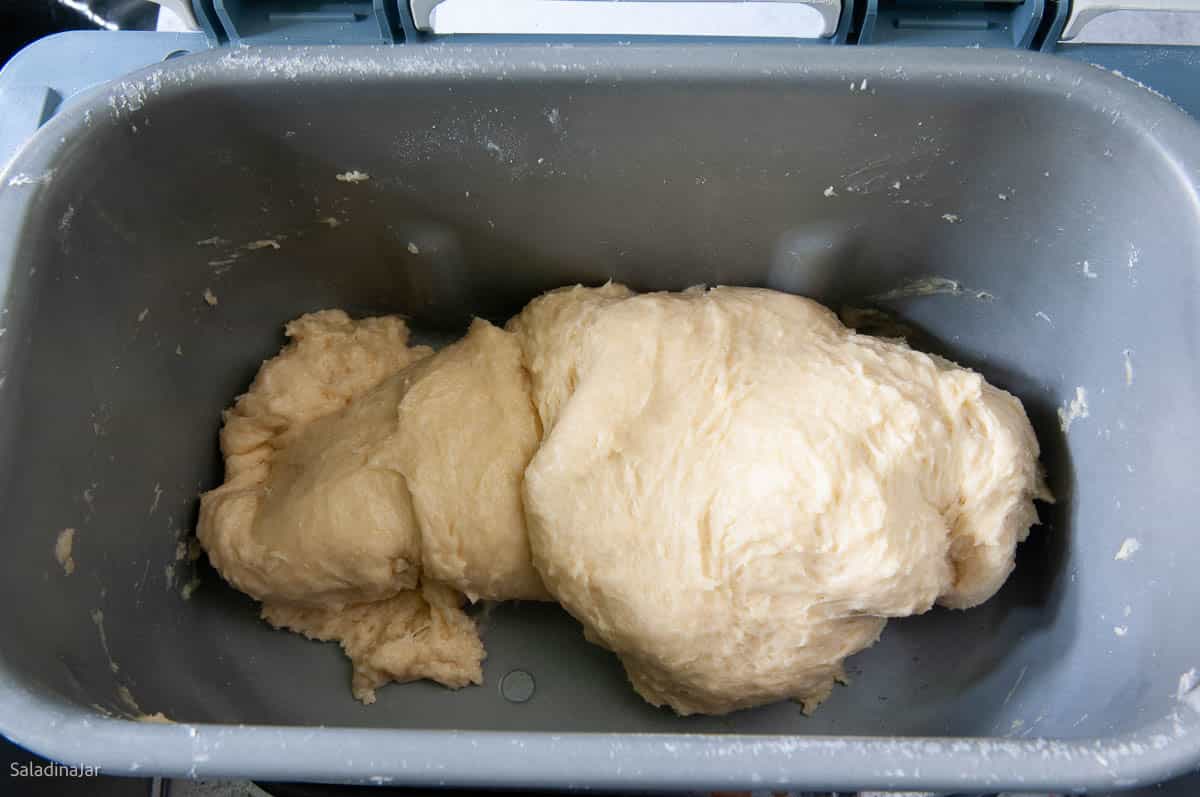 The dough should be smooth, soft, and shiny toward the end of the kneading phase. If you touch the dough, it should feel tacky and bouncy. Watch how the dough sticks to the side briefly, then pulls away cleanly.
If your dough doesn't look like this, add more liquid, a tablespoon at a time if it's too dry, or more flour, a tablespoon at a time if it's too wet. Read more about this step and watch the video if you need help assessing the dough.
---
How to shape hamburger buns:
Close to the end of the DOUGH cycle, check the dough. If it has doubled in size, remove it from the pan. If the dough has not doubled, leave it in the pan until it does.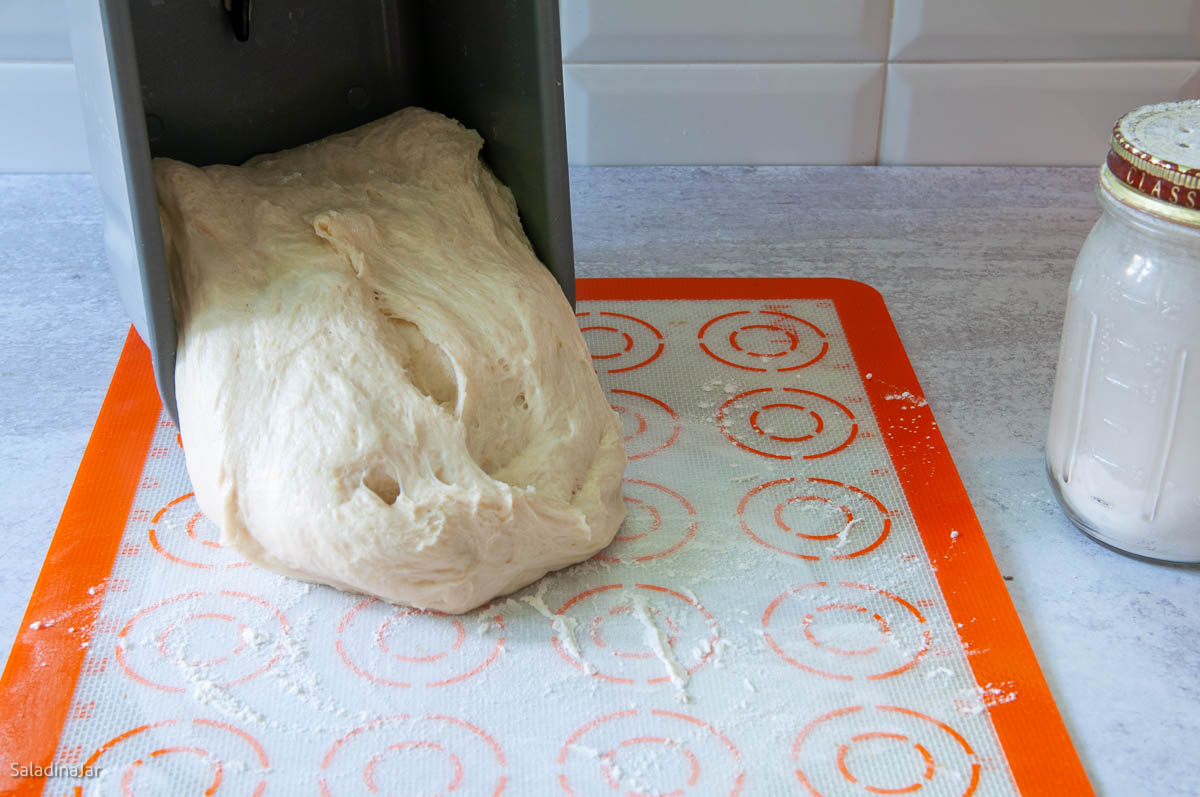 Pull the dough from the bread machine pan onto a lightly floured surface. (Silicone baking mats work well. Throw the dirty mats into the dishwasher when done.) Use your fingers to press the air bubbles out and form the dough into a rough ball.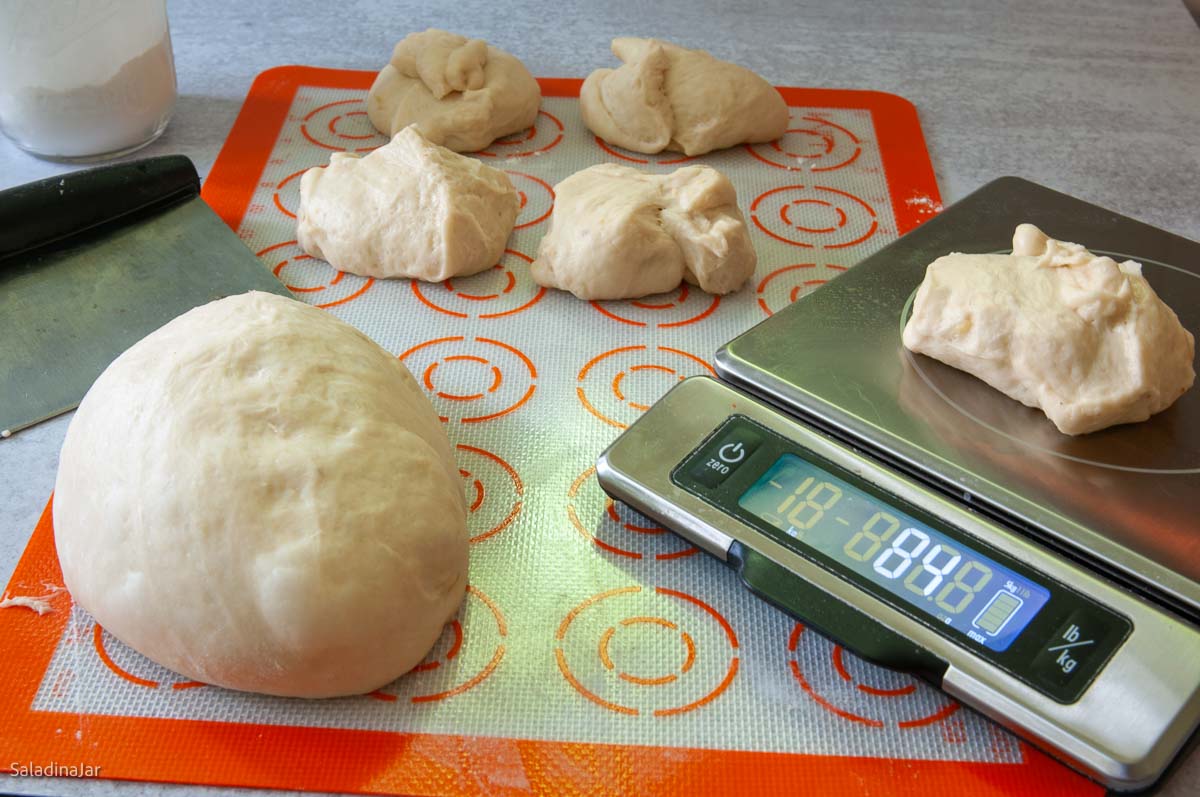 Use a bench scraper or knife to divide the dough into 8, 10, or 12 balls.
If you want your rolls to be a uniform size, weigh the whole ball of dough, then divide that amount by however many rolls you want. Although matching buns look pretty on a platter, offering differently-sized buns is a crowd-friendly, waist-line-pleasing option.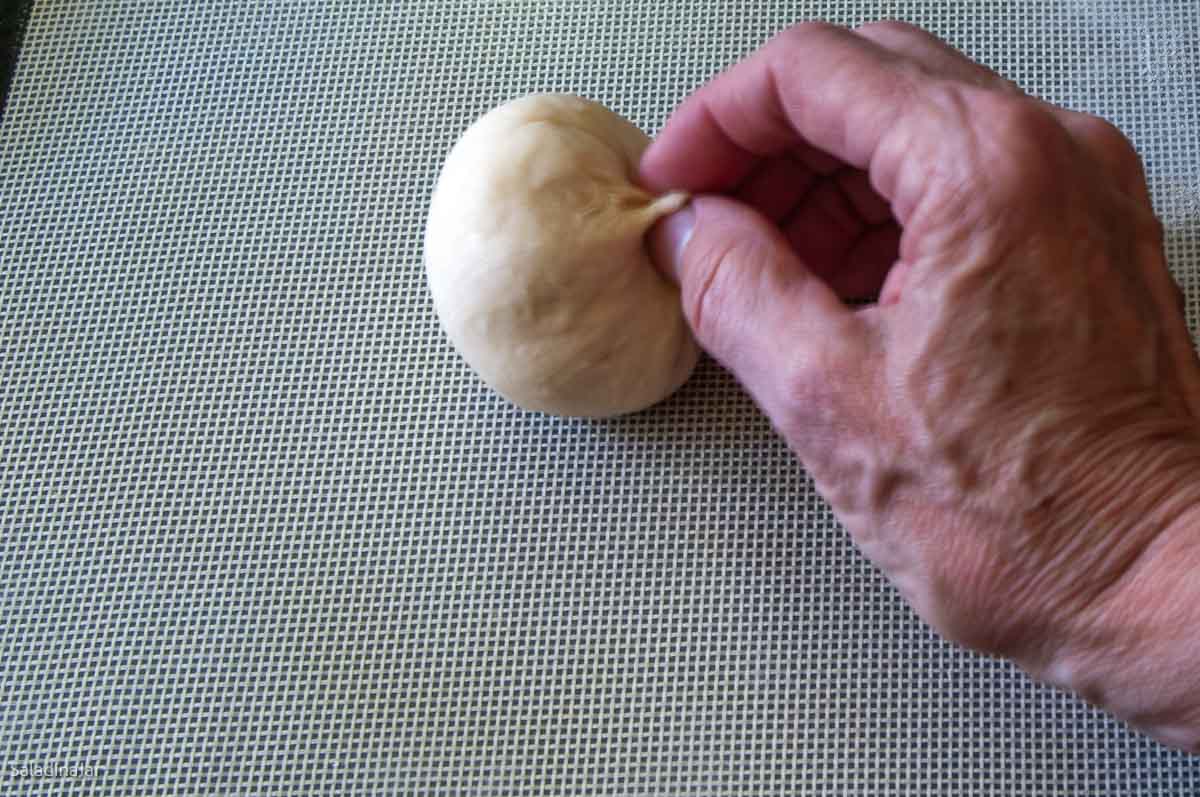 Prepare a cookie sheet. Cover it with a silicone mat or parchment paper (my least favorite because it wrinkles when you smash the buns), or spray the pan with Baker's Joy.
How to make round balls:
Place the dough in your left palm (if right-handed) and pull the dough from the bottom to the top.
Pinch it together with your fingertips.
Work your way around the ball, creating a round roll with tension. (See the video.)
Place the pinched side of the ball down onto the prepared cookie sheet.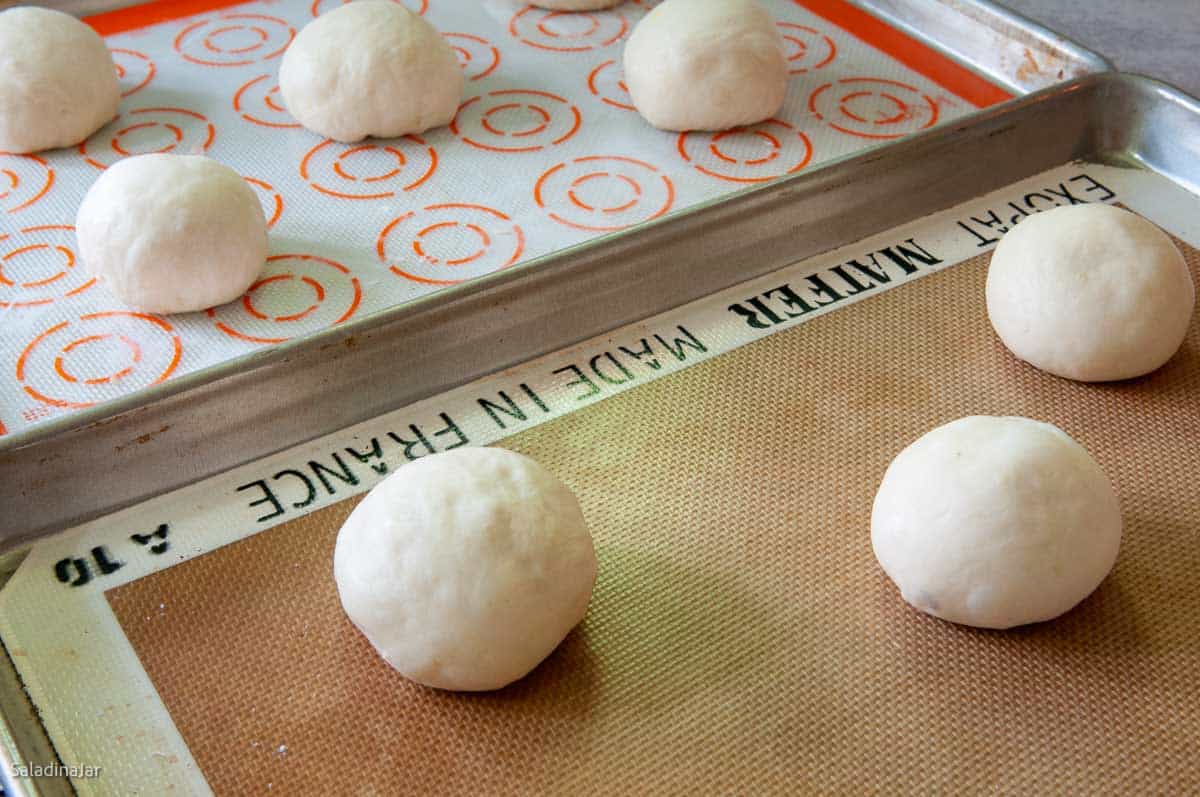 I like to place five balls on each tray, giving each ball plenty of space. Allow the balls to rest for 15 minutes before flattening them.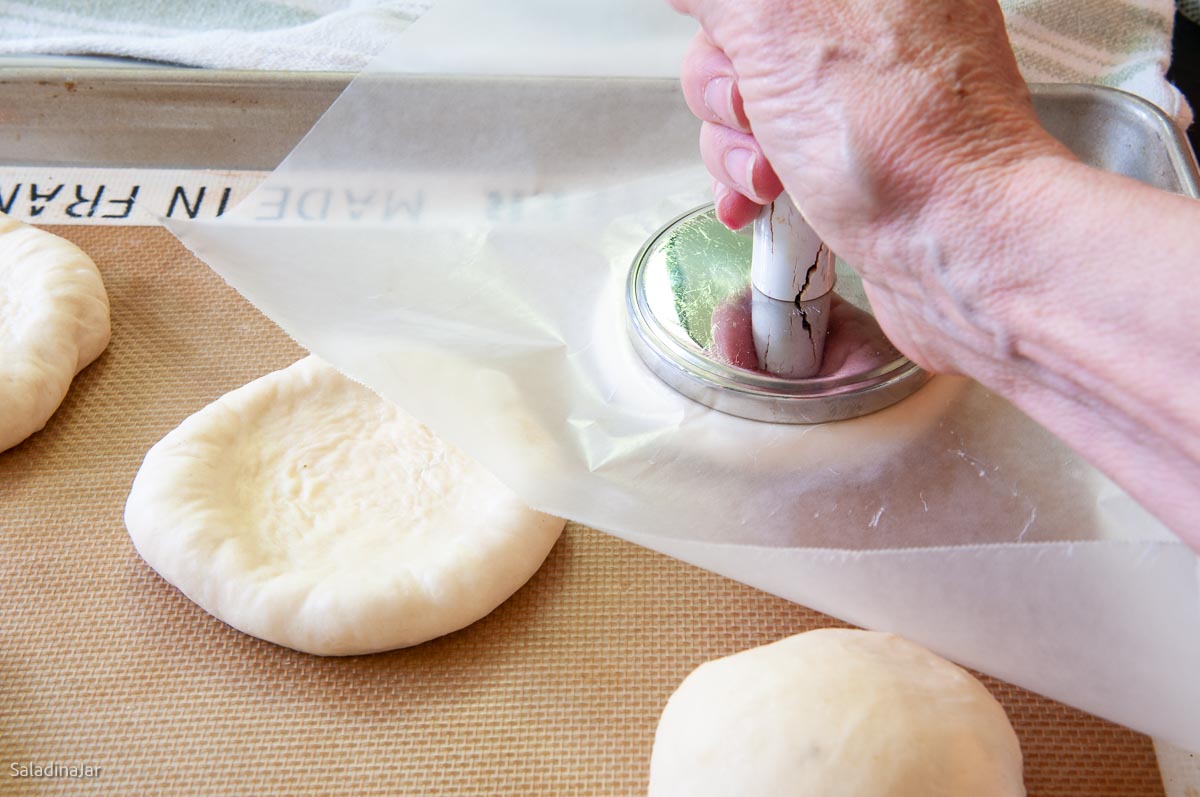 After the balls have relaxed, use your fingers to flatten each ball down to ½ to 1-inch thickness. I get a more uniform "press" using waxed paper and a tool with a smooth bottom designed to flatten meat. You could improvise with a small plate, bowl, or pan with a flat bottom.
When the buns are puffy, coat them with the egg-water glaze. Be careful not to let the glaze drip onto the tray.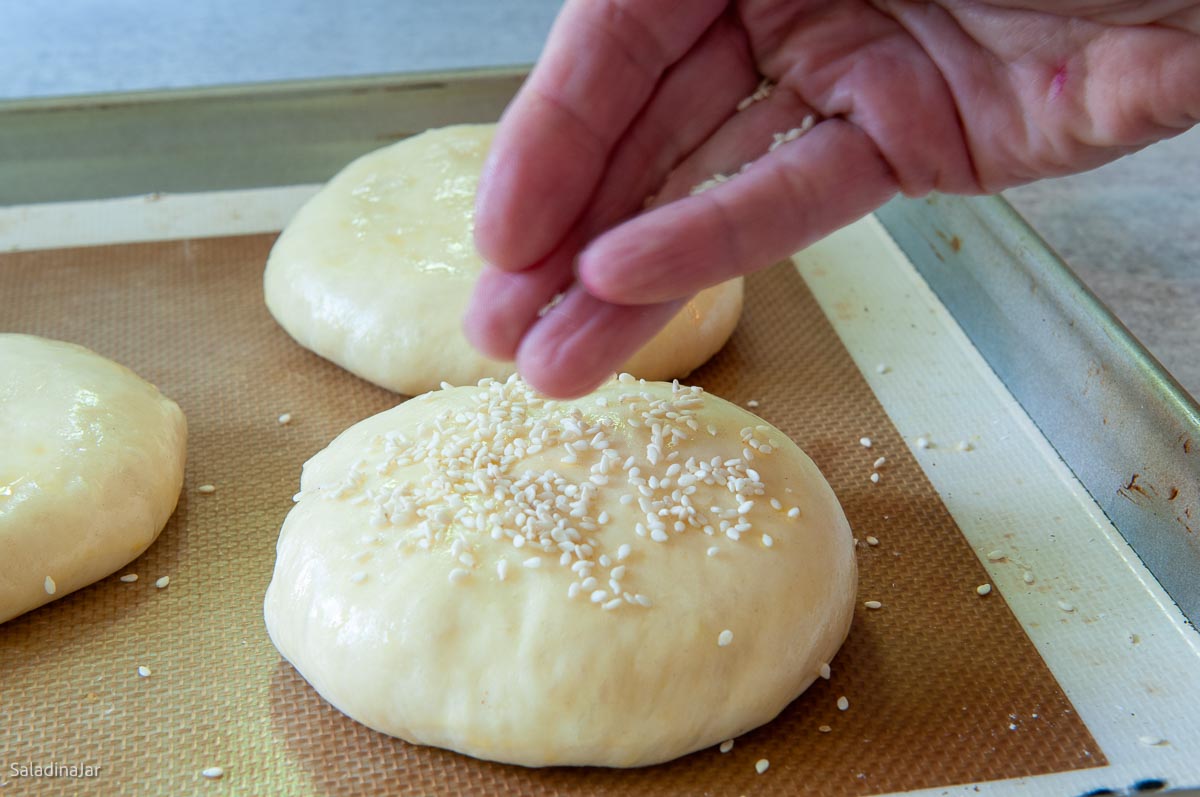 If using seeds, now is the time to sprinkle them on top. Bake at 400˚F (200˚C) for 12-15 minutes or until the internal temperature reaches 190˚F (88˚C) and the buns are evenly browned on top. You may need to rotate and turn your trays to achieve even browning.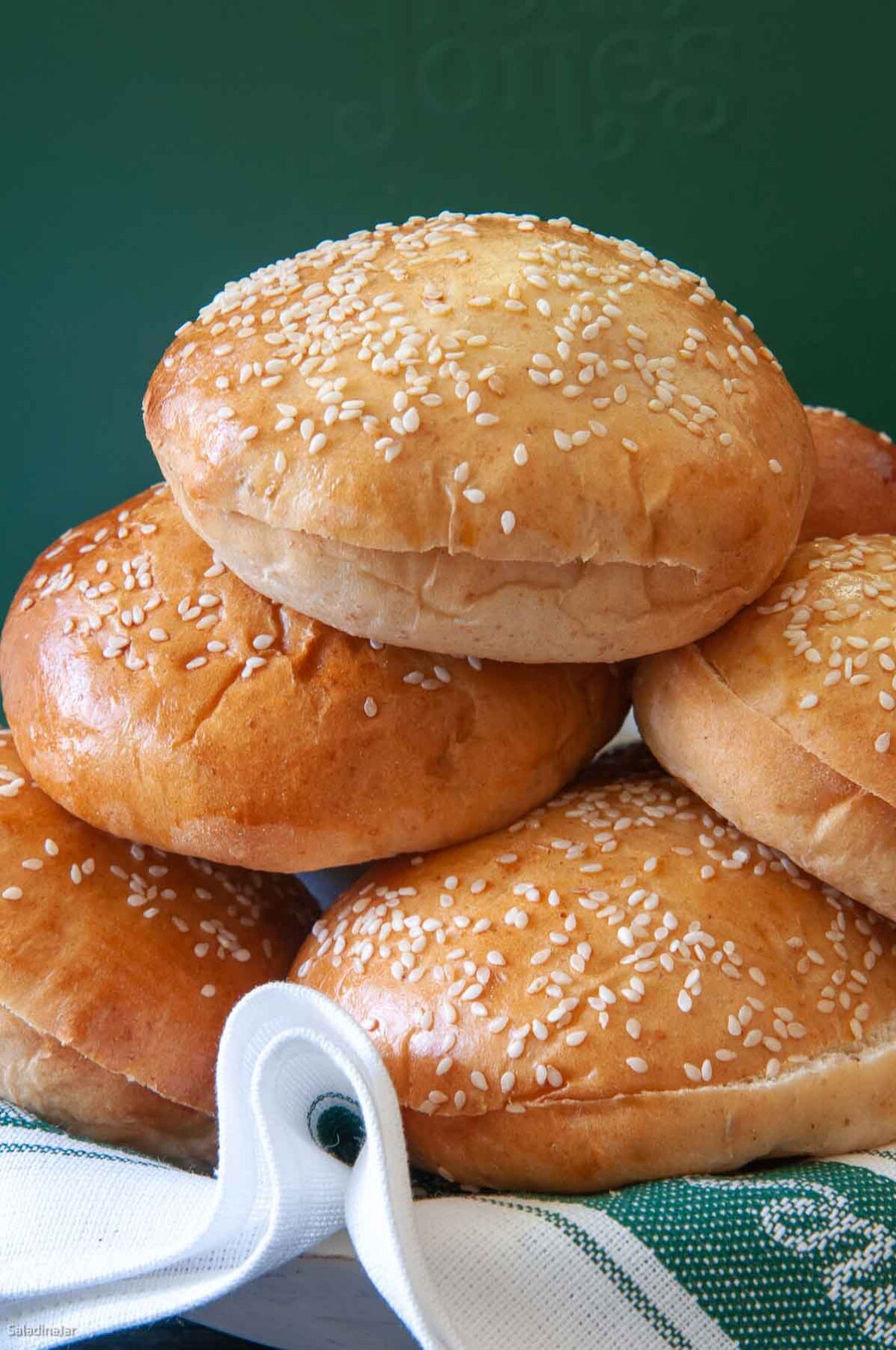 Remove baked buns from the cookie sheet to a wire rack so the bottoms won't get soggy. Use a serrated knife to slice before serving.
---
FAQ about Potato Buns:
Can I use instant potatoes instead of fresh potatoes?
I think they are a bit bland, but yes, instant potatoes can be substituted. Go ahead and reconstitute them according to the directions. However, make them drier than usual. Try to imitate the dryness of the insides of a baked potato.

If you choose this alternative, it is imperative that you check the moisture content of the dough as it kneads.
What is the best way to store these buns?
These buns will only stay fresh for 2-3 days since they contain no preservatives. Store in the freezer for up to a month. They keep best when double-wrapped. I like to wrap each bun with plastic wrap, then store the whole lot in a larger plastic bag.
How do I toast homemade hamburger buns?
Split the buns horizontally and brush the cut with melted or spray butter. Place each bun with the cut side down onto a hot skillet or grill to brown. Watch carefully to keep them from burning.
Parting Thoughts: If this is your first attempt at hamburger buns, don't expect perfectly round rolls with a silky smooth glaze and no drips. If your buns taste good and aren't too dense, your family or guests will forgive any sins. Keep practicing, and you'll soon have burger buns worth sharing.
---
If you have questions or suggestions, email me privately for a quick answer: Paula at saladinajar.com. Hope to see you again soon!
---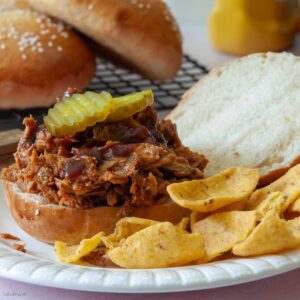 Potato Burger Buns Mixed with a Bread Machine
These potato hamburger buns (mixed in a bread machine) are guaranteed to make your next outdoor party more memorable. They are soft but sturdy buns and flavorful without tasting like dessert. A fresh potato is the secret ingredient.
Ingredients
1

medium

russet potato (7-8 oz)

-

You will need ½ cup (126 gr) of the potato innards.

¾

cup + 1 tablespoon

milk (any fat content)

-

184 g

1

large

egg

-

50 g

¼

cup

unsalted butter (chopped)

-

57 g

2

tablespoons

granulated sugar

-

25 g

1½

teaspoon

table or sea salt

-

7 g

3 ⅓

cups

bread flour

-

400 g

1 ½

teaspoons

instant yeast
Egg Wash
1

large

egg

-

50 g

1

tablespoon

milk

-

14 g
Instructions
Place a clean and unpeeled medium-sized russet potato into a microwave oven. Cook on HIGH for 3-4 minutes (time may vary according to the size of the potato and the wattage of your oven) until the potato is soft and squishy. As soon as the potato is cool enough to handle, cut the potato in half and scoop out the insides. You will need ½ cup of slightly-mashed potato.

Add remaining dough ingredients in the order listed. Select the DOUGH cycle and press START.

Check the dough at least twice by lifting the lid to take a peek. Do this right after the machine starts to see if the paddles are correctly engaged and the dough is starting to form a ball.

Recheck the consistency of the dough again 15 minutes into the DOUGH cycle.

If your dough is too wet, add flour one tablespoon at a time. The dough should stick to the side, then pull away cleanly.

Conversely, if the dough is too dry, add one tablespoon of liquid at a time until the dough looks just right. Find out more about this surprising secret to success with a bread machine here.

When the DOUGH cycle completes, if the dough has doubled in size, go to the next step. If the dough has not doubled in size, leave it in the machine until it doubles before proceeding.

Remove the dough from the pan onto a lightly-floured surface. Push the dough down with your palms to remove the bubbles. Shape into a smooth ball.

Divide the dough into 10 pieces, more or less depending on how big you want your buns to be. (Your buns will be more like slider buns if you divide the dough into 12 or more pieces.) Shape into round balls by pulling the dough from the bottom to the top and pinching it shut to create tension when you turn them over. Watch the video if you want to see how I do it. Place 5 buns on each of two prepared cookie sheets. (To prepare cookie sheets, cover with a silicone mat or grease with Baker's Joy. Parchment paper didn't work for me because it tends to wrinkle during the flattening process.)

Place each ball onto a cookie sheet. Cover and allow to rest for 15 minutes.

Flatten the dough balls to less than 1-inch thickness with your palms or a small flat plate. I do this with a piece of wax paper between the dough ball and a flat meat pounder. (See picture above.) Cover with a tea towel to rise one more time.

About 15 minutes before you think the rolls will be ready to bake (when they are quite puffy), preheat the oven to 400˚F (200˚C).

Whisk the egg and milk glaze together in a small bowl. Brush the glaze over the rolls immediately before you put them into the oven. Try not to leave any unglazed surface. Also, don't use so much glaze that it drips onto the tray.

Bake the rolls for 12-15 minutes or until the internal temperature reaches 190˚F (or 88˚C) and the rolls are golden brown all over.
Notes
Directions for making bread with a stand mixer or by hand:
To make this recipe in a heavy-duty stand mixer: Add ingredients to the bowl in the same order. Turn on LOW to mix until all ingredients are moistened. Then, using a dough hook, turn the speed to 2 or 3. Continue beating/kneading until dough becomes smooth and elastic (about 5-10 minutes). Cover and allow to rise in a warm place. Deflate dough gently and shape as indicated in the recipe.
If making by hand: Combine all ingredients into a shaggy ball in a large bowl. Turn dough out onto a floured surface. Knead with your hands until the dough becomes smooth and elastic. Kneading will likely take 10-20 minutes, depending on your experience. Place the dough ball into a greased bowl. Cover and allow to rise until double. Deflate the dough gently and shape it as indicated in the recipe.
Please note: If you only have active dry yeast, use 1/4 teaspoon more than called for in the recipe.

It no longer needs to be dissolved first

, but you can if you prefer.
Nutrition
Serving:
1
bun
|
Calories:
248
kcal
|
Carbohydrates:
38
g
|
Protein:
8
g
|
Fat:
7
g
|
Saturated Fat:
2
g
|
Polyunsaturated Fat:
2
g
|
Monounsaturated Fat:
3
g
|
Trans Fat:
1
g
|
Cholesterol:
39
mg
|
Sodium:
429
mg
|
Potassium:
193
mg
|
Fiber:
2
g
|
Sugar:
4
g
|
Vitamin A:
279
IU
|
Vitamin C:
1
mg
|
Calcium:
42
mg
|
Iron:
1
mg