Sneak Peek: This lemon bread machine recipe is a sweet yeast bread flavored with lemon and orange zest. It's ridiculously easy to make with a bread machine and a bundt pan. No worries if you don't have a bread machine. You can make it by hand or with a stand mixer– directions in the recipe notes.
If you think this sounds like monkey bread, you're close, but no cigar.
My mom's Christmas morning specialty was a cinnamon-sugar creation baked inside a round aluminum pan with a hole in the middle. Maybe an old jello mold? (See the picture at the end of this post.)
Using a biscuit cutter, she produced round discs of yeast dough. After dipping each piece in melted butter, she double-dipped them into a bowl of cinnamon and sugar just like monkey bread.
The way she arranged the dough pieces made all the difference.
The sugary circles of dough were positioned vertically inside the pan around the whole like little toy soldiers lined up at attention.
Eating it was the BEST part. We loved pulling the fragrant and buttery slices off one by one, like pulling off segments of a juicy orange.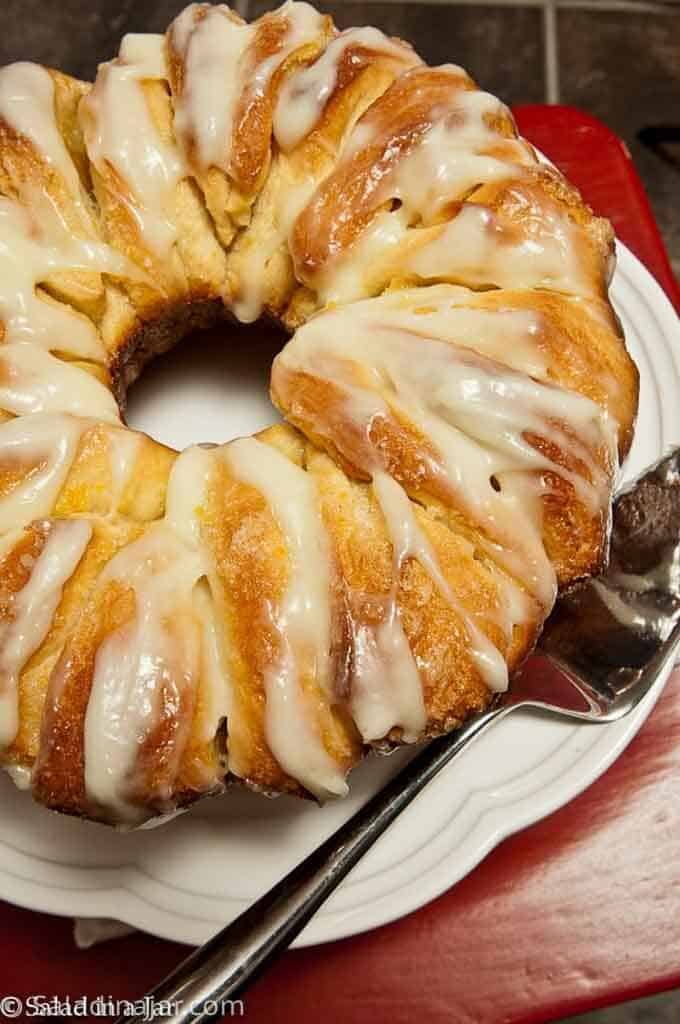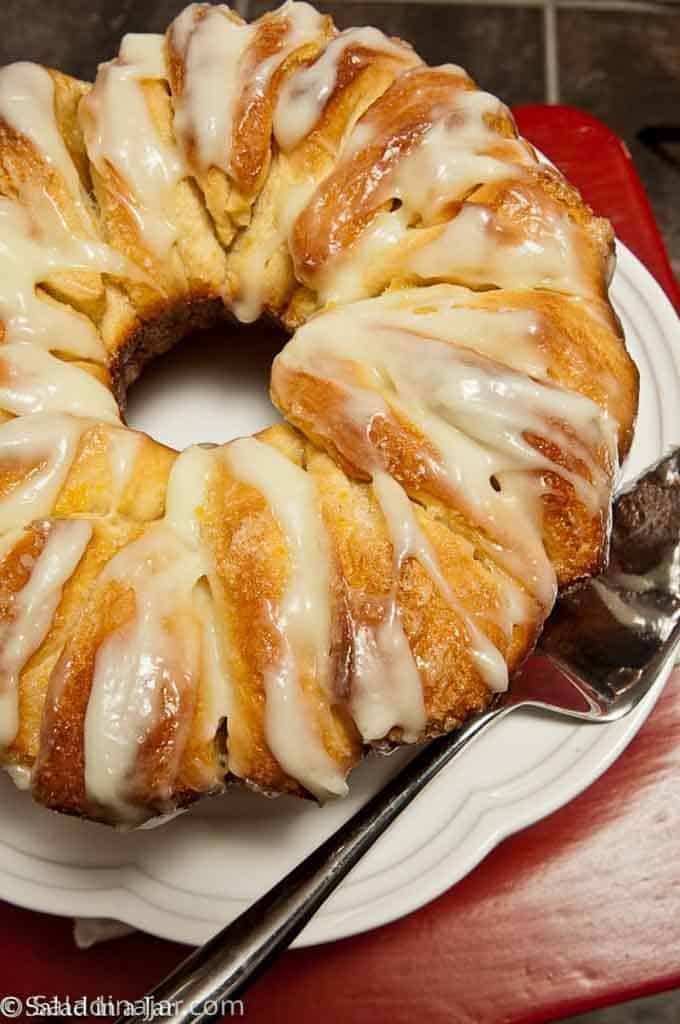 Recipe Inspiration
My daughter-in-law recently asked me if I thought she could make a certain lemon pull-apart bread seen on Pinterest in her bread machine.
Most regular yeast bread recipes can be converted so I took the bait. In the end, I actually adapted my own Monkey Bread recipe because…well… I think it's better. I hope you agree.
However, I procrastinated because the original instructions for assembling the bread seemed rather complicated. Surely there was an easier way than cutting long strips, stacking them, slicing the stacks, etc.
My mom's cinnamon pull-a-part bread described above provided the inspiration to make this recipe faster and simpler without sacrificing taste or appearance.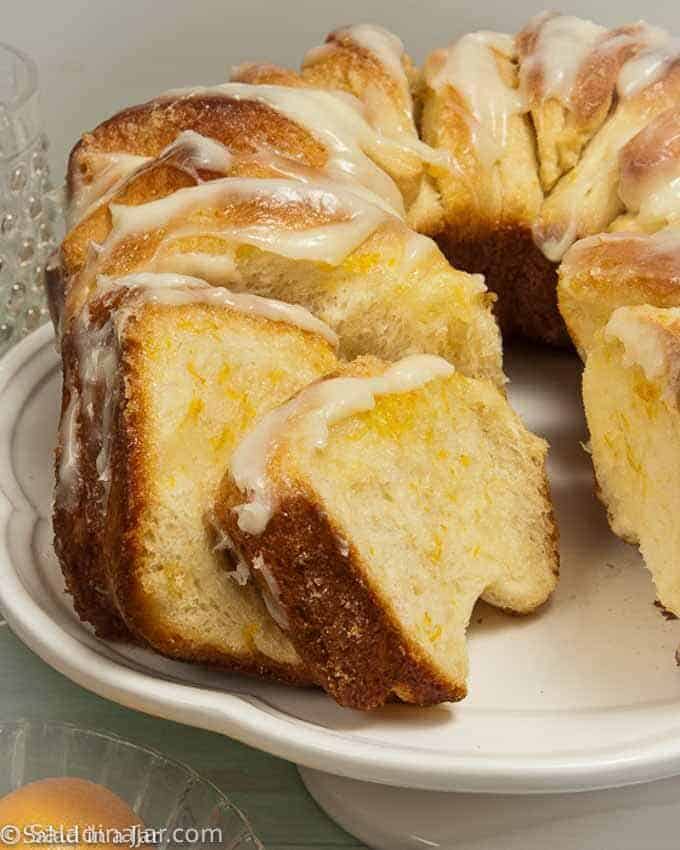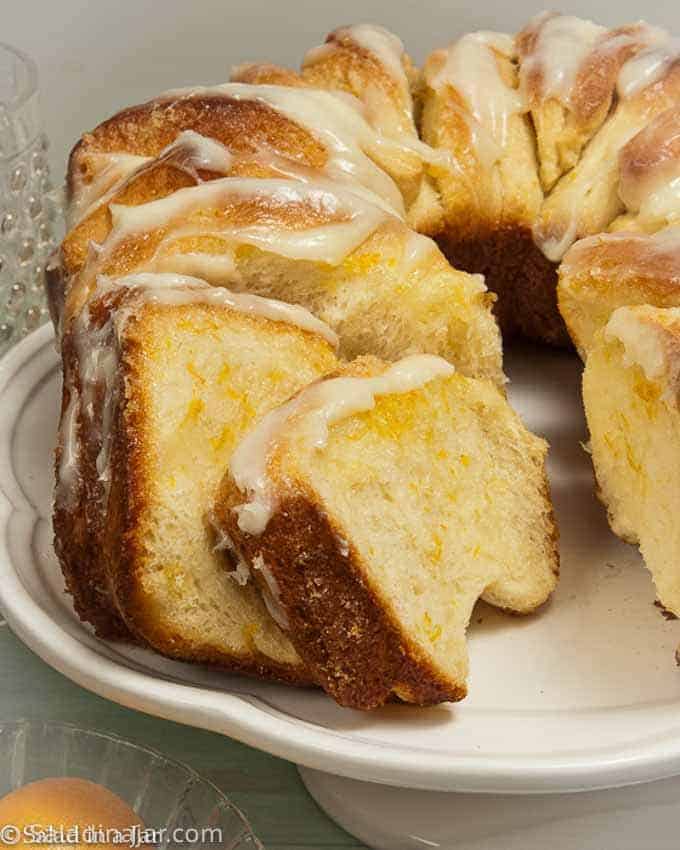 Can I prepare this recipe ahead of time?
I can't wait to serve this delicious bread for my family on Christmas morning, but I won't be getting up early to put it together.
See the notes at the end of the recipe for how to prepare this recipe a day ahead and then bake the next morning.
How to assemble and bake Lemon Bread Machine Recipe: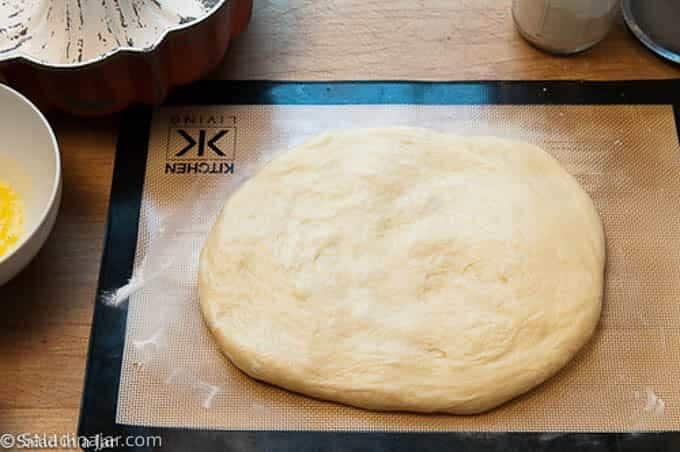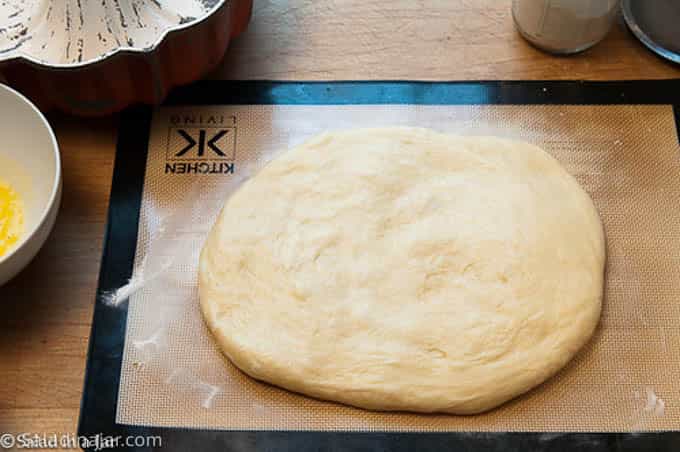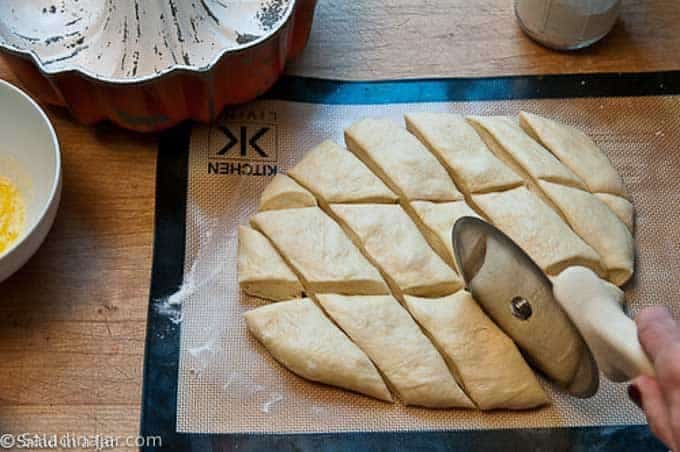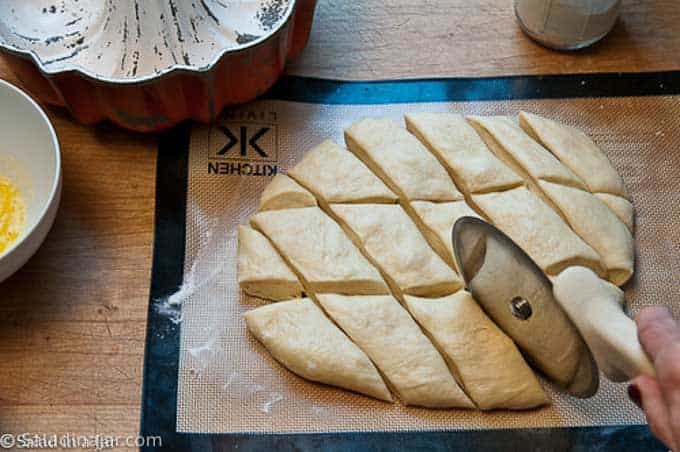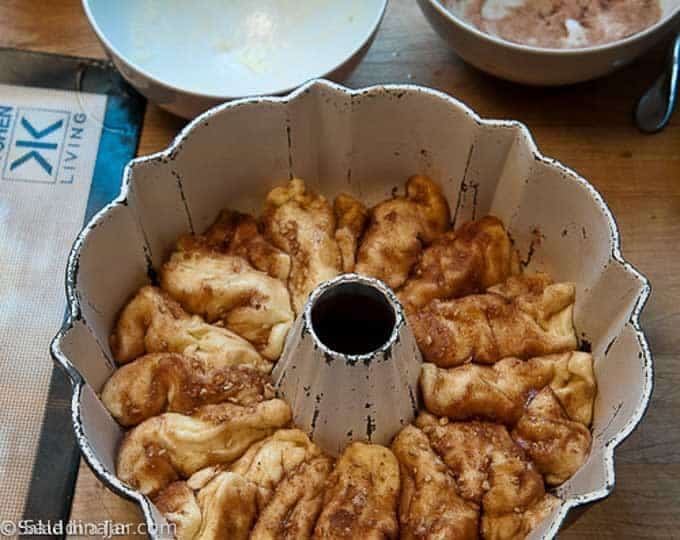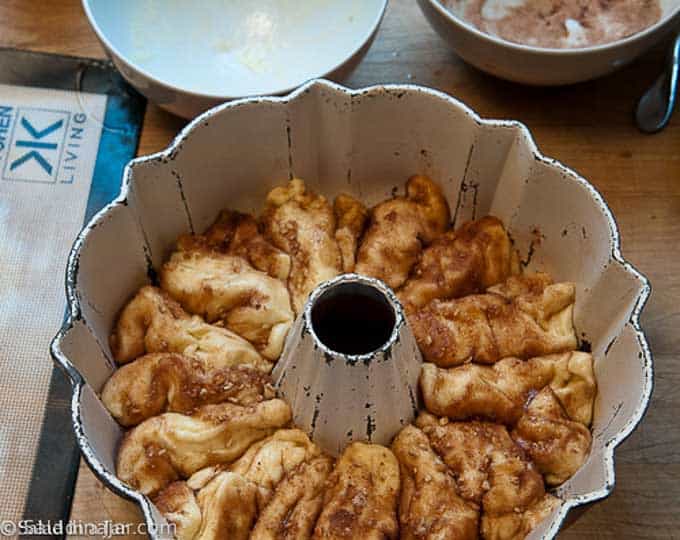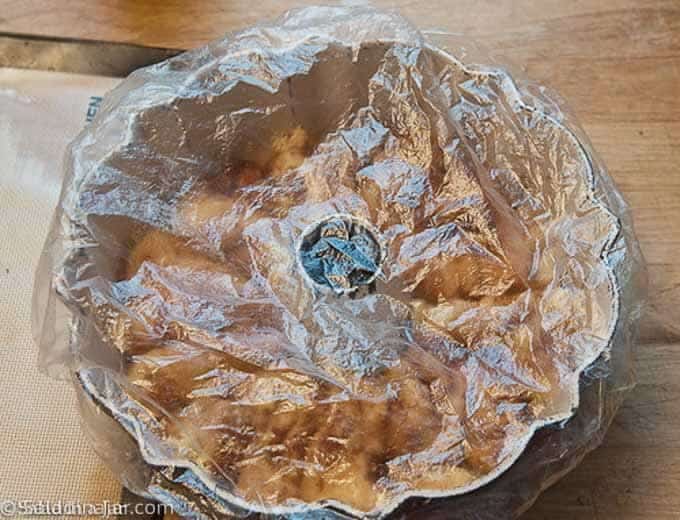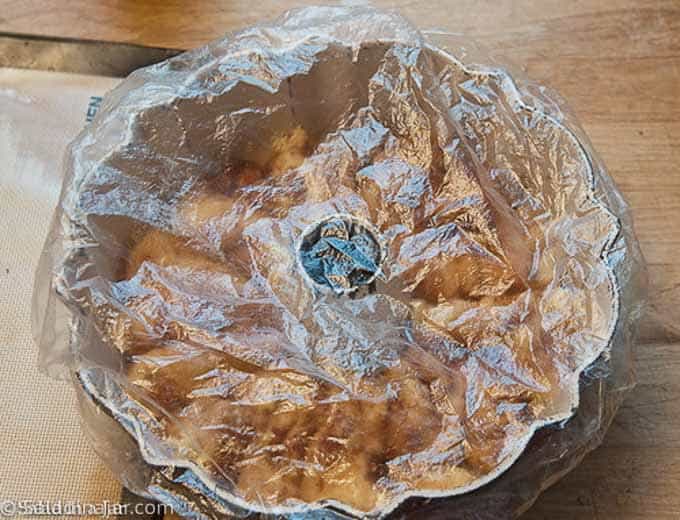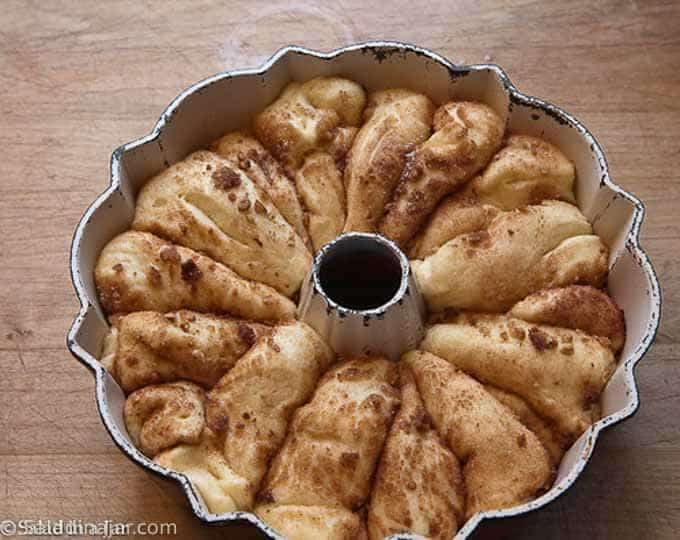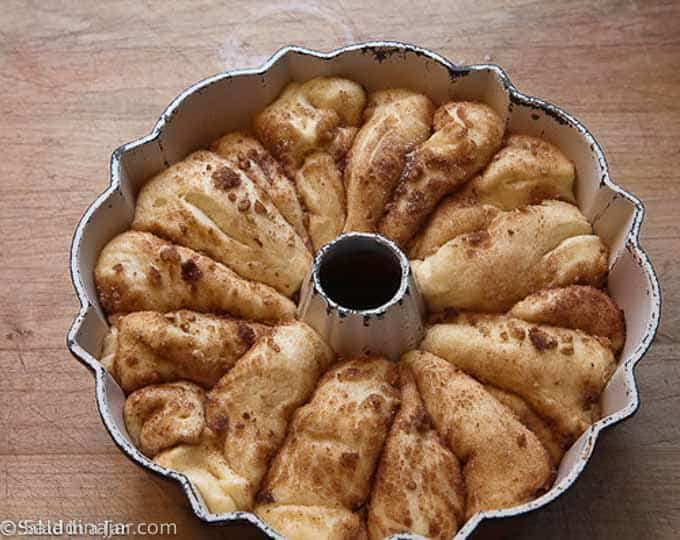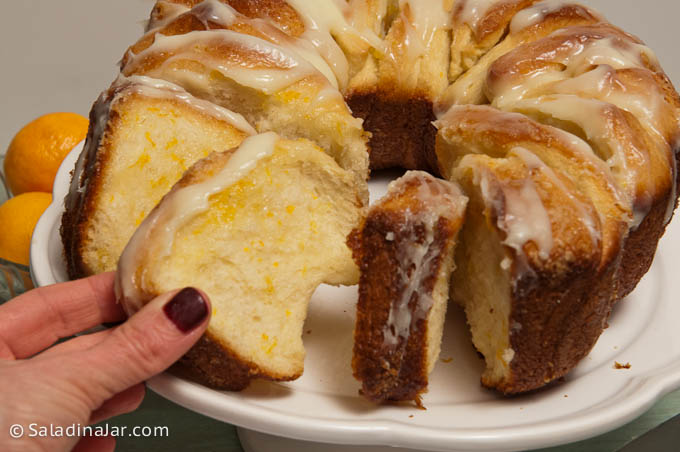 ---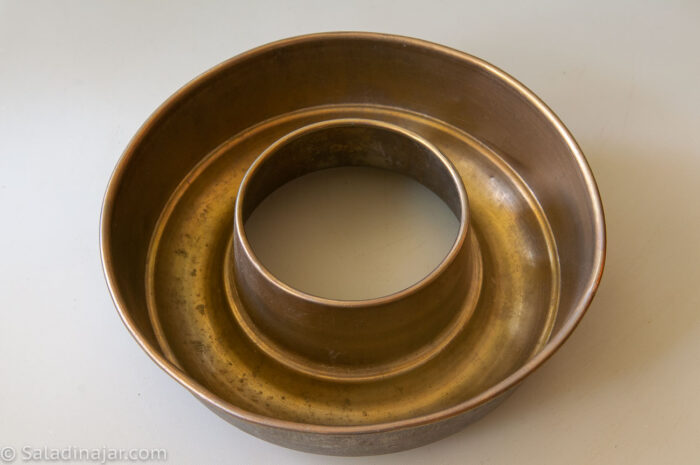 ---
---
---
Did you enjoy this recipe? You can help others (and me) by leaving a rating on the recipe card itself underneath the picture. No comment required. Thank you.

Hope to see you again soon!
Paula
p.s. Questions? Email me: paula at saladinajar.com.
---
Yield: 1 bundt loaf
Lemon Pull-Apart Bread Machine Recipe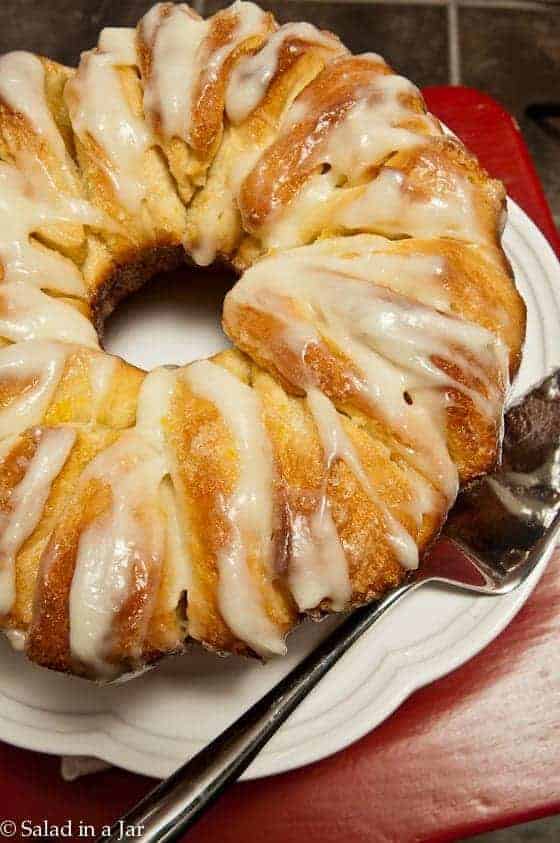 A simple pull-apart bread flavored with lemon and orange zest that you can make in your bread machine
Prep Time
3 hours
45 minutes
Total Time
4 hours
15 minutes
Ingredients
5/8 cup (150 grams) milk
1/4 cup (50 grams) sugar
1 teaspoon (6 grams) table salt
1/4 cup (57 grams) butter
2 large eggs
3 1/4 cup (390 grams) unbleached flour
2 1/4 teaspoon (7 grams) bread machine or instant yeast
1/4 cup (57 grams) melted butter (for dipping dough pieces)
Lemon zest from 3 medium lemons and 1 orange mixed + 1/2 cup (100 grams) sugar
Frosting
1 cup (227 grams) powdered sugar
1-2 tablespoons (14-28 grams) whipping cream, milk, or coffee
Instructions
Dump first 7 ingredients into bread machine pan in order listed. Select dough cycle. After 5 minutes, lift lid and check dough. It should stick to the side, then pull away. If dough is too dry, add milk one tablespoon at a time. If too wet, add flour one tablespoon at a time.
When dough cycle completes (dough should be doubled in size), remove dough to a floured surface and roll into a rectangle roughly 8 x 10 inches in size.
Use a pizza cutter or knife to cut the dough into large diamonds.
Dip each diamond into melted butter, then into sugary lemon/orange zest mixture.
Place first piece on its side in bundt pan. Lay second piece upright against first piece and repeat until all pieces have been lined up around the pan. You may have to push them together to squeeze in the final pieces. Perfection is not required.
Cover with shower cap, plastic wrap or a tea towel and allow to rise in warm place until almost double.
Uncover and bake in oven preheated to 350 degrees for 30-35 minutes or until internal temperature reaches 190 degrees F. Lay a piece of foil loosely on top to prevent over-browning about halfway through baking time.
Allow to cool for 5 minutes before turning out of pan. Flip upside down so crusty top is visible.
While bread is still warm, mix powdered sugar with liquid of choice and drizzle over the top.
Notes
To prepare a day ahead:
follow instructions above through step 5. Cover dough that has already been arranged in a pan with plastic wrap or shower cap. Chill overnight. About 2 hours before you want to serve bread, remove bundt pan from the fridge and set aside in a warm, cozy place until the dough has almost doubled in size. Bake as directed above. You can control the rising process somewhat by moving the pan to a warmer or cooler location, depending on when you want it to be ready to bake.
Alternate Mixing Instructions:
Directions for making bread with a stand mixer or by hand:
To make this recipe in a heavy-duty stand mixer, add ingredients to the bowl in the same order. Turn on low to mix until all ingredients are moistened. Using a dough hook, turn speed to 2 or 3 and continue beating/kneading until dough becomes smooth and elastic (about 5-10 minutes). Cover and allow to rise in a warm place. Deflate dough gently and shape as indicated in the recipe.
If making by hand, combine all ingredients into a shaggy ball in a large bowl. Turn dough out onto a floured surface and knead with your hands until dough becomes smooth and elastic, a process that will likely take 10-20 minutes depending on your experience. Place the dough ball into a greased bowl. Cover and allow to rise until double. Deflate dough gently and shape as indicated in the recipe.
Please note: You can substitute active dry yeast for instant or bread machine yeast. There is no longer any need to dissolve it according to King Arthur Baking.com. (https://www.kingarthurbaking.com/blog/2015/09/25/active-dry-yeast) Be aware that it may be a little slower acting than instant yeast, but it'll get there.
If you only have active dry yeast, use 1/4 teaspoon more than called for in the recipe. It no longer needs to be dissolved first, but you can if you prefer.