Easy Chicken Poppy Seed Salad with Cranberries and Greek Yogurt
Sneak Preview: Introducing the Easy Chicken Poppy Seed Salad: A delightful blend of flavors featuring poppy seeds, dried cranberries, and creamy Greek yogurt. Whether you're planning a weekend brunch, a ladies' luncheon, or a quick weeknight supper, this recipe is your go-to choice for a slightly fancy chicken salad that's sure to impress.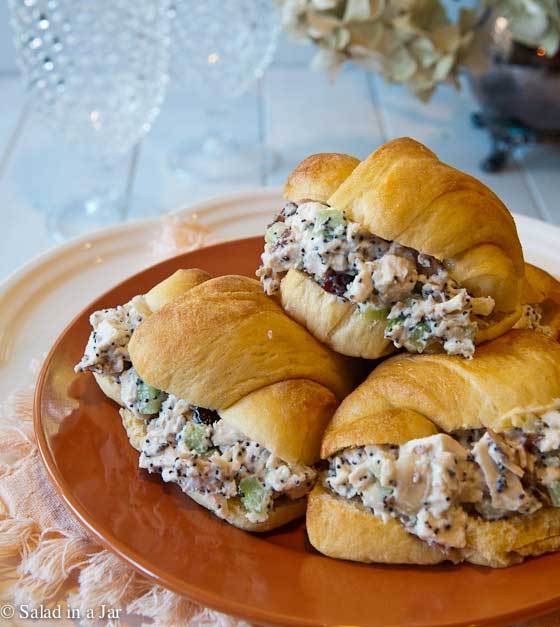 As an Amazon Associate, I earn from qualifying purchases.
How many recipes for chicken salad do you have? If you are a chicken salad lover like me, I bet you have several.
Although I only have one chicken salad recipe listed in my index on this website, I have several other chicken recipes I like. One is an everyday mix-in-two-minutes-and-spread-on-white-bread recipe. Another is a curried chicken affair. (I make it when I don't want my husband to eat it.) The third is this Easy Chicken Poppy Seed Salad with Greek yogurt—my all-time favorite.
Happy Cooks Speak Up:
"I made this for dinner tonight and it was a huge hit! It is so easy to put together, yet tastes special because of the almonds and cranberries. I used shredded chicken (canned) which really cut down on the prep time. This is definitely going into my recipe file. Thank you, Paula. "– Jocelyn
What sets this recipe apart?
---
Recipe inspiration:
I found the original recipe buried in a notebook of company recipes for a pizza chain. I used to work for Pizza Inn in research and development.
First, I set about revising the amounts to make them domestically appropriate. Then, I made it fancy with ingredients like toasted almonds and dried cranberries. Finally, I lightened it with homemade yogurt and a touch of lemon juice.
---
Ingredients and substitutions:
CHICKEN: This is an opportunity to use up leftover cooked chicken. I buy the rotisserie chicken at Costco or cook a whole chicken are directed in this chicken and dumpling recipe.

My Alabama sister says she makes her chicken salad with boneless skinless chicken breasts and never uses dark chicken meat. It's something to consider.

White turkey meat is the only substitute I would consider.

GREEK YOGURT: Unflavored Greek yogurt is the best in this recipe. If you only have regular yogurt on hand, you could strain some of the whey off to make it thicker. (Pour it into a paper coffee filter placed inside of a cheap strainer or colander and let it sit for an hour until thick.)

You can substitute mayonnaise for the yogurt, but it is rather cloying by itself. The yogurt adds freshness. Suit yourself.

POPPYSEEDS: A reader told me she accidentally used chia seeds instead of poppy seeds, and nobody could tell the difference. It's worth a try.

One tip about poppy seeds: Store them in the refrigerator. They go rancid quickly.

CELERY: Celery adds a crisp texture that makes this recipe more interesting. Peeled and chopped apples would do the same thing.

DRIED CRANBERRIES: Dried cranberries could be optional if you don't have them, but they add sweetness and color. Substitute dried cherries if you prefer.

ALMONDS: I like the almonds to be sliced (as opposed to slivered)—with or without the skin on. I also like to lightly toast the almonds in the microwave before adding them. Toasted pecans are a fabulous substitute.

LEMON JUICE: No fresh lemons in the house? My next choice is apple cider vinegar. You don't need much.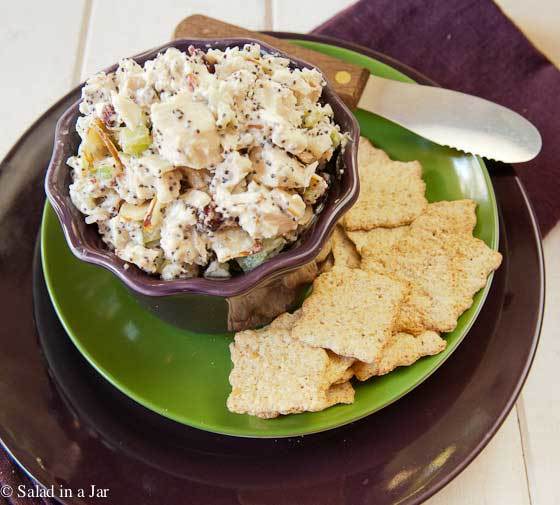 3 ways to serve Chicken Salad
1. Serve with homemade or store-bought dinner rolls of almost any kind. My current favorites are the sweet potato rolls (pictured at the top) made into crescents or "butter horns" (as my mom used to call them). Other possibilities include crescent rolls out of a can or croissants.
2. Make sweet potato chips and eat them with a spoonful of chicken salad on top. That's how I serve ham salad. It is so tasty.
3. Serve over a huge salad (vacuum-sealed). Add a little olive oil and vinegar. Sprinkle with fresh Parmesan cheese and toasted pecans. I guarantee eating this for lunch will improve the rest of your day.
4. Eat with your favorite crackers or make a sandwich with a loaf of Blue Ribbon Buttermilk Bread made with a Bread Machine.
---
FAQ for Poppy Seed Chicken Salad
Can I use store-bought poppy seed dressing in this recipe?
Commercial poppy seed dressing has a lot more sugar in it than I want in my chicken salad. It's also a thinner consistency compared to mayonnaise and Greek yogurt.
Can I freeze this chicken salad?
No. I don't recommend it. The texture will change when it thaws.
How long can I store it?
Store covered in the fridge for up to 4 days. This recipe stays fresh longer than a chicken salad with fresh fruit such as strawberries or grapes added.
---
Parting thoughts: These bread machine recipes make good sliders to hold your chicken salad. Or go for a full-size bun recipe with these Potato Buns.
---
Help at Your Fingertips: For questions or suggestions, email Paula at saladinajar.com. If you need help, I'm happy to troubleshoot via email (faster than leaving a comment). Attach pictures and as many details as possible for the best advice.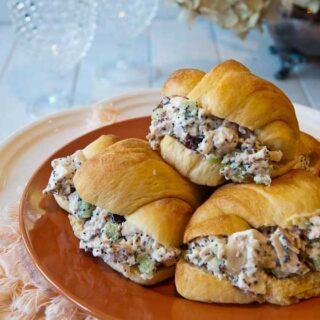 Easy Chicken Poppy Seed Salad with Cranberries and Greek Yogurt
You will love this chicken salad full of white chicken, celery, almonds, poppy seeds, and dried cranberries. Greek yogurt and mayo hold it together. It's a great way to recycle leftover rotisserie chicken.
Share recipe love here. ⬇
Ingredients
2

cups

(

250

g

)

cooked chicken, cubed

½

cup

(

60-75

g

)

sliced almonds or chopped pecans,

– toasted

1

stalk

(

40-50

g

)

finely chopped celery

1-2

tablespoons

poppy seeds

⅓

cup

(

43

g

)

dried cranberries

¼

cup

(

50

g

)

unflavored Greek yogurt

–

unflavored

½

cup

(

112

g

)

mayonnaise

1

teaspoon

lemon juice

pinch

sugar

½

teaspoon

salt
Instructions
Combine

2 cups

(

250

g

) cooked chicken, cubed,

1/2 cup

(

60-75

g

) sliced almonds or chopped pecans,,

1 stalk

(

40-50

g

) finely chopped celery,

1-2 tablespoons

poppy seeds,

1/3 cup

(

43

g

) dried cranberries,

1/4 cup

(

50

g

) unflavored Greek yogurt,

1/2 cup

(

112

g

) mayonnaise,

1 teaspoon

lemon juice,

pinch

sugar, and

½ teaspoon

salt together in a bowl until combined.

Chill.
Notes
Substitutions:
Substitute sour cream or more mayonnaise for the yogurt.
Vinegar is a good replacement for lemon juice.
Nutrition
Serving:
1
|
Calories:
365
kcal
|
Carbohydrates:
10
g
|
Protein:
17
g
|
Fat:
29
g
|
Saturated Fat:
5
g
|
Polyunsaturated Fat:
14
g
|
Monounsaturated Fat:
10
g
|
Trans Fat:
0.04
g
|
Cholesterol:
52
mg
|
Sodium:
429
mg
|
Potassium:
216
mg
|
Fiber:
2
g
|
Sugar:
7
g
|
Vitamin A:
86
IU
|
Vitamin C:
1
mg
|
Calcium:
59
mg
|
Iron:
1
mg
HELP OTHERS find this recipe. Leave a 5 🌟🌟🌟🌟🌟 rating at the top of the recipe card if you enjoyed it. No comment is required.