Preview: Greek Yogurt Chicken Salad is a slightly fancy chicken salad laced with poppy seeds and cranberries. It's suitable for a weekend brunch, ladies luncheon, or a game-day party.
How many recipes for chicken salad do you have? If you are a chicken salad lover like me, I bet you can guess the answers to the following question:
How are chicken salad recipes like blue jeans?
You can never have enough of either.
Everybody has his favorite brand or recipe.
There's a pair of jeans or chicken salad recipe for every occasion
Every cook has a way of adapting recipes to his own tastes just like we all have a certain way we like to wear our jeans.
A basic pair of jeans or a basic recipe is timeless.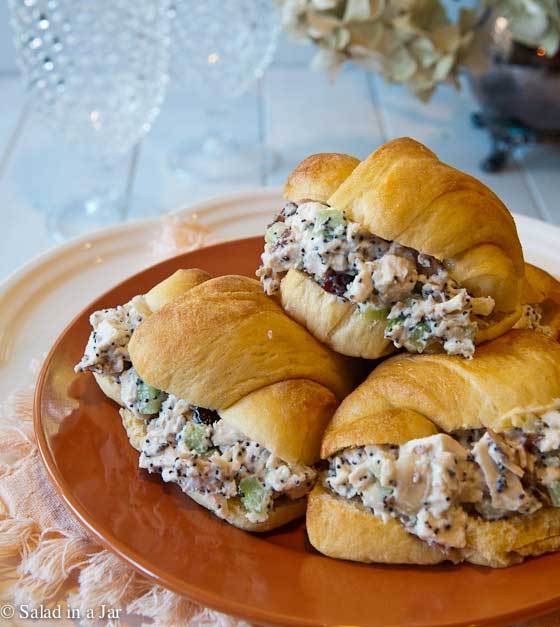 Although I only have one chicken salad recipe in my index, I have several other chicken recipes I like. One is an everyday mix-in-two-minutes-spread-on-white-bread recipe. Another is a curried chicken affair. (I make it when I don't want my husband to eat it.) The third is this Greek yogurt chicken salad recipe.
Recipe inspiration:
I found the original recipe buried in a notebook of company recipes for a pizza chain. I used to work for Pizza Inn in research and development.
First, I set about revising the amounts to make them domestically appropriate. Then, I dressed it up a bit when things like toasted almonds. Finally, I lightened it up a bit with homemade yogurt and a touch of lemon juice.

Ingredients and substitutions:
CHICKEN: This is an opportunity to use up leftover cooked chicken. My Alabama sister says good chicken salad never has dark meat in it. Something to consider. White turkey meat is the only substitute I would consider.

GREEK YOGURT: Unflavored yogurt is best in this recipe. If you only have regular yogurt on hand, you could strain some of the whey off to make it thicker. (Pour it into a paper coffee filter placed inside of a cheap strainer or colander and let it sit for an hour until thick.)

You can substitute mayonnaise for the yogurt but it is rather cloying in my opinion. The yogurt adds freshness. Suit yourself.

POPPY SEEDS: A reader told me she accidentally used chia seeds instead of poppy seeds and nobody could tell the difference. Try that at your own risk.

One tip about poppy seeds: Store them in the refrigerator. They tend to go rancid quickly.

CELERY: Celery adds a crisp texture that makes this recipe more interesting. Peeled and chopped apples would do the same thing.

DRIED CRANBERRIES: Dried cranberries could be optional if you don't have them but they add sweetness and more importantly, color. Substitute dried cherries if you prefer.

ALMONDS: The almonds should be sliced–with or without the skin on. I like to lightly toast almonds in the microwave before adding. Toasted pecans are a fabulous substitute.

LEMON JUICE: No fresh lemons in the house? My next choice would be some apple vinegar. You don't need much.
---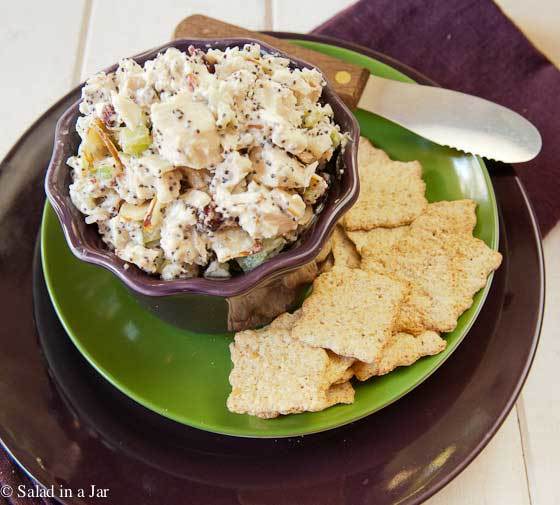 ---
3 WAYS TO SERVE CHICKEN SALAD
#1
I love this Greek yogurt Chicken Salad with poppy seeds served with homemade rolls of almost any kind. My current favorites are these sweet potato rolls made into crescents or "butter horns" (as my mom used to call them) shapes. Other possibilities include crescent rolls out of a can or use croissants.
#2
Another idea for chicken salad is to make sweet potato chips and eat them with a spoonful of chicken salad on top. That is how I serve ham salad and is so tasty. Low-carb never tasted so good.
#3
What I do most often is spoon it on top of a huge salad (vacuum-sealed). Add a little olive oil and vinegar. Sprinkle with fresh Parmesan cheese. Eating this for lunch is guaranteed to improve the rest of the afternoon.
---
WHAT WOULD YOU LIKE TO READ NEXT?
---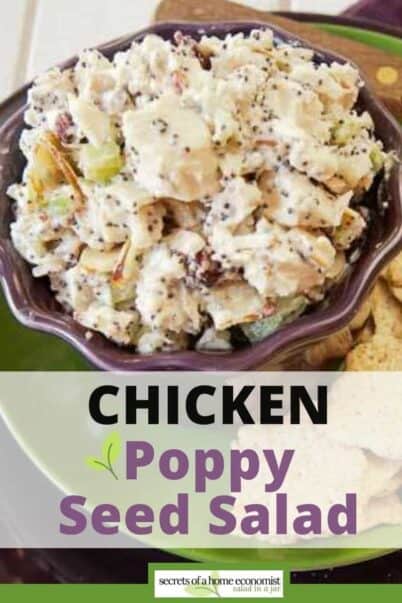 ---
If you enjoyed this recipe, it would help others and me if you gave it a five-star rating inside the recipe card below. 🤩 No comment required. Thank you.

Hope to see you again soon!
Paula
p.s. Questions or suggestions? Please email me: Paula at saladinajar.com.