Glazed Giant Cinnamon Roll Cake: Another Bread Machine Triumph
Sneak Preview: Try this giant cinnamon roll cake for a fun twist to your holiday breakfast tradition. The recipe is easy to mix up in a bread machine or stand mixer.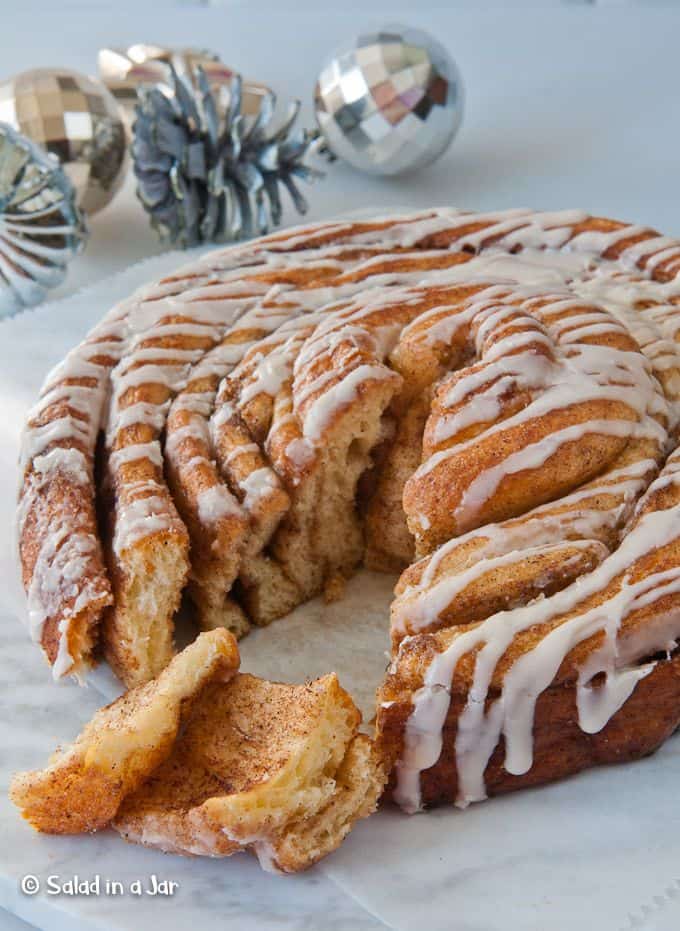 As an Amazon Associate, I earn from qualifying purchases.
Do you have a Christmas breakfast tradition? Christmas morning without cinnamon rolls would be like a tree without lights. Sad.
My cinnamon roll recipe is traditional, but no harm in changing up the appearance. Right? I'm always looking for a new twist and this variation for a Texas-sized giant cinnamon roll cake fills the bill.
No bread machine? See instructions for mixing this recipe by hand or with a stand mixer in the notes at the end of the recipe.
This Giant Cinnamon Roll recipe makes 2 8-inch round cinnamon rolls.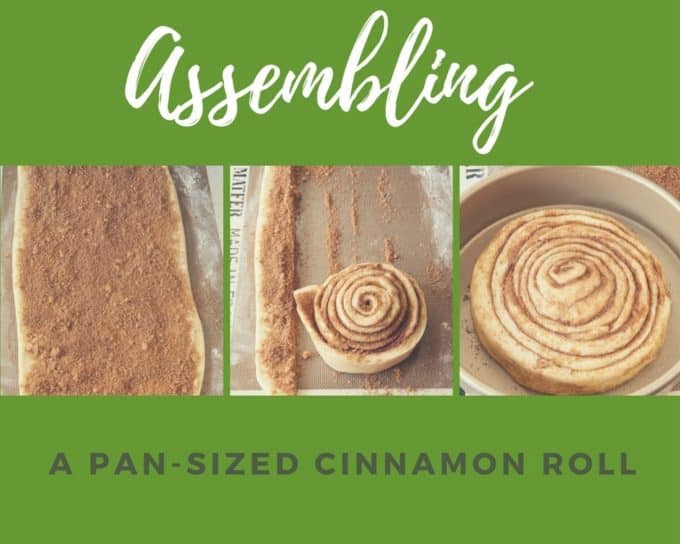 After modifying my original cinnamon roll recipe just slightly, these rolls are a touch richer and even more delicious.
RELATED POST: My Favorite Cinnamon Rolls
As seen in the picture below, rolling out the dough for this Giant Cinnamon Roll is a departure from the classic method.  I will try my best to describe the process but if you are confused, email me or leave your question in the comments.

Try this magical substitute for cinnamon:
I have a new vice called Homemade Chai Spice Blend from a blog named Perry's Plate. Not only is it remarkable in many of the foods the blog-author suggests, but also with some of my own ideas.
Try it as a substitute for plain cinnamon in the filling of this huge cinnamon roll for a taste experience you won't soon forget.  That being said, you can't go wrong with the traditional brown sugar and cinnamon filling.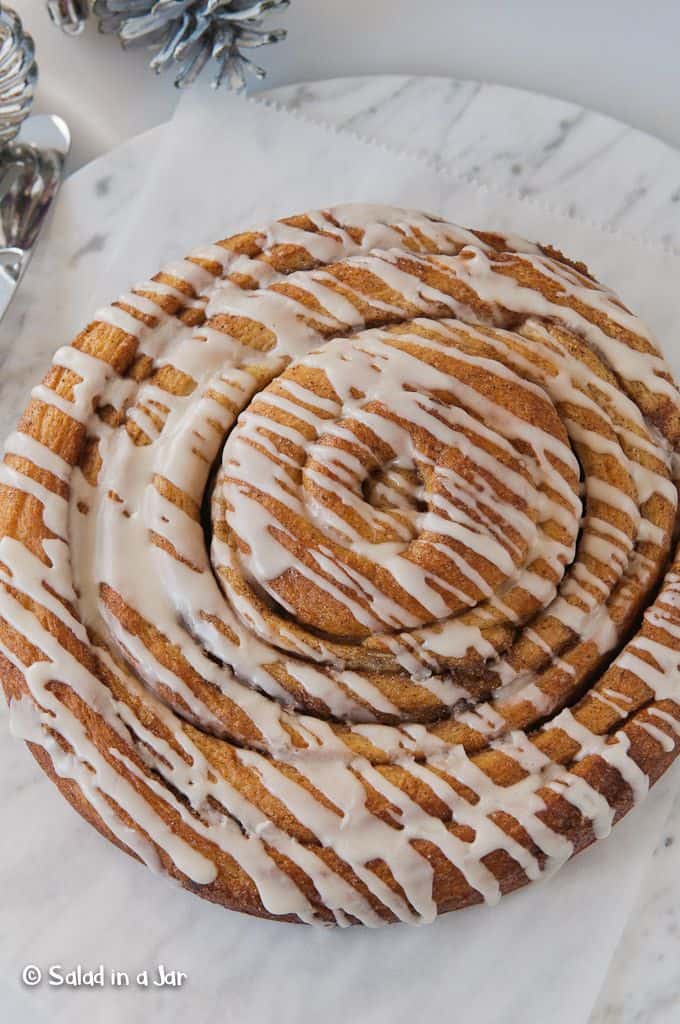 Are you a new owner of a bread machine?
A bread maker is one of my best friends in the kitchen. However, I don't use it as most people do. Instead, I only use the DOUGH cycle to mix and knead the dough. Then I shape the dough by hand and bake it in a conventional oven. It opens up a whole new bread-making experience.
---

---
RELATED POST: 6 Bread Machine Secrets You Need To Know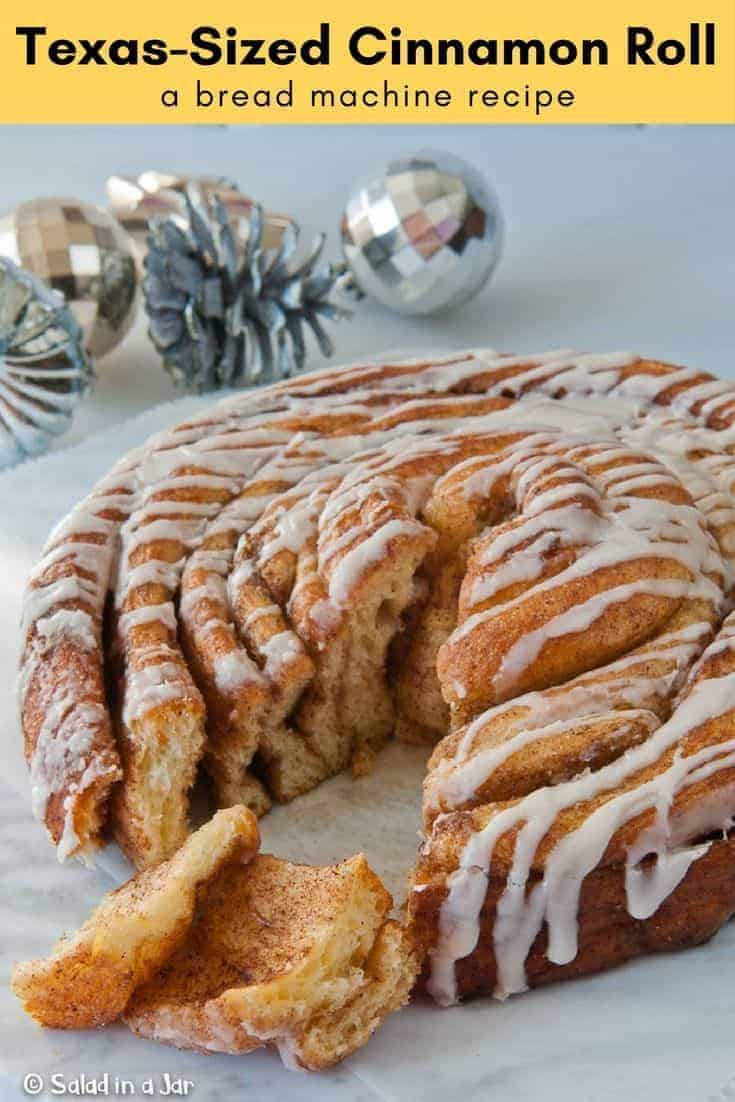 If you have questions or suggestions, email me privately to Paula at saladinajar.com. Hope to see you again soon! Paula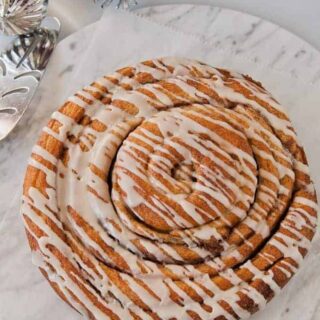 Giant Cinnamon Roll Cake: A Bread Machine Recipe
Try this really big cinnamon roll that makes two 8-inch round pans adding a fun twist to a holiday cinnamon roll tradition
Ingredients
Dough:
½

cup

milk

-

56 gr

½

cup

half-and-half

-

56 gr

2

egg yolks

-

28 gr

3

tablespoons

sugar

-

36 gr

1

teaspoon

salt

-

6 gr

¼

cup

softened butter

-

57 gr

3

cups

of unbleached flour

-

360 gr

2

teaspoons

instant or bread machine yeast

-

6 gr
Filling:
¼

cup

butter

-

57 gr

⅔

cup

brown sugar

-

142 gr

4

teaspoons

cinnamon or Chai spice mixture

-

11 gr
Glaze
2

cups

powdered sugar

-

227 gr

2

tablespoons

cold coffee or milk

-

28 gr

Heavy cream
Instructions 
Warm the milk and cream to lukewarm. (1 minute in the microwave is perfect.) Add to the pan already placed in the bread machine with the blades in place.

Add remaining ingredients to bread machine pan in order given.

Choose the dough cycle on your bread machine and press "Start." Leave the lid open and check the dough after about 5-10 minutes. The dough should stick to the side and then pull away. If it doesn't pull away, add more flour, 1 tablespoon at a time. If it doesn't stick at all, add more milk, 1 tablespoon at a time until it "sticks then pulls away". (See the pictures on this

post

if you are unsure at this point.) Close the lid on machine and allow the machine to finish the dough cycle which will include time for the dough to rise.

When machine beeps, check the dough. If it has not doubled in size, leave it alone and let it continue to proof inside the bread machine until it has doubled.

Prepare two 8-inch non-stick round pans (gold or dark-colored work best). Spray the inside of each with Baker's Joy. This works like a charm when it comes time to get the cinnamon roll out of the pan. Set aside.

Gently remove risen dough from the bread machine onto a floured surface. Divide the dough in half.

Roll one-half of the dough into a 7 1/2 inch by 16 1/2 inch rectangle as pictured above.

Slather 2 tablespoons of softened butter onto the dough and spread to the edges of the rectangle.

Make the glaze by combining the brown sugar and cinnamon in a small bowl. Sprinkle half of the filling evenly over the butter.

Cut five pieces of dough that are approximately 1 1/2 inches wide and 16 1/2 inches long.

Let strips rest for about 15 minutes or until they start to become a little puffy.

Take one strip and loosely roll it up like a bandage. Pick up the next strip, slightly overlapping where the first strip ended, and continue wrapping the strip, always putting the buttered side with sugar towards the inside.

After you have wrapped 2-3 strips, go ahead and transfer the roll to your prepared pan as it will become difficult to hold together without wrapping it too tightly.

Continue to wrap the remaining strips in the same way except that now you will just lay the strips into position horizontally up against the roll as you make your way around the outer edge. It's important not to stretch the dough or wrap it tightly because the dough needs room to grow as it proofs.

Repeat the process with the other half of the dough in the second pan.

Loosely cover both pans with plastic wrap and set in a warm place to proof.

When the dough is almost double in size (45 minutes to 1 hour or more depending on the ambient temperature), set the oven to 350 degrees F to preheat.

Rolls may rise unevenly and be much higher in the middle than the outside. If necessary, before placing rolls into the oven, gently mash on top of the plastic wrap with your fingers to push the dough in the middle down and towards the edge so the roll is level. Be careful not to press air out. The idea is just to redistribute it. Don't worry, the dough will spring back when it hits the oven. Remove the plastic wrap.

Bake at 350˚ F in a preheated oven for about 22-25 minutes or until rolls are evenly browned on top.

Remove from the oven and allow rolls to sit for about 10 minutes. Use a plastic knife to loosen rolls from the pan and place them onto your serving dish.

Make icing while the rolls bake. Combine coffee (or milk if you prefer) with the sugar. Add enough heavy cream to make a pourable consistency. Drizzle icing over the top.
Notes
To make this recipe in a heavy-duty stand mixer, add ingredients to the bowl in the same order. Turn on low to mix until all ingredients are moistened. Using dough hook, turn speed to 2 or 3 and continue beating/kneading until dough becomes smooth and elastic, about 5-10 minutes. Cover and allow to rise in a warm place. Deflate dough gently and shape rolls as indicated in recipe.
If making by hand, combine all ingredients into a shaggy ball in a large bowl. Turn dough out on a floured surface and knead with your hands until dough becomes smooth and elastic, a process that will likely take 10-20 minutes depending on your experience. Place dough ball into a greased bowl. Cover and allow to rise until double. Deflate dough gently and shape rolls as indicated in recipe
Please note: If you substitute regular yeast for instant or bread machine yeast, you must dissolve it first before adding to the dry ingredients. Stir it into about 1/4 cup of the lukewarm liquid called for in the recipe. Let sit for about 10 minutes. Add to other wet ingredients and then add dry ingredients. Proceed as directed to knead and shape rolls.
If you want to assemble this the night before, place in the refrigerator after you have formed the roll but before it rises the second time. Remove rolls from the fridge approximately 2 hours before you want to bake them. They will need to rise to almost double their original size.
Nutrition
Nutrition Facts
Giant Cinnamon Roll Cake: A Bread Machine Recipe
Amount per Serving
% Daily Value*
* Percent Daily Values are based on a 2000 calorie diet.
Like this recipe? Thanks for leaving a 5-star rating inside the recipe at the top! 🤩