Healthy Veggie Tacos are packed with pan-fried green and yellow squash, potatoes, and tomatoes. Along with shredded cheese, they make a colorful and enticing soft taco. OR, make the same recipe and use it as a tasty vegetarian side dish.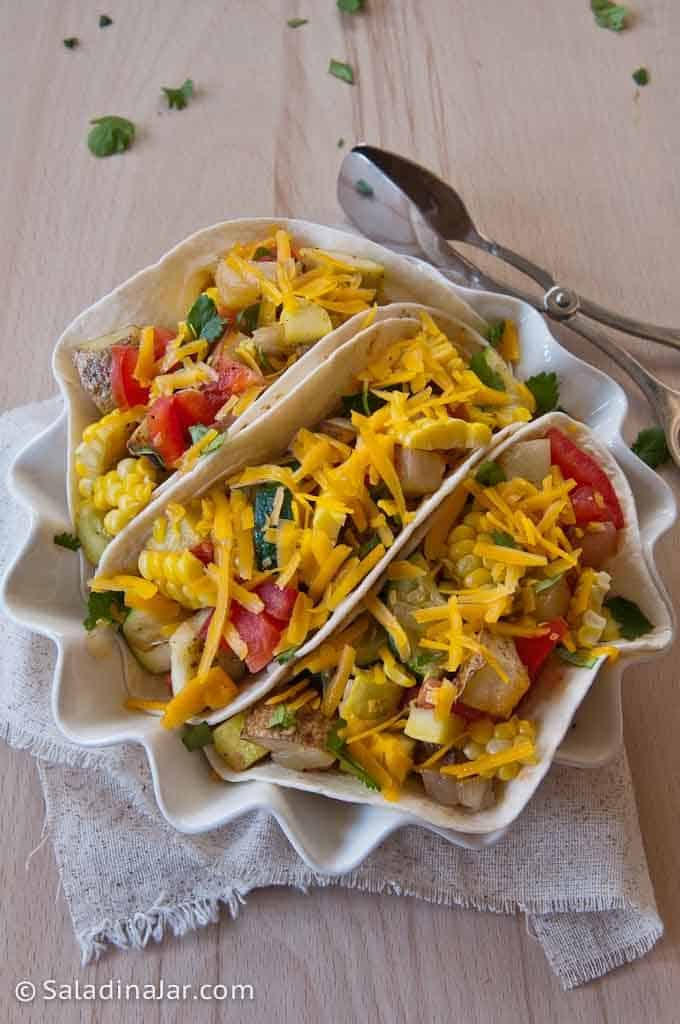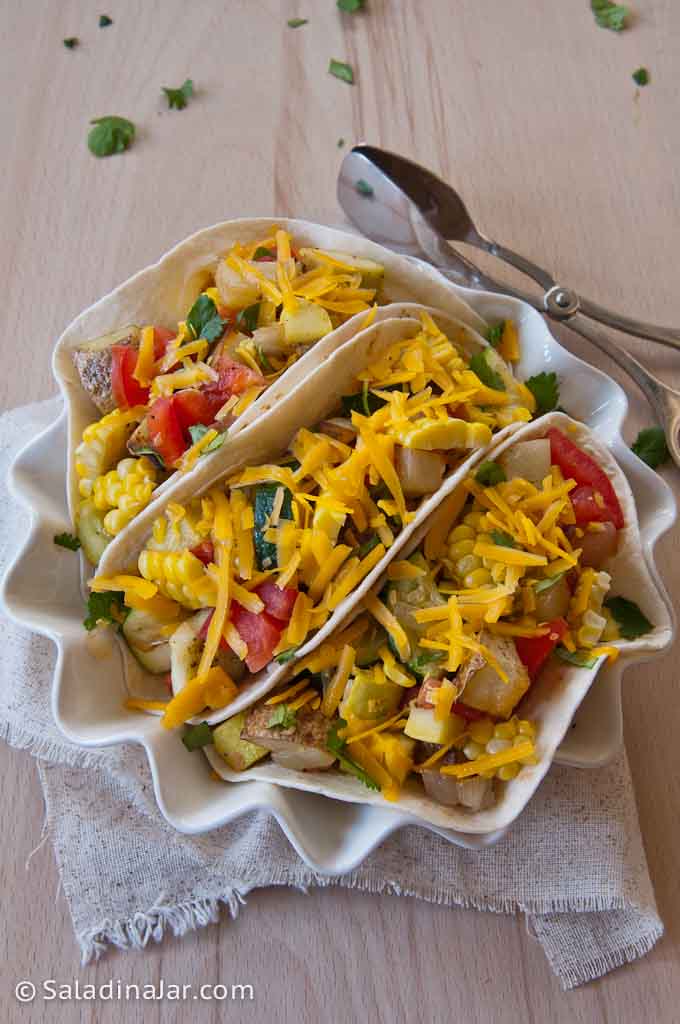 When do you crave real food?
For me, it's when I've been on vacation for a while. After several days of fast food, I will be craving something fresh from a garden.
Bring on the vegetables! Salad! Color! Anything but fried food and sandwiches, right?
Squash and potatoes made into soft veggie tacos are just what the doctor ordered for such cravings.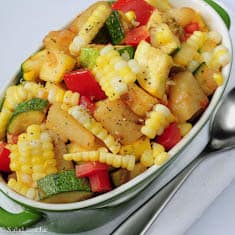 When I see yellow squash, zucchini, and sweet corn in the store, I start salivating for "calabacitas." That's Spanish for "little squash." Although these gorgeous colors and fresh flavors used to be the staples of summer, seasonality no longer seems to matter.
Feel free to play fast and loose with the traditional ingredients and seasoning. I'm not thinking most people put potatoes in their "calabacitas," but I love the texture.
No good tomatoes at the store? Leave 'em out. Got a few mushrooms in the produce drawer? Add them with the potatoes. Don't like spicy? Leave out the green chilies. Like garlic? Go ahead. You get the idea.
Kitchen secret about getting fresh corn off the cob in chunks
Want to know how to get the corn to come off the cob in little chunks? After you have cooked it, drop the whole cob into ice water for a few minutes. The corn will fall off in beautiful little chunks if you don't get in a hurry while slicing.
What else can I do with these vegetarian tacos?
Besides filling a soft taco, try this veggie mixture in a quesadilla. Sandwich the veggie mixture between two flour tortillas with cheese on both the bottom and top of the veggie mixture.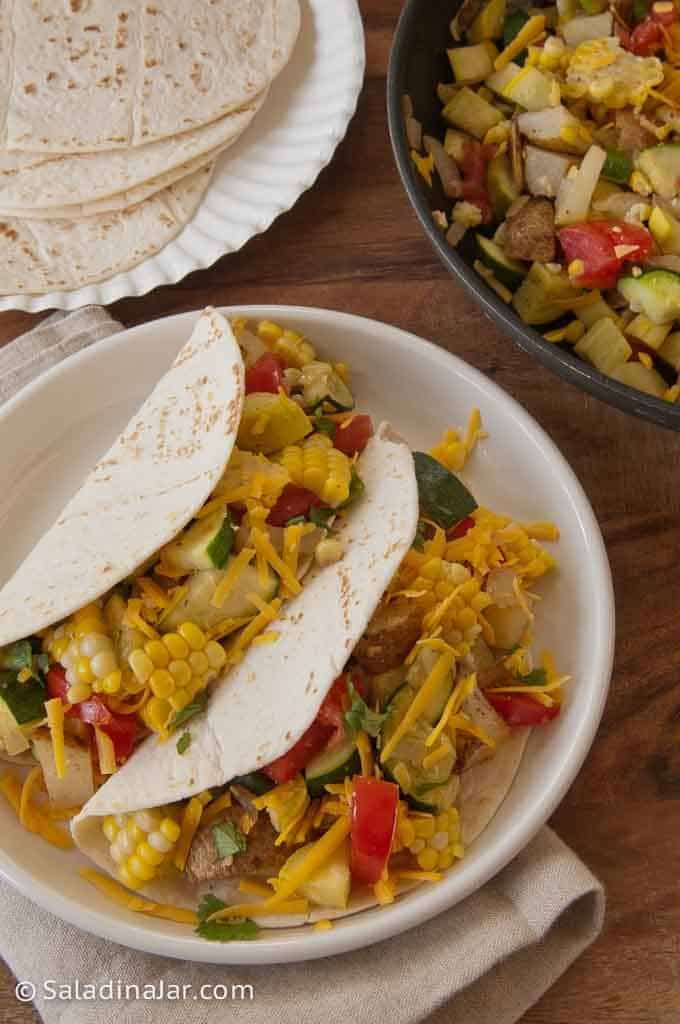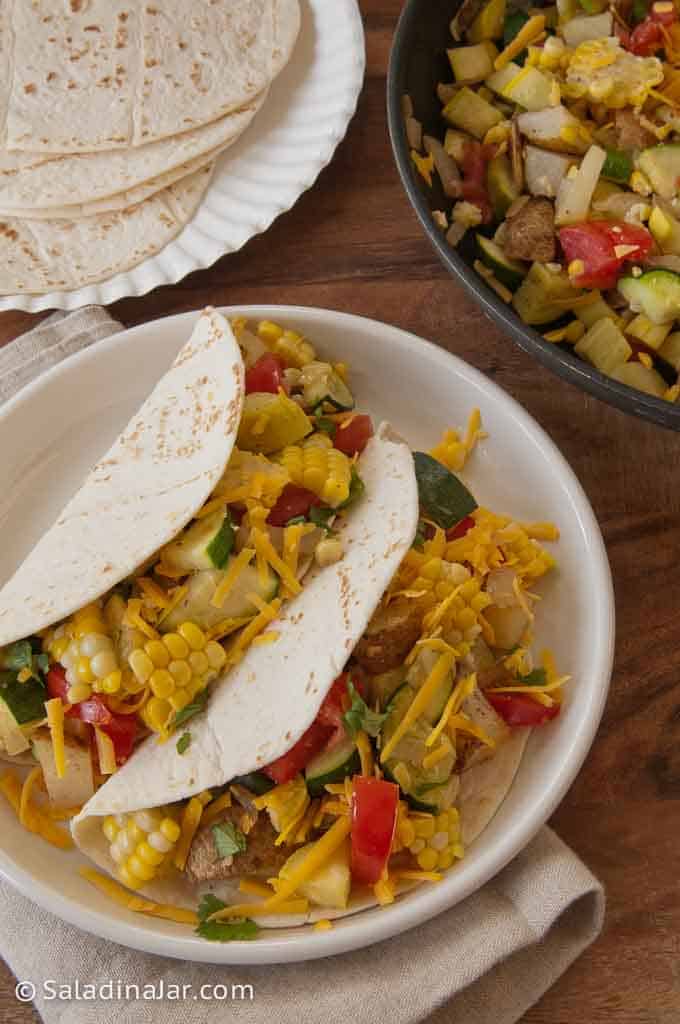 When this filling is waiting in the fridge, it makes me wish the clock hands would hurry up and move to 12:00 noon so I can eat.
---
More recipes for veggie lovers
---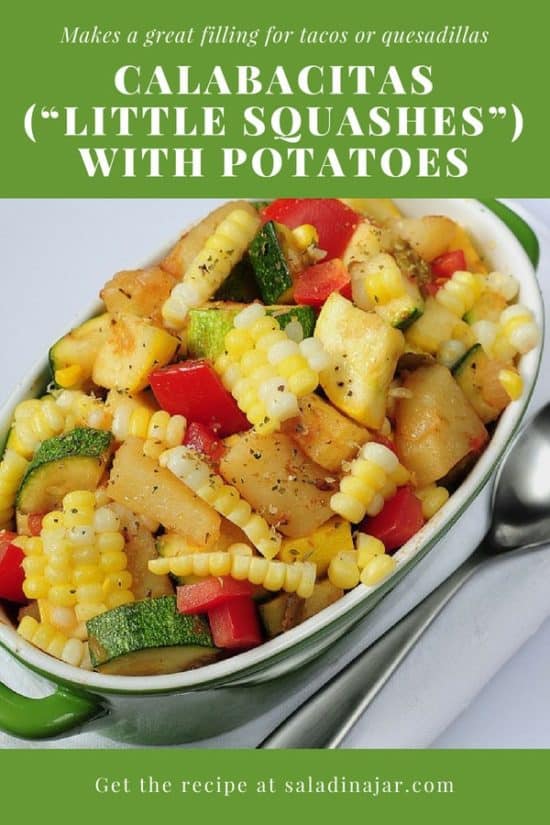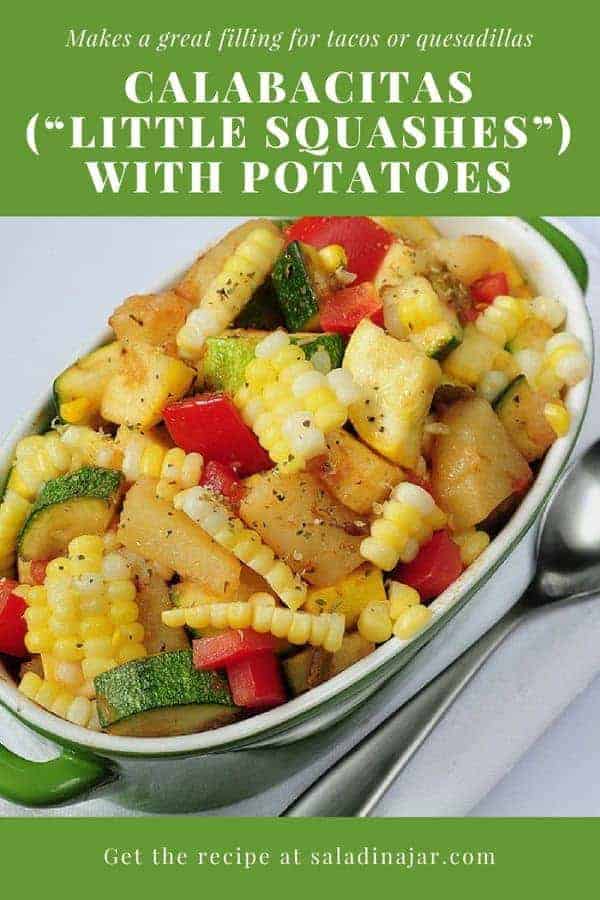 ---
If you enjoyed this recipe, it would help others and me if you gave it a five-star rating inside the recipe card below. 🤩 No comment required. Thank you.

Hope to see you again soon!
Paula
p.s. Questions or suggestions? Please email me: Paula at saladinajar.com.
This post was originally posted in 2010 but has since been updated, edited, and republished in February 2019.