Easy Raisin Bran Crunch Cookies
Sneak Preview: These easy Raisin Bran Crunch Cookies are chock-full of Raisin Bran Crunch cereal (or Raisin Bran or Corn Flakes), coconut, and pecans. Eating cereal in a bowl is so last year compared to eating these cookies.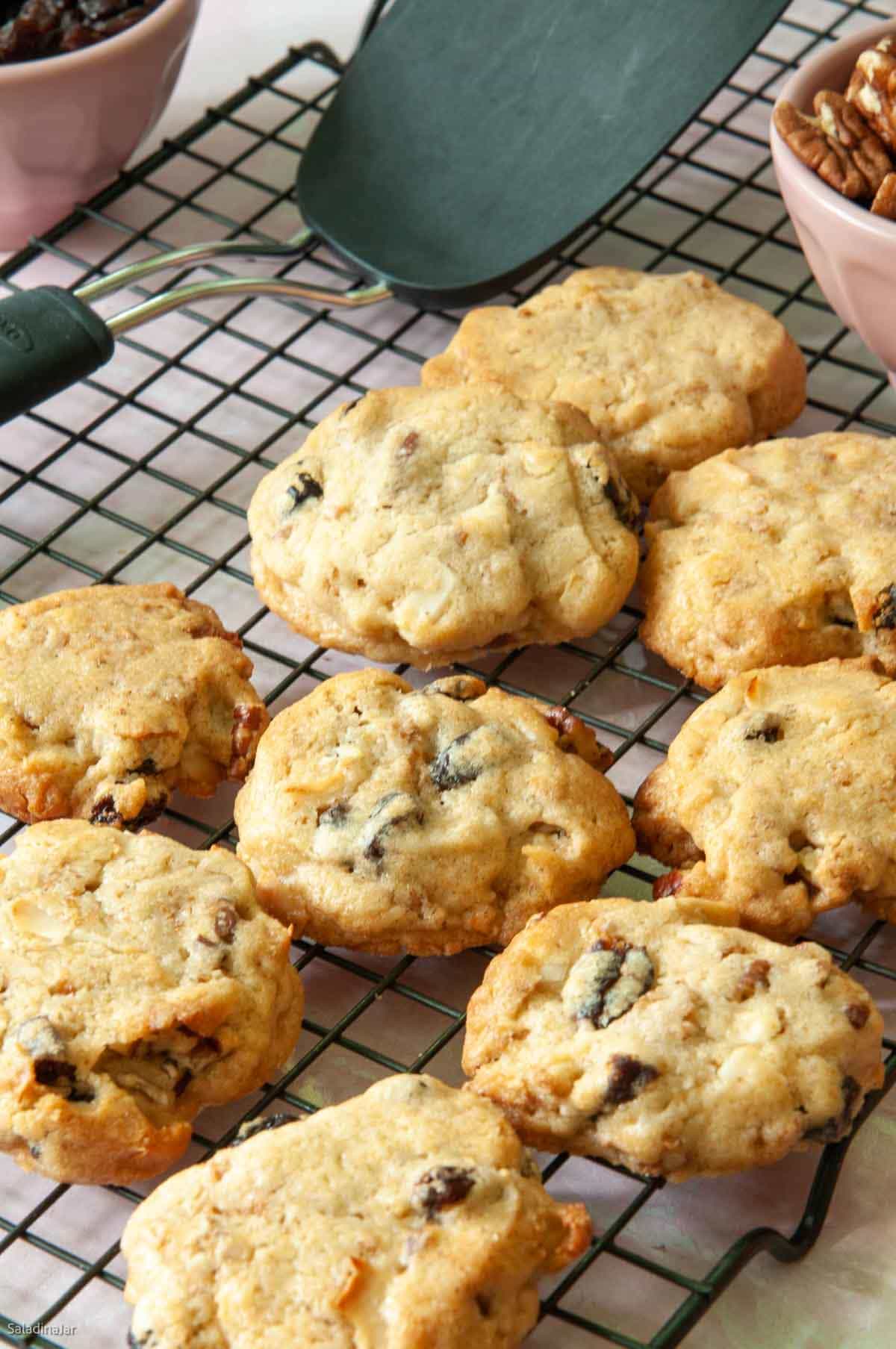 As an Amazon Associate, I earn from qualifying purchases.
I made carrot cookies from Dorie Greenspan's Baking cookbook a few weeks ago. They pleasantly surprised me as they reminded me of my all-time favorites—Ranger Cookies.
Since I already eat enough carrots to turn my skin orange, I replaced the carrots with Raisin Bran Crunch. They turned out as yummy as I expected. My husband loved them too.
When these cookies are hot, they have the texture of a scone. You know, soft on the inside, crispy on the outside. Wait until the next day when the flavors settle in and get comfy. The result will be a soft but chewy cookie.
Hint: Do not overbake these cookies. As soon as they turn golden brown around the edges, remove them from the oven.
You can save them if you leave them in too long, and they turn hard when they cool. Break up the cookies and toss them into a blender or food processor. Blend until the cookies are crumbs. Try sprinkling them on yogurt or ice cream for an out-of-this-world treat!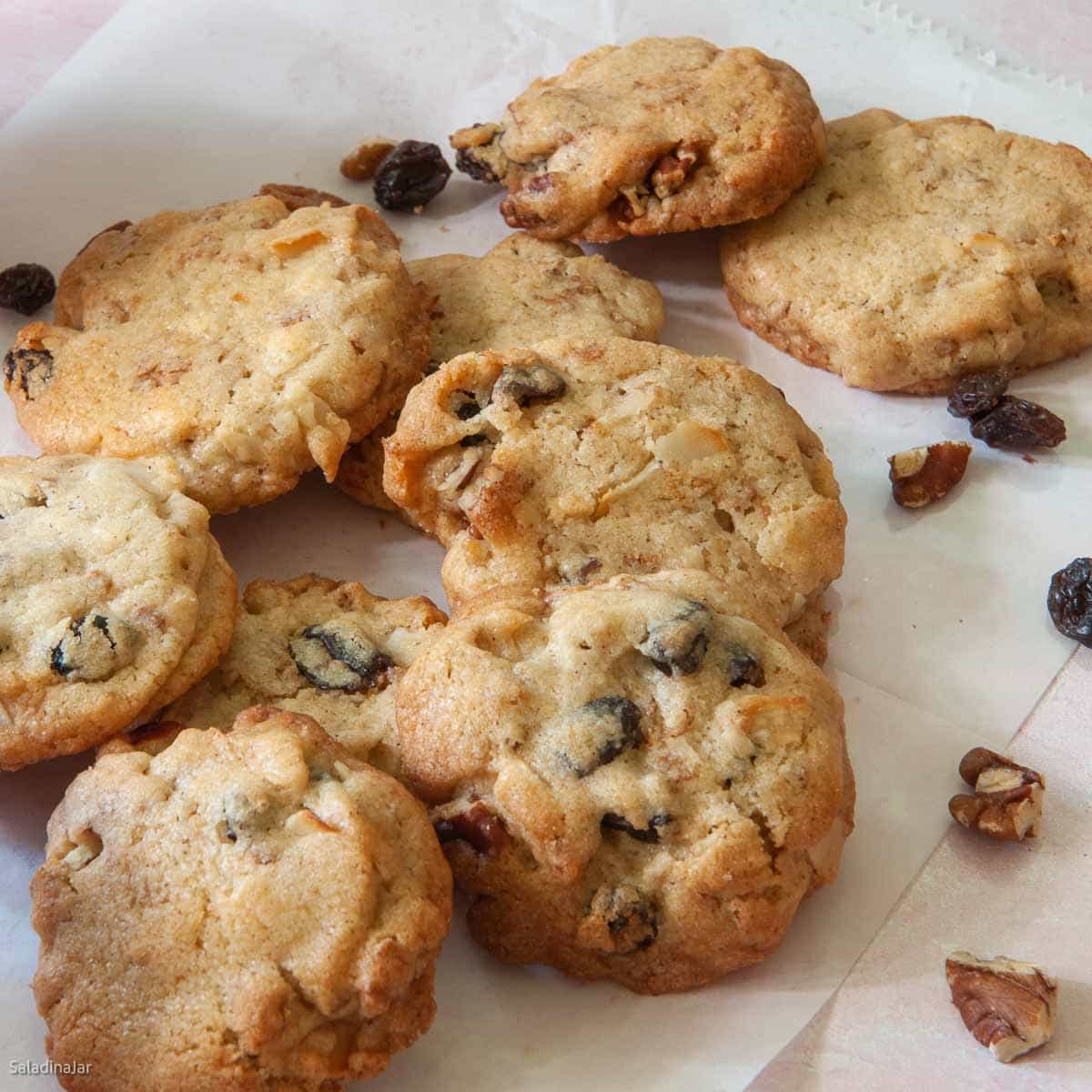 ---
Ingredients and substitutions:
FLOUR: As long as it's all-purpose flour, it can be bleached or unbleached.

SALT: I use kosher salt in my kitchen.

RAISIN BRAN CRUNCH CEREAL: Cornflakes or regular Raisin Bran cereal are acceptable substitutes. I haven't tried them, but I suspect any cereal sold in flakes is a candidate for these cookies.

RAISINS: The cereal has a few raisins, but I like even more raisins. Dried cranberries or cherries would be delicious. Optional for raisin-haters.

PECANS: This is also an optional ingredient. Anytime I add pecans to a recipe, I toast them first in the microwave. It takes so little time, there's no reason to skip this step. It brings out the flavor.
---
FAQ about Raisin Bran Crunch Cookies
Should I soak raisins before adding them to cookies?
If they are dry, a quick soak (5-10 minutes) in hot water helps. Drain them and let them dry before adding them to your cookies.
What's the difference between Raisin Bran and Raisin Bran Crunch?
Raisin Bran Crunch contains 46 total carbs in one cup serving, with 13 grams of added sugars. The original raisin bran contains 47 grams of total carbs, with 9 grams of added sugars. Raisin Bran Crunch contains 4 grams of protein per serving, compared to 5 grams in the original Raisin Bran. Calories for both are the same, according to Kellogg's website.
Can I freeze these cookies?
Yes, double-wrap baked cookies and keep them in the freezer for 1-2 months. Or freeze the dough if you prefer. Because the dough is super hard when frozen, I recommend you shape the cookies into portions before freezing. Baking will take a little longer when the cookie dough is frozen.
These are so good, I'm thinking of giving up Fiber One and just putting 2 or 3 of these cookies in a cereal bowl and calling it breakfast.
---
Do you need more cookie recipe ideas
---
If you have questions or suggestions, email me privately for a quick answer: Paula at saladinajar.com. Hope to see you again soon!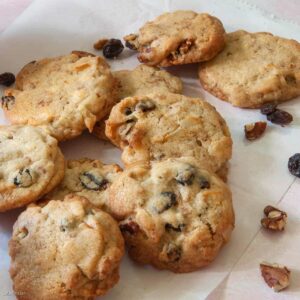 Raisin Bran Crunch (or Cornflakes or Raisin Bran) Cookie Recipe
Slightly crispy on the outside, soft and chewy on the inside, these cookies are filled with Raisin Bran Crunch cereal (or your choice of a flaky cereal), coconut, and pecans.
Ingredients
2

cups

unbleached all-purpose flour

-

(240 g)

1

teaspoon

baking powder

½

teaspoon

salt

¼

teaspoon

cinnamon

12

tablespoons

unsalted butter

-

softened (168g)

⅔

cup

sugar

-

(132 g)

⅓

cup

light brown sugar

-

packed (71 g)

1

large egg

½

teaspoon

pure vanilla extract

1

cup

slightly crushed Raisin Bran Crunch cereal

-

or flaked cereal of your choice

1

cup

unsweetened coconut

-

shredded (85 g)

¾

cup

raisins

-

(112 g)

½

cup

coarsely chopped pecans

-

toasted (57 g)
Instructions
Preheat oven to 375˚ F (190˚C). Line two baking sheets with a baking mat or parchment paper.

Whisk together 2 c unbleached all-purpose flour (240 gr), 1 t baking powder, 1/2 t salt, 1/4 teaspoon cinnamon in a medium mixing bowl.

Use a mixer to beat 12 T butter until creamy and smooth. Add ⅔ c sugar and ⅓ cup light brown sugar, packed, and beat 2 more minutes. Add 1 egg and keep beating for an additional minute.

Reduce mixer speed and add ½ t vanilla.

Add dry ingredients in 2 portions incorporating into the dough just until mixed. Add 1 c cereal, 1 c coconut, ¾ c raisins, and ½ c pecans (toasted).

Drop cookies by generous spoonfuls onto ungreased cookie sheets or cover them with parchment paper or a silicone mat. They won't spread much so they can be placed fairly close together.

Bake for 16-18 minutes or whenever the edges start to turn brown. Don't overbake or the cookies will be hard when they cool. Rearrange trays halfway through to facilitate even browning.

Allow the cookies to cool on a rack.
Nutrition
Serving:
1
cookie
|
Calories:
201
kcal
|
Carbohydrates:
29
g
|
Protein:
4
g
|
Fat:
9
g
|
Saturated Fat:
4
g
|
Polyunsaturated Fat:
1
g
|
Monounsaturated Fat:
3
g
|
Trans Fat:
1
g
|
Cholesterol:
26
mg
|
Sodium:
158
mg
|
Potassium:
106
mg
|
Fiber:
2
g
|
Sugar:
10
g
|
Vitamin A:
323
IU
|
Vitamin C:
2
mg
|
Calcium:
64
mg
|
Iron:
4
mg