Preview: Zebra Pie is a fun layered chocolate and vanilla cream pie recipe in a dark chocolate crumb crust. A video is included to show you how to make the stripes.
If you are looking for a fun dessert with a familiar taste but a unique look, this zebra pie will fill the bill. Like zebras who each have a one-of-a-kind stripe pattern, this pie looks different every time you make it.
You never know exactly what to expect. It's part of the fun of slicing into the uncut pie.
What does Zebra Pie taste like?
In the same way that chocolate and vanilla-swirled ice cream tastes mostly chocolate, this pie also tastes mostly chocolate.
How many layers should I make?
After reading about a zebra cake on The Whimsical Cupcake, I started imagining a pie with similar layers.
The number of layers makes a difference in the final appearance. Take your pick. I think more layers make the pie look more zebra-like.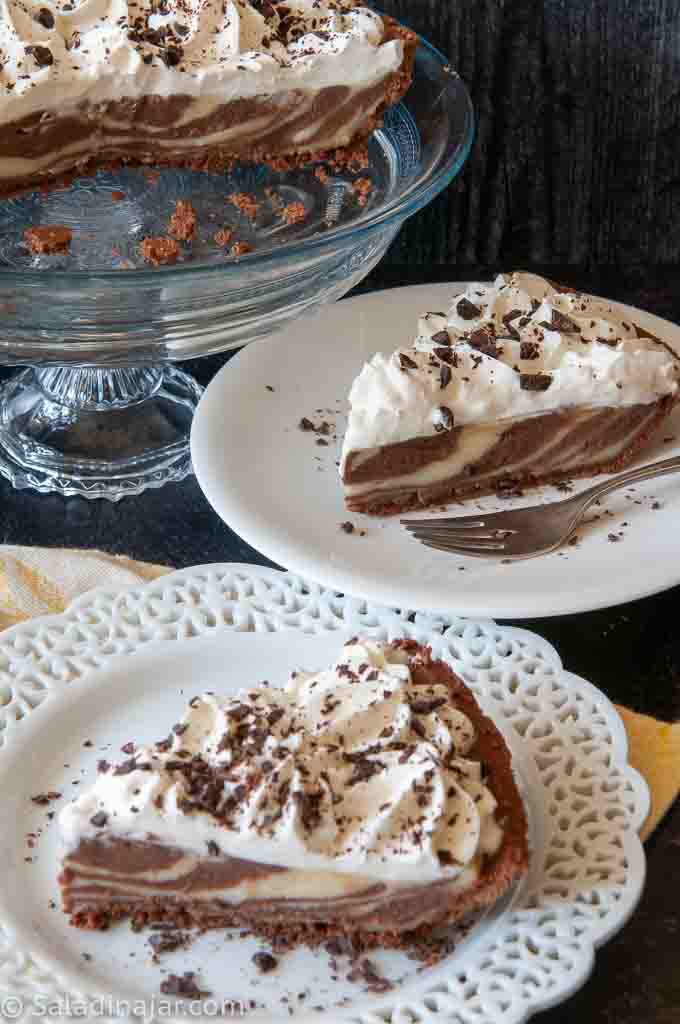 Nine or ten layers seem to be the limit. Try to do more and your layers, at least some of them, will be so thin they are indistinguishable.
---
The best crust for this pie
A store-bought chocolate crumb crust makes this pie so much easier. A store-bought crust also makes getting a slice of pie out of the pan cleanly much easier.
If you can't find a pre-made chocolate crumb crust or you would rather make it yourself, try this Chocolate Cookie Crumb Crust Recipe from Serious Eats.
With their recipe, you don't need graham crackers (not usually found at my house). You probably already have all the ingredients in your pantry.
The Dutch chocolate and salt contribute to an unforgettable taste treat. You'll want to eat the cookie crumbs all by themselves.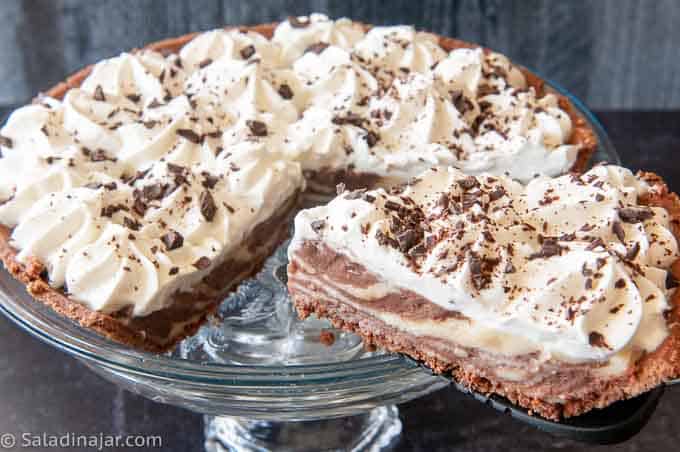 ---
Tips for making the cream filling:
Assemble the cream filling in a blender. When cooked in the microwave, the result is a lump-free, silky-smooth texture in 6-7 minutes.

If the custard is not thick after 6-7 minutes, keep cooking. Microwave ovens vary wildly.

Remember that the cream filling will get much thicker as it cools. If the hot cream mixture coats the spoon heavily, then the pudding is thick enough.

Cook the filling on the stove if you prefer. A double-boiler setup helps to avoid scorching the custard. Watch it carefully and stir constantly.

If you try to cut the pie before it is well-chilled (3-4 hours), the layers will blur along the cut edges. It won't affect the taste, of course, but the "zebra" stripes won't be well-defined.
---
How to make the cream filling in a microwave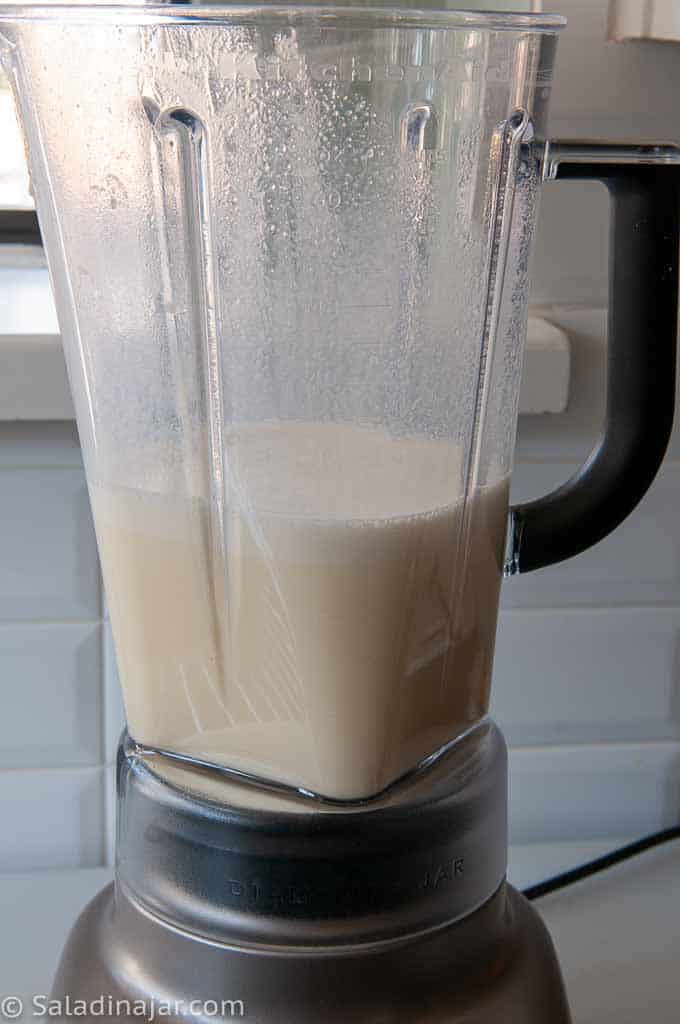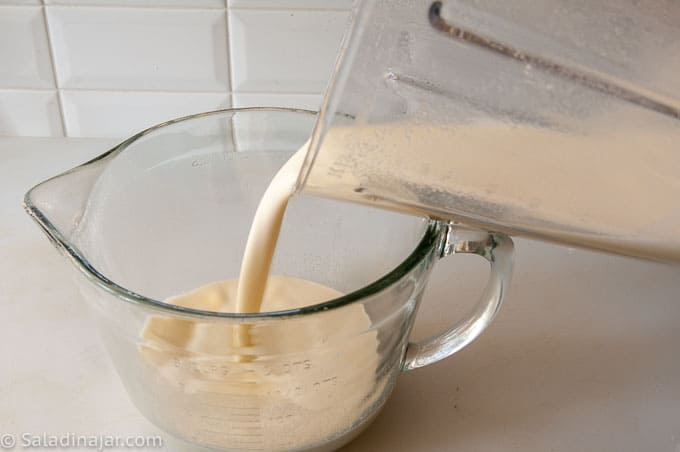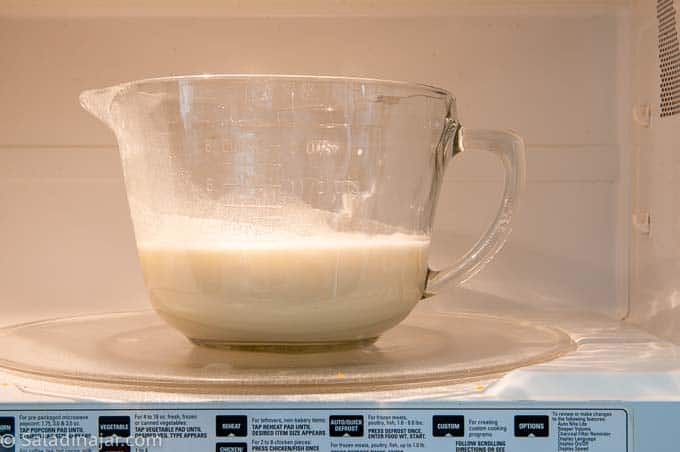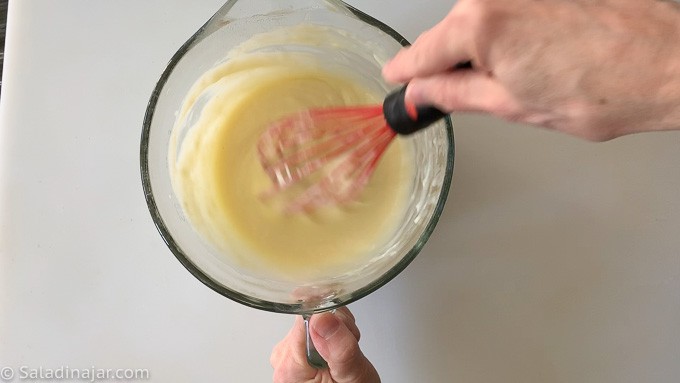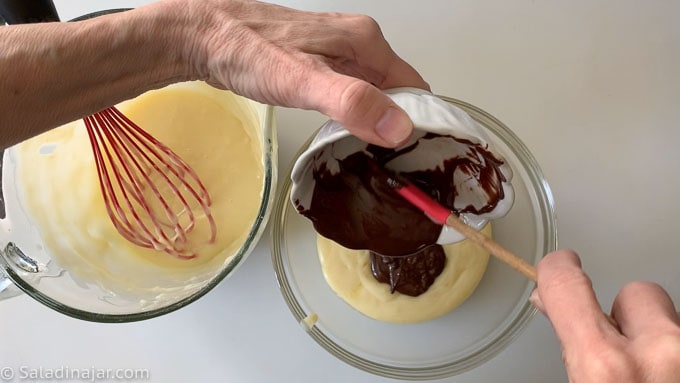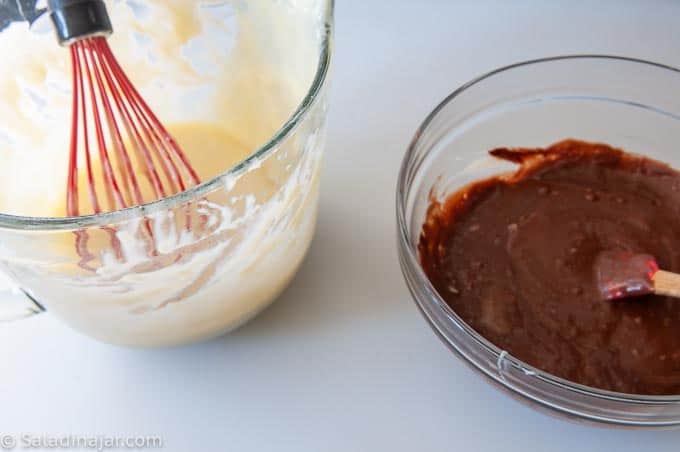 ---
How to assemble this Zebra Cream Pie recipe:
Baker's note about the filling:
The chocolate filling tends to get thicker than the vanilla as it cools. If it becomes difficult to spread, whisk in an extra teaspoon or two of milk.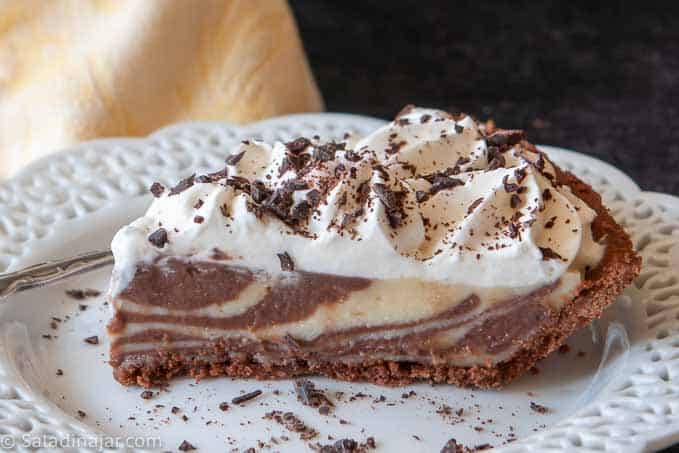 ---
Plan 'B'
If you think you have hopelessly messed up the layers, use a knife perpendicular to the pie to gently swirl the cream filling.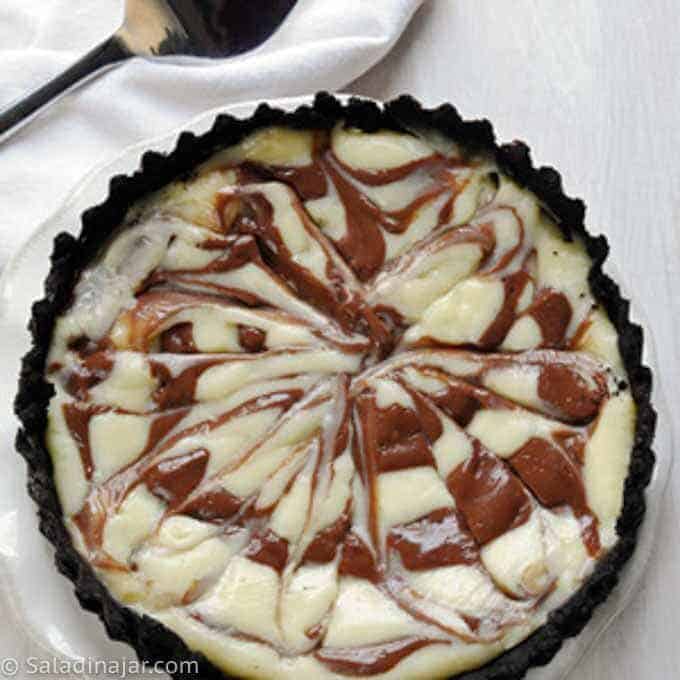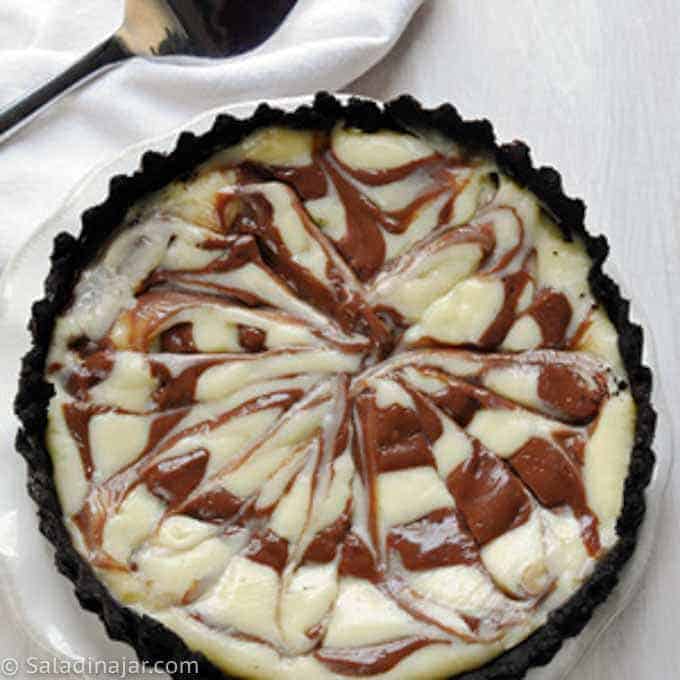 Cover with whipped cream and call it "Chocolate and Vanilla Swirl Pie." It will look like you planned it that way from the beginning, hopefully.
---
What would you like to read next?
If you enjoyed this recipe, it would help others and me if you gave it a five-star rating inside the recipe card below. 🤩 No comment required. Thank you.

Hope to see you again soon!
Paula
p.s. Questions or suggestions? Please email me: Paula at saladinajar.com.
Updated December 2019