Are you looking for a dessert to make your special friends or family feel loved? Try this recipe for Zebra Cream Pie. Not only is it fun layering chocolate and vanilla cream into a dark chocolate crumb crust, but it's fun to eat, too.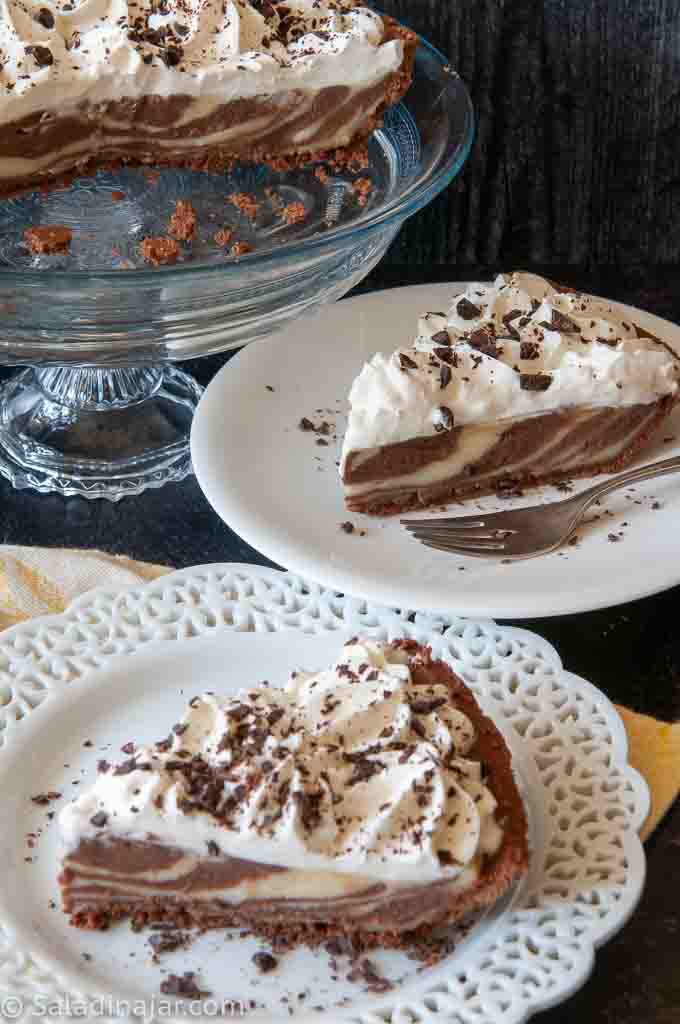 Some time ago, I read about a zebra cake on The Whimsical Cupcake. My mind started imagining a pie using a similar technique.
Apparently, God was in a creative mood when he made zebras. Seems that every zebra has a unique, one-of-a-kind stripe pattern comparable to our thumbprints.
How many layers does it take to make a Zebra Cream Pie?
Like zebras, every time I put this pie together, it looks a little different. But it doesn't matter. The taste is the same.
In the same way that chocolate and vanilla-swirled ice cream tastes mostly chocolate, this pie also tastes mostly chocolate.
You can see in the pictures below how the number of layers makes a difference in the final appearance. Take your pick. I think more layers make the pie look more zebra-like.
Baker's Note about the layers
Nine or ten layers seem to be the limit. Try to do more and your layers, at least some of them, will be so thin they are indistinguishable.
Also, if you try to cut the pie before it is well-chilled, the layers will blur along the cut edges. It won't affect the taste, of course, but the "zebra" stripes won't be well-defined.
---
The best crust for this pie
Pie crust of any kind is good in my book, especially a flaky pastry. However, the general consensus for chocolate cream pie seems to swing towards a crumb crust.
Pre-made pie crusts are generally not my thing. But a store-bought chocolate crumb crust makes this pie so much easier. A store-bought crust also getting a slice of pie out of the pan cleanly much easier than a homemade crust.
If you can't find a pre-made chocolate crumb crust or you would rather make it yourself, try this Chocolate Cookie Crumb Crust Recipe from Serious Eats.
With their recipe, you don't need graham crackers (not usually found out my house). You probably already have all the ingredients in your pantry.
The Dutch chocolate and salt contribute to an unforgettable taste treat. You'll want to eat the cookie crumbs all by themselves.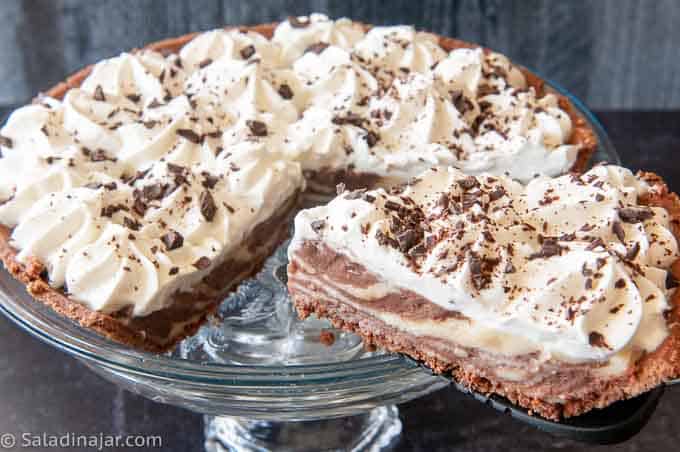 ---
Why I like to use a blender and a microwave to cook the cream filling
The cream filling goes together quickly in the blender. When cooked in the microwave, the result is a lump-free, silky-smooth texture in 6-7 minutes.
If the custard is not thick after 6-7 minutes, keep cooking. Microwaves vary wildly.
Also, remember that the cream filling will get much thicker as it cools. If the hot cream mixture coats the spoon heavily, then the pudding is thick enough.
Of course, you can cook the filling on the stove if you prefer. A double-boiler setup helps to avoid scorching the custard. Watch it carefully and stir constantly.
Be sure to allow adequate time for the pie to chill or the layers won't be distinct when you slice it.
---
How to make the cream filling in a microwave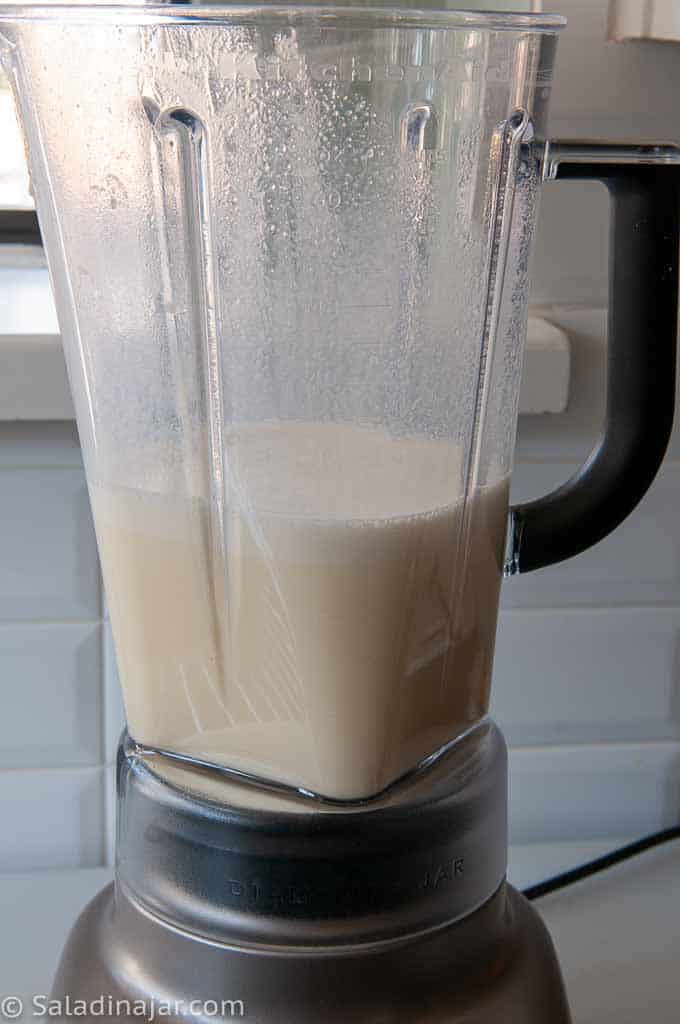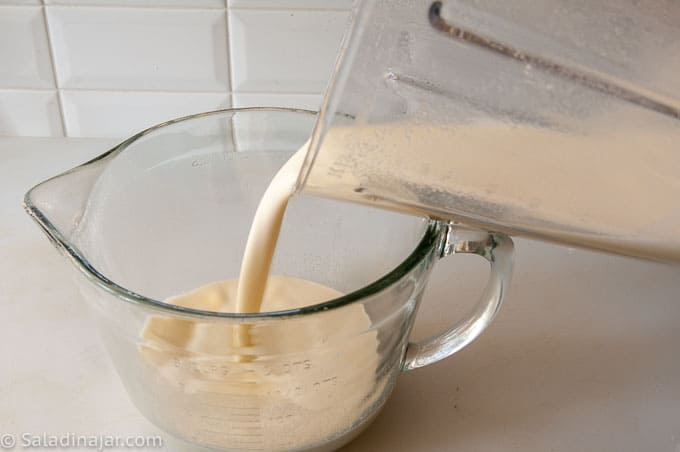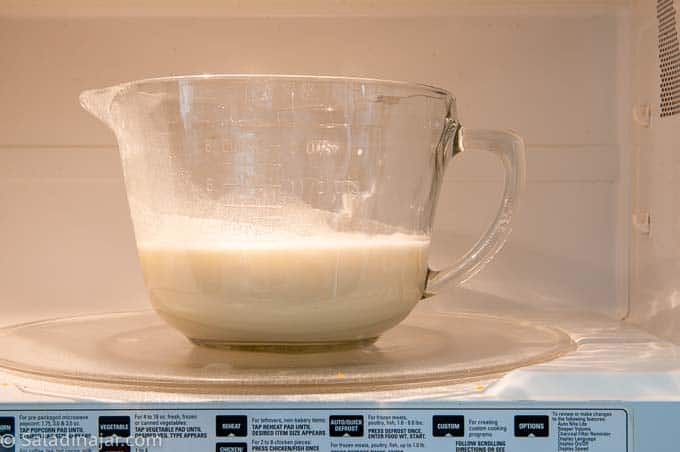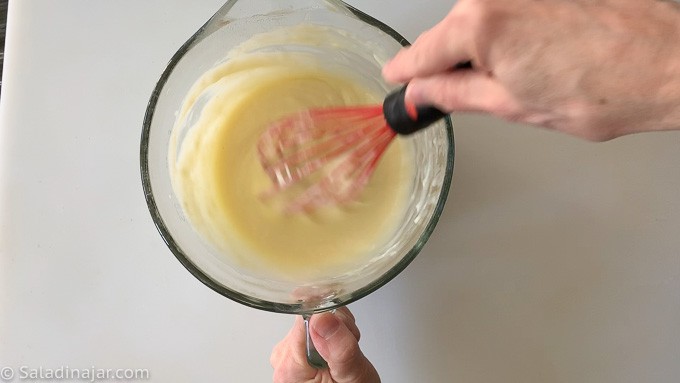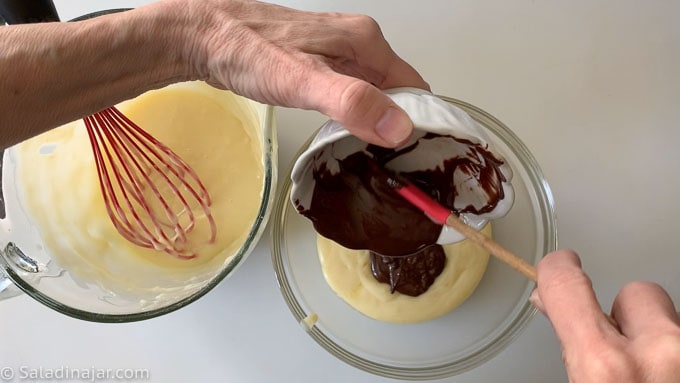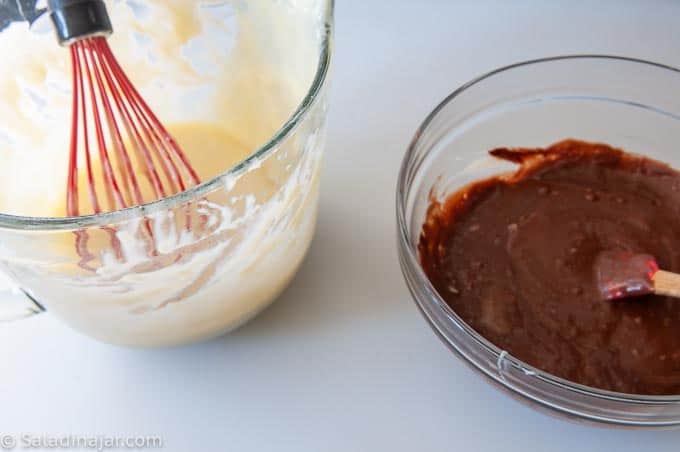 ***Baker's Note about the filling
The chocolate filling tends to get thicker than the vanilla as it cools. If it becomes difficult to spread, whisk in an extra teaspoon or two of milk.
---
How to assemble Zebra Cream Pie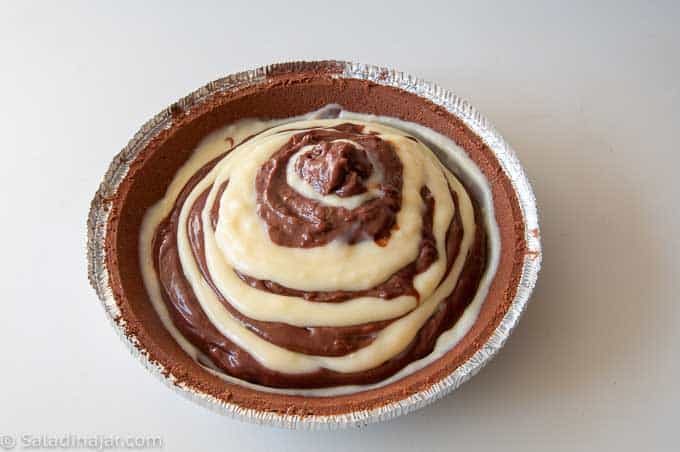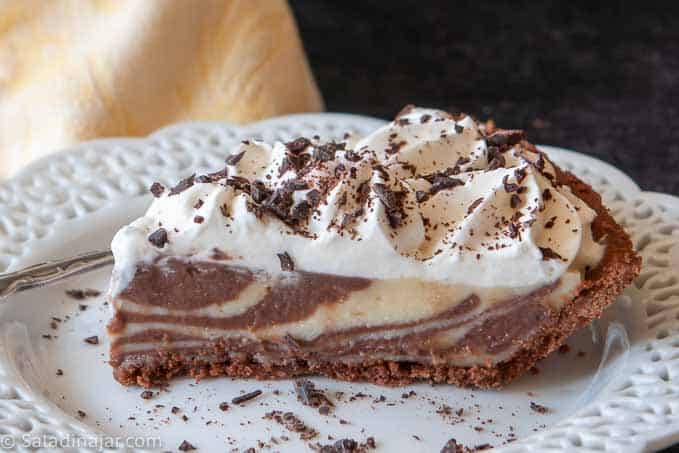 ---
Plan 'B'
If you think you have hopelessly messed up the layers, use a knife perpendicular to the pie to gently swirl the cream filling.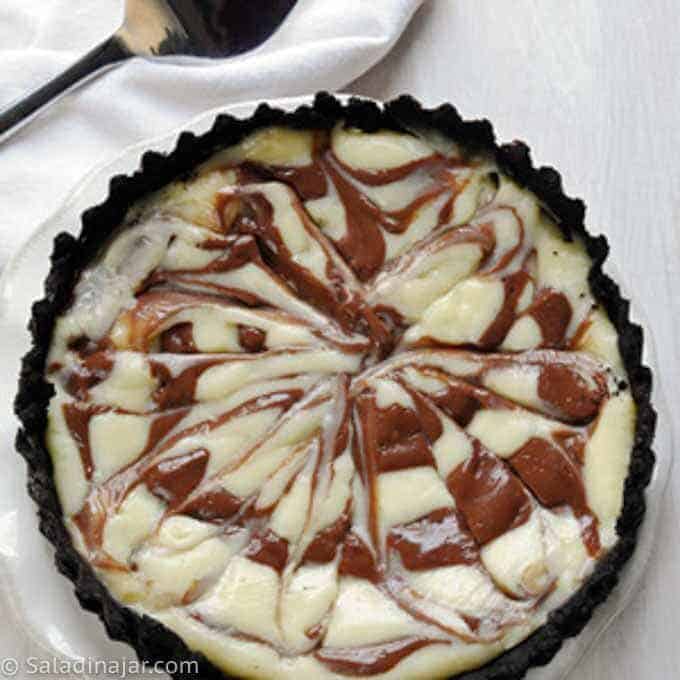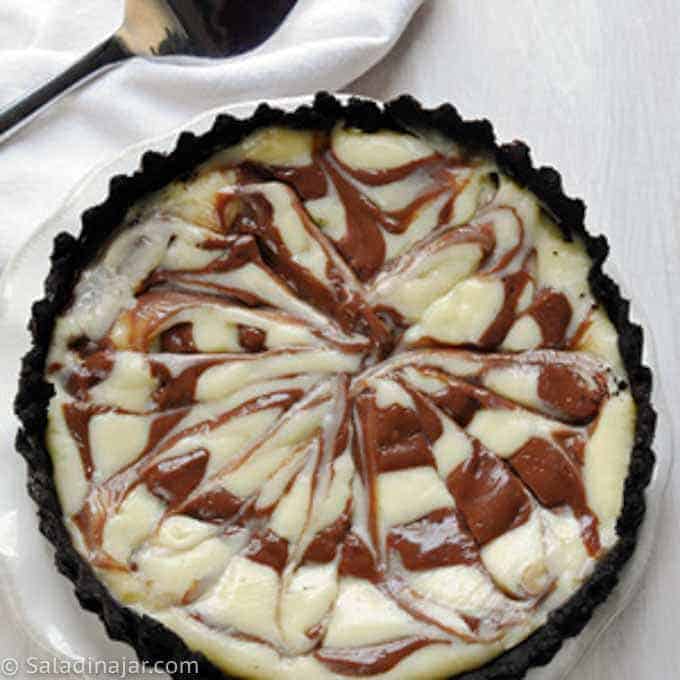 Cover with whipped cream and call it "Chocolate and Vanilla Swirl Pie." It will look like you planned it that way from the beginning, hopefully.
---
What would you like to read next?
---
Pin the picture below to save for later.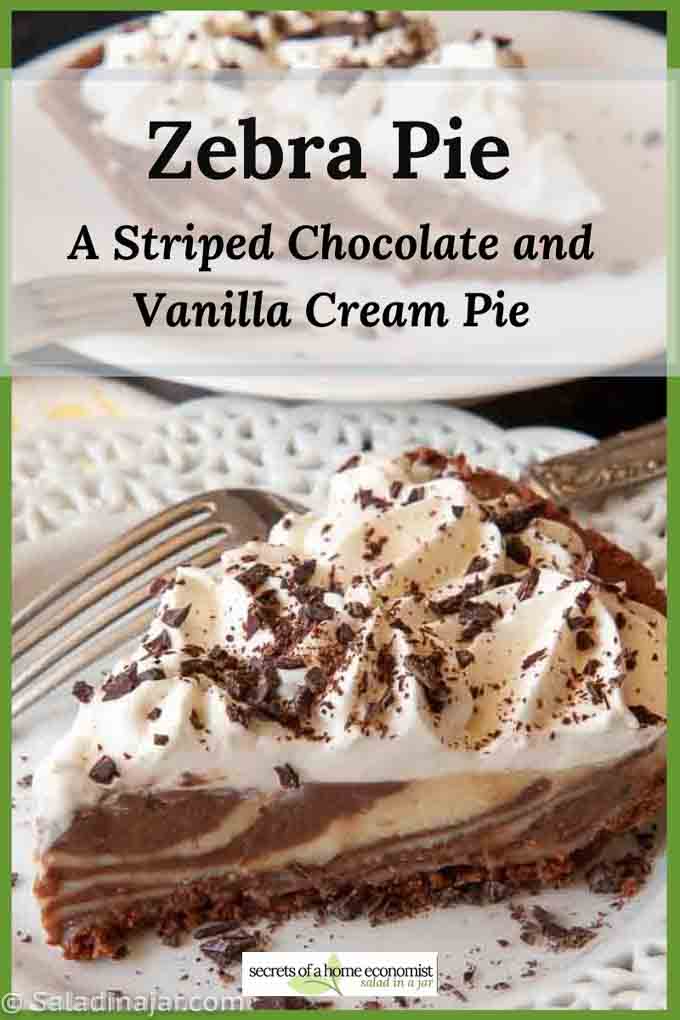 ---
---
---
Did you try this recipe and enjoy it? Consider helping other readers (and me) by returning to this post. Leave a rating on the recipe card itself underneath the picture. Although always appreciated, comments aren't required.
If you have a question or tip to share, please leave it in the regular comments after the recipe so I can answer back. Or, email me privately: paula at saladinajar.com.

Thank you for visiting!
Paula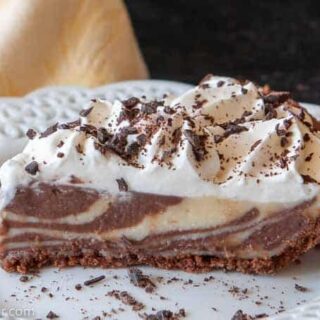 Zebra Cream Pie
Total Time:
4 hours
28 minutes
This layered chocolate and vanilla cream pie is nestled in a chocolate crumb crust. Directions are for cooking the cream filling in a microwave oven.
Ingredients
1 prepared chocolate crumb crust (I use store-bought)
Cream Filling:
2 ounces bittersweet chocolate
2 cups of milk
3/4 cup sugar
1/3 cup flour
1/8 teaspoon salt
3 egg yolks
1 tablespoon melted butter
1 teaspoon vanilla extract
Whipped Cream Topping
1 cup cold heavy cream
1 teaspoon vanilla extract
2 tablespoons powdered sugar
Finely-chopped chocolate for garnish (optional)
Instructions
Cream Filling:
Melt bittersweet chocolate in a 4-cup glass bowl by microwaving at 50% power for 2 minutes. Stir once after one minute. Set aside to cool slightly.
Add milk, sugar, flour, salt, and egg yolks, (in that order) to a blender. Blend 5 seconds and pour into a 2-quart glass microwave-safe bowl.
Microwave 5-9 minutes on HIGH. After cooking 4 minutes, whisk until it is smooth, then every minute thereafter until cream mixture heavily coats a spoon. Remember that it will get thicker as it chills. (If not thick, keep adding time until it thickens. Microwave ovens vary wildly.)
Pour the pastry cream through a strainer only if you see lumps.
Add butter and vanilla, whisking until smooth.
Pour half of the hot filling into the bowl of melted chocolate. Stir until smooth.
Assembling the pie: (See the video to watch this in action.)
Pour half of the vanilla batter into the pie crust, carefully spreading it across the bottom and up the sides of the crust.
Add half of the chocolate filling on top by pouring into the middle, carefully spreading it over the top of the first vanilla layer. Leave a margin of vanilla filling around the outside. Work fast before the cream can cool too much and thicken.
Continue alternating flavors, adding half of the remaining filling to the center of the pie. It will begin to make a mound.
When all filling is used, cover with plastic wrap. Use your hand to gently push the cream filling from the center toward the edges until it's flat. Be careful not to disturb the rings. Chill at least 4 hours before serving.

Sweetened Whipped Cream:
Beat heavy cream and vanilla extract until the cream starts to form soft peaks.
Add confectioners sugar. Continue to beat until stiff peaks form. Use immediately or store in the fridge for 2-3 hours
Cover with sweetened whipped cream and chopped chocolate. Slice and serve.
Recommended Products
As an Amazon Associate, I earn from qualifying purchases. But don't worry. This doesn't change the price you pay.
Nutrition Information:
Yield:

8
Serving Size:

1
Amount Per Serving:
Calories:

545
Total Fat:

27g
Saturated Fat:

13g
Trans Fat:

0g
Unsaturated Fat:

13g
Cholesterol:

106mg
Sodium:

389mg
Carbohydrates:

69g
Fiber:

3g
Sugar:

42g
Protein:

9g
Updated December 2019