Preview: Healthy Vegetable Beef Soup Without Tomatoes uses pot roast leftovers to create a delicious and filling vegetable soup.
We don't have many traditions associated with Halloween–it's not my favorite holiday. But there is one tradition I really like. We always have soup for dinner.
This year, I'm making this vegetable beef soup recip. It actually makes me feel better after eating too many Snicker bars and Reese peanut butter cups.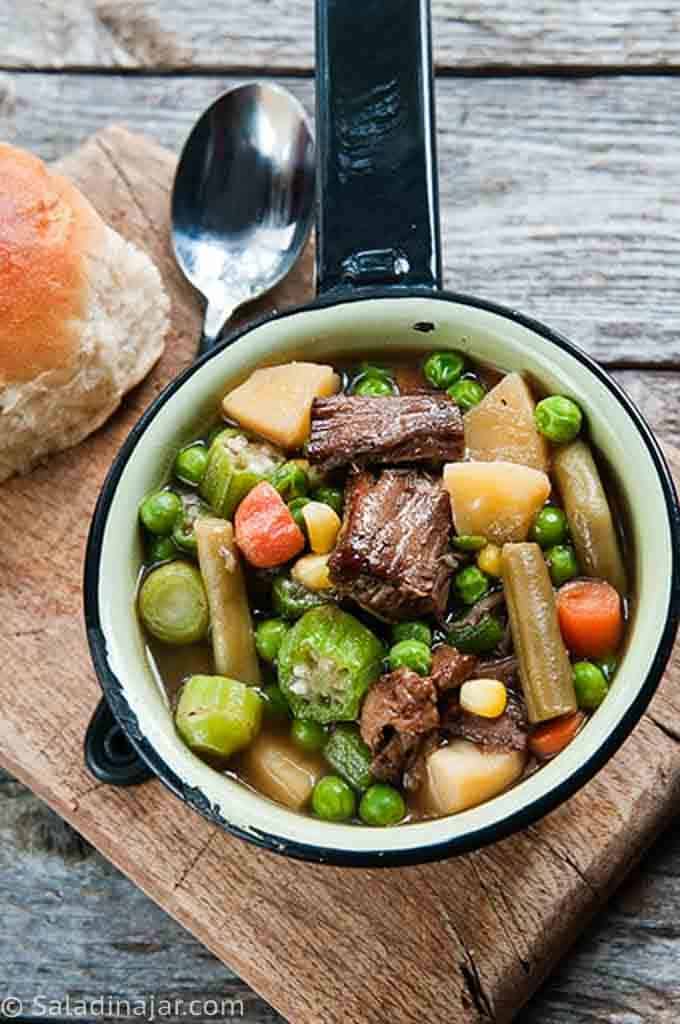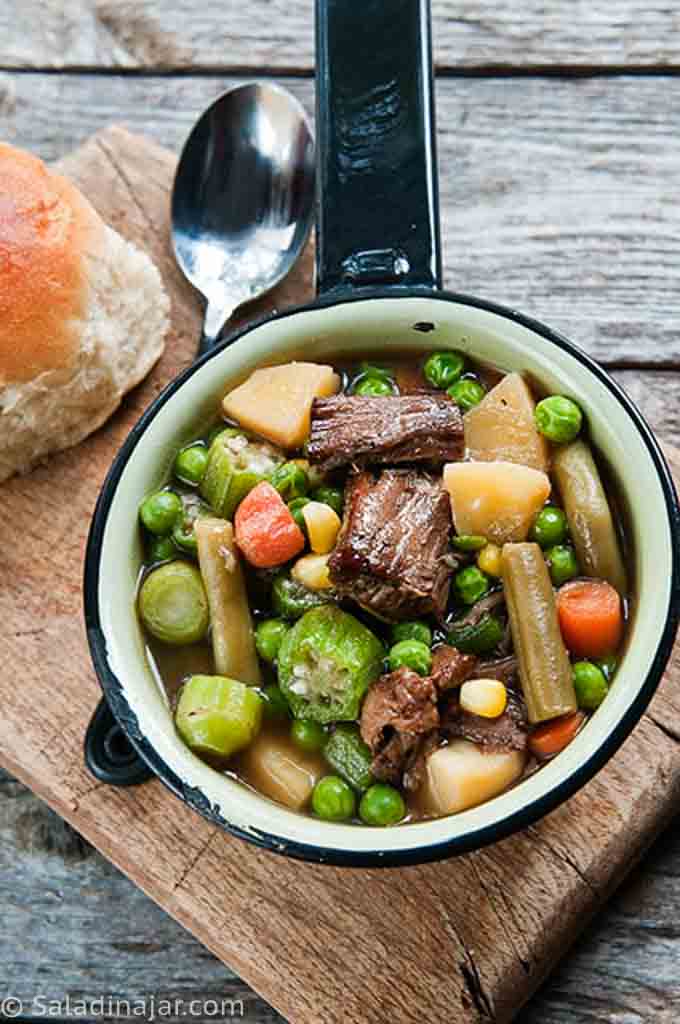 How to make Vegetable Beef Soup Without Tomatoes
Who needs a recipe for vegetable soup? Not me, and probably not you either. But I have something to say regarding the ingredients I prefer. I bet you do, too, and I'm hoping you'll share in the comments because I'm always looking for new ways to improve the classics.
My vegetable soup is rather like a scavenger hunt. I start with leftover pot roast and gravy. Then I raid the fridge for once-fresh-but-now-tired veggies and half-empty bags of the frozen variety.
Next, I grab a can or two of veggies out of the pantry, and finally, if the weather is not too cold, I check to see if I have any herbs I can add to the mix.
It may seem like an anything-goes policy, but actually, I do have a few rules.
My rules for Vegetable Beef Soup
1. Yes to frozen okra.
I don't normally like boiled okra, but for some mysterious reason, I love it in a soup recipe. Leave it out if you don't agree.
2. Yes to salt-free seasoning
I usually don't add extra salt because the variety of spices in salt-free seasoning adds interest to the flavor. I currently use Kroger brand Zesty Blend, but I'm always on the lookout for something new in this category.
3. No tomatoes
I love tomatoes but prefer my vegetable soup without.
4. No cabbage
Sorry, Mom. I never learned to like the cabbage you put into your vegetable soup. Furthermore, it reminds me of the cabbage soup some people eat to lose weight.
This recipe is perfect for a slow cooker. Simmer all day long and half the night too, if necessary, on days you aren't sure when you'll get home.
---
Do you need some bread to go with this soup?
---
If you enjoyed this recipe, it would help others and me if you gave it a five-star rating inside the recipe card below. 🤩 No comment required. Thank you.

Hope to see you again soon!
Paula
p.s. Questions or suggestions? Please email me: Paula at saladinajar.com.