Old-Fashioned Potato Salad With Cooked Dressing: No Mustard
Sneak Preview: This old-fashioned potato salad with cooked dressing is easy to make. There are no raw onions or mustard, but plenty of hard-boiled eggs and pickle relish.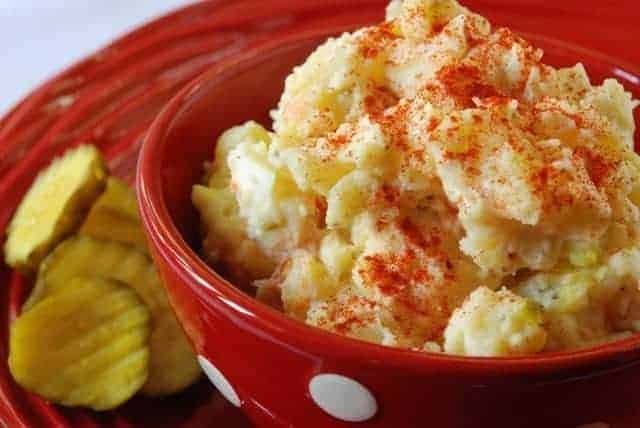 As an Amazon Associate, I earn from qualifying purchases.
The secret to the yumminess in this Old-Fashioned Potato Salad is the cooked dressing. In keeping with my hang-ups about potato salad, no raw onions or mustard are allowed. If you like those things, this may not be the recipe for you.
Don't worry. It's easy to make the dressing in the microwave, although you can make it on top of the stove if you prefer.
Why cook the dressing?
It's a little more trouble, but the flavor is worth it! Pull out your blender, food processor, or a good whisk to mix up the ingredients for the dressing.
Follow the easy directions for cooking the dressing in the microwave. It's foolproof–unlike the original recipe that called for cooking on top of the stove with constant stirring. It was easy to burn or curdle the old way.
Ingredients and substitutions:
MILK: Use your favorite milk or whatever milk you have on hand.

CORNSTARCH: If you don't have cornstarch, you can use arrowroot as a gluten-free substitute.

VINEGAR: Apple cider vinegar is my favorite. White vinegar would be a good substitute.

EGG: I always use large-sized eggs.

ONION: White or yellow onions are perfect. (BTW, these are cooked into the sauce.)

CELERY SEED: This is an important ingredient for this recipe. I can't think of a substitute except for celery salt. Not the same, but kinda close.

MAYONNAISE: My favorite mayonnaise is olive oil mayonnaise. If you prefer, Miracle Whip could be used instead.

POTATOES: The potatoes you choose will affect the texture of your salad. Russets will make a more mealy texture–good if you like your potato salad to be "mashed." Small red potatoes or waxy potatoes will hold their shape better after boiling. Yukon gold potatoes are a nice compromise.

SWEET PICKLE RELISH: I'm a sweet relish girl. Sweet pickle relish goes with the sweetness of the cooked dressing. If you prefer dill relish, I would decrease the sugar in the dressing.
FAQ for potato salad:
Can I make this ahead of time?
Yes. It needs to chill before serving. The day before is not too soon to assemble this potato salad. Refrigerate.

This recipe should be kept in the refrigerator–up to 4 days.
Did you enjoy this recipe? If so, leave a rating 🤩 inside the recipe below. No comment required. If you have any questions or suggestions, email me privately: Paula at saladinajar.com. Hope to see you again soon! Paula
---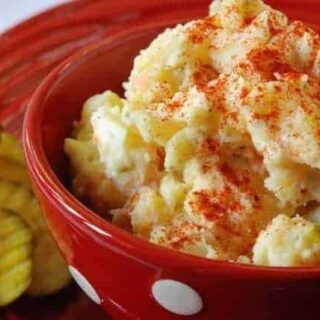 Old-Fashioned Potato Salad with Cooked Dressing Recipe
A classic potato salad with homemade cooked dressing– tangy but no mustard.
Ingredients
½

cup

skim milk

1

teaspoon

salt

¼

cup

sugar

1

tablespoon

cornstarch

¼

cup

vinegar

1

egg

2

tablespoons

butter

-

softened

¼

cup

onion

-

chopped

¾

teaspoon

celery seed

¼

cup

mayonnaise

7

medium potatoes

-

diced and cooked

3

hard-cooked eggs

-

diced

¼

cup

sweet pickle relish
Instructions 
Blend first 6 ingredients in a blender, food processor or with a whisk until smooth. Add butter and onions.

Pour into 2 quart batter bowl. Microwave on HIGH for 4-5 minutes, whisking well after every minute (important so sauce will be cook evenly). Mixture should be thick like pudding.

Add celery seed and mayonnaise to cooked dressing. Whisk till smooth. Fold in potatoes, eggs, and pickle relish. Garnish with smoked (or regular) paprika and chill. Serves 6
Notes
Do you have smoked paprika in your refrigerator? If not, use regular paprika. However, the smoked paprika adds a subtle bacon flavor that is delicious. Good on deviled eggs too.
Nutrition
Nutrition Facts
Old-Fashioned Potato Salad with Cooked Dressing Recipe
Amount per Serving
% Daily Value*
* Percent Daily Values are based on a 2000 calorie diet.