Preview: Try these Easy Orange Rolls–a simple sweet roll seasoned with orange peel and a hint of cardamom, then frosted with orange icing. Currants are optional.
Are you looking for a sweet yeast roll that's not a cinnamon roll? This bread machine recipe produces light, fluffy, and sweet yeast rolls with a distinct orange flavor. The cream cheese icing makes these a special treat. We like to add raisins or currants, but that's optional.
These rolls are a ray of sunshine–perfect for Easter breakfast or a summer brunch. They're much easier to make than cinnamon rolls–no filling to fiddle with, no rolling out the dough or slicing the rolls. If you are looking for a cinnamon-roll shape, don't miss these orange sweet rolls with an orange filling inspired by the orange rolls at an Alabama steak house.
The recipe is written for a bread machine, but don't feel left out if you don't have one. See the directions in the recipe notes for using a stand mixer or mixing by hand.
What do these easy orange rolls taste like?
They are light, fluffy, and sweet with a distinct orange flavor. A touch of cardamom gives a subtle but wonderful taste when combined with the orange flavors. If you've ever eaten Swedish Cardamom Bread, you will recognize the spice. Bread like this is why I have to eat a jar of salad every day for lunch.
---
Ingredients and substitutions: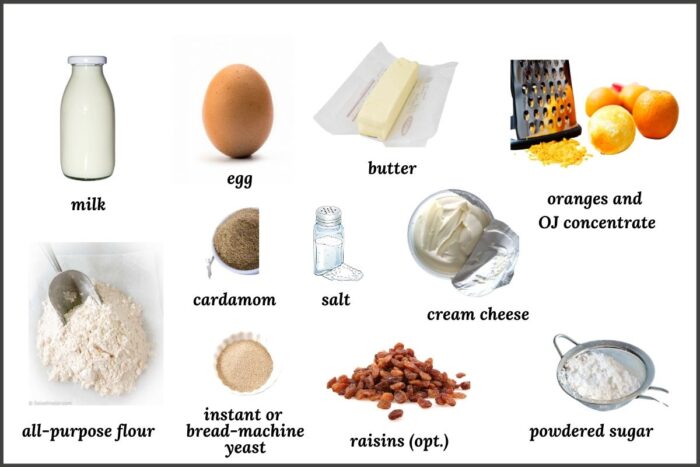 MILK: You can use any dairy milk regardless of fat content. However, the higher the fat, the richer your rolls will be. You can substitute water if you don't eat dairy. I haven't tried non-dairy milk like almond milk, but I'm guessing it would work, also.

ORANGE JUICE CONCENTRATE: OJ concentrate intensifies the orange flavor much more than straight orange juice. Be sure to let it come to room temperature before adding it to the mix. Notice there is no sugar added to this recipe. You will get enough sugar in the concentrate.

EGG: All of my bread recipes are written for large eggs. If you go smaller or larger, adjust your liquid accordingly.

CARDAMOM: This spice is optional but it gives these rolls a subtle but wonderful flavor that plays well with the orange. Go ahead and buy a bottle. You can also use it in this Swedish Cardamom Bread and Sweet Bread Machine Banana Bread

GRATED ORANGE PEEL: Orange peel adds both flavor and color to your rolls.

BUTTER: Add room temperature butter cut into small pieces. Softened butter works better than melted butter.

SALT: The recipe is written for table salt or sea salt. If you want to use Kosher salt, add more. If you are going for lower salt intake, you can experiment with reducing the salt by half. Don't cut it out completely as the yeast won't work properly without it.

FLOUR: All-purpose flour is fine for this recipe, either bleached or unbleached. You can also use bread flour but you may need to adjust the liquid upward. Remember to check your dough while it's kneading to see if the dough needs more flour or liquid.

YEAST: All of my bread recipes use instant or bread machine yeast. This yeast is designed to dissolve quickly. You can use active dry yeast instead. Dissolving it first is optional. It can be slow on the uptake but will catch up eventually.

CURRANTS OR RAISINS: Dried fruit is optional.

CREAM CHEESE: Leave out the cream cheese if you prefer. The icing won't be quite as rich without it.
---
FAQ for Easy Orange Rolls
How do you shape the dough into nice round balls?
Pick up the dough in one hand and use the other hand to pull the dough from the bottom around to the top. Pinch to secure. Work your way around the whole piece until you have a nice round ball.

Watching the video below will give you a better idea. In the end, remember that if the balls are too perfect, people won't recognize them as homemade. That's no fun!
Can you mix up the dough the day before you want to bake them?
Yes. After the DOUGH cycle completes, shape the dough and place the balls into baking pans. Cover with a shower cap or plastic wrap and place into the refrigerator.

The next day, set the rolls on the counter to return to room temperature and almost double their original size. Bake as specified in the recipe.
Can I use other flour like whole wheat in these rolls?
Yes, you can. But anytime you add whole wheat flour or other whole-grain flours, you can expect the finished product to be denser and heavier. The rise time may also take longer.

Start low by adding no more than 1 tablespoon of whole wheat flour per cup of flour. Check the dough as it kneads to determine if you need to add more liquid.
What is the best way to store these rolls?
Store in a plastic bag. They will dry out quickly in a paper bag, under a towel, or stored in the refrigerator.
If making nice round dough balls has you stymied, be sure to check out the video.
How to make Easy Orange Rolls with a bread machine:
More posts you might enjoy:
Did you enjoy this recipe? If so, you can help others and me by leaving a 5-star 🤩 rating inside the recipe below. No comments are required.
Hope to see you again soon!
Paula
p.s. If you have any questions or suggestions, you can email me privately: Paula at saladinajar.com.