What To Look for in a Bread Maker: 5 Things To Consider
Sneak Preview: What should you look for when buying a bread maker machine? Here are five tips to help you match your needs and desires with the right machine.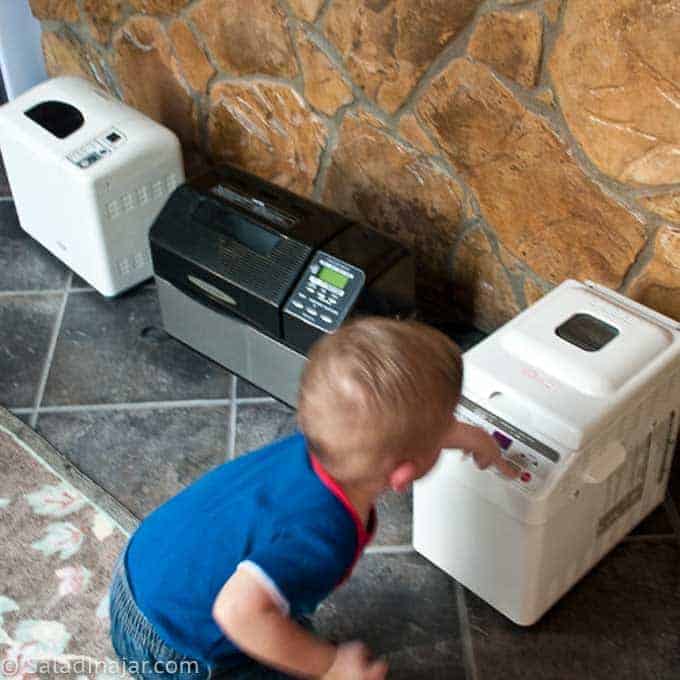 As an Amazon Associate, I earn from qualifying purchases.
Are you considering buying a bread maker machine but don't know where to start? This reminds me of buying my first computer (years ago). The salesperson always asked what I wanted to use it for. Answer: "I've never had one before. It's hard to know."
When buying a bread machine, you could employ the "scientific" method seen in the picture above. But nobody would let a two-year-old select a kitchen appliance.
Yet, those selling those appliances rarely have any personal experience or training about the machines they sell. Buying one on the internet can be equally frustrating. Don't believe everything you read about "the best bread machines."
Nobody wants to waste money buying unnecessary features. On the other hand, you want to purchase a machine that does the job well.
A better approach might be to consider your baking habits, dietary preferences, and of course, your pocketbook when looking to buy a bread maker.
Preaching the virtues of a bread machine as I do on this website, is almost as easy as eating this Honey Whole Wheat Bread (seen below).
On the other hand, advising bakers which bread machine they should buy is not so easy when you consider all the choices available.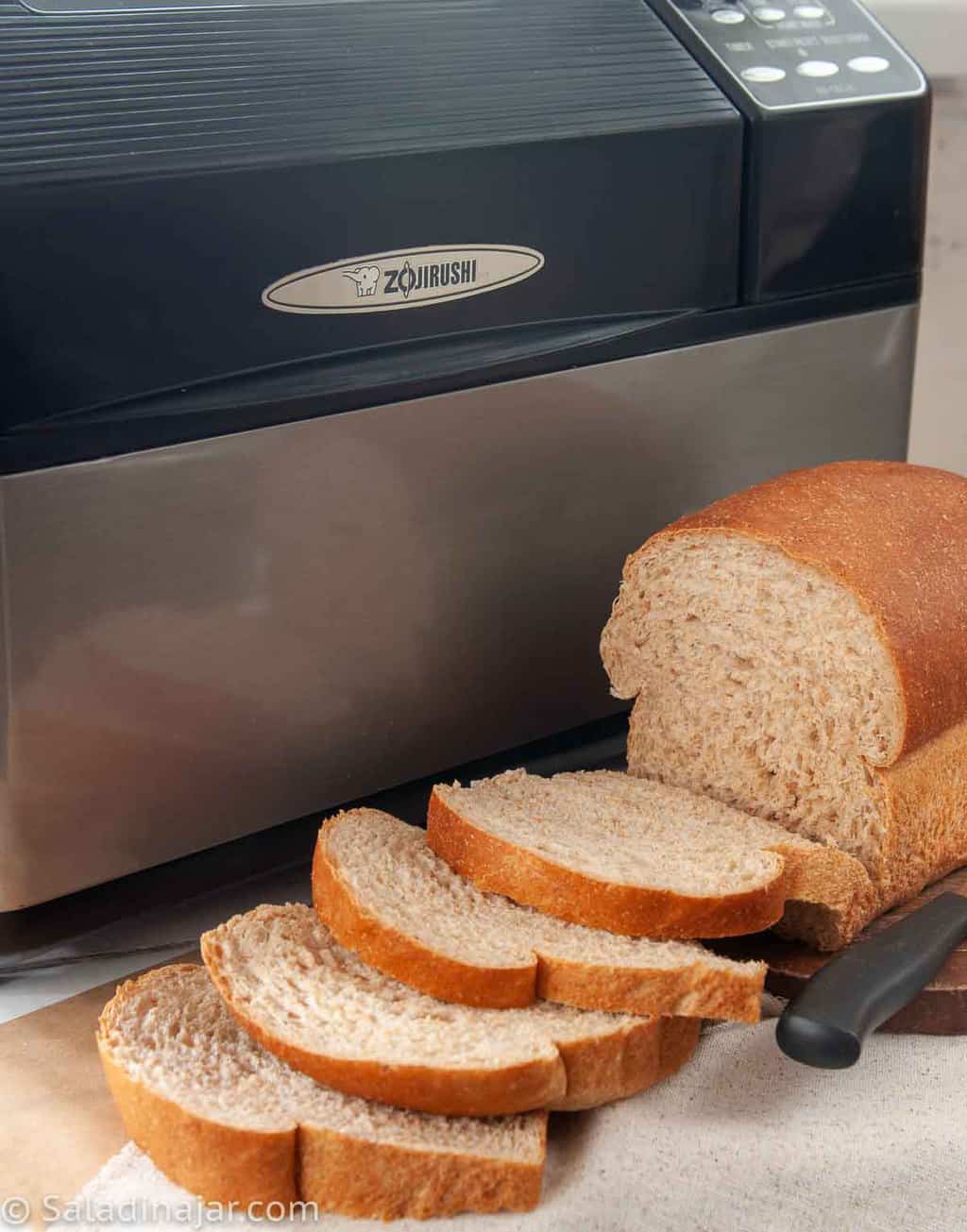 With that in mind, I've compiled a list of five important factors to think about.
Five factors to consider when choosing a bread maker

:
#1
Do you need a timer?
Pay attention to the timer or delay-start if you like to wake up or come home to bread dough raised and ready to shape. Nearly all machines have delayed timers on the various mix and bake cycles, but I like a timer on the DOUGH cycle because I rarely bake in my machine.
It's possible to manually calculate when to set the timer on a bake cycle. Without a timer, you must arrive at just the right moment to pull the bread out of the machine. Otherwise, it will preheat and bake the bread.
Considering I'm not the best at math, the hand-calculated method doesn't always work. I walked into my house more than once to smell a loaf of baked pizza dough. Ugh!
If you are home most of the time, you may not need or care about a timer to delay the start time.

#2
Consider the volume of the bread pan.
If you have a large family, like to share with your friends, or want to make bread when you entertain, get a machine that will hold a recipe containing at least 3-4 cups of flour. Some bread makers will hold up to 4 to 4-1/4 cups of flour (2-lb loaf) or even 6 cups (2.5-lb loaf).
On the other hand, if you want a smaller loaf size for just 2-3 people, you may want a machine with a smaller pan. Remember, homemade bread has no preservatives and can stale quickly. Consider how fast you go through a loaf of bread at your house.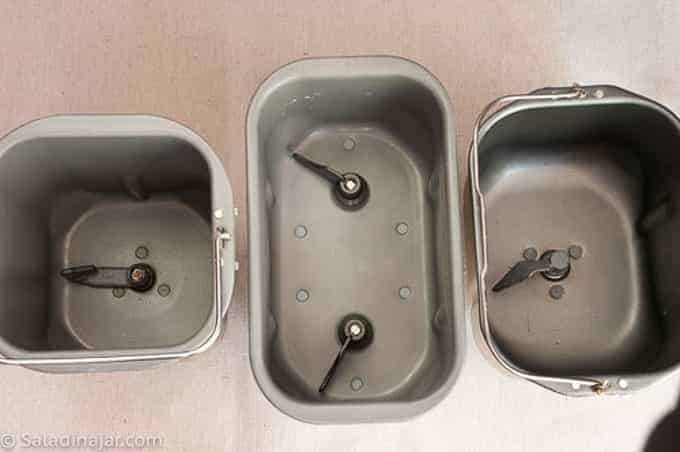 The main thing to remember is that you can usually make a smaller loaf of bread with a larger pan (especially if you're using only the DOUGH cycle), but you can't make a large bread recipe with a compact machine.
How much counter space or storage space do you have? This another factor to consider if you have less space in your kitchen. Check the outside dimensions before you buy. The space-saving design of the Zojirushi Home Bakery Mini or the Cuisinart Compact Bread Maker makes them machines to consider.
#3
Why do the shape of the pan and the number of blades matter?
At the beginning of bread machine history, most bread machines made a tall loaf–see the pan on the left above. It's not the traditionally shaped loaf consumers are used to. Furthermore, the unusual shape gave away the fact that it was baked in a bread machine.
However, manufacturers soon figured out how to build a machine that made a horizontally-shaped loaf that looked more like loaves sold at the grocery store.
Unfortunately, horizontal pans don't always knead the dough as well, leaving unincorporated flour in the corners of the pan. Incomplete mixing is a huge negative!
In my experience, the upright configurations enable a better mixing job. However, if you don't use the machine for baking the bread, the shape of the pan doesn't matter.
Conversely, some newer machines (see picture above) are horizontally shaped but have two blades. Two kneading paddles instead of one are more effective in mixing all ingredients thoroughly and fully developing the gluten.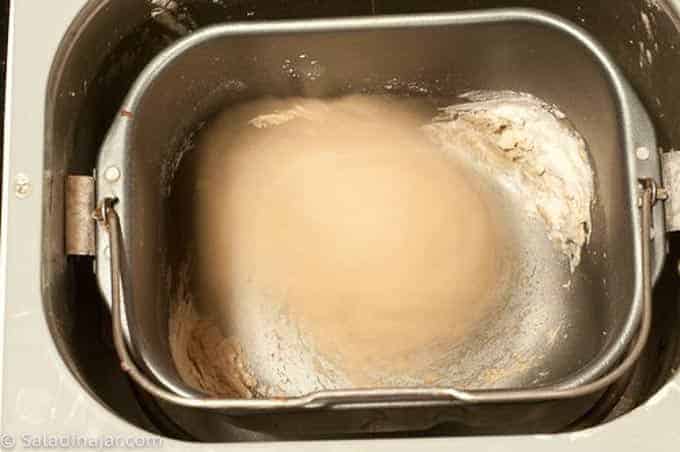 Although all bread machines have a nonstick pan, people are often challenged when removing the kneading paddles. I recommend you remove the paddles after every use. If they are stuck, soak them (fill the inside with water) until you can get the paddle off. This will not be an issue if you don't bake in your machine.
#4
What about the number and variety of cycles?
Breadmaking machines with lots of extra features do not impress me. I want a bread machine to mix and knead the dough with a motor powerful enough to do it well.
Whether or not it makes jam, quick bread, cakes, or meatloaf is immaterial to me, but it might be useful to you if you don't have a conventional oven. Whole wheat cycles can be useful for baking whole wheat bread in your machine if you're not picky about the crust.
You won't need the preheat cycle if you bake with me and don't plan to bake in your bread machine. If you buy a machine with one, be sure you can turn it off as it will become a nuisance as you become a more experienced bread baker.
Consider what types of bread you want: slices of plain white bread for sandwiches and toast aren't as finicky as loaves made of whole-grain flour. It's difficult-to-impossible to make a crusty loaf or any bread that needs a thin, soft crust in a bread machine. Bread baked in a bread machine usually has a thick crust and will always have holes in the bottom caused by the kneading blade or the posts that hold the blade.
If you are looking for a machine to make gluten-free bread, consider that there is no gluten to develop. It would be like buying an oven to store extra cooking pots. You can use it for that, but that's not what a bread maker machine does best.
Bread machine paddles are not designed to mix heavy dough like gluten-free bread. A heavy stand mixer (or doing it by hand) will better mix the thick and heavy batter. Bonus: You won't have holes in the bottom when you use a stand mixer and bake your loaf in the oven.
One more caveat: Bread machines advertising that you can use their machine for sourdough can be misleading. If that is something you want to do, investigate and be aware of the limitations.
For example, my favorite machine has a cycle for sourdough starter. You don't need this if you have a warm place in your house to place a starter while it grows. I used my empty oven for this yogurt sourdough starter.
If you are making a sourdough recipe that also contains commercial yeast, you can use a regular bread cycle.
However, if you want to make a classic sourdough recipe with no commercial yeast, that is not something you can put on a preset cycle in a bread machine. The timing for these loaves is different every time. Instead, use the DOUGH cycle. After that cycle finishes, you only have to complete three stretch-and-pulls, the bulk rise, shaping, and the final rise. Of course, you'll want to bake such a loaf in a very hot conventional oven.

#5
Does price denote quality?
The more you spend, the better the machine. That's my experience and many of my readers agree. Anybody with two bread makers will likely tell you the more expensive model makes better bread.
Things that can go wrong seem to happen sooner with a cheaper machine. The belts are the first thing to go in my experience. They are also noisier and tend to "walk" on the counter.
---
Should I buy a machine if I've never made bread before?
You might consider looking in your local thrift shops or visiting a few garage sales for a used bread machine. They are so cheap to buy and easy to find, and most of them have barely been used because most people don't know how to use them to make good bread (DOUGH cycle only, of course).
Even then, I recommend you buy a brand you recognize. Otherwise, you may find yourself with an instruction manual and a control panel that is not user-friendly for a native English speaker.
What bread maker do I use and why?
My top picks come from Zojirushi. I own three of the Zojirushi, BB-CEC20 model. (I make a small commission from Amazon if you buy this machine through this link. However, I am not affiliated with Zojirushi in any way.) It has a timer on the DOUGH cycle and two blades to thoroughly mix and knead the dough.
The pan will hold up to 4-1/4 cups of flour or do smaller batches. Unfortunately, it is also one of the most expensive bread machines. But it's worth it to me since I use it nearly every week.
I have purchased and used a Zojirushi Home Bakery Virtuoso Plus in the past. After discovering the machine stops whenever the lid is opened, I gave it away. The handles on the side were also awkward when removing the dough from the pan to shape it.
You may already have a bread machine you don't like or don't use. Don't chuck it yet. Your bread maker may not be perfect, but a little practice and a good recipe that utilizes the DOUGH cycle can make a huge difference. Stick with me.
Parting thoughts: If you own and love your bread machine, please share what brand you own and what you like about it.
---
Posts related to using a bread machine:
If you have questions or suggestions, email me privately for a quick answer: Paula at saladinajar.com. Hope to see you again soon!