Preview: Wondering what to look for when buying a bread maker? Here are 5 tips that will help you match your needs and desires with the right machine for you.
When buying a bread machine, you could employ the "scientific" method seen in the picture below. But nobody would let a two-year-old select a kitchen appliance.
Yet, the people selling those appliances rarely have any personal experience or training about the machines they sell. You might as well be talking to a child.
Don't waste your money buying lots of features you won't use. On the other hand, don't spend hard-earned cash on a machine that doesn't do the job well.
A better approach might be to consider your baking habits, dietary preferences, and of course, your pocketbook when looking to buy a bread maker.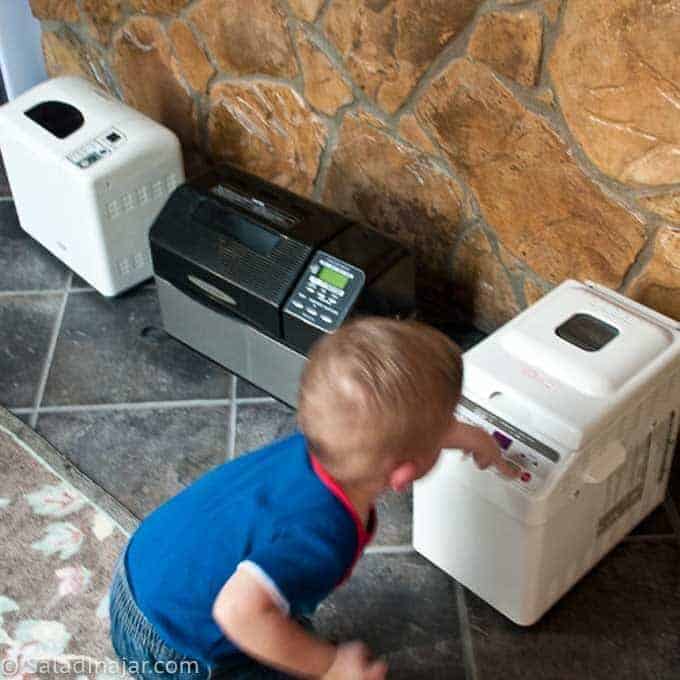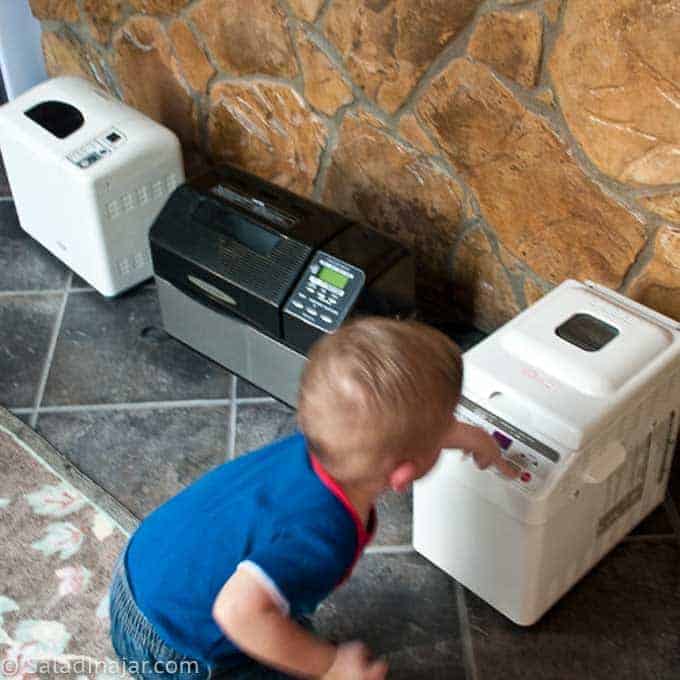 Have you ever wondered which bread maker is best?
Preaching the virtues of a bread machine as I do on this website, is almost as easy as eating this Honey Whole Wheat Bread.
On the other hand, advising people which bread mashine they should buy is not so easy when you consider all the choices available.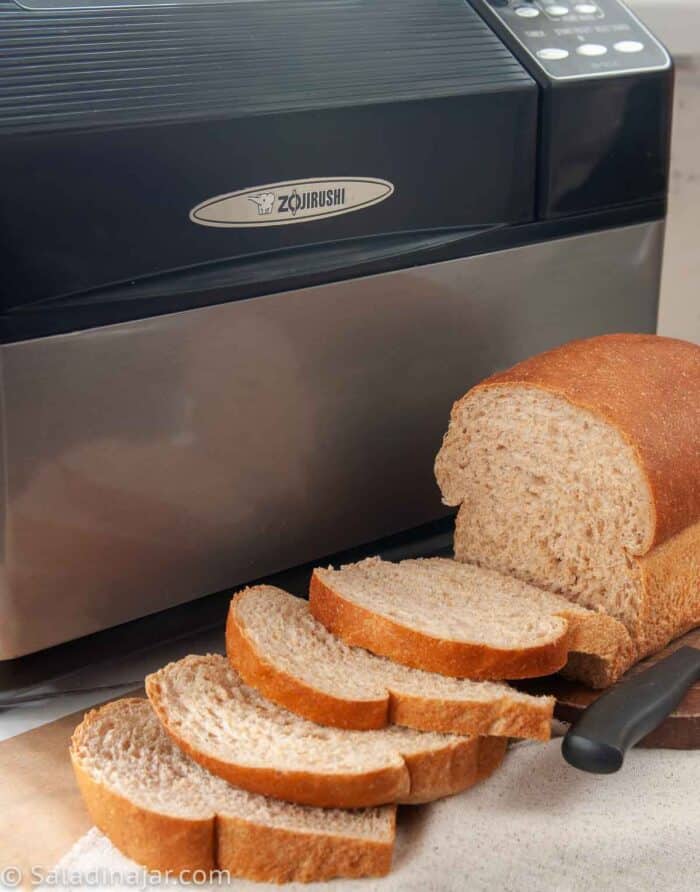 With that in mind, I've compiled a list of 5 ideas to get you started.
Five factors to consider when choosing a bread maker

:
#1
Do you need a timer?
If you like to wake up or come home to bread dough raised and ready to shape, pay attention to the timer. Nearly all machines have a timer on the various mix and bake cycles, but I like a timer on the DOUGH cycle because I ALMOST NEVER bake in my machine.
It's possible to manually calculate when to set the timer on a bake cycle. However, you must arrive at just the right moment to pull the bread out of the machine. Otherwise, it will preheat and bake the bread.
Considering I'm not the best at math, the hand-calculated method doesn't always work. More than once, I've walked into my house to the smell of a loaf of baked pizza dough. Ugh!
In the event you are home most of the time, you may not need or care about a timer.

#2
Consider the size of the bread machine pan.
If you have a large family or want to make bread when you entertain, get a machine that will hold a recipe containing at least 3 cups of flour. Some will hold up to 4 to 4-1/4 cups or even 6 cups.
On the other hand, if you want a smaller loaf for just 2-3 people, you may want a machine with a smaller pan. Remember, homemade bread has no preservatives and can stale quickly. Therefore, consider how fast you can eat a loaf of bread at your house.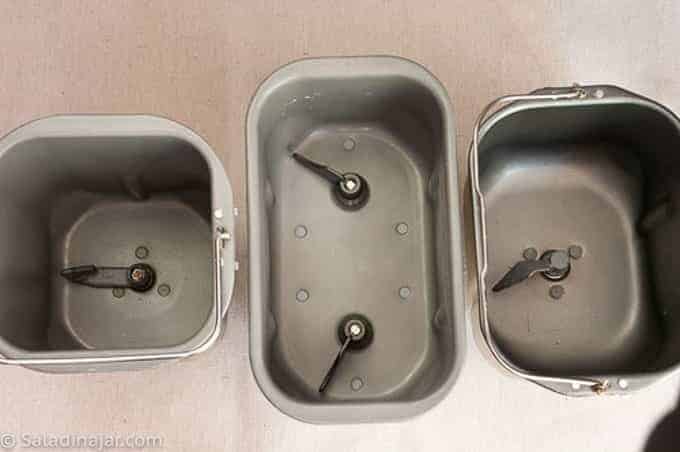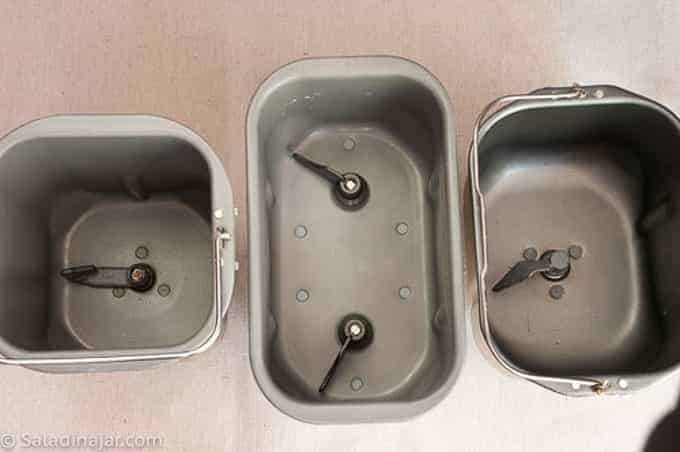 #3
Why does the shape of the pan and the number of blades matter?
At the beginning of bread machine history, most bread machines made a loaf that was long and tall–see pan on the left above. It's not the traditionally shaped loaf consumers are used to. Furthermore, the odd shape gave away the fact that it was baked in a bread machine.
However, manufacturers soon figured out how to build a machine that made a horizontally-shaped loaf that looked more like loaves sold at the grocery store.
Unfortunately, horizontal pans don't always knead the dough as well, leaving unincorporated flour in the corners of the pan. Incomplete mixing is a huge negative!
In my experience, the upright configurations enable a better mixing job. HOWEVER. Since I'm not using the machine for baking the bread, the shape of the pan doesn't matter. You may see it differently.
Conversely, some of the newer machines (see picture above) are horizontally shaped but have two blades. Two blades instead of one seem to be more effective in mixing all ingredients thoroughly.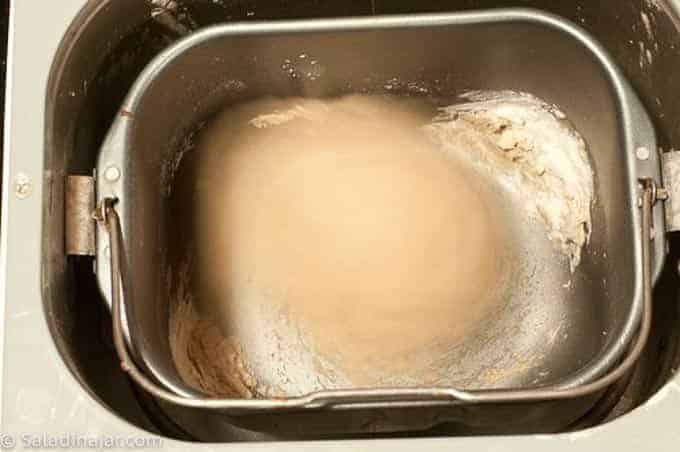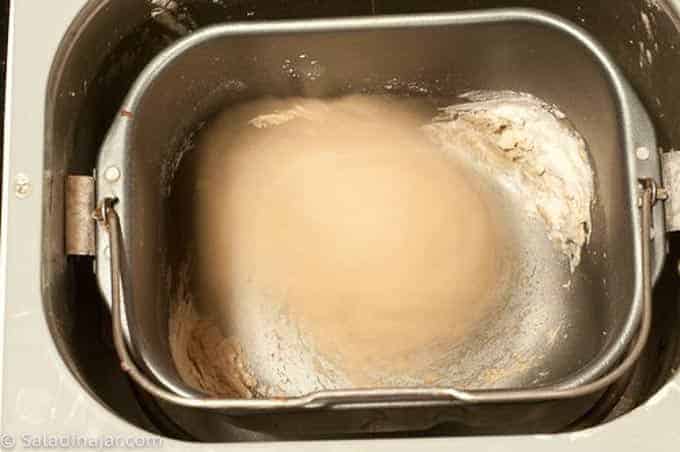 #4
What about the number and variety of cycles?
Bread machines with lots of different cycles do not impress me. I want a bread machine to mix and knead the dough with a motor powerful enough to do it well.
Whether or not it makes jam or quick bread is immaterial to me. Whole wheat cycles can be useful if you plan to bake whole wheat bread inside your machine. Consider your baking habits.

#5
Does price denote quality?
In general, the more you spend, the better the machine. No surprise there. Anybody with two bread makers will most likely tell you the more expensive model makes better bread.
Things that can go wrong, seem to happen sooner with a cheaper machine. The belts are the first thing to go in my experience.
Should I buy a machine if I've never made bread before?
If you are short on funds or the cautious type, consider picking up a like-new machine at a garage sale or on eBay. My daughter-in-law recently bought a good machine at a garage sale for 5$. Even better, borrow one from friends who never use theirs to see how you like it first.
Why did I choose my bread maker?
My personal favorite is a Zojirushi, BB-CEC20. It has a timer on the dough cycle and two blades to mix and knead the dough thoroughly.
The pan will hold up to 4 1/4 cups flour or do smaller batches as well. Unfortunately, it is also one of the most expensive bread machines out there. But it's worth it to me since I use it nearly every week.
You may already have a bread machine you don't like or don't use. Don't chuck it yet. Your bread maker may not be perfect, but a little practice and a good recipe can make a huge difference. Stick with me.
If you own and love your bread machine, tell me what you have and what you like about it. What is the most important feature to you when it comes to this fabulous kitchen appliance?
So that you know, I have not been paid or compensated in any way to say anything about any bread machine. My credentials are years of experience making bread with and without a bread machine, a Home Economics degree, and a bread machine cookbook collection the size of Texas.
---
Posts related to using a bread machine
If you have any questions or suggestions, email me privately: Paula at saladinajar.com.

Hope to see you again soon!
Paula