Making Soup-Friendly Bread Bowls Thanks to a Bread Machine
Sneak Preview: Make these bread machine bread bowls to serve chili, chowder, or a creamy dip in a novel way. Eating the bowl is half the fun. It's easy when you use your bread machine to mix the dough.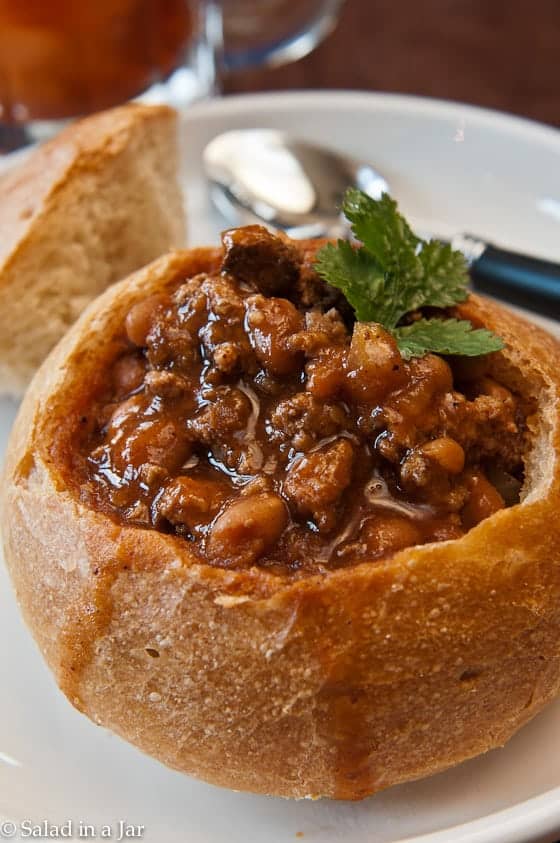 As an Amazon Associate, I earn from qualifying purchases.
Are you looking for an easy recipe to make bread bowls for serving soup or dip? Now you can make this homemade bread-bowl recipe with the help of a bread machine.
Part of the bread-bowl experience is eating the bowl when you empty the contents. Using the freshest homemade bread will add to the adventure.
Happy Bakers Speak Up:
"I couldn't wait so I made your crusty recipe and made it into 6 rolls cause none of us wanted a large bread bowl! I cheated and served Boudin's Clam chowder from Costco in each and it was such a hit and so many compliments from the family! It's a winner!"– Lisa
---
Recipe inspiration:
One of my readers recently inquired about a recipe for bread bowls. I took the challenge.
My first attempt involved upside-down ceramic soup bowls covered with rolled-out bread dough. The result was a gorgeous-looking bread bowl. Unfortunately, it wasn't all that great because the soup couldn't soak into the sides.
Since tearing and eating the soup-infused innards is supposed to be the best part of the experience, I returned to the drawing board.
The next attempt went much better. It involved my Really Crusty Rolls recipe. I divided the dough into four portions and formed each piece into a ball. You can see my rolling technique illustrated in the video below. Finally, the rolls are glazed and baked.
Ingredients and substitutions:
WATER: Spring water is preferred, but tap water will usually work. The water does not need to be warmed.

OLIVE OIL: Olive oil imparts good flavor, but corn oil, canola oil, or avocado oil can also be used.

SALT: The recipe is written for table salt or sea salt. If you want to use Kosher salt, add 1/4 teaspoon more.

SUGAR: Use granulated sugar.

FLOUR: My favorite combination for this recipe is half unbleached flour and half bread flour. You could use 100% of either one if you prefer. Because bread flour contains more protein, it will give your dough more rise and chewiness. Those are characteristics you want in this bread.

YEAST: I use nothing but bread machine, instant, or quick-rise yeast. If you only have active dry yeast, use a 1/4 teaspoon extra because it is slower on the uptake.

CORNSTARCH: Cornstarch is the secret ingredient for the REALLY crusty glaze. Although you could use an egg white and a teaspoon of water, it won't be the same.
---
FAQ:
Do I have to use a bread machine to make this recipe?
Although the recipe is written to be mixed and kneaded in a bread machine, you can do it by hand or with a stand mixer. See the recipe notes for specific instructions.
Can I freeze these bowls?
Double-wrap and freeze the uncut bowls for up to two months.
Can I make the dough ahead of time?
Make the dough with the DOUGH cycle on your bread machine. When it finishes, either remove the dough and refrigerate immediately or shape it into balls and chill overnight. Cover well so the bread won't develop a skin.

The next day, make balls from the chilled dough and allow them to rise until almost double before baking. Or remove the balls from the fridge, allow them to rise until double, then bake them.
Preparing rolls to serve as bowls: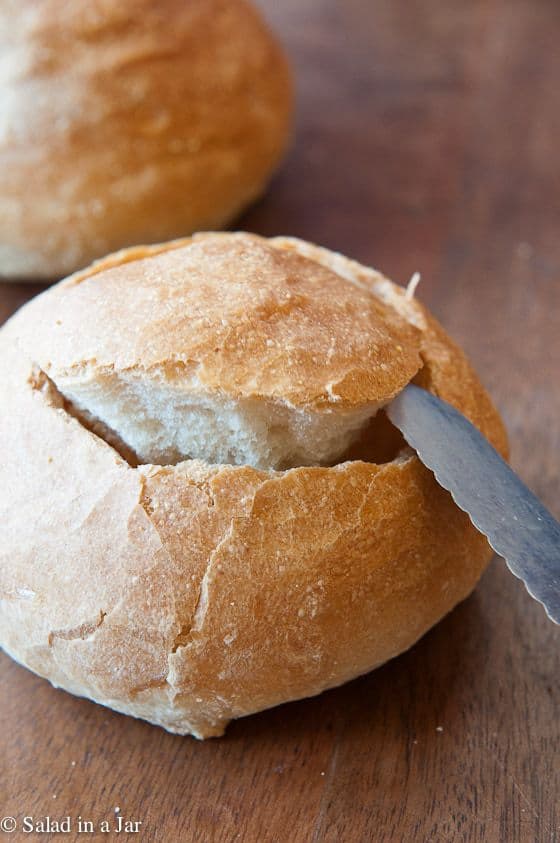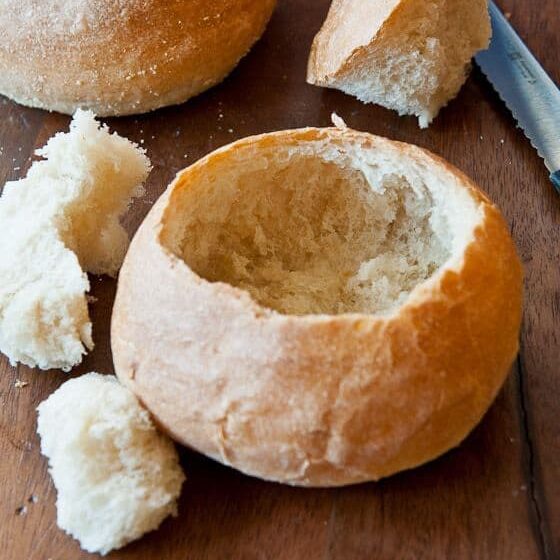 Parting Thoughts: Fill each bowl with your favorite kind of soup. What you see in the top picture is Cincinnati Chili.
---
What would you like to read next?
Recipe Help at Your Fingertips: For questions or suggestions, email Paula at saladinajar.com. If you need help, I'm happy to troubleshoot via email (faster than leaving a comment). Attach pictures and as many details as possible for the best advice.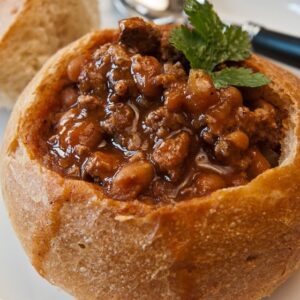 Soup-Friendly Bread Bowls from a Bread Machine
This recipe will make 4 soup bowls for your favorite chili, chowder, or dip.
Share recipe love here. ⬇
Ingredients
1

cup

(

227

g

)

of water

1

tablespoon

(

14

g

)

olive oil

1-1/2

teaspoon

table or sea salt

1 -1/2

teaspoon

sugar

1-1/2

cups

(

180

g

)

unbleached all-purpose flour

1-1/2

cups

(

180

g

)

unbleached bread flour

1

teaspoon

bread machine or instant yeast
Glaze
¼

cup

(

57

g

)

water

½

teaspoon

cornstarch
Instructions
Mixing the dough:
Heat

1 cup

(

227

g

) of water in the microwave on HIGH for 1 minute. Pour into the bread machine pan with the blade in place.

Add

1 tablespoon

(

14

g

) olive oil,

1-1/2 teaspoon

table or sea salt,

1 -1/2 teaspoon

sugar,

1-1/2 cups

(

180

g

) unbleached all-purpose flour,

1-1/2 cups

(

180

g

) unbleached bread flour, and

1 teaspoon

bread machine or instant yeast to the pan. Select the DOUGH cycle, then press START.

Check the dough at least twice during the mixing and kneading phase by lifting the lid to take a peek. The first time, look immediately after the machine starts mixing to ensure the paddles are engaged correctly.

Look again 15 minutes into the DOUGH cycle to assess the consistency of the dough. For most recipes, the dough should stick to the side, then pull away cleanly.

If your dough is too wet, add flour one tablespoon at a time.

Conversely, if the dough is too dry, add one tablespoon of liquid at a time until the dough looks just right. Read more about this surprising secret to success with a bread machine here.

When the dough cycle has finished and bread has risen to double the original size, remove the dough onto a floured surface.
Shaping the dough:
Cover a cookie baking sheet with a silicone baking mat or parchment paper. Lightly scatter cornmeal over the sheet before placing the round dough balls onto the cookie sheet–evenly spaced from each other.

Cover dough balls with a tea towel and set in a warm place for about 45 minutes or until risen almost double.

Preheat oven to 375˚F (190˚C). When ready to bake, brush raw rolls with the cooled cornstarch glaze prepared per the directions below.

Bake in a pre-heated oven for 35 minutes until the crust is crisp and brown.

Carve out rolls to make bowls.
Glaze:
Mix water and cornstarch in a 2-cup pyrex container and heat in a microwave for 20 seconds on HIGH or until thick.
Notes
Alternate Mixing Instructions:
Directions for making bread with a stand mixer or by hand:
To make this recipe in a heavy-duty stand mixer, add ingredients to the bowl in the same order. Turn on low to mix until all ingredients are moistened. Using a dough hook, turn speed to 2 or 3 and continue beating/kneading until dough becomes smooth and elastic (about 5-10 minutes). Cover and allow to rise in a warm place. Deflate dough gently and shape as indicated in the recipe.
If making by hand, combine all ingredients into a shaggy ball in a large bowl. Turn dough out onto a floured surface and knead with your hands until dough becomes smooth and elastic, a process that will likely take 10-20 minutes depending on your experience. Place the dough ball into a greased bowl. Cover and allow to rise until doubled. Deflate dough gently and shape as indicated in the recipe.
Please note: You can substitute active dry yeast for instant or bread machine yeast. There is no longer any need to dissolve it according to King Arthur Baking.com. (https://www.kingarthurbaking.com/blog/2015/09/25/active-dry-yeast) Be aware that it may be a little slower acting than instant yeast, but it'll get there.
Nutrition
Serving:
1
serving
|
Calories:
186
kcal
|
Carbohydrates:
32
g
|
Protein:
5
g
|
Fat:
4
g
|
Saturated Fat:
1
g
|
Polyunsaturated Fat:
1
g
|
Monounsaturated Fat:
3
g
|
Sodium:
297
mg
|
Potassium:
61
mg
|
Fiber:
2
g
|
Sugar:
1
g
|
Vitamin A:
1
IU
|
Vitamin C:
1
mg
|
Calcium:
8
mg
|
Iron:
1
mg
HELP OTHERS find this recipe. Leave a 5 🌟🌟🌟🌟🌟 rating at the top of the recipe card if you enjoyed it. No comment is required.