Preview: Make these bread machine bread bowls to serve chili, chowder, or a creamy dip in a novel way. Eating the bowl is half the fun.
Are you looking for an easy recipe to make bread bowls for serving soup or dip? Now you can make this homemade bread-bowl recipe with the help of a bread machine.
Part of the bread-bowl experience is eating the bowl when you empty the contents. Using the freshest homemade bread will add to the adventure.
Recipe inspiration:
One of my readers recently inquired about a recipe for bread bowls. I took the challenge.
My first attempt involved upside-down ceramic soup bowls covered with rolled-out bread dough. The result was a gorgeous-looking bread bowl. Unfortunately, it wasn't all that great to eat because the soup couldn't soak into the sides.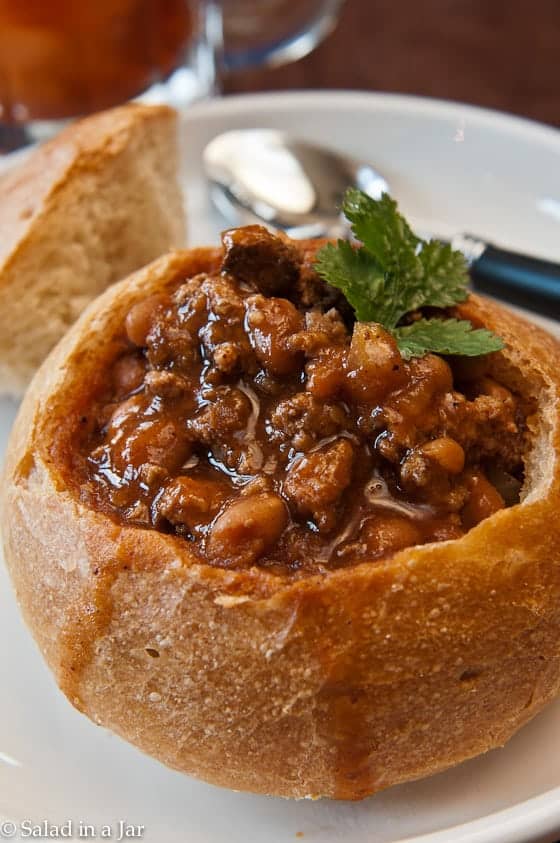 Since tearing and eating the soup-infused innards is supposed to be the best part of the whole experience, I went back to the drawing board.
The next attempt went much better. It involved my Really Crusty Rolls recipe. I divided the dough into four portions and formed each piece into a ball. You can see my rolling technique illustrated in the video below. Finally, the rolls are glazed and baked.
Ingredients and substitutions:
WATER: Spring water is preferred but tap water will usually work.

OLIVE OIL: Olive oil imparts good flavor but corn oil, canola oil, or avocado oil can also be used.

SALT: The recipe is written for table salt or sea salt. If you want to use Kosher salt, add 1/4 teaspoon more.

SUGAR: Use granulated sugar.

FLOUR: My favorite combination for this recipe is half unbleached flour and half bread flour. You could use 100% of either one if you prefer. Because bread flour contains more protein, it will give your dough a bit more rise and chewiness. Those are characteristics you want in this bread.

YEAST: I use nothing but bread machine, instant, or quick-rise yeast. If you only have active dry yeast, use a 1/4 teaspoon extra because it is slower on the uptake.

CORNSTARCH: Cornstarch is the secret ingredient for the REALLY crusty glaze. Although you could use an egg white and a teaspoon of water, it won't be the same.
---
FAQ:
Do I have to use a bread machine to make this recipe?
Although the recipe is written to be mixed and kneaded in a bread machine, you can do it by hand or with a stand mixer. See the recipe notes for specific instructions.
Can I freeze these bowls?
Double wrap and freeze the uncut bowls for up to two months.
Can I make the dough ahead of time?
Make the dough with the DOUGH cycle on your bread machine. When it finishes, either remove the dough and refrigerate immediately, or shape the dough into balls and chill overnight. Cover well so the bread won't develop a "skin."

The next day, make balls from the chilled dough and allow them to rise until almost double before baking. Or remove the balls from the fridge, allow them to rise until double, then bake them.
Preparing rolls to serve as bowls: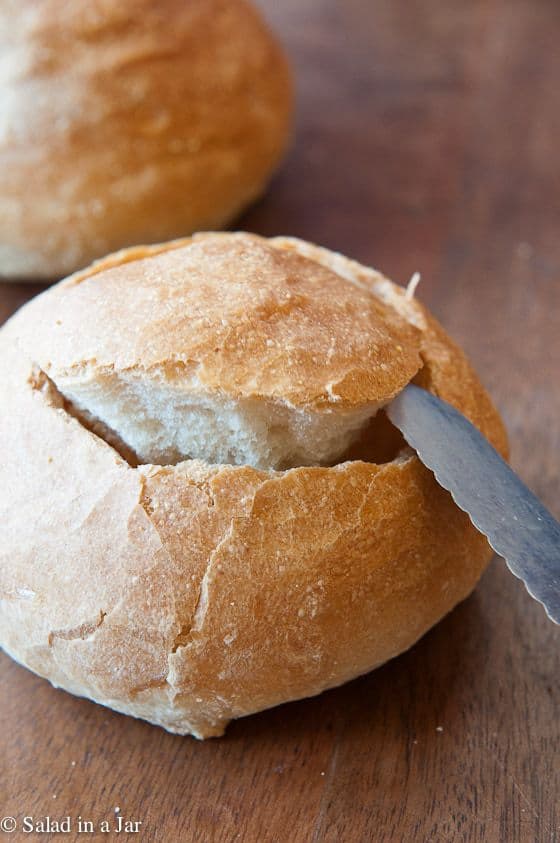 After baking the rolls, a serrated knife proved to be the perfect tool. Carve a deep wedge out of the top of each roll as shown above. I use toothpicks as a guide.
After the initial cut, use your fingers to dig out the soft bread.
When you are finished, the bowl should look something like this.
Fill each bowl with your favorite kind of soup. What you see in the top picture is Cincinnati Chili.
What would you like to read next?