Decadent Braided Cinnamon Bread, Thanks to a Bread Machine
Sneak Preview: This Braided Cinnamon Bread can be effortlessly mixed and kneaded in your bread machine. Shape it by hand and let it bake in the oven. It's a fancy-schmancy version of cinnamon rolls that will make any breakfast, brunch, or snacktime special and memorable.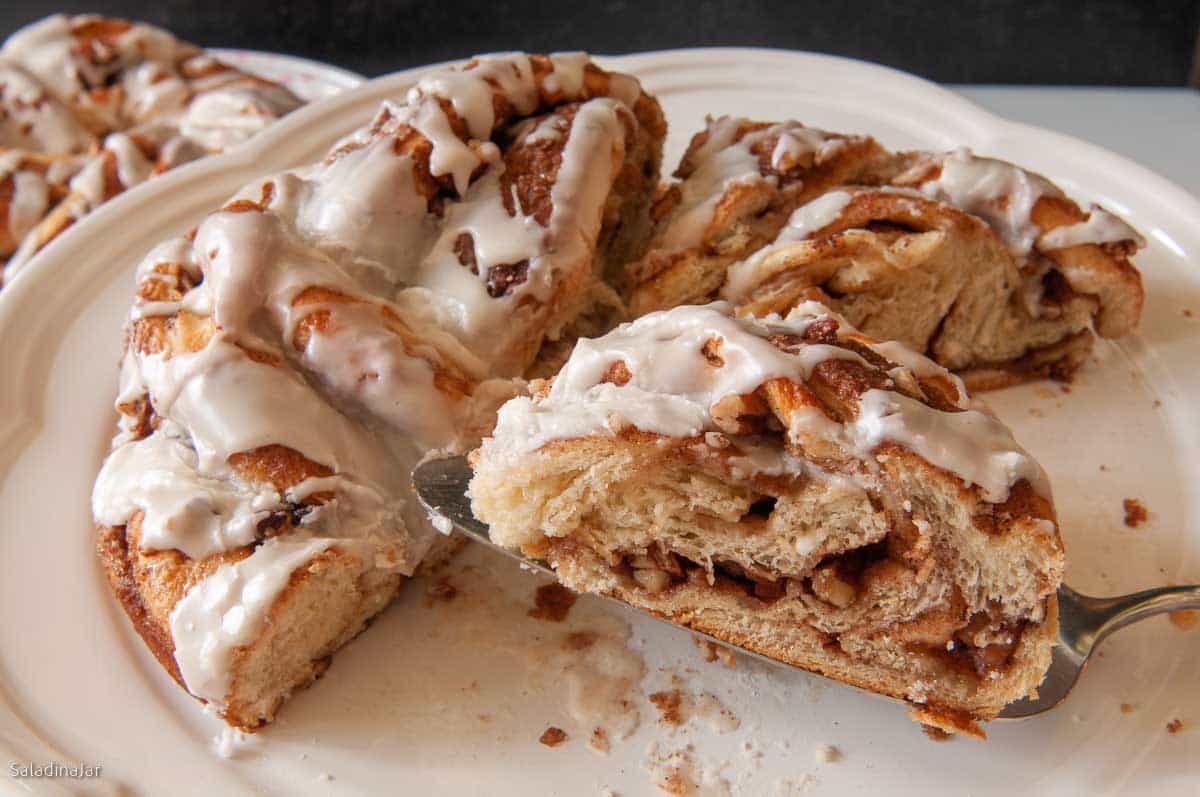 As an Amazon Associate, I earn from qualifying purchases.
My sister and I plan to open a bed and breakfast if we find ourselves widowed someday. (Please don't discuss this idea with my husband. It makes him nervous.) We already know this decadent Braided Cinnamon Bread will be at the top of the breakfast menu.
What makes this cinnamon yeast bread so decadent? Instead of milk, the recipe specifies half-and-half. Instead of the usual one egg, use two.
Now we're talking about a treat–and furthermore, it's worth the calories.
This recipe isn't as quick as a coffee cake made with Bisquick. But mixing and kneading the dough in your bread maker will make the whole process more manageable. The recipe and process are similar to my favorite Chocolate Babka.
Like 95% of the yeast bread I make, this recipe is mixed, kneaded, and proofed in a bread machine before shaping the dough by hand and baking it in a conventional oven. It's the only way to get this shape and the best way to produce a tender crust.
However, using a big electric mixer or mixing by hand also works. Once the dough doubles its original size, remove it from the pan, shape it by hand, and allow it to rise before baking.
Happy cooks speak up
These are delicious, and look amazing too. I split the icing ingredients into two and made the two breads (the recipe makes two breads) one with vanilla icing and one with coffee icing. The coffee icing …came out brilliantly, and was an amazing contrast to the vanilla iced one. In fact I can't make up my mind which one I love best and will probably always make both when I make this fabulous recipe.

Karen
---
Ingredients and substitutions:
Half and Half: This hybrid of cream and milk is the secret to this rich bread. You could use plain whole milk, but it won't be the same. The half and half does not need to be warmed before adding it to the bread machine.

Sugar: I use granulated sugar.

Salt: Use table salt or sea salt. If you want to use Kosher salt, add an additional ¼ teaspoon.

Eggs: I tested this recipe with large eggs. If you use a different size, you may need to add more flour if the eggs are larger or more cream if the eggs are smaller. You'll know when you measure or if you follow my secret for better bread with a bread machine.

Butter: I prefer unsalted butter, but salted butter will work. Substitute margarine if that's all you have. You can also substitute non-dairy margarine. It's not necessary to soften the butter. Instead, chop it into tiny pieces. The friction of the bread machine paddles will heat up the dough and melt the butter at the perfect time.

Flour: Use all-purpose bleached or unbleached flour. I don't use bread flour in this recipe because I want a tender texture, not chewy.

Instant Yeast: If you've baked one of my recipes in the past, you know I always use instant yeast. It gives the best results in a bread machine and is also the easiest. Active dry yeast will serve the purpose, but the rise can be slower.

Light Brown Sugar: Brown sugar gives a caramel-like flavor to the filling.

Pecans: Substitute walnuts or leave the nuts out. If you add nuts, toast them first for maximum flavor.

Powdered Sugar: Maybe you know this sugar as confectioners' or XXX sugar. Either way, it makes a nice icing for this loaf. You can skip the icing, but it hides a multitude of sins and tastes wonderful.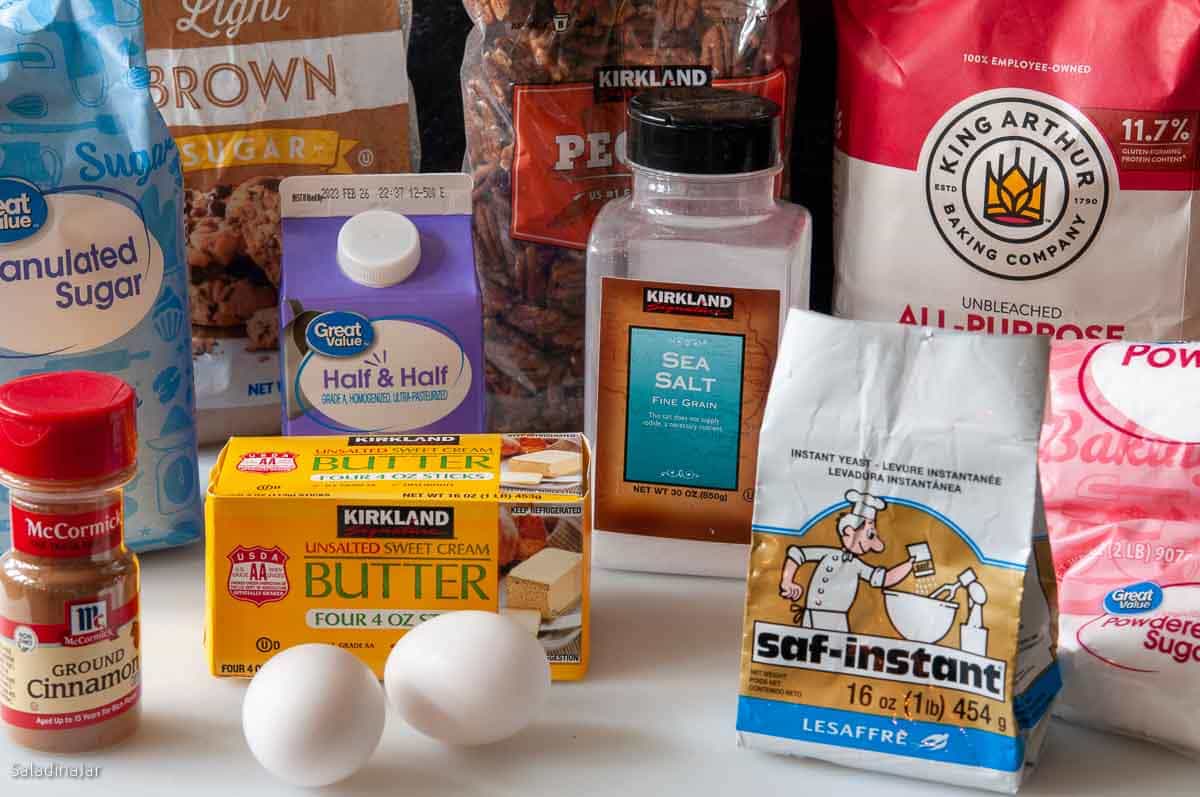 ---
How to make the dough for a braided cinnamon bread with a bread machine:
See the recipe notes if you want to use a stand mixer or make the dough by hand.
Weigh all dough ingredients (especially the flour) and add to the bread machine pan in the order listed: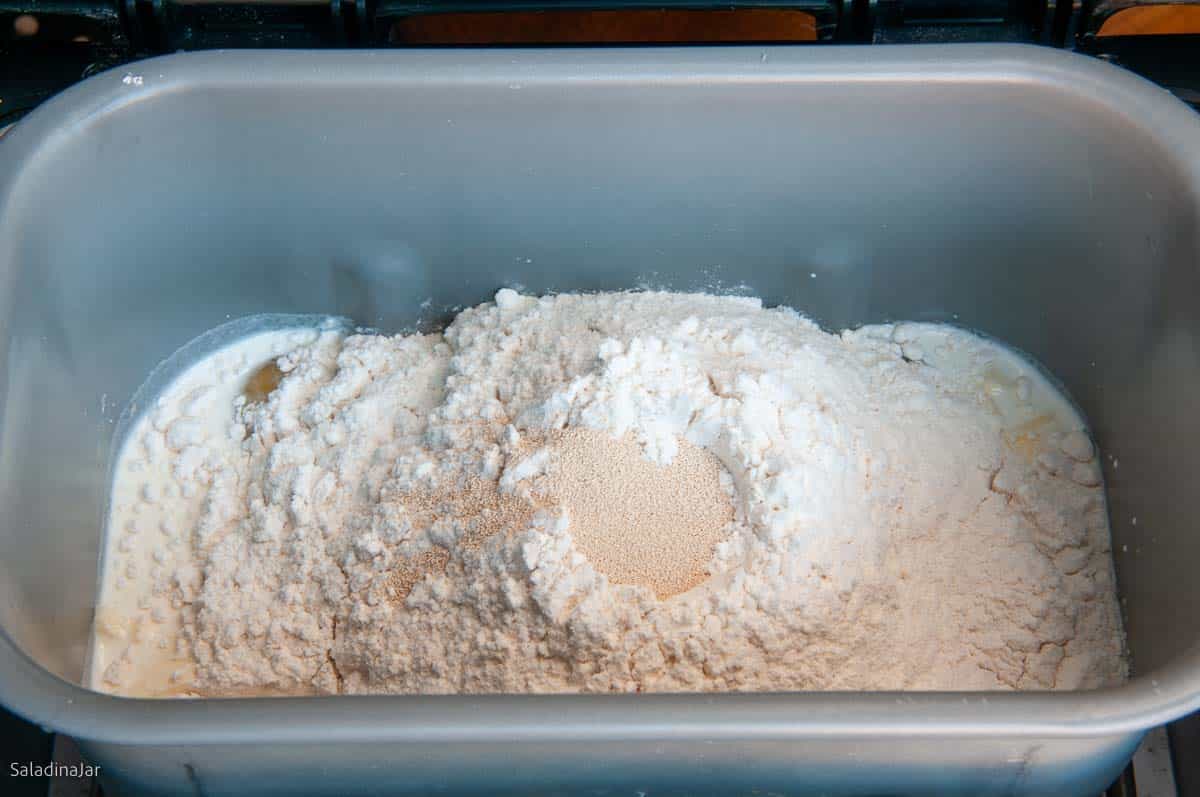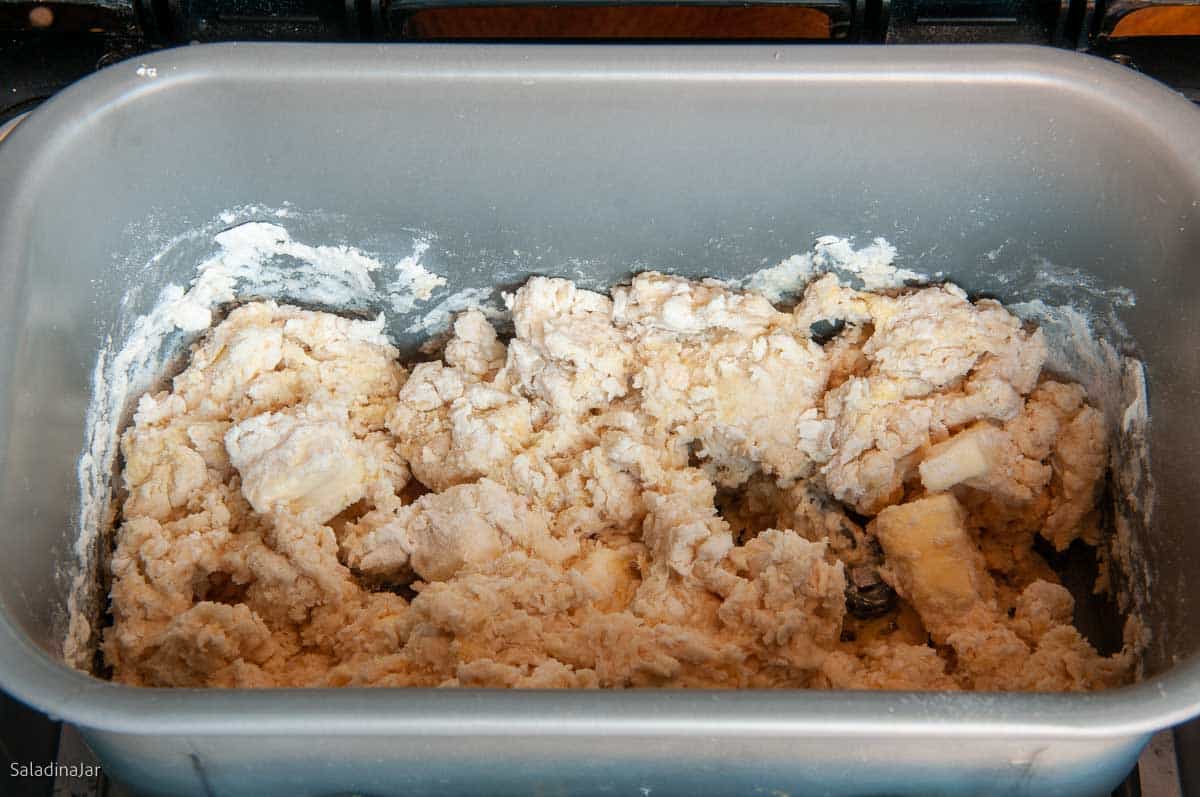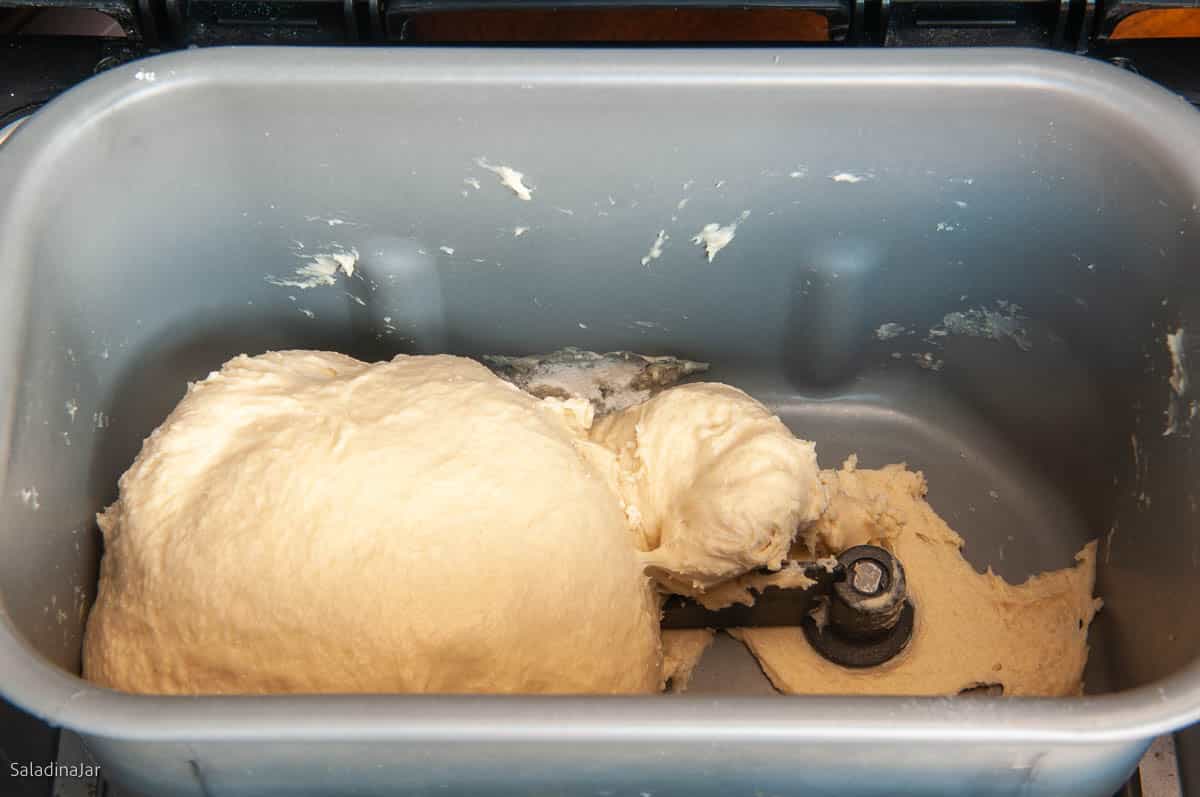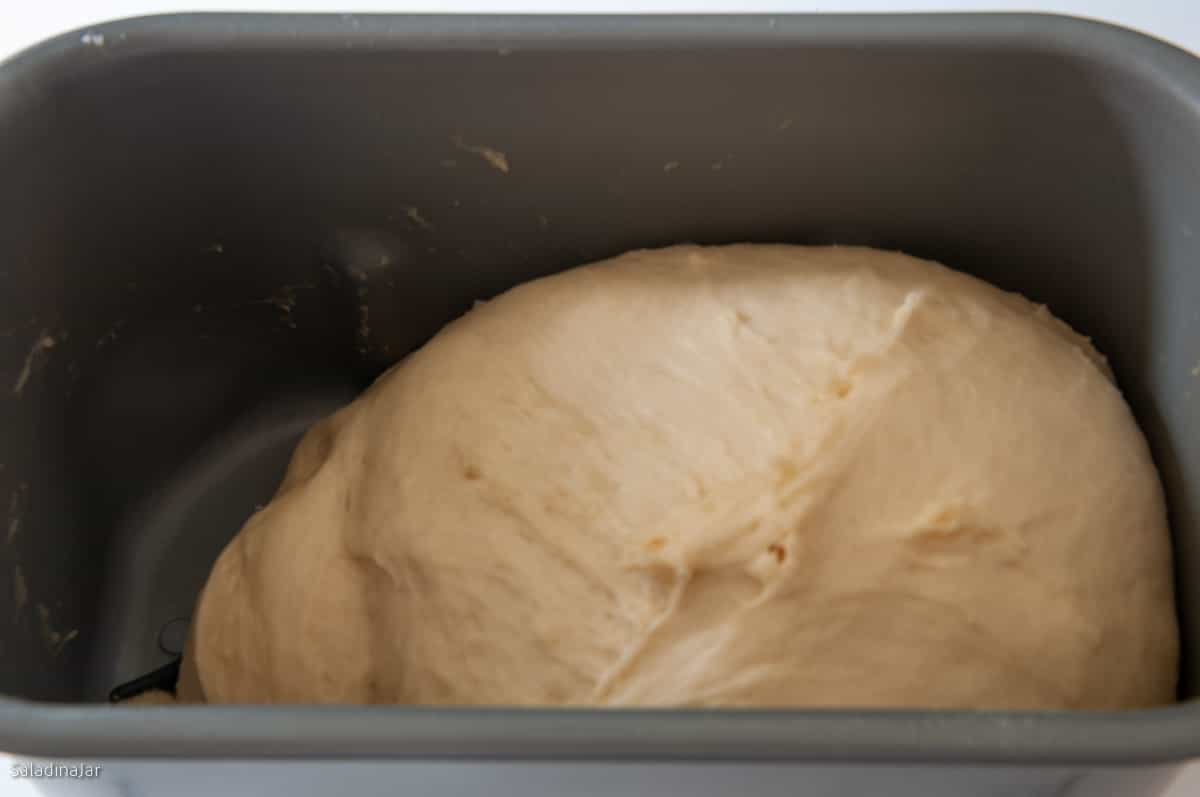 ---
How to shape the dough for this bread maker Braided Cinnamon Bread: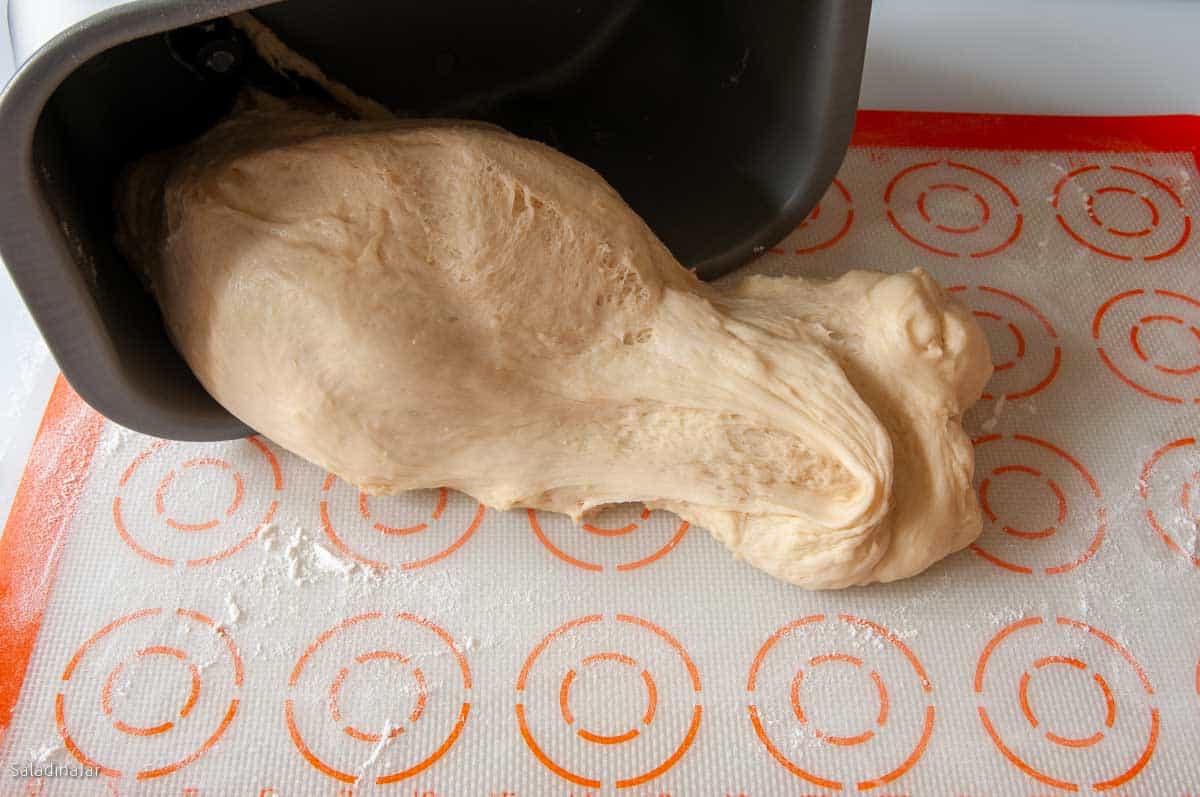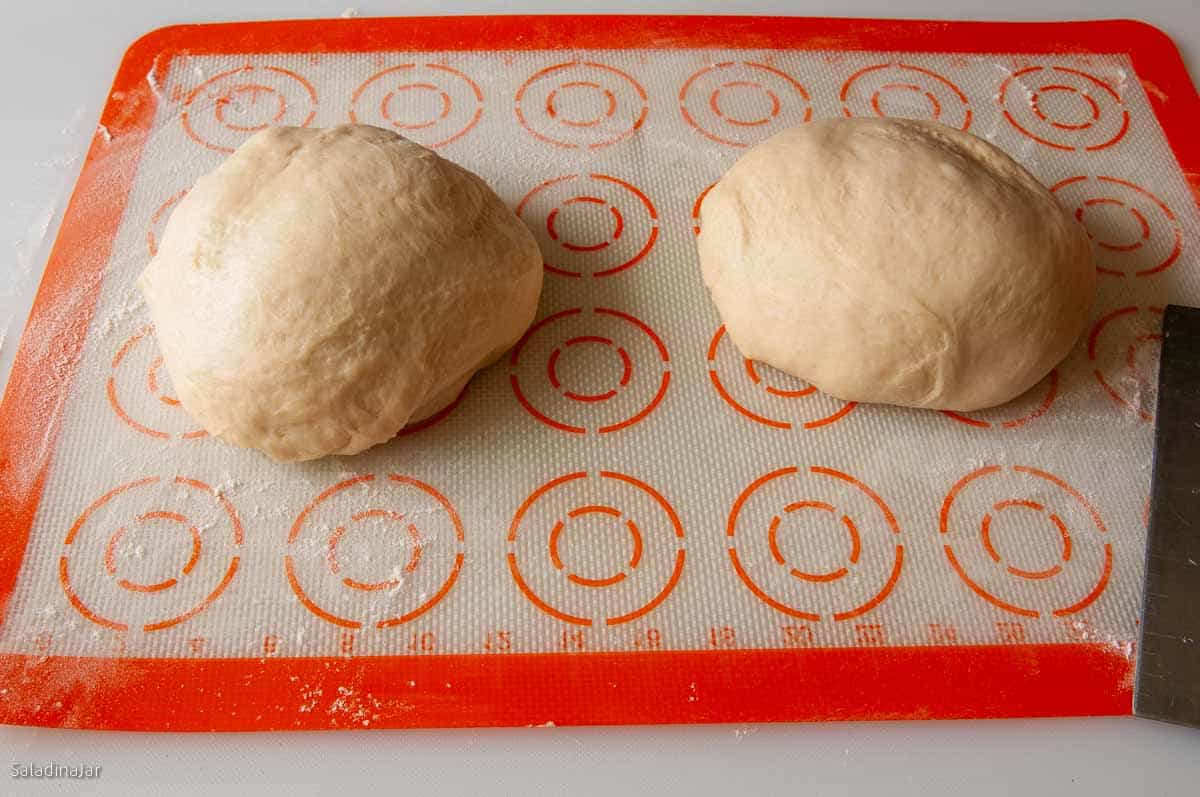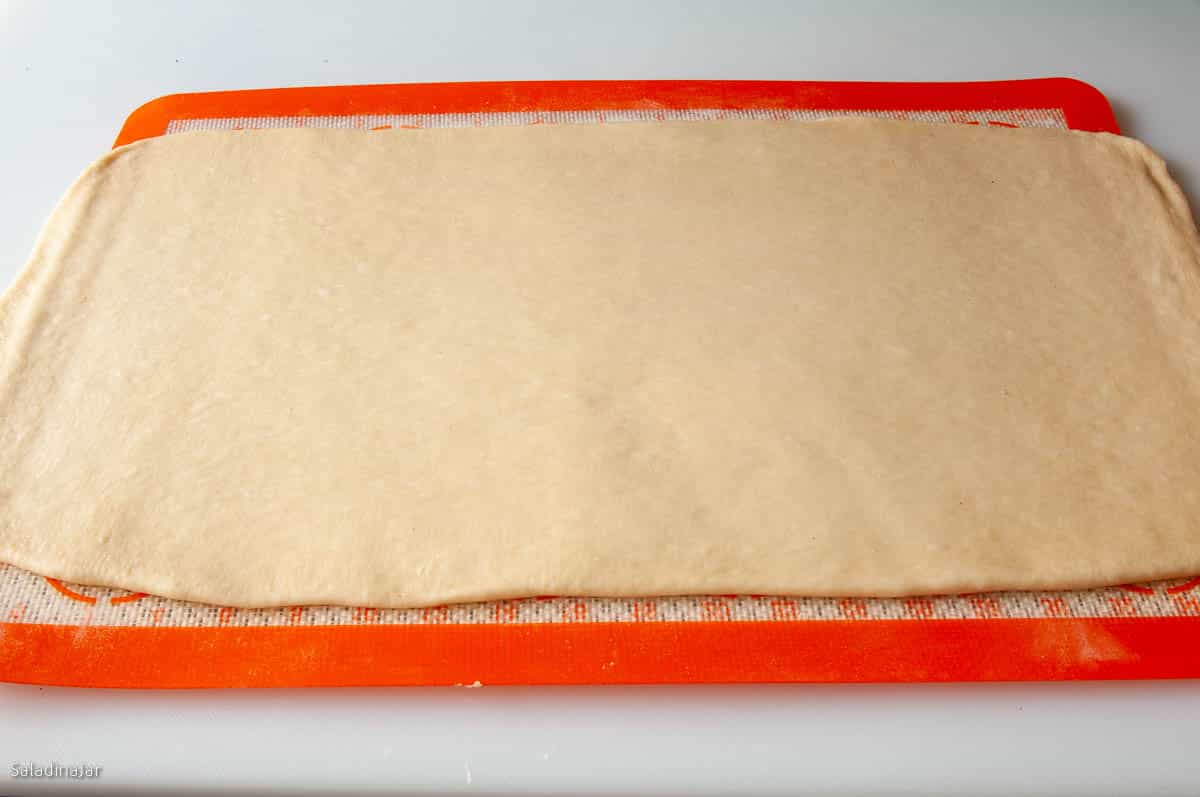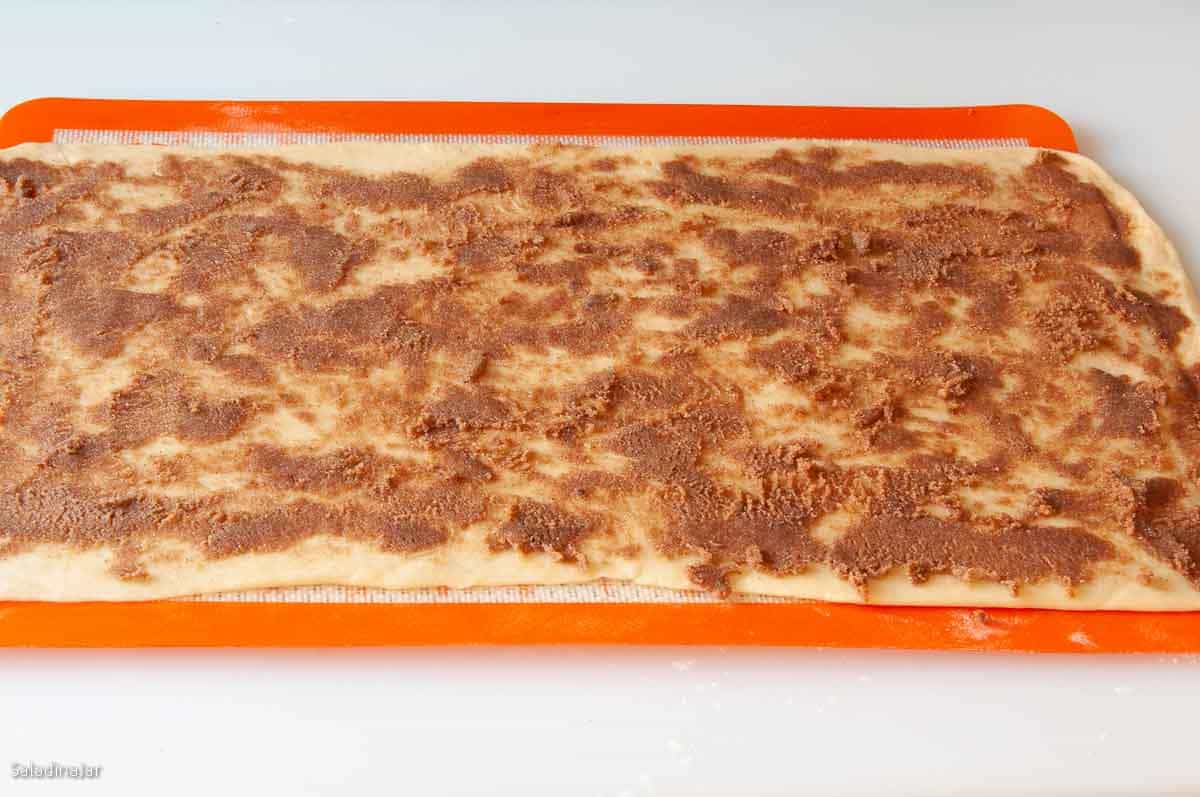 Now, it gets tricky, but the twist makes this sweet bread special. Proceed with confidence. If you have time and want to make the next step a bit easier, place the cylinder in the freezer for about 15 minutes before you cut it in half.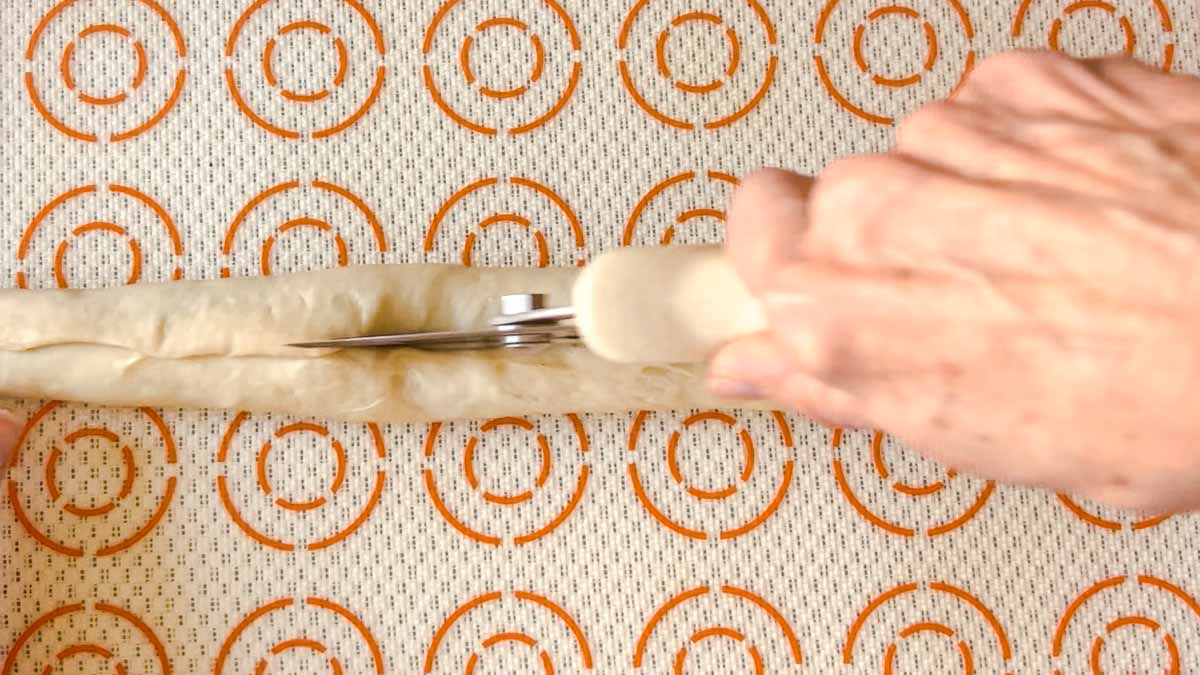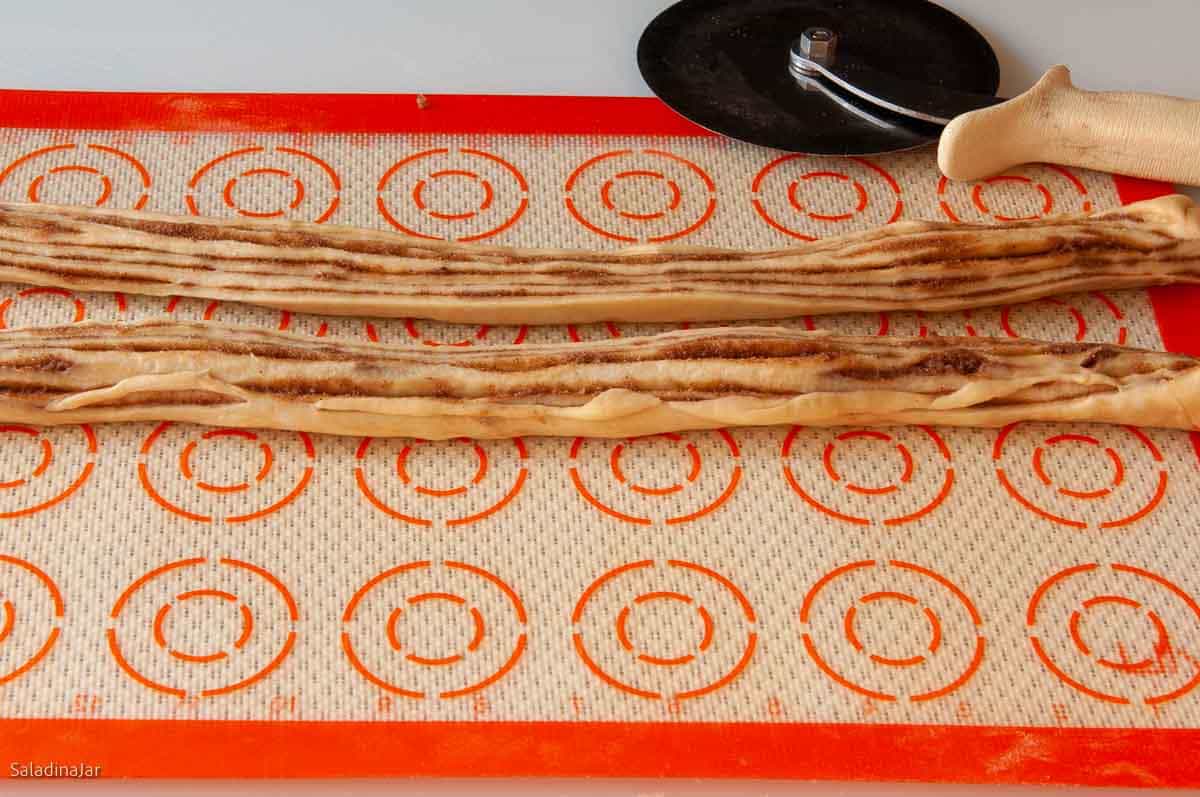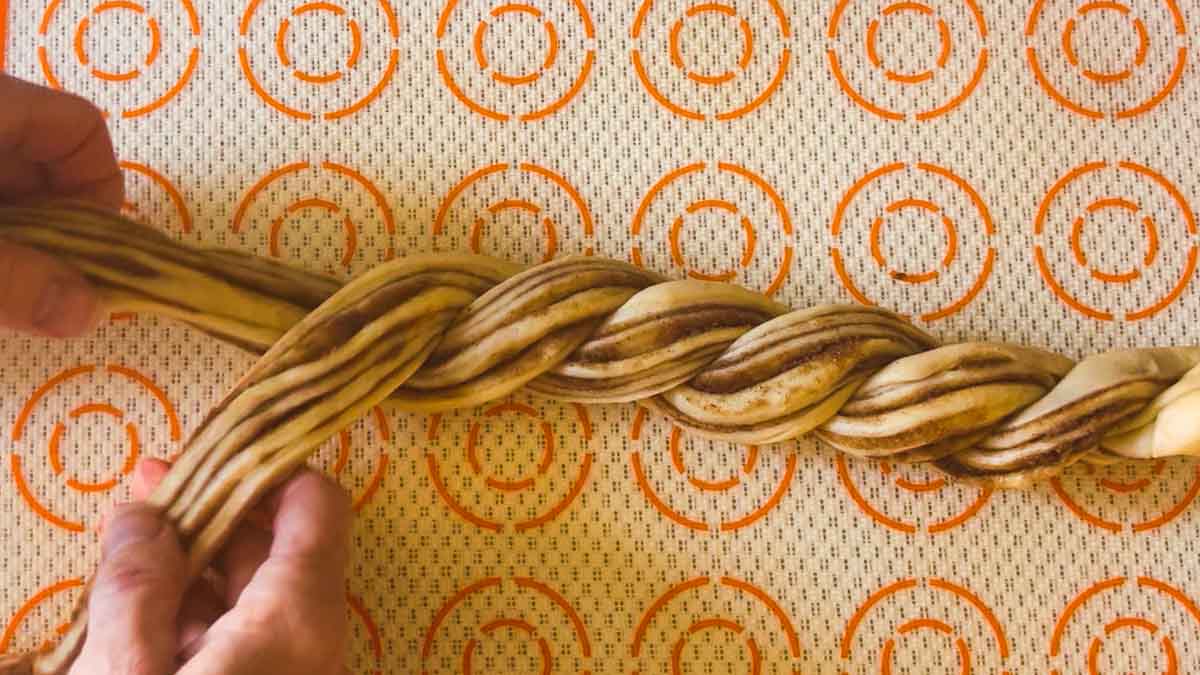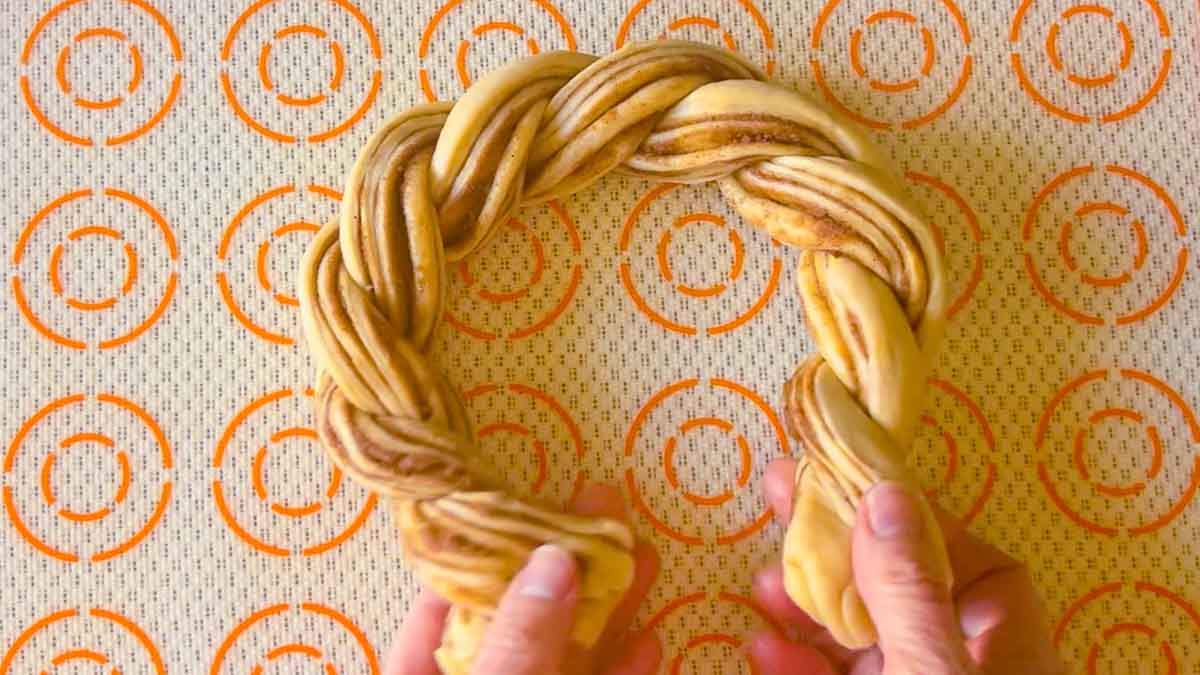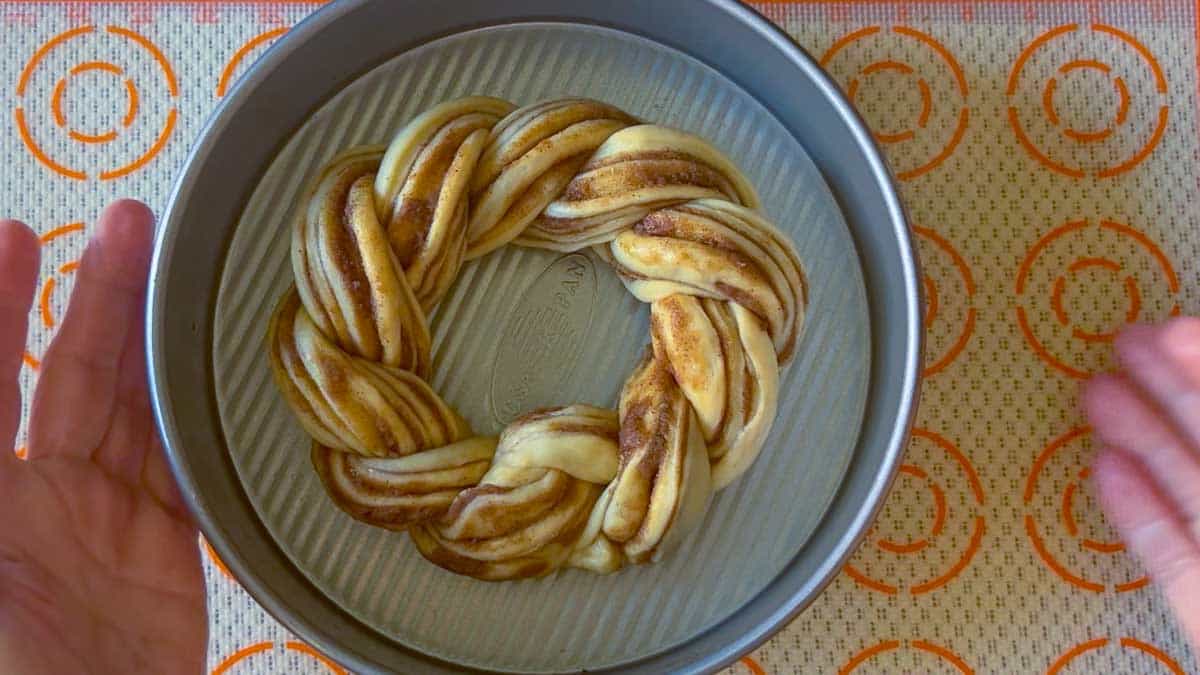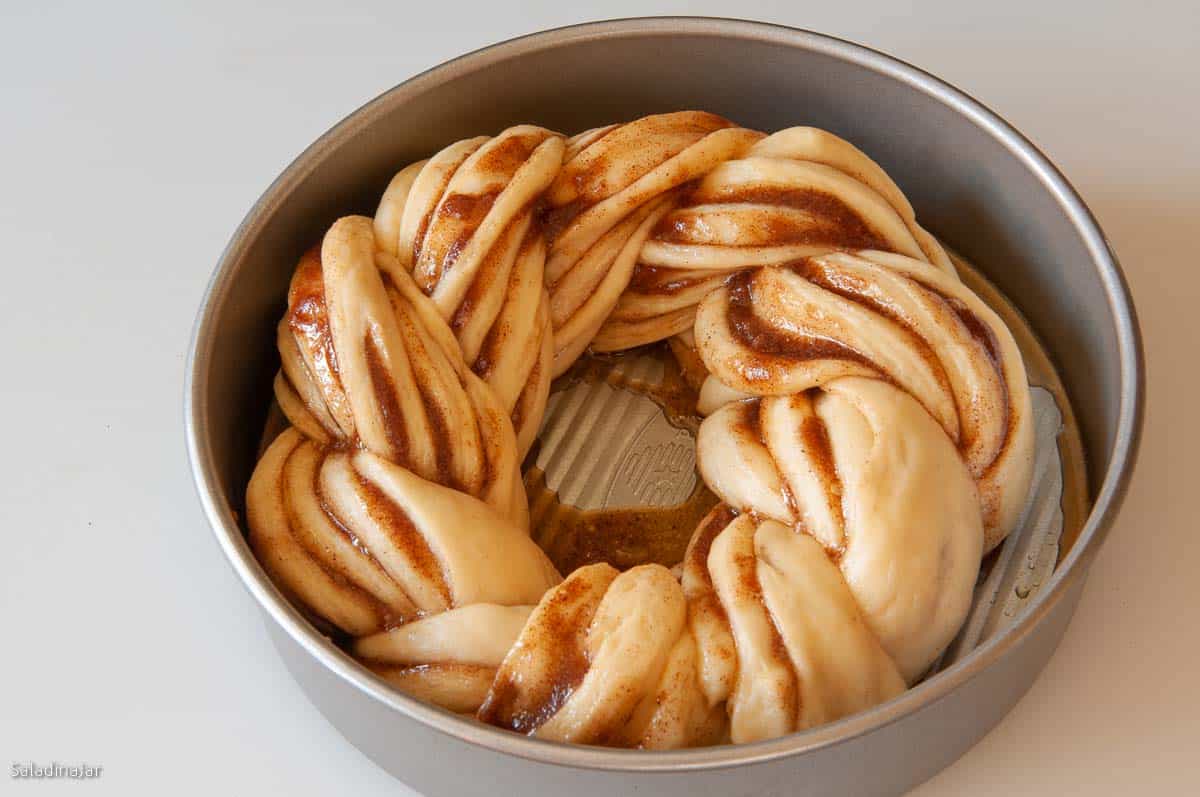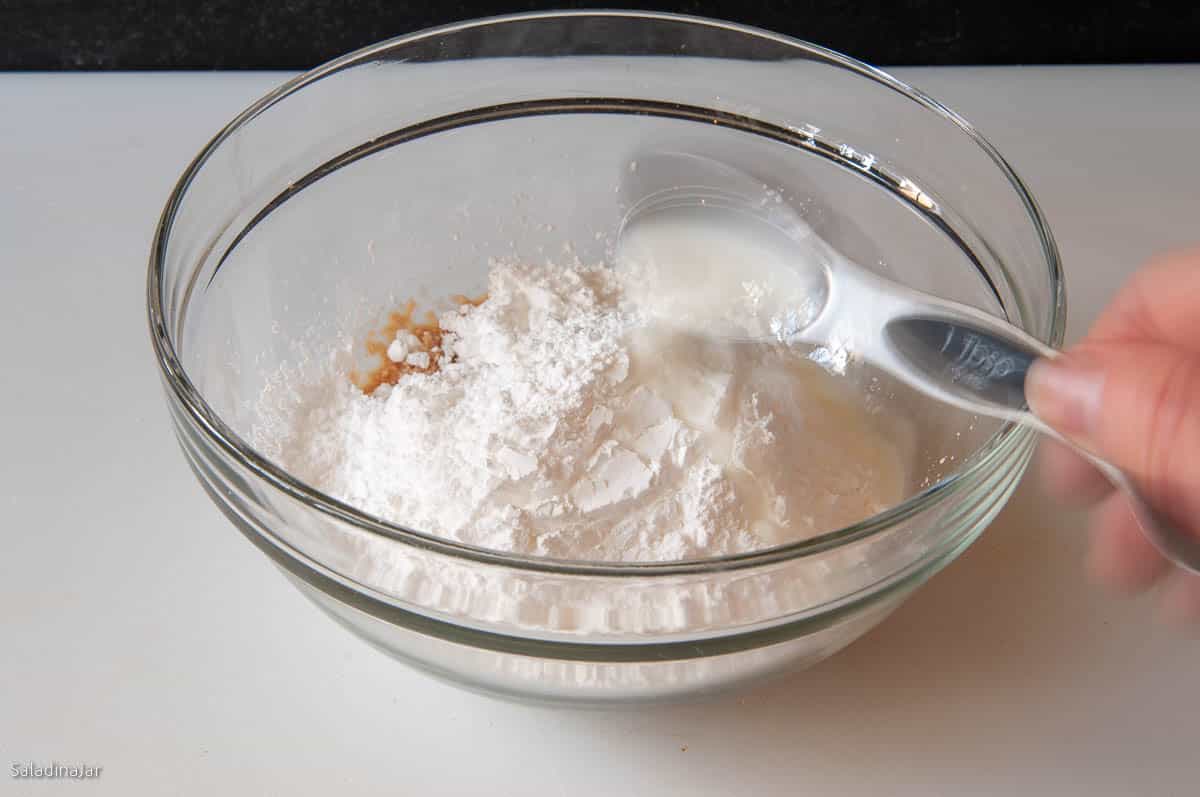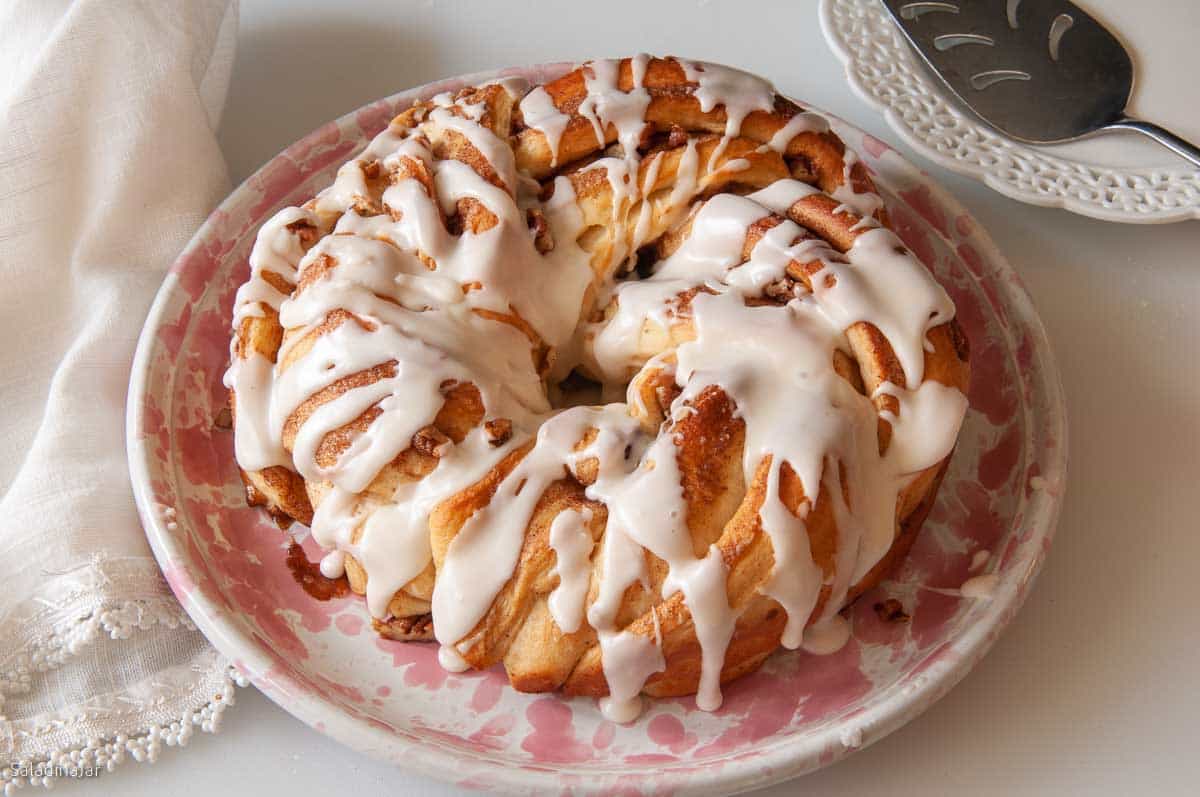 Let the bread sit in the pan for 5-10 minutes. Remove to a serving plate and ice while warm. Note: The thicker the icing, the more it will camouflage any imperfections from the shaping process.
---
Frequently asked questions about Braided Cinnamon Bread:
Can I freeze this bread?
Yes, you can freeze the baked twist. Always double-wrap. First, cover entirely with plastic wrap, then a plastic bag or a piece of foil. Use within a month.
Can I use active dry yeast instead of instant or bread machine yeast?
Yes. You no longer need to dissolve active dry yeast. Instead, use 1/4 teaspoon more because active dry yeast usually takes longer to rise.
Can I substitute another flour for the unbleached all-purpose flour?
You can substitute bleached all-purpose flour. Whole wheat or bread flour is too heavy, in my opinion. This recipe should be rich and melt-in-your-mouth tender. Bread flour makes a sturdier product–not what you want with this recipe.
Can I bake this recipe in my bread machine?
Well, you can try, but the crust will be like cardboard. I don't recommend it. I wrote this recipe using the bread machine as a dough mixer and kneader. When the DOUGH cycle completes, remove the dough and make the twist by hand. Finally, bake the two twists in your conventional oven.
What can I substitute for half-and-half?
Half-and-half is the ingredient that makes this bread a rockstar. You can make half-and-half by combining equal amounts of whole milk and whipping cream.
Can I use this dough to make cinnamon rolls?
Absolutely. They will be gloriously rich and delicious. See the traditional way to roll out cinnamon rolls in this post.
---
Parting thoughts: Don't be scared off by the shaping instructions. I've made many less-than-perfect cinnamon braids, but they still tasted incredible. The glaze will cover a multitude of sins.
If you enjoy making bread in a bread machine, keep reading.
---
Help at Your Fingertips: For questions or suggestions, email Paula at saladinajar.com. If you need help, I'm happy to troubleshoot via email (faster than leaving a comment). Attach pictures and as many details as possible for the best advice.
---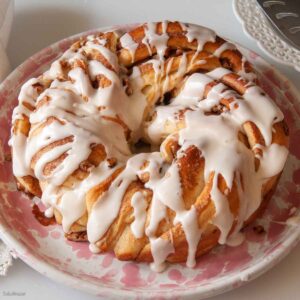 Braided Cinnamon Bread (a bread maker recipe)
This Braided Cinnamon Bread is in the same family as decadent cinnamon rolls–directions for mixing and kneading in a bread machine included.
Share recipe love here. ⬇
Ingredients
¾

cup

(

170

g

)

half & half

3

tablespoons

(

36

g

)

sugar

1

teaspoon

salt

2

large

(

100

g

)

eggs

¼

cup

(

57

g

)

unsalted butter (chopped)

3¼

cups

(

390

g

)

all-purpose unbleached flour

2

teaspoons

instant yeast
Filling:
3

tablespoons

(

42

g

)

butter (softened)

½

cup

(

110

g

)

packed light brown sugar

2

teaspoons

cinnamon

½

cup

(

50

g

)

pecans
Icing:
2

cups

(

224

g

)

sifted powdered sugar

½

teaspoon

vanilla

2 +

tablespoons milk or black coffee
Instructions
Dough:
Place all ingredients for the dough

¾ cup

(

170

g

) half & half,

3 tablespoons

(

36

g

) sugar,

1 teaspoon

salt,

2 large

(

100

g

) eggs,

¼ cup

(

57

g

) unsalted butter (chopped),

3¼ cups

(

390

g

) all-purpose unbleached flour, and

2 teaspoons

instant yeast, into the bread machine pan. Set the DOUGH cycle and press start. After 15 minutes, check the dough for consistency. Add flour 1 tablespoon at a time if the dough is too wet. Add water 1 teaspoon at a time if the dough is too dry. The dough should stick to the sides of the pan and pull away cleanly.

When the DOUGH cycle finishes, check to make sure the dough has risen to double its original size. If not, leave the dough in the machine until it doubles. If so, remove dough from the bread machine pan and divide it in half. Cover each portion with plastic wrap and let rest for 10 minutes.
Filling:
Combine the

3 tablespoons

(

42

g

) butter (softened),

½ cup

(

110

g

) packed light brown sugar,

2 teaspoons

cinnamon, and finely chopped

½ cup

(

50

g

) pecans in a small bowl.
Shaping the Dough:
Roll the first dough ball into a 9 x 18-inch rectangle, starting with the long side. Sprinkle with half of the filling mixture. Starting at the long side, roll up jellyroll style. Pinch the seam to seal.

Use a large knife or pizza cutter to slice the roll in half lengthwise. Place halves side by side, with cut surfaces facing up. Start draping one half-pipe over the other, starting from the middle, and working towards each end. Shape the twisted half-pipes into a ring and place them into a nonstick or greased 8-inch pan. Weave the ends into each other.

Repeat the process with the other half of the dough and filling. Cover and let rise in a warm place until almost doubled in size.
Baking the Cinnamon Braid:
Preheat your conventional oven to

350

°F

(180˚C) about 15 minutes before you think the bread will be ready.

Bake for 20-25 minutes or until the internal temperature reaches

190

°F

(88˚C). Let stand for 3-5 minutes and transfer to a serving platter with a spatula.
Icing:
Stir together

2 cups

(

224

g

) sifted powdered sugar,

½ teaspoon

vanilla, and

2 +

tablespoons milk or black coffee in a small bowl.

Drizzle the icing over the Braided Cinnamon Bread while it's still warm, but not steaming hot.
Notes
Directions for making bread with a stand mixer or by hand:
To make this recipe in a heavy-duty stand mixer: Add ingredients to the bowl in the same order. Turn on LOW to mix until all ingredients are moistened. Then, using a dough hook, turn the speed to 2 or 3. Continue beating/kneading until dough becomes smooth and elastic (about 5-10 minutes). Cover and allow to rise in a warm place. Deflate dough gently and shape as indicated in the recipe.
If making by hand: Combine all ingredients into a shaggy ball in a large bowl. Turn dough out onto a floured surface. Knead with your hands until the dough becomes smooth and elastic. Kneading will likely take 10-20 minutes, depending on your experience. Place the dough ball into a greased bowl. Cover and allow to rise until double. Deflate the dough gently and shape as indicated in the recipe.
Please note: If you only have active dry yeast, use 1/4 teaspoon more than called for in the recipe.

It no longer needs to be dissolved first

, but you can if you prefer.
Nutrition
Serving:
1
slice
|
Calories:
295
kcal
|
Carbohydrates:
48
g
|
Protein:
5
g
|
Fat:
9
g
|
Saturated Fat:
4
g
|
Polyunsaturated Fat:
1
g
|
Monounsaturated Fat:
3
g
|
Trans Fat:
1
g
|
Cholesterol:
38
mg
|
Sodium:
181
mg
|
Potassium:
95
mg
|
Fiber:
2
g
|
Sugar:
24
g
|
Vitamin A:
227
IU
|
Vitamin C:
1
mg
|
Calcium:
32
mg
|
Iron:
2
mg
HELP OTHERS find this recipe. Leave a 5 🌟🌟🌟🌟🌟 rating at the top of the recipe card if you enjoyed it. No comment is required.