The Best Chocolate Bread Machine Recipe for Cinnamon Rolls
Sneak Preview: This chocolate bread machine recipe makes unique and delicious chocolate cinnamon rolls that remind me of a chocolate donut with chocolate icing. Use the dough to make cinnamon rolls, snails, or chocolate twists.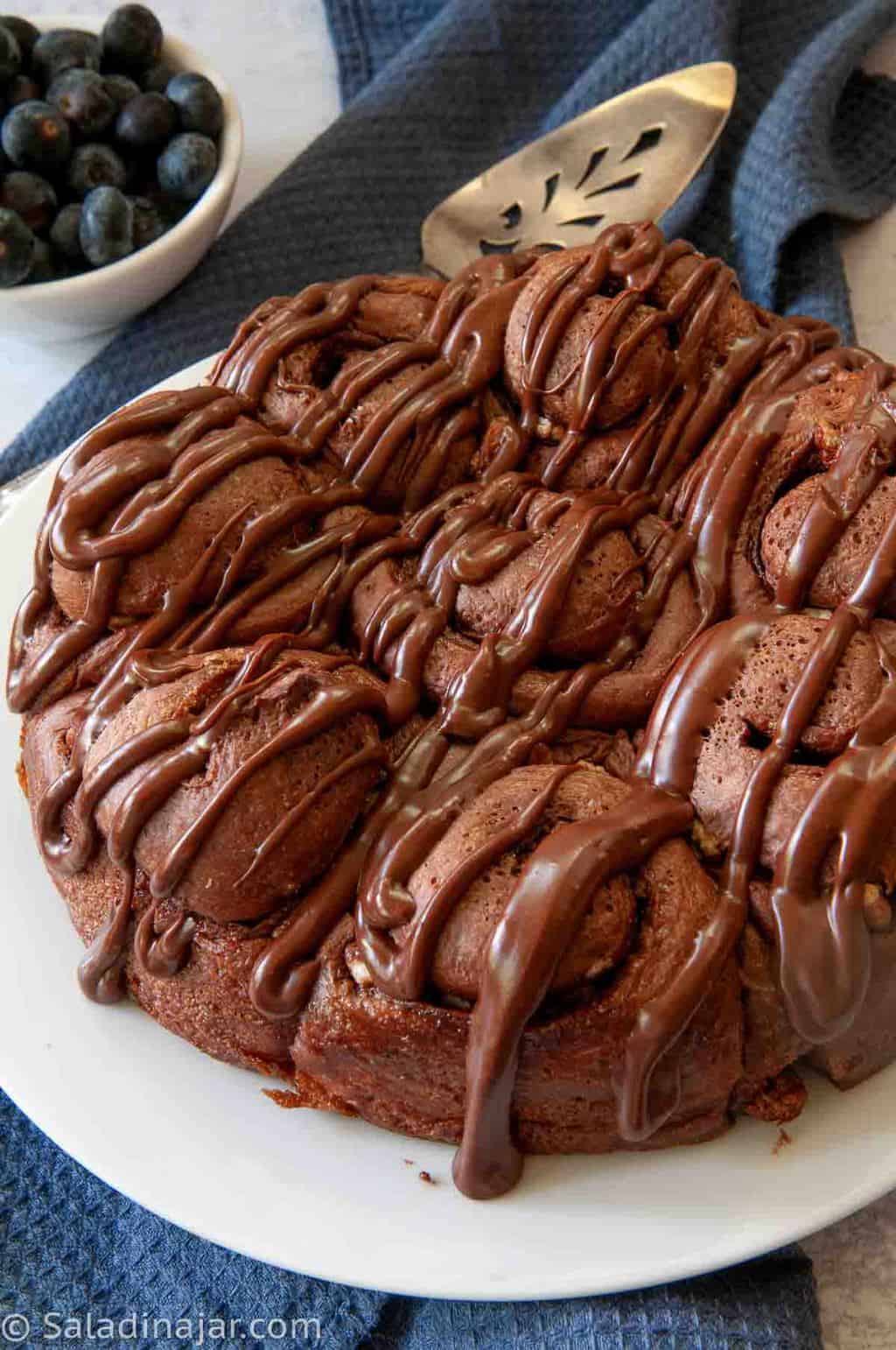 As an Amazon Associate, I earn from qualifying purchases.
I imagine if a chocolate-frosted donut and a Texas Sheet Cake had a child, this would be the result. This chocolate cinnamon roll recipe perfectly combines chocolate and cinnamon in a rich yeast dough.
If you are a chocolate lover, save this recipe for chocolate bread machine cinnamon rolls with chocolate icing for the next time you, your kids, or your grandkids need a treat.
No worries if you don't have a bread machine. See the recipe notes for directions for using a stand mixer or your hands to make this recipe.
Happy Bakers Speak Up:
I've made these yummy rolls & they are a neighborhood fave…. I'm going to try baking this as a loaf & using for French toast next.
Thanks again! –Catherine C
---
Recipe inspiration:
Do you have a favorite breakfast food you fix for your grandchildren? What was your favorite breakfast at your grandma's house? Mine was stale donuts. Seriously. She split and fried them in butter.
I have been looking for something to bake for my grandchildren after a sleepover for a long time. You know, something they will talk about at my funeral.
My competition is a trip to the donut store with "Papa." Since these Chocolate Cinnamon Rolls taste like chocolate donuts, I guarantee they will be a win for breakfast. Another possibility is my favorite Chocolate Babka.
---
Ingredients and substitutions:
MILK: Whole milk is best. Otherwise, use whatever you have on hand. When using fat-free milk, I substitute a tablespoon or two of heavy cream for some of the milk.

COCOA: Dutch cocoa provides a darker color and deeper chocolate flavor. Substitute regular cocoa if you can't get Dutch cocoa. I like Droste. It's an America's Test Kitchen favorite, and I can order it online.

GREEK YOGURT: Full-fat or 2% Greek yogurt is best here. Substitute full-fat sour cream or creme fraiche if you prefer.

BUTTER: Use softened butter. Do not melt it. Melted butter can make your dough seem too sticky and cause you to add too much flour.

FLOUR: Bread flour is my first choice, but I could not get it during the pandemic. The next best thing is an unbleached all-purpose flour with high protein content. King Arthur's and Trader Joe's unbleached flour contain 4 grams of protein per 30 grams.

While we're discussing flour, get some digital scales, if possible. It's the most accurate way to measure flour. I know Grandma probably didn't use scales. She had years of experience and knew how to judge the dough's moisture by touching it.

Besides, it's easier and faster to measure with scales. Set a bowl or paper plate on the scales, zero it out, and plop flour on it until you hit the right number.

Don't be that person who puts the whole measuring cup in the flour and scoops it up. Invariably, this practice results in adding too much flour. The result is often dense bread.

YEAST: I use only instant or bread-machine yeast because it doesn't need to be dissolved. If all you have is active-dry yeast, dissolve it first in 1/4 cup of warm water. Stir and let sit for 10 minutes until it bubbles.

Reduce the amount of milk you use in this recipe by 1/4 cup. Add dissolved yeast to all the other ingredients in the bread machine pan.

PECANS: Chopped nuts are optional. If you use pecans, toast them first (microwave works great) for maximum flavor.
---
---
Why you should check the dough:
It's the most important thing you should do when making bread in a bread machine. First, check the dough about 15 minutes into the DOUGH cycle. You can see what the dough should look like in action in the video for this post.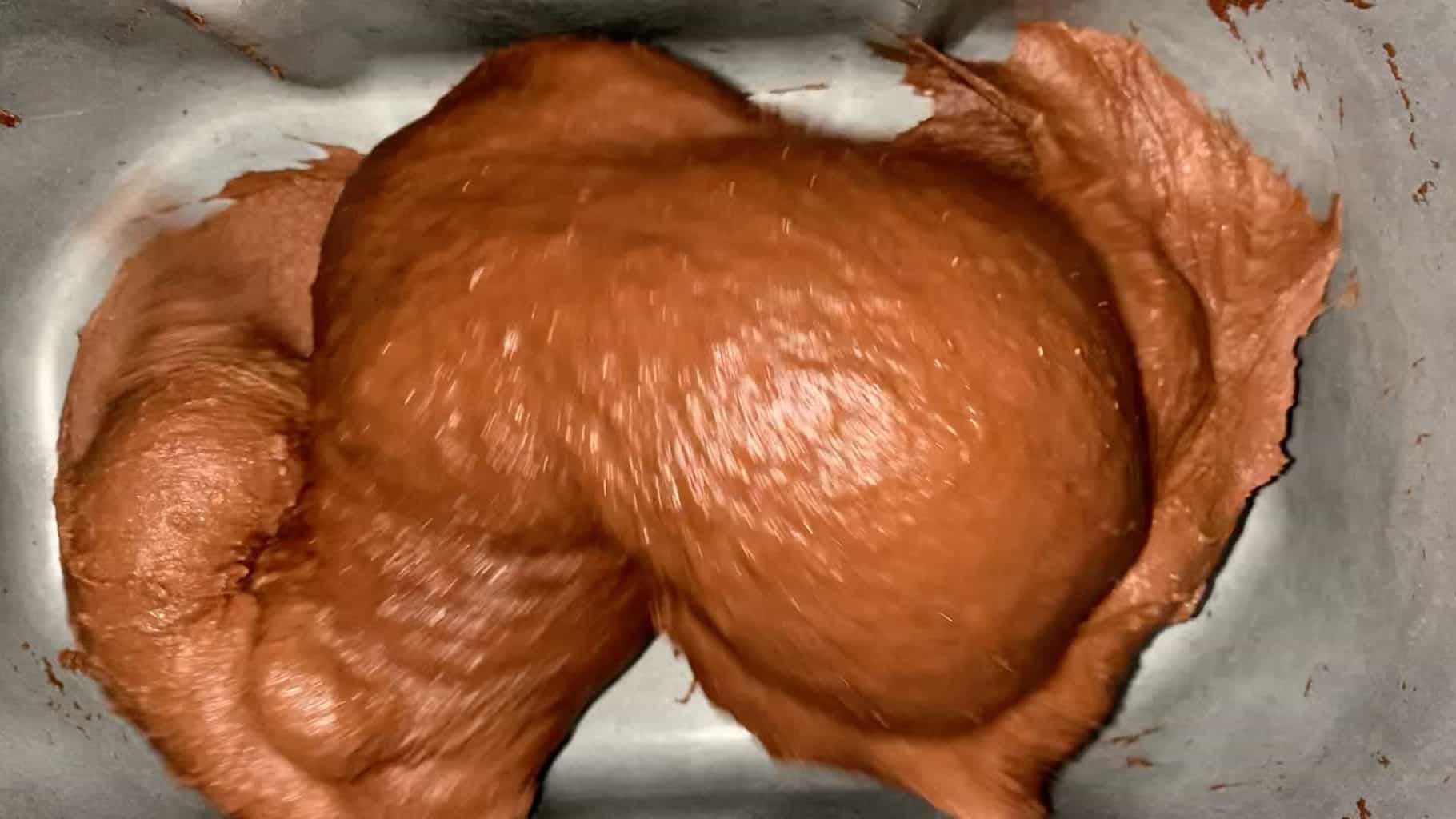 ---
Variations you can make with bread machine chocolate dough:
If you find a pan of cinnamon rolls too predictable, here are some different shaping options.
***Cinnamon Twists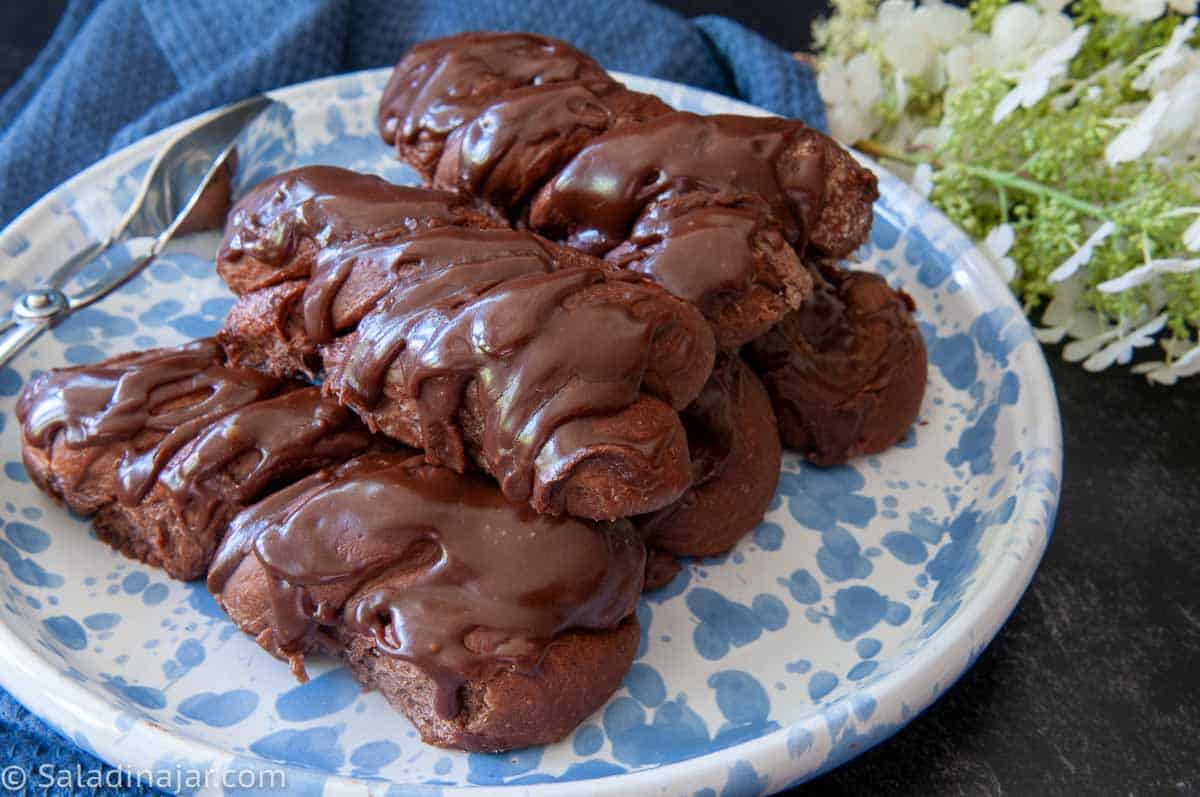 Watch the video to see how easy these twists are to make. Covering them with icing is the hard part. You could use a spoon, as I did with the abovementioned twists.
A neater method is to fill a plastic zippered bag with your prepared frosting. Then, snip off one corner and squirt out a rope of icing in a back-and-forth pattern as I did over the cinnamon rolls.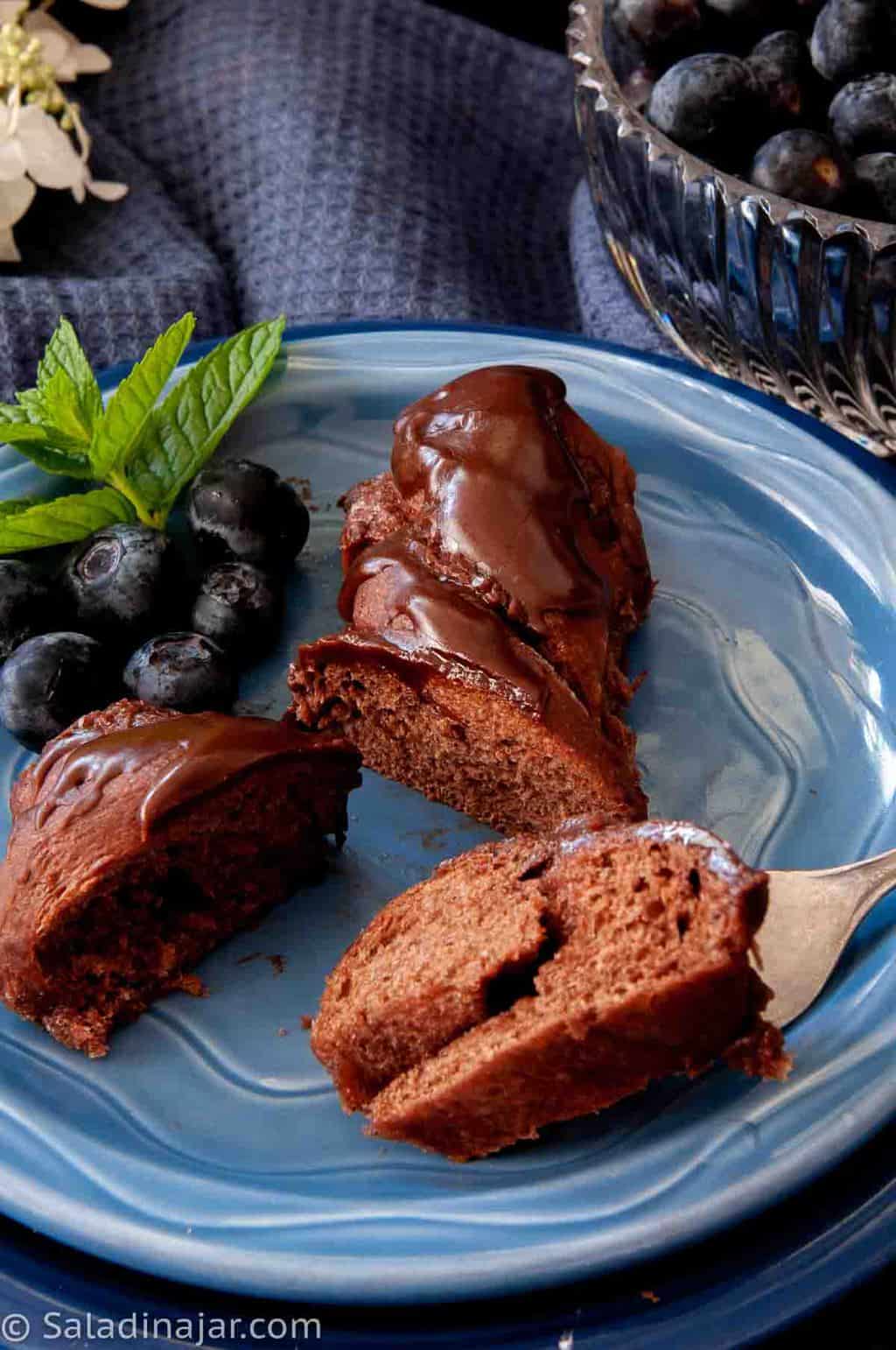 Chocolate cinnamon snails or buns:
Dorie Greenspan gave me the idea of making "snails" in her book Baking. Take the same rolls you cut for cinnamon rolls and place them onto a baking sheet instead of a round or square pan.
These are easier to serve individually or give away if that's your plan.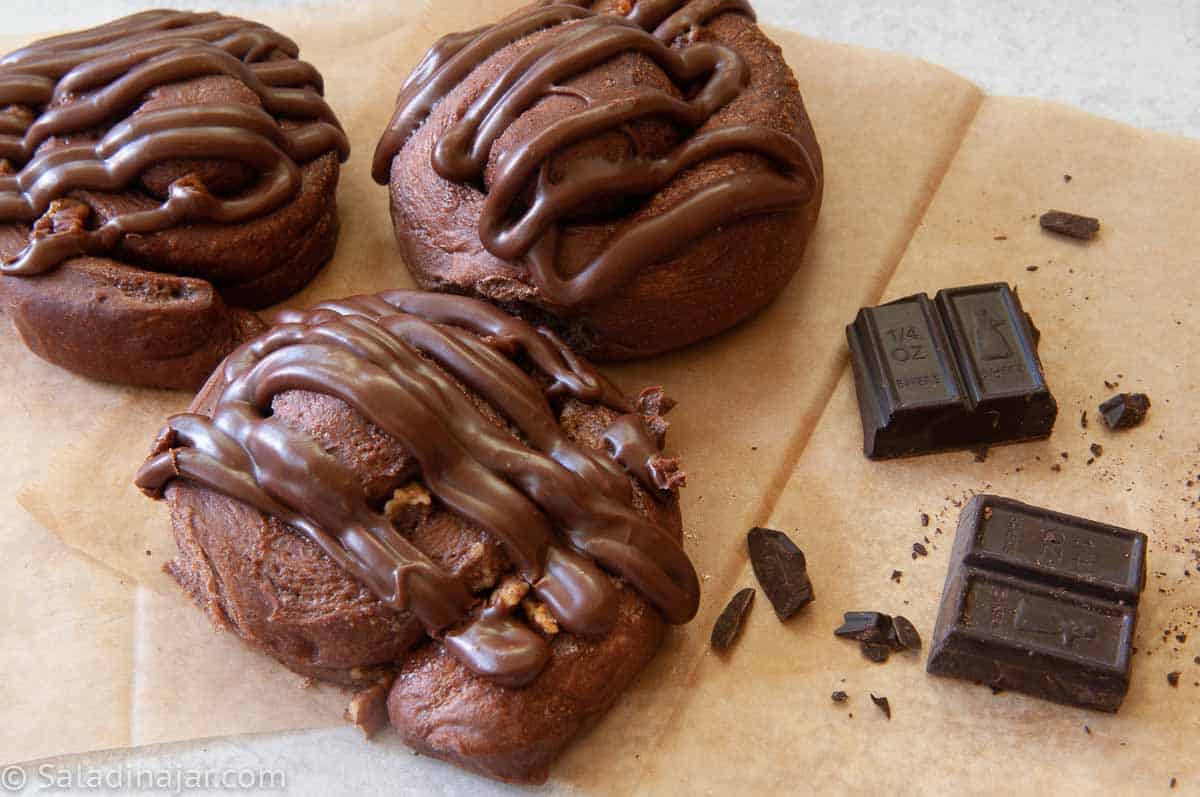 ---
Shaping and baking chocolate cinnamon rolls: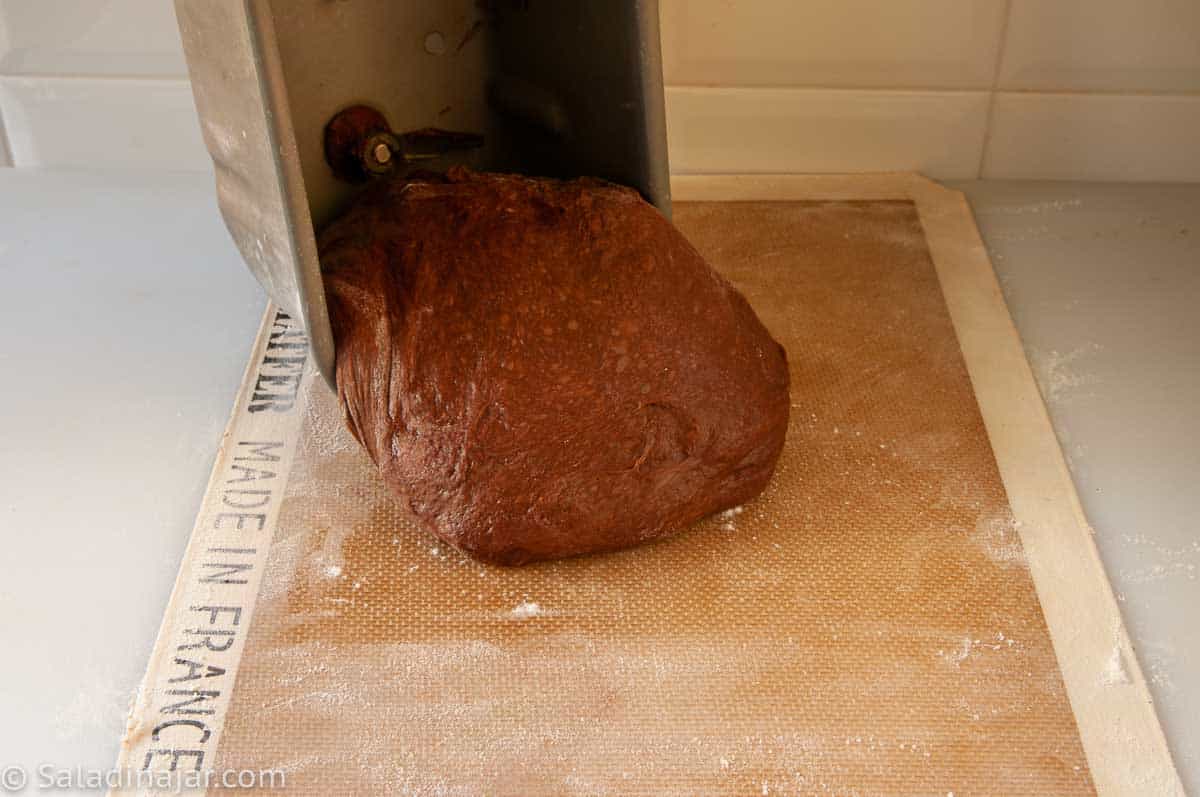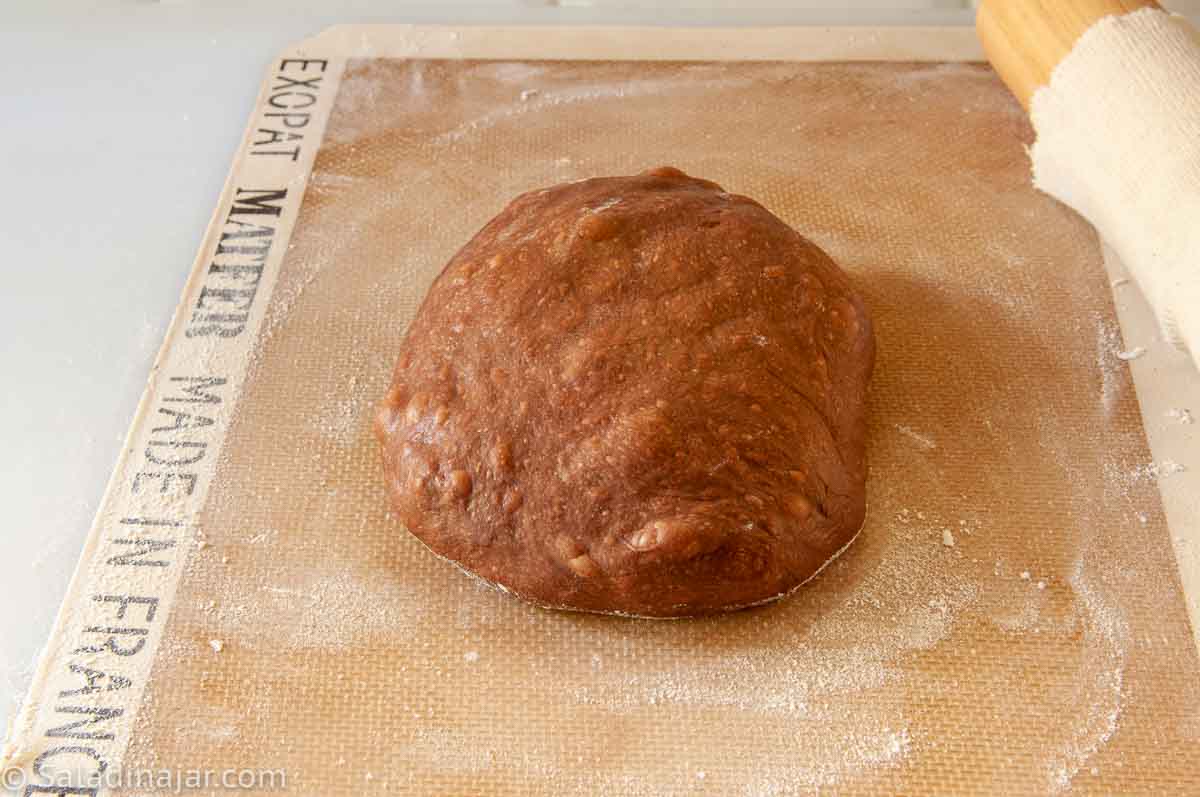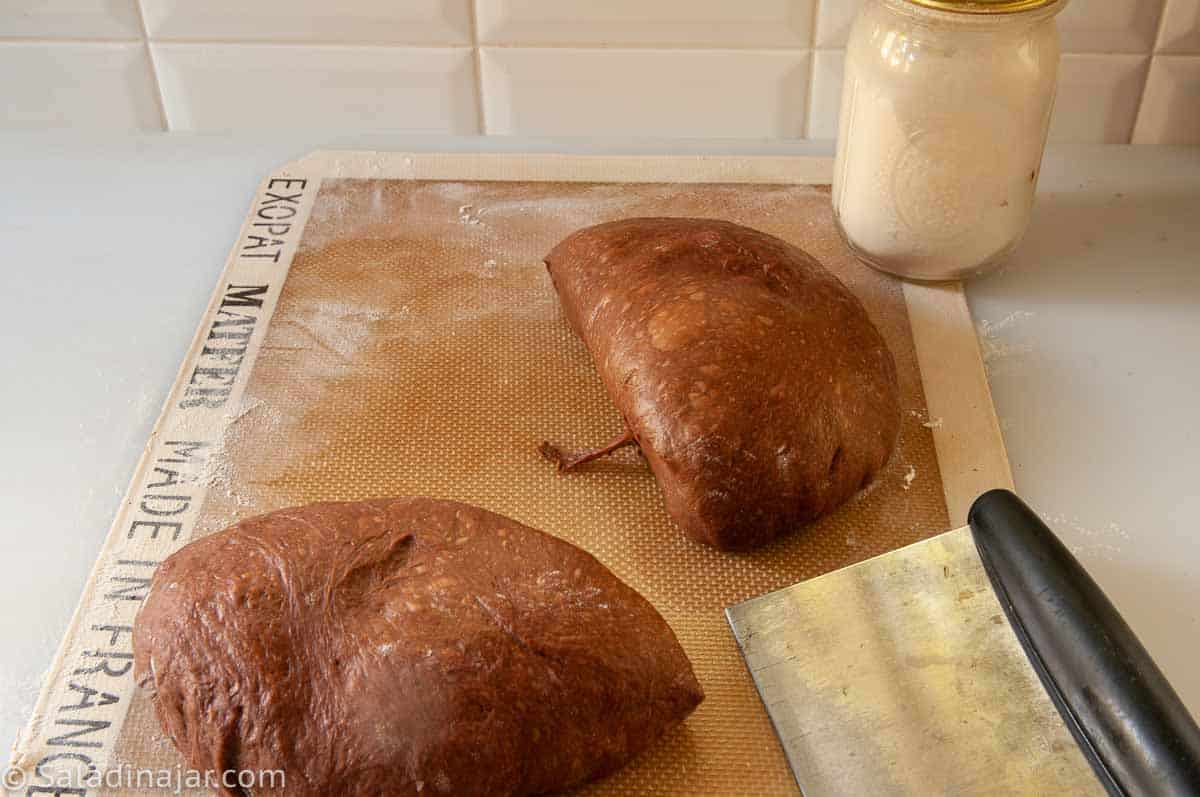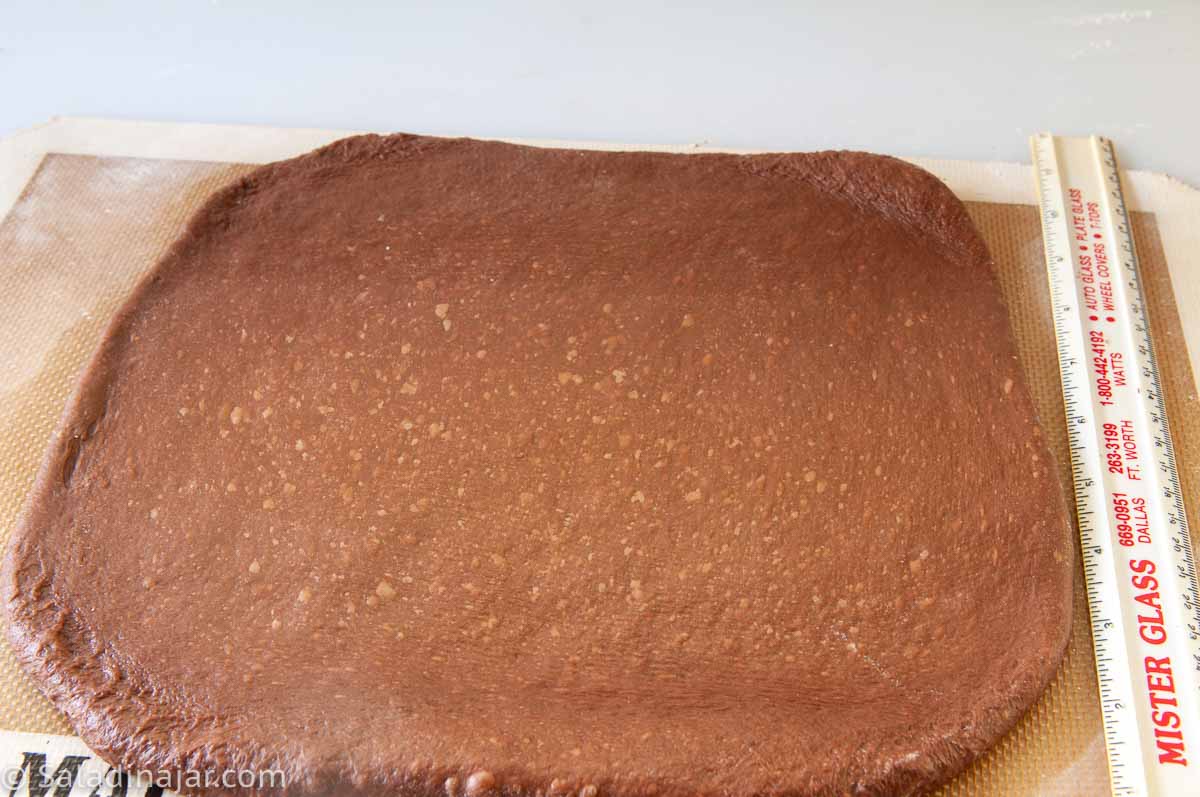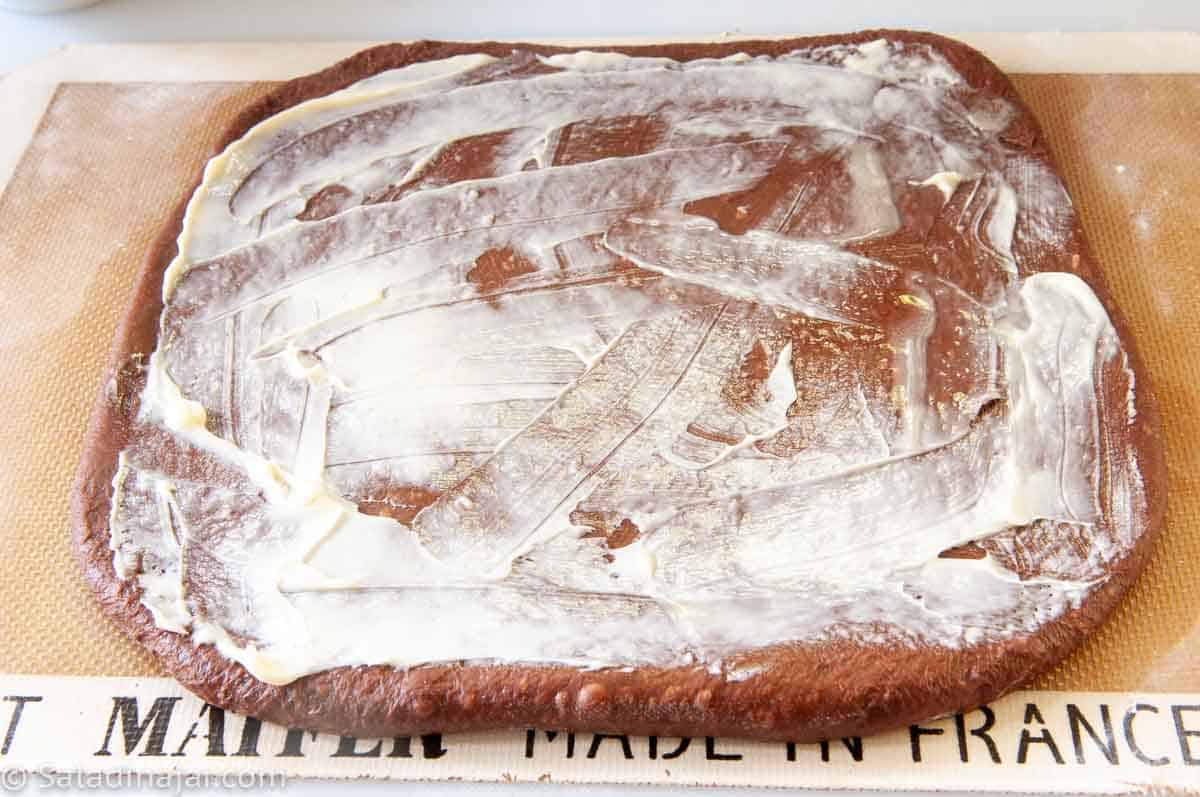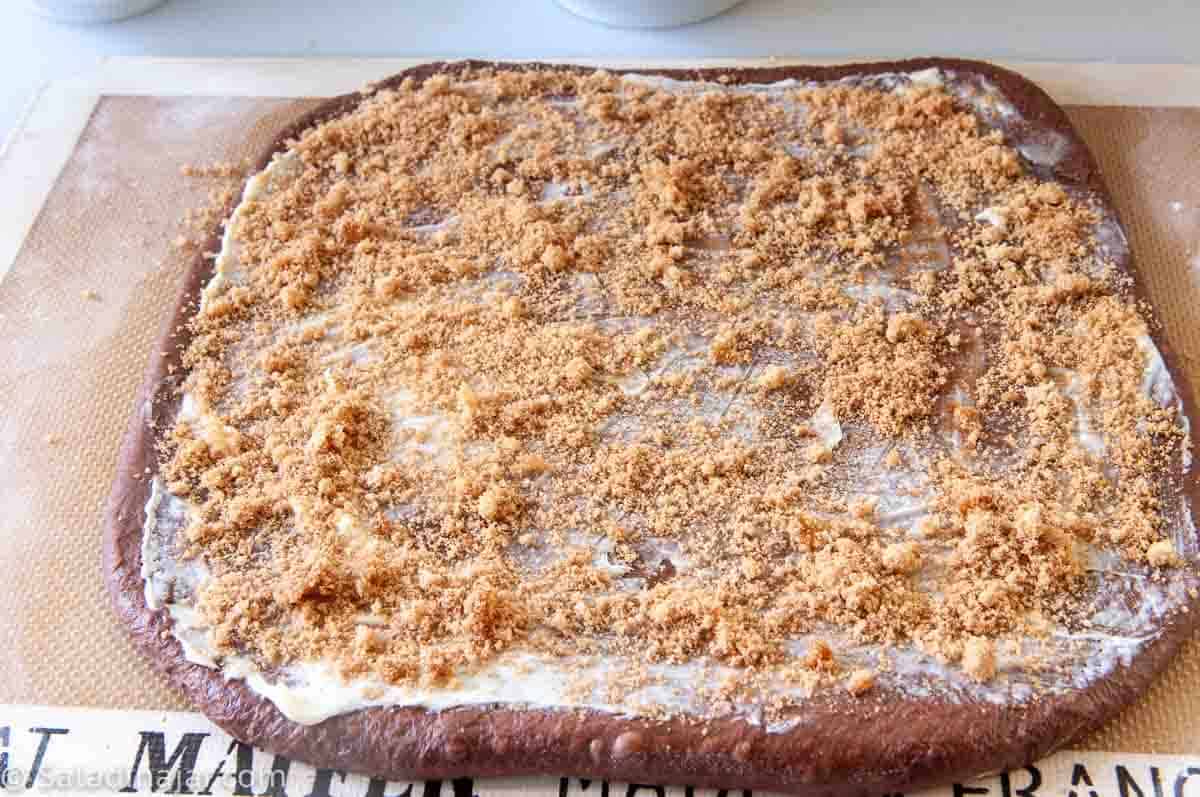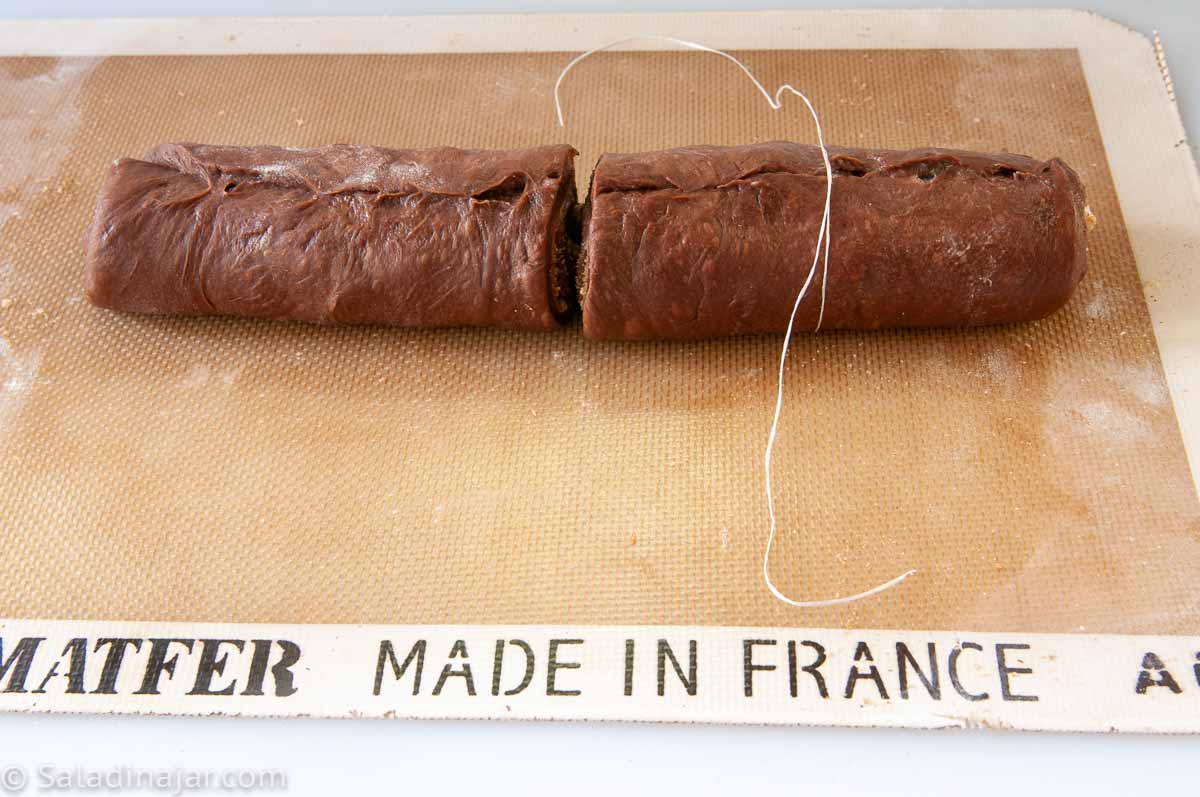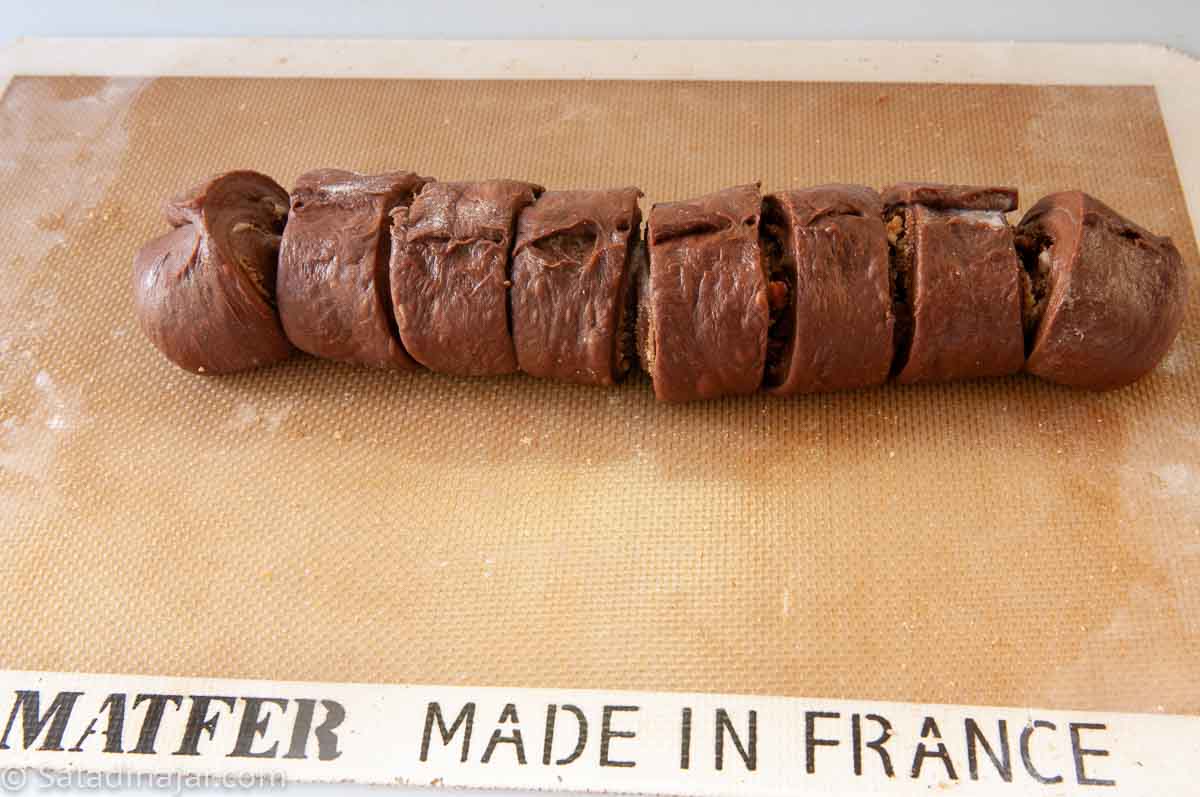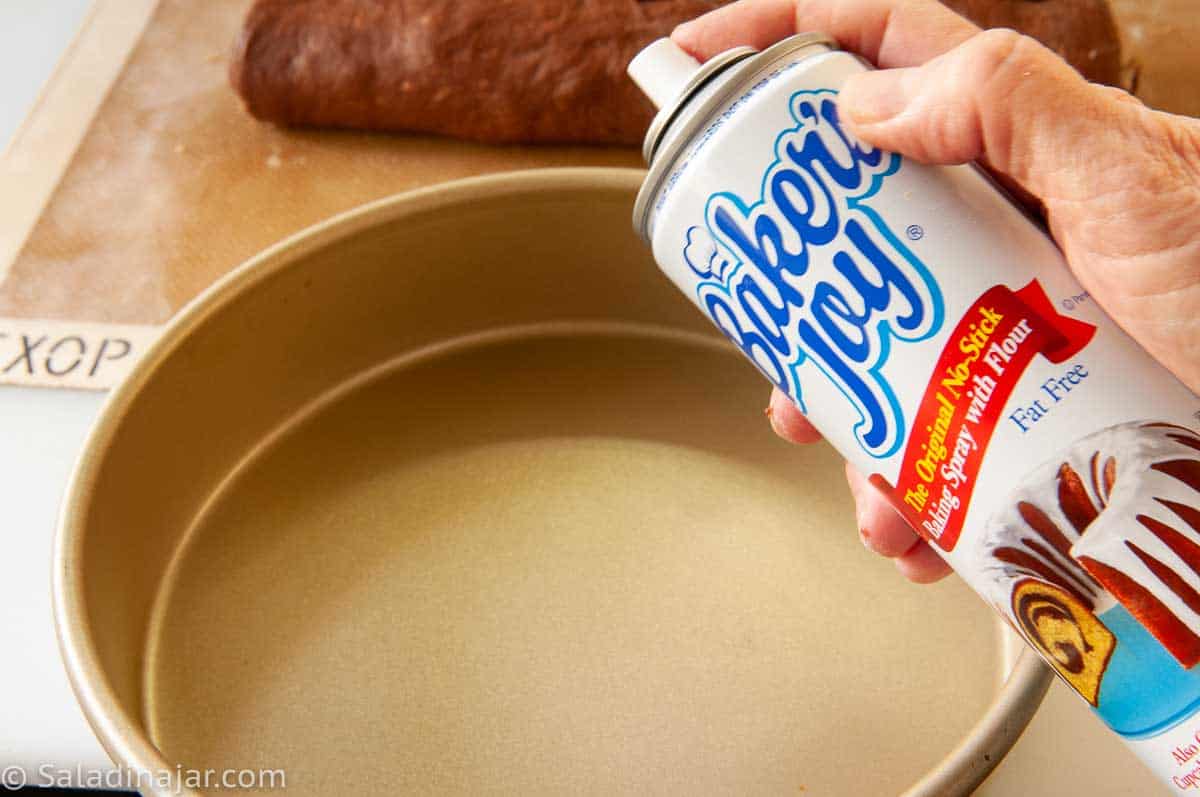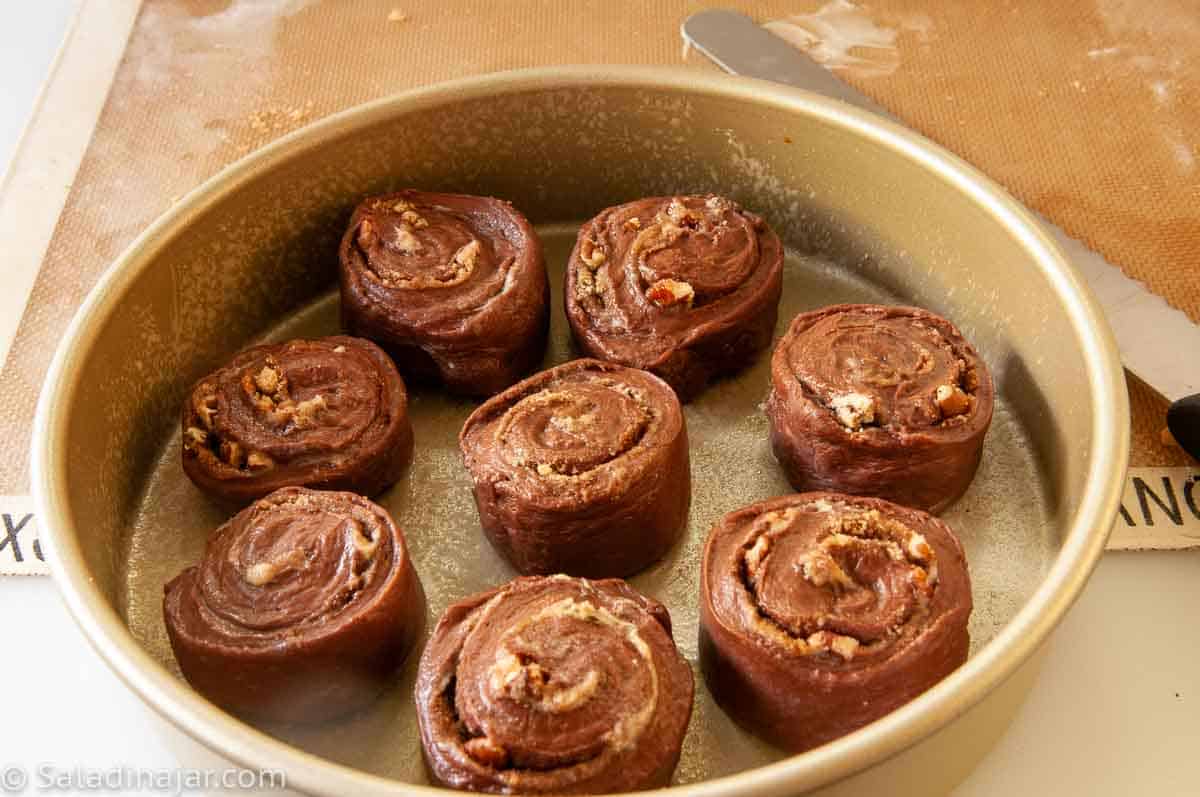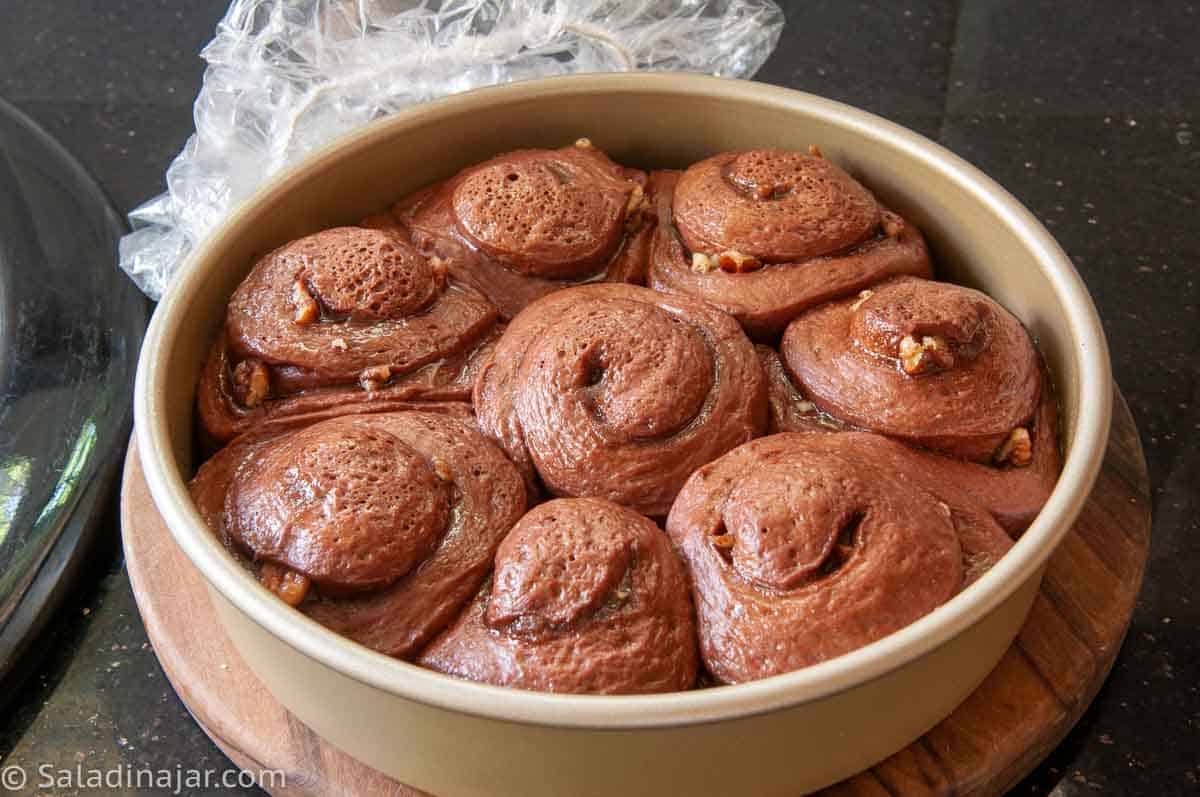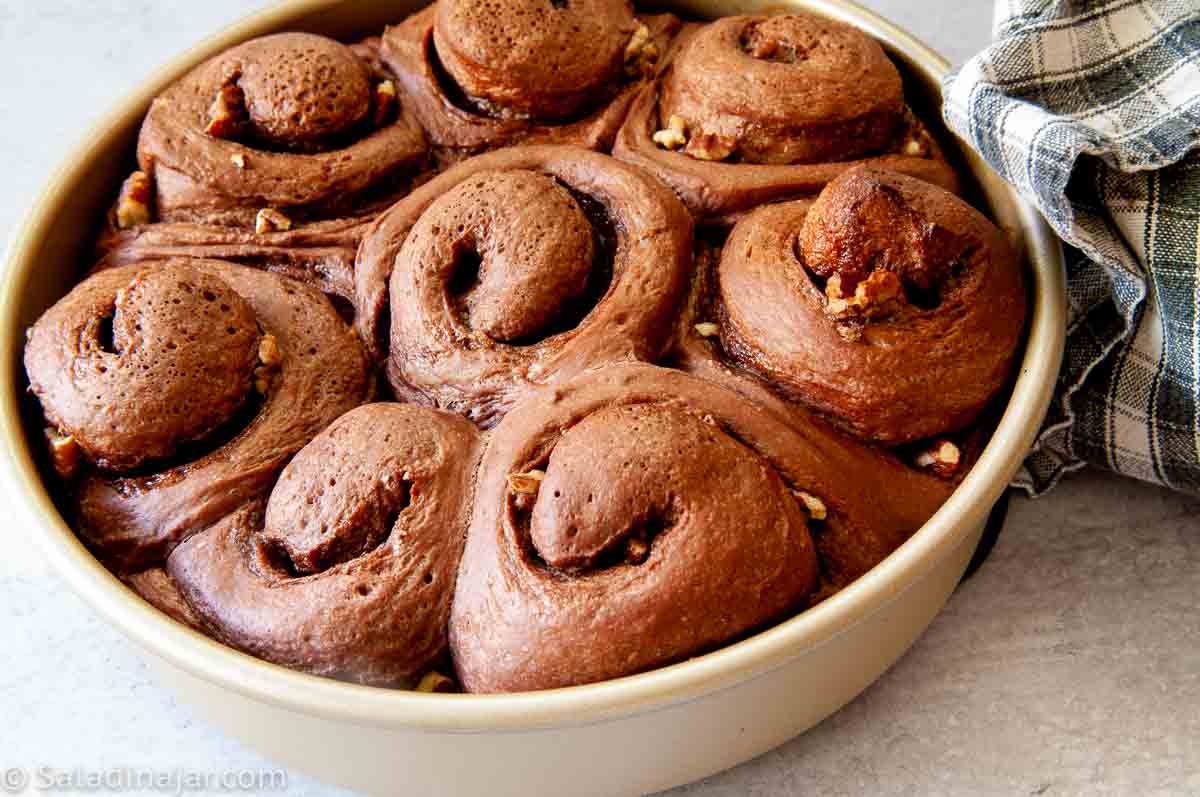 Good light in your kitchen helps.
---
How to make the chocolate glaze: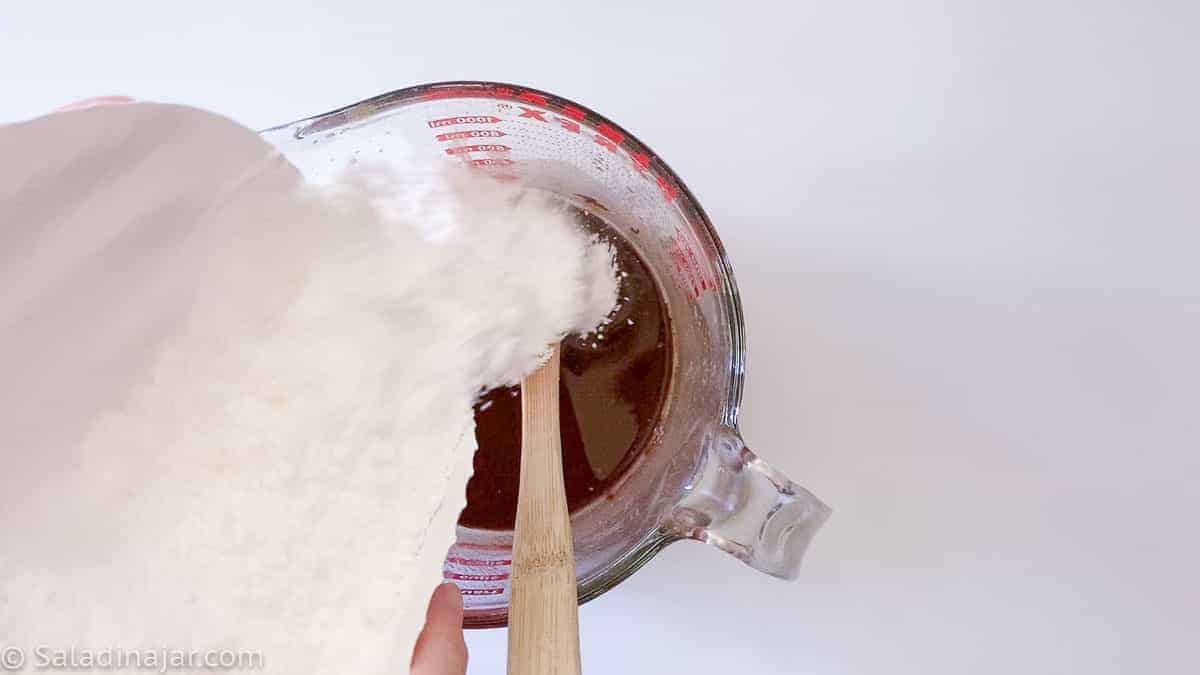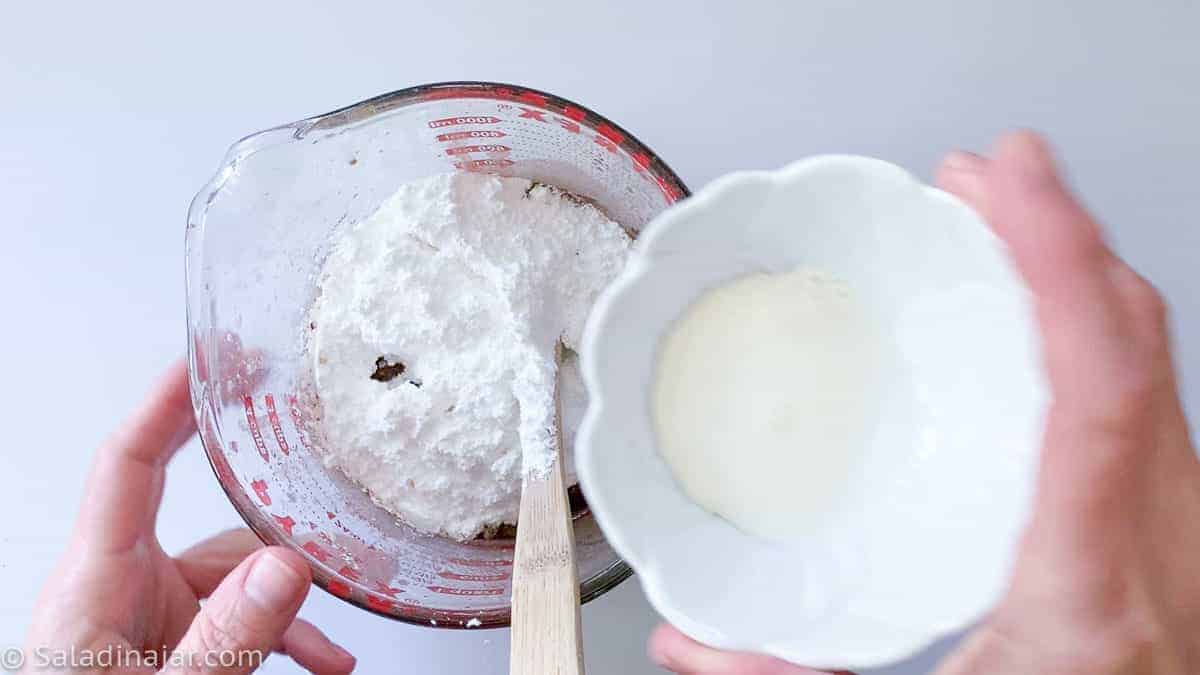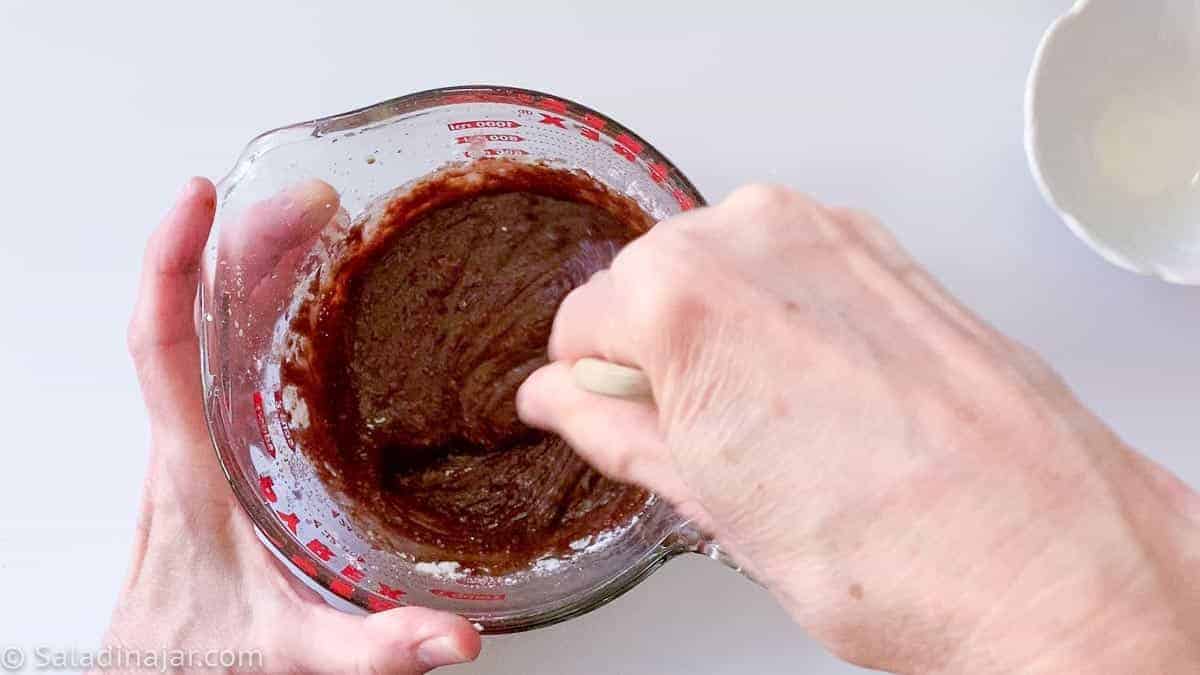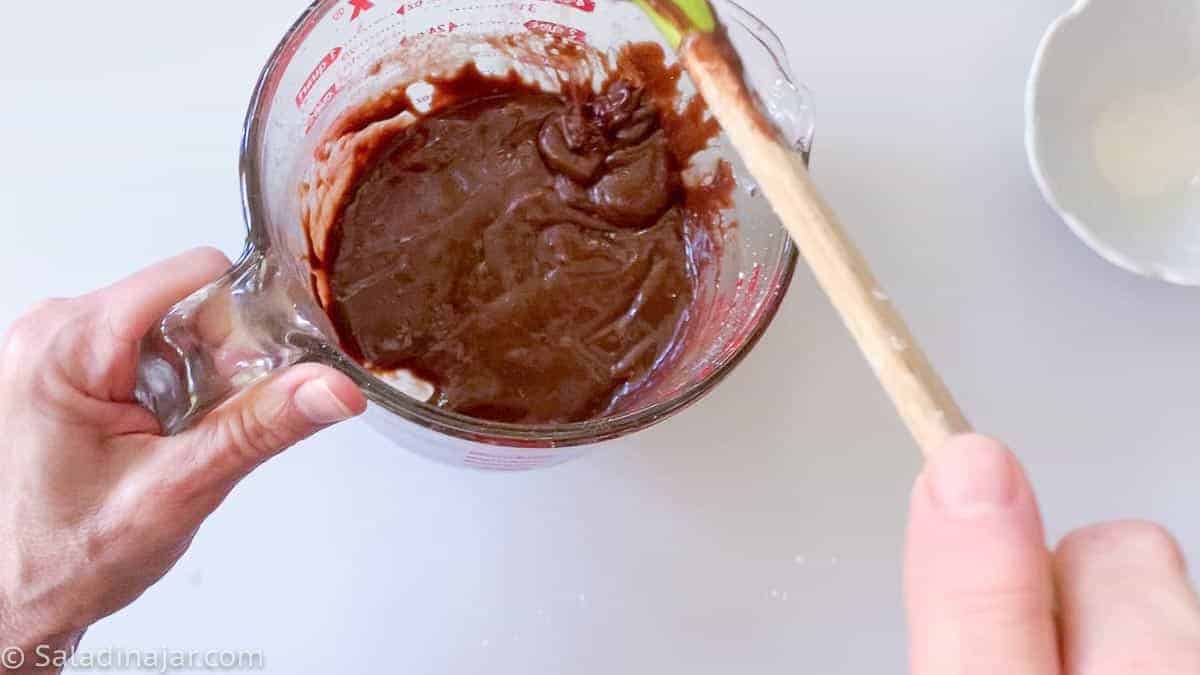 ---
Shaping and baking chocolate bread machine snails:
Instead of baking the rolls in a pan, make Chocolate Snails. First, prepare dough as described above through step #9.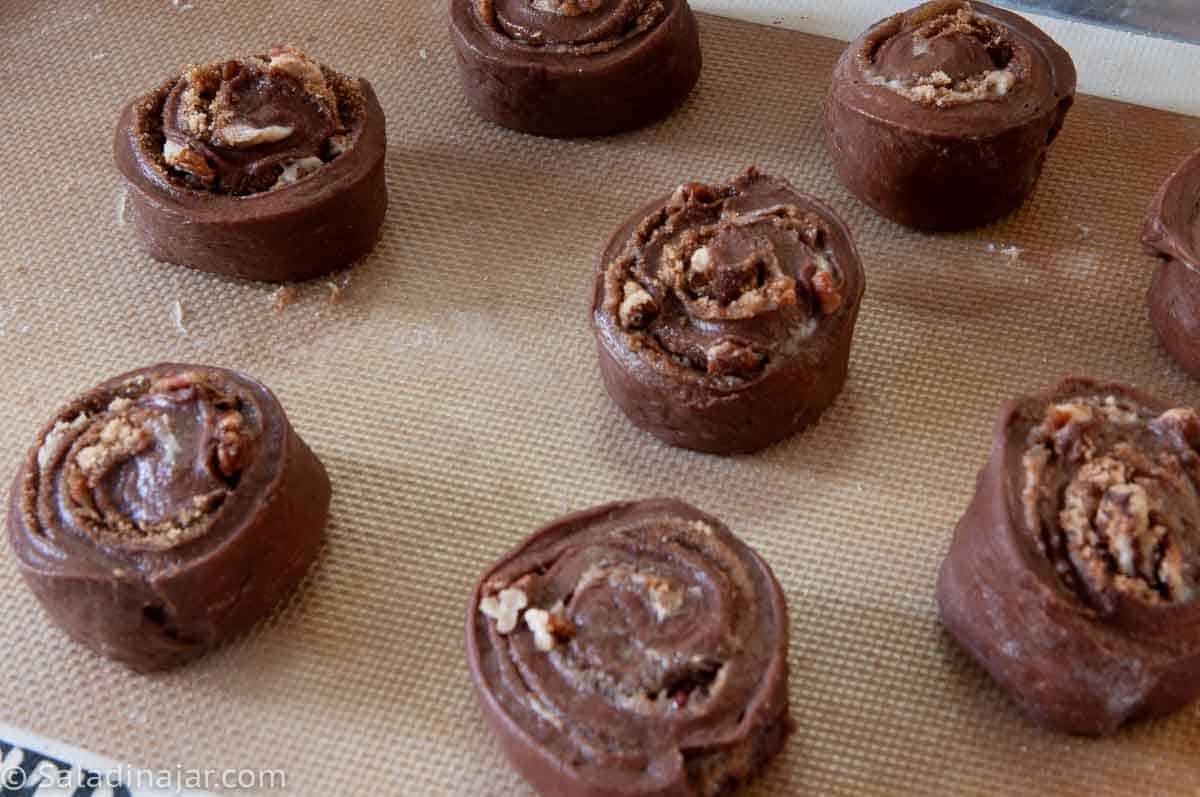 ---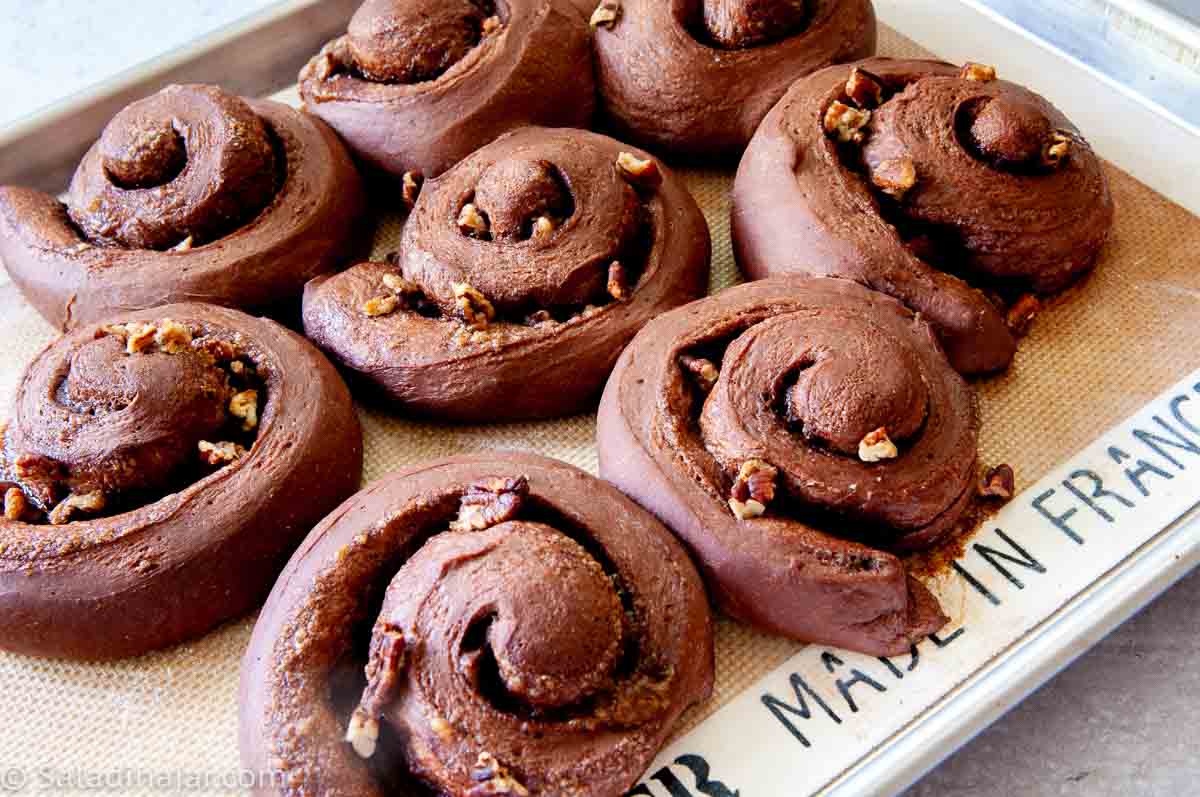 Baked Chocolate Snails will open up a bit as they bake.
---
FAQ for a bread machine chocolate bread recipe:
Can I make this recipe ahead of time?
Yes. Make the dough in a bread machine and let it proof until double. Then, push the dough down and form it into the desired shape. Cover and refrigerate rolls overnight.
When ready to bake your rolls the next day, remove them from the fridge and allow them to come to room temperature. Let them rise until almost double before baking. Depending on the ambient temperature, it may take 1-2 hours before they are ready to bake.
How long will chocolate cinnamon rolls stay fresh?
After the first day, you can wrap them well and store them in the fridge. Microwave only a few seconds to warm them. We have always eaten them within two days, but they might last longer. I've heard up to a week. I'll update this post if I can ever verify that in real life.
Can I freeze these rolls?
After these Chocolate Cinnamon Rolls bake and cool, double-wrap them. I use plastic wrap, foil, or plastic bags as the second covering. Freeze.
Allow frozen rolls to defrost in the refrigerator. Get them out the night before. Use within a month.
My powdered sugar is lumpy. How can I fix it so my icing will be smooth?
1. Push the confectioner's sugar through a cheap sieve.
2. Pour sugar into a blender or food processor. Process the dry powder until it is smooth and the lumps disappear.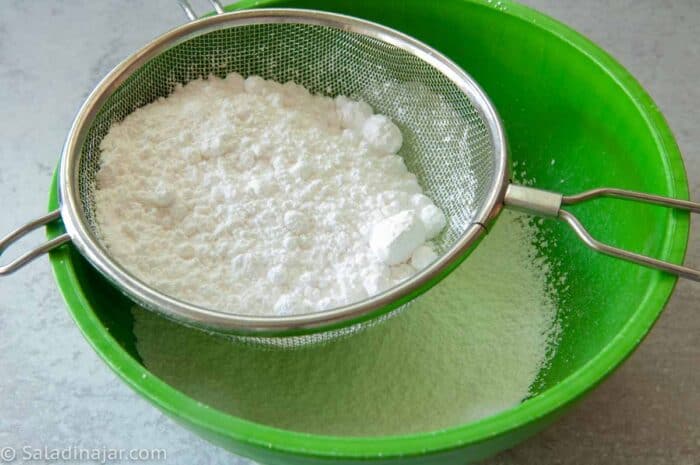 How do I know when the rolls are baked?
Knowing when to take these rolls out of the oven is hard. Of course, they will brown, but it's difficult to tell until they are too brown.
My suggestion is a quick-read thermometer. (paid link) This quick-read thermometer is also good and cheaper. The thermometer should read 190˚F when poked into the middle. Avoid hitting a buttery cinnamon-sugar pocket, which would deceive you with a higher reading.
I don't have unsweetened chocolate for the icing on hand. Can I leave it out?
Yes. Vanilla or Brown Butter frosting is also delicious on these rolls.
I don't have a 9-inch pan. Is an 8-inch pan OK? Other ideas?
Eight or 9-inch square pans will work. A 13 x 9-inch pan will hold all 16 rolls. Another possibility: Use your 8-inch pan and only fill it with seven rolls. Cook the other roll in a muffin pan or cook on a pie plate.
While we're talking about pans, the gold-colored pans or USA pans are my favorite for perfect browning. Light-colored pans or disposable aluminum foil pans rarely brown well.
---
What bread machine recipe would you like to try next?
---
Recipe Help at Your Fingertips: For questions or suggestions, email Paula at saladinajar.com. If you need help, I'm happy to troubleshoot via email (faster than leaving a comment). Attach pictures and as many details as possible for the best advice.
---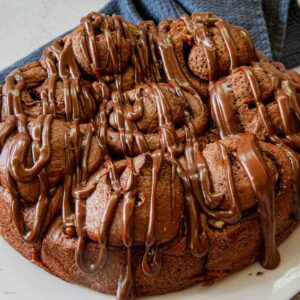 Chocolate Bread Machine Recipe for Cinnamon Rolls
Dark chocolate cocoa flavors the rich dough to make a fabulous loaf, cinnamon rolls, twists, or snails. The taste will remind you of chocolate doughnuts with chocolate frosting.
Share recipe love here. ⬇
Ingredients
DOUGH
½

cup

(

114

g

)

whole milk

⅓

cup

(

66

g

)

sugar

3

tablespoons

(

15

g

)

unsweetened dark cocoa powder

1

teaspoon

salt

2

large

(

100

g

)

eggs

¼

cup

(

57

g

)

butter

–

cool and chopped

¼

cup

(

70

g

)

Greek yogurt

–

or sour cream

5

gr

vanilla extract

3

cups

(

360

g

)

of bread flour

2

teaspoons

bread machine or instant yeast
FILLING
¼

cup

(

57

g

)

butter

–

very soft

½

cup

(

107

g

)

brown sugar

1

teaspoon

cinnamon

½

cup

(

49

g

)

pecans, chopped

–

toasted
ICING
1-1/2

ounces

(

14

g

)

unsweetened chocolate bar

1

tablespoon

butter

1-1/2

cup

(

170

g

)

powdered sugar

–

sifted if it has lumps

1

teaspoon

vanilla extract

2+

tablespoons

milk
Instructions
Add all dough ingredients to the bread machine pan in the order listed:

1/2 cup

(

114

g

) whole milk,

1/3 cup

(

66

g

) sugar,

3 tablespoons

(

15

g

) unsweetened dark cocoa powder,

1 teaspoon

salt,

2 large

(

100

g

) eggs,

1/4 cup

(

57

g

) butter,

1/4 cup

(

70

g

) Greek yogurt,

5 gr

vanilla extract,

3 cups

(

360

g

) of bread flour, and

2 teaspoons

bread machine or instant yeast , Set your machine on the DOUGH cycle and push START.

Open the lid of the machine within the first minute. 1. Check to ensure the paddles are engaged properly. 2. Look at the dough. It should be clumping and coming together in a ball. If not, some ingredient was probably mismeasured or omitted. If you can figure it out, go ahead and add it immediately. If the dough looks like cookie dough, you may need to add more flour. If the dough is dry and crumbly, add more liquid.

After 10-15 minutes, open the lid and assess the consistency of the dough again. The dough should stick to the side, then pull away cleanly. If the dough is too wet, add flour one tablespoon at a time to get the dough to form into a pliable ball. If the dough is too dry and slapping the side, add milk one tablespoon at a time. Read more details in this post about my surprising secret.

When the dough cycle is complete, and the dough has risen to double its original size, remove the dough from the bread-machine pan onto a lightly-floured board.

Shape dough into a ball. Divide in half. Roll each half into an 11 x 11-inch square.

Spread two tablespoons of the softened

1/4 cup

(

57

g

) butter onto one square of the dough. Sprinkle half of the brown sugar-cinnamon mixture (

1/2 cup

(

107

g

) brown sugar +

1 teaspoon

cinnamon) evenly over the butter, then half of the

1/2 cup

(

49

g

) pecans, chopped

Starting from one side, roll the dough into a cylinder and seal it.

Cut in half with a serrated knife or dental floss. Cut each half into four equal pieces. In the end, you should have eight pieces from one ball.

Transfer slices to a greased 9-inch round pan. (If using a square pan, slice each cylinder into nine pieces. Or use a 13 x 9-inch metal pan, which will hold 16 rolls.

Repeat steps 5 through 8 with the remaining half of the dough.

Cover your prepared rolls with a tea towel, a cheap shower cap (my fave), or wax paper. Let rolls rise in a warm place until they are not quite double in size.

Bake in a preheated 350˚F oven for 13 minutes or until rolls are slightly brown on the edges. A quick-read thermometer should read 190˚F.

Allow the rolls to cool in the pan for about 10 minutes. Then, turn rolls out onto a cooling rack (or serving plate if you are ready to eat). Leaving rolls in the pan until they are cold will likely result in soggy bottoms.

Once you pull the rolls out of the oven, make the icing.
Icing:
Place broken

1-1/2 ounces

(

14

g

) unsweetened chocolate bar and

1 tablespoon

butter into a microwave-safe, medium-sized glass bowl or a Pyrex quart measuring cup. Microwave for 1-1/2 to 2 minutes on 50% power, stirring halfway through to melt the butter and chocolate evenly. Continue mixing at the end of that time to finish melting the butter.

Add the sifted

1-1/2 cup

(

170

g

) powdered sugar,

1 teaspoon

vanilla extract, and

2+ tablespoons

milk. Stir vigorously until your icing is smooth and starts to shine. Slowly add more milk if needed to make the icing pourable. (If you make the icing ahead of time, it will thicken as it sits. You may need to add more milk and whip it until it's the right consistency again.)

Drizzle icing over the rolls with a spoon. If you want a neater look, fill a plastic zippered bag with the icing. Zip the bag shut. Snip a small hole in one corner and squeeze icing over the tops of rolls. Be sure you have sealed the bag before you start squeezing. I'll let you figure out what happens if the bag pops open.)
Notes
Directions for making bread with a stand mixer or by hand:
To make this recipe in a heavy-duty stand mixer: Add ingredients to the bowl in the same order. Turn on LOW to mix until all ingredients are moistened. Then, using a dough hook, turn the speed to 2 or 3. Continue beating/kneading until dough becomes smooth and elastic (about 5-10 minutes). Cover and allow to rise in a warm place. Deflate dough gently and shape as indicated in the recipe.
If making by hand: Combine all ingredients into a shaggy ball in a large bowl. Turn dough out onto a floured surface. Knead with your hands until the dough becomes smooth and elastic. Kneading will likely take 10-20 minutes, depending on your experience. Place the dough ball into a greased bowl. Cover and allow to rise until double. Deflate the dough gently and shape as indicated in the recipe.
Please note: If you only have active dry yeast, use 1/4 teaspoon more than called for in the recipe.

It no longer needs to be dissolved first

, but you can if you prefer.
Nutrition
Serving:
1
slice
|
Calories:
248
kcal
|
Carbohydrates:
34
g
|
Protein:
5
g
|
Fat:
11
g
|
Saturated Fat:
5
g
|
Polyunsaturated Fat:
1
g
|
Monounsaturated Fat:
3
g
|
Trans Fat:
1
g
|
Cholesterol:
39
mg
|
Sodium:
219
mg
|
Potassium:
109
mg
|
Fiber:
2
g
|
Sugar:
15
g
|
Vitamin A:
246
IU
|
Vitamin C:
1
mg
|
Calcium:
35
mg
|
Iron:
1
mg
HELP OTHERS find this recipe. Leave a 5 🌟🌟🌟🌟🌟 rating at the top of the recipe card if you enjoyed it. No comment is required.