A Homemade Greek Yogurt Cheat Sheet gives a condensed version for how to make Greek yogurt. Directions for making a cookies and cream Greek yogurt treat are included.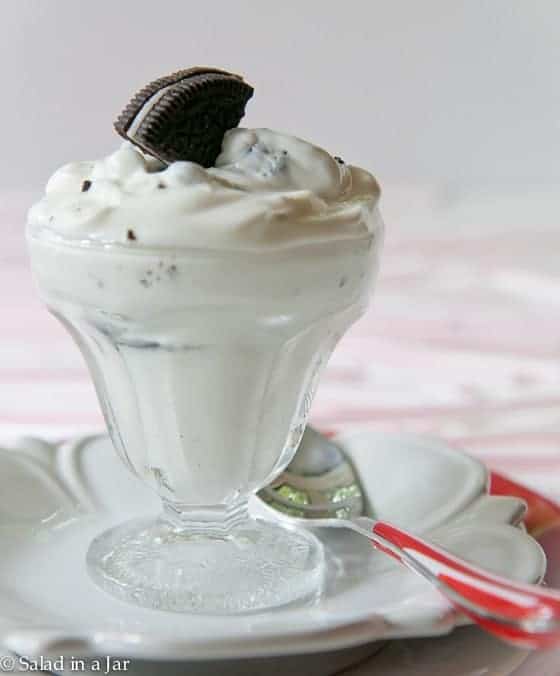 You can buy Cookies and Cream Yogurt in the grocery store but I wanted to make it myself with my own homemade yogurt. My first attempts weren't so good. The tanginess of yogurt didn't seem to dance well with the sweetness and crunchiness of Oreo Cookies. I finally figured it out; more on that in a minute. But first, I have a promise to keep.
Susie, my daughter-in-law, recently learned how to make Greek yogurt from the instructions on this blog. She requested a Homemade Greek Yogurt Cheat sheet, and several of you agreed that you would like one, too.
Here is a quick summary. If you have any questions, need more pictures, or want to read the details, see the
original post
and be sure to watch my video below.
9 EASY STEPS FOR MAKING HOMEMADE GREEK YOGURT
(This applies to any type of dairy milk.)
1. Fill a 2-quart heatproof glass bowl with milk.
2. Heat to 170 degrees F. in the microwave. (This takes 17 minutes in my microwave. Yours may be different.)
3. Allow to cool down below 120 degrees F. 105-110 is ideal.
4. Whisk in 2-3 teaspoons fresh yogurt as a starter. Cover loosely.
5. Incubate at a steady 100 degrees F. for 4-8 hours.
6. When yogurt has thickened, pour into an extremely-fine mesh strainer to drain off whey. If you don't have one, use a cheesecloth, a tea towel, or a old-but-clean t-shirt to line your strainer. Here is another inexpensive way to strain yogurt that I favor. Time needed will depend on the thickness of your yogurt and your straining method. Set aside or discard the whey.
7. Dump drained yogurt back into the original bowl and WHISK FURIOUSLY until yogurt is smooth and shiny.
8. Add flavorings and/or sweeteners, if desired. You may also whisk in additional milk if yogurt is too thick for your tastes.
9. Chill.
Now back to the Cookies and Cream Yogurt:
I discovered the best way to make it is to stir about a tablespoon, and ONLY a tablespoon, of cookies and cream frosting into 6 ounces of sweetened (to your taste) vanilla-flavored Greek yogurt. The frosting recipe comes from my Cookies and Cream Brownies. (Incidentally, this frosting will also turn a store-bought chocolate graham cracker into a gourmet dessert.)
This method seems to work better than just crumbling a cookie into the yogurt. Maybe it's the additional sugar and butter in the frosting, or maybe it's because the crumbled cookies become slightly soft after marinating in all that butter and sugar. Either way, yogurt done this way is positively addicting. It fully satisfies the ice cream cravings that so often taunt me.
Posts Related to Homemade Greek Yogurt: A Cheat Sheet and a Cookies and Cream Treat
Healthy Homemade Greek Yogurt
A Cheat Sheet for Making Homemade Yogurt
Don't Fear Making Homemade Yogurt
How to Strain Yogurt the Easy Way
Answers to Your Questions About Making Homemade Yogurt
More Than Six Ways to Incubate Yogurt Without a Yogurt Maker
A Discussion About Protein in Greek Yogurt
18 Ways to Use Whey–a By-Product of Greek Yogurt
What Can I Do with Failed Homemade Yogurt