Sneak Preview: Now you can make this addictive Greek Yogurt with Oreos at home just the way you like it. Use store-bought vanilla yogurt or homemade Greek yogurt.
If you're a yogurt-maker like me, you're always looking for new ways to eat your yogurt. This recipe for Greek Yogurt with Oreos veers toward sweet and decadent.
It's absolutely addicting. Don't say I didn't warn you.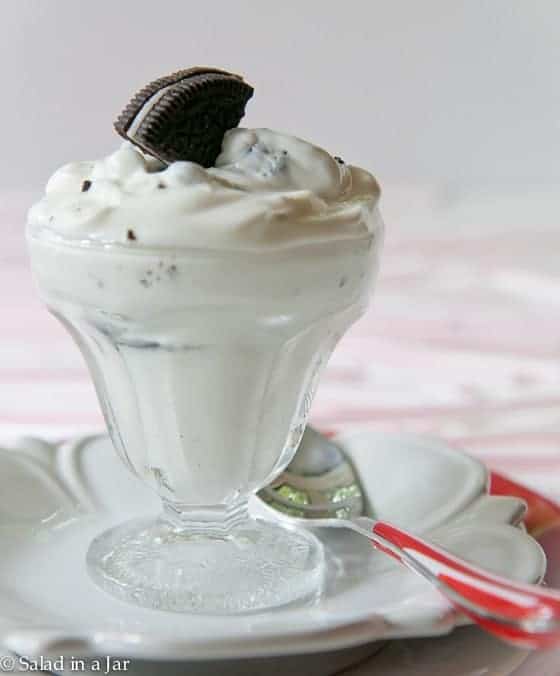 Recipe Inspiration
You can buy Cookies and Cream Greek Yogurt in the grocery store but I wanted to make it myself with my own homemade yogurt.
My first attempts weren't so good. The tanginess of yogurt didn't seem to dance well with the sweetness and crunchiness of Oreo Cookies.
I finally figured it out.
---
---
How To Make Yogurt with Oreos
I discovered the best way is to stir a tablespoon of Cookies and Cream Frosting into 6 ounces of sweetened unflavored or vanilla-flavored Greek yogurt.
This method seems to work better than just crumbling a cookie into the yogurt.
Maybe it's the added sugar and butter in the frosting. Or maybe it's because the crumbled cookies become slightly soft after marinating in all that butter and sugar.
Speaking of marinating, I like to make the frosting ahead of time. A couple of hours in the fridge will help to soften the cookies.
Either way, yogurt done this way is always a good idea. It fully satisfies the Cookies and Cream ice cream cravings that so often taunt me.
Frequently Asked Questions:
Can I make this yogurt dessert ahead of time?
Yes. You can make this decadent treat up to 10 days (depending on how fresh your yogurt is to start with) ahead of time. Store in the fridge.
Can I freeze Oreo cookie yogurt?
(Not to be confused with Oreo cookie frozen yogurt–that's a different animal.)
No. It changes the consistency and the yogurt will separate when it's thawed.
However, you can freeze the Cookies and Cream Frosting.
What else can I do with the Cookies and Cream Frosting?
If you are going to the trouble to make the frosting and you've got the cookies, you might as well double the batch and double your pleasure.
Do you need me to go on? I think you get the idea.
---

---
Can I make this with store-bought yogurt?
Yes. Buy unflavored Greek yogurt or vanilla-flavored yogurt from the store.
But while you're here, can I convince you to try making yogurt yourself if you like to have fun in your kitchen?
You can get more details about making Greek yogurt on this website, as well as information and encouragement to help you if and when things don't go right.
---
What would you like to read next?
---
Did you enjoy this recipe? If so, you can help others and myself by leaving a 5-star 🤩 rating in the recipe below. No comments required.
Hope to see you again soon!
Paula
p.s. If you have any questions or suggestions, you can email me privately: paula at saladinajar.com.
---