Blueberry-Stuffed Sally Lunn Bread is a brioche-like yeast bread with fresh, sweetened blueberries swirled throughout. If you don't have a bread machine, you can make this bread with a stand mixer or by hand.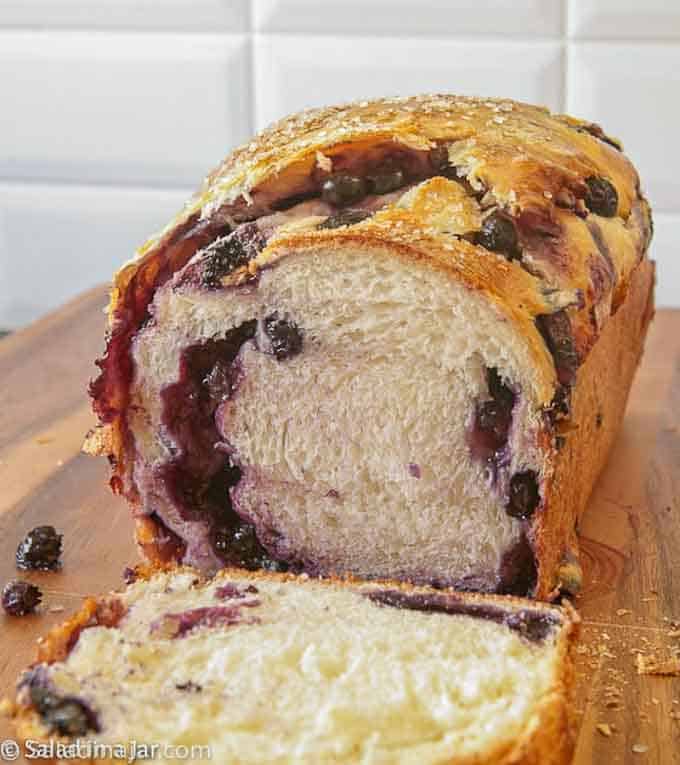 What is Sally Lunn?
A large sponge cake-like bread, more like a bread than a cake that is either yeast or baking powder based that can be made either into a cake, buns, rolls, or even a loaf of bread."

What's Cooking America
On a recent trip to England, we got to eat Cream Tea at the Sally Lunn House in Bath. Their buns are famously light and sweet.
Not only was it the most delicious bread I have ever tasted, but it was also the most expensive.
I went on a mission to reproduce the recipe. Not surprisingly, I'm not the first to try. However, the original recipe remains a secret to this day. It was found in the 1930s in a previously undisclosed cupboard.
Recipe Inspiration
The idea of adding blueberries to Sally Lunn is inspired by a recipe for Fresh Blueberry Brioche. You can see it for yourself in Huckleberry, authored by Zoe Nathan.
The problem with that recipe is all the time involved with making brioche. It's best made over a two-day period.
Thankfully, Linda Rehberg and Lois Conway have an excellent recipe for Sally Lunn in their book Bread Machine Magic Book of Helpful Hints. It is an essential guide for bread machine users.
Consequently, I'm doing the next best thing and using a recipe for brioche-like Sally Lunn. The results are spectacular if I do say so. It's almost like eating light-as-a-feather pound cake with the freshest blueberry jelly you can imagine.
***Kitchen Tip
Plan to allow at least 2 hours, possibly longer, for the dough to rise after you have shaped it. The frozen blueberries in the filling will slow down the process.
---
---
Did you try this recipe and enjoy it? Consider helping other readers (and me) by returning to this post. Leave a rating on the recipe card itself underneath the picture. Although always appreciated, comments aren't required.
If you have a question or tip to share, please leave it in the regular comments after the recipe so I can answer back. Or, email me privately: paula at saladinajar.com.

Thank you for visiting!
Paula