Sneak Preview: Impress your family and friends with this Sally Lunn-inspired bread machine blueberry bread.
Eating this bread always inspires a "Folger's" moment for me. Just like the advertisement, I want a long-lost relative to knock on the door and surprise me while I'm enjoying my morning coffee.
I would have already whipped up this cozy blueberry bread for us to snack on. In my imagination, we would chat about happy memories, the latest gossip, and why we have or have not let our hair go gray.
Back to reality…
See all those messy blueberries inside the bread? They "melt" as the bread bakes. It will remind you of the freshest blueberry preserves imaginable smeared on cake-like bread. Sweet, but not too sweet.
Don't worry: If you don't have a bread machine, you can make this bread with a stand mixer or by hand. See the recipe notes.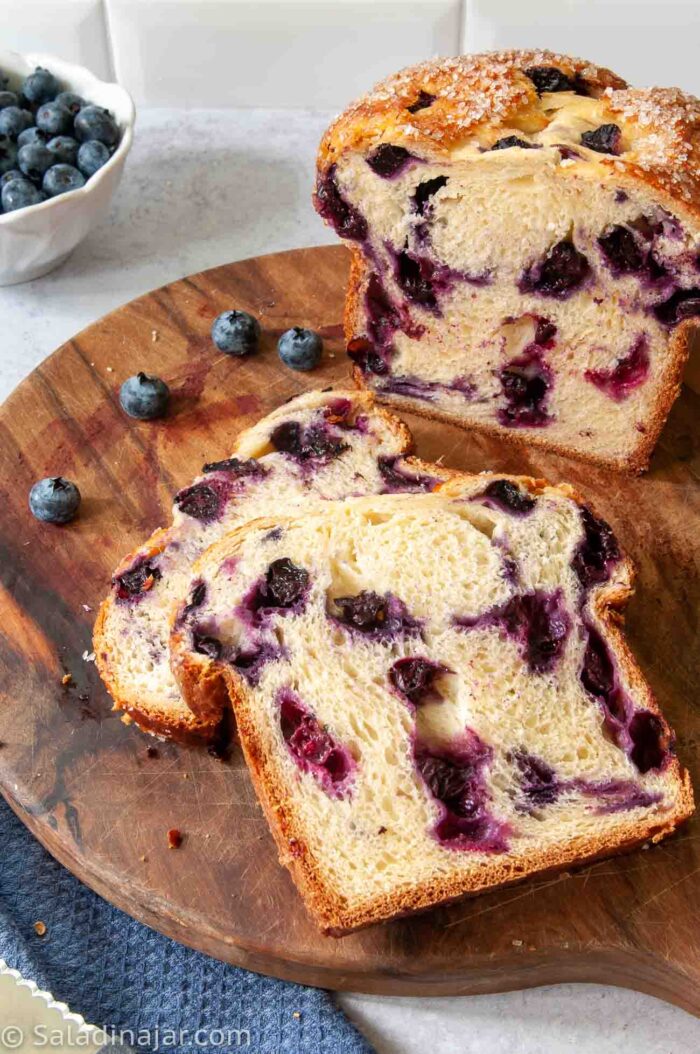 What is Sally Lunn?
A large sponge cake-like bread, more like a bread than a cake that is either yeast or baking powder based that can be made either into a cake, buns, rolls, or even a loaf of bread."

What's Cooking America
Recipe Inspiration
The idea of adding blueberries to Sally Lunn is inspired by a recipe for "Fresh Blueberry Brioche." See it for yourself in Huckleberry, authored by Zoe Nathan.
The problem with that recipe is the two-day period required to make brioche. I often don't think ahead.
Thankfully, Linda Rehberg and Lois Conway have an excellent Sally Lunn recipe in their book Bread Machine Magic Book of Helpful Hints. Although this book is older, bread machine users will find it very helpful.
Use leftovers to make French toast, bread pudding, or Toasted Cheese Sandwiches with Muenster cheese. YUM!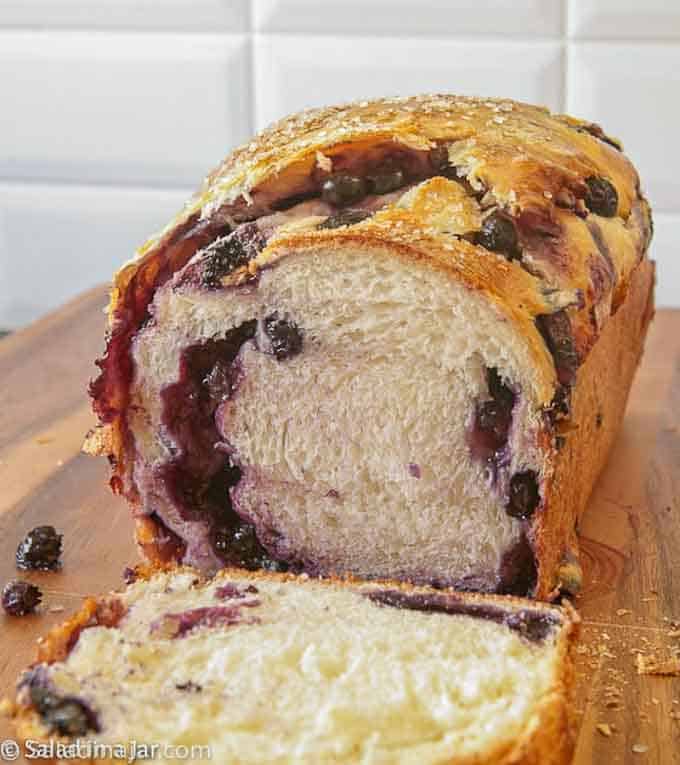 Ingredients and Substitutions
BLUEBERRIES: Fresh blueberries are the way to go with this bread. In the original recipe, I froze the berries but found that step is not necessary. Rinse and let them dry. That's all!
HINT: Buy the smallest blueberries you can find. Your loaf will be prettier.
HEAVY CREAM: Substitute half and half if you prefer. Your bread won't be quite as rich as the authentic Sally Lunn.
WATER: Spring water is my first choice for all bread. If you don't have it, tap water is fine.
EGGS: I use only large-size eggs in all my bread recipes.
SALT: Use table salt or sea salt. If you use Kosher salt increase the amount by 1/4 teaspoon.
BUTTER: There is no substitute for butter in my book. Be sure it is room temperature but not melted.
SUGAR: Use granulated sugar inside the bread. You'll notice I gave a range for the sugar in the dough. You can choose the sweetness level.
It doesn't matter if you use granulated or powdered sugar for sprinkling over the berries. Sanding sugar or coarse sugar is my first choice for sprinkling on top of the loaf. If you don't have it, leave it off or use granulated sugar.
FLOUR: The recipe specifies part all-purpose flour and part bread flour. Feel free to substitute all-purpose flour for the bread flour if you can't get it. The bread flour helps the rise making it a bit lighter.
YEAST: I always recommend instant or bread machine yeast for a bread machine recipe. See the recipe notes if you only have active-dry-yeast.
---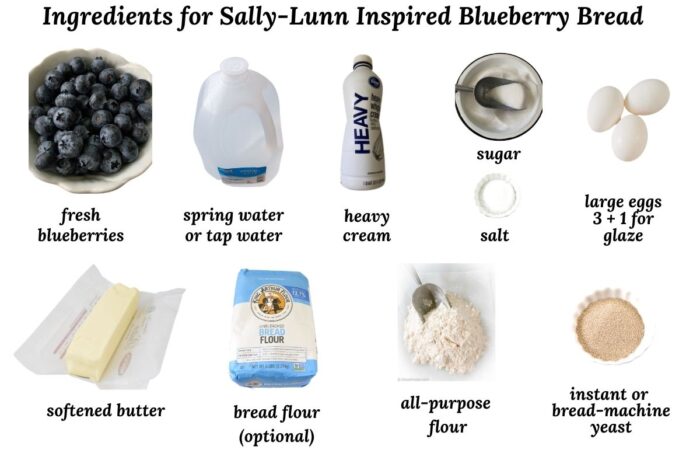 ---
Frequently Asked Questions:
1. The bread in the picture doesn't look like it came out of a bread machine. How did you do that?
The directions listed here will show you how to mix and knead the bread in a bread machine using the DOUGH cycle. You'll remove the dough and shape it by hand. Incorporate the berries at the same time when shaping. Let the dough rise again in a loaf pan, then bake in your conventional oven.
2. If I don't have a conventional oven, can I mix, knead, and BAKE this in my bread machine?
Using fresh, whole, blueberries make using a bread machine problematic. Kneading the bread with fresh blueberries in it will result in a bluish-purple bread.
You could "pause" the bread machine and remove the bread from the bread machine pan after the first rise. Shape the bread and incorporate the blueberries according to the directions given here. Remove the blades and place the shaped dough back into the machine. Then continue the regular bread cycle.
3. I have a mini bread maker. Can I use this recipe in it?
This recipe makes a 1-1/2 pound loaf. Check your manual. I've listed weights to make it easy to reduce by a third to make a 1-pound loaf.
4. My bread looked done on the outside but when I took it out after 40 minutes, it was raw in the middle. What happened?
If you use a pan smaller than 9 x 5-inches, the loaf will take longer to bake. My best recommendation is a quick-read thermometer. It's the only way to know for sure that your bread is completely baked. I couldn't make bread without one.
5. My loaf got too brown on top even though I baked it at 350˚F. What should I do?
When you put your loaf into the oven, set your timer for halfway through (20 minutes). If the loaf is already golden brown, place a piece of aluminum foil loosely over the top.
6. Can I use frozen blueberries instead of fresh?
Frozen blueberries tend to be too watery. Stick with fresh for this recipe
7. One of my family members has high blood pressure. Can I cut back on the salt?
Salt is an important component of any yeast bread recipe. Going without salt is like driving a car with no brakes.
In the same way the brakes and the gas pedal work together in a car, salt controls the yeast. The salt keeps the yeast from rising out of control, exhausting itself and then falling flat in the oven. It also shores up the gluten and makes your bread taste fabulous.
If you want to cut back (not out), experiment with 1/4 teaspoon less and see how it goes.

How to make Bread Machine Blueberry Bread:
---
More bread recipes with fruit:
---
Did you try this recipe and enjoy it? Consider helping other readers (and me) by returning to this post. Leave a rating on the recipe card itself underneath the picture. Although always appreciated, comments aren't required.
If you have a question or tip to share, please leave it in the regular comments after the recipe so I can answer back. Or, email me privately: paula at saladinajar.com.

Thank you for visiting!
Paula
---
"Why is my bread dense?"
Download a FREE printable guide to help you diagnose the cause of dense bread when you sign up to receive my free updates and exclusive bread-making tips in your inbox.
Don't worry. I won't share your address. Unsubscribe any time.
---
Yield: 1 loaf
Fresh Blueberry Bread (Bread Machine Recipe)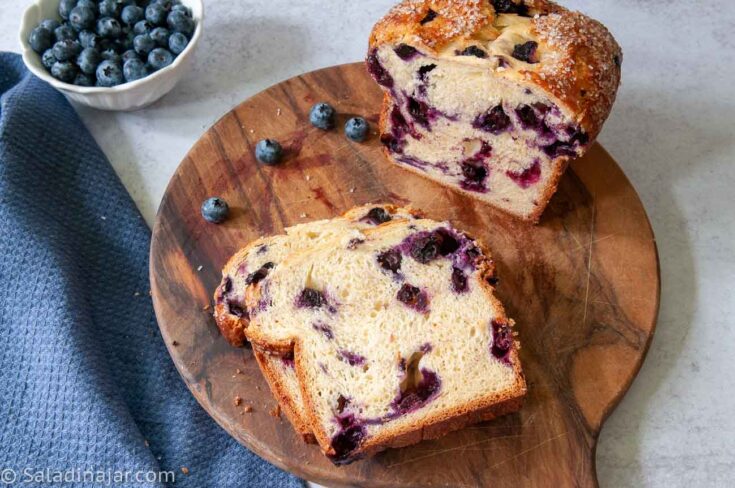 Don't miss this rich and sweet brioche-like yeast bread with fresh, sweetened blueberries swirled throughout.
Total Time
3 hours
45 minutes
Ingredients
1 and 1/2 cup blueberries (225 gr)
Dough
1/4 cup (60 gr) heavy cream, lukewarm
1/4 cup (50 gr) water, lukewarm
3 large eggs
1 teaspoon (6 gr) salt
1/3 cup (76 gr) butter, cut into pieces
3-4 tablespoons (38-50 gr) sugar + 2 tablespoons for sprinkling the blueberries
1-1/2 cup (180 gr) bread flour
1-1/2 cup + 3 tablespoons (203 gr) unbleached, all-purpose flour
2 teaspoons (7 gr) bread machine yeast
Glaze
1 egg yolk
1 tablespoon heavy cream
Pinch of salt
Granulated, sanding, or coarse sugar for sprinkling on top of the loaf.
Instructions
Rinse fresh blueberries and lay on a paper towel to dry and come to room temperature while you make the dough.
Dump remaining ingredients into the bread pan of your bread machine. Select the dough cycle and press start. Open the lid and check the dough after about 10-15 minutes of mixing to make sure the consistency is correct. The dough should stick to the side, then pull away. If the dough is too dry, add more water 1 teaspoonful at a time. If too sticky, add flour 1 tablespoon a time.
When the dough cycle completes and the dough has risen to double its original size, remove dough to a floured surface. Press or roll dough into a rectangle roughly 10 x 16 inches. The short side should be closest to you.
Scatter berries over dough, then sprinkle with 2 tablespoons sugar. Carefully roll the top of the dough towards you to make a cylinder.
Turn the cylinder of dough 90 degrees and roll into an approximately 12 x 6-inch rectangle. With the short end closest to you, roll the dough tightly from the top. Seal the seam. Place in a greased 9 x 5-inch loaf pan with the seam side down.
Allow the dough to rise until almost double. This may take 1 hour or more depending on the ambient temperature. The dough should be peeking over the top about 1/2 inch.
When you see the bread has almost risen enough, preheat your oven to 350 degrees F.
Whisk together ingredients for the glaze in a small bowl. Paint raised but unbaked loaf with a light touch so glaze won't puddle at the outer edges of the loaf. Sprinkle with plenty of sugar. I use sanding sugar but regular sugar works too.
Bake at 350 degrees for 40-45 minutes. The temperature should read at least 190-200˚F when the probe is inserted into the middle of the loaf. Watch to make sure the crust doesn't over-brown before the bread is done. If necessary, consider tenting the loaf halfway through baking time with aluminum foil to avoid burning crust.
Cool in the pan about 15 minutes before removing the loaf from the pan to a rack to continue cooling. Best eaten after an hour but good luck getting people to wait that long.
Notes
ALTERNATE MIXING INSTRUCTIONS:
Directions for making bread with a stand mixer or by hand:
To make this recipe in a heavy-duty stand mixer, add ingredients to the bowl in the same order. Turn on low to mix until all ingredients are moistened. Using a dough hook, turn speed to 2 or 3 and continue beating/kneading until dough becomes smooth and elastic (about 5-10 minutes). Cover and allow to rise in a warm place. Deflate dough gently and shape as indicated in the recipe.
If making by hand, combine all ingredients into a shaggy ball in a large bowl. Turn dough out onto a floured surface and knead with your hands until dough becomes smooth and elastic, a process that will likely take 10-20 minutes depending on your experience. Place the dough ball into a greased bowl. Cover and allow to rise until double. Deflate dough gently and shape as indicated in the recipe.
Please note: You can substitute active dry yeast for instant or bread machine yeast. There is no longer any need to dissolve it according to KingArthurBaking.com. (https://www.kingarthurbaking.com/blog/2015/09/25/active-dry-yeast) Be aware that it may be a little slower acting than instant yeast, but it'll get there.
Nutrition Information:
Yield:
12
Serving Size:
1
Amount Per Serving:
Calories:

225
Total Fat:

9g
Saturated Fat:

5g
Trans Fat:

0g
Unsaturated Fat:

3g
Cholesterol:

82mg
Sodium:

249mg
Carbohydrates:

30g
Fiber:

1g
Sugar:

5g
Protein:

6g