Really Crusty Bread Machine Rolls with a Secret Glaze
Sneak Preview: Make these really Crusty Bread Machine Rolls with the help of your bread machine. They are like your favorite French Bread made into rolls. The secret to the crust is in the simple cornstarch glaze.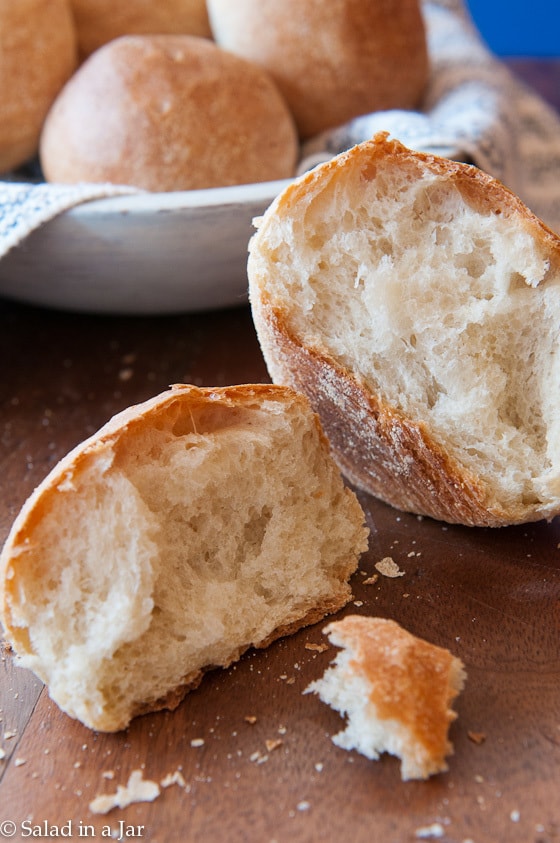 As an Amazon Associate, I earn from qualifying purchases.
Who can resist freshly baked French bread rolls with a thin, crisp, and crackling crust? Not me, for sure. Show me some marshmallow-soft salted butter, and I'm set for dinner. These are the perfect accompaniment to vegetable soup or gumbo.
Instead of a pan of hot water or another fancy system, the secret is in the glaze. So please keep reading to learn how easy it is to get a crackly crust on these distinctive dinner rolls.
If you don't have a bread machine, no worries! See the recipe notes for using a stand mixer or your hands to make these rolls.
---
What's the secret to the crispy crust?
The glaze is a cornstarch and water mixture, microwaved until thick, then cooled. For me, it's easier than spraying water into my oven or using oven tiles or other special equipment to produce crusty bread.
Bake the rolls for 35 minutes to get the crispiest crust.
Poking the rolls with a toothpick contributes to a crispy crust, but it's optional.
If you want the crust even crispier, set your baked rolls in an air fryer for a few minutes before you eat them.
---
Ingredients and substitutions: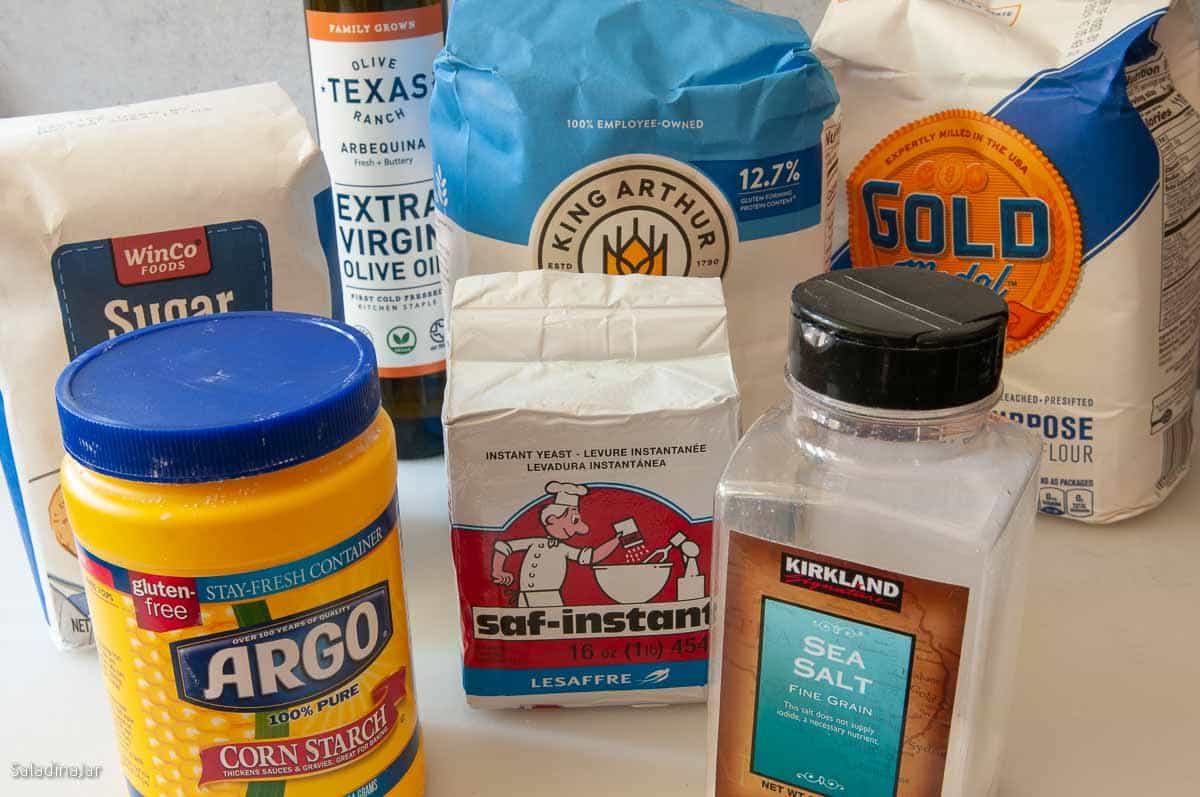 WATER: If you have spring water, some people think it makes better bread. I have used tap water for years with success. Warm water is not essential. The friction of the paddles as they knead the dough will warm the ingredients in a hurry.

OLIVE OIL: I use extra-virgin olive oil because I always have it on hand. Avocado oil or another vegetable oil like canola make a good substitute.

SALT: Table salt or sea salt is my first choice. If you use Kosher salt, add a 1/4 teaspoon more. I encourage you not to cut back on the salt as it lends this bread a delightful flavor.

SUGAR: Use granulated sugar. It's possible you could substitute honey but I haven't tested it in this recipe.

FLOUR: Combining unbleached all-purpose flour and bread flour results in an excellent texture. If you don't have one or the other, use the one you have for all of the flour requirements. If possible, weigh the flour with a digital scale.

YEAST: This recipe was formulated with a bread machine or instant yeast. You can substitute active dry yeast if that's what you have. See the recipe notes for details.

CORNSTARCH: The cornstarch glaze is the secret to the crunchy crust. I have not experimented with any other thickeners.
---
How to make Crusty French Rolls with a bread machine: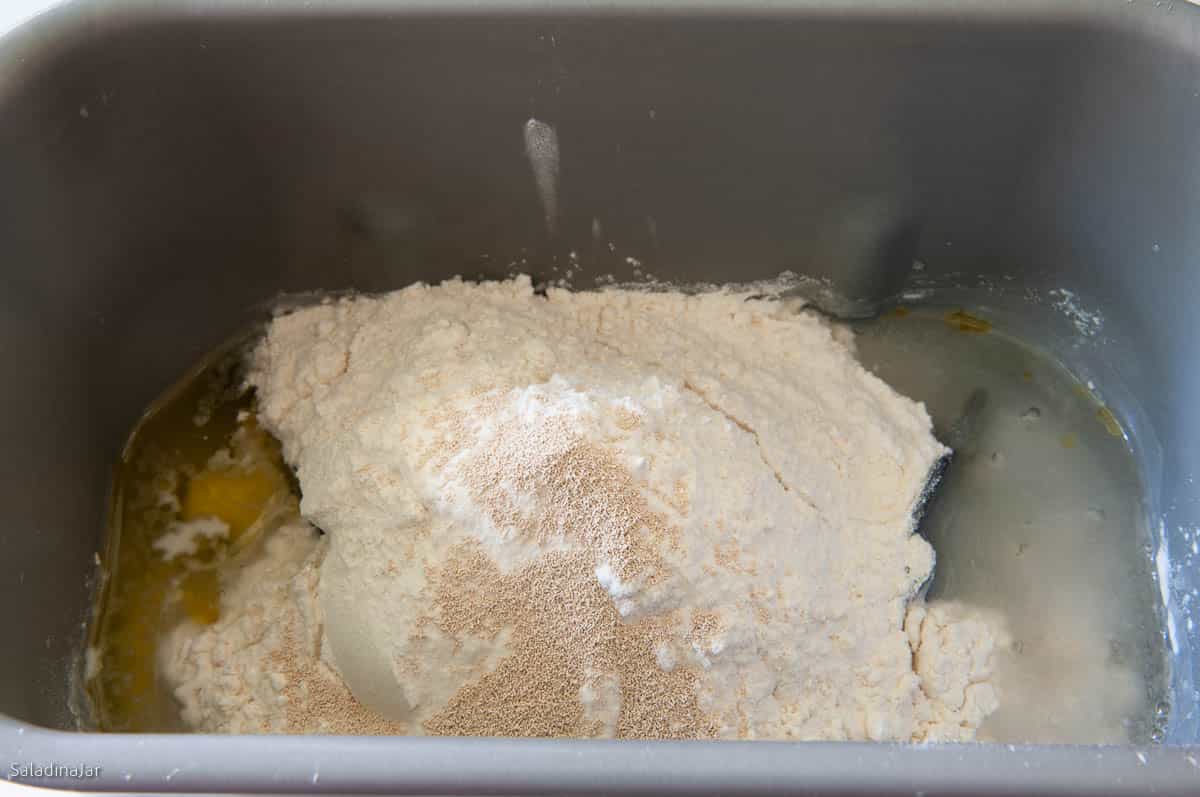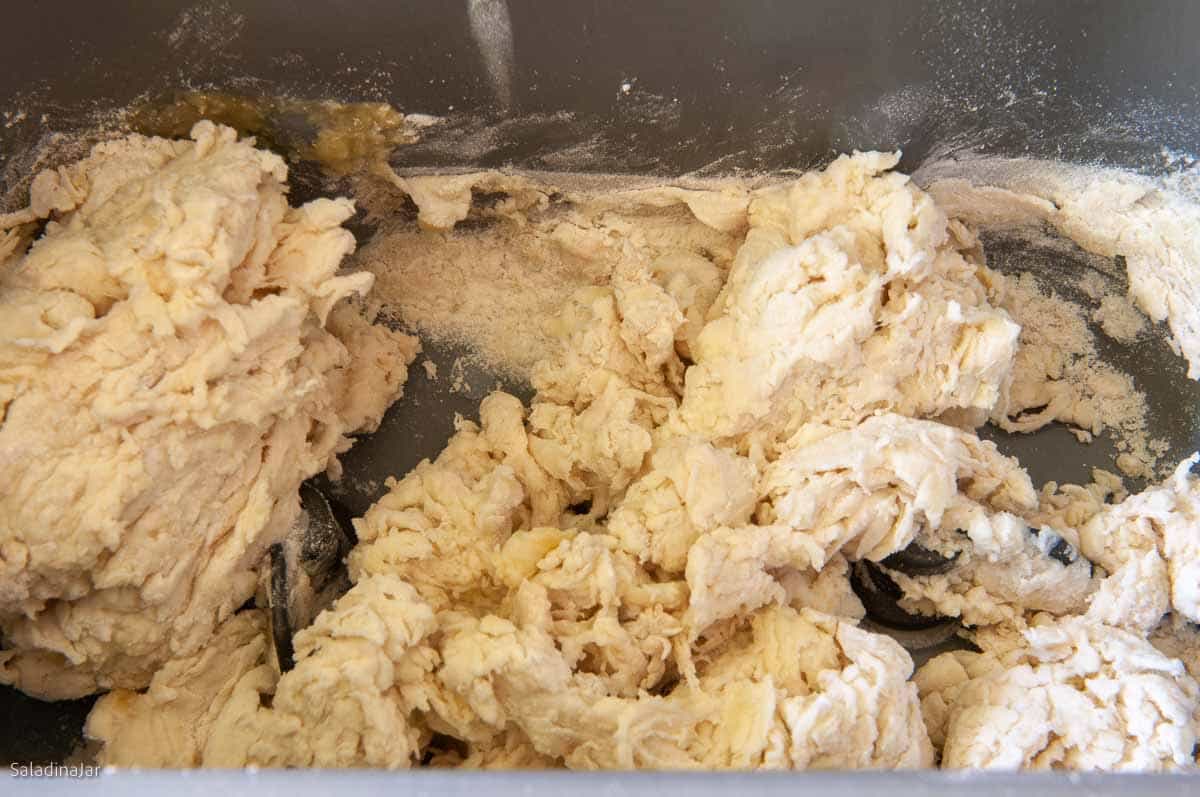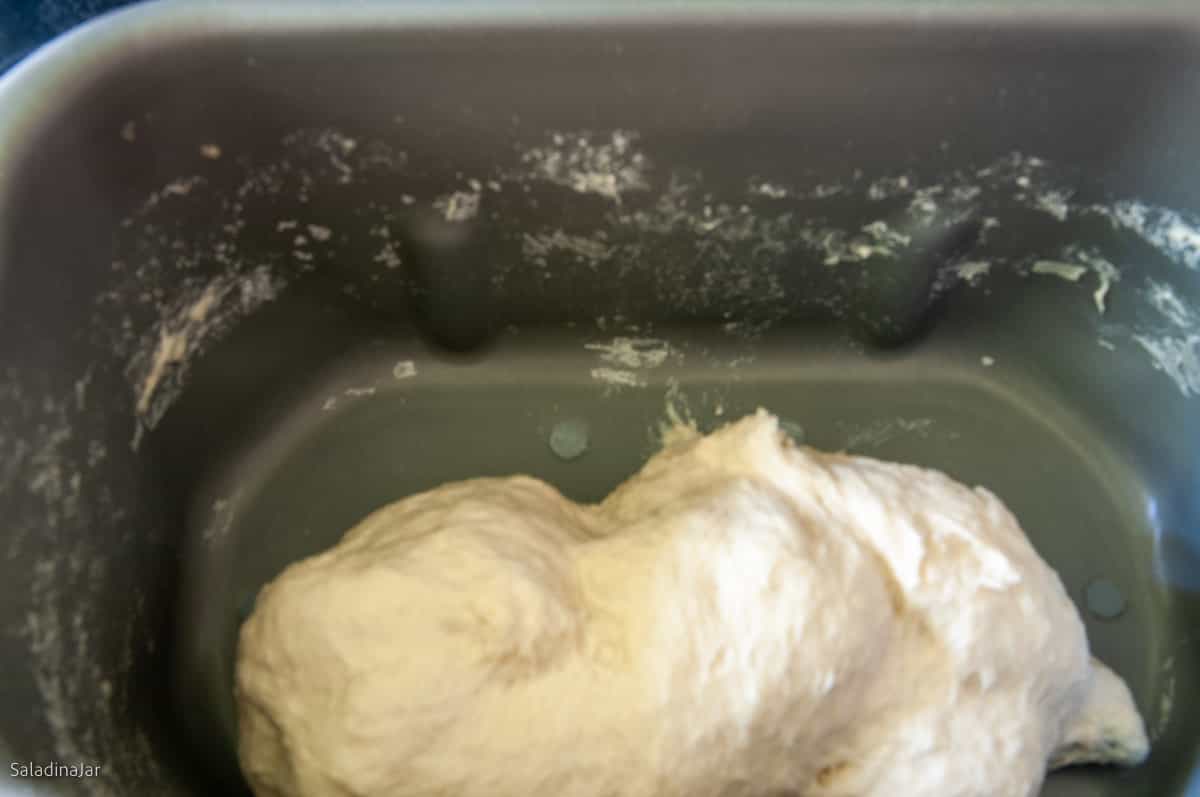 Open the lid and watch the dough knead. It should stick to the side, then pull away cleanly. If the dough is too wet and sticky, add flour one tablespoon at a time, allowing a couple of minutes for the dough to absorb the flour before adding more.
If the dough is too dry and rides freely on top of the post, add liquid one tablespoon at a time, allowing a couple of minutes between each addition for the dough to absorb the liquid before adding more. Read more about this secret to making amazing bread with a bread machine.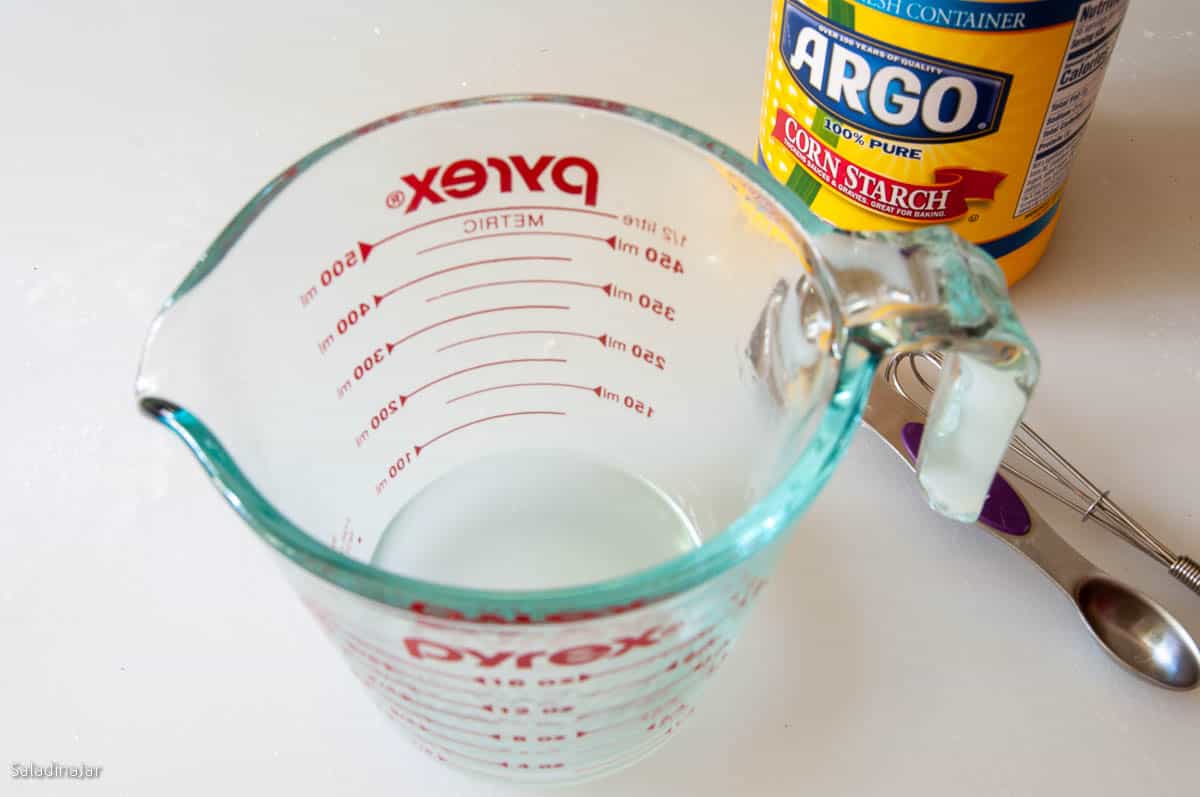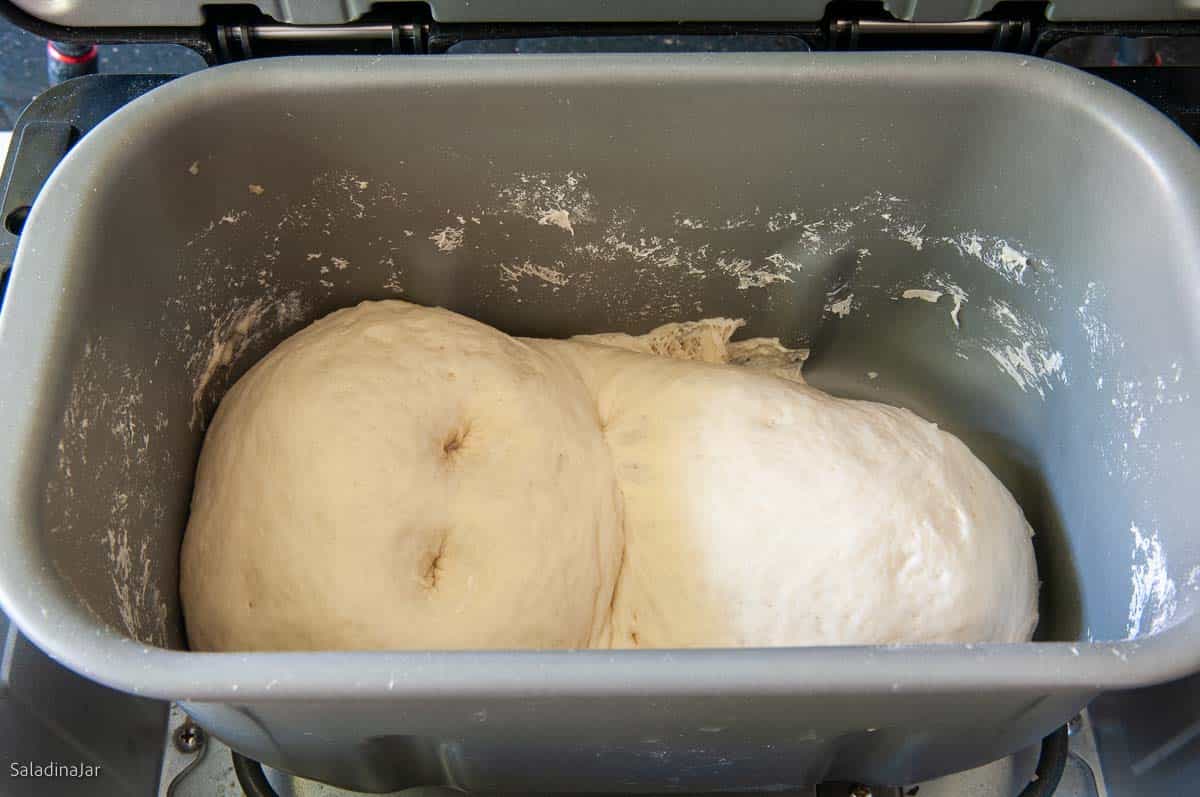 ---
Shaping the rolls: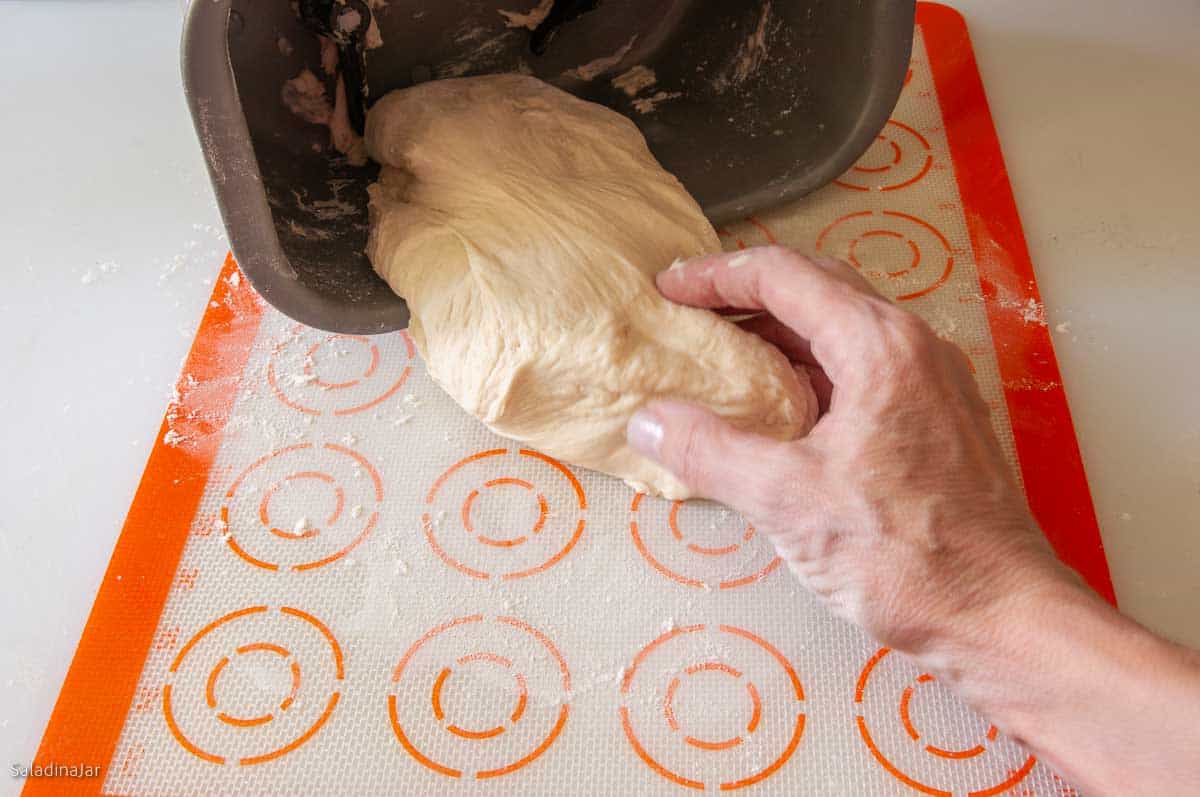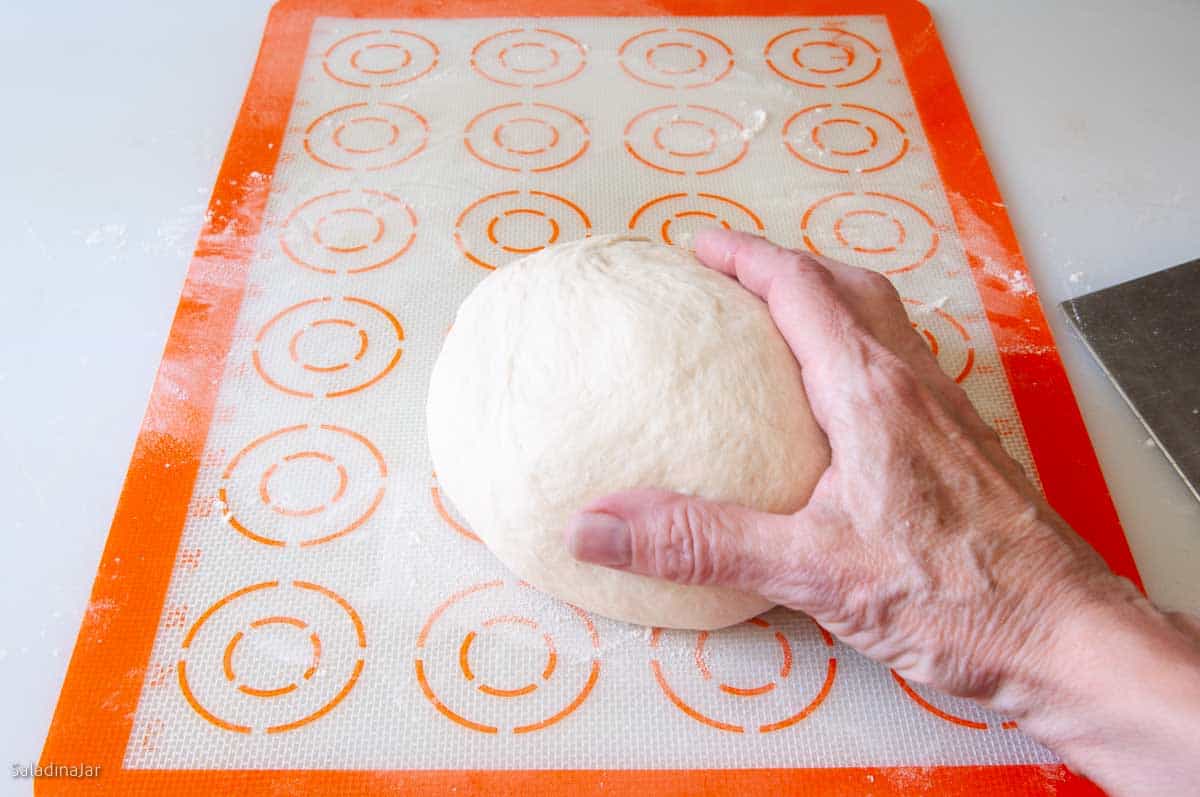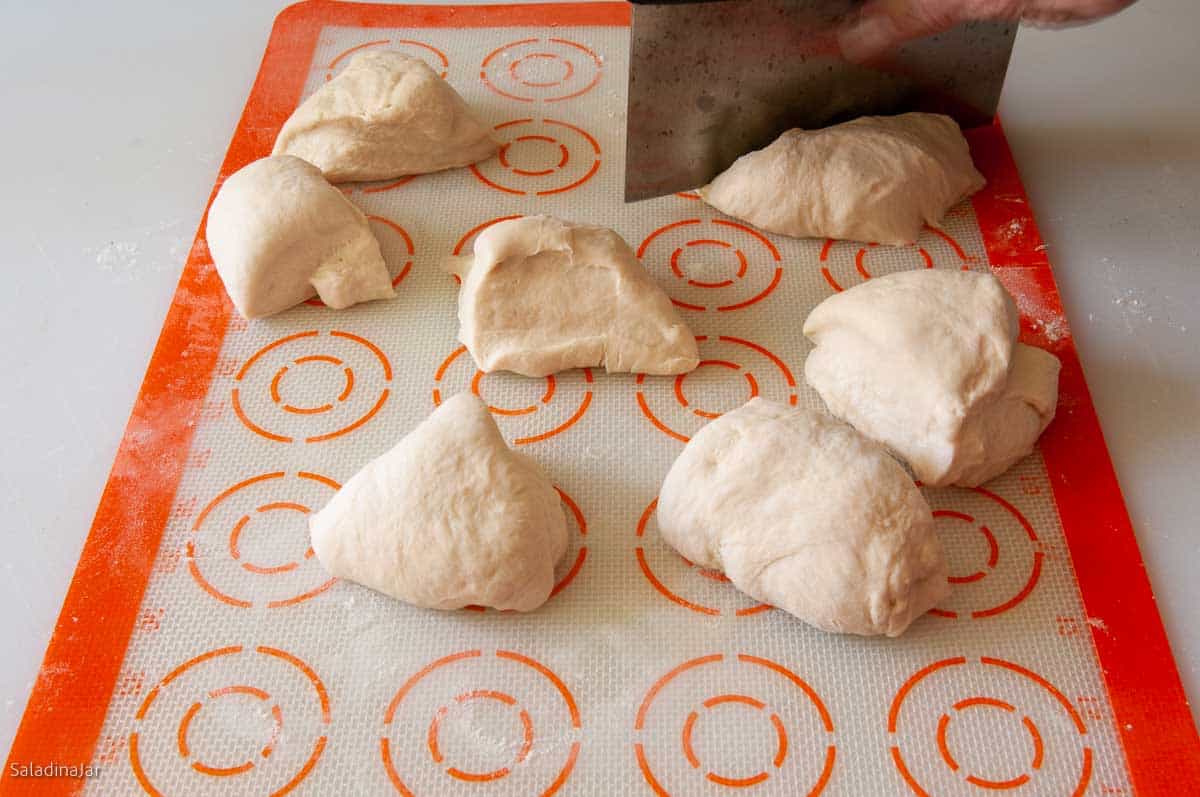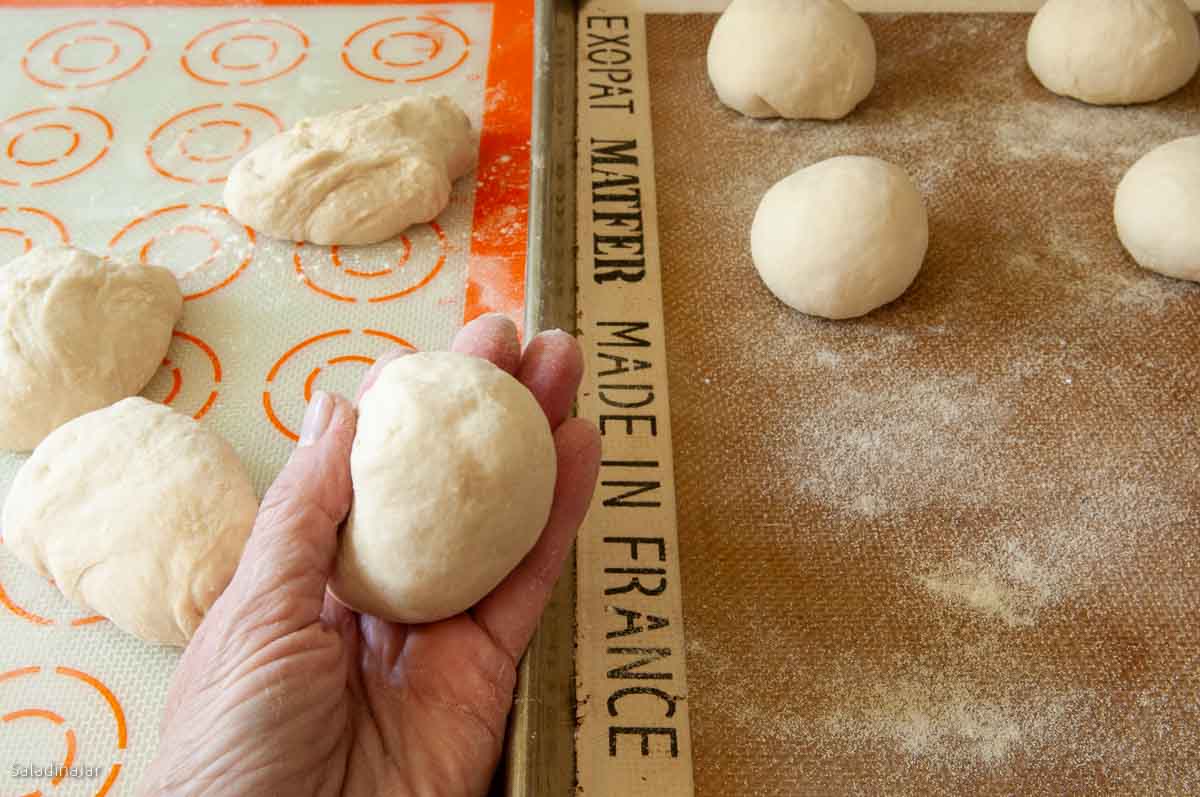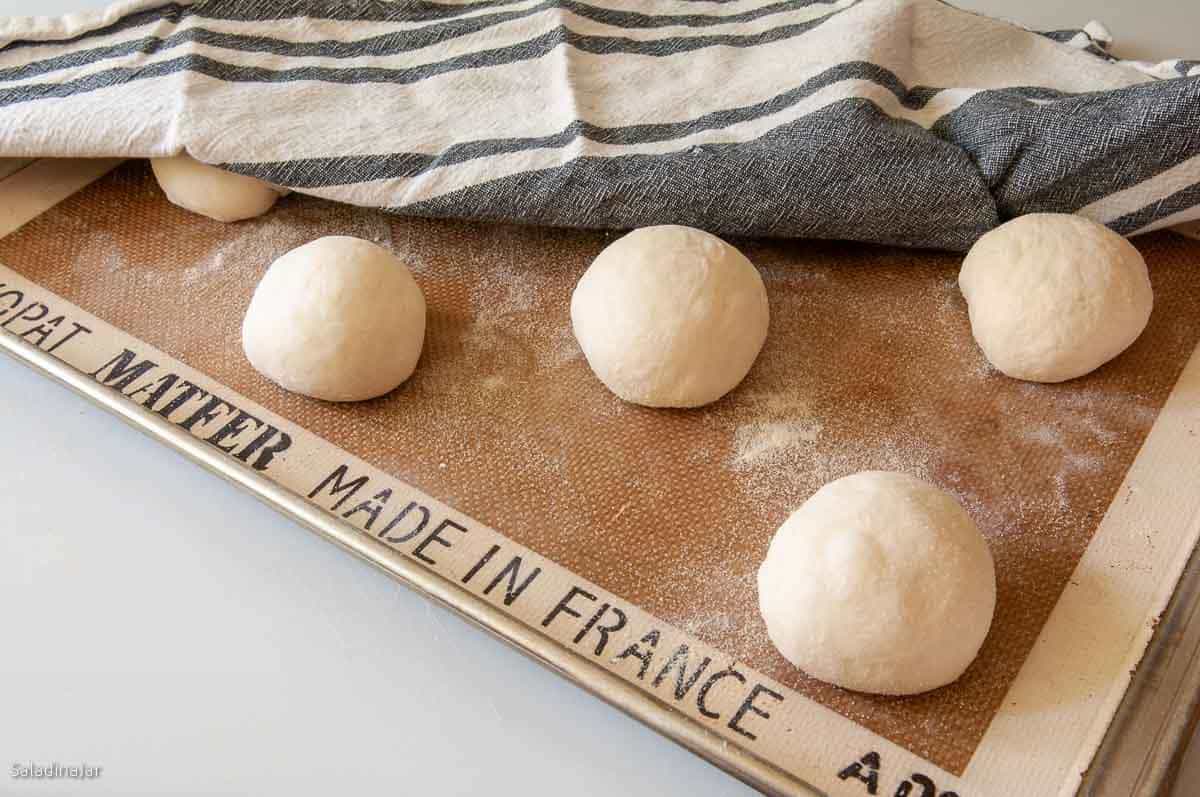 Preheat your oven to 375˚F (190˚C) about 15 minutes before you think the rolls will be ready.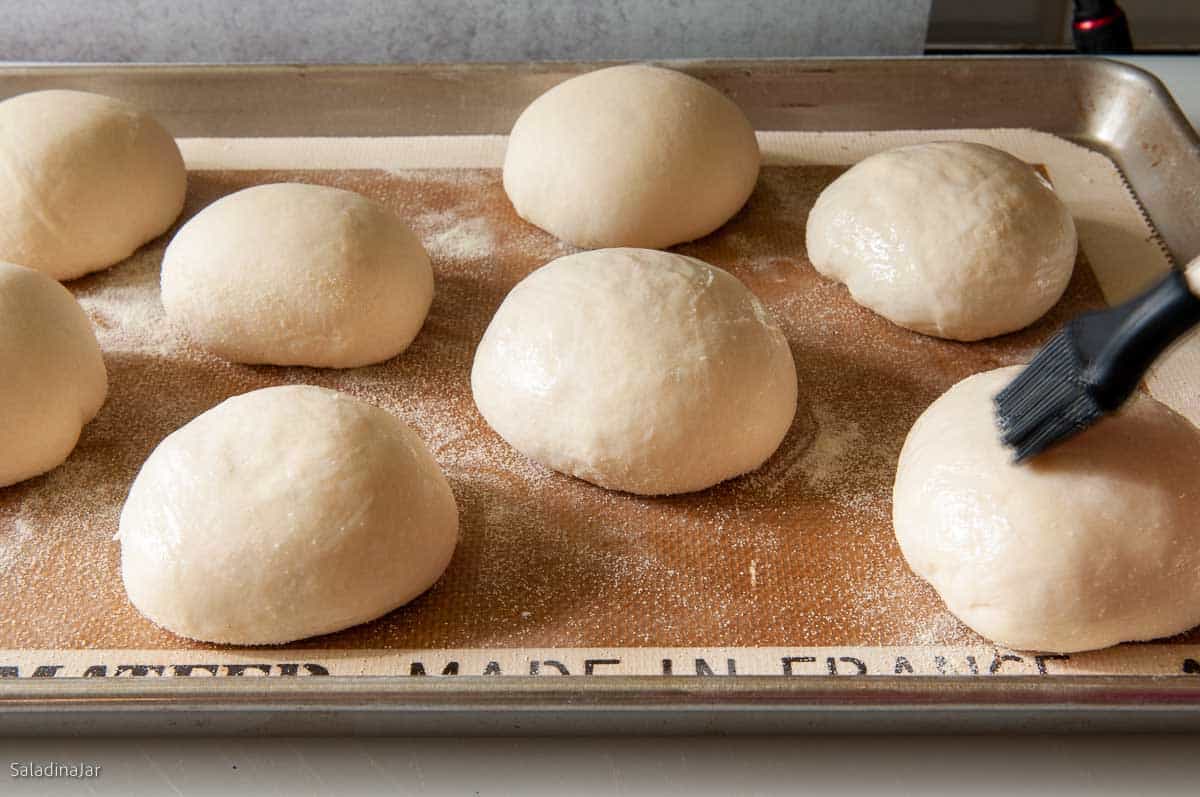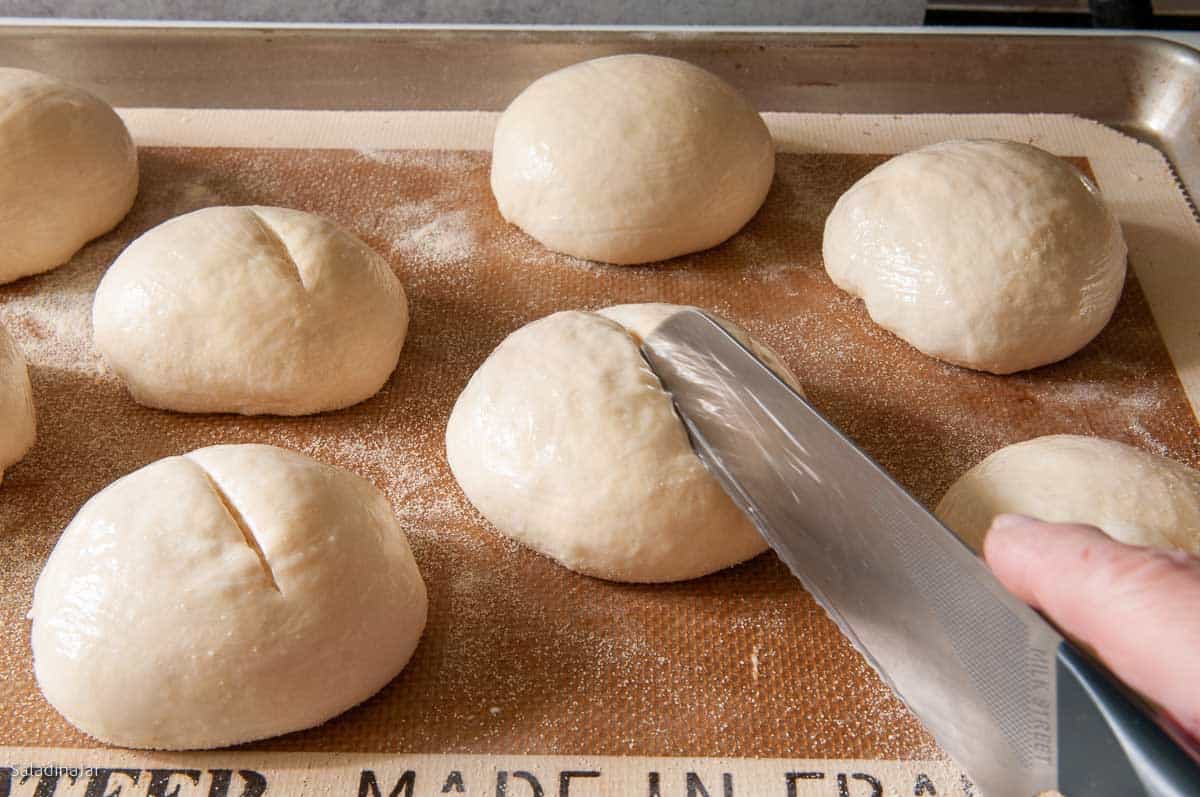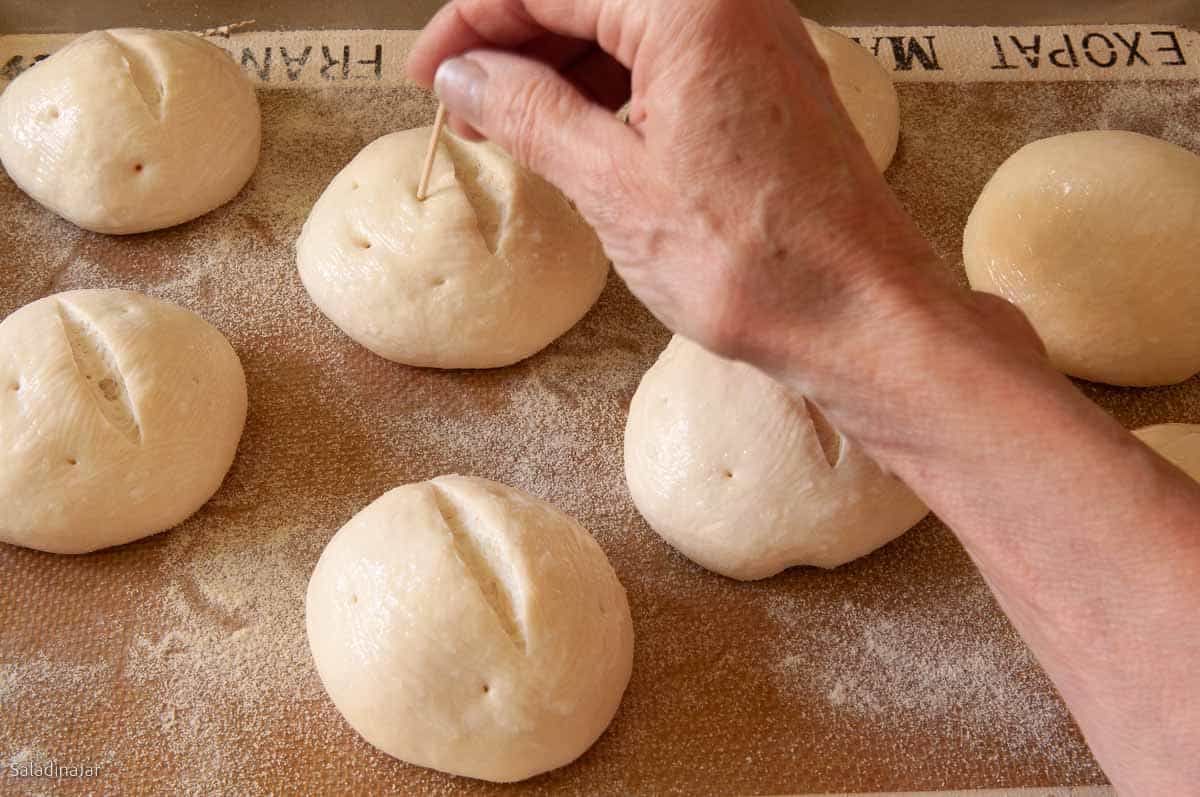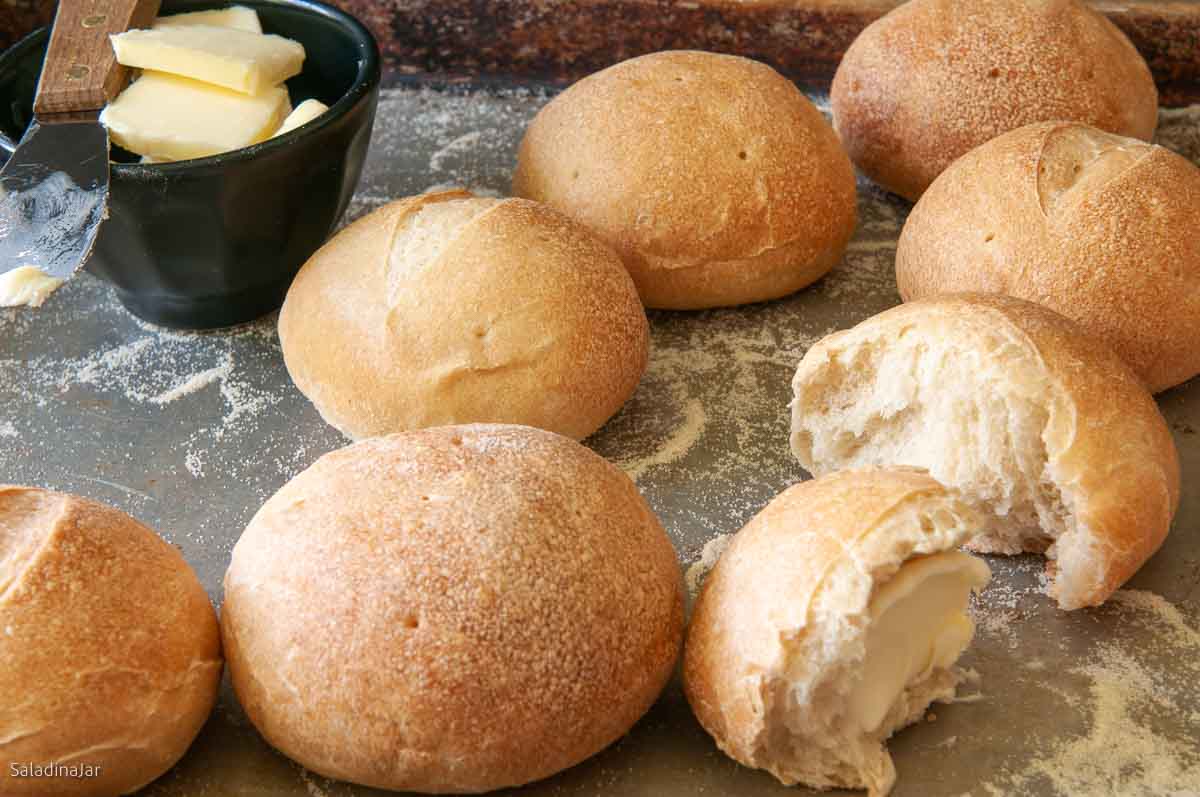 ---
FAQ about French bread dinner rolls:
How do I re-crisp French roll bread?
Give your baked rolls a quick trip back into the oven just before dinner to re-crisp. Warm the rolls for about 5 minutes at 400˚F. Turn off the oven, and leave the rolls inside for another 5 minutes. This technique also works in a toaster oven when reheating one or two rolls.
How can I avoid a mess when slicing crusty rolls or loaves?
See the picture below for a special slotted cutting board to catch the crumbs. It also makes a convenient cooling rack and/or serving tray. If you don't have such a tray, place your cutting board on a towel to catch the crumbs.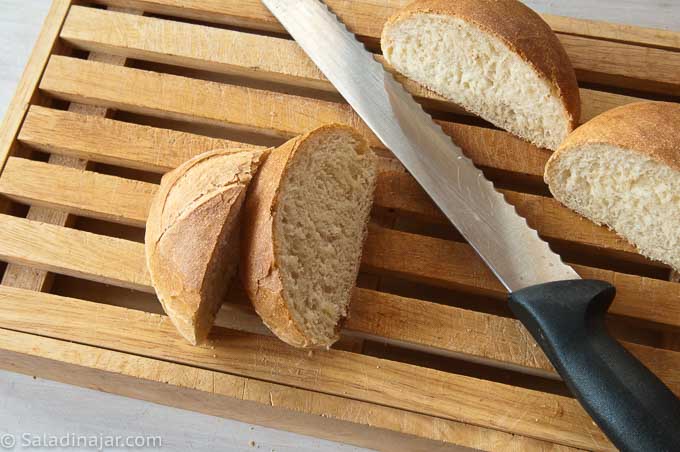 Pin
Can I freeze these rolls?
Yes. Double-wrap them to prevent freezer burn and eat them within a month for the best flavor.
---
Parting Thoughts: If you like this roll recipe, you will also love my popular French bread recipe: Crusty French Loaf. Don't miss these if you want chewy sourdough rolls with a crunchy crust. Both are mixed in a bread machine, then baked in a conventional oven for the best homemade bread you'll be proud to share.
This recipe was closely adapted from my favorite bread machine cookbook, "One Hundred Years of Bread" by Sidney Brockman Carlisle.
If you have questions or suggestions, email me privately for a quick answer: Paula at saladinajar.com. Hope to see you again soon!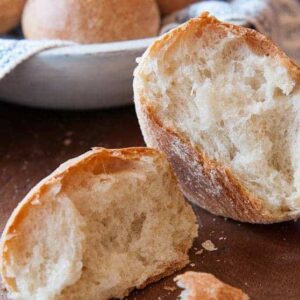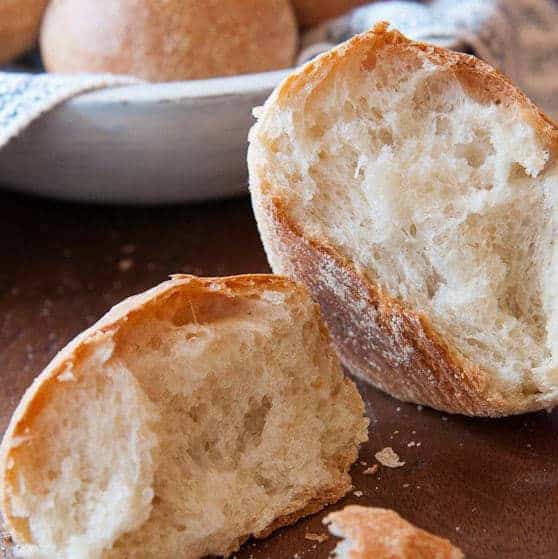 Really Crusty Bread Machine Rolls Recipe
I can think of no better accompaniment for stew, gumbo, or chowder than these Crusty dinner rolls with a soft interior. Cornstarch glaze is the secret.
Rate this recipe here
Ingredients
Dough
1

cup

water

-

227 gr

1

tablespoon

olive oil

-

13 gr

1-1/2

teaspoon

table or sea salt

-

9 gr

2

teaspoons

granulated sugar

-

8 gr

1-1/2

cup

all-purpose unbleached flour

-

180 gr

1-1/2

cup

bread flour

-

180 gr

1

teaspoon

bread machine or instant yeast

-

3 gr
Glaze
¼

cup

water

-

57 gr

½

teaspoon

cornstarch

-

1.25
Instructions
Dough:
Pour cool water into your bread machine pan with the blade in place.

Add olive oil, salt, sugar, flour, and yeast to the pan. Select the DOUGH cycle and press START.

Check the dough at least twice during the mixing and kneading phase by lifting the lid to take a peek. The first time, look immediately after the machine starts mixing to ensure the paddles are engaged correctly.

Look again 15 minutes into the DOUGH cycle to assess the consistency of the dough. For most recipes, the dough should stick to the side, then pull away cleanly.

If your dough is too wet, add flour one tablespoon at a time.

Conversely, if the dough is too dry, add one tablespoon of liquid at a time until the dough looks just right. Read more about this surprising secret to success with a bread machine here.
Shaping the rolls:
When the DOUGH cycle is finished, if the dough has doubled in size, remove it from the pan to a floured surface. If the dough has not risen enough, leave it in the machine until it does before proceeding.

For dinner rolls, divide the dough in half (2 pieces), then cut each half (4 pieces), and finally, divide those 4 pieces in half again resulting in 8 rolls.

Cover a cookie baking sheet with a silicone baking mat or parchment paper. Lightly scatter cornmeal over the sheet before placing the round dough balls onto the cookie sheet–evenly spaced from each other.

Cover dough balls with a tea towel and set them in a warm place for about 45 minutes or until risen almost double.

Preheat oven to 375˚F (190˚C).
Making the glaze:
Mix the water and cornstarch in a 2-cup pyrex container and heat in a microwave for 2+ minutes on HIGH or until thick. Whisk it well.
Preparing the rolls for baking:
Brush rolls with cooled cornstarch glaze. Use a serrated knife to make a small gash in the top, if desired, but it's not required.

Use a toothpick to poke 5 or 6 holes in each roll. Don't worry if the roll looks deflated. It will pop right back when it hits the oven.

Bake for 35 minutes until the crust is crisp and brown.

Move the rolls to a wire rack to cool.
Notes
To my fellow yogurt-makers: For a faux sourdough flavor, try substituting whey drained off yogurt to produce Greek yogurt for the water in this recipe.
Directions for making bread with a stand mixer or by hand:

To make this recipe in a heavy-duty stand mixer: Add ingredients to the bowl in the same order. Turn on LOW to mix until all ingredients are moistened. Then, using a dough hook, turn the speed to 2 or 3. Continue beating/kneading until dough becomes smooth and elastic (about 5-10 minutes). Cover and allow to rise in a warm place. Deflate dough gently and shape as indicated in the recipe.
If making by hand: Combine all ingredients into a shaggy ball in a large bowl. Turn dough out onto a floured surface. Knead with your hands until the dough becomes smooth and elastic. Kneading will likely take 10-20 minutes, depending on your experience. Place the dough ball into a greased bowl. Cover and allow to rise until double. Deflate the dough gently and shape as indicated in the recipe.
Please note: If you only have active dry yeast, use 1/4 teaspoon more than called for in the recipe.

It no longer needs to be dissolved first

, but you can if you prefer.
Nutrition
Serving:
1
roll
|
Calories:
78
kcal
|
Carbohydrates:
13
g
|
Protein:
2
g
|
Fat:
2
g
|
Saturated Fat:
1
g
|
Polyunsaturated Fat:
1
g
|
Monounsaturated Fat:
1
g
|
Sodium:
148
mg
|
Potassium:
31
mg
|
Fiber:
1
g
|
Sugar:
1
g
|
Vitamin A:
1
IU
|
Vitamin C:
1
mg
|
Calcium:
4
mg
|
Iron:
1
mg
Did you try this recipe?
If you loved it, don't forget to leave a 5-star rating 🌟🌟🌟🌟🌟 at the top of the recipe card. Thanks so much for taking the time to do that!