Preview: Make these really Crusty Rolls with the help of your bread machine. They have a crusty exterior with a soft and chewy interior. A simple glaze contains the secret.
Who can resist a freshly-baked yeast roll with a thin, crisp, crackly, crumbly crust surrounding soft and chewy bread? Not me, for sure. Show me some marshmallow-soft salted butter, and I'm good for dinner.
These rolls carry a secret. Keep reading to find out how easy it is to get a crackly crust on your rolls.
Warning: These crusty rolls can be messy. Crumbs may scatter everywhere as you slice or tear these rolls, but I have a solution. See below.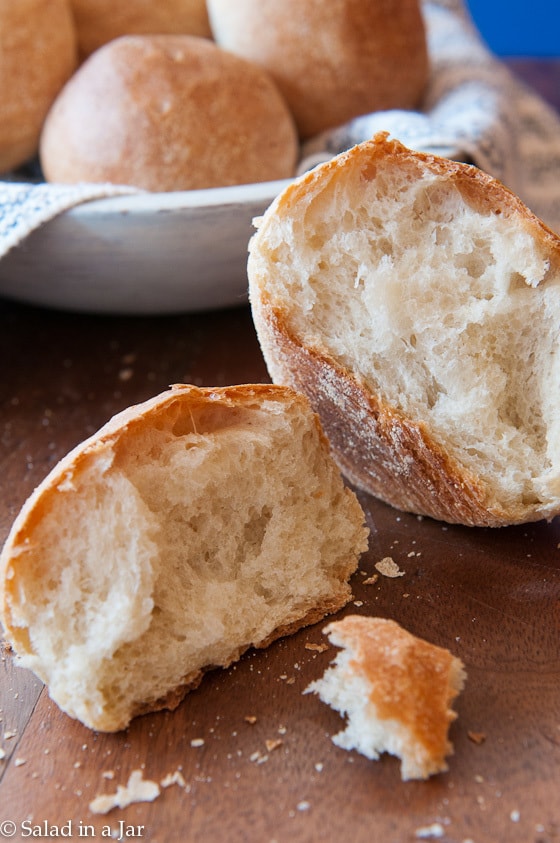 ---
How can I avoid a mess when slicing crusty rolls or loaves?
See the picture below for a special slotted cutting board designed to catch the crumbs? It also makes a convenient cooling rack and/or serving tray.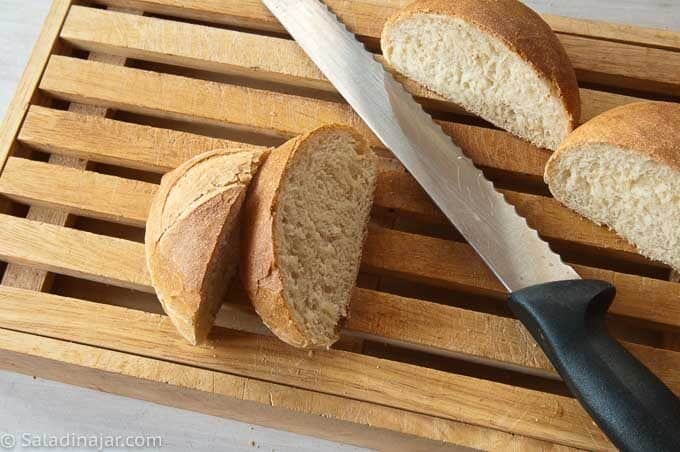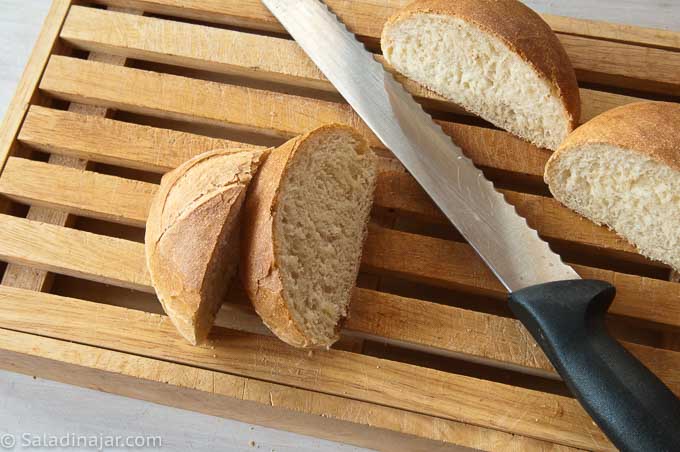 What's the secret to the crispy crust?
The glaze is a cornstarch and water mixture, microwaved until thick, then cooled. For me, it's easier than spraying water into my oven or using oven tiles or other special equipment to produce crusty bread.
You'll want to eat Crusty Bread Rolls hot out of the oven. Whatever you don't eat the first go-round should get a quick trip back into the oven just before dinner to re-crisp. Bake about 5 minutes at 400 degrees Fahrenheit.
Turn off the oven, and leave the rolls inside for another 5 minutes. Works great in a toaster oven, too, when you are only doing one or two rolls.
Part Two: How to make bread bowls with this recipe.
---
Don't miss these recipes if you like crusty bread:
---
Did you enjoy this recipe? Help others (and me). Leave a rating on the recipe card itself underneath the picture. No comment required. Thank you.

Hope to see you again soon!
Paula
p.s. Questions or suggestions? Email me: paula at saladinajar.com.
---
"Why is my bread dense?"
Download a FREE printable guide to help you diagnose the cause of dense bread when you sign up to receive my free updates and exclusive bread-making tips in your inbox.
Don't worry. I won't share your address. Unsubscribe any time.
---
Yield: 8 large rolls
Crusty Bread Machine Rolls Recipe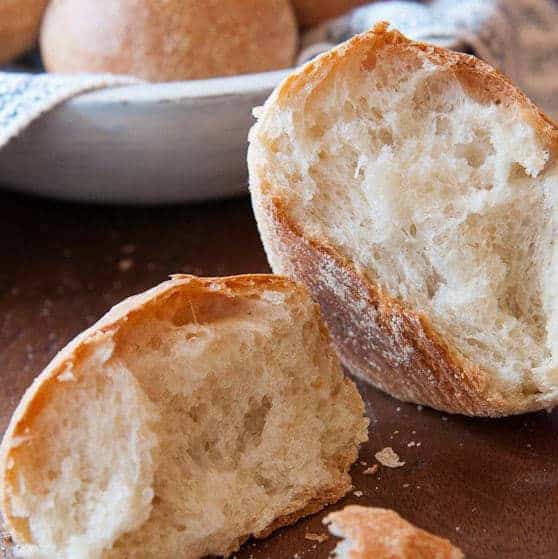 Crusty dinner rolls with a soft interior--cornstarch glaze is the secret.
Prep Time
2 hours
30 minutes
Total Time
3 hours
5 minutes
Ingredients
1 cup water
1 tablespoon olive oil
1-1/2 teaspoon salt
1 -1/2 teaspoon sugar
1-1/2 cup all-purpose unbleached flour
1-1/2 cup bread flour
1 teaspoon bread machine or instant yeast
Glaze
1/4 cup water + 1/2 teaspoon cornstarch mixed in 2 cup pyrex container and heated in a microwave for 20 seconds on HIGH or until thick.
Instructions
Heat 1 cup tap water in the microwave on HIGH for 1 minute. Pour into bread machine pan with the blade in place.
Add olive oil, salt, sugar, flour, and yeast to the pan. Select the dough cycle. After 5 minutes, check the dough. It should stick to the side and pull away. Add flour ,1 tablespoon at a time if the dough is too sticky, or add water 1 tablespoon at a time if dough is too dry (dough slaps against the side)
When dough cycle has finished and bread has risen to double the original size, remove the dough onto a floured surface.
For dinner rolls divide dough in half (2 pieces), then cut each half in half (4 pieces) and finally, divide each of those pieces in half again resulting in 8 rolls. Form into balls.
Cover a cookie baking sheet with a silicone baking mat or parchment paper. Lightly scatter cornmeal over the sheet before placing the round dough balls onto the cookie sheet--evenly spaced from each other.
Cover dough balls with a tea towel and set in a warm place for about 45 minutes or until risen almost double.
Brush rolls with cooled cornstarch glaze. Use a serrated knife to make a small gash in the top, if desired, but it's not required.
Bake in 375 degree pre-heated oven for 35 minutes until crust is crisp and brown.
Notes
To my fellow yogurt-makers: For a faux sourdough flavor, try substituting whey drained off yogurt to produce Greek yogurt for the water in this recipe.
Directions for making bread with a stand mixer or by hand:
To make this recipe in a heavy-duty stand mixer, add ingredients to the bowl in the same order. Turn on low to mix until all ingredients are moistened. Using dough hook, turn speed to 2 or 3 and continue beating/kneading until dough becomes smooth and elastic, about 5-10 minutes. Cover and allow to rise in a warm place. Deflate dough gently and shape rolls as indicated in recipe.
If making by hand, combine all ingredients into a shaggy ball in a large bowl. Turn dough out on a floured surface and knead with your hands until dough becomes smooth and elastic, a process that will likely take 10-20 minutes depending on your experience. Place dough ball into a greased bowl. Cover and allow to rise until double. Deflate dough gently and shape rolls as indicated in recipe
Please note: If you substitute regular yeast for instant or bread machine yeast, you must dissolve it first before adding to the dry ingredients. Stir it into about 1/4 cup of the lukewarm liquid called for in the recipe. Let sit for about 10 minutes. Add to other wet ingredients and then add dry ingredients. Proceed as directed to knead and shape rolls.
Recommended Products
As an Amazon Associate, I earn from qualifying purchases. But don't worry. This doesn't change the price you pay.
Nutrition Information:
Yield:
8
Serving Size:
1 roll
Amount Per Serving:
Calories:

170
Total Fat:

2g
Saturated Fat:

0g
Trans Fat:

0g
Unsaturated Fat:

2g
Cholesterol:

0mg
Sodium:

399mg
Carbohydrates:

32g
Fiber:

1g
Sugar:

1g
Protein:

5g