Bread Machine Hot Cross Buns: Make Good Friday Special
Sneak Preview: Make these Bread Machine Hot Cross Buns easily with your bread machine. Spices and raisins or currants combine to make these traditional rolls good eating on Good Friday. See the substitute list if you want to make them non-dairy.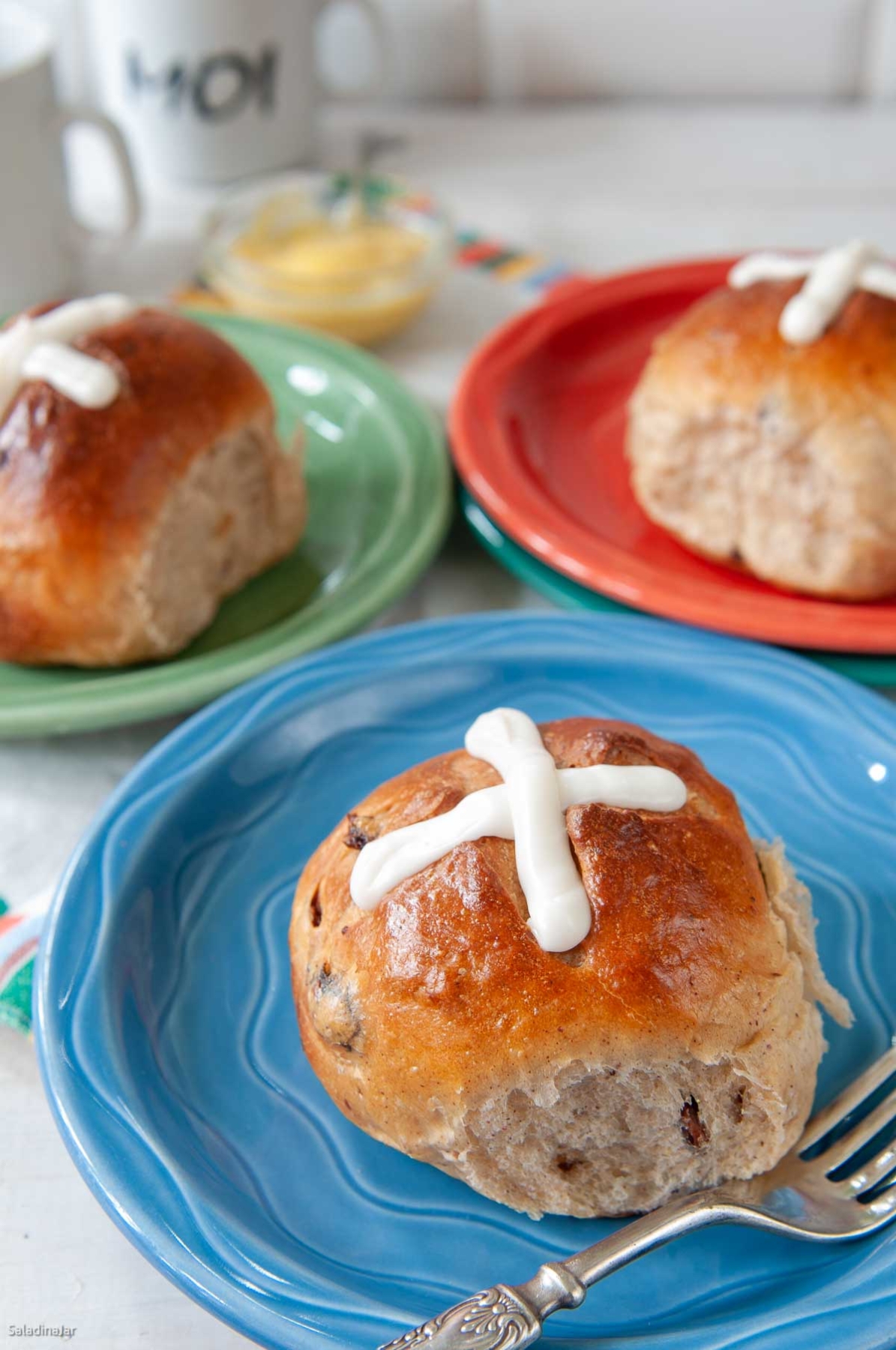 As an Amazon Associate, I earn from qualifying purchases.
Do you have memories connected with Hot Cross Buns? One of my co-workers brought them to work every year on the Friday before Easter. I still think of her on Good Friday although I haven't seen her in years. Food is like that.
These rolls come with many traditions in addition to the familiar nursery rhyme–one a penny, two a penny, Hot Cross Buns. Maybe that's what you think of at the mention of Hot Cross Buns.
It probably comes as no surprise that most Hot Cross Buns from the grocery store don't hold a candle to the ones you make yourself. These buns are even easier with a bread machine, although I will include directions in the recipe notes below for making them with a stand mixer or by hand if you prefer.
The "apple pie spices" set these sweet rolls apart from the average raisin roll. The recipe calls for cinnamon, allspice, nutmeg, and cloves. You can make it easy and buy "apple pie spice" found in the spice aisle at the supermarket or pick and choose the spices you like and have on hand. Go easy with the nutmeg and cloves, as they have a strong flavor.
If you don't have any of the spices mentioned, leave them out.
If you don't want icing, leave it off. Slashing the dough will still leave a cross imprint.
If you don't like raisins, try dried cranberries or cherries, currants, or nothing. Baker's choice.
If you don't want dairy, see the substitute list below.
If you don't want as much sugar, reduce the amount to one tablespoon, leave out the raisins, and of course, the icing.
If you don't want to use 100% white flour, substitute up to a cup of white flour with whole wheat flour.
My favorite dinner roll recipe, Classic Dinner Rolls, is the foundation for these buns. If you are a fan of my Tanghzong Dinner Rolls, you could use that recipe instead by adding the raisins and spices to that recipe. It will taste the same, but that recipe tends to stay fresh and softer a couple of days longer.
---
Ingredients and substitutions: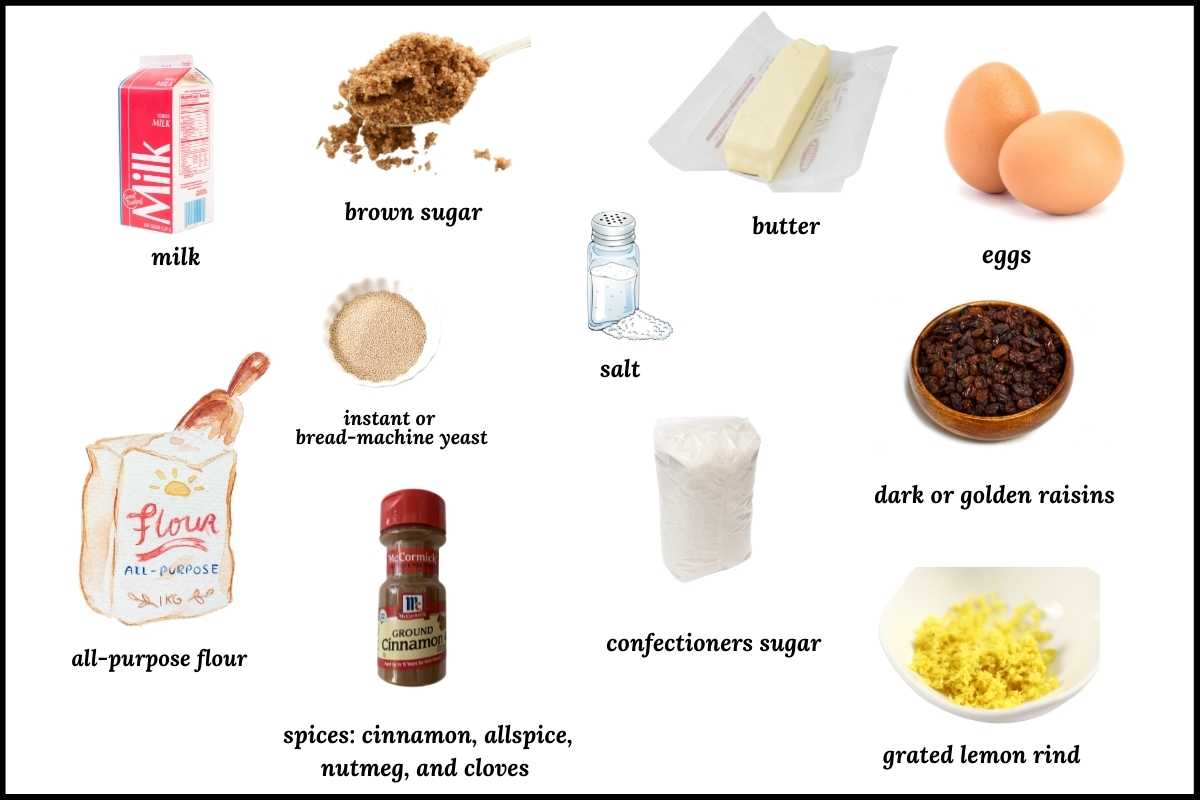 MILK: Any kind of milk will work, but the higher the fat content, the richer and more delicious the bread. Substitute water or non-dairy milk like soy milk or cashew milk if you want to avoid dairy.

BUTTER: Although the recipe calls for unsalted butter, you can use salted butter if that's what you have. Reduce the salt by half. Substitutes include non-dairy butter, shortening, or vegetable oil.

EGG: I develop all of my recipes using large-size eggs. If you want to use a different size, add more liquid if using medium eggs and less if using extra large eggs.

SALT: Use table or sea salt. If you prefer Kosher salt, add 1/4 teaspoon extra. Please don't leave out the salt completely. Your rolls will be bland. More importantly, salt prevents yeast from eating too fast and using up all the energy before the rolls bake. You can experiment with cutting back, but cutting the salt out altogether is not recommended.

SUGAR: Brown sugar is traditional. Use granulated white sugar if you don't have brown sugar. If you want to substitute honey, reduce the amount by a couple of teaspoons. Honey is sweeter than sugar. Also, honey is wetter. Check the dough as it kneads in the machine to see if you need to add more flour.

SPICES: Cinnamon is the traditional spice used in Hot Cross Buns. However, many people also use nutmeg, allspice, cloves, or cardamom. My shortcut is to keep apple pie spice in the pantry. It's perfect for homemade applesauce and these Microwave Cinnamon Apples. Of course, the rolls will still be tasty even if you don't add any spices. Feel free to experiment–always our prerogative as the baker.

FLOUR: I like the softness of rolls made with all-purpose flour. However, these rolls are excellent with bread flour, too. Are you trying to eat more whole grains? Substitute up to half of the flour with whole wheat flour. (Don't expect them to be as light or fluffy as they are with all white flour.) Sometimes, I substitute two tablespoons of whole wheat flour for the same amount of white flour. It adds a little color and flavor, but it's not enough to make the rolls dense.

YEAST: My first choice is bread machine or instant yeast. If you want to use active dry yeast, add about 1/4 teaspoon extra as it is a bit slower on the uptake.

RAISINS or CURRANTS: Substitute dried cranberries, dried cherries, or chopped dates. Or leave the dried fruit out altogether.

GRATED LEMON RIND: Use the grated rind of a small lemon. Or use a small orange if that's what you have on hand. Another option is to sprinkle lemon oil over the raisins. You could also use lemon extract, but use it sparingly unless you like lemon buns.

*COST-SAVING TIP: The next time you need to squeeze some lemon juice, take a minute to grate the rind before cutting the lemon. Drop the grated rind into a snack-size baggie and throw it into the freezer for the next time you need it.

How do you shape the dough into smooth balls?
I don't make the dough into balls the same way Betty Crocker does. Rolling them with my palm on a flat surface doesn't work for me. I prefer to pinch the dough from the top to make it smooth. It's difficult to explain the process. If you haven't seen it before, here's a slightly dorky video I made years ago to show you my simple technique. In the end, do whatever works for you. If this link doesn't work for you, try this link on YouTube: https://youtu.be/mPcQY8cbGqA.
How to make Bread Machine Hot Cross Buns:
Add all the dough ingredients except raisins or currants. Measuring the ingredients straight into the bread saves time as long are you remember to zero out the weight after each ingredient.
Select the DOUGH cycle, then press START. Open the lid and make sure the paddles are engaged and mixing the dough. Within the first five minutes, the dough should start to come together in a clumpy ball.
After 12-15 minutes, the dough should stick to the sides, then pull away. If it is too dry (bounces off the wall or rides on top of the paddle), add more liquid a tablespoon at a time and use a spatula to help it incorporate into the dough. If the dough is too wet and won't pull away from the side, add more flour a tablespoon at a time until it looks like the dough in the picture above.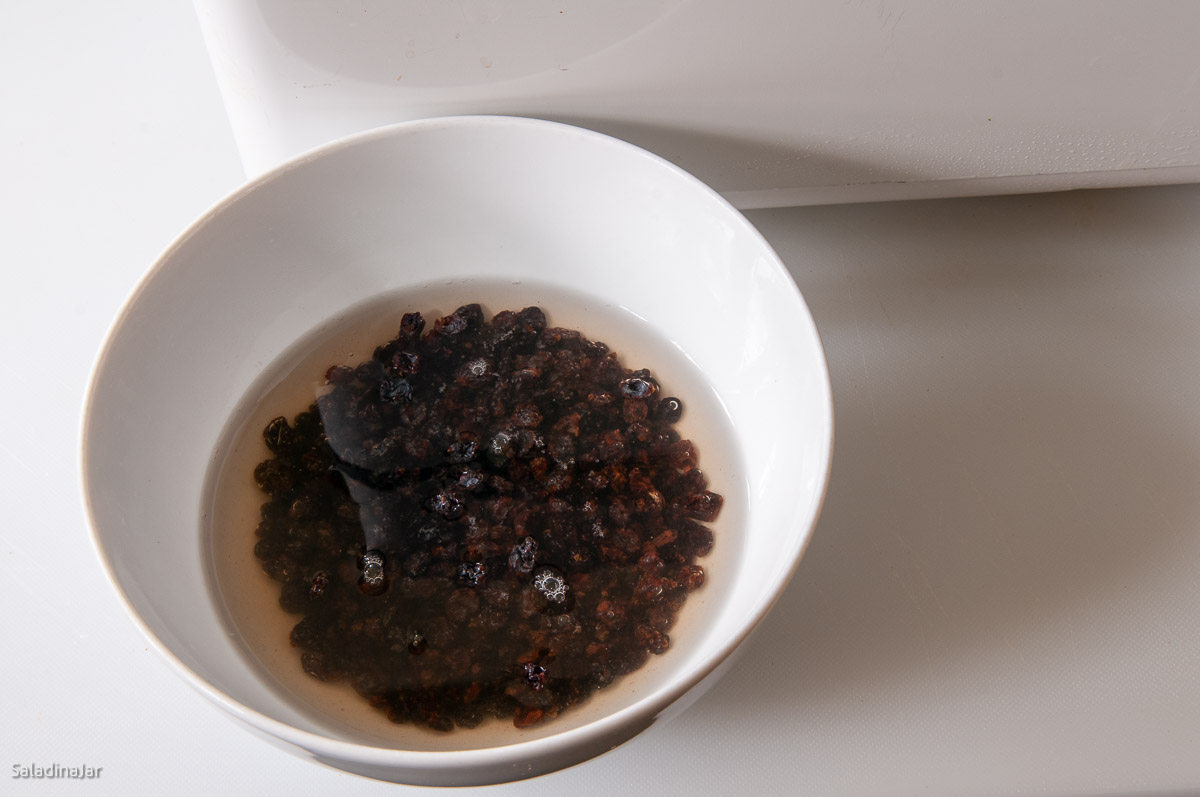 Meanwhile, drain the raisins or currants that you soaked in hot water and squeeze as much water out of them as possible. Add to the dough when the machine beeps that it's time for add-ins. If you forget, knead them in by hand at the end of the DOUGH cycle.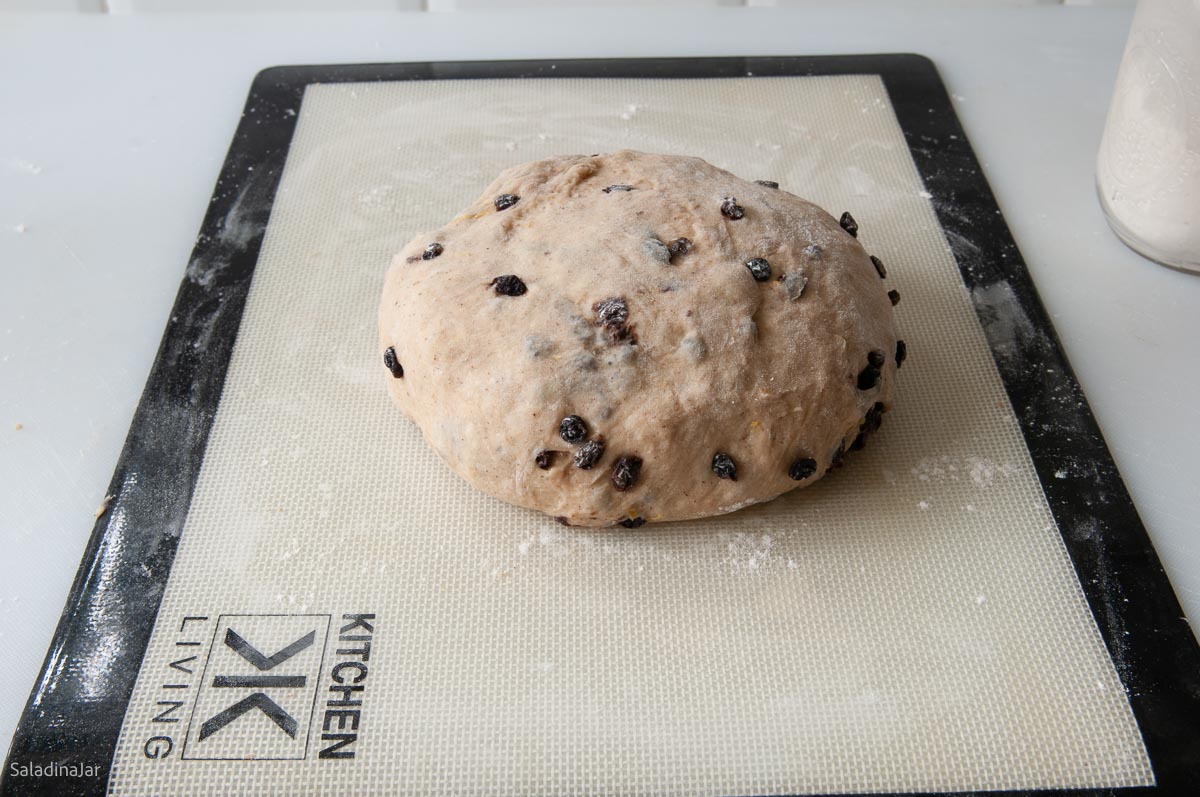 When the DOUGH cycle finishes, check to make sure the dough has doubled in size. If not, leave it in the machine until it does. Then remove the dough from the bread machine pan onto a floured surface. I like to use a silicone mat because you can throw it into the dishwasher when you're done. Knead the dough lightly to push out any big bubbles and form into a rough ball.
Divide the dough into twelve equally-sized portions with a bench scraper if you have one. Shape each portion into a ball. See the video above.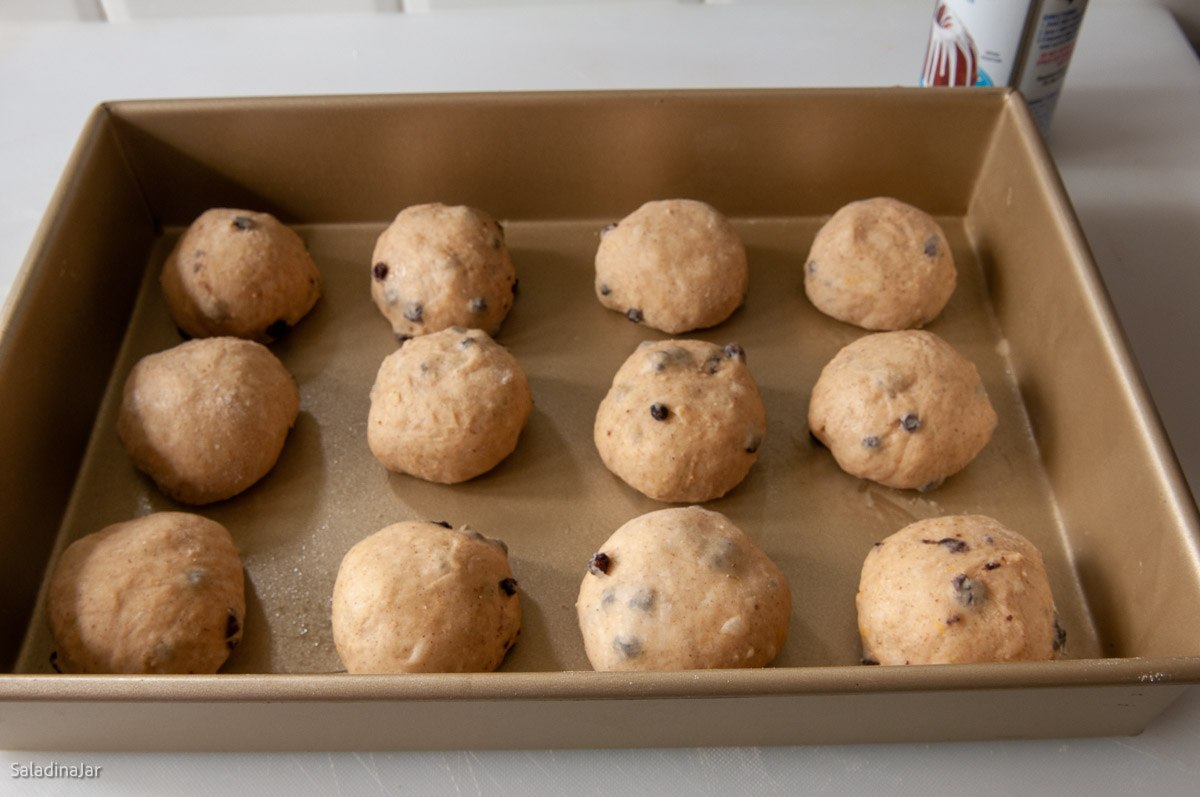 Place rolls into a greased 9×13-inch rectangular pan. Cover with a tea towel and place in a warm place to rise. Rolls should increase in size until they are all touching each other.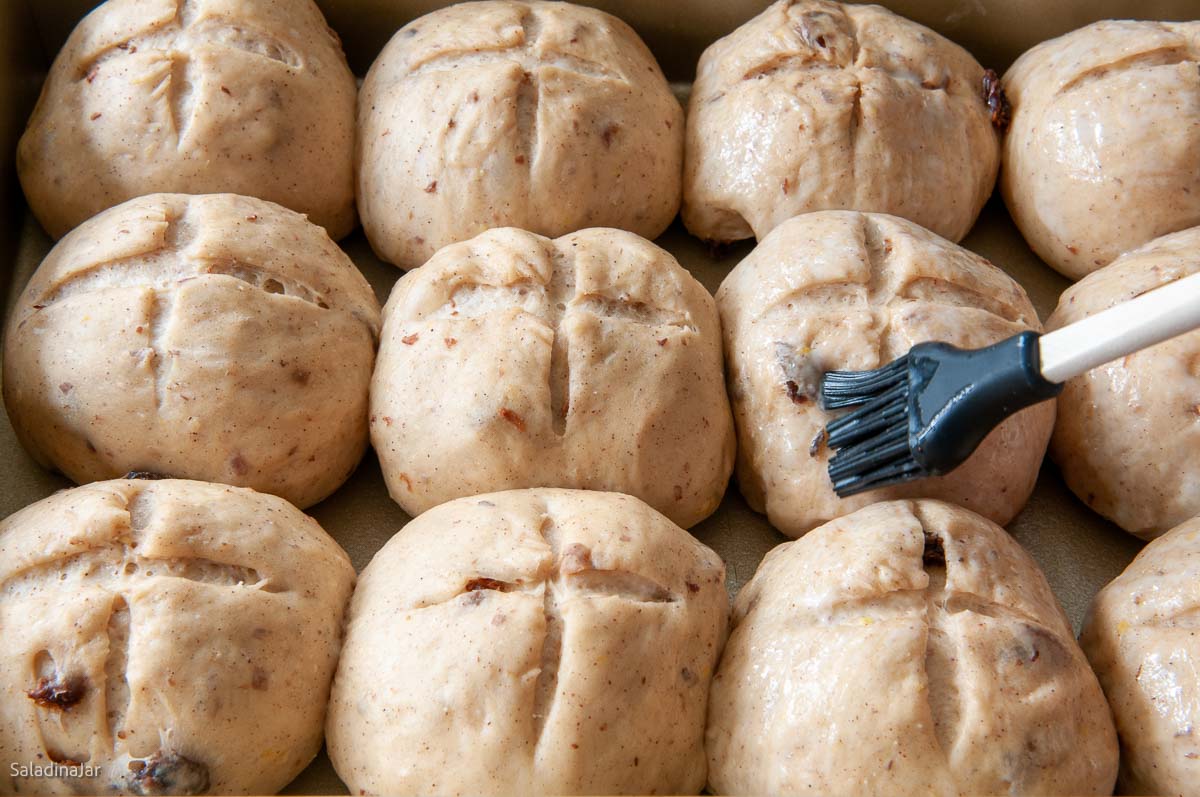 Slash rolls with a sharp serrated knife, a razor blade, or a lame to the shape of a cross as pictured. Brush each roll with the glaze. Try not to let it drip onto the bottom of the pan, as it will make it more difficult to remove the rolls after baking.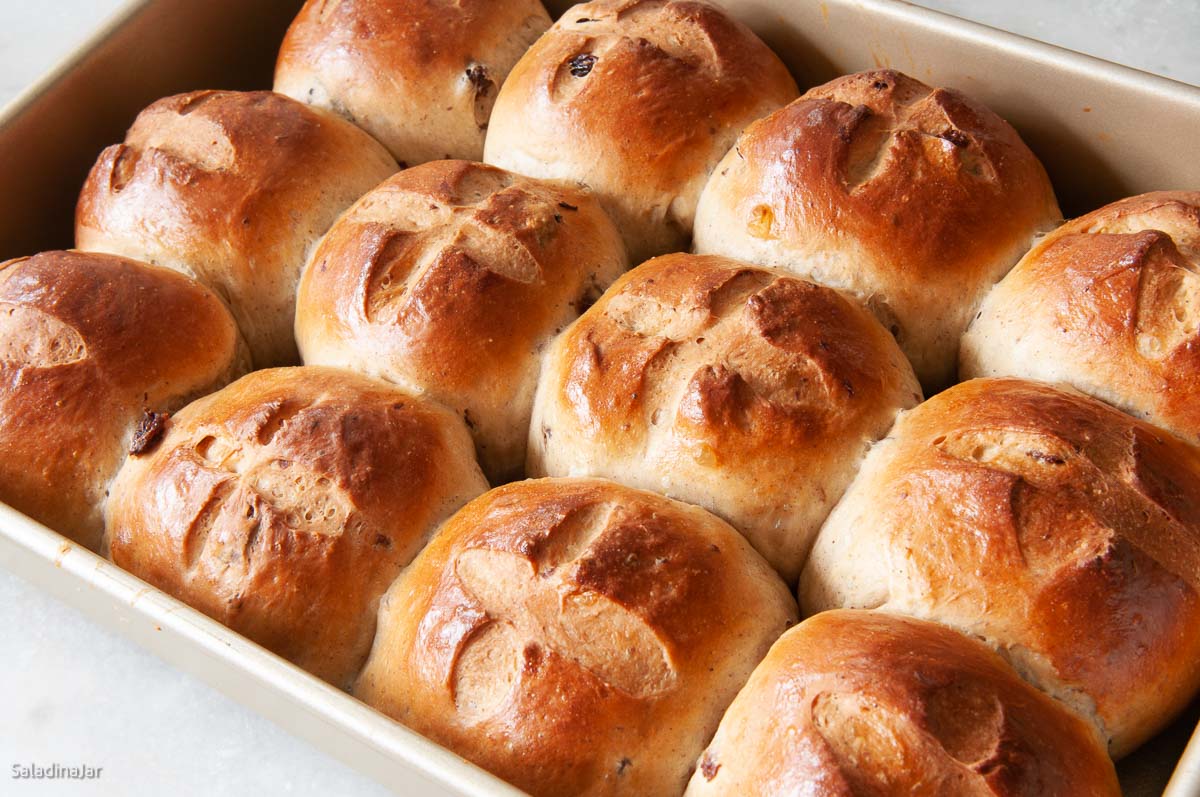 Bake in a 350˚F or 180˚C oven for 20 minutes or until the rolls reach an internal temperature of 190˚F or 88˚C.
After the rolls cool for a few minutes, frost them according to the directions in the recipe if desired. I use a small zippered bag with the corner snipped to hold the frosting. Then, push it out with your hands like you would use a decorator's bag. If everybody is in a big hurry to eat, you could use a spoon to drip the icing over the top.
FAQ about Hot Cross Buns
Can I make the dough ahead of time?
Yes. You have a couple of choices.

1. Mix up the dough on the DOUGH cycle. When the cycle finishes, remove the dough and drop it into a large mixing bowl, cover, and store it in the fridge until you are ready to shape the rolls. Let them rise a final time before baking according to the directions.
2. Mix up the dough on the DOUGH cycle. When the cycle finishes, remove the dough onto a floured surface. Shape the rolls by hand and arrange them in your pan. Cover and refrigerate overnight. When ready to bake the rolls, take them out of the refrigerator and allow them to come to room temperature and become puffy. They may not double in size, but they should be touching one another. Slash, glaze, and bake them according to the recipe instructions.

Refrigerating dough can make them taste more yeasty. Unless you like that, I wouldn't refrigerate the dough any longer than 12-24 hours.
Can I make this recipe non-dairy?
Yes. Substitute almond milk, cashew milk, or soy milk, or use water. For the butter, try a plant-based butter, shortening (like Crisco), or vegetable oil.
What kind of glaze can I use to make the rolls softer on the outside?
Substitute a whole egg or an egg yolk for the egg white. Substituting heavy cream for the milk will also make a softer crust.
How can I make a cross on top without using frosting?
Slash the rolls with a cross shape on top. The rolls will expand as they bake to reveal a cross design as seen in the pictures above. You can also make a flour and water paste and paint it on top of the rolls in the shape of a cross before baking.
Do I need to warm all ingredients before adding them to the bread machine?
You can if you like. However, it is not absolutely necessary. The friction of the kneading paddles will warm up the ingredients. If you're not convinced, try sticking a quick-read thermometer into the dough at the end of the kneading phase.
Does the butter need to be soft before I add it?
It's nice if the butter is room temperature, but I can't seem to remember to get it out of the fridge ahead of time. I get around this by quickly chopping the butter into small pieces before adding it to the bread machine pan. This keeps the butter from coating the yeast at the beginning of the mixing phase. However, the friction of the paddles will soften and melt the butter into the dough within a few minutes. You don't ever want to add melted butter to the pan as it might make your bread sticky and require more flour.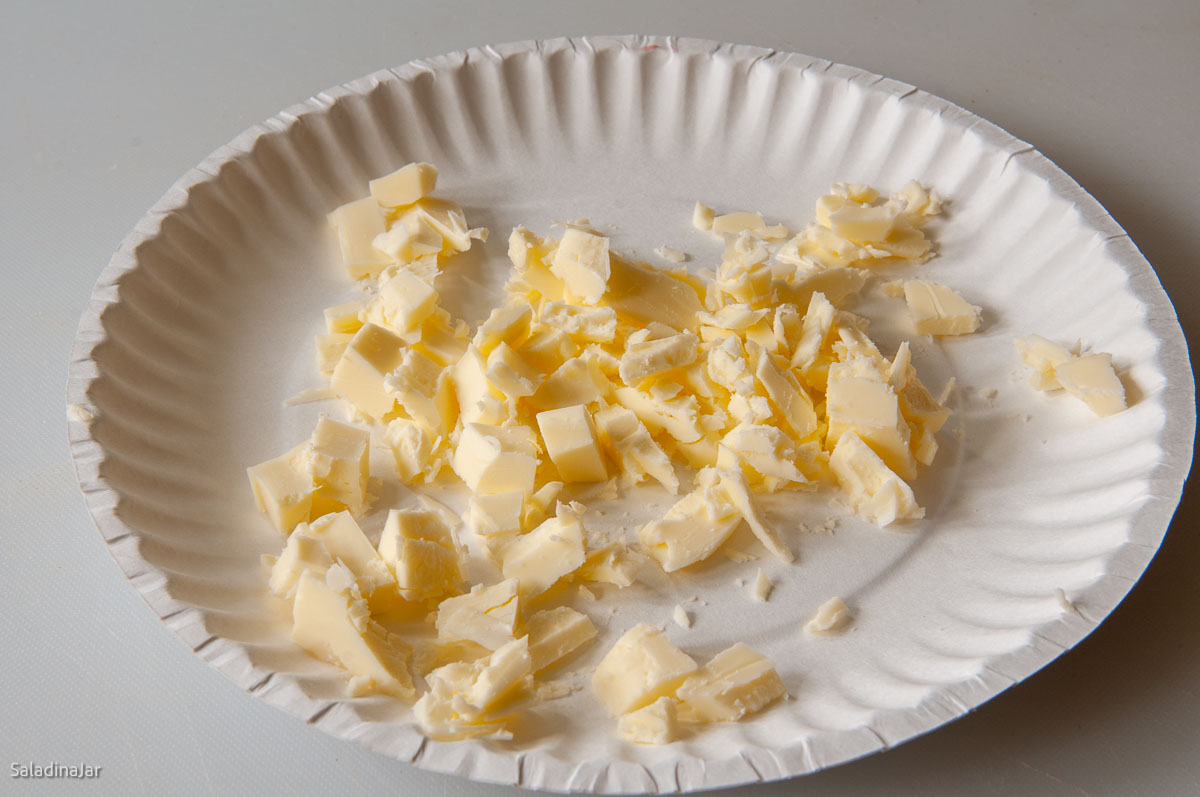 I don't know about you, but making these rolls inspires me to sing and clap to "Hot Cross Buns." I hope you have fun with them.
If you have questions or suggestions, email me privately to Paula at saladinajar.com. Hope to see you again soon! Paula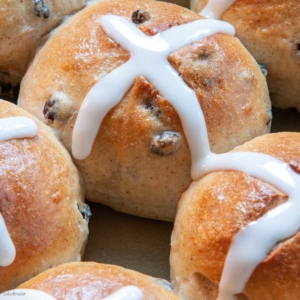 Bread Machine Hot Cross Buns
Get out your bread machine to make these traditional Hot Cross Buns–think apple pie spices inside a sweet dinner roll with a bit of icing on top.
Ingredients
Dough
⅞

cup

milk (7 oz)

-

(any kind, but whole milk is best) 198 gr

1

large egg

-

50 gr

1

large egg yolk

-

(save the egg white for the glaze)

3

tablespoons

brown sugar

-

36 gr

1

teaspoon

salt

-

6 gr

½

teaspoon

cinnamon

¼

teaspoon

allspice

⅛

teaspoon

nutmeg

⅛

teaspoon

cloves

¼

cup

unsalted butter

-

(finely chopped) 57 gr

2

teaspoons

grated rind of one lemon

-

(or grated rind of a small orange)

3

cups

unbleached all-purpose flour

-

360 gr

2¼

teaspoons

bread machine yeast

-

6 gr

½

cup

raisins or currants

-

95-142 gr
Glaze:
1

tablespoon

milk

-

14 gr

1

egg white from a large egg
Frosting
1

cup

powdered sugar

-

113 gr

½

teaspoon

vanilla extract

-

2.5 gr

1 +

tablespoon

(

ta

)

milk to make a thick icing

-

14 gr
Instructions
Pour hot water over a half cup of raisins or currants and let them soak while you assemble the dough.

Add ⅞ c milk, 1 egg, 1 egg yolk, 3 T brown sugar, 1 t salt, ½ t cinnamon, ¼ t allspice, ⅛ t nutmeg, ⅛ t cloves, ¼ c butter, 2 t grated rind, 3 c unbleached all-purpose flour, and 2¼ t instant yeast to the bread machine pan.

Select the DOUGH cycle, then press START.

Check the dough at least twice by lifting the lid to take a peek. The first time, look a minute or two after the machine starts mixing to ensure the paddles are engaged correctly and the dough is starting to make a ball.

Look again 10-15 minutes into the DOUGH cycle to assess the consistency of the dough. For most recipes, The dough should stick to the side, then pull away cleanly.

If your dough is too wet, add flour one tablespoon at a time.

Conversely, if the dough is too dry, add one tablespoon of liquid at a time until the dough looks just right. Read more about this surprising secret to success with a bread machine here.

Meanwhile, drain the raisins or currants and squeeze all the water out. When the machine beeps that it's time to add extras, pour the raisins or currants on top of the dough. If your machine doesn't have this feature, Add the fruit 5 minutes before the end of the kneading phase. If you miss it, knead the drained fruit into the dough by hand before shaping it

When the dough cycle completes. and the dough has doubled in size, remove the dough from the pan onto a floured surface. Note: If you didn't add the raisins already, squeeze the water out and knead them into the dough by hand

Divide the dough into 12 equally-sized pieces and form into smooth round balls. Place the balls into a greased 9 x 13-inch non-stick pan (preferably with a gold finish).

Lightly cover the rolls with a tea towel and allow the rolls to rise until almost double.

Preheat oven to 350˚F or 180˚C.

Use a sharp knife, a razor blade, or a lame to slash the top of each roll to make a cross. Cover each roll with the glaze, being careful not to let it run down the sides of the rolls and make them stick to the pan.

Bake in at 350˚F or 180˚C for 20 minutes. The rolls should reach an internal temperature of 190˚F. or 88˚C. Remove from the oven and allow them to rest for 5 minutes. Remove rolls from the pan and allow them to cool on a rack or serve immediately.
Glaze:
Whisk together 1 egg white and 1 T. milk. Brush the rolls after slashing them immediately before putting them in the oven.
Icing:
Combine 1 cup confectioners sugar, ½ teaspoon vanilla extract, and 1+ tablespoon of milk, stirring until smooth. Pour over cooled rolls
Notes
Directions for making bread with a stand mixer or by hand:
To make this recipe in a heavy-duty stand mixer:  Add ingredients to the bowl in the same order. Turn on LOW to mix until all ingredients are moistened. Then, using a dough hook, turn the speed to 2 or 3. Continue beating/kneading until dough becomes smooth and elastic (about 5-10 minutes). Cover and allow to rise in a warm place. Deflate dough gently and shape as indicated in the recipe.
If making by hand: Combine all ingredients into a shaggy ball in a large bowl. Turn dough out onto a floured surface. Knead with your hands until the dough becomes smooth and elastic. Kneading will likely take 10-20 minutes, depending on your experience. Place the dough ball into a greased bowl. Cover and allow to rise until double. Deflate the dough gently and shape as indicated in the recipe.
Please note: If you only have active dry yeast, use 1/4 teaspoon more than called for in the recipe.

It no longer needs to be dissolved first

, but you can if you prefer.
Nutrition
Nutrition Facts
Bread Machine Hot Cross Buns
Amount per Serving
% Daily Value*
* Percent Daily Values are based on a 2000 calorie diet.
Like this recipe? Thanks for leaving a 5-star rating inside the recipe at the top! 🤩