Preview: Yes, you can make this Pretzel Recipe in a bread machine. Pretzel rolls make a fun sandwich or eat them alone with a little mustard. Nobody will believe you made these from scratch!
Have you been looking to add trendy pretzel rolls to your bread recipe collection? When I saw the original recipe for these buns on the King Arthur website, I downsized it and adapted it for a bread maker.
You can also make this recipe by hand or with a stand mixer. See the notes in the recipe.
My bread machine has been getting a workout lately. Have I mentioned my son, daughter-in-law and their two sons (4 years and 10 mos) are living with us just until they can find a house? Susie and I both like to bake bread and it's much more fun with plenty of appreciative people around to eat it.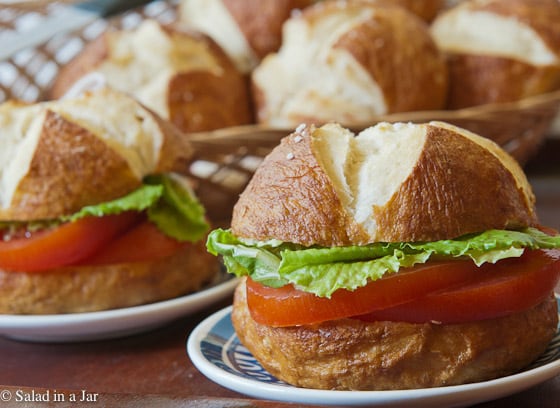 How to make a flatter bun:
I also did not care for the high, round buns they showed in the picture (too much bread in the middle bites), so I devised a way to make mine flatter–more like a traditional sandwich bun.
Before placing the buns in boiling water, I flattened each bun with my hand. You can see a difference in the shape in the pictures below.


When to use Pretzel Rolls:
Because these are chewy like a pretzel, I would suggest a sturdy filling, like a hamburger or a chicken breast. Chicken salad or other gooey concoctions tend to squish out all over the place when you take a bite. At least that's my experience.
On the other hand, my husband likes to eat the buns best with no filling. He only needs a little mustard.
How to form Bread Machine Pretzel Rolls: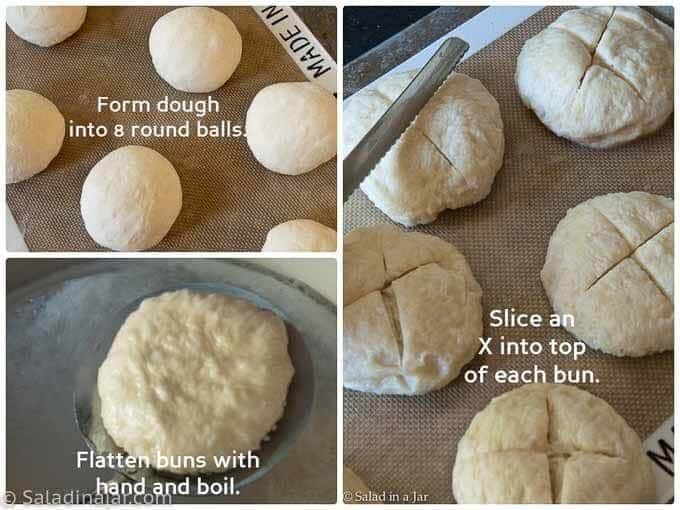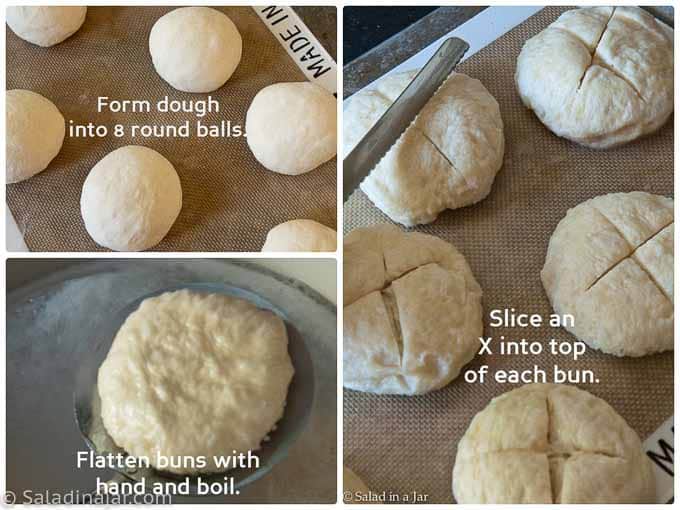 Just in case you need a tutorial on how to make nice round balls, check out the video.

---
Posts related to Bread Machine Pretzels:
---
Did you try this recipe and enjoy it? Consider helping other readers (and me) by returning to this post. Leave a rating on the recipe card itself underneath the picture. No comment required.
If you have a question or tip to share, please leave it in the regular comments after the recipe so I can answer back. Or email me: paula at saladinajar.com.

Thank you for visiting!
Paula
---