Multigrain Bun Recipe: Save Your Energy, Use a Bread Machine
Sneak Peek: These Multigrain Burger Buns will make your next hamburger or sausage sandwich more enjoyable and memorable. Seven-grain cereal gives these buns all kinds of wonderful multi-grain flavors and textures. Let your bread machine or a stand mixer do all the mixing and kneading.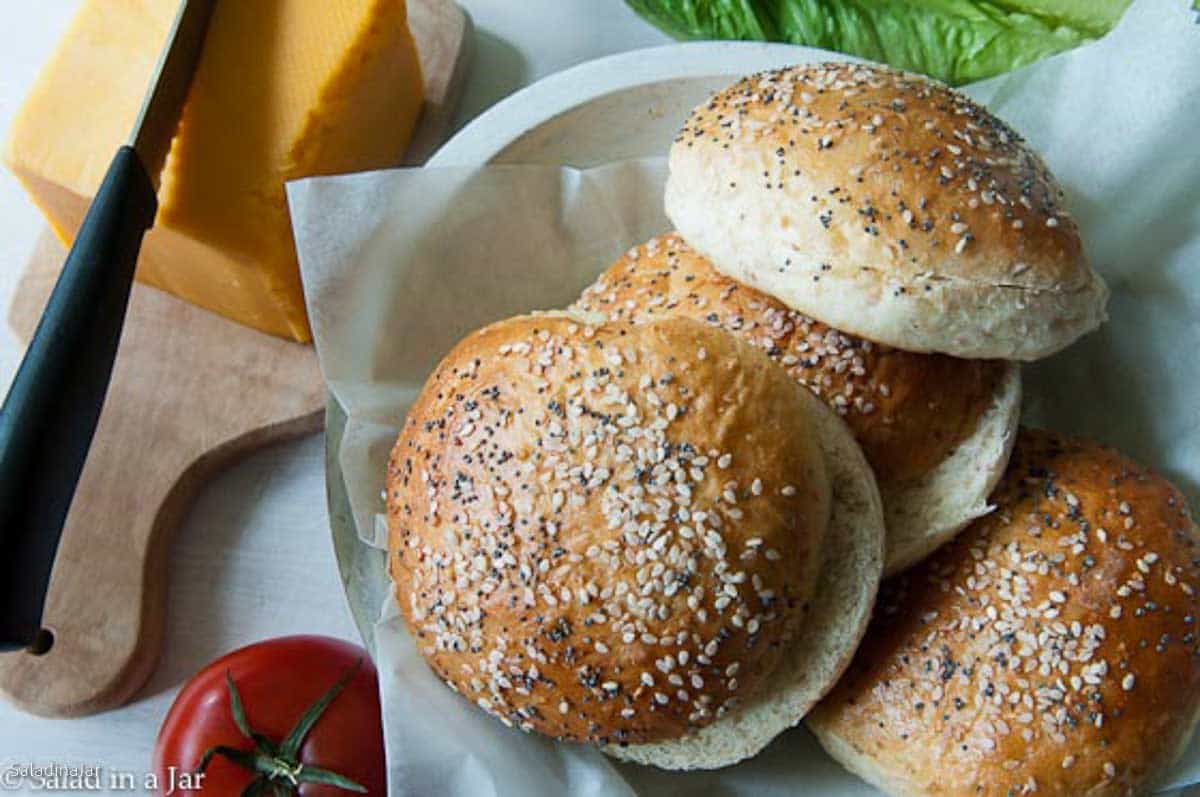 As an Amazon Associate, I earn from qualifying purchases.
Want to know how to make an unforgettable but somewhat healthier burger bun? Try these super special Multigrain Burger Buns that you can mix with a bread machine or a stand mixer.
I used these multigrain buns to make barbecue sandwiches for a Rangers baseball game last summer. Weeks later, my husband was still raving about the buns and requesting a repeat performance. Of course, he had no idea his sandwich contained whole grains.
That's how making homemade hamburger buns can make a sandwich memorable.
Note: You can buy special hamburger bun pans. They are wonderful, but I'll show you how to make buns with nothing but your hands and a regular baking sheet.
Happy Bakers Speak Up:
These are quite literally *the* roll I've been looking for for years! I made the mashed potatoes for the express purpose of using it for this (of course the family suffered horribly!) and it was so fantastic I made them 2 days in a row! My daughter commented how it was even better the day after! I formed the second batch into half hot dog rolls and the other half largish slider rolls. We are going to feast this weekend I used a 10 grain cereal I'd found at Target and it was perfect. Hard to stop eating! I think these might pass up the famed family recipe of Parkerhouse rolls at Thanksgiving! They're that good!–Lisa
Why you'll love these buns:
They are made with an enriched dough, so they are soft with a subtle sweetness
The 7-grain cereal lends a hearty texture.
Mix and match the seeds or leave them off.
Make large or small, fat or skinny buns, or don't slice them and use them as dinner rolls.
I use the bread machine to mix and knead the dough as usual. I bake the buns in my conventional oven.
Although designed for a bread machine, this recipe can be mixed in a stand mixer or by hand. See the directions in the recipe note.
If you have a bread machine, you'll be delighted when the dough is perfectly mixed and kneaded with little effort and time.
If you are a new bread machine user or somebody who thought they didn't like bread machines, please check out my previous posts about using a bread machine.
---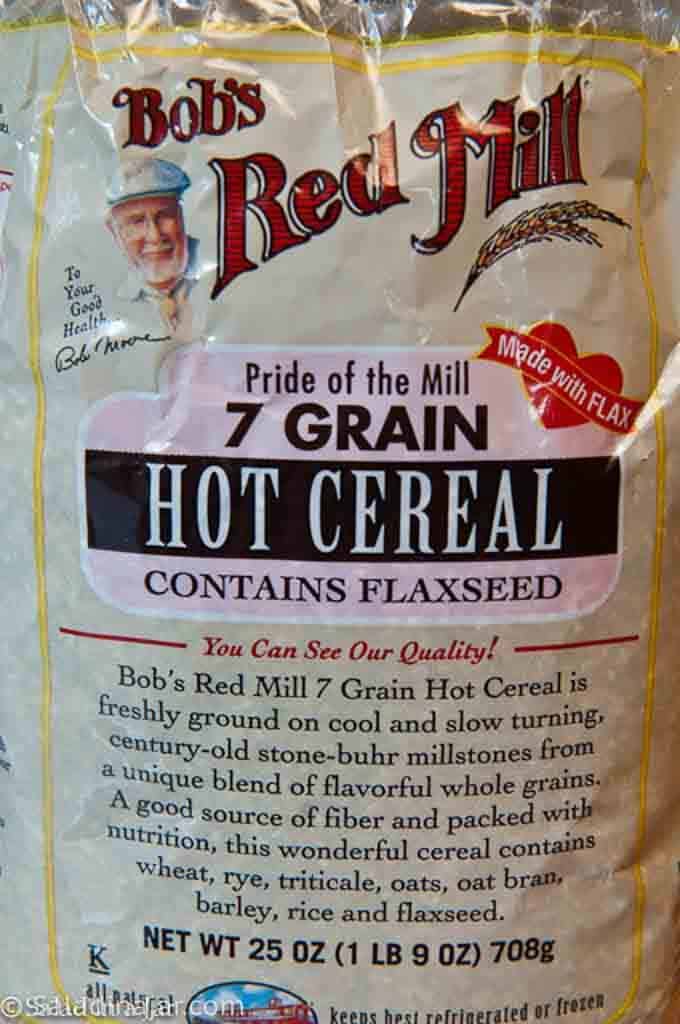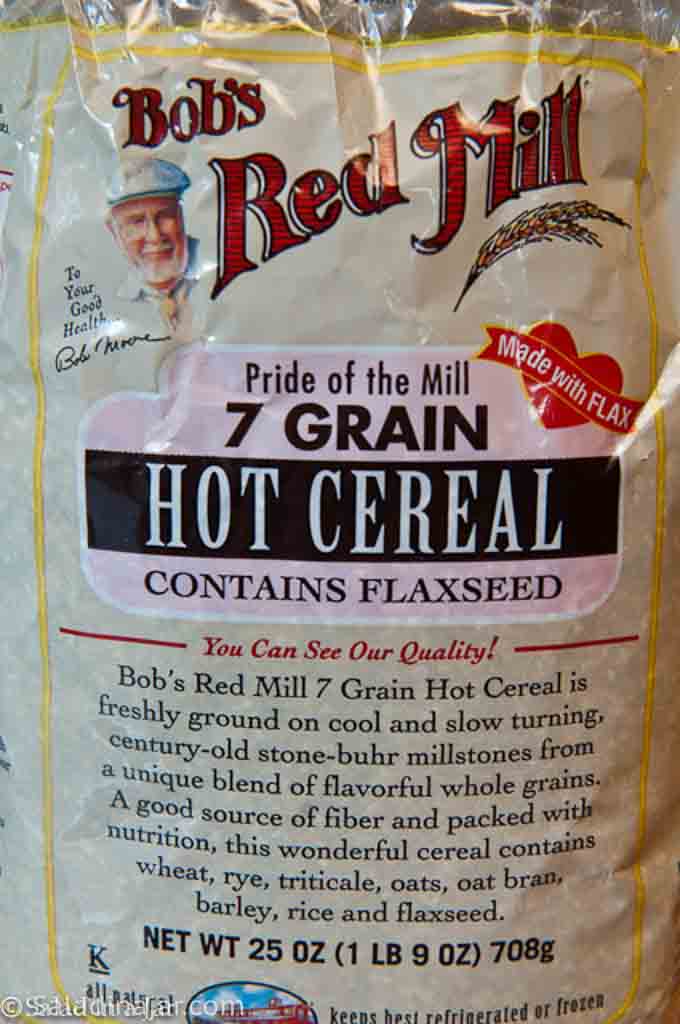 What is a "7-grain cereal mix"?
Don't let the 7-grain mix scare you away. Substitute the same amount of bread, whole wheat, or wheat bran.
I buy Bob's Red Mill 7 Grain Hot Cereal mix. It contains wheat, rye, triticale, oats, oat bran, barley, rice, and flaxseed. All 7-grain cereals do not contain the same grains.
7-Grain cereal is not always easy to find. Try Target, Whole Foods, or any grocery store with an organic food section (See the link below to order online.)
I love how these buns naturally stay fresh longer because of the potatoes. If you prefer a simple white bun without whole grains, check out these Perfected Potato Hamburger Buns made in a Bread Machine.
---
Ingredients and possible substitutions:
7-GRAIN CEREAL: Be sure to buy 7-grain cereal that you must cook before eating. We're not talking about dry cereal in a box designed to be poured straight into a bowl with a little milk. Stores with bulk bins are a good place to buy small amounts. You can also use 12-grain cereal.
MILK: Use any milk you have on hand. The higher the fat content, the richer and more delicious the buns (just my opinion).

I don't heat the milk for my bread recipes anymore. However, the hot milk in this recipe serves the same purpose as boiling water: softening the 7-grain cereal. The process is similar to softening my Cracked Wheat Berry Bread wheat berries. Let the milk-soaked cereal mixture in the bread machine pan cool for a few minutes before adding the remaining dough ingredients.
EGG: This recipe was written for a large egg. If you only have medium eggs, add extra liquid. If you want to leave the egg out completely, try substituting the equivalent amount of milk or cream.
SUGAR: Granulated sugar is specified. Brown sugar or honey would also be suitable.
SALT: Use table salt or sea salt. Add at least a quarter of a teaspoon more if using Kosher salt.
BUTTER: Substitute 1:1 margarine, shortening, or vegetable oil.
Many recipes tell you to add butter at room temperature. But here's a trick for you.
---
📌Chop cold butter into tiny pieces.📌 I use a butter knife to chop it right there on the butter wrapper. No need to wait for the butter to warm up because the friction of the paddles will melt the butter quickly as they knead the dough.
---
FLOUR: Bread flour is important in this recipe because of the non-gluten 7-grains cereal and the potatoes. All-purpose flour doesn't have enough oomph to lift these ingredients into a nicely textured sandwich bun. If you can only get all-purpose flour, you might want to add a tablespoon or two of vital wheat gluten to shore up the rise.
YEAST: I use only instant, rapid-rise, or bread machine yeast. (They are all instant yeast.) Active dry yeast can be substituted. See the notes at the end of the recipe for directions.
SESAME SEED TOPPING: I like sesame seeds the most and often mix them with poppy or black seeds. "Everything but the Bagel" seasoning would be perfect, too. Flax seeds, chia seeds, or sunflower seeds are another option.
MASHED POTATOES: I like to use leftover mashed potatoes instead of difficult-to-find potato flour or bland-tasting instant potatoes. The salt, pepper, butter, and milk added when making everyday mashed potatoes make these rolls even better.
If you don't have leftovers, cook a peeled potato in the microwave with a little bit of water, mash it with a fork, and add a little milk. Or make mashed potatoes with instant potatoes.

📌Kitchen Secret📌 Because I tend toward spur-of-the-moment baking, I freeze any leftover mashed potatoes passing through my kitchen into half-cup portions as seen in the picture below. They only need to defrost in the microwave before they go into my bread machine.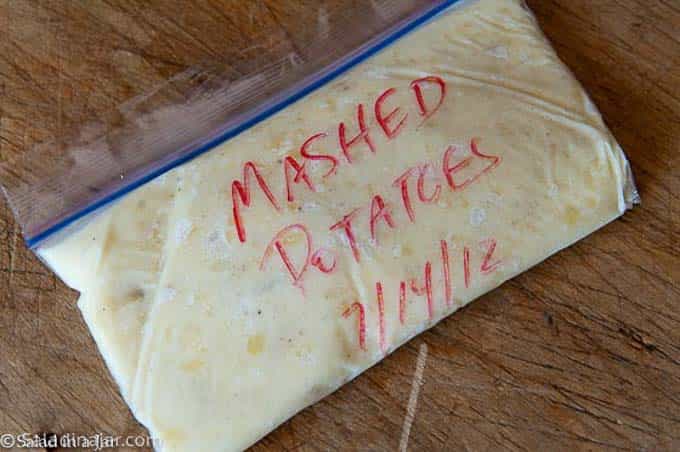 ---
How to make hamburger buns with 7-grain cereal: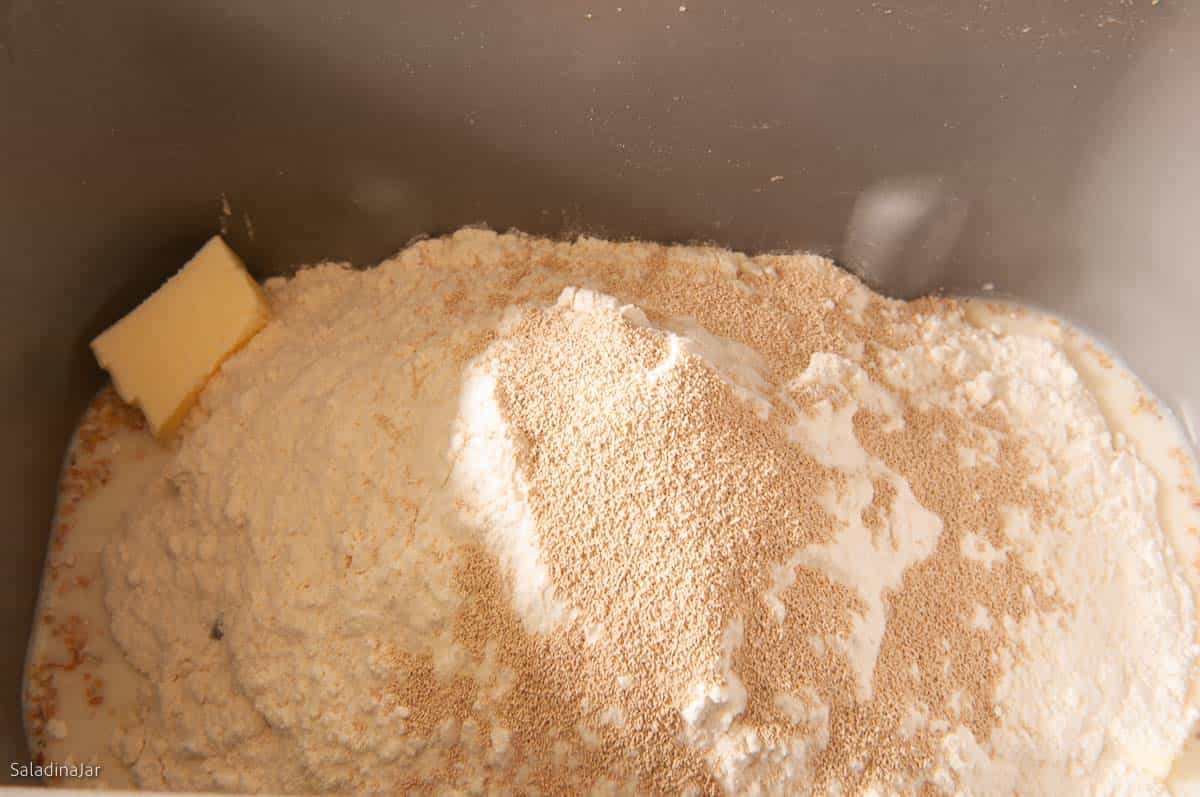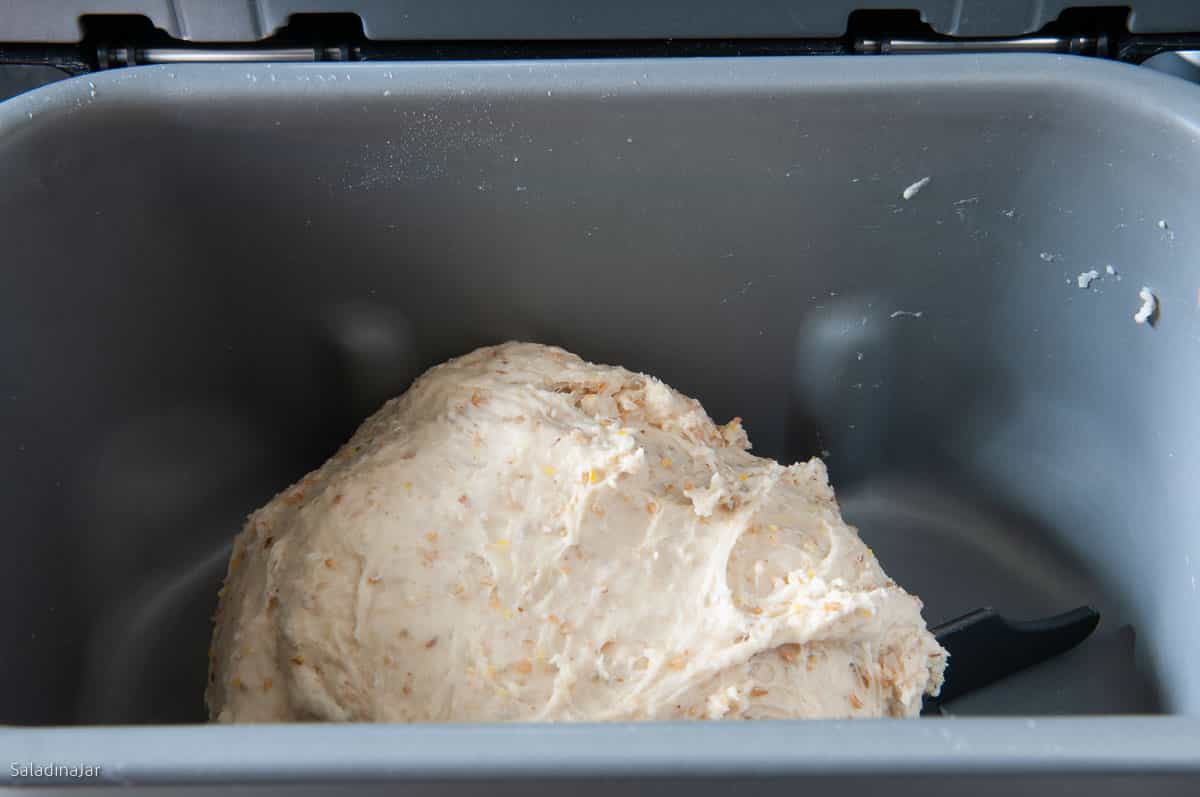 If the dough is too sticky, add flour one tablespoon at a time, allowing a minute or two for the dough to absorb before adding more. If the dough is too dry and bounces off the wall or riding on the paddle, do the same with water or milk.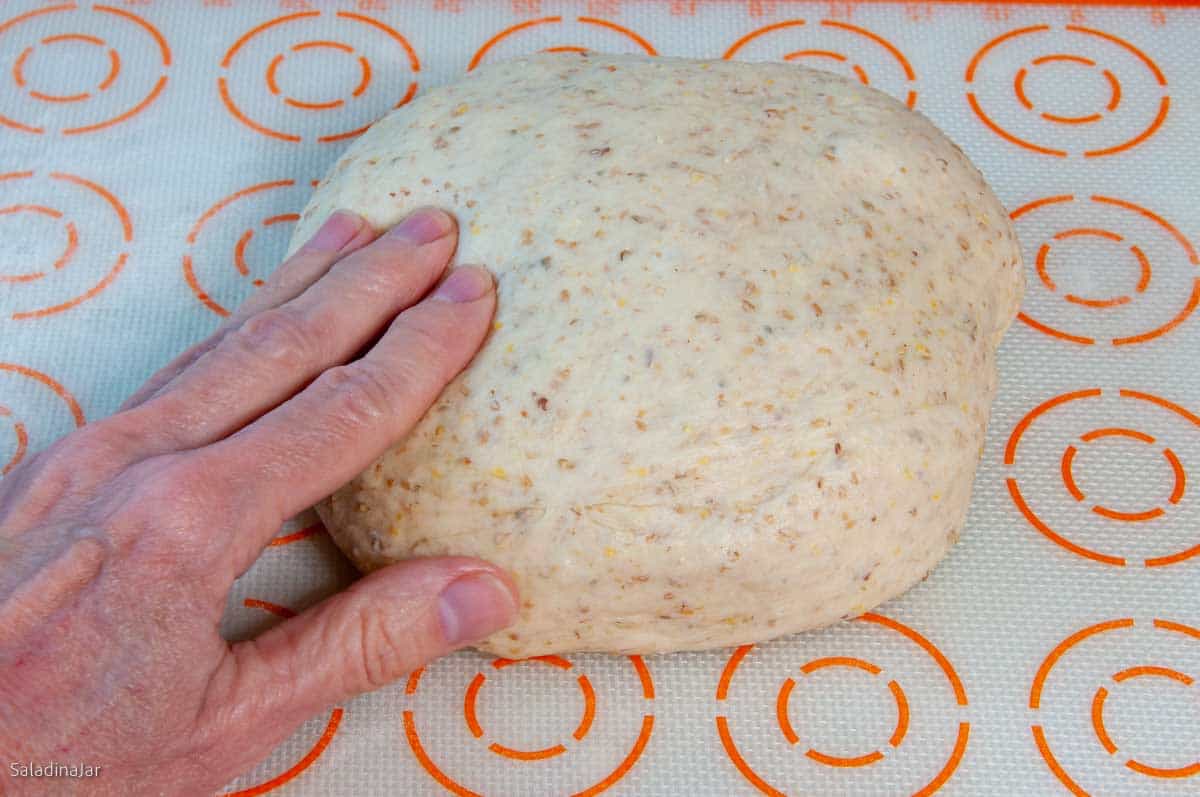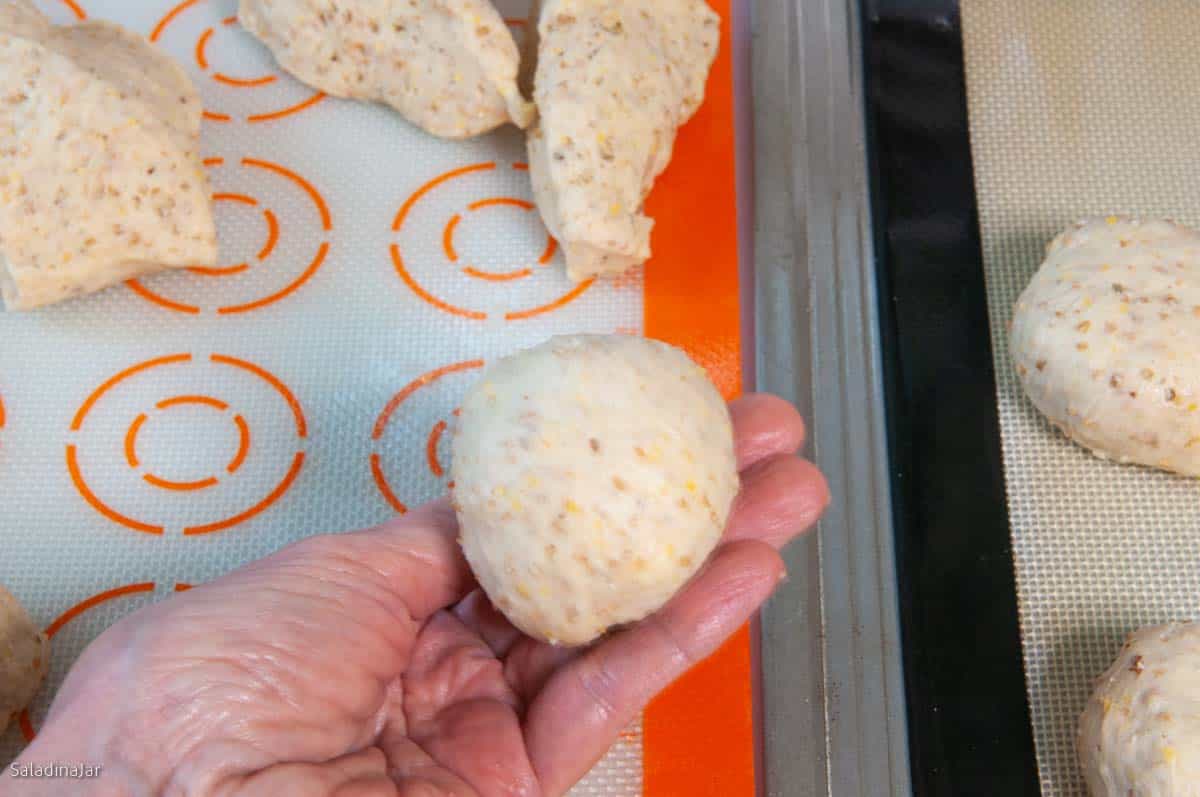 Your choice depends on how big you want them. Form each portion into a ball by pulling the dough from the bottom and pinching it at the top. See the video if you aren't sure how to do this. Don't worry if they're ugly at first. You'll improve with practice, and the shape won't affect the taste.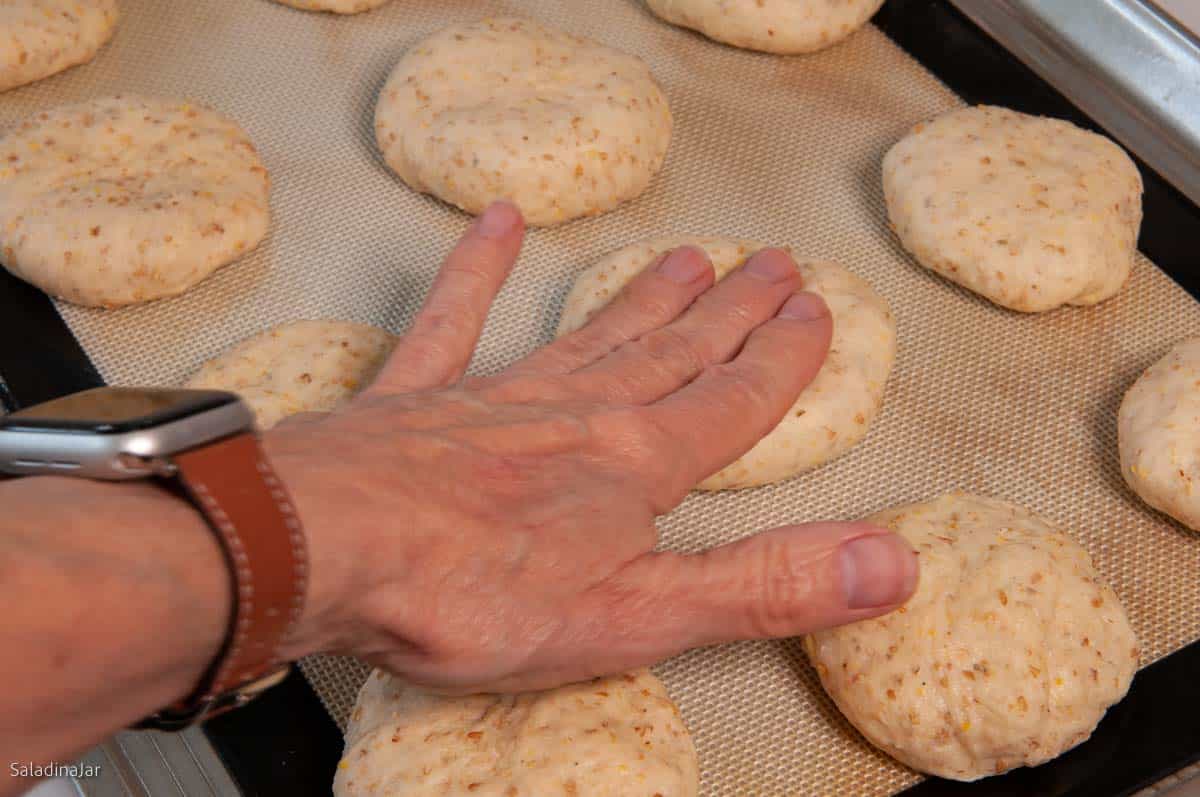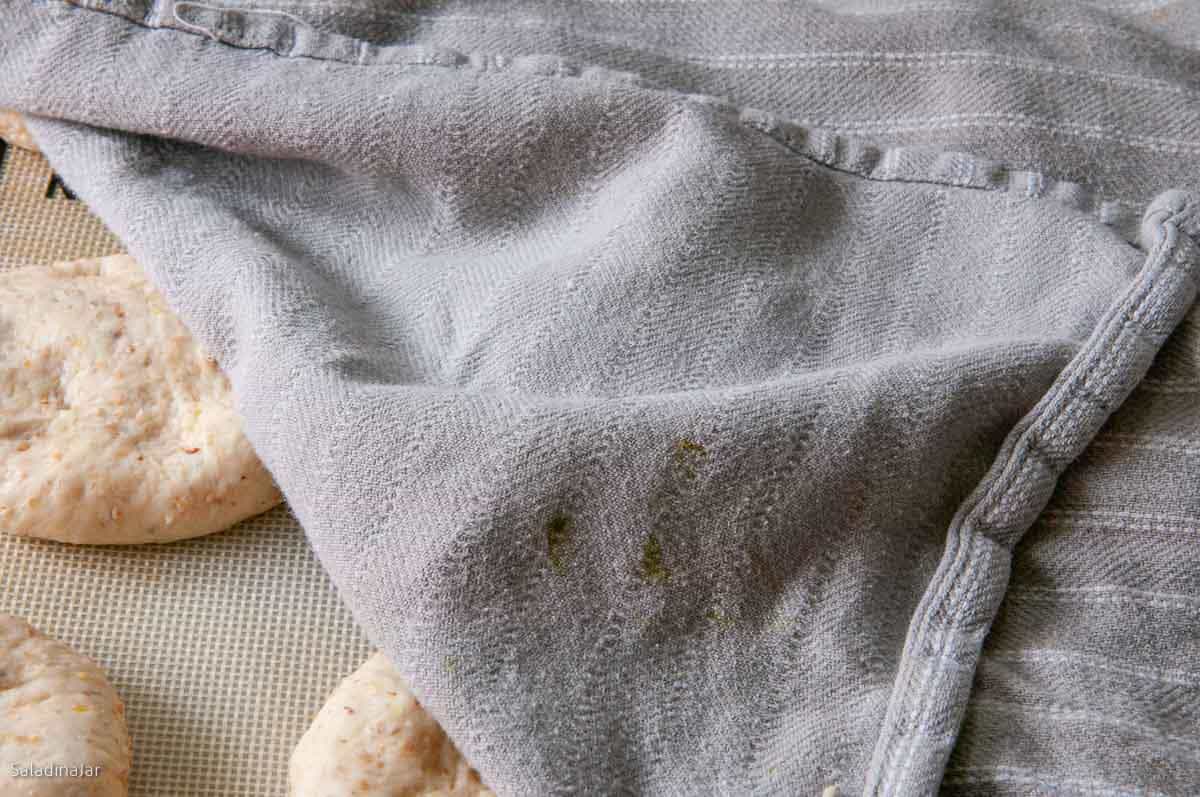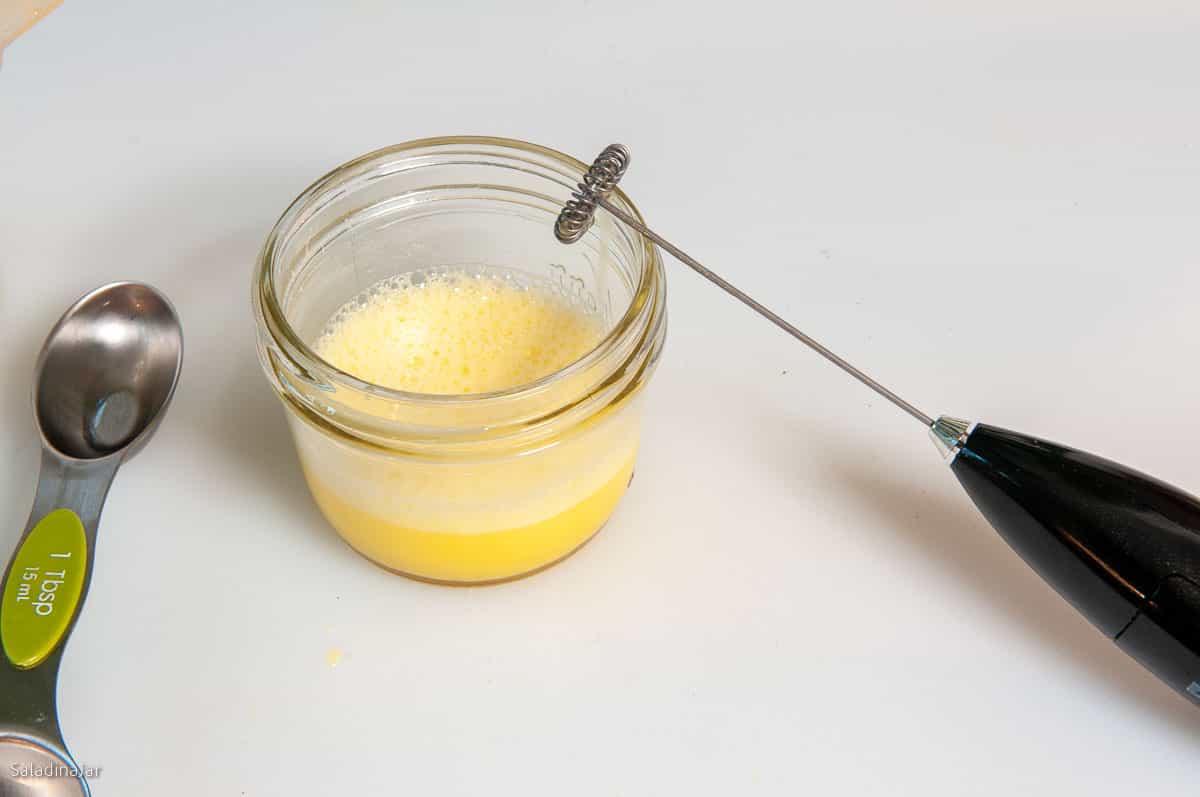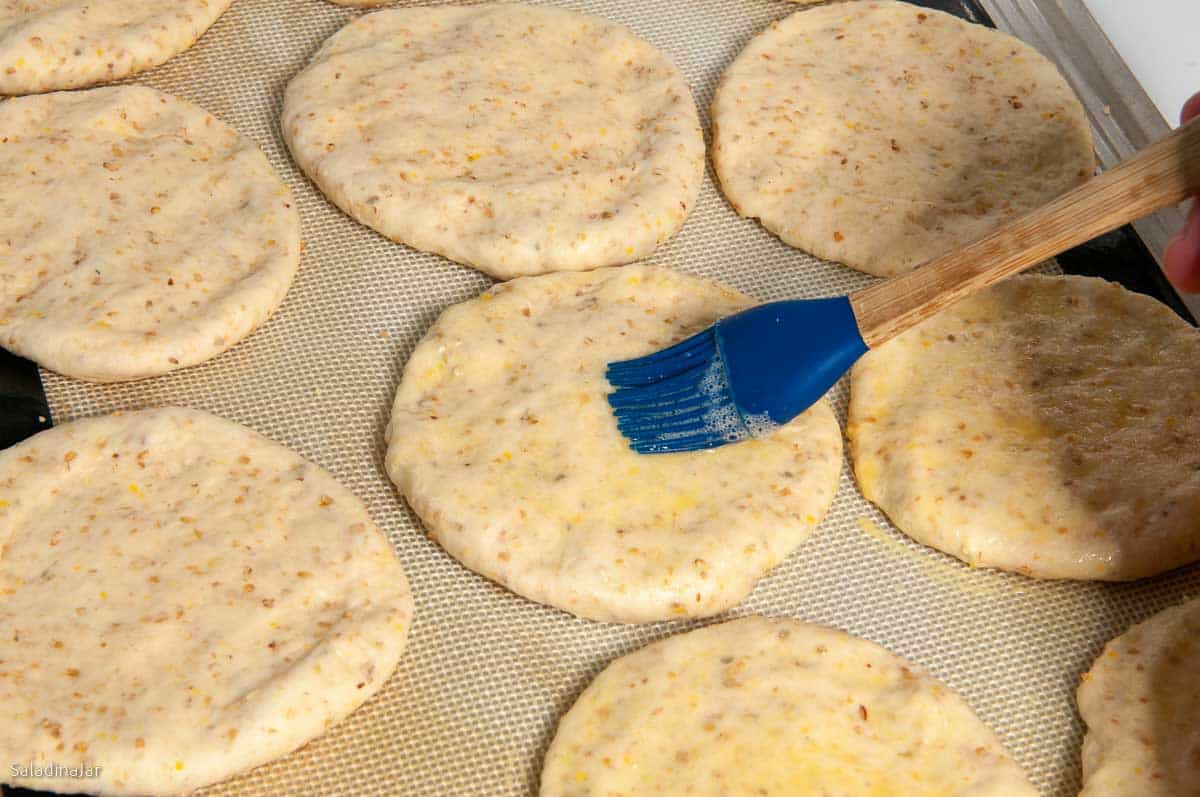 Glaze the tops with the egg wash you prepared earlier.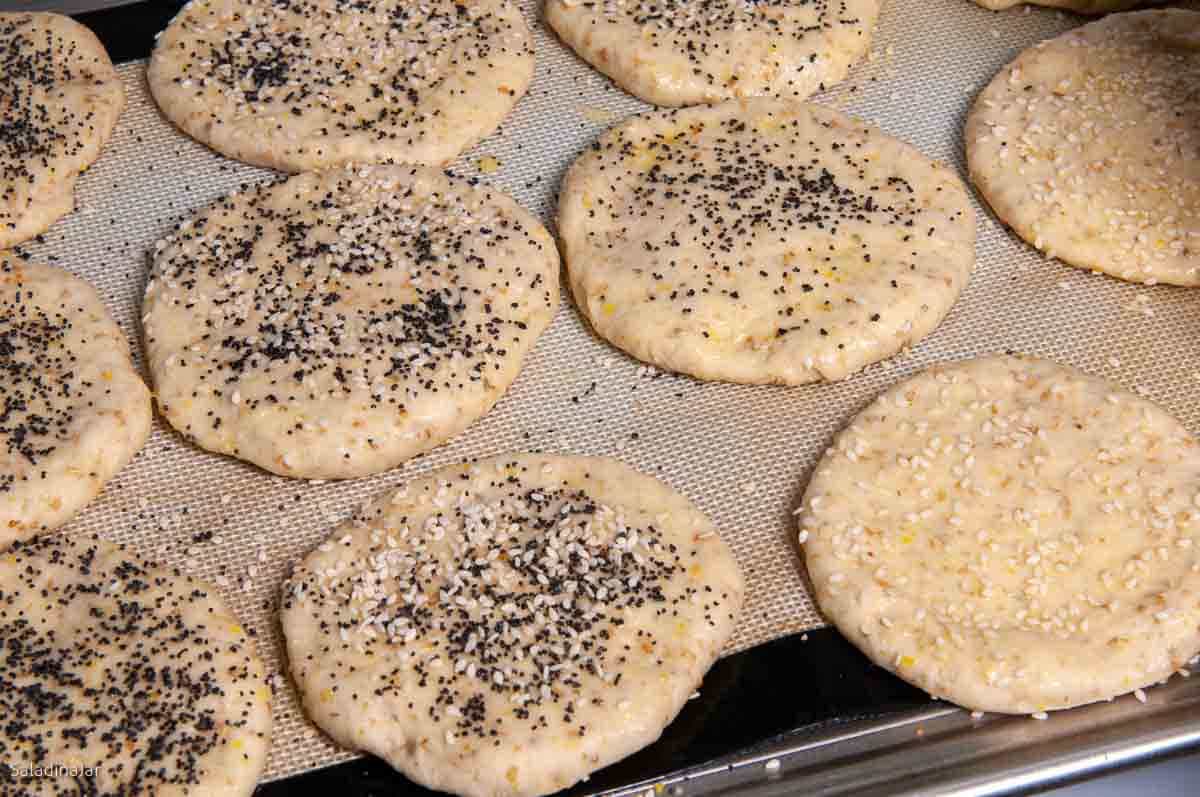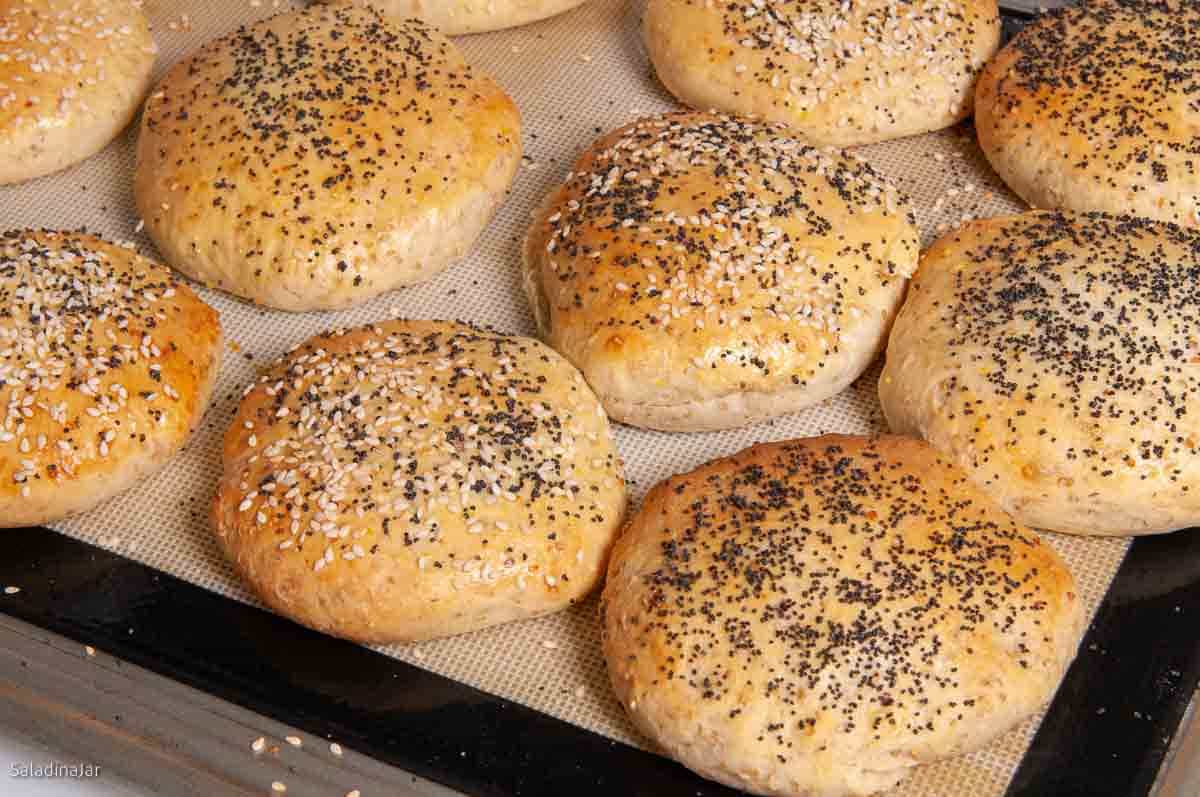 As you can see, these buns are rather thin. If you want yours thicker, as shown in the first picture above, cut bigger portions or don't press them as thin.
---
FAQ about this Multigrain Hamburger Bun Recipe:
Can I use this recipe to make multigrain loaves of bread instead of buns?
Yes. After the DOUGH cycle ends, transfer the dough to a floured surface. Shape the loaf by rolling the dough into a rectangular shape. Roll into a cylinder. Seal the seam and turn the ends toward the seam (pictures here). Drop the dough into an 8½ x 4½ inch loaf pan seam-side down.
Let rise until almost double. Bake at 375˚F (190˚C) until the internal temperature reaches 190-200˚F. After cooling for 15 minutes, remove the bread to a cooling rack for an hour before slicing.
What is the difference between whole grain and multigrain bread?
"Multigrain bread is made of several types of grains. None of these grains may be whole. Whole grain bread contains the entire grain and its three edible layers — the bran, the endosperm and the germ. Whole grain bread may include a variety of grains and therefore be considered multigrain."– Gold Medal Flour
How do I store whole-grain cereal?
Store in the refrigerator or freezer. Whole grains tend to go rancid faster than all-purpose or bread flour.
---
Parting thoughts: Don't miss the video for a quick lesson on making perfect dough balls for burger buns.
---
Recipe Help at Your Fingertips: For questions or suggestions, email Paula at saladinajar.com. If you need help, I'm happy to troubleshoot via email (faster than leaving a comment). Attach pictures and as many details as possible for the best advice.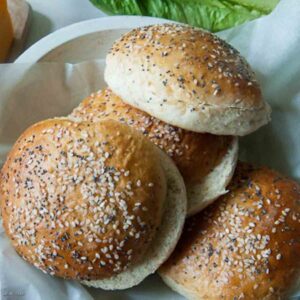 Multigrain Burger Buns Recipe: Bread Machine
Make these sesame buns for your next cookout, tailgate, or party. Mix the dough with a bread machine or a stand mixer.
Share recipe love here. ⬇
Ingredients
Dough:
½

cup

(

82

g

)

7-grain mix

⅔

cup

(

151

g

)

milk

1

large

(

50

g

)

egg

2

tablespoons

(

24

g

)

granulated sugar

1

teaspoon

table or sea salt

¼

cup

(

57

g

)

butter (chopped into small pieces)

½

cup

(

125

g

)

well-seasoned mashed potatoes

2½

cups

(

300

g

)

unbleached bread flour

2

teaspoons

bread machine yeast
Glaze:
1

large

(

50

g

)

egg

1

tablespoon

(

14

g

)

water

sesame seeds (white and/or black) or poppy seeds
Instructions
Pour

½ cup

(

82

g

) 7-grain mix into the bread machine pan. Heat

⅔ cup

(

151

g

) milkin the microwave on HIGH power for 1 minute and 30 seconds. Pour the hot milk over the cereal in the pan. Let the milk cool for 5 minutes.

Add

1 large

(

50

g

) egg,

2 tablespoons

(

24

g

) granulated sugar,

1 teaspoon

table or sea salt,

¼ cup

(

57

g

) butter (chopped into small pieces) , and

½ cup

(

125

g

) well-seasoned mashed potatoes to the other ingredients already in the bread machine pan.

Add

2½ cups

(

300

g

) unbleached bread flour and

2 teaspoons

bread machine yeast.

Select the DOUGH cycle and press START.

Check the dough at least twice during the mixing and kneading phase by lifting the lid to take a peek. The first time, look immediately after the machine starts mixing to ensure the paddles are engaged correctly.

Recheck after 15 minutes to assess the consistency of the dough. For most recipes, the dough should stick to the side, then pull away cleanly.

If your dough is too wet, add flour one tablespoon at a time.

Conversely, if the dough is too dry, add one tablespoon of liquid at a time until the dough looks just right. Read more about this surprising secret to success with a bread machine here.

When the dough cycle finishes, check the dough. Test with two fingers. The indentation should fill in slowly. If it fills in immediately, leave the dough to rise until it doubles in size and passes the indentation test.

Transfer the dough from the bread machine pan to a floured surface when ready. Divide into 8 or 10 portions and form into balls. Place the balls on a prepared baking sheet (greased or lined with a silicone mat or parchment paper). Let the balls relax for 15 minutes. Severely flatten balls with the palm of your hand, a meat flattener, or a clear flat-bottom bowl or plate to keep your buns from being too thick in the middle. Cover the balls with a sheet of plastic wrap before flattening them to prevent sticking.

Allow buns to rise until puffy. Preheat the oven to 375˚F (190˚C).

Make the glaze by whisking

1 large

(

50

g

) egg and

1 tablespoon

(

14

g

) water together in a small bowl. Brush the tops and sides of the buns, being careful not to let the glaze drip onto the tray. Sprinkle with

sesame seeds (white and/or black) or poppy seeds

.

Bake in a preheated 375˚F (190˚C) oven for 15-20 minutes or until golden brown and internal temperature reaches 190˚F (88˚C).
Notes
Vary the seeds on top according to what you like and/or have on hand. Or, leave them off if you prefer. I like to make some with, and some without to please all the eaters around my table.
Directions for making bread with a stand mixer or by hand:
To make this recipe in a heavy-duty stand mixer: Add ingredients to the bowl in the same order. Turn on LOW to mix until all ingredients are moistened. Then, using a dough hook, turn the speed to 2 or 3. Continue beating/kneading until dough becomes smooth and elastic (about 5-10 minutes). Cover and allow to rise in a warm place. Deflate dough gently and shape as indicated in the recipe.
If making by hand: Combine all ingredients into a shaggy ball in a large bowl. Turn dough out onto a floured surface. Knead with your hands until the dough becomes smooth and elastic. Kneading will likely take 10-20 minutes, depending on your experience. Place the dough ball into a greased bowl. Cover and allow to rise until double. Deflate the dough gently and shape as indicated in the recipe.
Please note: If you only have active dry yeast, use 1/4 teaspoon more than called for in the recipe.

It no longer needs to be dissolved first

, but you can if you prefer.
Nutrition
Serving:
1
|
Calories:
177
kcal
|
Carbohydrates:
21
g
|
Protein:
6
g
|
Fat:
8
g
|
Saturated Fat:
4
g
|
Polyunsaturated Fat:
1
g
|
Monounsaturated Fat:
2
g
|
Trans Fat:
1
g
|
Cholesterol:
58
mg
|
Sodium:
381
mg
|
Potassium:
130
mg
|
Fiber:
2
g
|
Sugar:
5
g
|
Vitamin A:
257
IU
|
Vitamin C:
4
mg
|
Calcium:
41
mg
|
Iron:
1
mg
HELP OTHERS find this recipe. Leave a 5 🌟🌟🌟🌟🌟 rating at the top of the recipe card if you enjoyed it. No comment is required.