Goat Cheese Muffins with Strawberries: A Sophisticated Treat
Sneak Preview: Try these Goat Cheese Muffins with Strawberries for a quick muffin with a sophisticated flavor profile. They will remind you of the ones sold at the Central Market Bakery.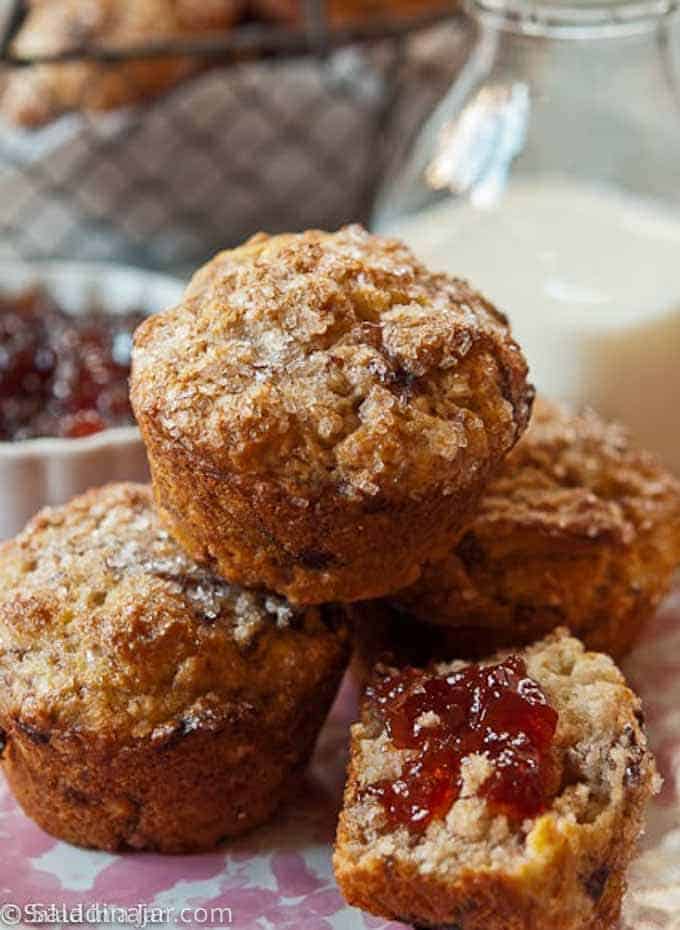 As an Amazon Associate, I earn from qualifying purchases.
Do you have a bag of frozen strawberries languishing in the freezer or some fresh ones that need to be eaten soon? Here's a great idea that won't require much work. Make a quick strawberry-balsamic sauce in the microwave and add it to these goat cheese muffins.
Goat cheese crumbles take these muffins to a new level. But if you're not a goat cheese fan, substitute feta cheese, or leave it out. Add some chopped toasted pecans instead.
Creating the recipe:
The inspiration for these muffins comes from the strawberry balsamic muffins I used to buy from the Central Market Bakery in Ft. Worth.
I'm not claiming to have the authentic recipe. However, after much experimentation, this muffin comes close. No matter what, it is delicious on its own merits.
Making the Strawberry Balsamic Sauce:
A few weeks ago, I shared my super quick and easy method for making a strawberry-balsamic sauce using fresh or frozen strawberries. It has two ingredients and cooks in only 6 minutes. I often use it to make my Creamy Strawberry Yogurt Salad Dressing and these tasty muffins.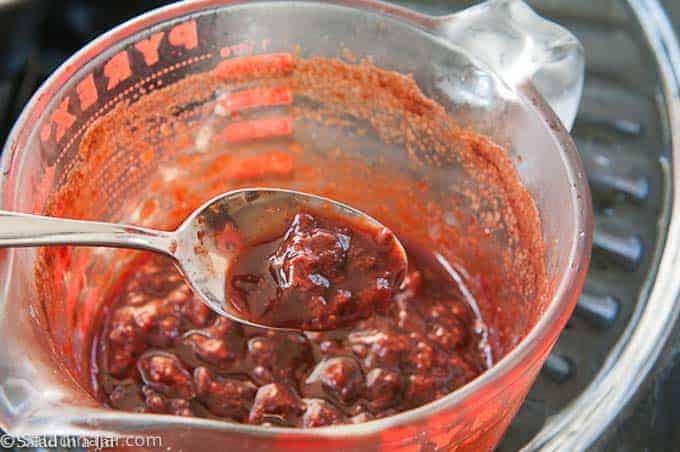 The result is similar to strawberry preserves but not as thick or sugary. Cooked strawberries won't leave soggy spots inside your baked muffins, which sometimes happens with fresh berries.
---
Ingredients and substitutions: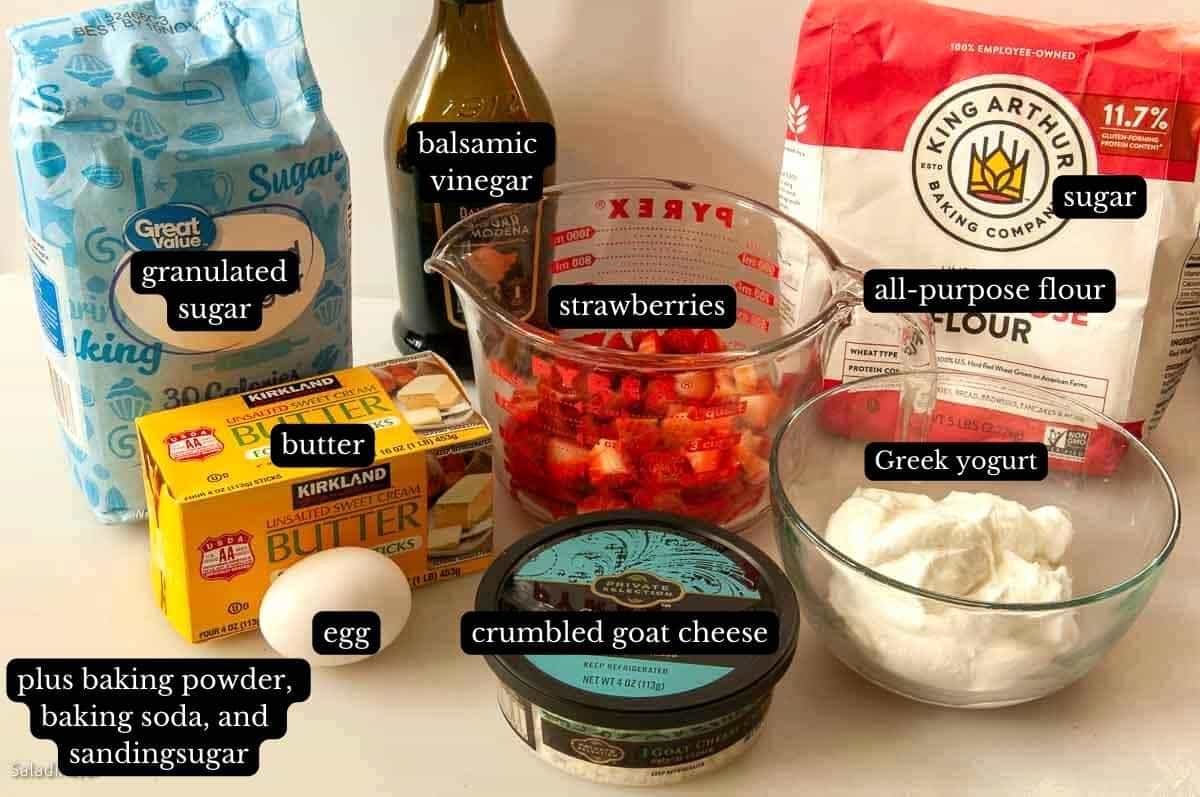 BUTTER: Use salted or unsalted butter. If using unsalted butter, add 1/4 teaspoon of salt. Please note that butter should be softened before adding it to the recipe.
FLOUR: Use all-purpose, bleached, or unbleached flour.
SUGAR: Granulated sugar is specified. The recipe has not been tested with any other sweeteners.
GREEK YOGURT: Any unflavored Greek yogurt, regardless of the fat content, is appropriate. You could substitute vanilla, strawberry, or lemon Greek yogurt, but remember to decrease the sugar according to the sweetness of the yogurt. If you want to substitute regular yogurt, drain it for about 30 minutes to make it thicker.
EGG: I use large eggs in all my recipes. Be sure they are at room temperature.
STRAWBERRIES: Make these muffins with fresh or frozen berries that I cook in the microwave. I like how it gives the muffins strawberry flavor without leaving wet and mushy spots inside the muffin.
GOAT CHEESE: Goat cheese crumbles give these muffins a distinctive flavor. The recipe shows a range of amounts so you can customize it according to your love for goat cheese. Buy crumbles if you can get them to save you the trouble of crumbling the cheese yourself. If you want a milder-tasting muffin, try substituting feta cheese for goat cheese or leave out the cheese altogether.
SANDING SUGAR: Coarse sugar makes a pretty and decorative topping. Substitute regular sugar, or leave it off, if you don't have sanding sugar.
---
Tips for making muffins:
Mix muffins by hand, but don't over-mix. Stir just until the flour disappears. Over-mixing can result in tunnels.
Ensure all ingredients are at room temperature beforehand, including the butter, eggs, and yogurt. According to Epicurious, this can make or break your muffins.
Preheat your oven. The quick change in temperature between your kitchen and the inside of your oven activates the baking soda and baking powder.
---
How to make Goat Cheese Muffins with Strawberries:
Preheat oven to 375˚F.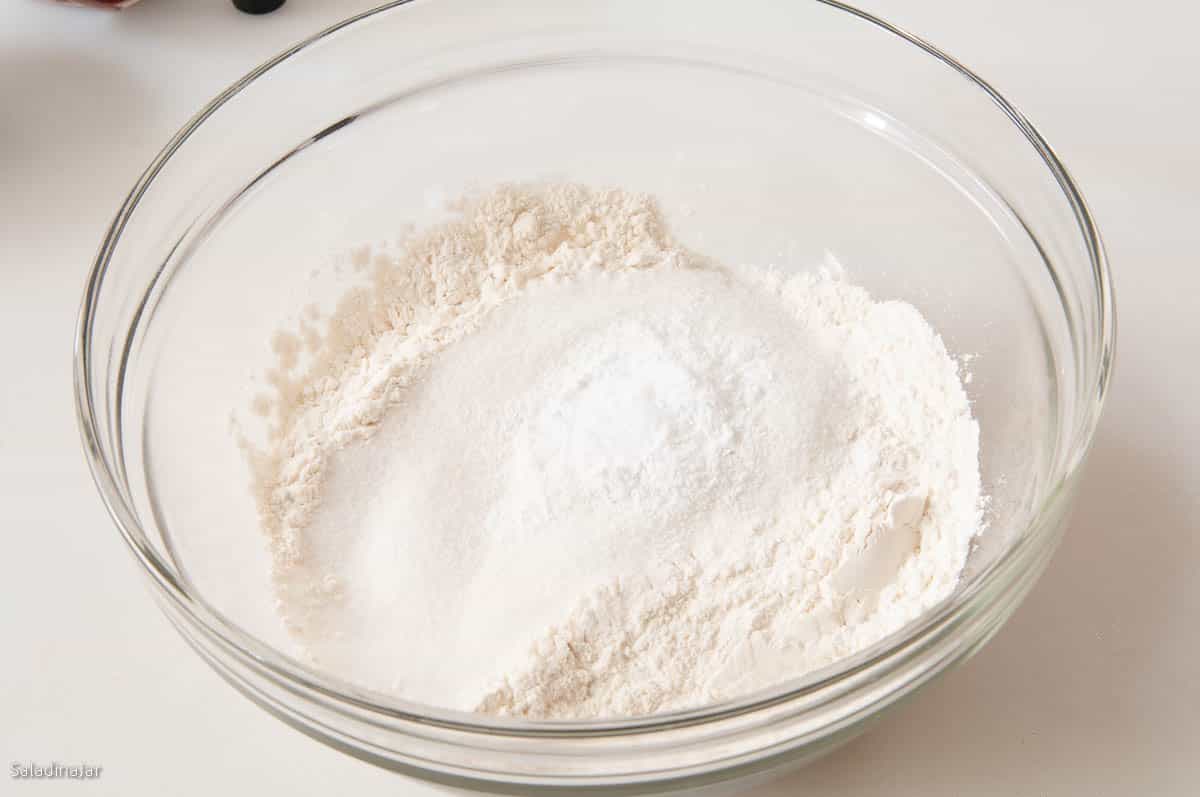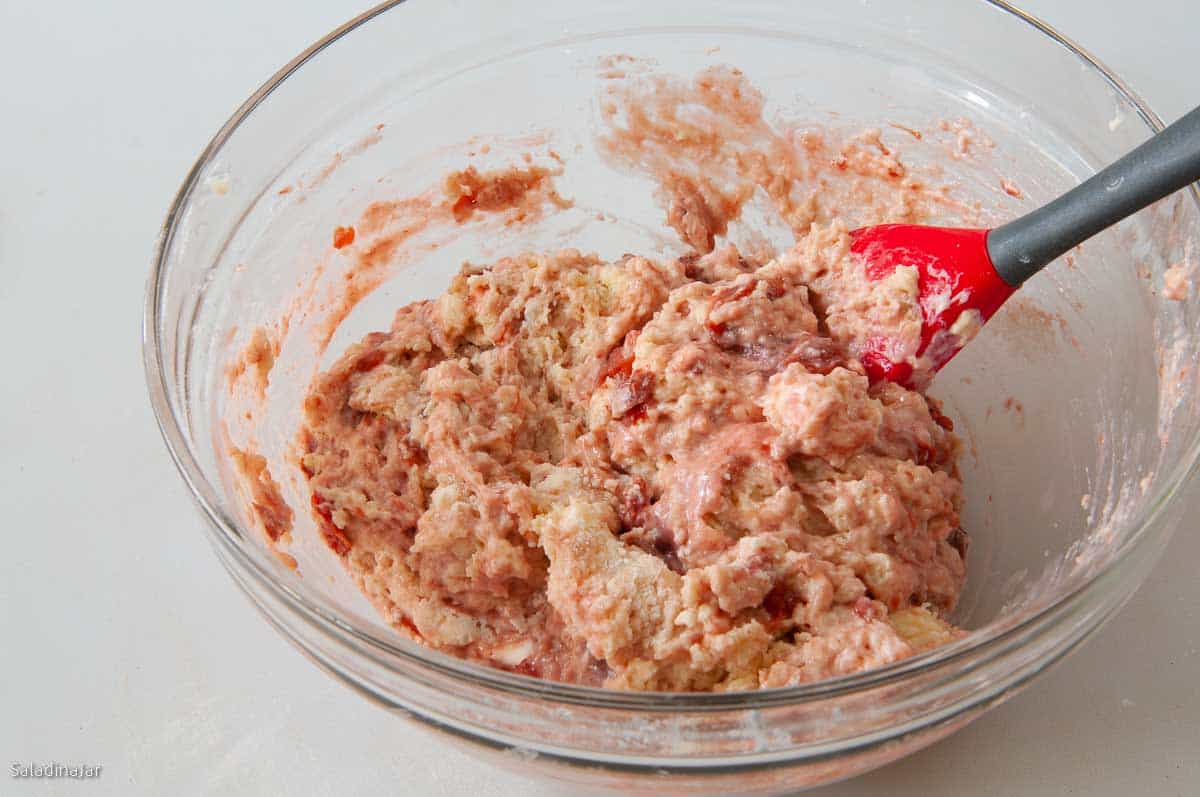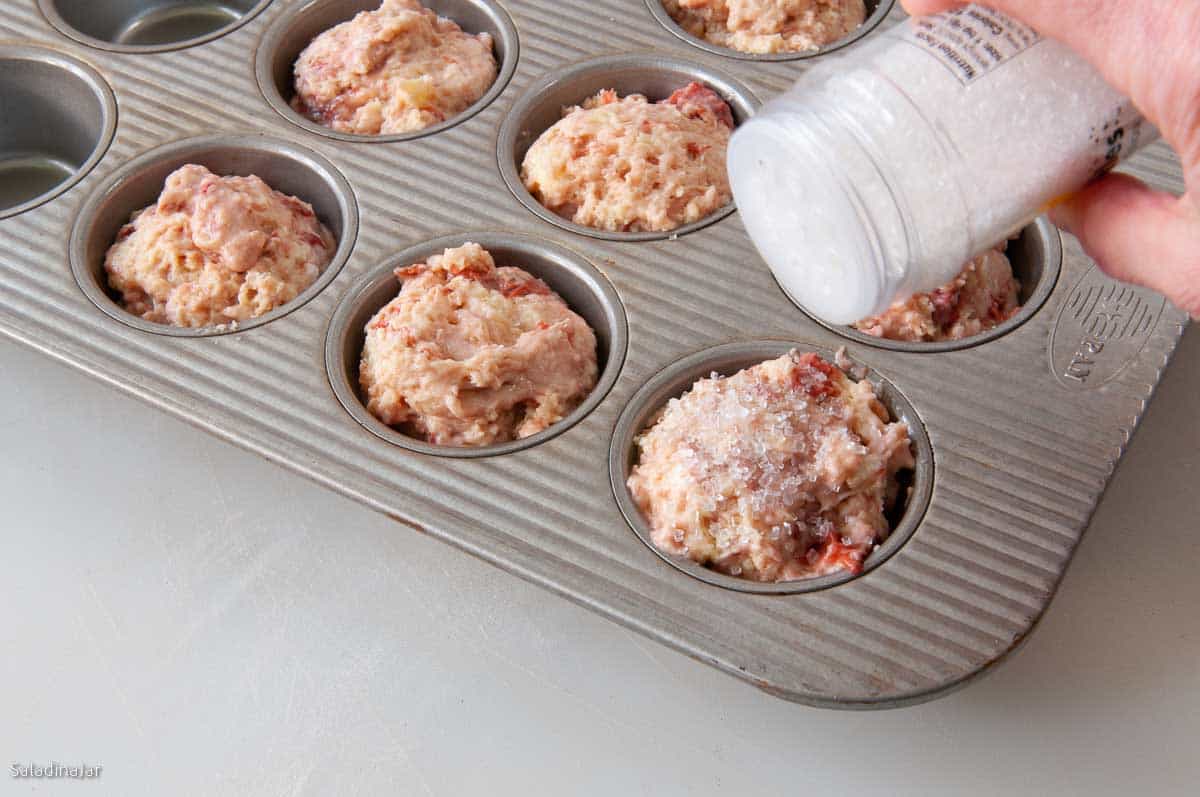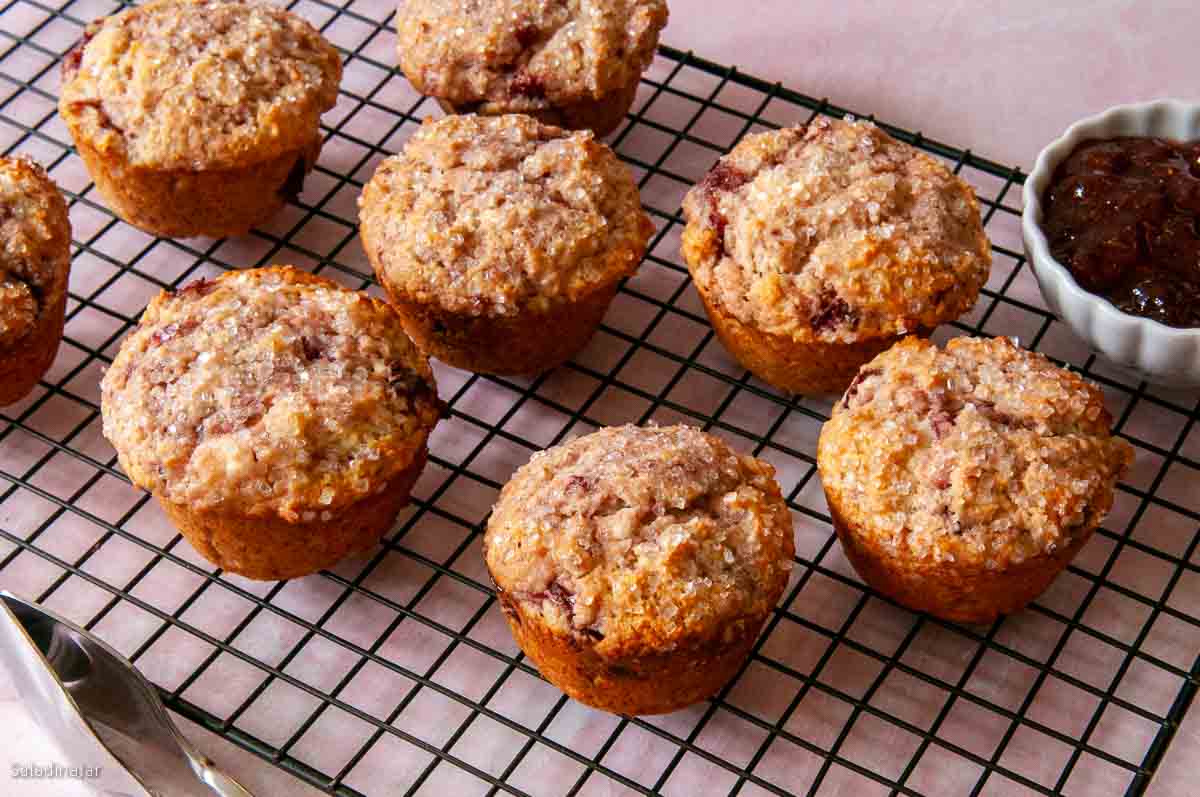 ---
FAQ about Goat Cheese Muffins:
What does goat cheese taste like?
Goat cheese has a complex flavor that varies according to its age and origin. It is often described as earthy, tangy, and slightly acidic. It offers the perfect equation of fruit and cheese when combined with strawberries.
What type of goat cheese is best for muffins?
I like to use crumbled goat cheese. In addition to being readily available, it's easy to fold into the muffin batter. Break up any big chunks if you don't want white, moist lumps in your muffins.
Can I make the muffin batter ahead of time?
Make the batter the night before, then cover and refrigerate.
How do I store muffins?
Muffins are best right after they are baked. If you have leftovers, store them at room temperature or freeze them. Double-wrap them to prevent freezer burn.
---
Parting Thoughts: Serve these muffins warm with strawberry preserves for maximum strawberry flavor. Or take these muffins to a new level with homemade creme fraiche. It only takes about 8 hours, a cup of heavy cream, and a tablespoon of plain yogurt.
---
If you have questions or suggestions, email me privately for a quick answer: Paula at saladinajar.com. Hope to see you again soon!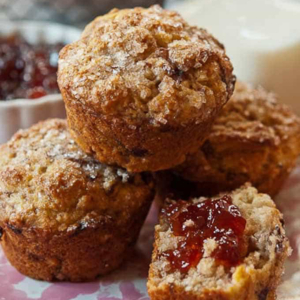 Goat Cheese Muffins with Strawberries Recipe
An easy strawberry-balsamic sauce combines with goat cheese to make a memorable breakfast muffin that is a copycat of the one sold at the Central Market Bakery.
Rate this recipe here
Ingredients
4

tablespoons

butter

-

57 gr

1½

cup

unbleached all-purpose flour

-

180 gr

½

cup

sugar

-

104 gr

1½

teaspoon

baking powder

¼

teaspoon

soda

½

cup

unflavored non-fat Greek yogurt

-

143 gr

1

large egg

-

50 gr

½

cup

strawberry-balsamic sauce

-

See the recipe notes

1-2

ounces

goat cheese crumbles

-

depending on how much you like goat cheese

Sanding or sparkling sugar for sprinkling on top
Instructions
Preheat oven to 375˚ F.

Make the strawberry balsamic sauce (see recipe notes) and let it cool.

Melt butter in the microwave for one minute on HIGH. Allow butter to cool.

Whisk flour, sugar, baking powder, and soda in a medium mixing bowl.

Combine yogurt, egg, and melted butter in a separate bowl. Add to dry ingredients and stir just until moistened. Do not overmix.

Lightly fold in cooled strawberry-balsamic sauce and goat cheese.

Portion evenly into a muffin pan that has been greased and floured. (I use an aerosol flour/butter mixture.) Muffin pans vary, but I usually end up with 8 or 9 muffins. Sprinkle liberally with sanding sugar.

Bake for 20 minutes. Allow baked muffins to stand for 5 minutes before removing them from the pan. They will get soggy bottoms if you leave them in the pan too long.
Notes
To make strawberry-balsamic sauce:
Chop 1-½ cups fresh or frozen strawberries. Place in a 1-2 quart Pyrex dish. Add ¼ cup balsamic vinegar. Cook in a microwave, UNCOVERED, for 5-6 minutes, no stirring required.
Nutrition
Serving:
1
|
Calories:
187
kcal
|
Carbohydrates:
30
g
|
Protein:
3
g
|
Fat:
6
g
|
Saturated Fat:
4
g
|
Polyunsaturated Fat:
1
g
|
Monounsaturated Fat:
2
g
|
Trans Fat:
1
g
|
Cholesterol:
34
mg
|
Sodium:
127
mg
|
Potassium:
47
mg
|
Fiber:
1
g
|
Sugar:
21
g
|
Vitamin A:
215
IU
|
Vitamin C:
2
mg
|
Calcium:
39
mg
|
Iron:
1
mg
Did you try this recipe?
If you loved it, don't forget to leave a 5-star rating 🌟🌟🌟🌟🌟 at the top of the recipe card. Thanks so much for taking the time to do that!