Golden Egg Bread with Dried Fruit: A Bread Machine Recipe (+ Video)
Sneak Preview: This Golden Egg Bread with Dried Fruit is a bread machine recipe with a rich but light texture that works well for breakfast toast, bread pudding, or French toast. Bonus: It's dairy-free. If preferred, mix this bread with an electric mixer or by hand. See the recipe notes for details.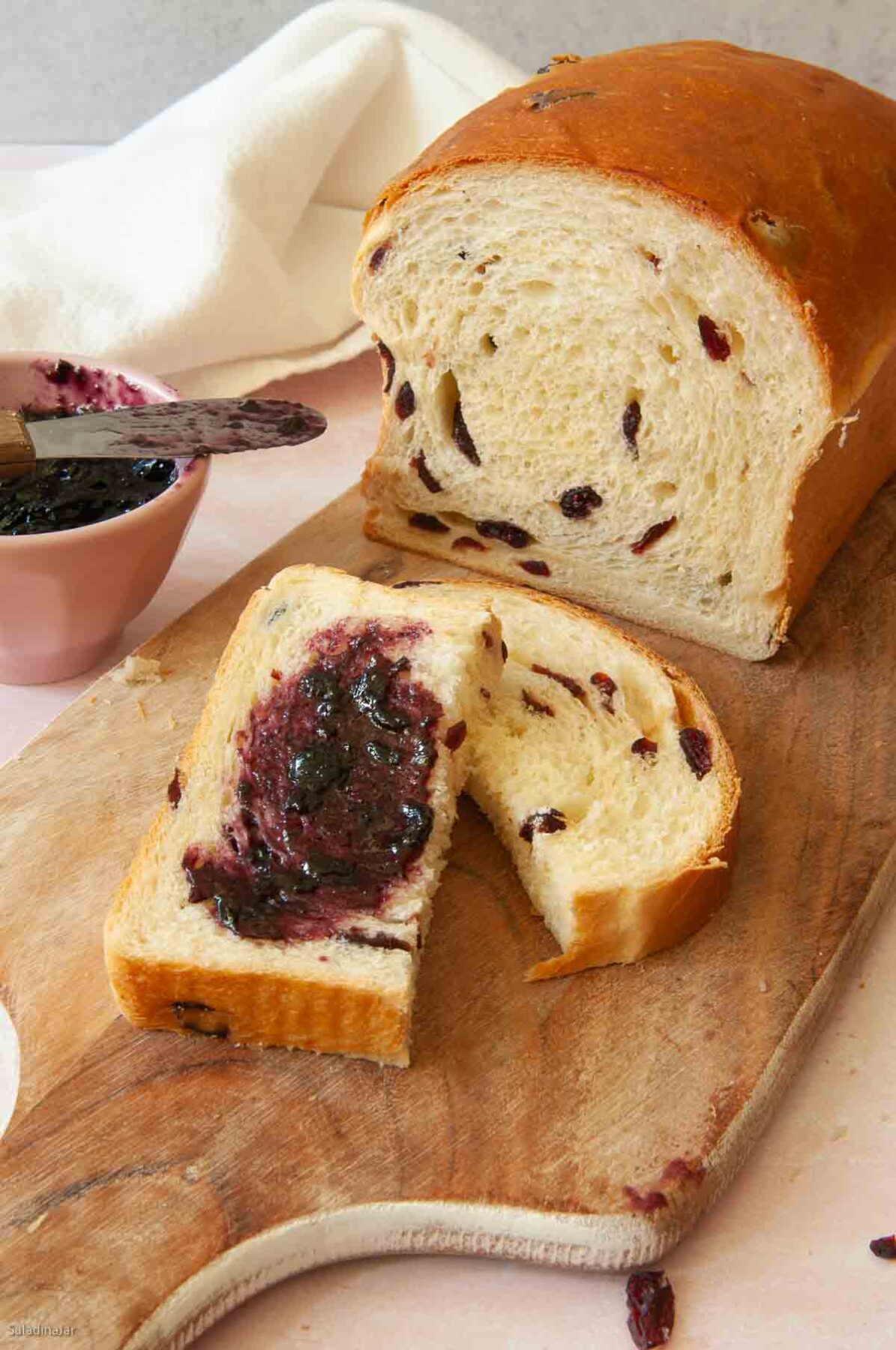 As an Amazon Associate, I earn from qualifying purchases.
Are you looking for a soft, sweet, and eggy bread recipe to make chicken salad, ham salad, or turkey panini sandwiches? Or maybe you need bread for toast and jelly in the morning or for making French toast. How about a memorable peanut butter and jelly sandwich for lunch?
This dried fruit bread recipe is excellent for eating out of hand, especially on the first day. It is not a chewy or rustic style bread but soft and somewhat sweet with a tender crumb. Bread flour helps keep it from falling apart in addition to shaping by hand, even when you use a bread machine.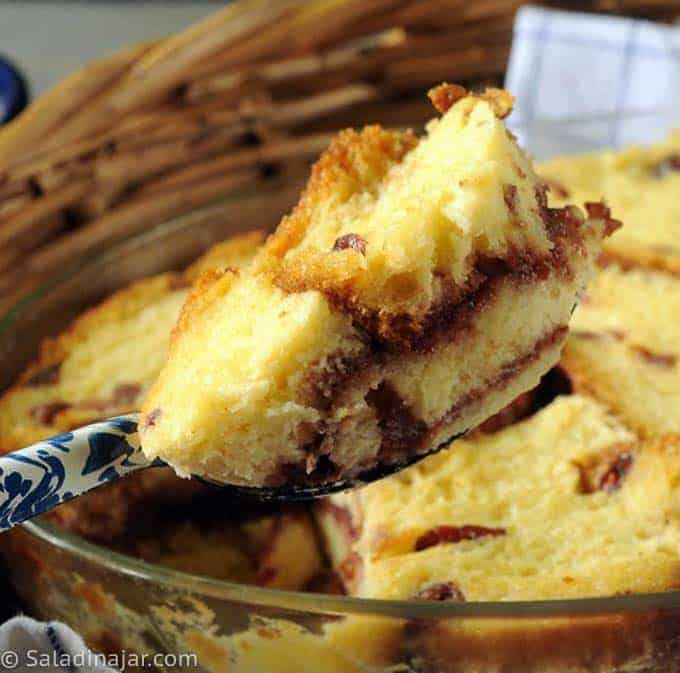 ---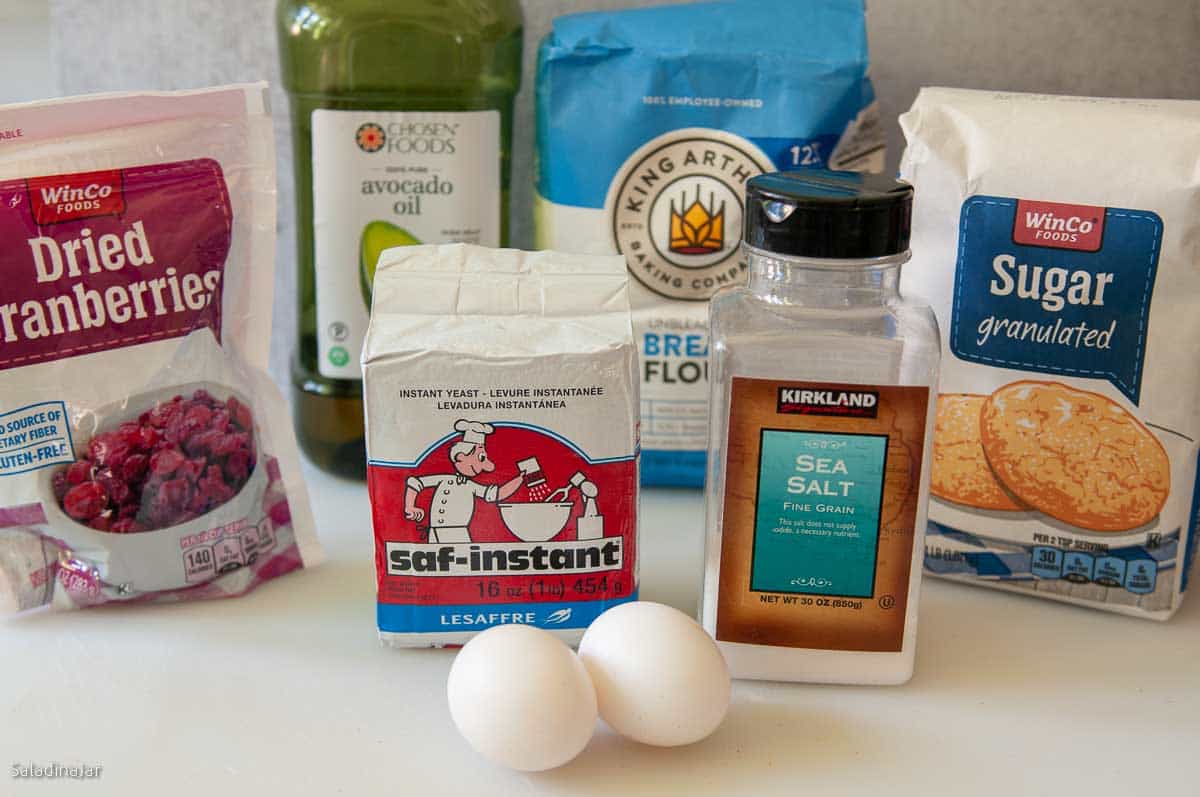 Ingredients and common substitutions:
Water: I like to use de-chlorinated water (let it sit on the counter for 24 hours) or spring water. For most people, tap water will work fine. If you want richer bread, substitute milk for the water. (No need for warm water as the heat produced by the bread maker paddles will heat the ingredients in a hurry.)

Eggs: Size is important when it comes to eggs and bread dough. Eggs count as a liquid. The more liquid you use, the more flour you need.

I always use large eggs when developing my recipes. If you want to use a different size, adjust the total liquid in this recipe accordingly. For example, when using extra large eggs, use less water.

Oil: I like to use olive oil for two reasons. It has health benefits and adds a fruity flavor that complements the dried fruit. Butter is an excellent alternative to oil if you don't mind dairy products. No need to melt it. Instead, chop it finely, and it will soften in a hurry once the kneading begins.

Sugar: I use granulated sugar. If you want sweeter bread, add another tablespoon of sugar. If you want to, cut out the sugar completely, but the dough will take longer to rise. Substitute brown sugar or honey if you prefer. If you use honey, the moisture level of the dough may be affected. Check the dough as it kneads in the machine in case it needs correction.

Salt: This recipe was tested with table or sea salt. If you want to use Kosher salt, add at least ¼ teaspoon of extra salt. You can reduce the salt, but please don't cut it out completely. Yeast needs salt to behave correctly. No salt often results in the dough rising too fast, then falling when you put the shaped loaf into the oven to bake.

Flour: I like bread flour in this recipe. It makes a sturdier sandwich loaf and supports the dried fruit. If you try substituting all-purpose flour, you may or may not need to add Vital Wheat Gluten to help the bread rise. (Follow the directions on the package for the amount.)

Yeast: I recommend using instant yeast or bread machine yeast for every recipe you make with a bread machine. See the recipe notes if you want to use active dry yeast.

Dried Fruit: You could make this bread without it, but dried fruit takes it from the blue ribbon category to grand champion-purple-ribbon status. Below, you can see it with dried cranberries. In the top picture, I used dried cherries. Try raisins, currants, dates, dried blueberries, or mixed dried fruits.

If you like fruity flavors in bread, don't miss these recipes for Orange Sweet Rolls with Cream Cheese Icing, Artisan Rosemary Yeast Bread with Dried Cranberries and Pecans, or Fresh Blueberry Yeast Bread from a Bread Machine.
---
📌Bread maker tip:
Adding fruit (or nuts) at the end of the kneading process preserves the integrity of the fruit. Many bread machines have a unique signal to let you know when to add fragile ingredients.
---
How to mix and knead egg bread in a bread machine: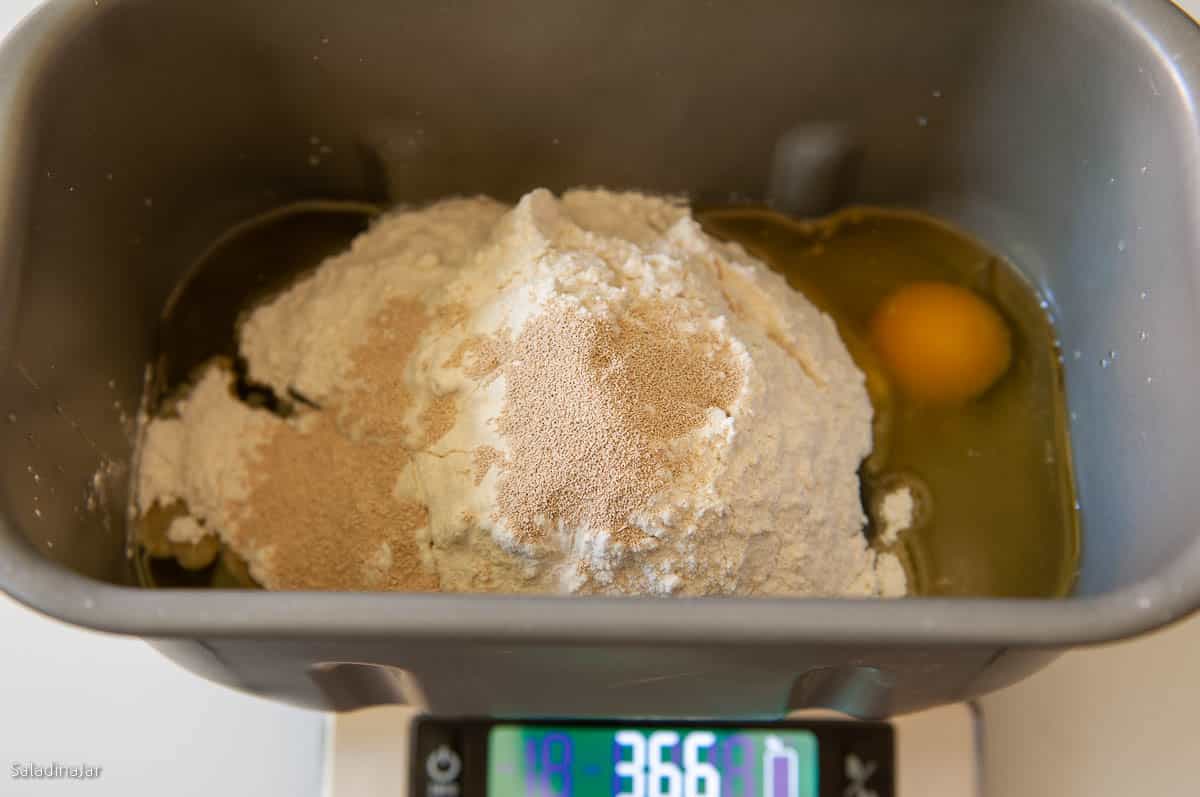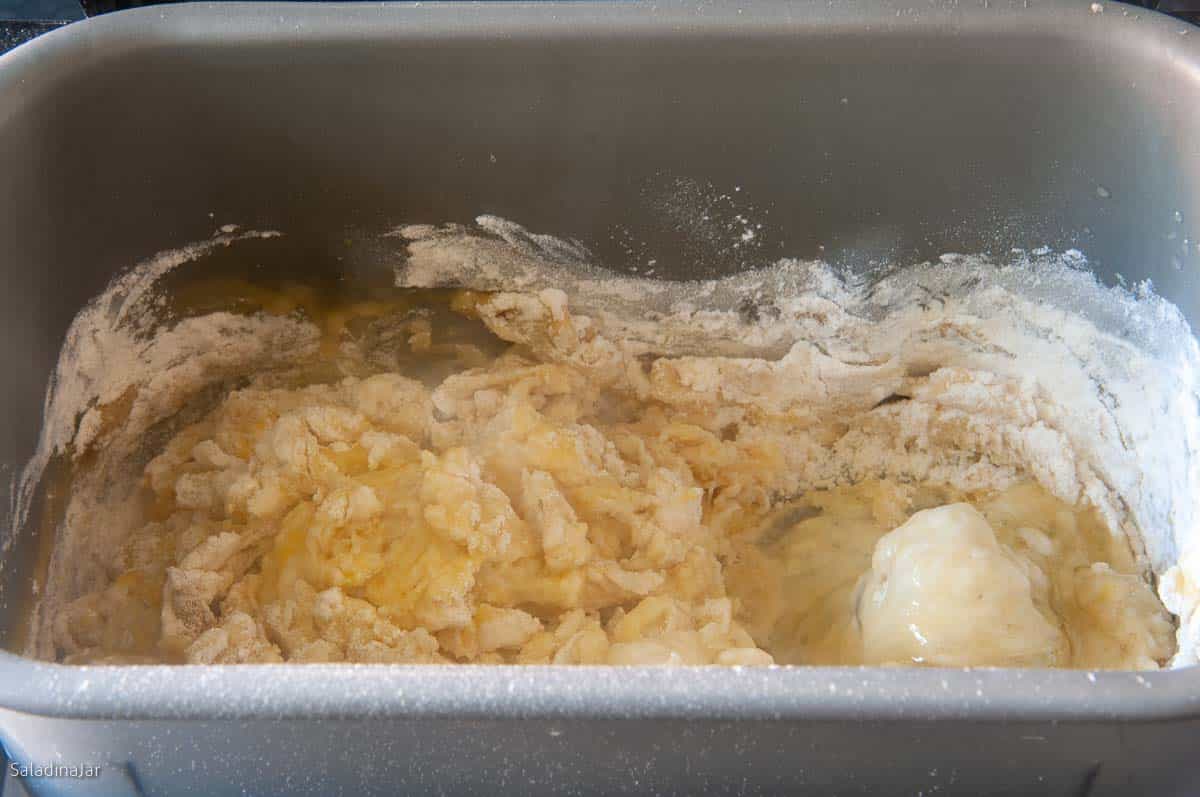 ---
Egg Bread with Dried Fruit from the bread maker pan to the oven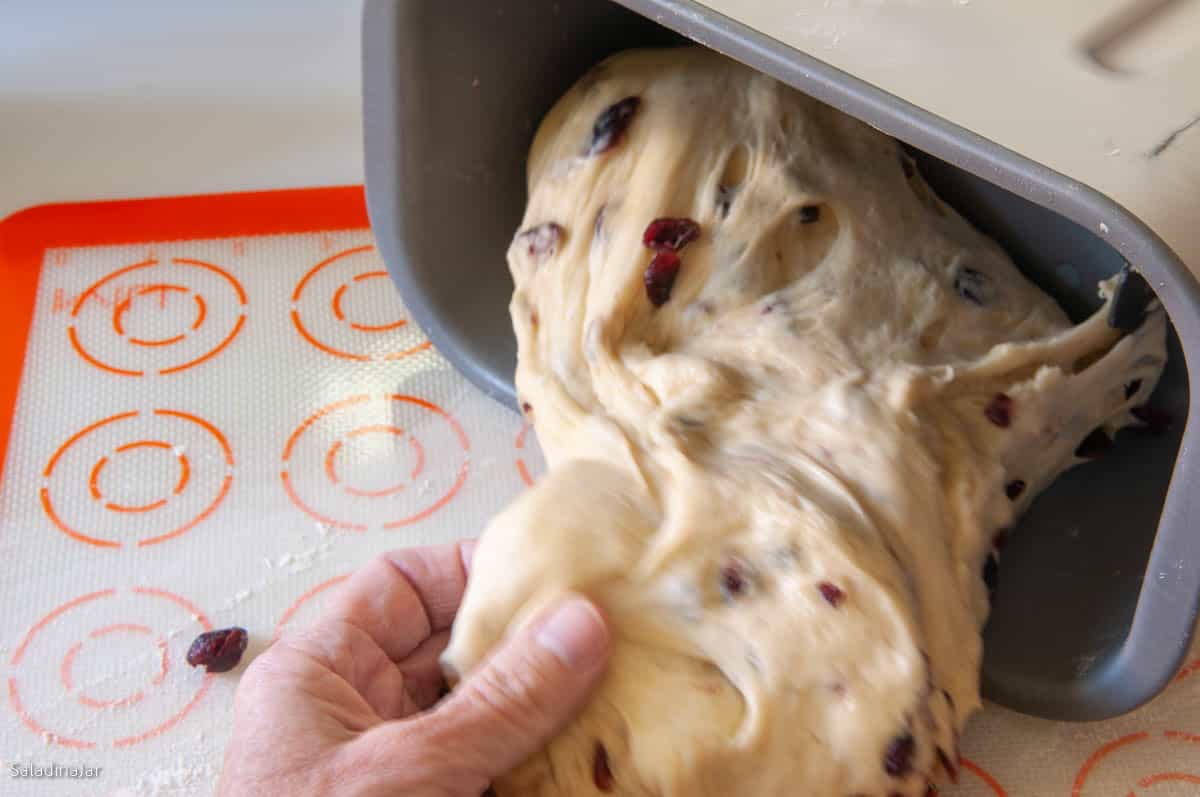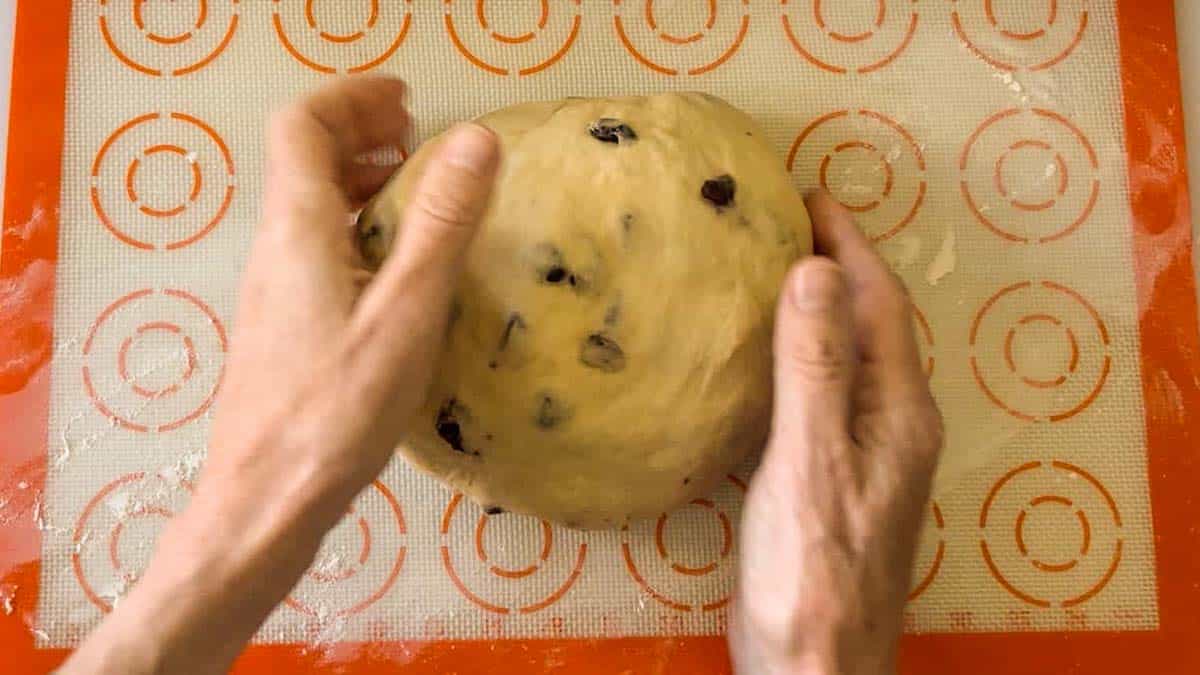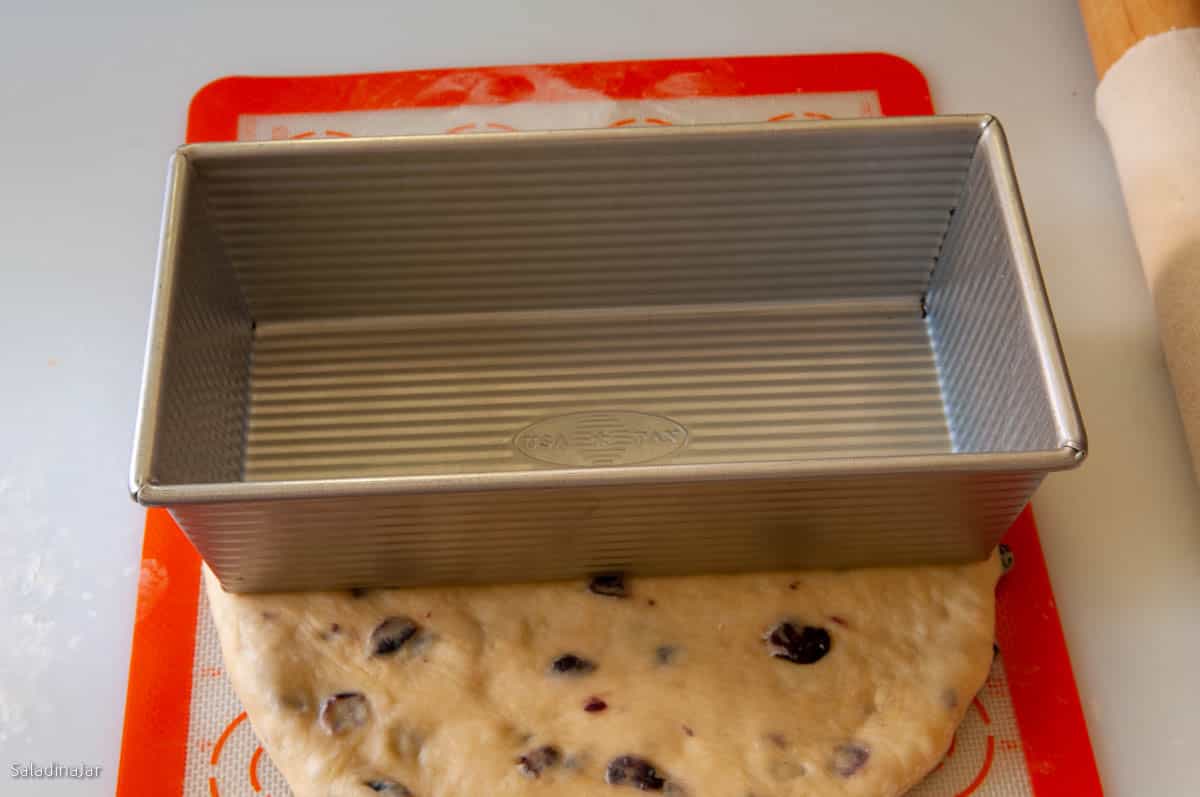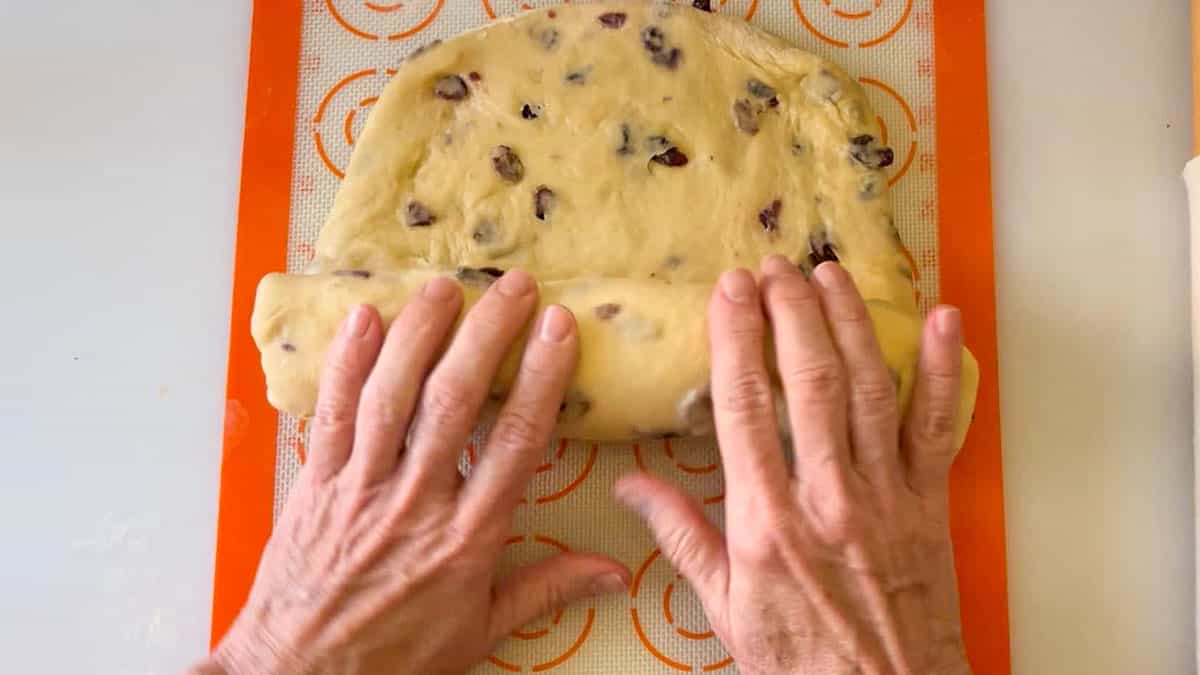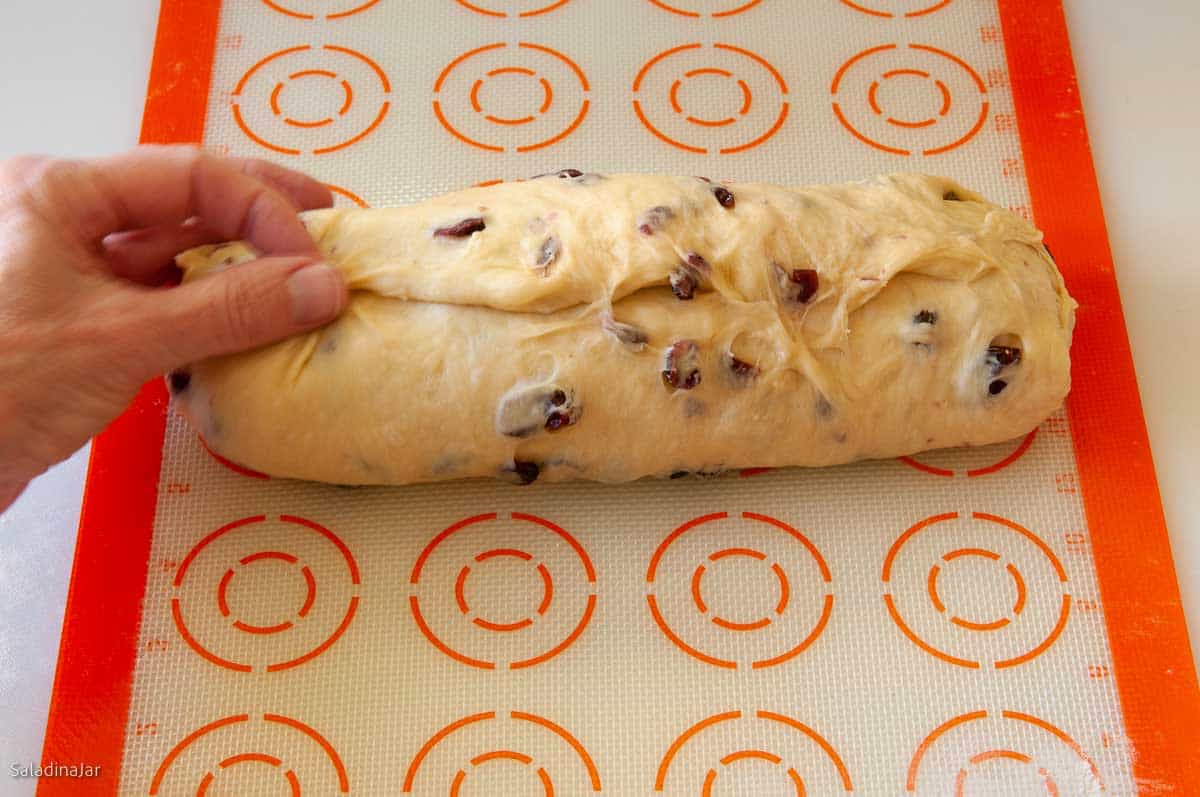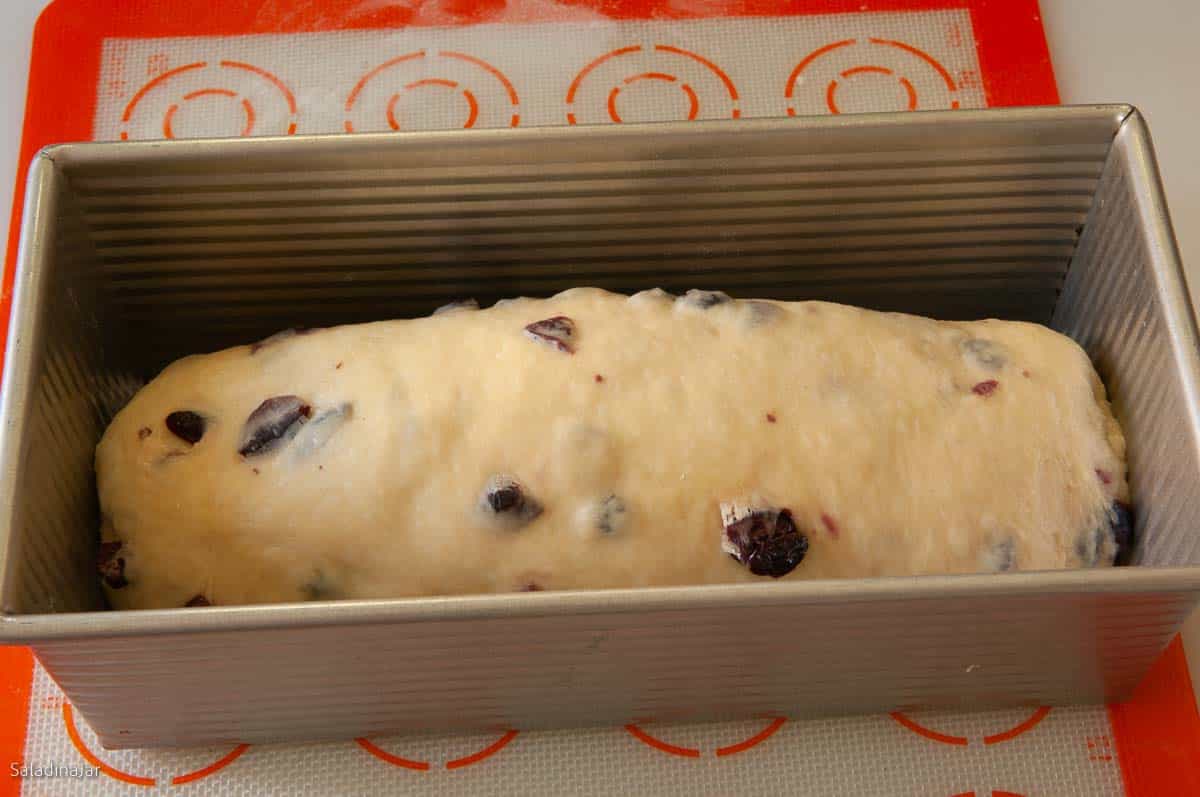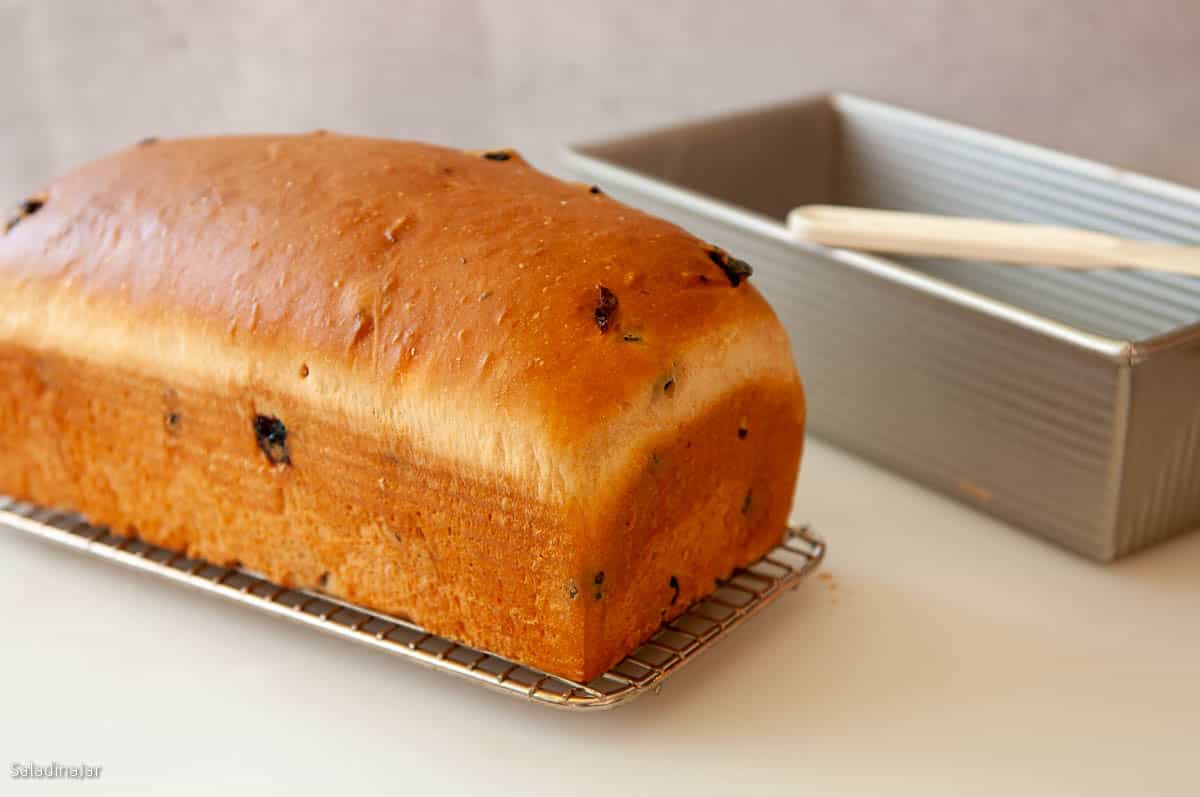 ---
Frequently Asked Questions about this Egg Bread recipe with Dried Fruit
Do I need to use an egg wash on this bread?
You can, but the egg and sugar in the recipe will give you a golden brown finish without a glaze. If you want to add a wash, brush the rolls with one egg yolk combined with 1 tablespoon of water and a pinch of salt.
How is Challah or brioche different from egg bread?
They are all similar in that they use several eggs resulting in a soft and tender texture with a yellow color.

Brioche is famous for containing lots of butter (more than double the fat in this recipe) in addition to multiple eggs. Most instructions call for refrigerating the sticky dough so it will be easier to shape. Challah is similar to this egg bread recipe, often dairy-free, and traditionally presented in a braided shape. All three of these bread recipes can be successfully mixed and kneaded in a bread machine, then baked in a conventional oven.
Can I freeze this bread?
Yes. Since this bread will only stay fresh for a couple of days, double wrap it and store it in the freezer. Use within 3-4 weeks.
---
This recipe was adapted from the book, "One Hundred Years of Bread" by Sidney Brockman Carlisle.
If you have questions or suggestions, email me privately to Paula at saladinajar.com. Hope to see you again soon! Paula
---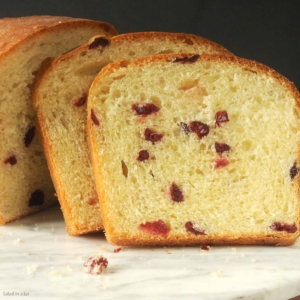 Golden Egg Bread with Dried Fruit (Bread Machine Recipe)
This recipe for Egg Bread with Dried Fruit has a light texture that works well for bread pudding, sandwiches, and eating out of hand. Incidentally, it is dairy free.
Ingredients
⅔

cup

water

-

151 gr

2

large

eggs

-

100 gr

⅓

cup

vegetable oil

-

67 gr (I prefer olive oil)

3

tablespoons

granulated sugar

-

36 gr

1¼

teaspoons

table or sea salt

-

9 gr

3⅓ to 3½

cups

unbleached bread flour

-

400 to 420 gr (Start with 3⅓ cups of flour and add more if necessary.)

2

teaspoons

instant or bread machine yeast

-

6 gr

¾

cup

dried cranberries, dried cherries, dried apricots, chopped dates, raisins, or a combination

-

120 gr
Instructions
Place ⅔ C water, 2 large eggs, ⅓ C oil, 3 T sugar, 1¼ t salt, 3⅓ C bread flour, and 2 t instant yeast in the bread machine pan in the order listed. Select the DOUGH cycle and press START.

Add ¾ C dried fruit when the add-in beep signals or about 5 minutes before the kneading phase ends. (Check your manual for the specific timing of your model.)

Recheck 15 minutes into the DOUGH cycle to assess the consistency and moisture content of the dough. The dough should stick to the side, then pull away cleanly.

If your dough is too wet, add flour one tablespoon at a time, giving the dough a chance to absorb the flour between each addition.

Conversely, if the dough is too dry, add one tablespoon of liquid at a time until the dough looks just right. Read more about this surprising secret to success with a bread machine here.

When the DOUGH cycle is finished, check the dough to see if it has doubled in size. If so, remove it from the pan to a floured surface. If not, leave it in the bread maker pan until it doubles before proceeding. (This may happen when your kitchen is cold in the winter.)

Remove the dough from the bread maker onto a lightly floured surface.
Shaping the dough:
Knead the dough slightly to press the air out of the dough. Press with your hands or use a rolling pin to shape the dough into a rectangle, with the shortest side slightly longer than your pan.

Starting with the short side nearest you, use your hands to roll the dough into a cylinder shape. Tuck ends under and carefully place the roll into a loaf pan (10 x 5-inches or 9 x 5-inches). It should fill the pan about halfway.

Cover the shaped loaf loosely with a clean towel and allow it to rise in a warm place until almost double. This rise may take as long as an hour or more, but don't watch the clock. The dough appearance is your only true guide.

Preheat your oven to 350˚F (180˚C). Bake until cooked through and the crust is golden brown–approximately 45 minutes. If necessary, cover with aluminum foil during the last third of the cooking time to protect the loaf from over-browning. When the loaf is done, the internal temperature should reach 190˚F (88˚C).

Let the baked loaf cool in the pan on the counter for 15 minutes. Turn out onto a cooling rack. Allow the bread to cool completely before slicing, or you risk squashing it as you slice. (Sometimes, eating warm bread is worth the risk of crushing it. 🤔)
Notes
Directions for making bread with a stand mixer or by hand:
To make this recipe in a heavy-duty stand mixer: Add ingredients to the bowl in the same order. Turn on LOW to mix until all ingredients are moistened. Then, using a dough hook, turn up the speed to 2 or 3. Continue beating/kneading until the dough becomes smooth and elastic (about 5-10 minutes). Cover and allow to rise in a warm place. Deflate dough gently and shape as indicated in the recipe.
If making by hand: Combine all ingredients into a shaggy ball in a large bowl. Turn dough out onto a floured surface. Knead with your hands until the dough becomes smooth and elastic. Kneading will likely take 10-20 minutes, depending on your experience. Place the dough ball into a greased bowl. Cover and allow to rise until double. Deflate the dough gently and shape it as indicated in the recipe.
Please note: If you only have active dry yeast, use 1/4 teaspoon more than is called for in the recipe.

It no longer needs to be dissolved first

, but you can if you prefer.
Nutrition
Nutrition Facts
Golden Egg Bread with Dried Fruit (Bread Machine Recipe)
Amount per Serving
% Daily Value*
* Percent Daily Values are based on a 2000 calorie diet.
Like this recipe? Thanks for leaving a 5-star rating inside the recipe at the top! 🤩