Preview: This Crusty Bread Machine Recipe starts life with a simple "sponge mixture." Complex yeasty flavors and a crusty exterior are your reward.
An unexpected, unscheduled day at home can be a gift straight from heaven. (Literally, if it's caused by snow or ice.) I get so excited contemplating possible projects while still in bed that there's no sleeping in for me.
When one such day happened recently, I took the opportunity to make this rustic bread with my bread machine. When my youngest son was a teenager, he could eat almost a whole loaf by himself. I think you'll like it, too.
The recipe is written for a bread machine but you can also make it in a stand mixer or by hand. (See recipe notes.)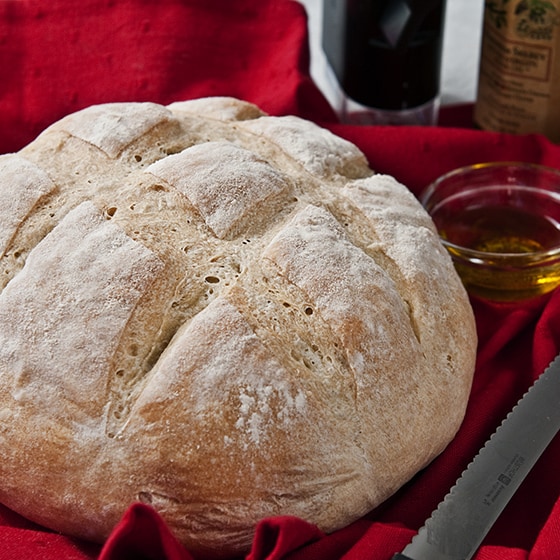 This Tuscan recipe utilizes a two-step process that slowly develops a delicious yeasty flavor.
What is the result of this extra work? A deliciously chewy texture with a close crumb. It takes a little more time, but not much additional effort.
Please note: You won't get big holes and spider web texture with this recipe. It's not that kind of bread. If that's what you're after, check out my Ciabatta Bread for a bread machine.
What makes this bread especially tasty?
Begin by making a "sponge," also referred to as a biga.
A "sponge" sounds kinda gross, but this mixture does look like a sponge after it rests for several hours. Don't you think?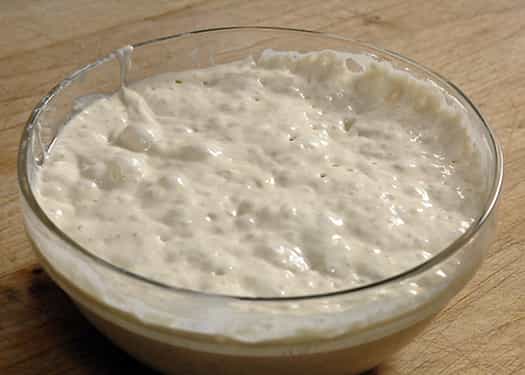 After the sponge has developed for 6-8 hours (or overnight), add the remainder of the flour, water, and salt to make the dough.
---
Do I have to use a bread machine to make this recipe?
I mix and knead the dough in a bread machine, then bake it in my conventional oven for a superior loaf. It can certainly be made by hand or with a stand mixer if you don't have a machine. I posted those directions in the notes of the recipe.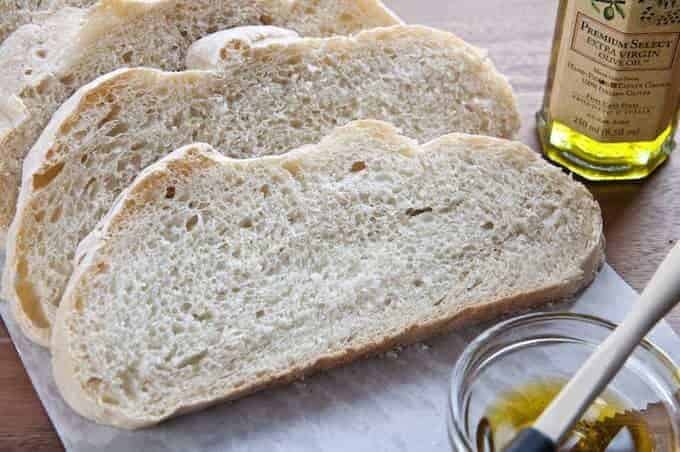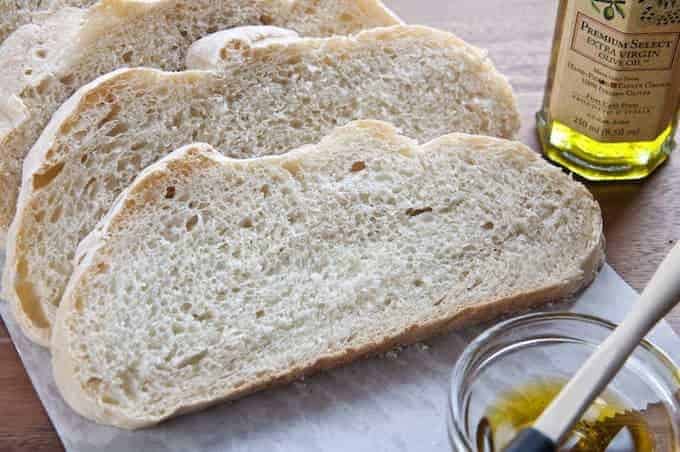 Try making this bread the next time you find yourself with several hours at home. Yes, it requires a little more time than most homemade bread, but it's not so much hands-on time as letting the yeast do its thing.
Your reward for patience is a bread with a better flavor that stays fresher longer.
---
Ingredients and Substitutions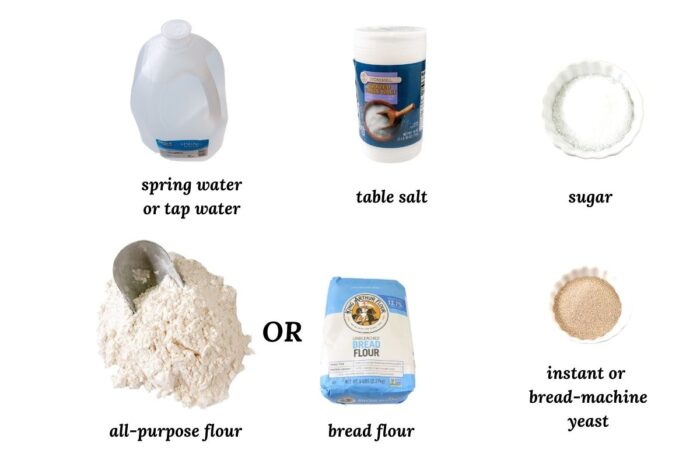 ALL-PURPOSE, UNBLEACHED FLOUR: You can substitute all-purpose unbleached flour or bread flour. Weights will remain the same.
YEAST: I prefer instant, bread machine, or rapid-rise yeast. They're interchangeable.
WATER: Spring water is my first choice. If you don't have it, tap water is fine.
SUGAR: Although this is optional, I always add granulated sugar. The crust is prettier.
SALT: Use table or sea salt. If you want to use Kosher salt, add 1/4 teaspoon extra.
---
How To Form Crusty Round Bread
---
More recipes and tips for your bread maker:
---
---
Did you enjoy this recipe? You can help others (and me) by leaving a rating on the recipe card itself underneath the picture. No comment required. Thank you.

Hope to see you again soon!
Paula
p.s. Questions? Email me: paula at saladinajar.com.
---
Yield: 12 servings
A Round Crusty Bread Machine Recipe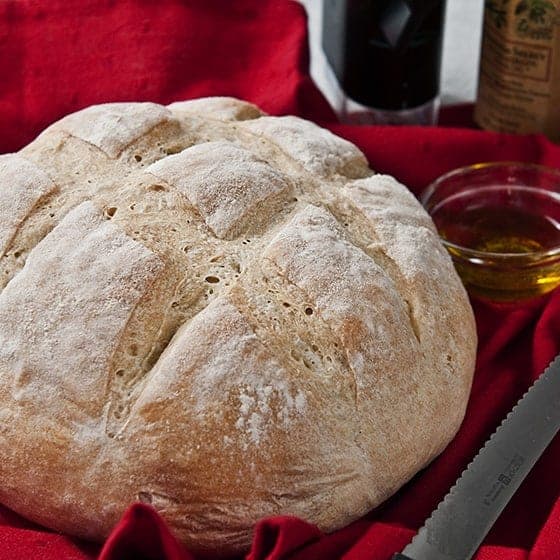 This Round Crusty Bread recipe (made in a bread machine) includes a sponge process that slowly develops yeasty flavor resulting in a chewy texture with a close crumb.
Total Time
19 hours
30 minutes
Ingredients
Sponge:
1-1/2 cups (180 grams) all-purpose, unbleached flour
1 teaspoon instant or bread machine yeast
1 cup (8 oz) water
Dough:
3 tablespoons (1.5 oz) water
1 teaspoon sugar (optional)
1-1/2 teaspoon salt
1-3/4 cups (210 grams) all-purpose, unbleached flour
Instructions
Making the Sponge:
Place water, yeast and flour in bread machine pan and select the "dough" cycle. Allow to mix about 5 minutes using small spatula to carefully push flour stuck in the corners into the mixing area. Unplug machine and let stand at room temperature over night or about 8 hours. Do not leave over 16 hours.
Making the Dough
Open lid of bread machine and add water, sugar, salt, and flour.
Restart dough cycle. Check dough after 5-10 minutes of mixing. If necessary, add additional flour 1 tablespoon at a time to form a smooth but slightly tacky ball or water if dough is too dry and bounces against the sides.
When dough cycle ends, allow dough to continue to rise in machine for at least 30 minutes (or more if ambient temperature is cool) until double in size. If you are new to bread machines, see Six Bread Machine Tips for Beginners for more help with this step.
Preparing and Baking the Loaf
Remove dough from bread machine pan to lightly floured board or silicone baking mat (my preference). Form into smooth ball by pulling dough around to bottom until top is smooth. Place on parchment-covered cookie sheet. Cover loosely with lightly oiled plastic wrap and place in warm place to rise until almost double.
About 15 minutes before bread is ready to bake, preheat oven to 425 degrees. Just before putting bread in the oven, sprinkle top with flour. Using a single edge razor blade (or a sharp, serrated knife), make several cuts across top of bread about 1/2 inch deep.
Bake 30-35 minutes until loaf is golden brown and internal temperature has reached 190 degrees. Allow to cool on rack before slicing. Or slice while it's hot at the risk of squashing your bread. It's worth it.
Notes
Directions for making bread with a stand mixer or by hand:
Follow directions above for making the sponge. Use a medium size mixing bowl to mix the sponge and let it sit for 6-8 hours.
To make this recipe in a heavy-duty stand mixer, add sponge and other ingredients to the bowl in the same order. Turn on low to mix until all ingredients are moistened. Using dough hook, turn speed to 2 or 3 and continue beating/kneading until dough becomes smooth and elastic, about 5-10 minutes. Cover and allow to rise in a warm place. Deflate dough gently and shape rolls as indicated in recipe.
If making by hand, combine all ingredients into a shaggy ball in a large bowl. Turn dough out on a floured surface and knead with your hands until dough becomes smooth and elastic, a process that will likely take 10-20 minutes depending on your experience. Place dough ball into a greased bowl. Cover and allow to rise until double. Deflate dough gently and shape rolls as indicated in recipe
Please note: If you substitute regular yeast for instant or bread machine yeast, you must dissolve it first before adding to the dry ingredients. Stir it into about 1/4 cup of the lukewarm liquid called for in the recipe. Let sit for about 10 minutes. Add to other wet ingredients and then add dry ingredients. Proceed as directed to knead and shape rolls.
Recommended Products
As an Amazon Associate, I earn from qualifying purchases. But don't worry. This doesn't change the price you pay.
Nutrition Information:
Yield:
12
Serving Size:
1 slice
Amount Per Serving:
Calories:

78
Total Fat:

0g
Saturated Fat:

0g
Trans Fat:

0g
Unsaturated Fat:

0g
Cholesterol:

0mg
Sodium:

266mg
Carbohydrates:

16g
Fiber:

1g
Sugar:

0g
Protein:

2g