Preview: This Crusty Bread Machine Recipe starts life with a simple "sponge mixture." Complex yeasty flavors and a crusty exterior are your rewards.
An unexpected, unscheduled day at home can be a gift straight from heaven. (Literally, if it's caused by snow or ice.) I get so excited contemplating possible projects while still in bed that there's no sleeping in for me.
When one such day happened recently, I took the opportunity to make this rustic bread with my bread machine. When my youngest son was a teenager, he could eat almost a whole loaf by himself. I think you'll like it, too.
The recipe is written for a bread machine but you can also make it in a stand mixer or by hand. (See recipe notes.)
This Tuscan recipe utilizes a two-step process that slowly develops a delicious yeasty flavor.
What is the result of this extra work? A deliciously chewy texture with a close crumb. It takes a little more time, but not much additional effort.
Please note: You won't get big holes and spider web texture with this recipe. It's not that kind of bread. If that's what you're after, check out my Ciabatta Bread for a bread machine.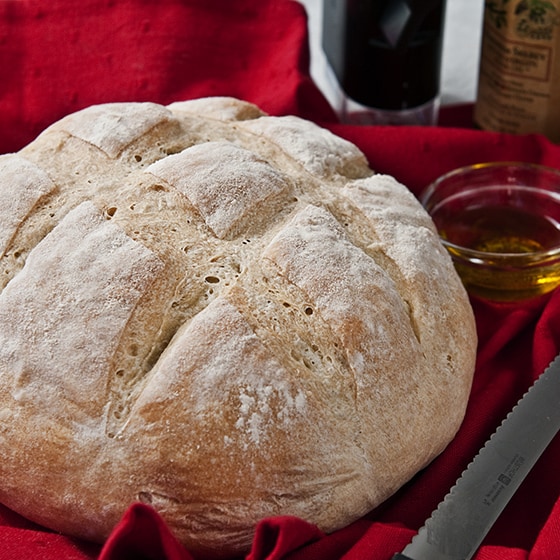 What makes this bread especially tasty?
Begin by making a "sponge," also referred to as a biga.
A "sponge" sounds kinda gross, but this mixture does look like a sponge after it rests for several hours. Don't you think?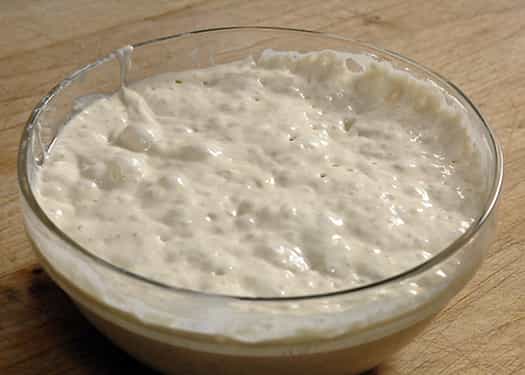 After the sponge has developed for 6-8 hours (or overnight), add the remainder of the flour, water, and salt to make the dough.
---
Do I have to use a bread machine to make this recipe?
I mix and knead the dough in a bread machine, then bake it in my conventional oven for a superior loaf. It can certainly be made by hand or with a stand mixer if you don't have a machine. I posted those directions in the notes of the recipe.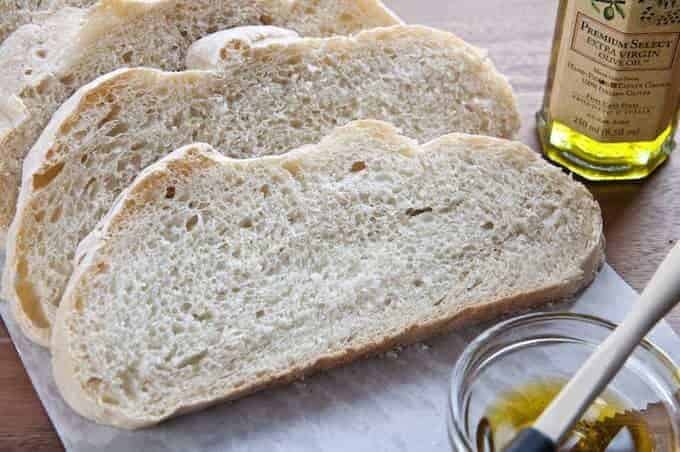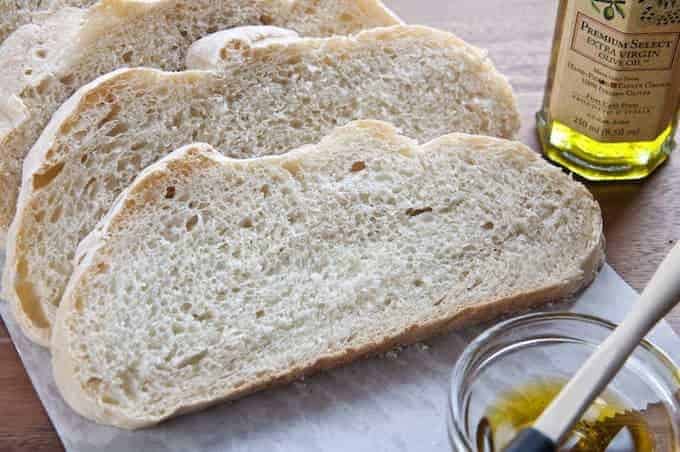 Try making this bread the next time you find yourself with several hours at home. Yes, it requires a little more time than most homemade bread, but it's not so much hands-on time as letting the yeast do its thing.
Your reward for patience is a bread with a better flavor that stays fresher longer.
---
Ingredients and substitutions: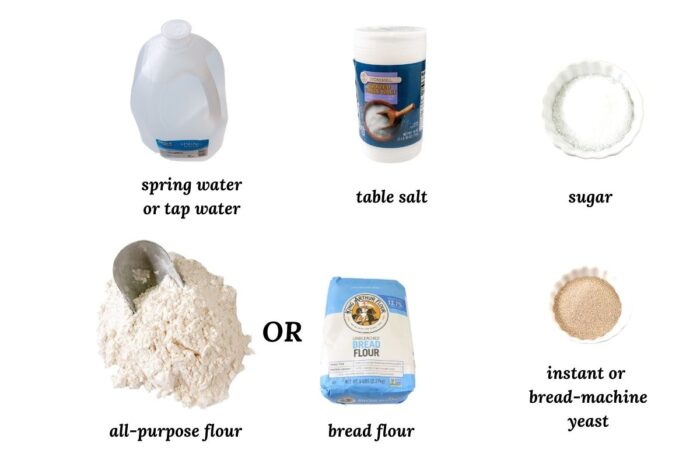 ALL-PURPOSE, UNBLEACHED FLOUR: You can substitute all-purpose unbleached flour or bread flour. Weights will remain the same.
YEAST: I prefer instant, bread machine, or rapid-rise yeast. They're interchangeable.
WATER: Spring water is my first choice. If you don't have it, tap water is fine.
SUGAR: Although this is optional, I always add granulated sugar. The crust is prettier.
SALT: Use table or sea salt. If you want to use Kosher salt, add 1/4 teaspoon extra.
---
How To Form Crusty Round Bread
More recipes and tips for your bread maker:
Did you enjoy this recipe? If so, you can help others and me by leaving a 5-star 🤩 rating inside the recipe below. No comments required.
Hope to see you again soon!
Paula
p.s. If you have any questions or suggestions, you can email me privately: paula at saladinajar.com.