This Crusty Bread Machine Recipe Makes any Meal Special
Sneak Preview: This Crusty Bread Machine Recipe starts life with a simple sponge mixture the night before. Complex yeasty flavors and a crusty exterior are your rewards for thinking ahead.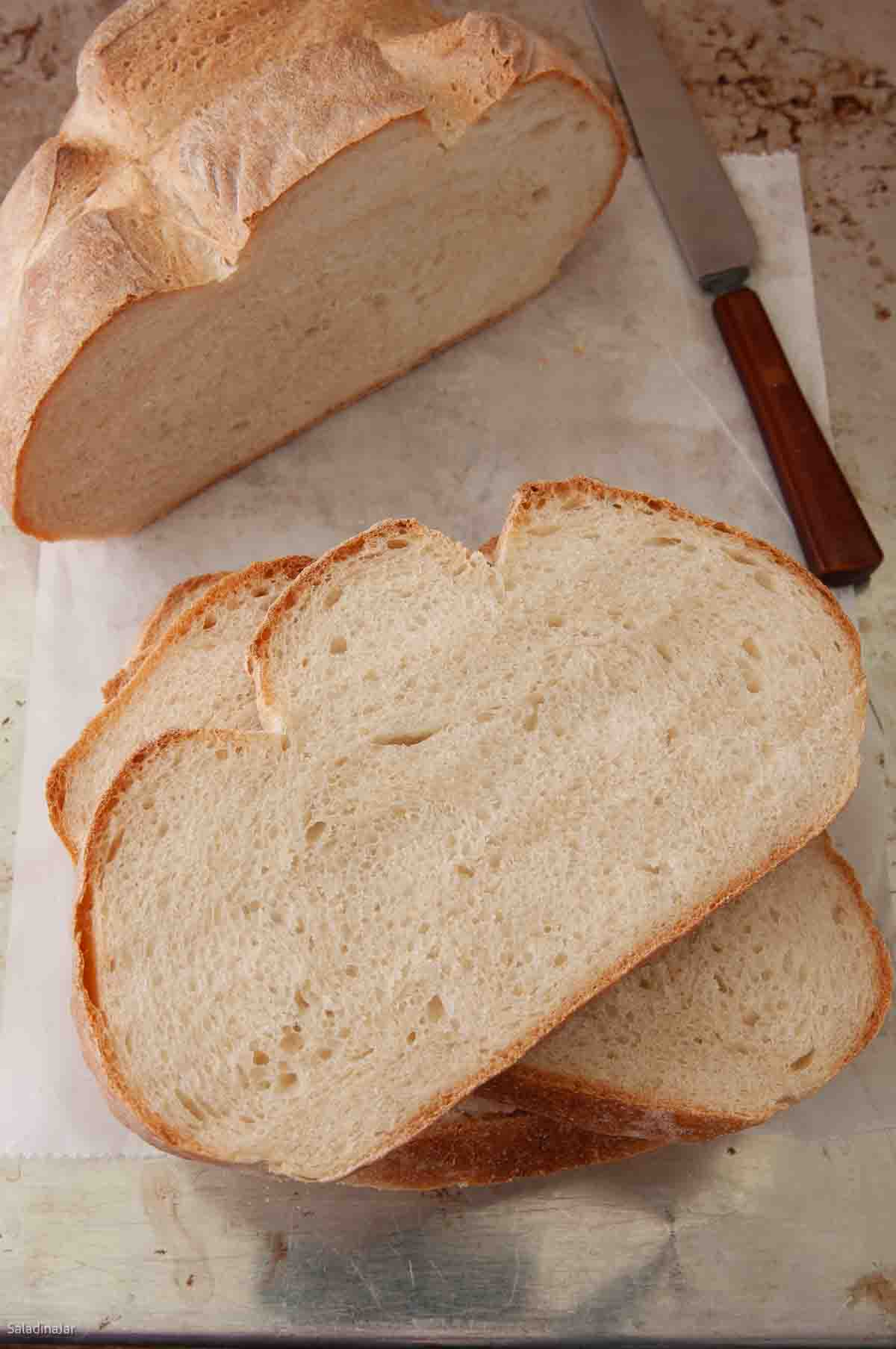 As an Amazon Associate, I earn from qualifying purchases.
Are you looking for bread to dip into olive oil or sop up the tasty juices from your entree? Do you want rustic bread that won't require you to knead by hand? What if it only has five ingredients?
This rustic bread recipe may be just what you need.
The texture is soft and absorbent for dipping. You can make it in a bread machine-no kneading by hand is necessary. No fancy ingredients or starter is needed. All you need is water, flour, yeast, and salt. A touch of sugar is optional.
This recipe utilizes a two-step process that develops a delicious yeasty flavor while you sleep or work. First, make the sponge the night before, then assemble, shape, and bake it 8-16 hours later.
What is the result of this extra step? The pay-off is a better-tasting Tuscan-style loaf (although my loaf does include salt for better flavor) with a deliciously chewy texture and a close crumb. It takes a little more time but not much additional effort.
Please note: You won't get big holes and spider web texture with this recipe. It's not that kind of bread. If that's what you're after, check out my Ciabatta Bread for a bread machine.
The recipe is for a bread machine, but you can make it in a stand mixer or by hand. (See recipe notes.)
---
What makes this bread especially tasty?
This crusty bread starts life as a "sponge," also referred to as a biga.
A "sponge" sounds gross, but this mixture looks like a sponge after it rests for several hours. Don't you think?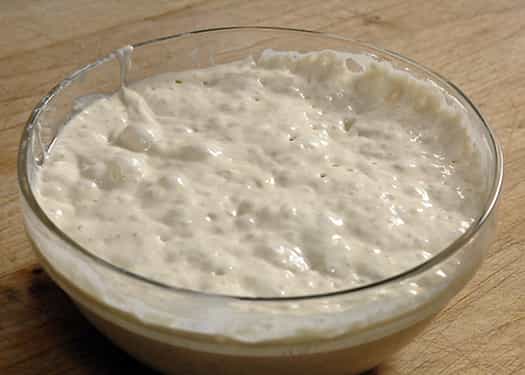 After the sponge has developed for 6-8 hours (or overnight), add the remainder of the flour, water, and salt to make the dough.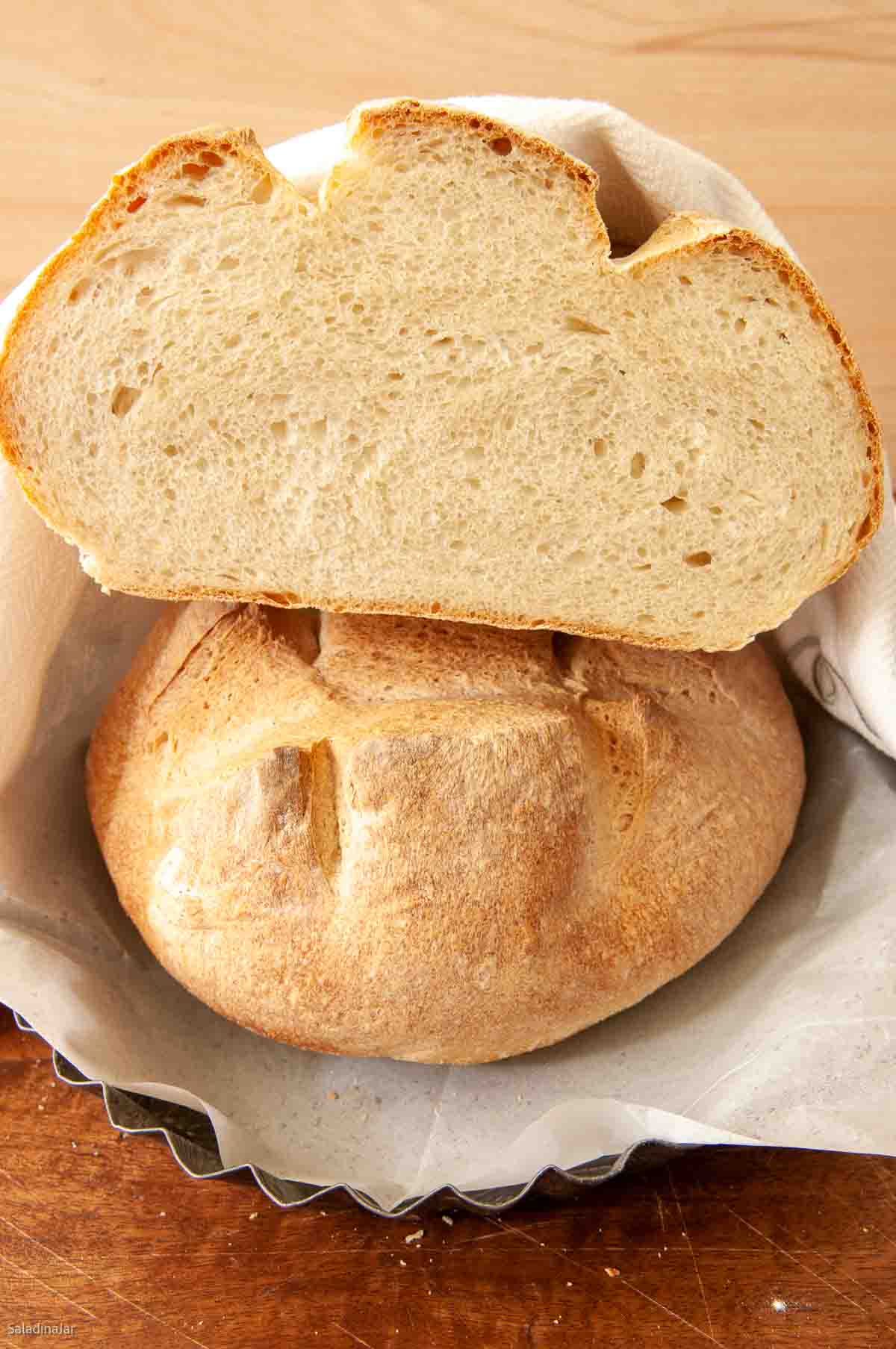 Ingredients and substitutions: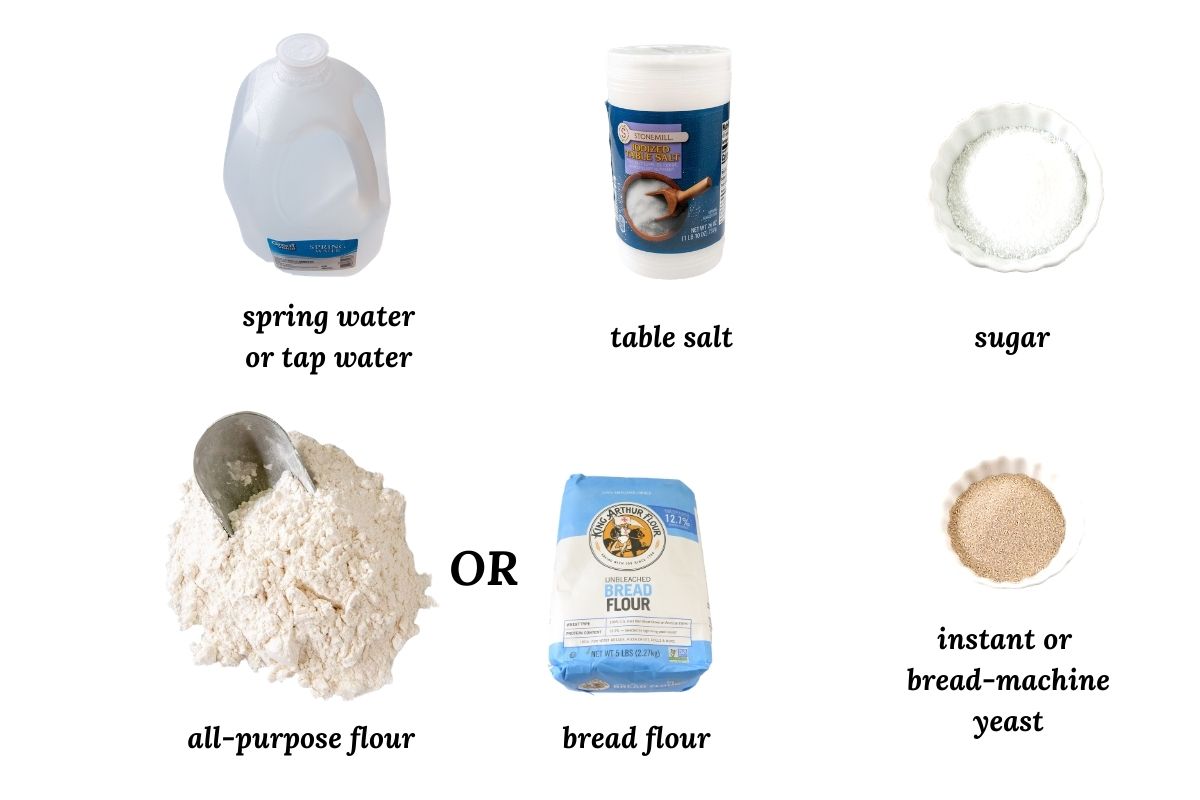 ALL-PURPOSE, UNBLEACHED FLOUR: You can substitute all-purpose unbleached or bread flour. Weights will remain the same.

YEAST: I prefer instant, bread machine, or rapid-rise yeast. They're interchangeable.

WATER: Spring water is my first choice. If you don't have it, tap water is fine.

SUGAR: Although this is optional, I always add granulated sugar. The crust is prettier.

SALT: Use a table or sea salt. If you want to use Kosher salt, add 1/4 teaspoon extra. If you want a traditional Tuscan loaf, don't add salt.
FAQ about this Crusty Bread Machine Recipe for a bread maker:
Can I make and bake this bread from start to finish in a bread machine?
I don't recommend it. The texture will not be nice and even (as seen in the picture below). The bread machine does not get hot enough to make crusty, tender bread with a crust that tastes good.

Of course, you can't make a round shape since all bread baked in a bread machine has to be the shape of the bread maker pan. Also, it would be difficult to slash the top. Furthermore, the top would likely be uneven when baked in a bread machine.

Do I have to use a bread machine to make this recipe?
I mix and knead the dough in a bread machine, then bake it in my conventional oven for a superior loaf. If you don't have a machine, it can be made by hand or with a stand mixer. I posted those directions in the notes of the recipe.
How long will this rustic bread stay fresh?
Because no preservatives are added to this bread, eating or freezing it within three days is best. Wrap the baked bread in two layers of protective wrapping to prevent freezer burn. Eat within a month.
What are the pros and cons of using water vs. flour when shaping slightly sticky dough?
I prefer to spray the surface I use for shaping the dough with water. Traditionally, people use flour. However, this dough (or any sticky dough) can absorb a lot of flour.

If you are a newbie, you can quickly add too much flour, which causes your bread to be dry and dense. Instead, try spritzing your hands and work surface with water. If your hands get dry, re-spritz or dip them into a water bowl.
How can I keep the crust crispy?
The crust will stay crispy until you put it into a plastic bag. Then, when you make it, you can try placing the cut side down on your cutting surface or board.

What's left after the first day should be stored in a plastic bag or bread box. However, the crust tends to soften when you enclose the bread.
How to make the dough and form this Crusty Bread Recipe for a bread maker:
Make the sponge the night before the day you want to bake this bread. Add the water, flour, and yeast as specified in the recipe.
Mix for one minute on the DOUGH cycle. Turn the machine OFF. Use a small spatula to mix all the flour into the sponge mixture.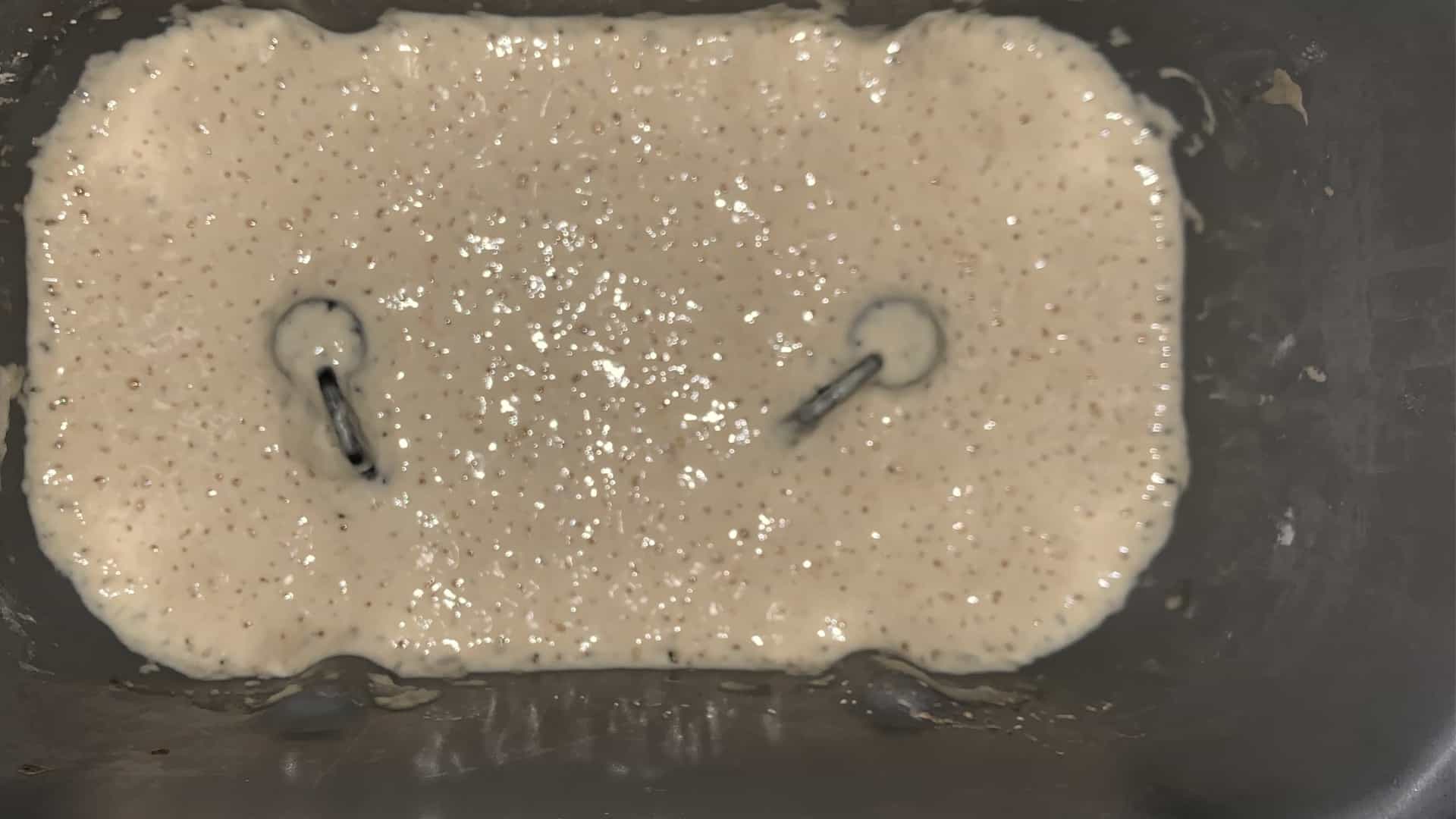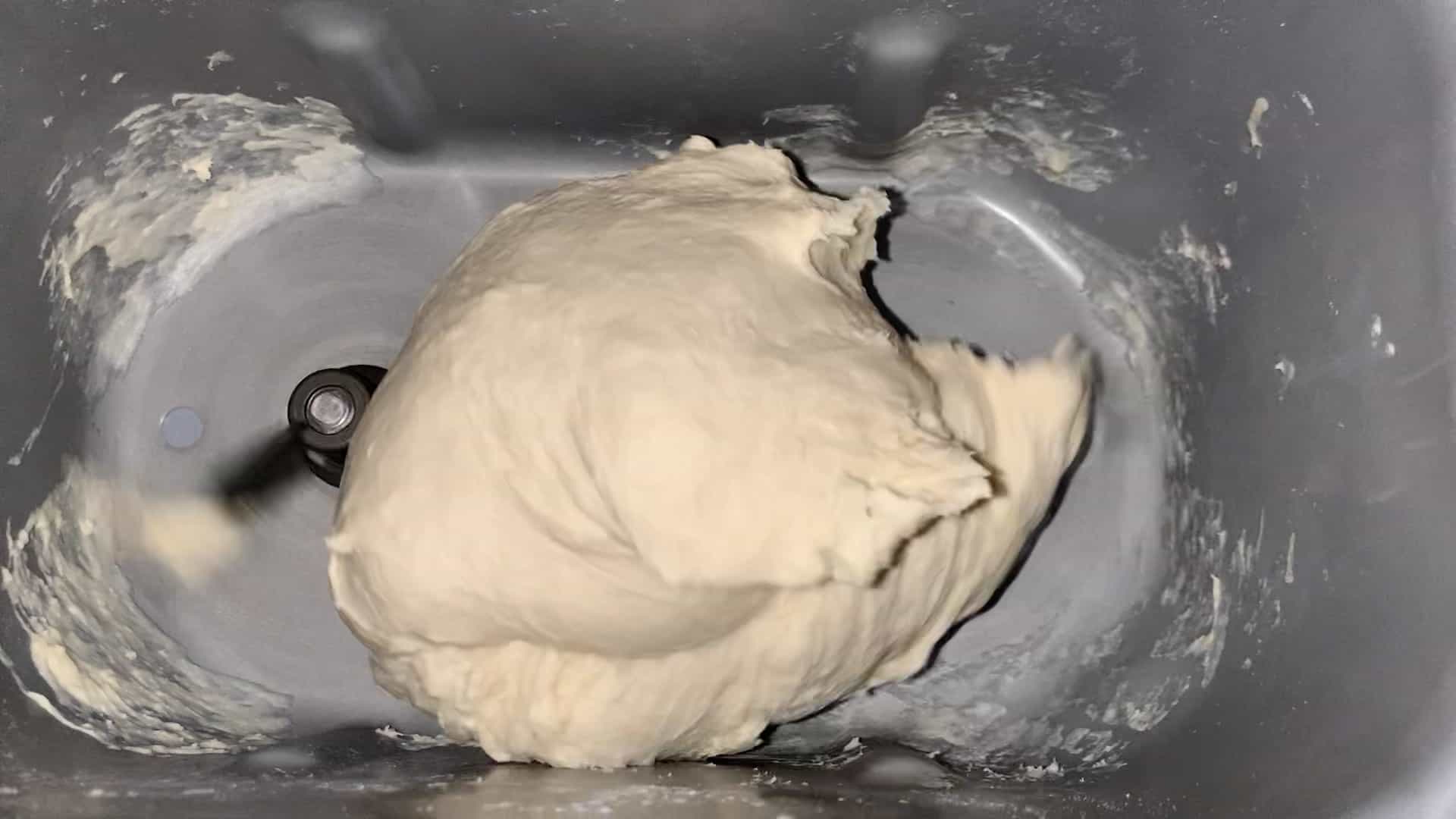 If it's too wet and the dough still covers the bottom, add flour one tablespoon at a time until it looks like this. If it's too dry and the dough doesn't stick to the side, add water, one tablespoon at a time, until the dough is slightly sticky.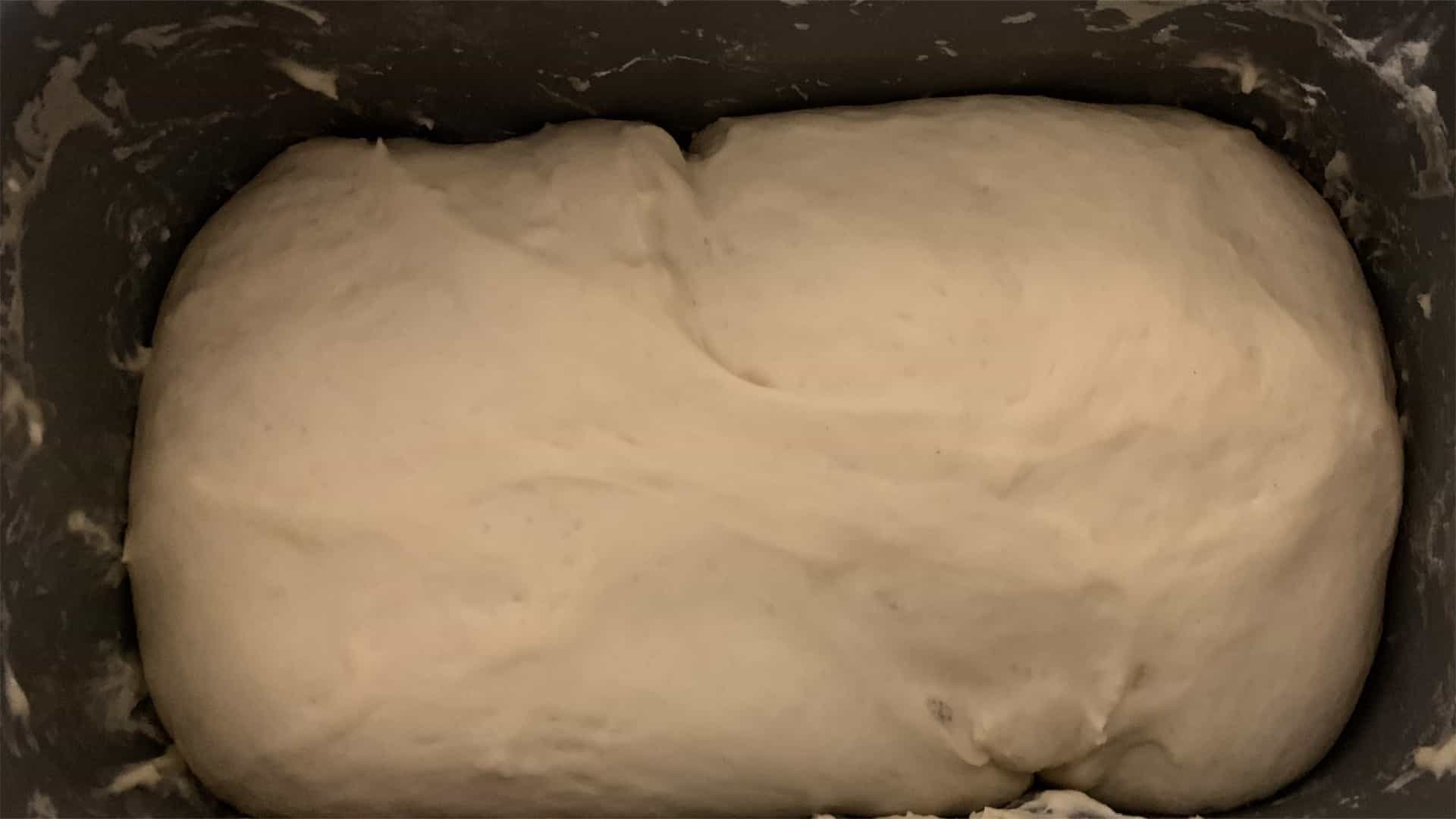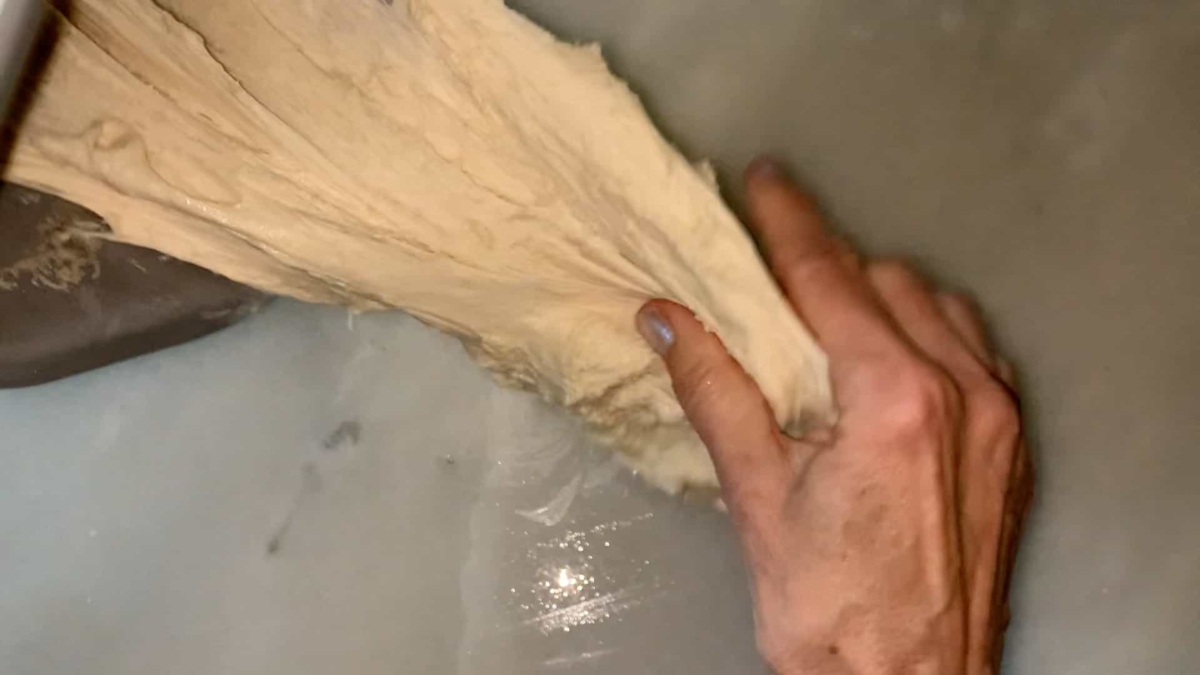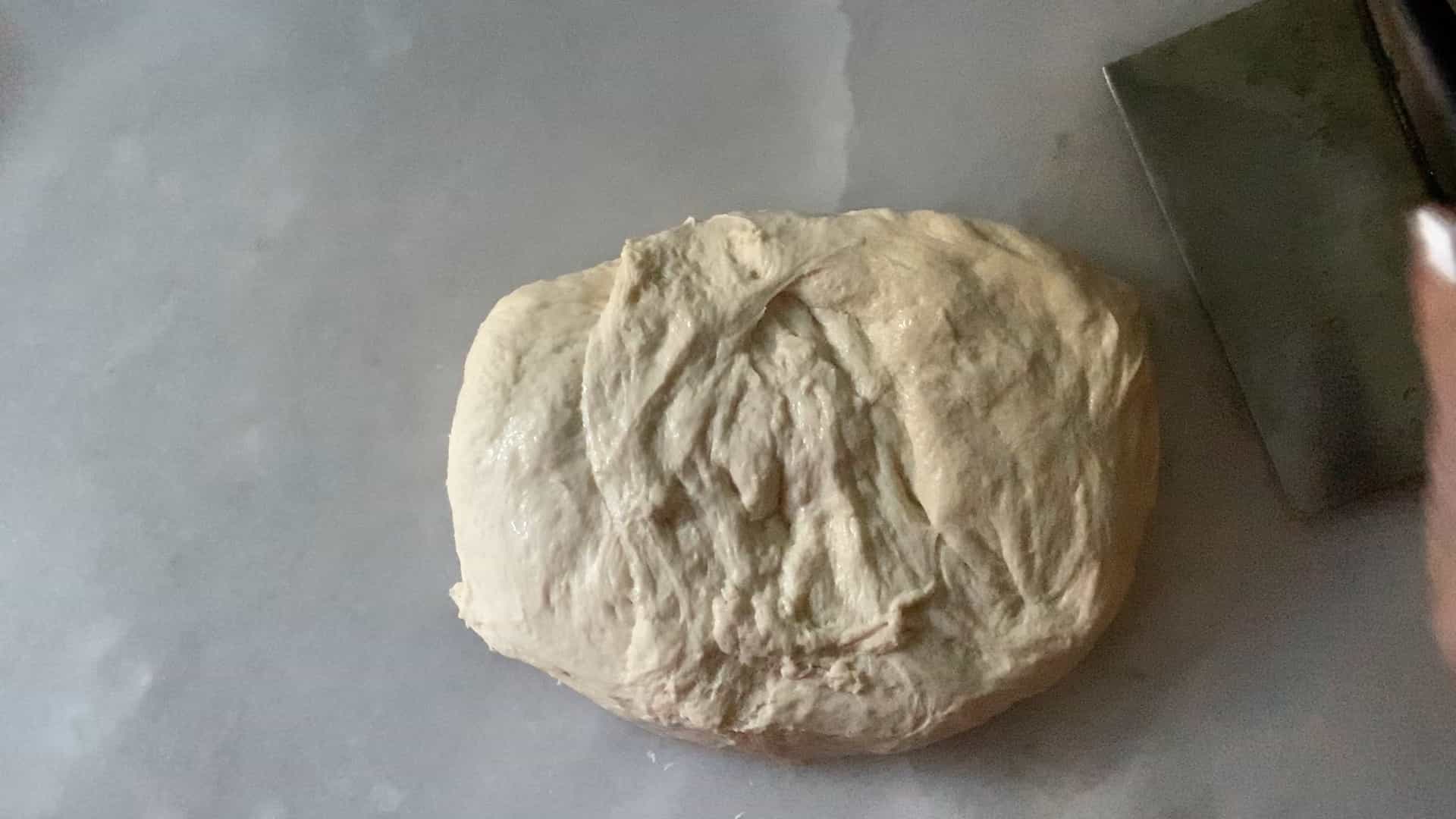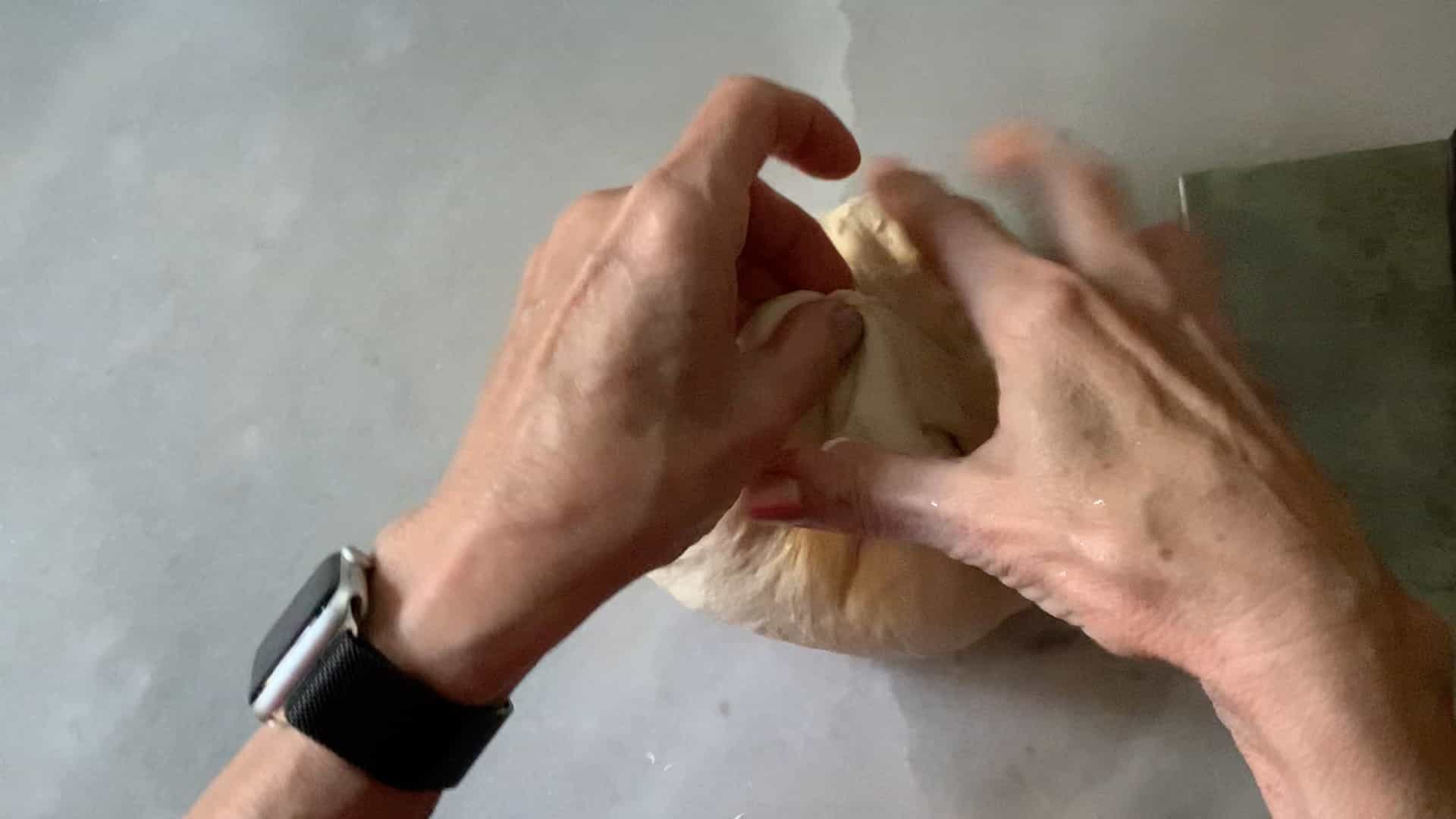 Move the dough ball to a cookie sheet covered with parchment paper or a silicone baking mat and sprinkle with cornmeal or semolina. Cover and let the dough rise until almost but not quite double in size.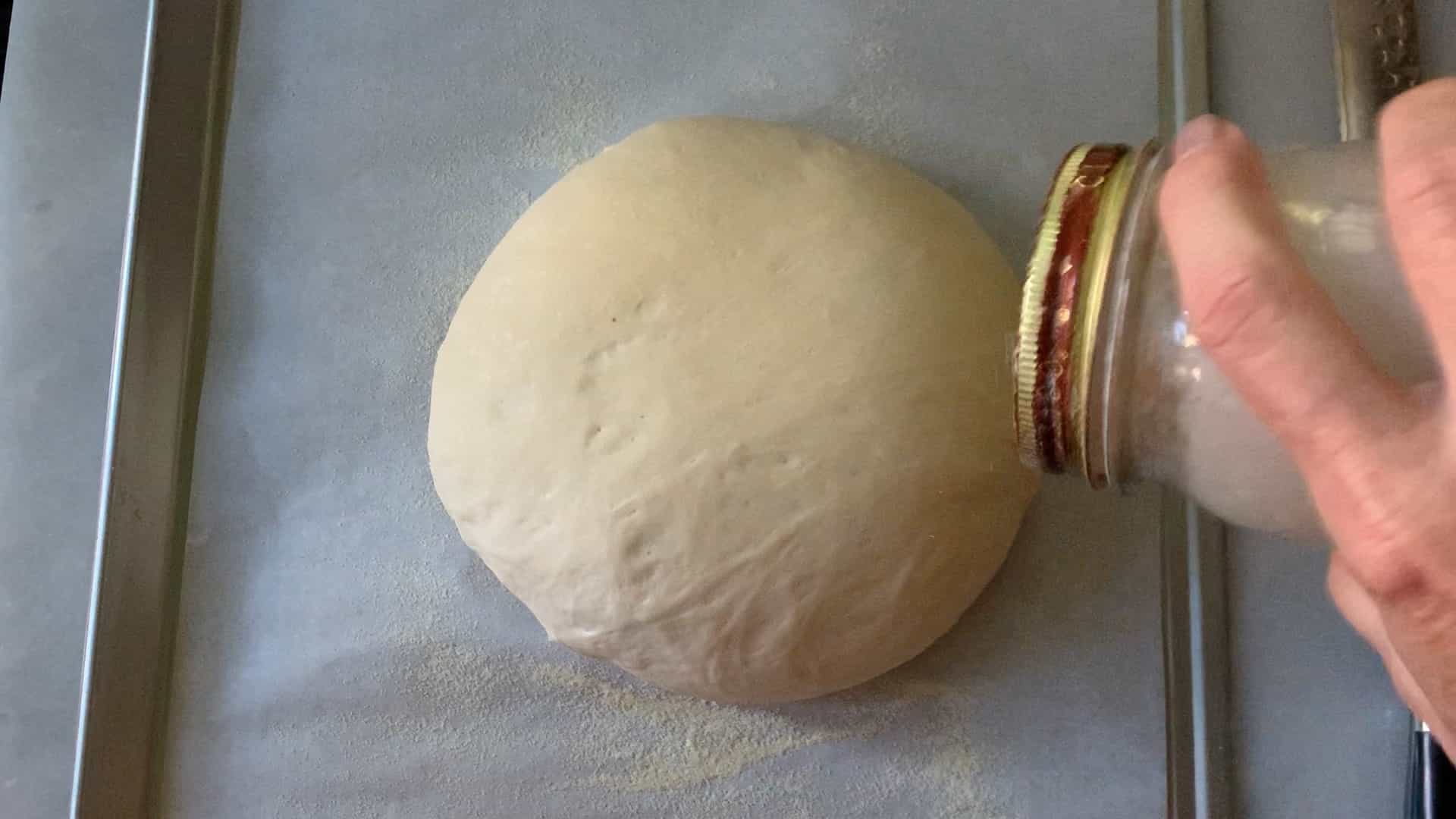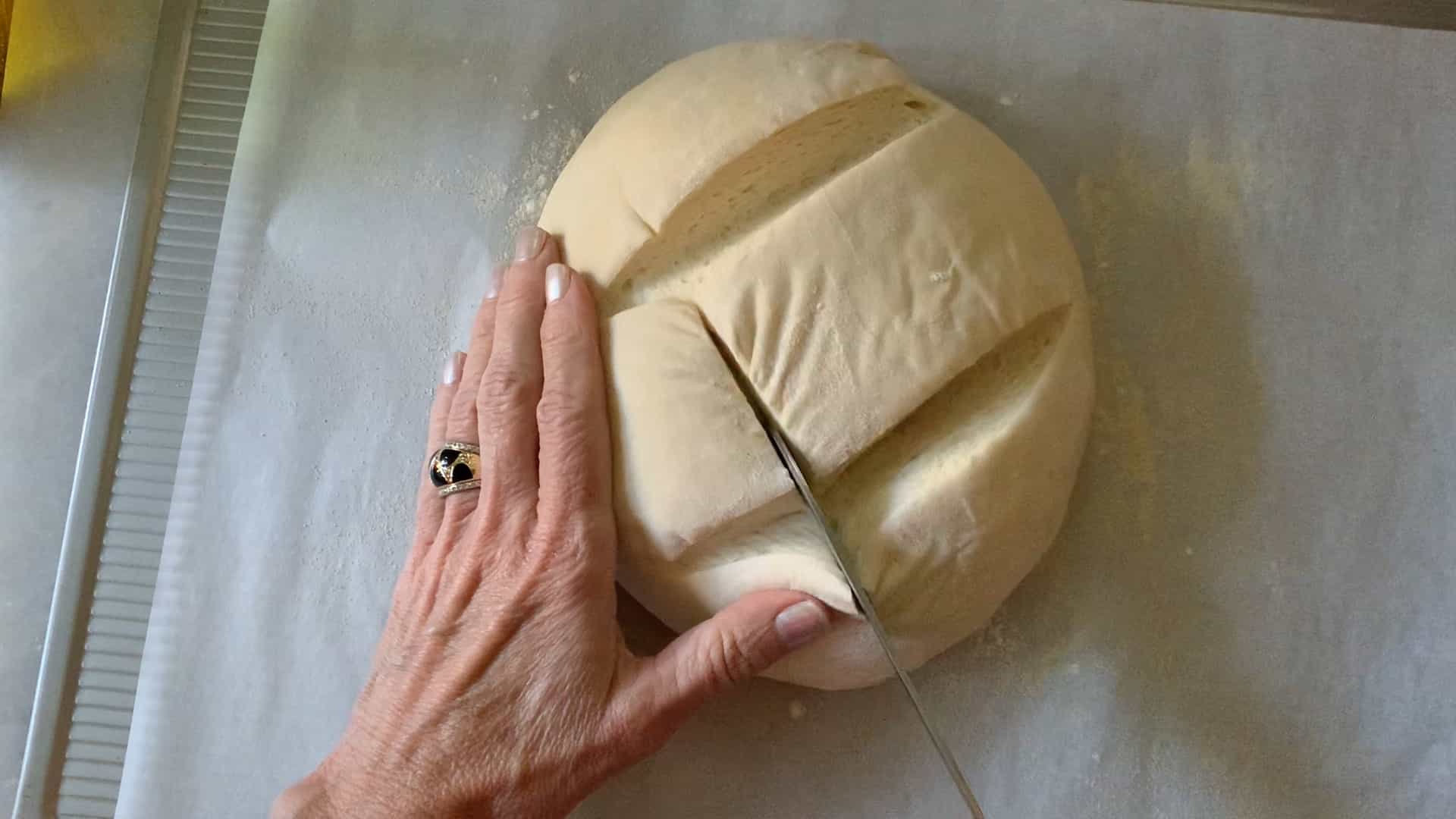 Immediately place the loaf into a conventional oven that has been preheated to 500˚F (260˚C) and turn the heat down to 425˚F (220˚C).

Bake for 30 minutes or until the internal temperature reaches 200˚F (93˚C).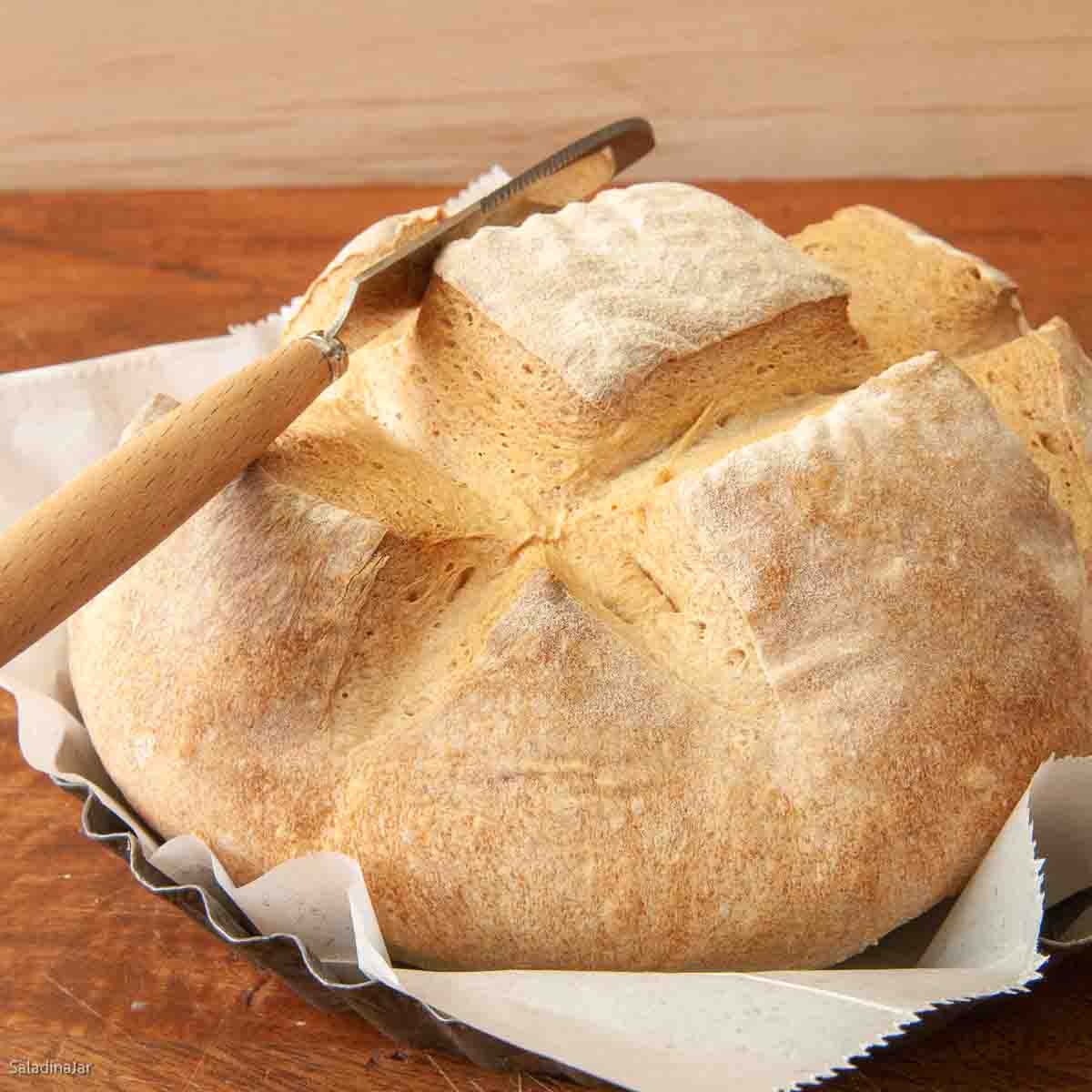 ---
Parting thoughts: Try making this bread the next time you have several hours at home. Yes, it requires a little more time than most homemade bread. But it's not so much hands-on time. The yeast needs time to do its thing.
Your patience with the process will be repaid with flavor and a crusty exterior.
---
More recipes and tips for your bread maker:
---
If you have questions or suggestions, email me privately for a quick answer: Paula at saladinajar.com. Hope to see you again soon!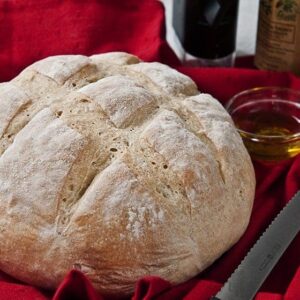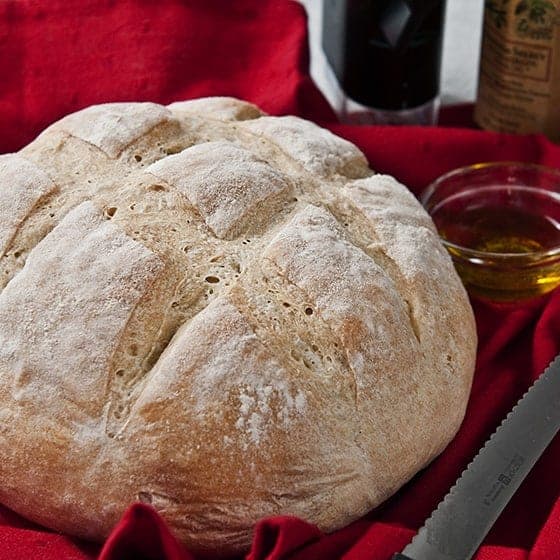 Crusty Bread Machine Recipe
This Crusty Bread Machine recipe (made in a bread machine) produces a rustic loaf of bread that involves making a sponge the night before. Overnight, the dough develops a deep, yeasty flavor in addition to a soft texture with a close crumb.
Ingredients
Sponge:
1

cup

cold water

-

227 gr

1-1/2

cups

unbleached, all-purpose flour

-

180 gr

1

teaspoon

instant or bread machine yeast

-

3 gr
Dough:
3

tablespoons

cold water

-

43 gr

1

teaspoon

sugar

-

optional, but it makes a nice crust

1-1/2

teaspoons

salt

-

9 grams

2

cups

unbleached, all-purpose flour

-

240 gr

¼

teaspoon

bread machine or instant yeast

-

1 gr
Instructions
Making the Sponge:
Place water, yeast, and flour in a bread machine pan and select the "DOUGH" cycle. Mix for 1 minute. Use a small spatula to carefully push flour stuck in the corners into the mixing area. Unplug the bread machine, close the lid, and let the flour mixture stand at room temperature overnight or about 8 hours. Do not leave over 16 hours.
Making the Dough
Open the lid of the bread machine and add the remaining water, sugar, salt, flour, and yeast.

Restart dough cycle. Check dough after 5-10 minutes of mixing. If necessary, add additional flour 1 tablespoon at a time to form a smooth but slightly tacky ball. If the dough is too dry and bounces off the sides, add water 1 tablespoon at a time until the dough sticks to the sides then pulls away cleanly.

When the DOUGH cycle ends, check to make sure the dough has doubled in size. If not, leave the dough in the machine to continue rising in the machine until double in size. It could take a while if your kitchen is chilly or drafty.

If you are new to bread machines, see Six Bread Machine Tips for Beginners for more help with step 3.
Preparing and Baking the Loaf
Remove dough from the bread machine pan to a lightly-floured surface or silicone baking mat (my preference). Use your hands to form the dough into a smooth ball by pulling the dough around to the bottom until the top is smooth. Pinch the bottom with your fingers. Place the ball of dough onto a parchment-covered cookie sheet. Cover loosely with lightly-oiled plastic wrap or a tea towel and place in a warm place to rise until almost doubled in size.

About 15 minutes before the bread is ready to bake, preheat a conventional oven to 500˚F (260˚C). Just before putting bread into the oven, sprinkle the top with flour, if desired. Using a single edge razor blade (or a sharp, serrated knife), make several cuts across the top of the loaf about 1/2 to 1-inch deep.

Turn the oven back to 400˚F (200˚C). Bake for 30-35 minutes or until the loaf is golden brown and the internal temperature reaches 200˚F ( 93˚C). Allow the loaf to cool on a rack before slicing. You will get prettier slices if you wait for at least an hour to cut the bread.
Notes
Directions for making bread with a stand mixer or by hand:
Follow the directions above for making the sponge. Use a medium-sized mixing bowl to mix the sponge and let it sit for 6-8 hours.
To make this recipe in a heavy-duty stand mixer: Add ingredients to the bowl in the same order. Turn on LOW to mix until all ingredients are moistened. Then, using a dough hook, turn the speed to 2 or 3. Continue beating/kneading until dough becomes smooth and elastic (about 5-10 minutes). Cover and allow to rise in a warm place. Deflate dough gently and shape as indicated in the recipe.
If making by hand: Combine all ingredients into a shaggy ball in a large bowl. Turn dough out onto a floured surface. Knead with your hands until the dough becomes smooth and elastic. Kneading will likely take 10-20 minutes, depending on your experience. Place the dough ball into a greased bowl. Cover and allow to rise until double. Deflate the dough gently and shape as indicated in the recipe.
Please note: If you only have active dry yeast, use 1/4 teaspoon more than called for in the recipe.

It no longer needs to be dissolved first

, but you can if you prefer.
Nutrition
Serving:
1
slice
|
Calories:
100
kcal
|
Carbohydrates:
21
g
|
Protein:
3
g
|
Fat:
1
g
|
Saturated Fat:
1
g
|
Polyunsaturated Fat:
1
g
|
Monounsaturated Fat:
1
g
|
Sodium:
98
mg
|
Potassium:
40
mg
|
Fiber:
1
g
|
Sugar:
1
g
|
Vitamin A:
1
IU
|
Vitamin C:
1
mg
|
Calcium:
4
mg
|
Iron:
1
mg