5 Fabulous Sweet Fillings for Mini-Tarts for Your Next Party
Sneak Preview: This collection of sweet fillings for mini-tarts is the perfect dessert when you have many people to serve such as at a wedding, shower, or party.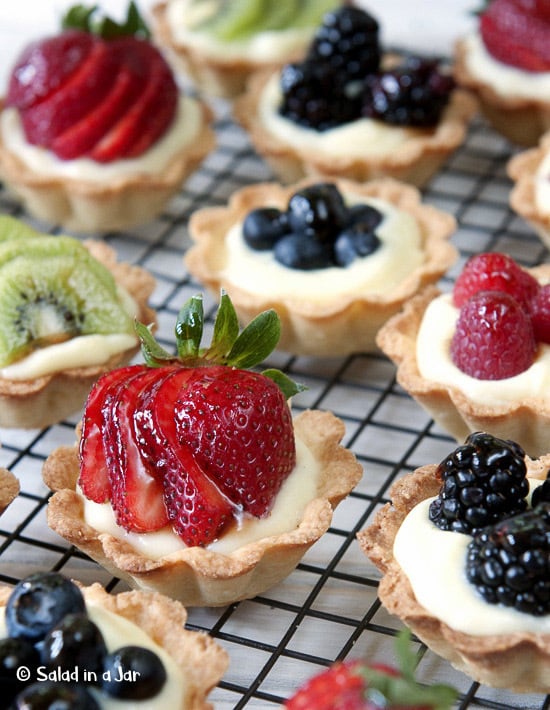 As an Amazon Associate, I earn from qualifying purchases.
Is your calendar is full of parties and celebrations? Mini-tarts are the perfect dessert for spring celebrations because they are easy to serve and eat, pretty to display, and portion sizes are pre-determined. Take a look at this collection of 5 Fabulous Sweet Fillings for Mini-Tarts for Your Next Party. Don't miss the video for making the mini-tart crusts.
Need some ideas for easy-to-serve and delicious-to-eat desserts? Consider these mini-tarts.  They aren't too rich, too big, or too sweet. They're j–u–s–t…..right!
Mini-tarts have become something of a signature dish for me. Consequently, I can't seem to stop myself from inventing new variations. If you don't fancy the Pinterest-popular fruit tarts seen above, check out the other choices. Click on the picture or the titles below to see the recipes.
Worried about making mini-tart crusts?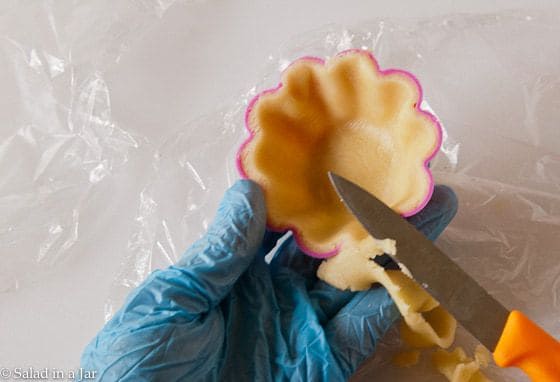 No problem…
The recipe for mini-crusts is included with each recipe pictured below. Hopefully, the video showing how to make mini-tart crusts at home with inspire you.
To me, the crust is just as important as the filling. In other words, they are worth the extra trouble. This recipe tastes just like a shortbread cookie and is SO delicious.
Nevertheless, if you don't have the time or inclination, you can buy ready-made crusts from the grocery store.
If you are feeling adventurous or need a LOT of crusts, do try these. A little practice and you'll be a pro.
---
A mini-tart recipe collection:
Sweet No-Bake Mini Cheesecake Tarts with Mascarpone
A no-bake filling makes these two-bite cheesecake mini-tarts easy to make ahead of time.
Get the recipe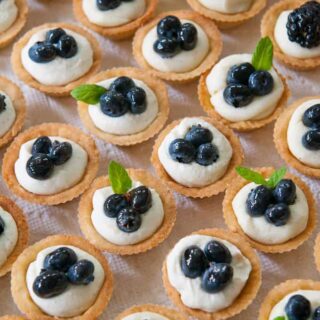 Browned Butter Pecan Mini-Tarts
Browned butter provides the base for this pecan-lover's dream dessert.
Get the recipe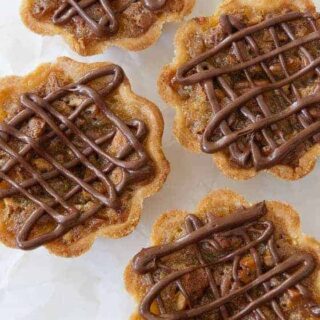 Chocolate Ganache Mini-Tart Recipe
These mini chocolate tarts start with chocolate or vanilla-flavored shortbread crusts and are filled with a decadent but easy bittersweet chocolate ganache.
Get the recipe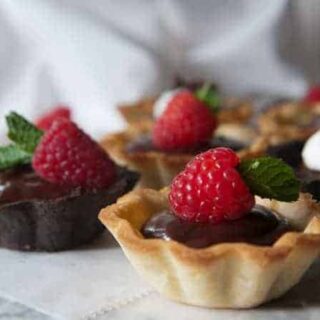 Mini Fruit Tarts with Vanilla Pastry Cream
These shortbread-crusted tarts are filled with a light, creamy custard and topped with fresh fruit of your choice.
Get the recipe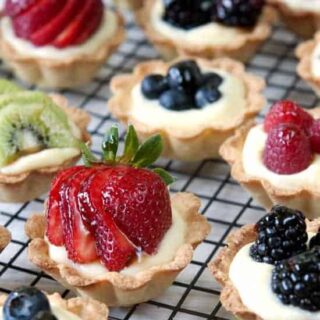 ---
If you have questions or suggestions, email me privately to Paula at saladinajar.com. Hope to see you again soon! Paula