Lemon Curd Thumbprint Cookies are a traditional thumbprint cookie featuring a lemon curd filling in a pecan-studded cookie. Sprinkle with powdered sugar for a dressier look.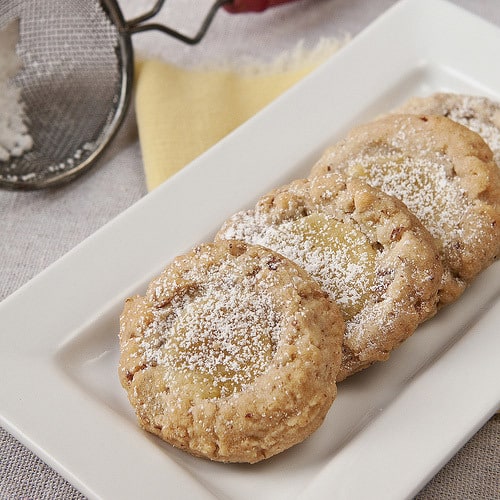 Recipe Inspiration
My daughter-in-law's brother does a fabulous job decorating homes (interiors only) for Christmas. Part of our deal was the promise of a lemony treat.
For this reason, I set to work on these Lemon Curd Thumbprint Cookies. They are a variation of my husband's favorite Christmas Thumbprint Cookies.
I mixed the pecans into the dough instead of coating the cookie (to save time), used lemon curd instead of frosting in the center, and sprinkled the finished cookies with powdered sugar.
My husband and my sister, visiting from Alabama, raided my freezer a couple of nights ago looking for these cookies. After eating several, they said, "Be sure to tell everybody these are really good."
I said, "Thank-you. Get out of my freezer."
Ingredients and Substitutions
FLOUR: The flour of choice in this recipe is all-purpose, bleached or unbleached.
PECANS: Since the pecans are inside the cookie, toasting them will add a lot of flavor. You can toast them in the oven but I prefer to toast all nuts in a microwave. Be sure they cool before adding to the cookies.
SALT: I use Kosher salt in all my cookie recipes, but table salt or sea salt is also fine.
BUTTER: Let the butter come to room temperature for best results. I don't recommend substituting margarine for the butter. The buttery flavor is the calling card for this recipe.
EGG YOLK: Egg yolks add richness to this cookie. Adding the egg white will change the texture. Freeze the egg white and save it for another recipe.
LEMON CURD: You don't need much so buy the ready-made stuff if you can find it at the grocery store. If not, here's my recipe for making lemon curd in the microwave. If you prefer, use the orange curd or lime curd variation in that recipe.
Kitchen Secrets for Lemon Curd Thumbprint Cookies:
Toasting nuts makes a difference. Skip it and miss out on the best flavor. It only takes 2 minutes with a microwave–directions here.
Putting the cookies in the oven for a couple of minutes before making a crater helps soften the dough so you won't have cracks around the edge that leak filling. No guarantees–you may still get a few–but it works for me.
Be sure cookies are completely cooled before dusting with powdered sugar or it will melt and disappear.
Can I freeze these cookies?
Yes. Double wrap (plastic wrap and a plastic storage bag or container) and store in the freezer for a month.
---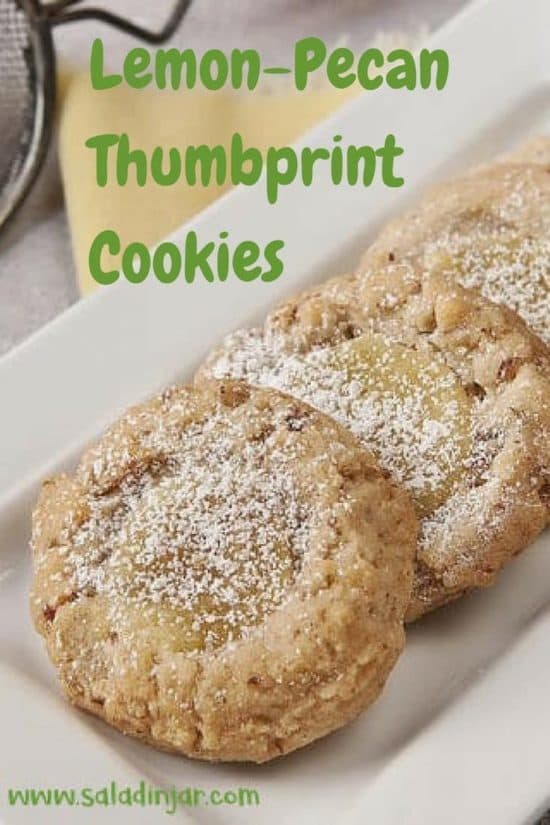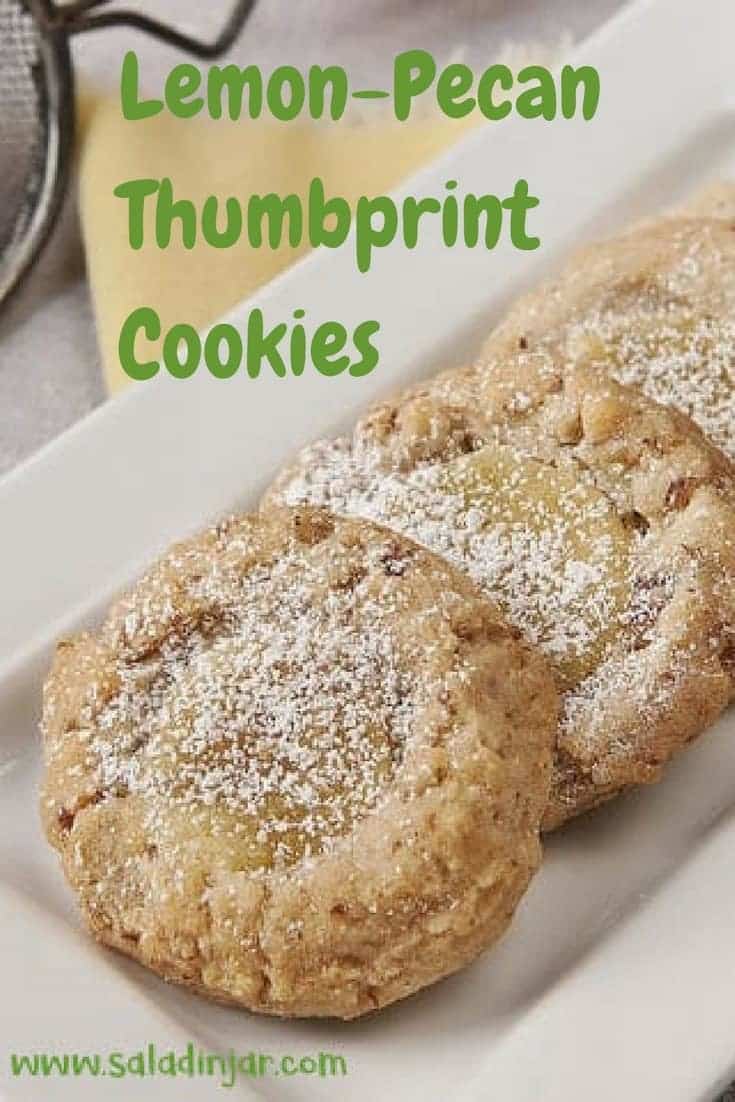 ---
Looking for more cookie recipes?
Did you enjoy this recipe? If so, you can help others and me by leaving a 5-star 🤩 rating inside the recipe below. No comments are required.
Hope to see you again soon!
Paula
p.s. If you have any questions or suggestions, you can email me privately: Paula at saladinajar.com.
---