Easy Lemon Curd Thumbprint Cookies Made Special with Pecans
Sneak Preview: Easy Lemon Curd Thumbprint Cookies with Pecans are traditional thumbprint cookies featuring a lemon curd filling in the middle. Sprinkle with powdered sugar or drizzle with icing for a dressier look. The pecans make these cookies unique and extra flavorful.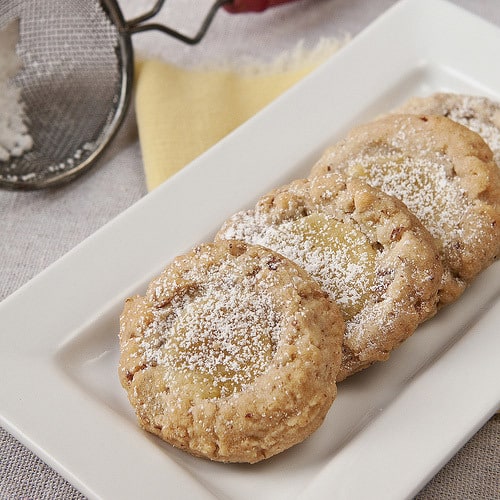 As an Amazon Associate, I earn from qualifying purchases.
Are you looking for a lemon cookie to add to your Christmas cookie tray or a sweet bite to end a meal? These miniature desserts would be my first choice. You don't have to chill the dough or do anything ahead of time. Make, bake, and serve.
A couple of nights ago, my husband and my Alabama sister went through my freezer looking for these cookies. After eating several, they said, "Be sure to tell everybody these are really good."
I replied, "Thank-you. Get out of my freezer!"
Recipe inspiration:
My Easy Lemon Curd Thumbprint Cookies are a variation of my husband's favorite Christmas Thumbprint Cookies.
To save time and make this recipe simple:
I mixed the pecans into the dough instead of rolling dough balls in egg whites and chopped pecans. Feel free to leave out the pecans altogether if you prefer.
I used lemon curd (storebought or homemade) instead of frosting in the center.
I sprinkled the finished cookies with powdered sugar. I'll also show you a variation with vanilla frosting.
---
Ingredients and substitutions:
FLOUR: The flour of choice in this recipe is all-purpose, bleached, or unbleached.

PECANS: Since the pecans are inside the cookie, toasting them will add flavor. You can toast them in the oven, but I prefer to toast all nuts in a microwave. Be sure they cool before adding them to the cookies. Pecans are optional. Leave them out or swap them for another chopped nut of your choice.

SALT: I use table salt or sea salt. If using Kosher salt, add a pinch more.

BUTTER: Let the butter (salted or unsalted) come to room temperature for the best results. I don't recommend substituting margarine for butter. The buttery flavor is the calling card of this recipe.

SUGAR: The recipe was tested with granulated white sugar.

EGG YOLK: Egg yolks add richness to this cookie. Adding the egg white will change the texture. Freeze the egg white and save it for another recipe like this fabulous angel food cake.

LEMON CURD: You only need about ⅓ cup, so buy the ready-made stuff if you can find it at the grocery store. If not, here's my recipe for making lemon curd in the microwave. If you prefer, use the orange curd or lime curd variation in that recipe.

POWDERED SUGAR: You'll need confectioners' sugar (aka powdered sugar or XXXX sugar) to sprinkle over the top of the cookies or make a frosting if that's what you prefer.
---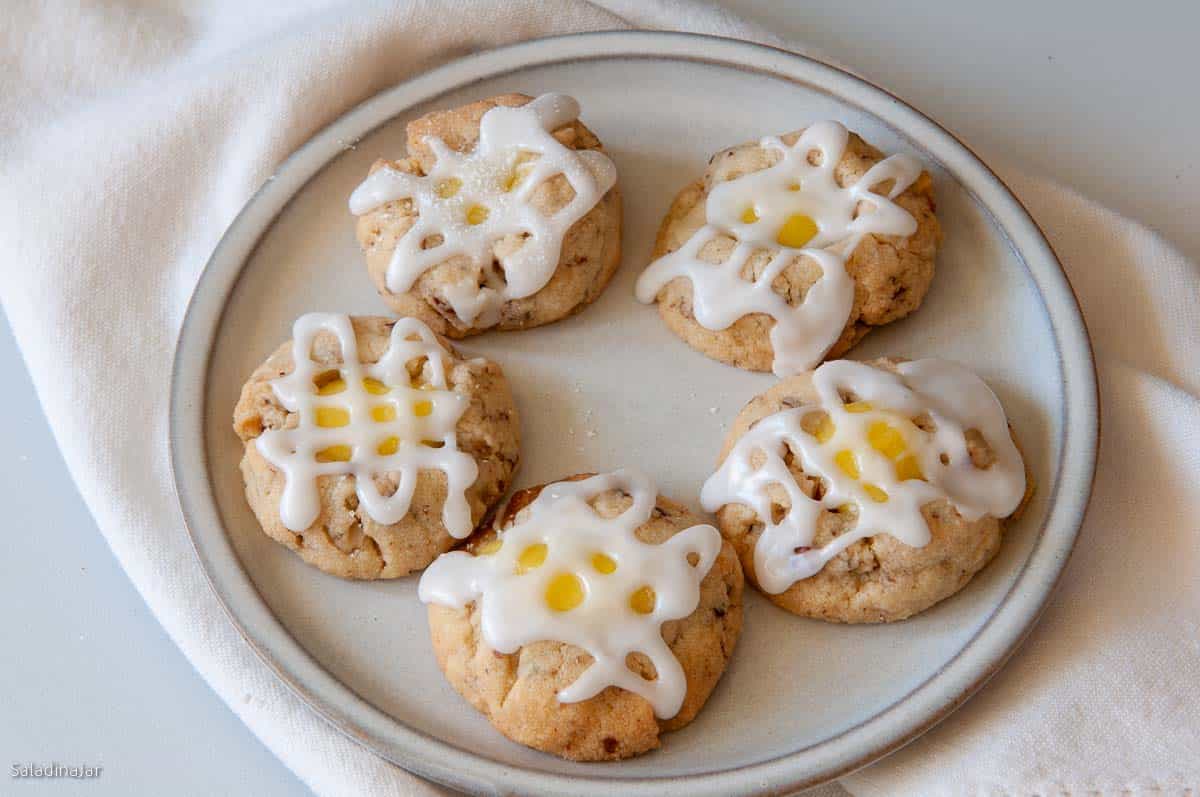 ---
Kitchen Secrets for Lemon Curd Thumbprint Cookies:
Toasting the pecans makes a difference. Skip it and miss out on the extra flavor. Toasting nuts takes only 1-2 minutes with a microwave.
Putting the cookies in the oven for a couple of minutes before making a crater helps soften the dough so you won't have big cracks around the edge that leak filling. No guarantees–you may still get a few–but it works for me.
Be sure cookies are completely cooled before dusting them with powdered sugar, or the sugar will melt and disappear. If this happens, dust them again. No harm done.
---
How to make Lemon Curd Thumbprint Cookies:
Step 1: Preheat the oven to 350˚F.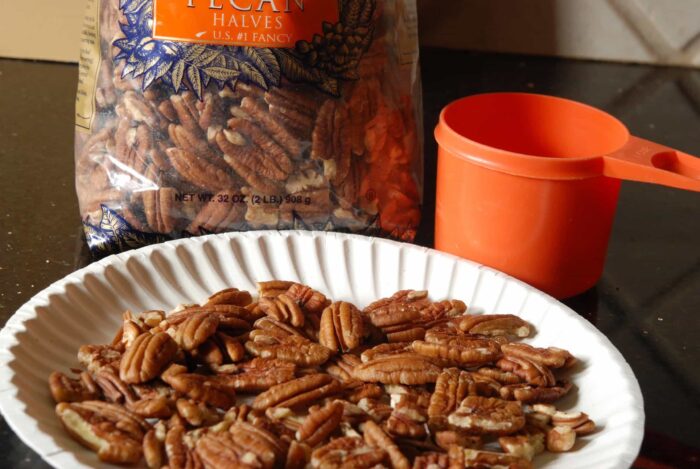 Step 3: Combine the chopped pecans, flour, and salt in a medium bowl and set to the side.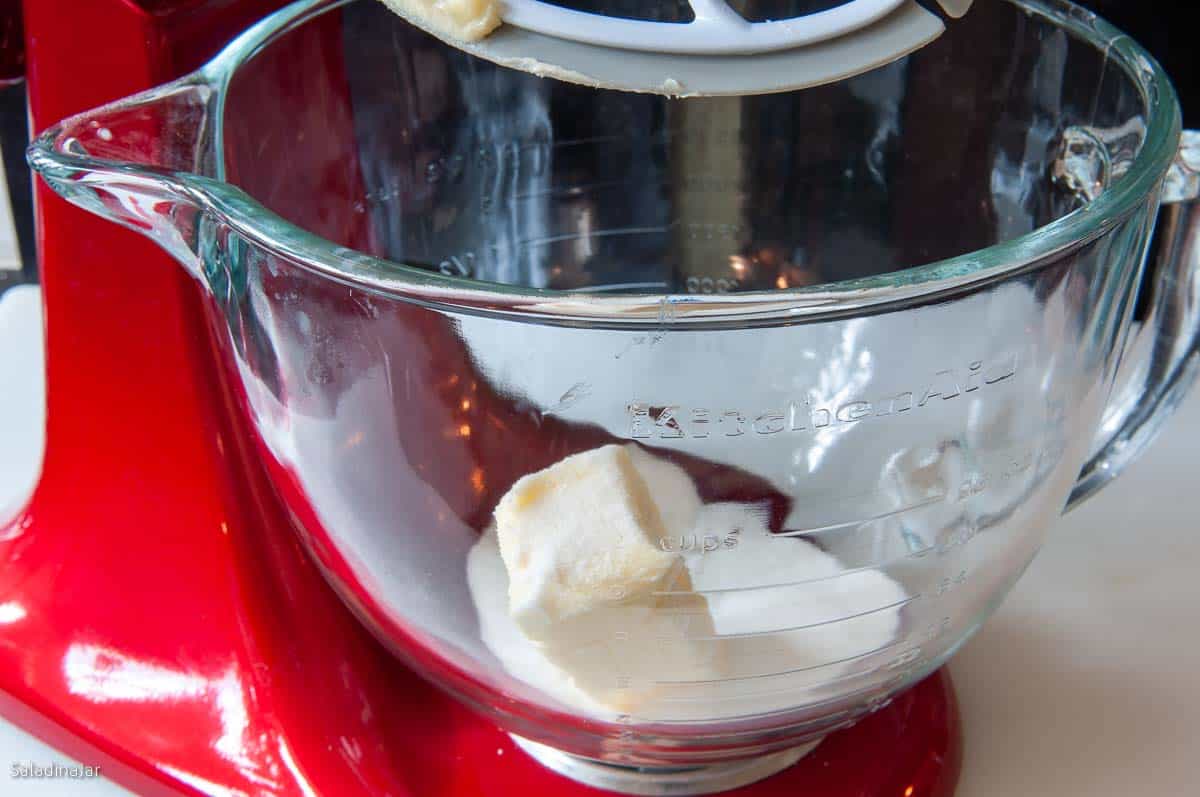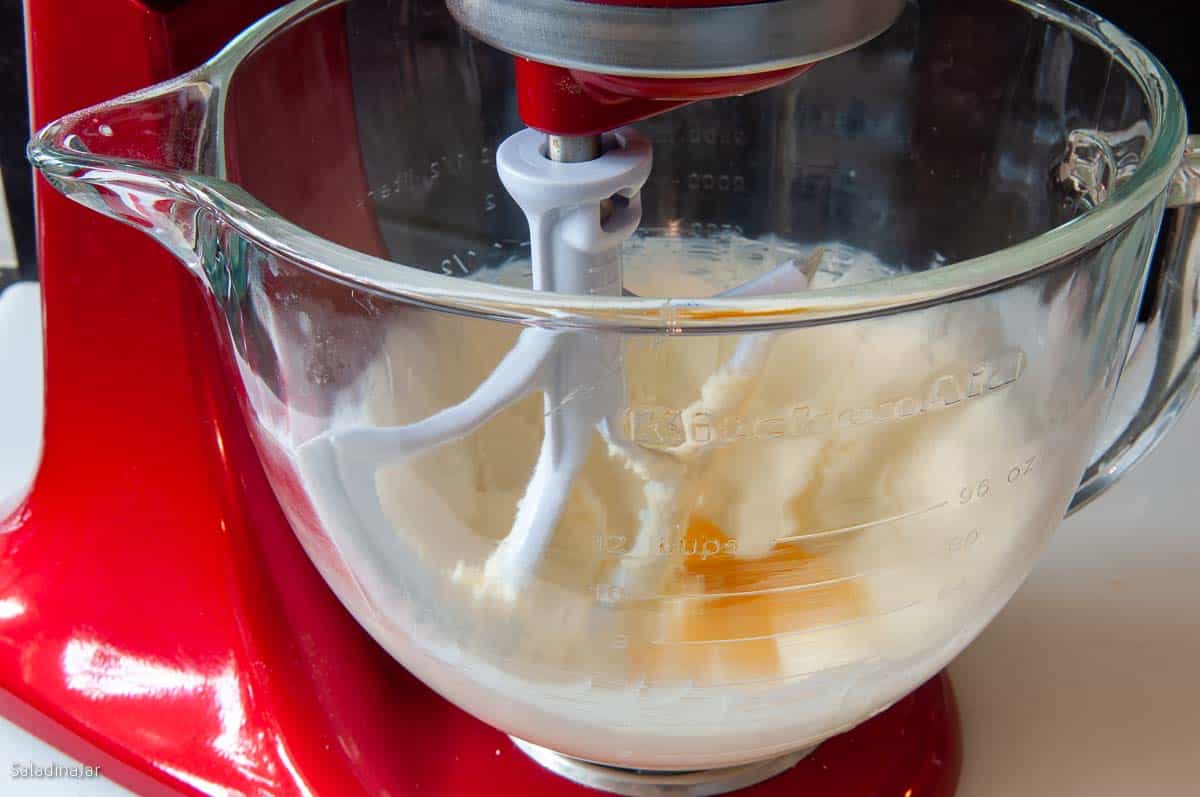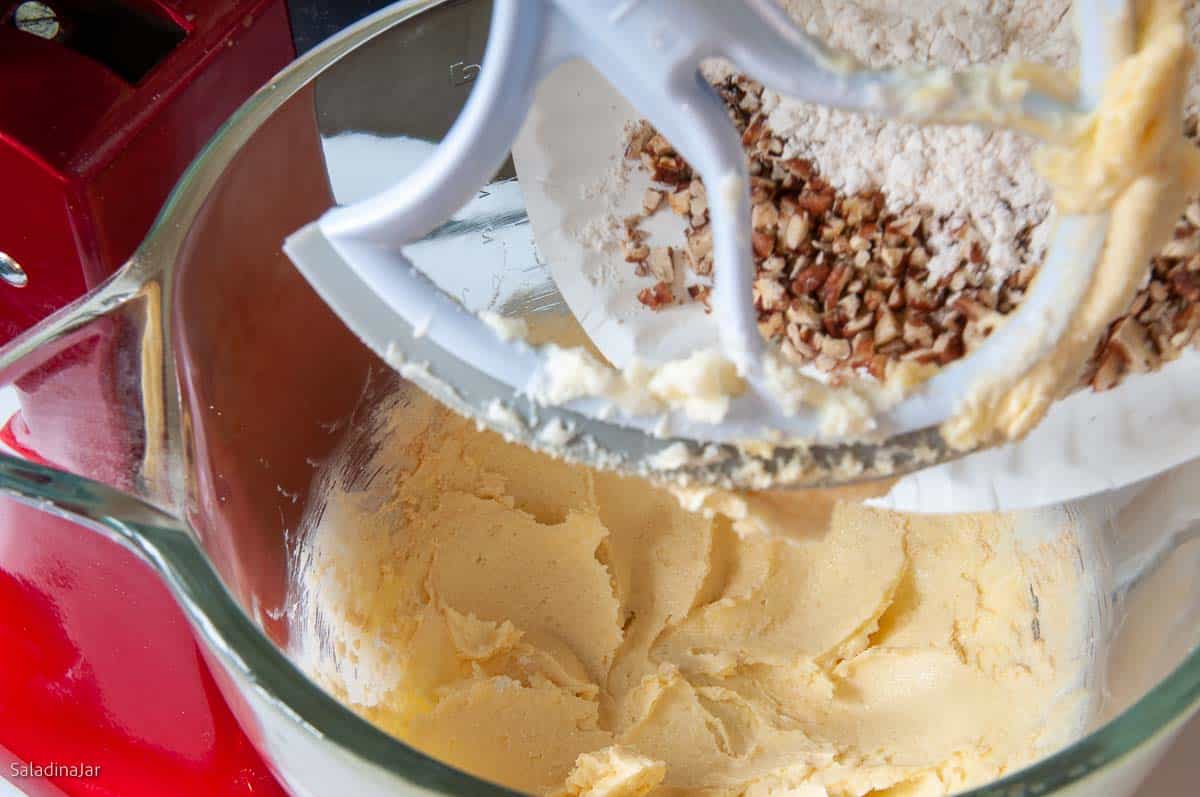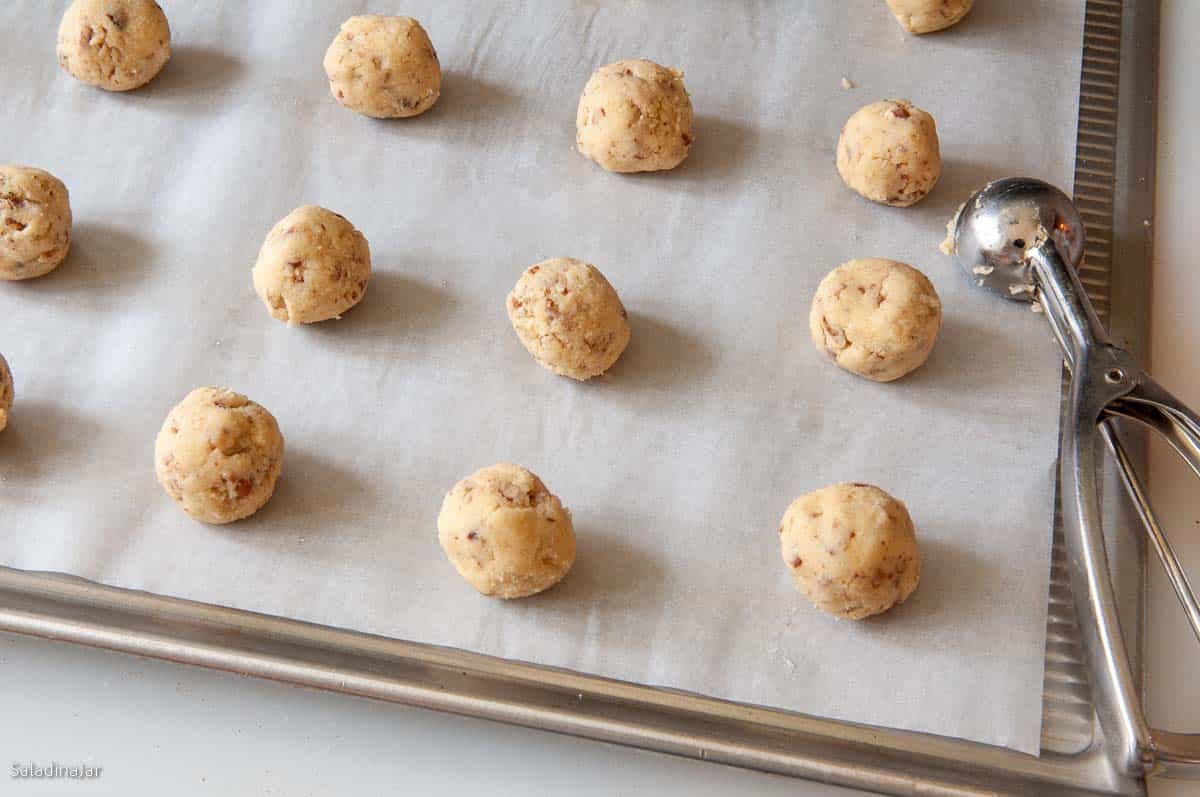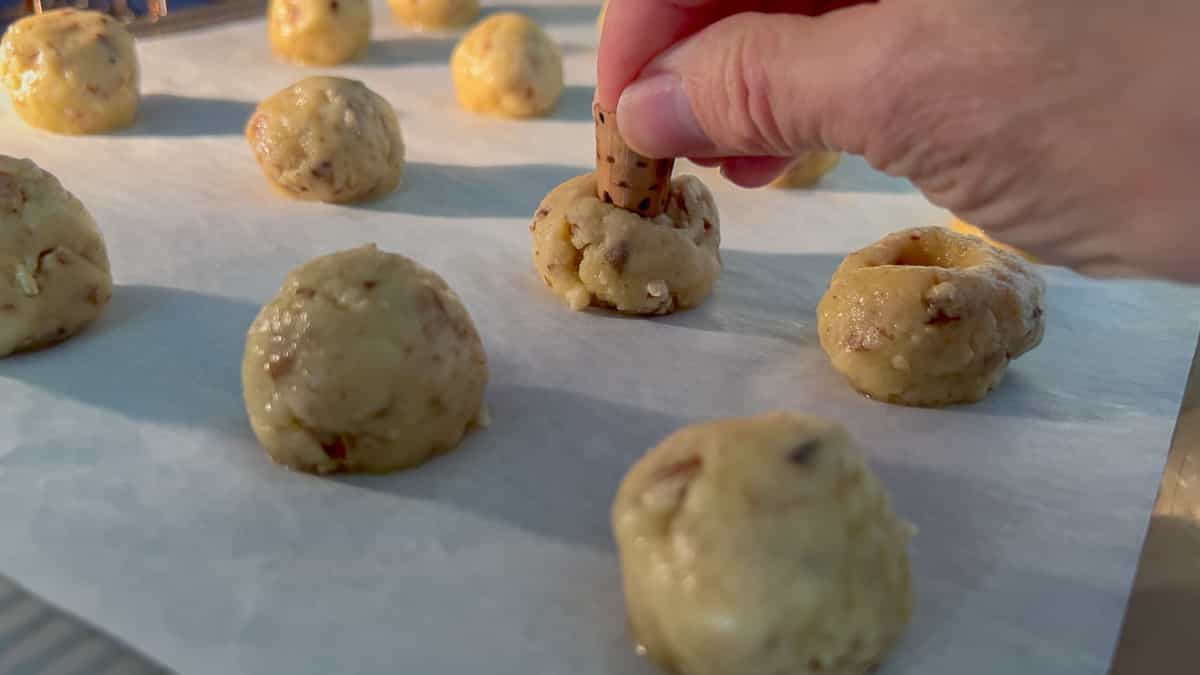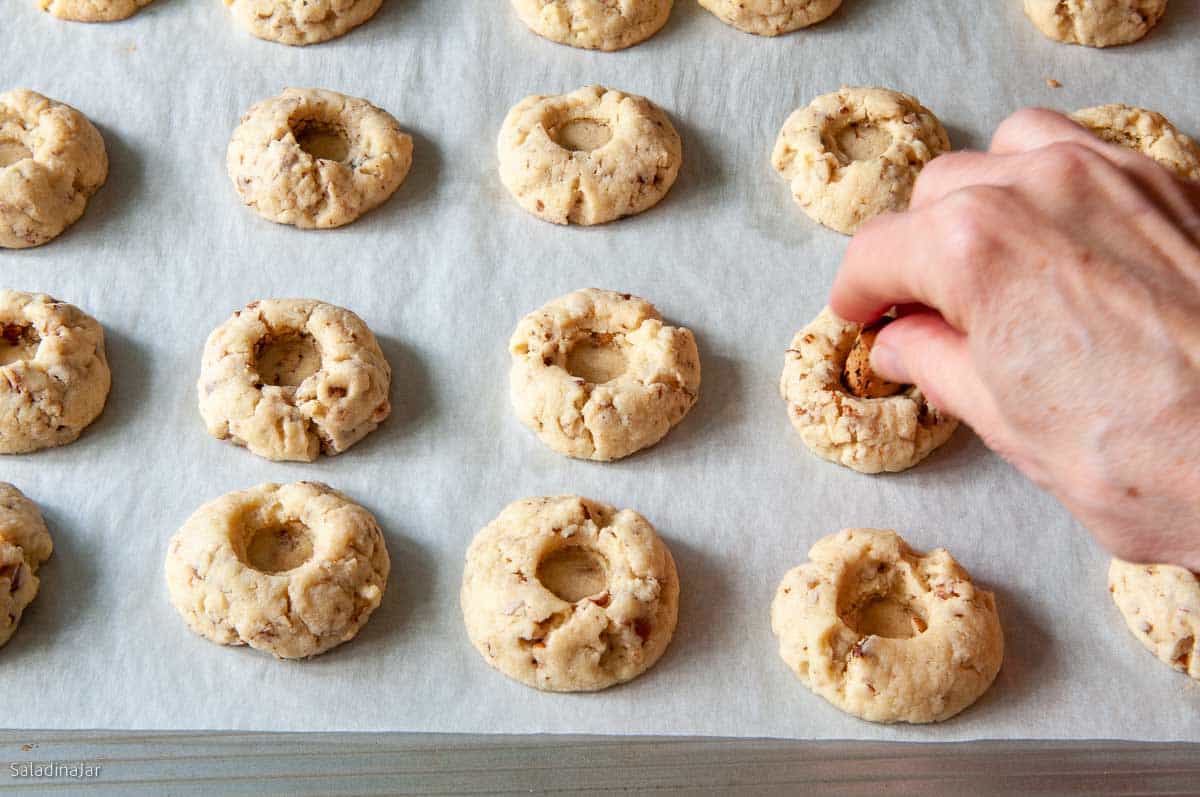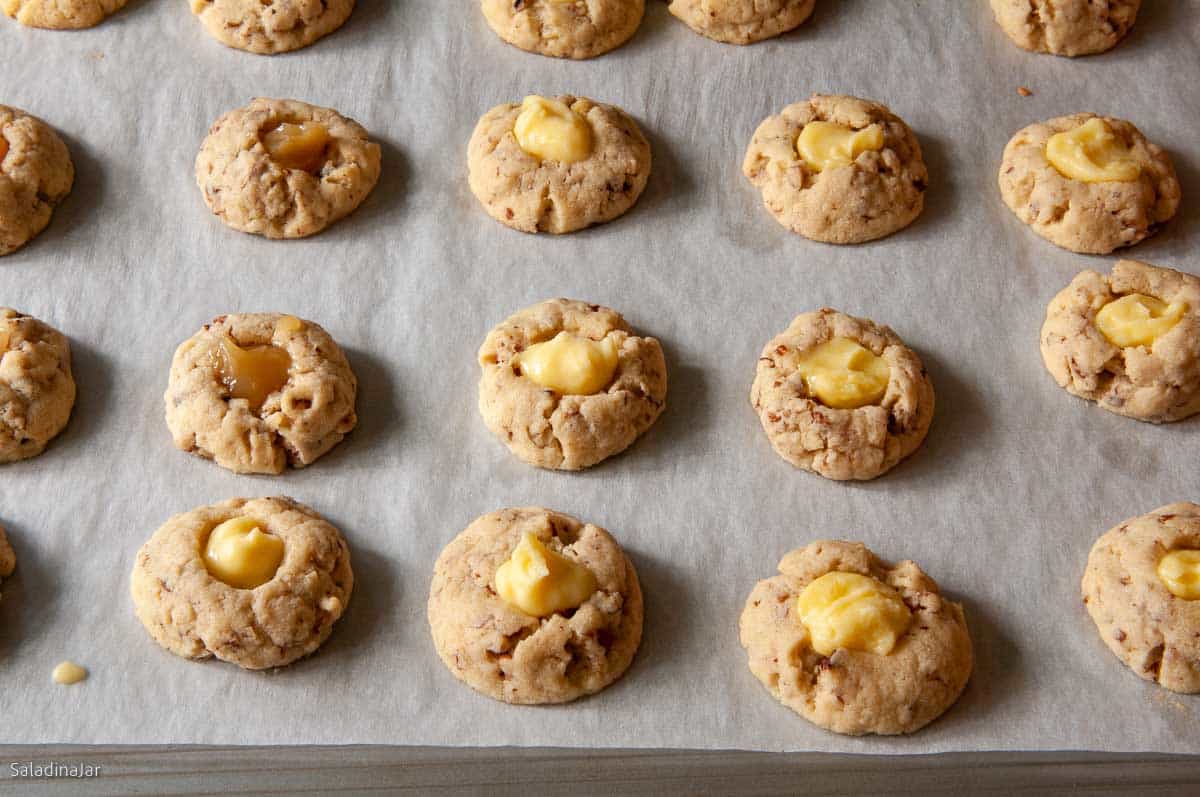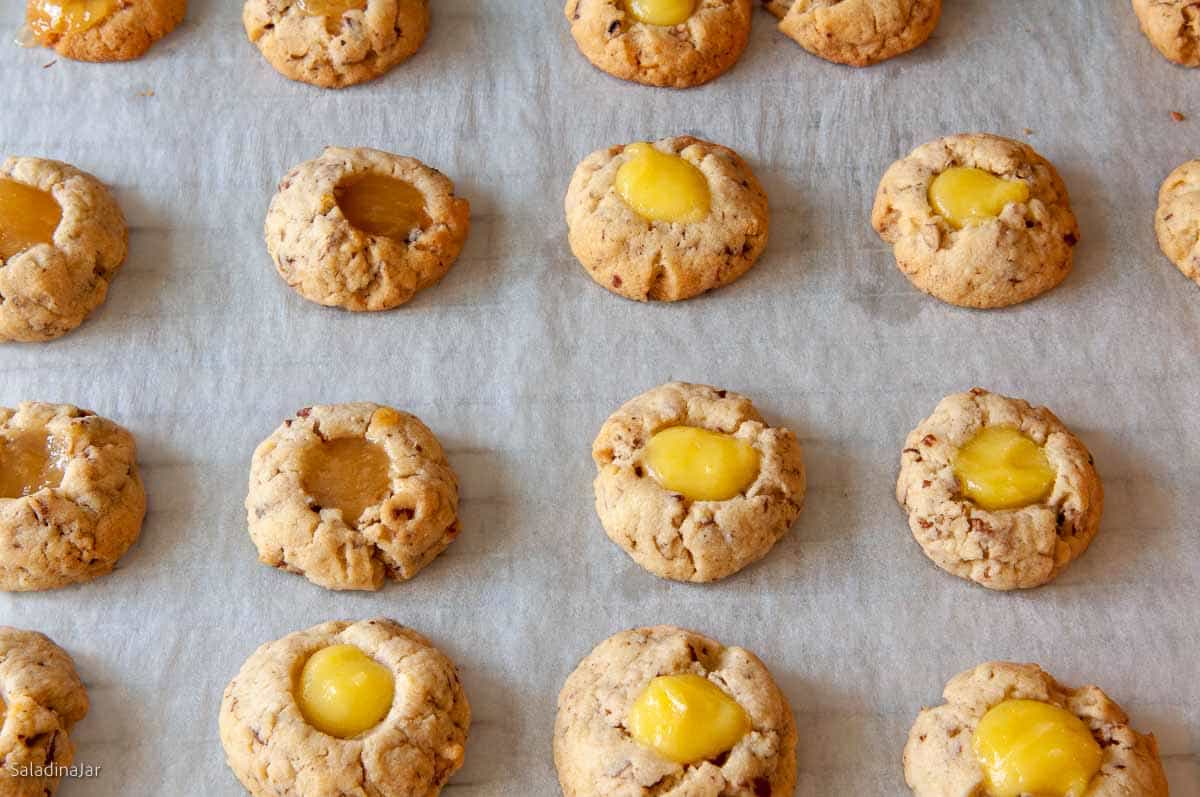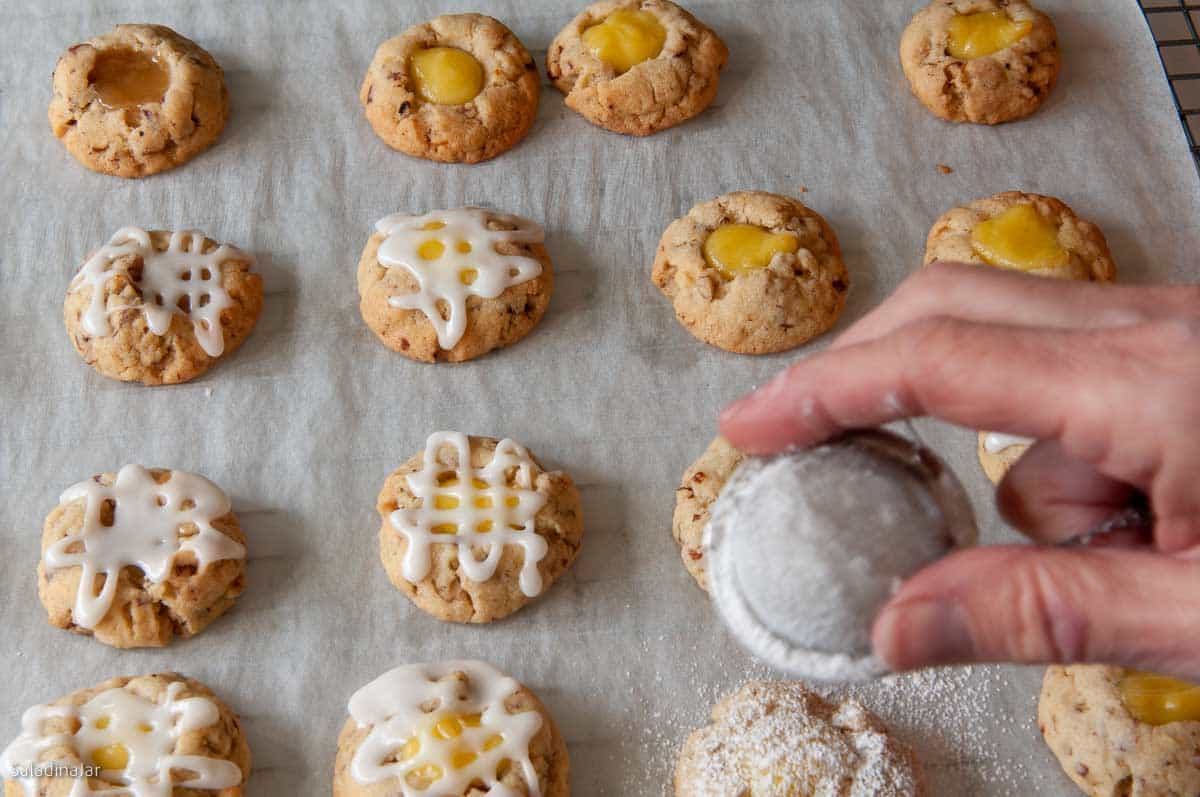 Step 12. If you crave sweetness, drizzle the cookies with powdered sugar icing. Or give each cookie a sprinkling of confectioners' sugar. (I'm using a small tea strainer to create a uniform effect.)
---
FAQs about Thumbprint Cookies:
Can I freeze lemon thumbprints?
Yes. Double wrap (plastic wrap and a plastic storage bag or container) and store in the freezer for a month. Be sure to place paper or plastic wrap between every single layer of cookies. If you sprinkled them with powdered sugar originally, you might want to give them another sprinkle after defrosting.
Does lemon curd need to be refrigerated?
Yes, it is made with eggs. That means these cookies need to be stored in the refrigerator in an airtight container.
What can I do if I don't have parchment paper or a silicone baking mat?
Spray or grease your baking pans or cookie sheets with an aerosol spray oil like PAM. High-quality non-stick pans may need nothing.
Parting Thoughts: If you need a dessert after a nice meal, one or two of these cookies are perfect. Keep them handy in the freezer (but you might need to hide them, like I do). Here are some more cookies to consider if you like these: Thumbprint Cookies, Pink Shortbread Cookies, and Meyer Lemon Yogurt Squares
---
If you have questions or suggestions, email me privately for a quick answer: Paula at saladinajar.com. Hope to see you again soon!
---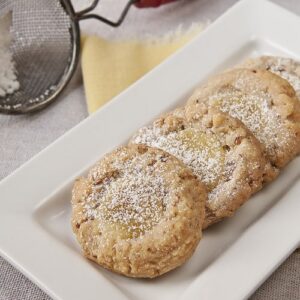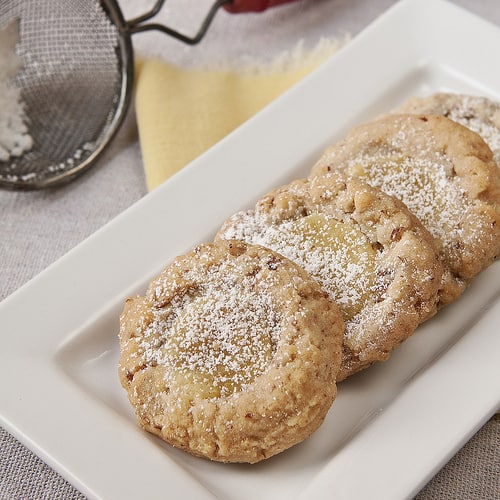 Easy Lemon Curd Thumbprint Cookies with Pecans
The traditional jelly thumbprint cookie gets a makeover with a lemon curd filling in a pecan-studded cookie.
Rate this recipe here
Ingredients
1

cup

all-purpose flour

-

120 gr

⅔

cup

chopped pecans

-

82 gr (toasted and chopped)

⅛

teaspoon

salt

½

cup

unsalted butter

-

113 gr (softened)

⅓

cup

granulated sugar

-

69 gr

1

egg yolk

¾

teaspoon

vanilla extract

¼

cup

lemon curd -

homemade or storebought

¼

cup

confectioners sugar
Instructions
Preheat oven to 350˚F (180˚C).

Toast pecans in the microwave for 1 minute on HIGH until they smell toasty. (Time may vary depending on the power of your microwave. Allow to cool and chop finely.

Place flour, toasted pecans, and salt in a medium bowl and set aside.

Use an electric mixer to combine butter and sugar, beating until light-colored and fluffy.

Add egg yolk and vanilla, mixing well.

Add the flour mixture to the egg mixture and gently combine just until the flour disappears. Scrape the bowl a couple of times to ensure no streaks of butter are left unmixed.

Roll dough into tablespoon-size balls and place onto a cookie sheet covered with parchment paper or a silicone baking mat. (If dough is too soft to handle, chill for about 30 minutes.)

Bake for 2 minutes. Open the oven door and use a small cork, the small end of a round-handled wooden spoon, or your finger to make an indentation in the middle of each cookie. Bake another 8-9 minutes.

Working quickly, re-indent the center of each cookie. fill it with a half-teaspoon of lemon curd. Return to the oven for another 8-10 minutes until cookies start to brown on the edges.

Fill the indentation or cavity with a half teaspoon of lemon curd.

Return to the oven for another 8-10 minutes until cookies start to brown on the edges.

Allow the cookies to cool for about 15 minutes, then remove them to a wire rack. When completely cool, sprinkle them with powdered sugar or ice with frosting (see the notes below).
Notes
Powdered Sugar Frosting: Combine 1/2 cup of powdered sugar or confectioners' sugar with 1-2 teaspoons of milk. Stir together. Drizzle with a spoon or pour the icing into a small zippered plastic bag. Cut a small hole by snipping one corner of the bag. Squeeze the icing over the top of each cookie in any pattern you like.
Nutrition
Serving:
1
cookie
|
Calories:
134
kcal
|
Carbohydrates:
13
g
|
Protein:
1
g
|
Fat:
9
g
|
Saturated Fat:
4
g
|
Polyunsaturated Fat:
1
g
|
Monounsaturated Fat:
3
g
|
Trans Fat:
1
g
|
Cholesterol:
24
mg
|
Sodium:
55
mg
|
Potassium:
27
mg
|
Fiber:
1
g
|
Sugar:
7
g
|
Vitamin A:
174
IU
|
Vitamin C:
1
mg
|
Calcium:
7
mg
|
Iron:
1
mg
Did you try this recipe?
If you loved it, don't forget to leave a 5-star rating 🌟🌟🌟🌟🌟 at the top of the recipe card. Thanks so much for taking the time to do that!