Powdered Sugar Lemon Cookies are a light shortbread-type cookie studded with finely chopped pecans and coated liberally with powdered sugar. They are especially nice for cookie trays at Christmas.
Don't miss the time-saving tip at the end of this post. I'll show you how I coat these cookies with powdered sugar en masse.
What do you do when a friend won't accept well-deserved payment for a service?
Time to get creative…
When my favorite Christmas tree decorator hinted he would accept some kind of lemon-flavored Christmas cookies as payment, I considered that my working orders. I surprised him with lemon thumbprints last year, but wanted something different this year.
My tradition-following gene is apparently mutated.
Recipe Inspiration
One of my favorite cookie cookbooks is Great Cookies by Carole Walter. Her recipe (she called them "Snowballs" seemed like a good place to start. By all appearances, they were the same as what we called Mexican wedding cookies when I was growing up.
The first change was to make them lemon-y. For lemon flavor, add one teaspoon of lemon oil. I like lemon oil better than lemon extract for a brighter, more natural, but intense lemon flavor. If you prefer, substitute 1 teaspoon grated lemon peel for a milder hint of lemon even non-lemon lovers will enjoy.
Whenever recipe directions call for handling each cookie individually, I look for ways to streamline the process.
What's wrong with the old way of dipping cookies?
Because these lemon cookies need 2 coatings of powdered sugar, check out my secret time-saving process below.
Or, stick with the old-fashioned way. That would be pressing each cookie, one at a time, into a bowl of powdered sugar, twice on each side. (I'll admit the latter method has its benefits. All that individual attention usually produces more broken cookies, unsuitable for anybody but the baker to eat.)
A quick way for coating cookies with powdered sugar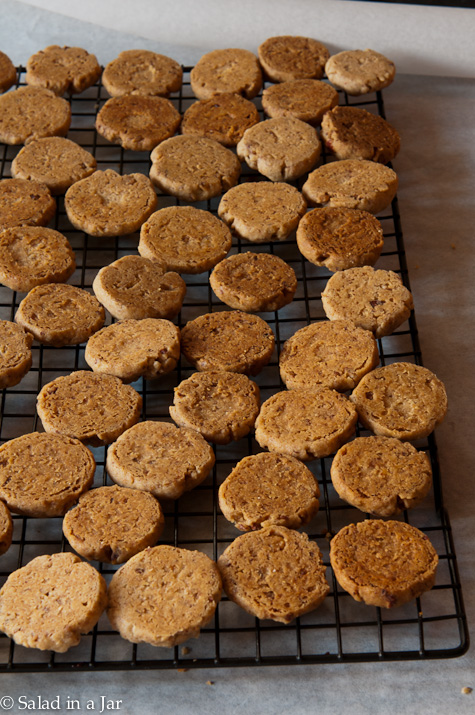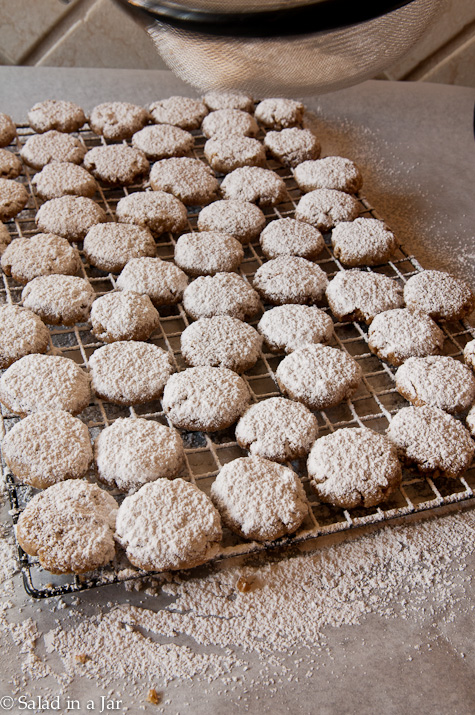 Move rack off of waxed paper and press each cookie, top-side up, into the sugar left on the paper giving the bottom a second coat.
---
More recipes for lemon lovers
---
If you enjoyed this recipe, it would help others and me if you gave it a five-star rating inside the recipe card below. 🤩 No comment required. Thank you.

Hope to see you again soon!
Paula
p.s. Questions or suggestions? Please email me: Paula at saladinajar.com.