Easy Cracker-Crusted Crispy Fried Shrimp–A Nostalgic Favorite
Sneak Peek: This Easy Cracker-Crusted Crispy Fried Shrimp is a simple recipe that results in an exquisitely crunchy and tasty experience. Ingredients include raw shrimp, flour, eggs, milk, and saltine crackers (the secret ingredient).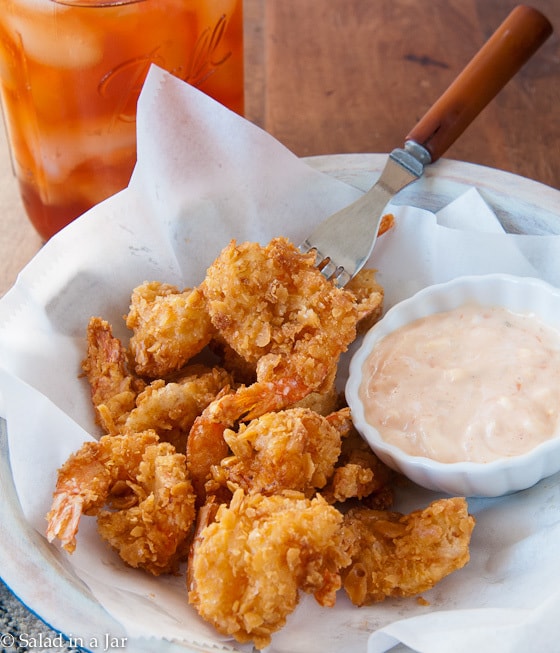 As an Amazon Associate, I earn from qualifying purchases.
Fried food is an "endangered species" in my kitchen. Despite the ban on grease, these shrimp are on the protected list. 😉
We've followed a tradition of serving fried shrimp for several years on New Year's Day. Although I'm a person who loves change and variety, traditions make menu planning a little easier. Wouldn't you agree?
Keep reading to discover the secret to making these shrimp crispy and crunchy.
Happy cooks speak up
"I just made this recipe with fresh off the boat Jumbo Gulf Shrimp. I didn't fry enough! They were so good I wanted more than the 5 I fried for my lunch but I am quite full. They are so delicious and so crunchy. Can't wait to cook them again this evening for hubby! I have searched a long time and tried so many fried shrimp recipes. No more searching, this is it!! Thanks so much!" — Kathy
Recipe inspiration:
One of my cooking heroes is Helen Corbitt of Neiman Marcus fame. I have several of her recipes on this website, like this Monkey Bread and Espresso Angel Food Cake.
While reading through Helen Corbitt's Cookbook, I found the recipe entitled "Fried Shrimp." I barely adapted her recipe because it's simple and perfect as is.
The secret, according to Ms. Corbitt:
"The smashed saltines give them (fried shrimp) a rough pretty appearance, and somehow they "eat" better."
–Helen Corbitt
---
Ingredients and substitutions:
FLOUR: Use all-purpose flour, bleached or unbleached.

GARLIC POWDER: If you use unsalted crackers, you could get away with garlic salt here. Fresh garlic is unsuitable since you're going for the crunch.

PEPPER: I use freshly ground black pepper, but pre-ground pepper is OK, too. A pinch of cayenne pepper will add a little kick if desired.

EGGS: Use large eggs or three medium eggs.

MILK: Any milk is fine. The fat content won't matter much.

SALTINES: I tested this recipe with regular saltines. If you want to use low or no-salt crackers, add some salt to the flour for flavor. One of my readers suggested Ritz crackers as a substitute. Good idea.

SHRIMP: Jumbo shrimp requires less work, but they are more expensive. Extra large and large shrimp are also acceptable. If you buy them with the shells on them, you'll need to remove them. Removing the tails is optional.

VEGETABLE OIL OR SHORTENING: Use oil with a high smoke point like peanut, canola, or avocado.
---
How to hand-bread shrimp:
Rinse, peel, and devein the shrimp if the store did not do it before you purchased it.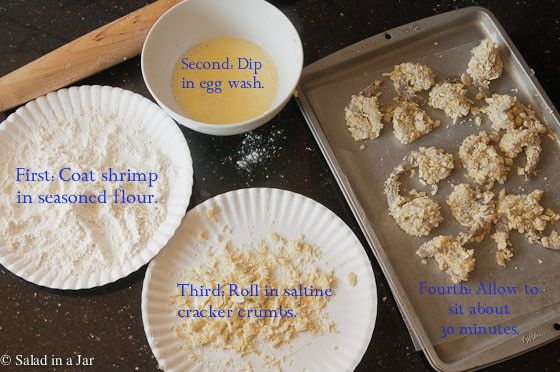 Place the flour mixture in a shallow dish or on a plate. Dredge the shrimp in the flour and gently shake to remove any excess flour.
Dip the floured shrimp into the egg wash.
Roll the shrimp in crushed saltine cracker crumbs.
Allow the shrimp to sit for about 30 minutes on a baking pan. Then, if you have room, set them in the refrigerator.
Heat oil to 375˚F in a large pot like a Dutch oven or use an electric fryer.
Deep-fry the shrimp in batches to avoid overcrowding your pot of oil. Fry shrimp until they are golden brown on all sides.
FAQ Questions:
Parting Thoughts: We are "the condiment family" (according to my daughter-in-law) who can eat hardly anything without a condiment. I serve these crispy shrimp with cocktail sauce, tartar sauce, or remoulade sauce. (See the recipe notes for my no-recipe version of remoulade sauce).
One more thing: Since you already have hot oil, try these jalapeno hushpuppies on the side. Mix them up while the shrimp chills in the fridge. Fry them after you finish the shrimp. They don't take long at all.
More Seafood Recipes:
Help at Your Fingertips: For questions or suggestions, email Paula at saladinajar.com. If you need help, I'm happy to troubleshoot via email (faster than leaving a comment). Attach pictures and as many details as possible for the best advice.
---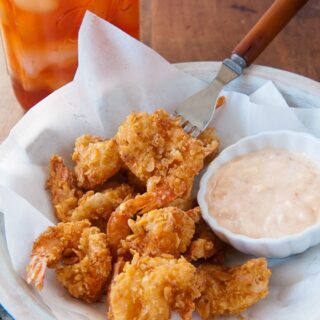 Easy Cracker-Crusted Crispy Fried Shrimp Recipe
These simple fried shrimp with a crispy coating will blow you away. The secret is in the saltine crackers.
Share recipe love here. ⬇
Ingredients
1

cup

(

120

g

)

flour, all-purpose

2

teaspoons

garlic powder

freshly ground pepper

2

(

100

g

)

eggs

1

cup

(

227

g

)

milk

36

saltines

1

pound

(

453

g

)

shrimp

–

medium or large

vegetable oil or shortening
Instructions
Combine

1 cup

(

120

g

) flour, all-purpose,

2 teaspoons

garlic powder, and

freshly ground pepper

and pour onto a flat plate.

Whisk

2

(

100

g

) eggs and

1 cup

(

227

g

) milk together in a small bowl.

Crush

36

saltines and place onto another flat plate or shallow bowl.

Remove shells and devein

1 pound

(

453

g

) shrimp. You may leave the tails on…or not. Your choice. Butterfly each shrimp with a small sharp knife.

Roll each shrimp in seasoned flour, dip in egg mixture, and finally, press shrimp into crumbs until covered. Be sure to butterfly the shrimp (spread open) for maximum crumb coverage, which results in more crunchiness. Allow the shrimp to sit on a wax-paper-covered cookie sheet for about 30 minutes.

Fry in 3-4 inches of

vegetable oil or shortening

heated to 375 degrees until golden. It doesn't take long so stay close. Remove from grease and allow to drain onto paper towels.
Notes
My no-recipe remoulade sauce:
To approximately 1/2 cup mayonnaise, add enough catsup until it's nice and pink. Stir in a generous spoonful of pickle relish and one hardboiled egg, chopped finely.
*Please note that the calorie count does not include the oil the shrimp is fried in as that is impossible for me to measure accurately in my home kitchen.
Nutrition
Serving:
1
|
Calories:
260
kcal
|
Carbohydrates:
32
g
|
Protein:
22
g
|
Fat:
4
g
|
Saturated Fat:
1
g
|
Polyunsaturated Fat:
1
g
|
Monounsaturated Fat:
1
g
|
Trans Fat:
1
g
|
Cholesterol:
179
mg
|
Sodium:
314
mg
|
Potassium:
338
mg
|
Fiber:
1
g
|
Sugar:
3
g
|
Vitamin A:
120
IU
|
Vitamin C:
1
mg
|
Calcium:
111
mg
|
Iron:
3
mg
HELP OTHERS find this recipe. Leave a 5 🌟🌟🌟🌟🌟 rating at the top of the recipe card if you enjoyed it. No comment is required.