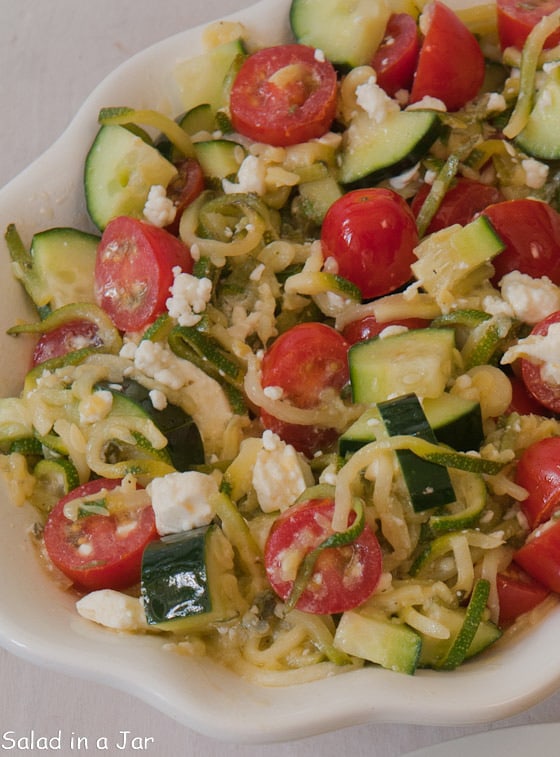 My niece Gina recently paid a visit and demonstrated how to make this refreshing salad for our family cookout. She grows zucchini, cucumbers and cherry tomatoes in her garden where she lives in North Carolina so she and her husband are eating this a lot. If you haven't tried making noodles from zucchini, I heartily recommend you give it a try. You don't have to have a spiralizer (30$ or so) to make the zoodles but it sure makes the process easier if you like them as much as I do.
Since Gina offered to help, I decided to try my hand at creating one of the new rapid-fire food videos as put together by Tasty, Delish and others. Now that I figured out i-Movie (barely), I present to you my first attempt.
Greek Zoodle Salad
A refreshing salad with zoodles, cucumber, cherry tomatoes and feta.
Ingredients
3 medium zucchini, spiralized
1 medium cucumber, quartered and sliced
1 pint cherry tomatoes, halved
Juice of 2 lemons
¼ cup olive oil
1 tablespoon fresh oregano, chopped
Salt and pepper to taste
⅓ cup feta cheese, crumbles
Instructions
Use a spiralizer to make zucchini noodles (zoodles) or slice by hand with a knife.
Prepare cucumber and tomatoes. Set aside.
To make dressing: add juice of lemons into a pint-size Mason jar, then olive oil, oregano, salt and pepper. Shake or whisk to combine.
Heat zoodles in a large sauce pan or skillet just until hot. Don't cook so long that they get mushy. Empty noodles into a colander or strainer, and use the back of a spatula or wooden spoon to press out as much liquid as possible. Return zoodles to the original pan.
Add all other ingredients to zoodles and toss together with a light hand. Serve immediately if you like it warm or at room temperature if you prefer. I like warm because it makes the cheese slightly melty and oh so delicious.
Related Posts: