Preview: Microwave Lemon Curd is so easy. Mix it in a blender, then use a Pyrex container to cook it to perfection without standing over it to make sure it doesn't scorch or get lumpy. Check out the lime and orange versions.
Are you a lemon lover? Maybe you have a lemon tree in your backyard and need something to do with all those lemons besides making lemonade. Or maybe you have a recipe that calls for lemon curd and you can't find it at the store or it's ridiculously expensive and not as fresh as you would like.
This lemon curd recipe made in the microwave is the answer to all these problems.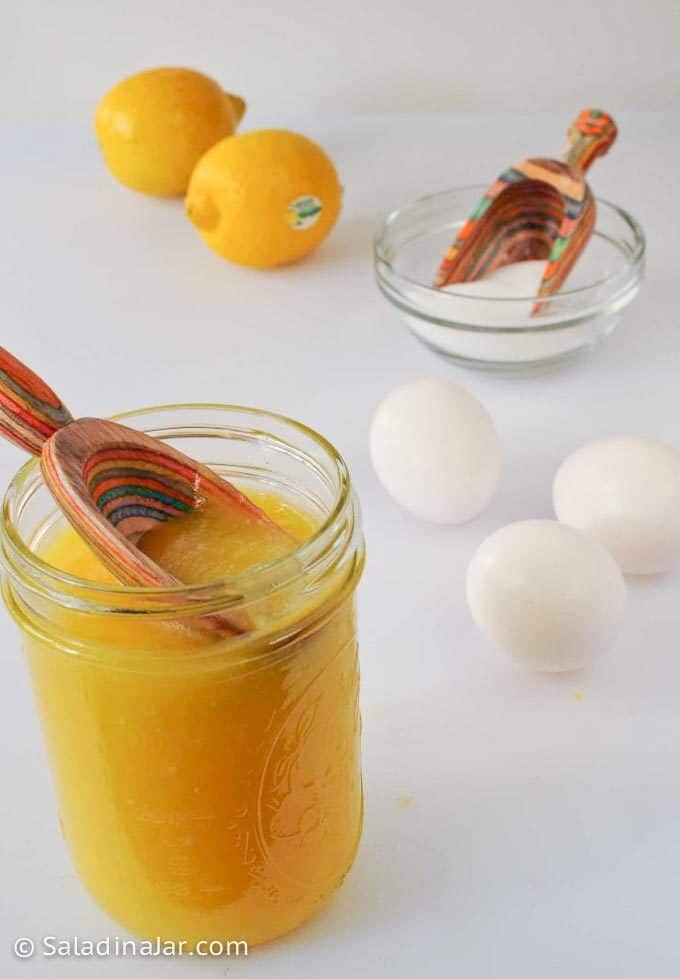 Up until now, I always purchased lemon curd in a jar from the grocery store. An expensive little jar! But those days are over.
Variations on this lemon curd are numerous. In addition to lime curd or orange curd, consider strawberry, raspberry, or cherry juice.
---
Ingredients and substitutions:
SUGAR: Add more if you like your cured really sweet or if your lemons are extra tart.

LEMON JUICE: I suppose you could use bottled or frozen lemon juice but since you need grated rind, might as well use fresh lemon juice. Meyer lemons would also be delicious with a milder lemon taste.

GRATED RIND: If you don't have access to fresh lemons and are desperate, dried lemon rind is a possible alternative.

EGGS: The recipe is written for large eggs which weigh about 50 grams apiece. If you prefer your lemon curd to be extra thick, add an extra egg yolk.

BUTTER: Butter is my only choice. I suppose you could use margarine, but I don't recommend it.
---
4 ways you can use Microwave Lemon Curd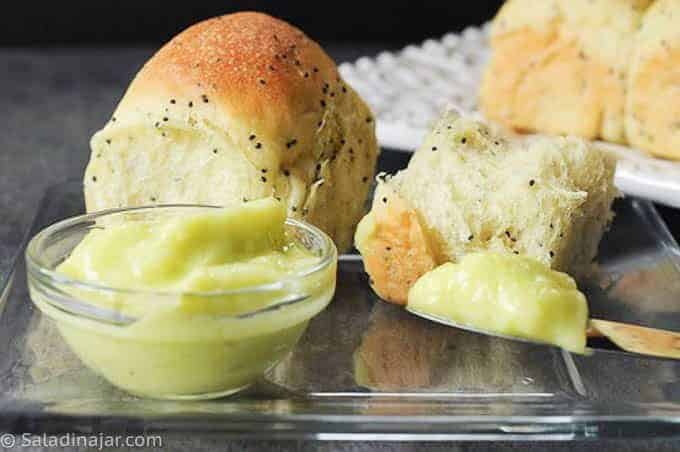 ---
FAQ about Microwave Curd:
1. How can I make my lemon curd thicker?
Add an extra egg yolk.
2. Why is my curd gritty.
Be careful not to let the curd boil as you make it. This can lead to grittiness.
3. Can I use bottled lemon juice instead of fresh?
I don't recommend it. Bottled lemon juice can be bitter.
---
Recipe Tips
#1
Why use a blender?
You can cook this on top of the stove, but it's easier in the microwave. Use a food processor or blender to mix it up. If you want a smooth, creamy texture in the final product, thorough blending is a must. If you don't have a blender, whisk the uncooked mixture well before cooking in the microwave.

If you end up with a few lumps, no problem. Force the curd through a strainer.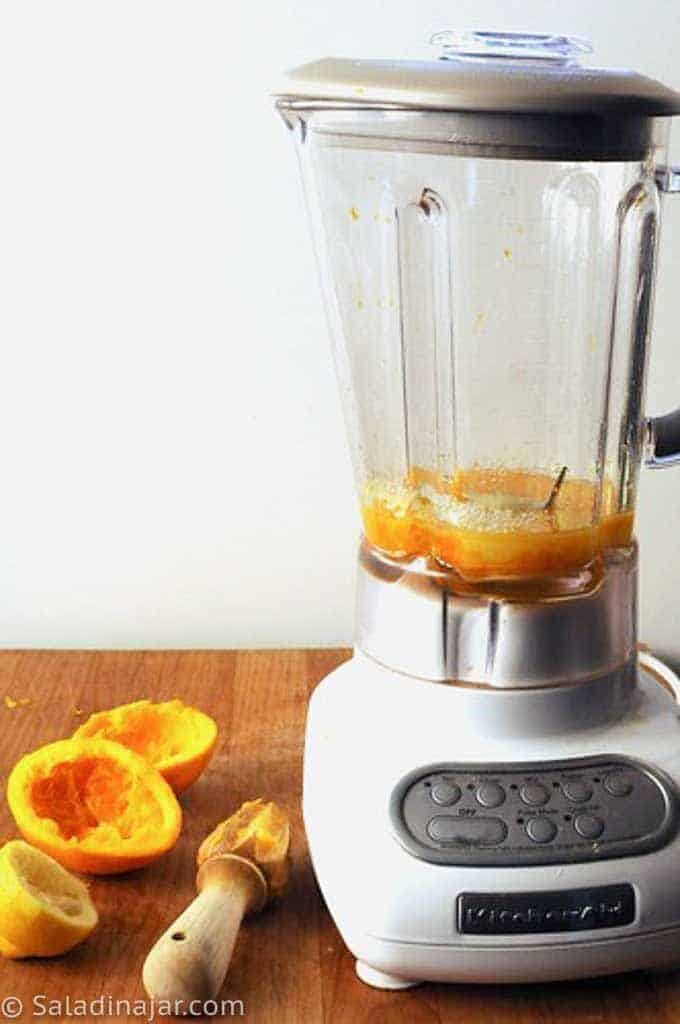 #2
An important note about grating the rind:
I can't overstate the usefulness and desirability of a Microplane grater. It actually makes grating rind an enjoyable experience. No more scraped knuckles or difficult scraping of the rind out of a grater.
Be careful not to grate too deep into the skin of the fruit. The white part adds a bitter taste you want to avoid.
---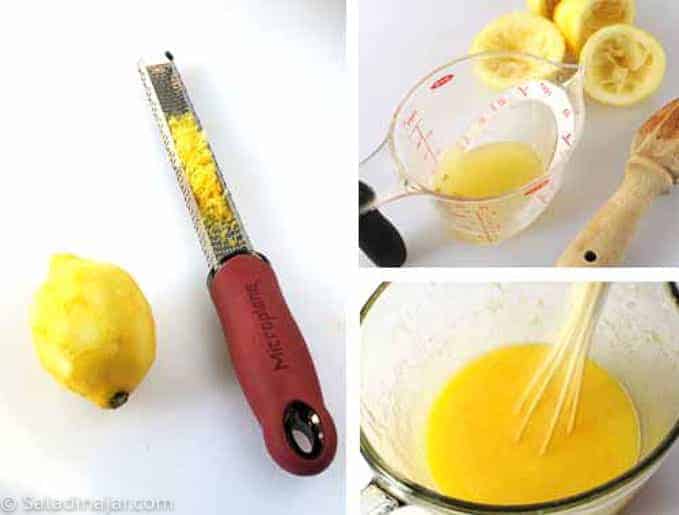 How to cook lemon curd in the microwave:
Get out your 2-quart batter bowl and a whisk. If you still don't have a large pyrex batter bowl, take yourself down to Wally World and pick one up or click on the link provided. They are cheap and extremely useful in the kitchen–especially if you cook with me.
Unlike cooking on the stove, you won't have to stand over the curd and stir it constantly. No worries about scorching. However, whisk/stir every minute or two when you see the curd mixture starting to thicken.
---
Variations of curd you can cook in the microwave:
MICROWAVE LIME CURD: Substitute lime juice for the lemon and grated lime rind for the grated lemon rind.

MICROWAVE ORANGE CURD: Grate rind from one orange and one lemon. Substitute orange juice for the lemon juice.
Note: I like to add a touch of food coloring to the lime and orange. Otherwise, they are yellow and look almost identical to the lemon.
---
---
It's hard not to eat this stuff with a spoon, but that is dangerous for me. My current favorite way to eat lemon curd is combined with cherry preserves on sourdough toast.
---
More recipes you can make in your microwave:
If you enjoyed this recipe, it would help others and me if you gave it a five-star rating inside the recipe card below. 🤩 No comment required. Thank you.

Hope to see you again soon!
Paula
p.s. Questions or suggestions? Please email me: Paula at saladinajar.com.