Exceptional Condensed Milk Bread Machine Recipe
Sneak Preview: This Exceptional Condensed Milk Bread Machine recipe is mixed and kneaded in a bread machine but baked in a conventional oven. The velvety soft and close texture of this loaf will remind you of brioche. It makes the BEST peanut butter and jelly sandwich you will ever eat!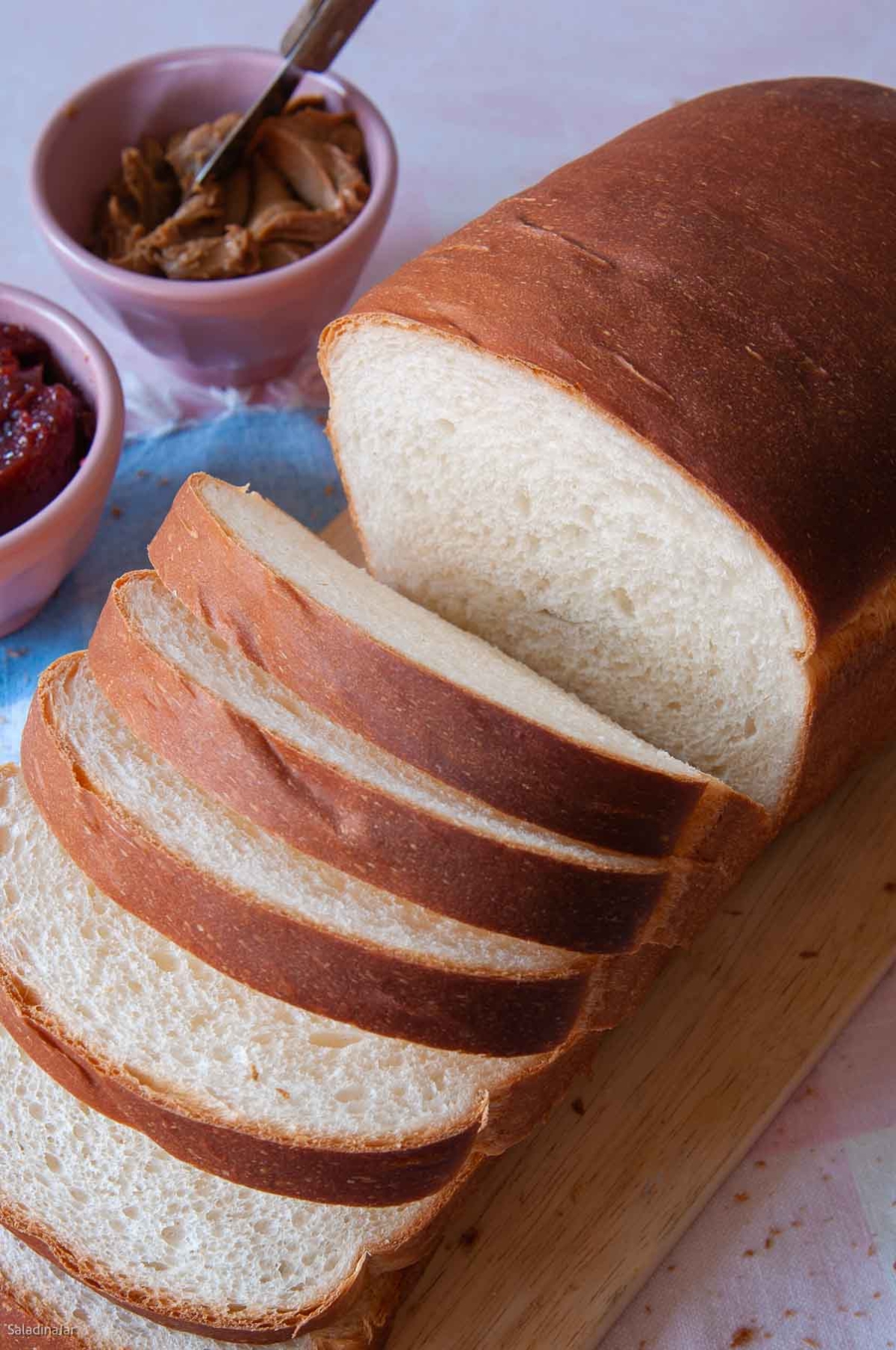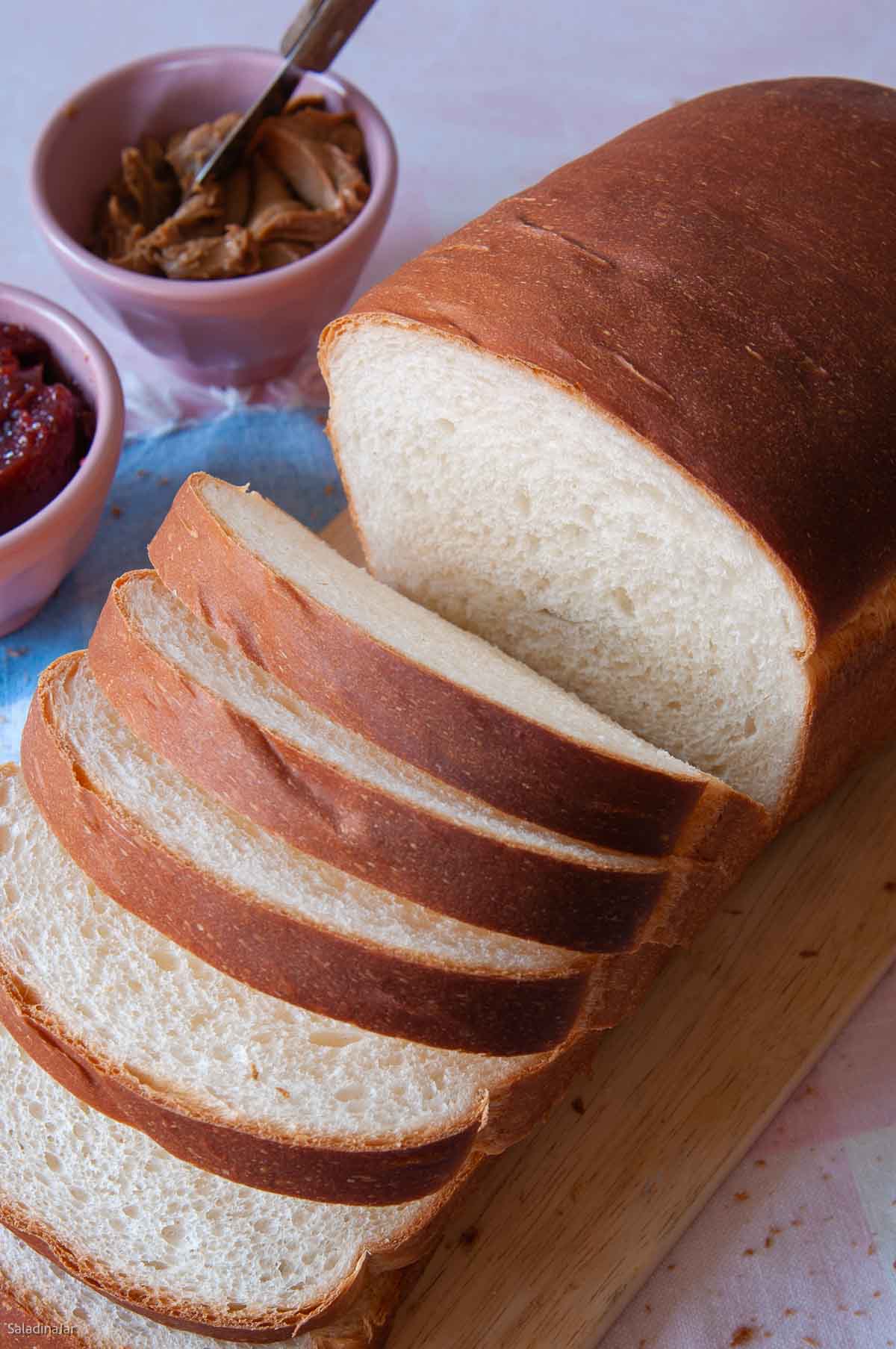 As an Amazon Associate, I earn from qualifying purchases.
A soft and tender white bread loaf is not for everyone. However, if you count white bread as one of your guilty pleasures, this is the best recipe I have to offer. It's worth the carb splurge.
When living in Europe as a teenage exchange student, my "family" laughed at me for eating peanut butter and jelly sandwiches. They claimed only small children would typically enjoy such food.
Come to think of it…maybe it's because they didn't have Wonder bread. I can't imagine a PB & J on French bread or ciabatta.
No worries if you don't have a bread machine. See the recipe notes to make this loaf by hand or stand mixer.
Ingredients and Substitutions:
WATER: I like to use spring water if I have it. But spring water can get expensive if you make a lot of bread. Instead, I keep tap water that has set on my counter for 24 hours to let the chlorine evaporate. You don't have to do this–it's just my quirky habit.

SWEETENED CONDENSED MILK: This milk is a key ingredient in this recipe. If you don't have sweetened condensed milk in your pantry or can't find it where you live, you can make it at home with this recipe. I make half a recipe (the perfect amount) and it's quite good.

Cream of coconut is another product that would make a wonderful substitute if you don't mind a slightly coconut flavor.

SALT: Use table salt or sea salt.

BUTTER: Use softened butter, not melted butter.

BREAD FLOUR: You could use all-purpose flour but bread flour contains more protein and will help your bread rise a little higher. If using all-purpose flour, hold back a couple tablespoons of water and only add if you need them to make the dough stick to the sides of the bread machine pan and pull away cleanly as it kneads.

YEAST: Bread machine or instant yeast is always my first choice for a bread machine recipe. If you only have active-dry yeast, you can use that instead. Although technically, you don't have to dissolve it before adding it to the bread machine pan, it will start to work faster if you dissolve it first in some of the water called for in the recipe.

How to make Condensed Milk Bread in a bread machine: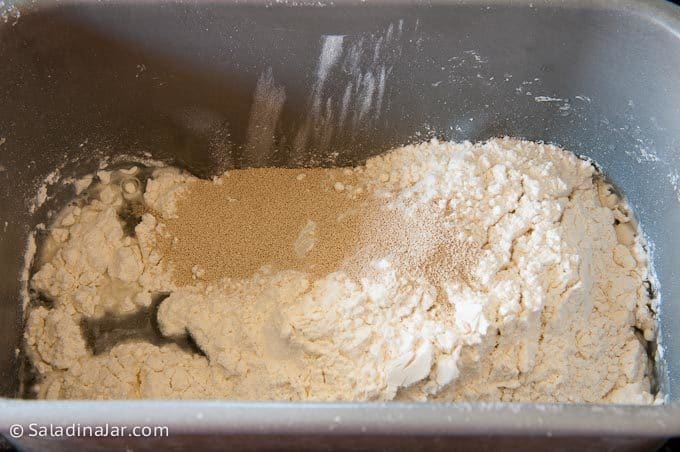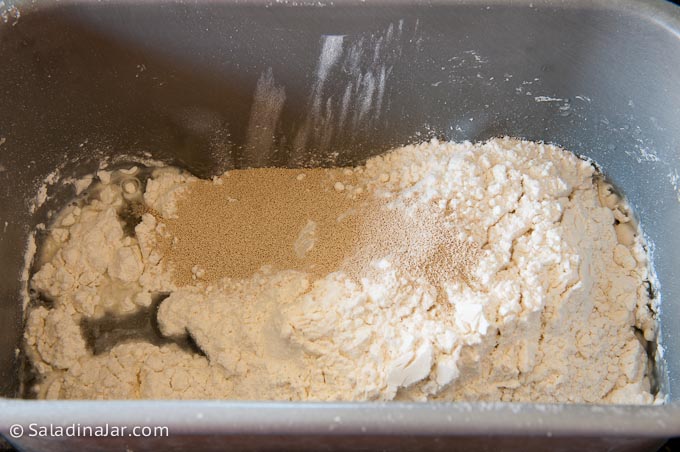 Place all ingredients in the bread machine pan in the order listed in the recipe.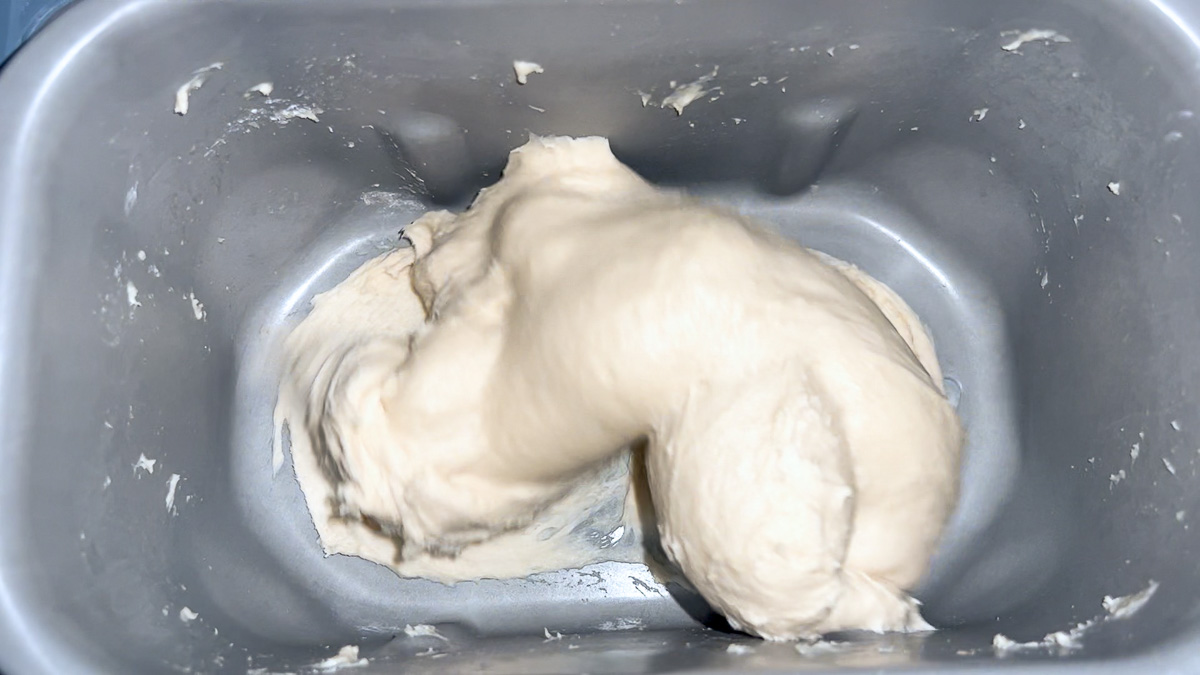 Choose the dough cycle. Check dough periodically to ensure the texture is not too wet or too dry.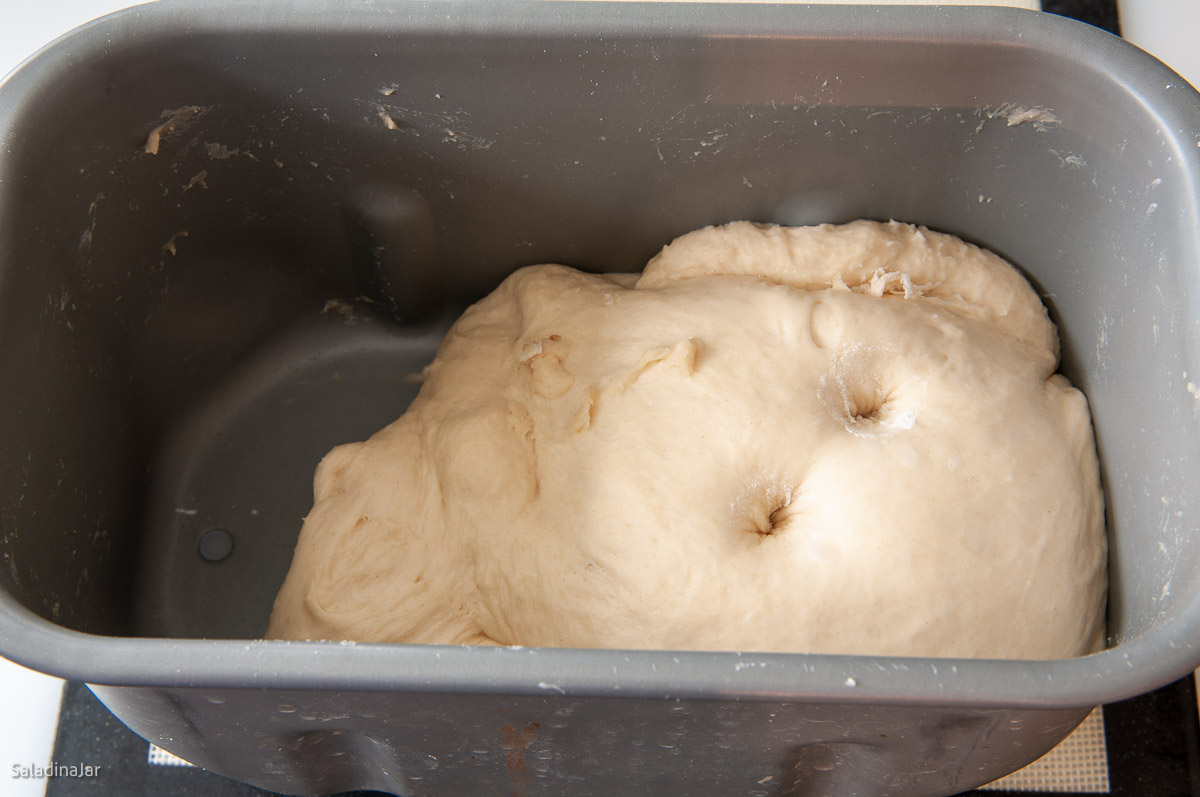 When the dough cycle is complete, remove the dough onto a floured surface to shape.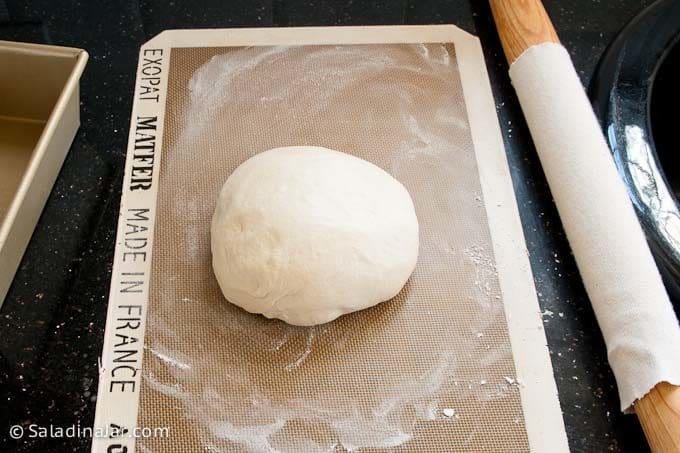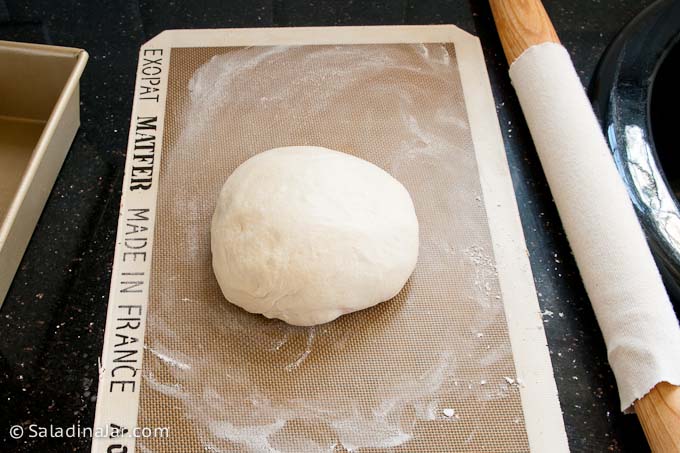 Form into a smooth ball. Cover and let the dough relax for 10-15 minutes.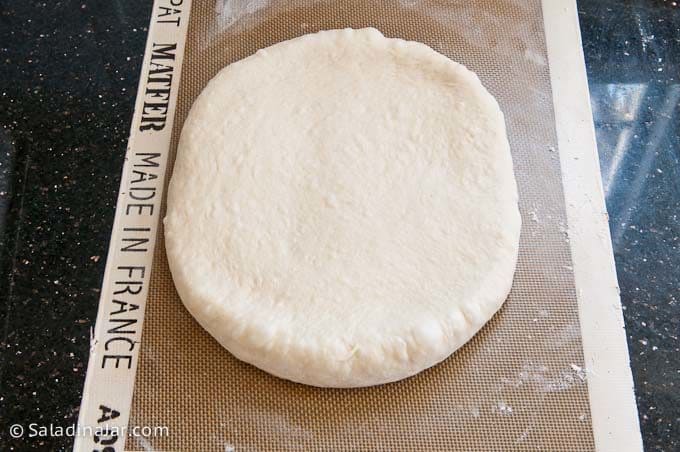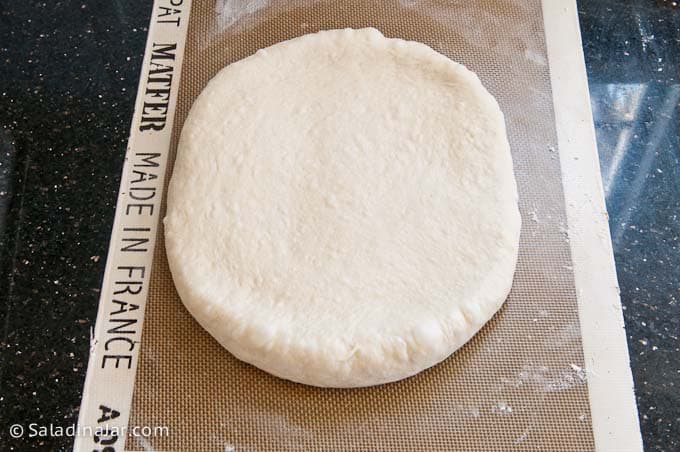 Roll out dough into a rectangle shape with the short side approximately 2 inches wider than the length of your pan. Be sure to "smoosh" out the air bubbles around the edges.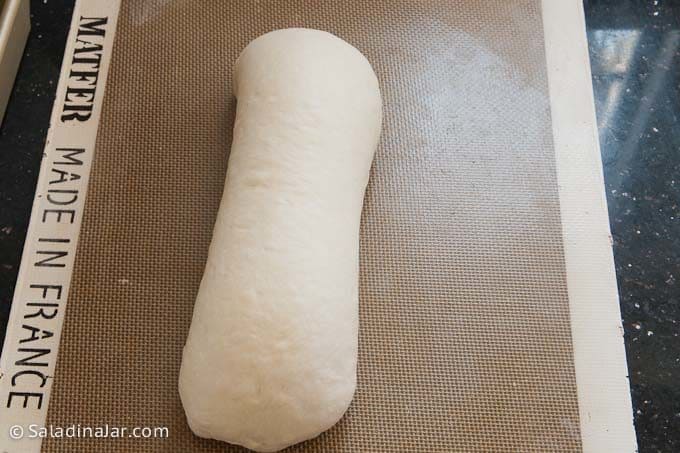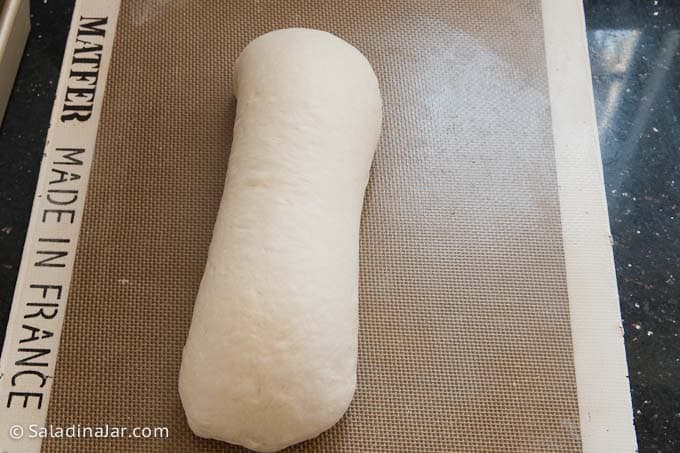 Roll up, starting with the short edge. Tuck the ends under so your loaf looks rounded.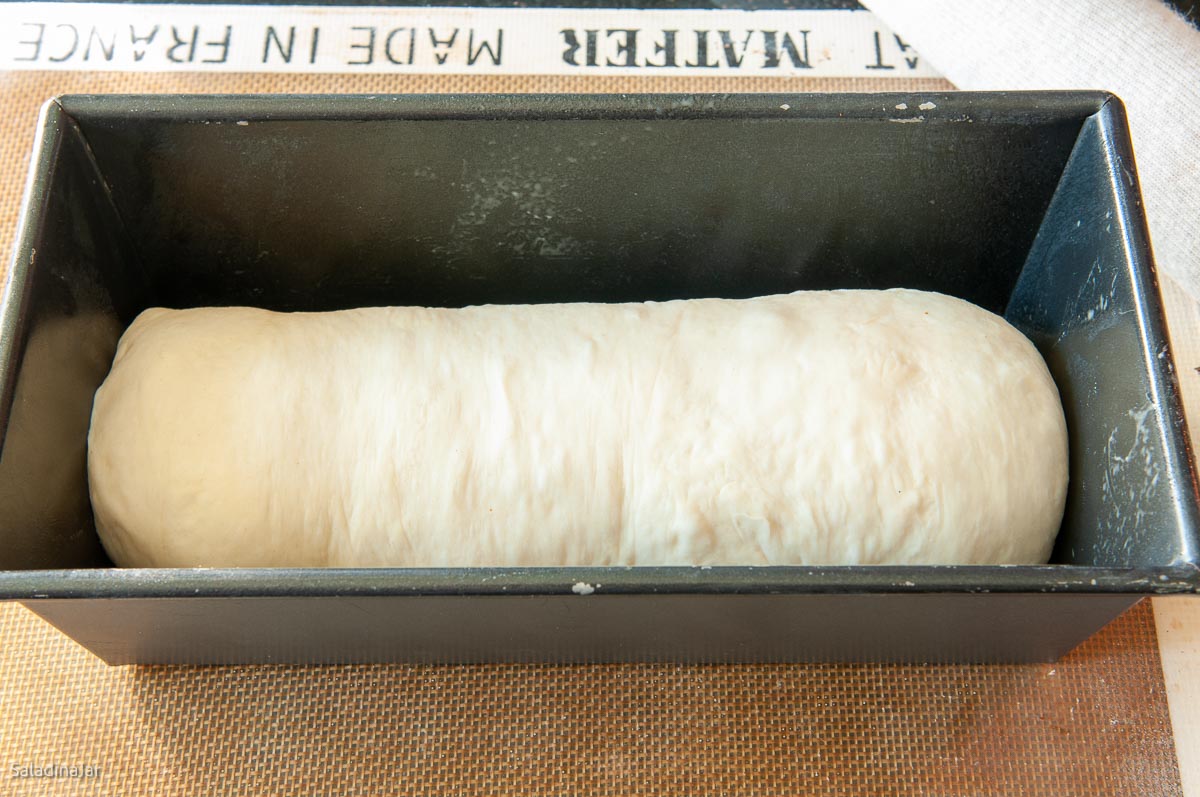 Place dough into your bread pan and cover. (I like to use a cheap shower cap.) When doubled in size, place into a preheated oven and bake at 375˚ F for 35-40 minutes. Cover with foil halfway through if the top is getting too brown.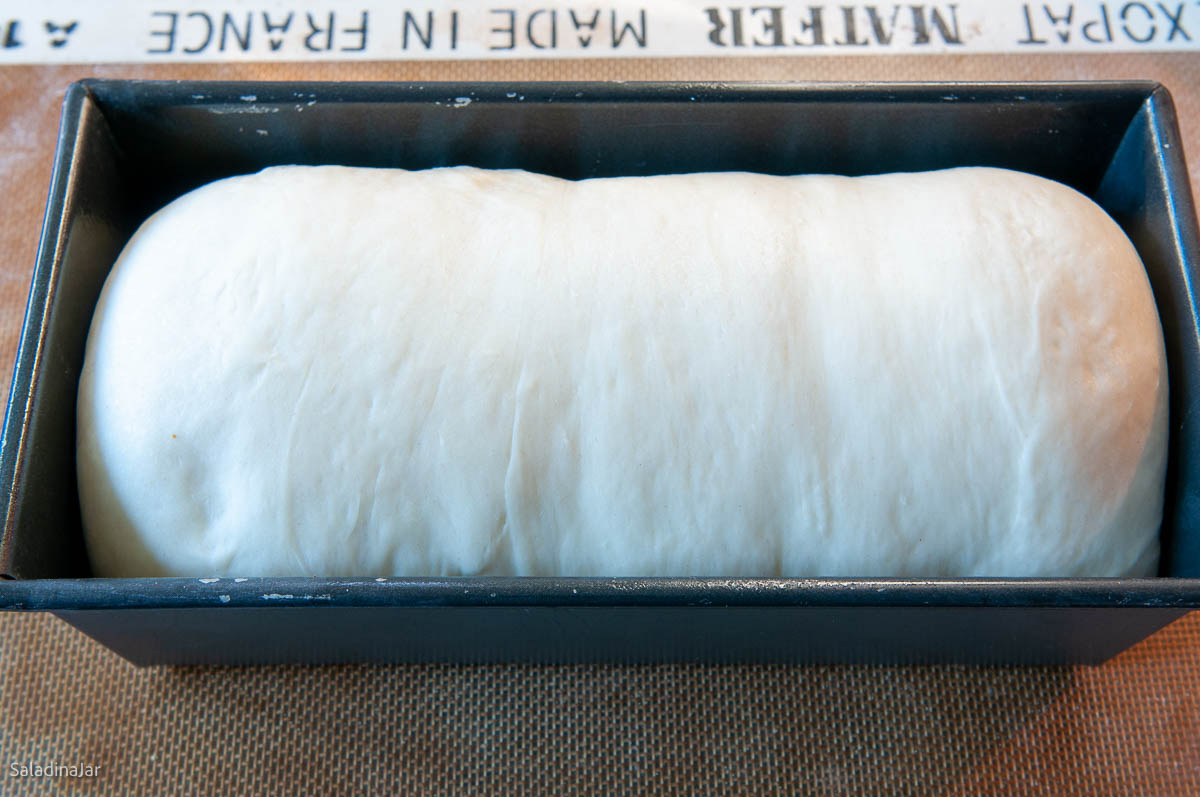 It's hard to see here, but the dough is peeking over the top. See the dent in the dough in the left lower corner? I tested it with my knuckle. This small indentation is a sign that the dough is ready to go into the oven.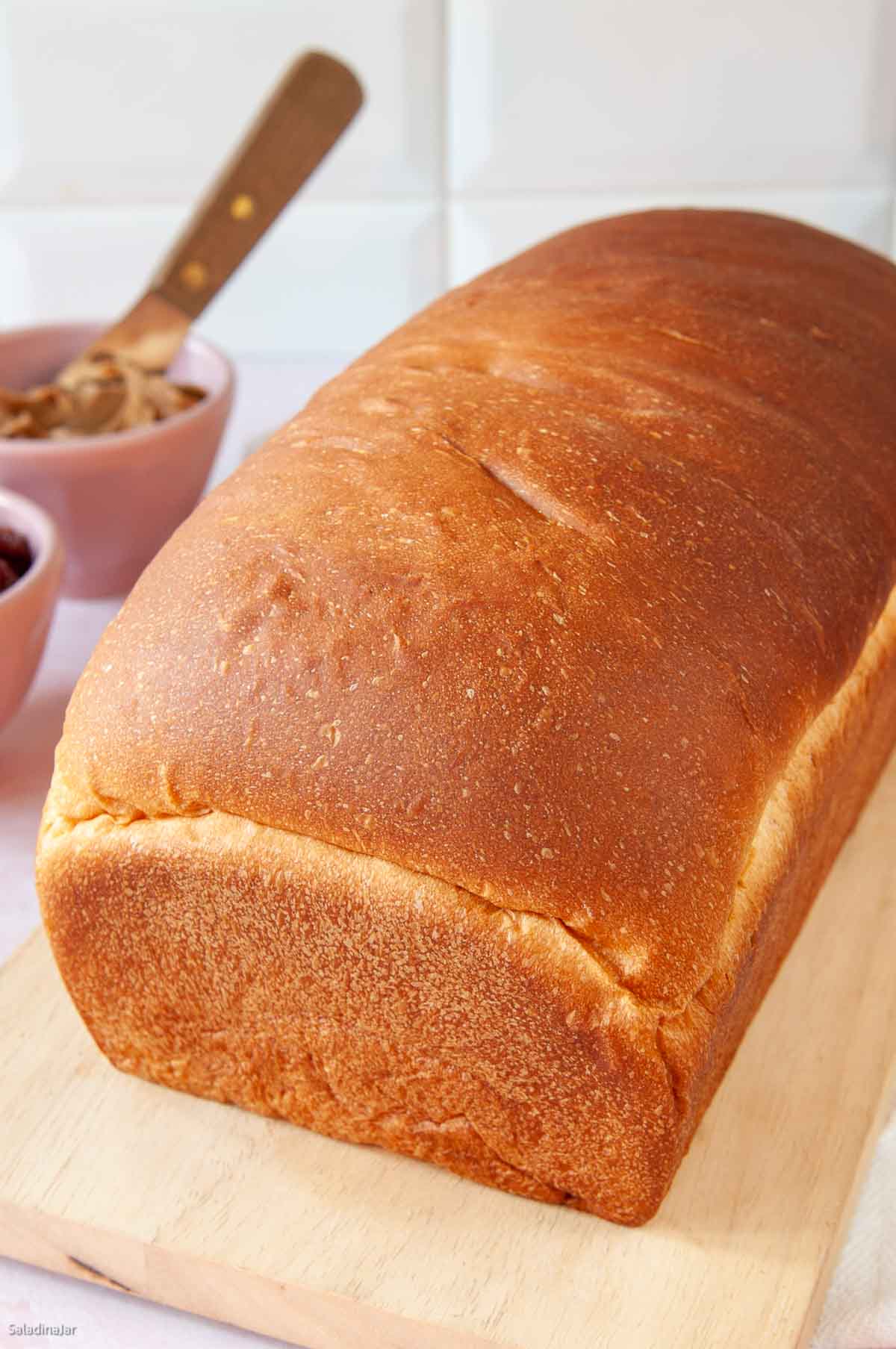 This bread is velvety soft and exceptionally flavorful.
FAQ about making this Condensed Milk Bread recipe with a bread machine
Can I freeze sweetened condensed milk?
Once you make this recipe, you will quickly see why we're talking about this. The recipe calls for 1/2 cup of sweetened condensed milk. That means you'll have a lot leftover.

Yes, you can freeze sweetened condensed milk in the freezer for up to three months.

You can leave it in the refrigerator if you think you will use it within three weeks.
What if I don't have the same bread pan specified in the recipe?
That's OK. Don't go any smaller than noted in the recipe, but you can go a little bigger. However, pay attention and don't let your bread rise more than double its original size.

If you only have a smaller loaf pan, pull out some of the dough and make rolls with it instead.

Another solution? Buy a 9 x 4 x 4-inch Pullman bread pan. It will work for nearly all of the loaf recipes on this website. The higher sides make it useful for a broader range of recipe sizes.
My bread got too brown on top before it got done in the middle. How can I avoid that?
Set your timer for halfway through the cooking time. Check the bread. It is likely already golden brown on top, but it is a long way from completely baked.

Shield the loaf by draping foil loosely over the dome. Try baking your bread on a lower shelf the next time.
How can I tell when my bread is finished baking?
Check it with a quick-read thermometer. The temperature in the middle of the loaf should read 200˚ F.

You risk the loaf falling or caving in on the sides if it is still doughy.
If I go ahead and bake this bread in my bread machine, will it turn out OK?
Maybe. It depends on many different factors (e.g., the brand of the bread machine, humidity, type and brand of flour, temperature in the room, etc.).

I hope you get lucky and the machine will produce a decent loaf of bread. You can expect the crust to be thicker and somewhat chewy.


When making bread, do the water and milk temperatures need to be warm or cool, or does it matter?
Good question. Here's the deal.  

Warm water (100 to 110˚ F) and milk will make the yeast act faster, and consequently, the dough will rise quicker.

Start with cool water (room temperature) and milk to slow down the proofing time. The result is better flavor development of the yeast.

Since you use only the DOUGH cycle instead of the entire bread cycle from mixing to baking, you get to pick your priority.
How can I tell if the dough has risen enough at the end of the DOUGH cycle?

Remember to test the dough at the end of the DOUGH cycle by poking it lightly with two fingers. If the holes immediately fill in, leave the dough in the bread machine pan to continue rising.
The holes left by your fingers should fill in slowly. If they don't fill in, the dough may be over-proofed.
Addendum 2/03/22:
I reduced the water from 227 gr (1 cup) to 198 gr (7/8 cup) because I always had to add several tablespoons of flour to achieve the ideal dough consistency (the dough should stick to the side of the bread pan, then pull away cleanly).
Your situation may be different, so always check the dough after it has been kneading for 5 to 10 minutes. Add more flour or water if necessary to correct the consistency. (See the video.)
I also reduced the yeast back to 1½ teaspoon because the dough was rising too fast. A slower rise yields more flavor. Again, test in your kitchen with your favorite flour and yeast to find out what works best for you.
Comment from a reader: "Your sweet milk soft white bread has been my go-to bread for years.  It's delicious and makes wonderful gifts.  People always ask for more….  I solved the left-over condensed milk problem:  I just make two loaves and freeze one!"
—Peggy
If you have questions or suggestions, email me privately to Paula at saladinajar.com. Hope to see you again soon! Paula
Bread Machine White Bread with Condensed Milk Recipe
A finely-textured loaf of soft white bread–mixed, kneaded, and proofed in a bread machine, but shaped by hand and baked in a conventional oven for the best of both worlds.
Ingredients
⅞

cup

water (room temperature)

-

198 gr

½

cup

sweetened condensed milk

-

156 gr

1¼

teaspoon

salt

-

7 gr

1

tablespoon

butter

-

chopped (14 gr)

3

cups

unbleached bread flour

-

360 gr

1½

teaspoons

instant yeast

-

5 gr
Instructions 
Add ingredients: ⅞ c water (198 g), ½ c sweetened condensed milk (156 g), 1¼ t salt (7g), 1 T butter (14 gr), 3 c unbleached bread flour (360 g), and 1½ t (5 g) to the bread pan in the order listed.

Select the DOUGH cycle and press START.

Check the dough at least twice during the mixing and kneading phase by lifting the lid to take a peek. The first time, look immediately after the machine starts mixing to ensure the paddles are engaged correctly. 

Look again 15 minutes into the DOUGH cycle to assess the consistency of the dough. The dough should stick to the side, then pull away cleanly.

If your dough is too wet, add flour one tablespoon at a time.

Conversely, if the dough is too dry, add one tablespoon of liquid at a time until the dough looks just right. Read more about this surprising secret to success with a bread machine here.

Remove dough from the pan at the end of the dough cycle and place onto a lightly floured board. Knead by hand a little bit to press out any large air bubbles.

Roll into a rectangle approximately 9 x 11 inches. Roll up starting from the longest edge. Pinch the seam closed. Tuck each end toward the seam and pinch to close. Lay the cylinder into a 9 x 5-inch loaf pan. If the only loaf pan you have is smaller, don't put all the dough into the pan. Instead, make rolls with the extra dough.

Cover and let the dough rise until it is not quite double its original size. Because this dough is a "high-riser," be careful not to let the dough rise too much. or it will cave in on the sides or the top.

Preheat your oven 15 minutes before you estimate your loaf will be ready.

Bake at 375˚F for 35-45 minutes. The interior should reach 190˚F. If necessary, place a foil tent over the bread halfway through baking to protect it from over-browning.

Allow cooling for 15 minutes before turning out to cool completely. It's best if you wait at least two hours before slicing so the loaf will hold its shape without squishing under the pressure of a knife.
Notes
Directions for making bread with a stand mixer or by hand:
To make this recipe in a heavy-duty stand mixer:  Add ingredients to the bowl in the same order. Turn on LOW to mix until all ingredients are moistened. Then, using a dough hook, turn the speed to 2 or 3. Continue beating/kneading until dough becomes smooth and elastic (about 5-10 minutes). Cover and allow to rise in a warm place. Deflate dough gently and shape as indicated in the recipe.
If making by hand: Combine all ingredients into a shaggy ball in a large bowl. Turn dough out onto a floured surface. Knead with your hands until the dough becomes smooth and elastic. Kneading will likely take 10-20 minutes, depending on your experience. Place the dough ball into a greased bowl. Cover and allow to rise until double. Deflate the dough gently and shape as indicated in the recipe.
Please note: If you only have active dry yeast, use 1/4 teaspoon more than called for in the recipe.

It no longer needs to be dissolved first

, but you can if you prefer.
Note:  If your bread rises too high, decrease the yeast. Start by decreasing 1/4 teaspoon.
Nutrition
Nutrition Facts
Bread Machine White Bread with Condensed Milk Recipe
Amount per Serving
% Daily Value*
* Percent Daily Values are based on a 2000 calorie diet.
Like this recipe? Thanks for leaving a 5-star rating inside the recipe at the top! 🤩
This recipe is slightly adapted from The Bread Machine Magic Book of Helpful Hints by Linda Rehberg & Lois Conway.