Preview: This recipe for Sweet-Milk Soft White Bread is designed to make in a bread machine. The soft and fine texture will remind you of Wonder Bread.
When living in Europe as a teenage exchange student, my "family" laughed at me for eating peanut butter and jelly sandwiches. They claimed only small children would normally enjoy such food.
Come to think of it…maybe it's because they didn't have Wonder bread. I can't imagine a PB & J on French bread or ciabatta.
I realize soft and tender white bread is not for everybody. But if you count white bread as one of your guilty pleasures, this is the best recipe I have to offer. It's worth the carb splurge.
No worries if you don't have a bread machine. Follow the directions in the notes to make this loaf by hand or with a stand mixer.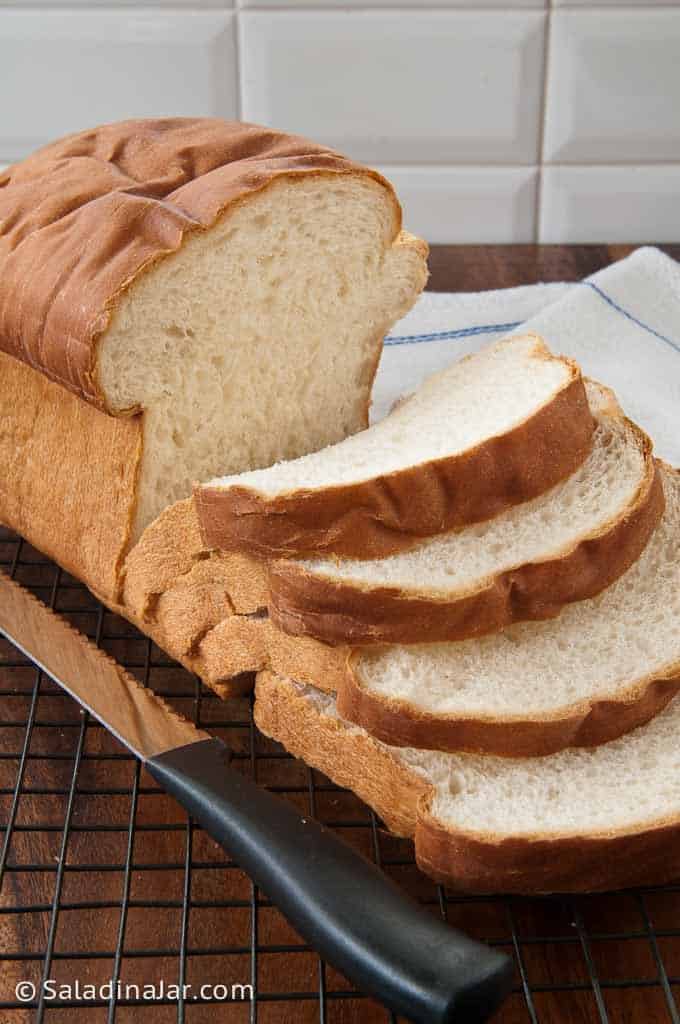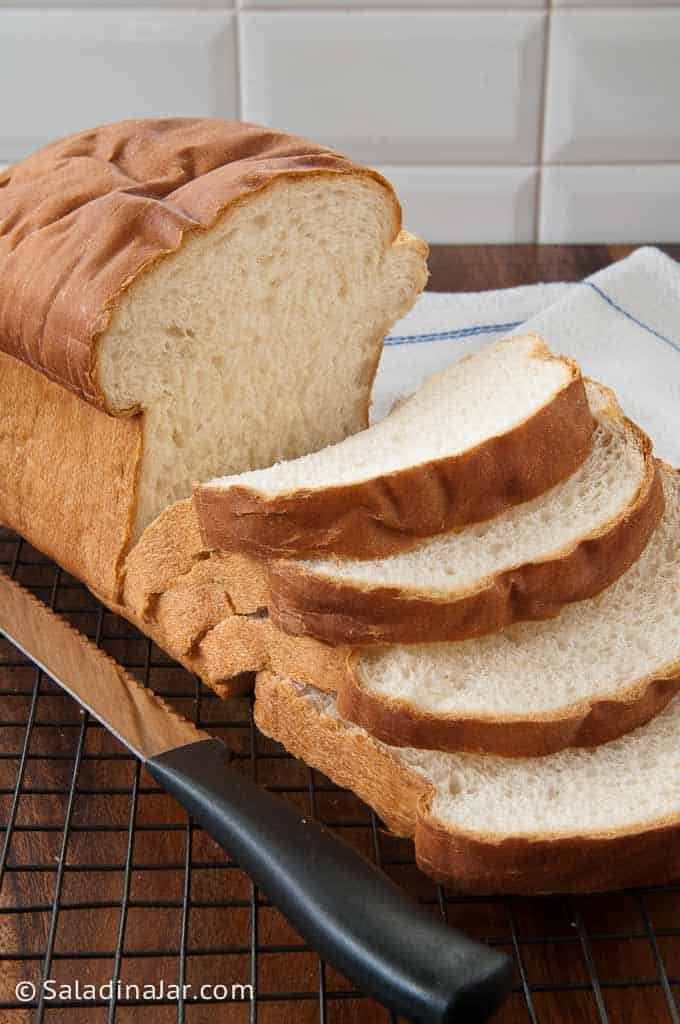 FAQ about making Sweet Milk-Soft White Bread: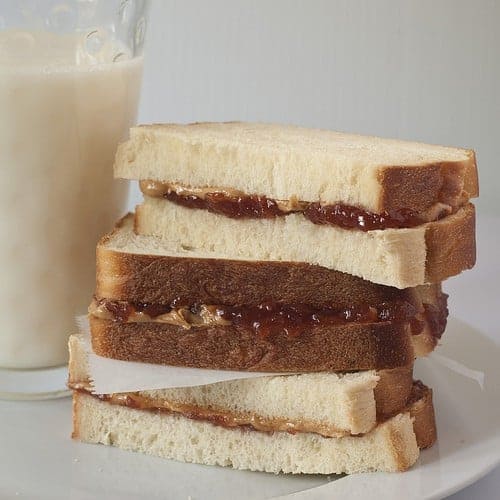 #1
Can I freeze sweetened condensed milk?
Once you make this recipe, you will quickly see why we're talking about this. Only 1/2 cup of sweetened condensed milk is needed for one recipe. That means you'll have a lot leftover.
Yes, you can freeze sweetened condensed milk in the freezer for up to three months.
You can leave it in the refrigerator if you think you can use it within 3 weeks.
Comment from a reader: "Your sweet milk soft white bread has been my go-to bread for years. It's delicious and makes wonderful gifts. People always ask for more…. I solved the left-over condensed milk problem: I just make two loaves and freeze one!"
—Peggy
---
#2
What if I don't have the exact size bread pan specified in the recipe?
That's OK. Don't go any smaller than noted in the recipe, but you can go a little bigger. However, pay attention and don't let your bread rise more than double its original size.
Actually, you can use a smaller pan. Pull out some of the dough and make rolls with it, instead.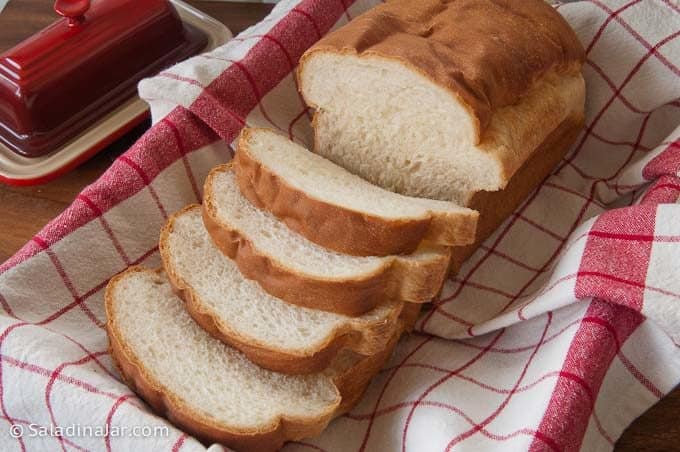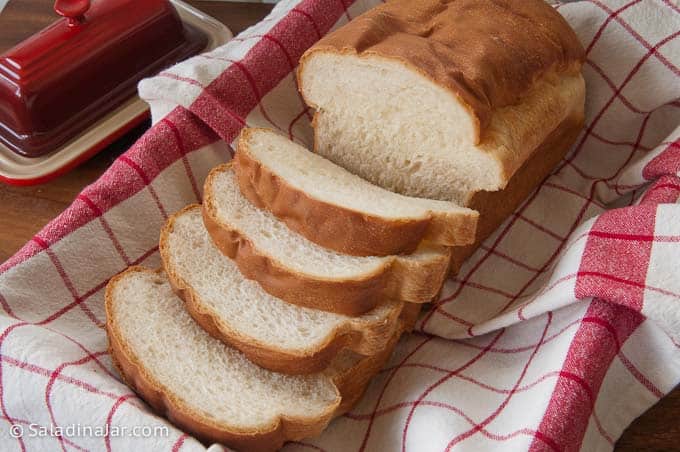 ---
#3
My bread got too brown on top before it got done in the middle.
I recommend you set your timer for halfway through the cooking time. Check the bread. Most likely it is already golden brown on top but a long way from completely baked.
Shield the loaf by draping foil loosely over the dome.
---
#4
How can you tell if your bread is ready to take out of the oven?
Check it with a quick-read thermometer. The temperature in the middle of the loaf should read 190 degrees F.
You run the risk of the loaf falling or caving in on the sides if it is still doughy.
---
#5
If I go ahead and bake this bread in my bread machine, will it turn out OK?
Maybe. It depends on many different factors (e.g. the brand of the bread machine, humidity, type and brand of flour, temperature in the room, etc.).
Hoping you get lucky and the machine will produce a decent loaf of bread. You can expect the crust to be thicker and somewhat chewy.
Most of the recipes on this blog were originally written for baking the dough in a bread machine. However, because of the variability of the previously mentioned factors, I find it much more reliable to bake the bread in my oven.
Because I want perfection in exchange for all those calories, I prefer to bake almost all of my bread recipes in a conventional oven.
---
#6
Does the temperature of the water and milk need to be warm or cool or does it matter?
Good question. Here's the deal.
Warming the water (100 to 110˚ F) and milk will make the yeast act faster and consequently, the dough will rise quicker.
Starting with cool water (room temperature) and milk will cause the bread to take a bit longer to rise. This makes for better flavor development of the yeast.
Since you are using only the DOUGH cycle as opposed to the entire bread cycle from mixing to baking, you get to pick your priority.
---
#7
How can I tell if the dough has risen enough?
Remember to test the dough at the end of the DOUGH cycle by poking it lightly with two fingers. If the holes immediately fill in, leave the dough in the bread machine pan to continue rising.
The holes left by your fingers should fill in slowly. If they don't fill in at all, the dough may be over-proofed.
---
How to make Sweet-Milk Soft White Bread in a bread machine: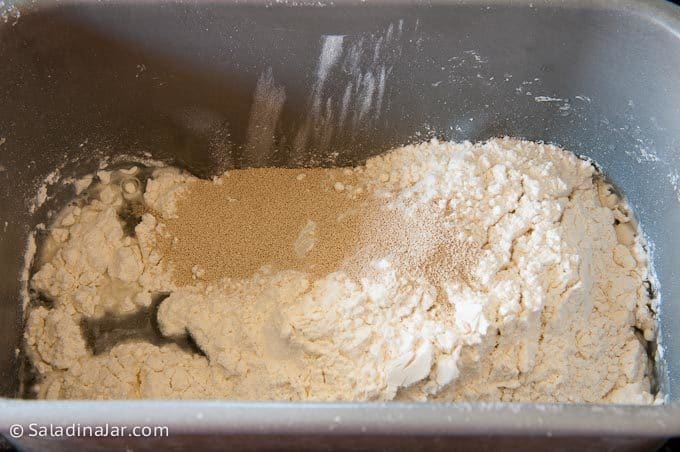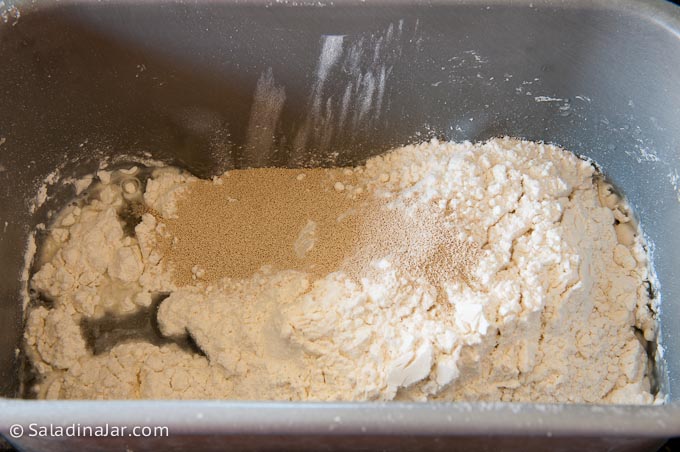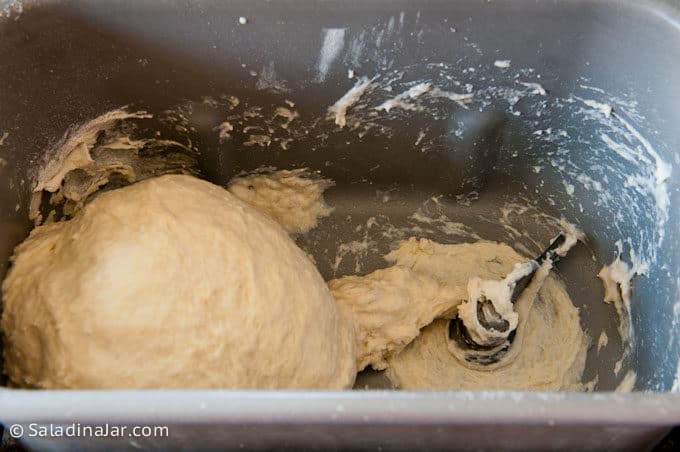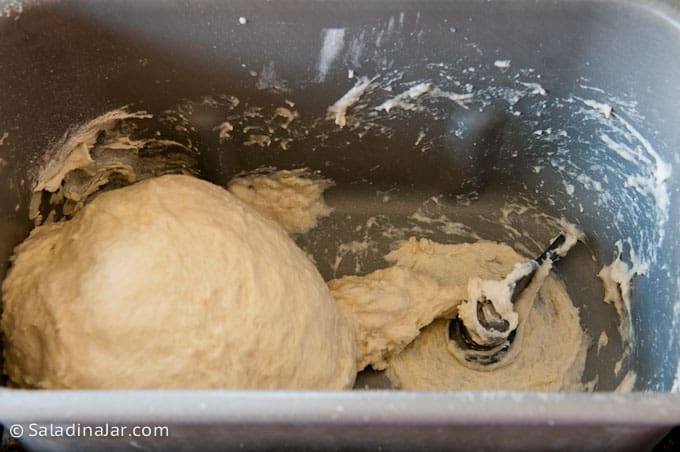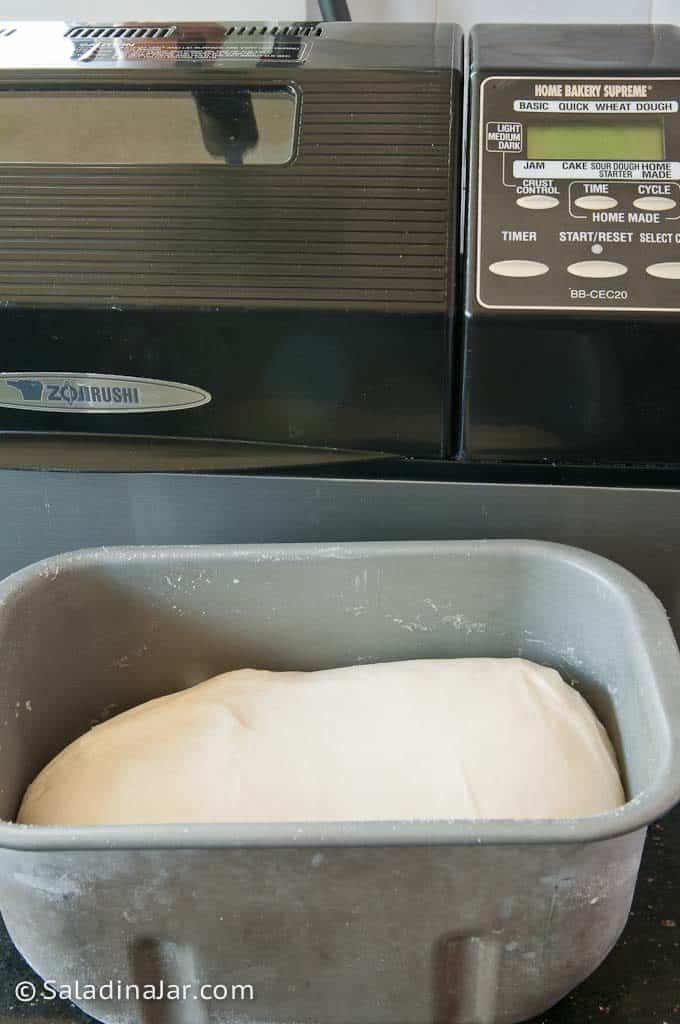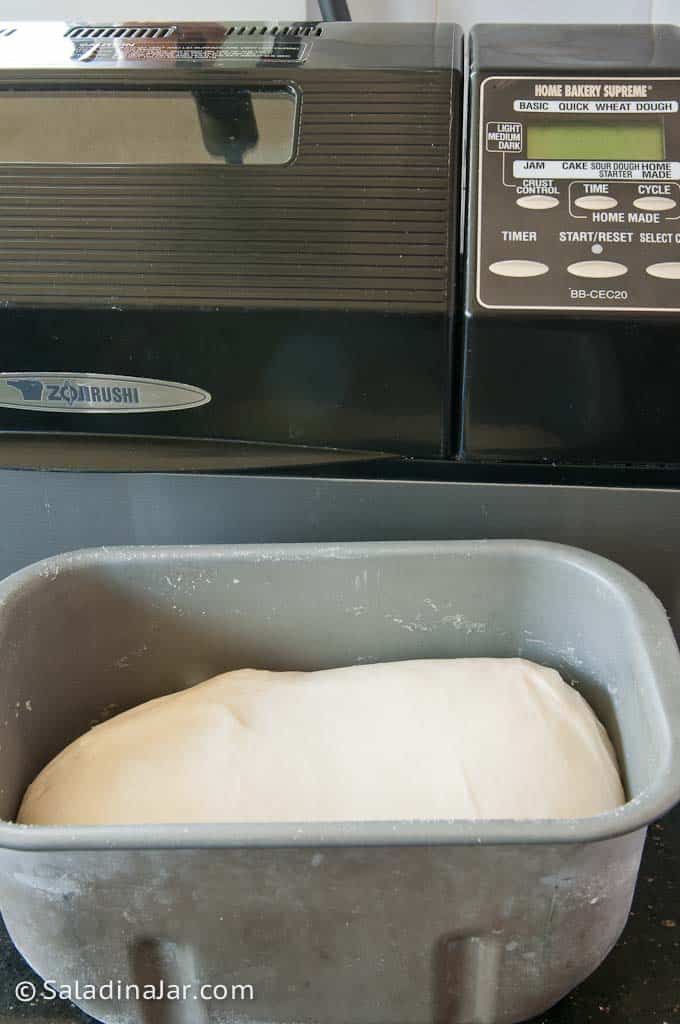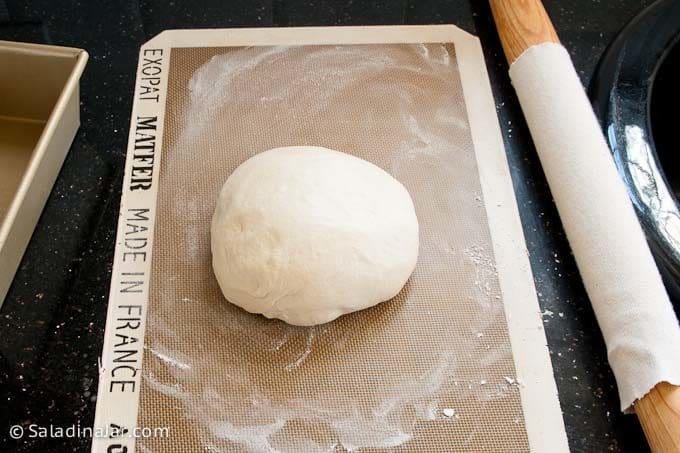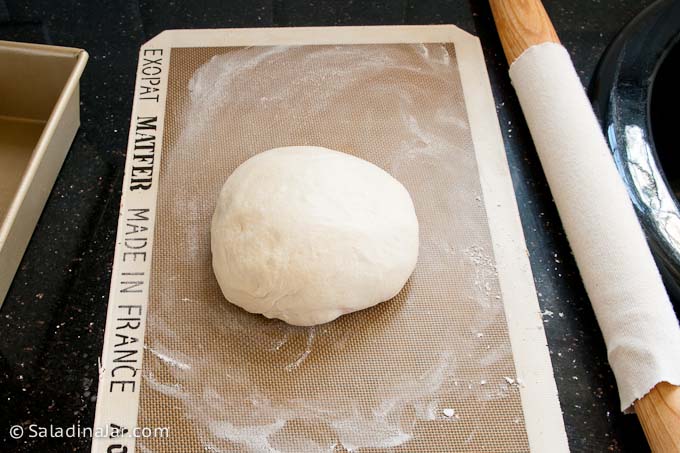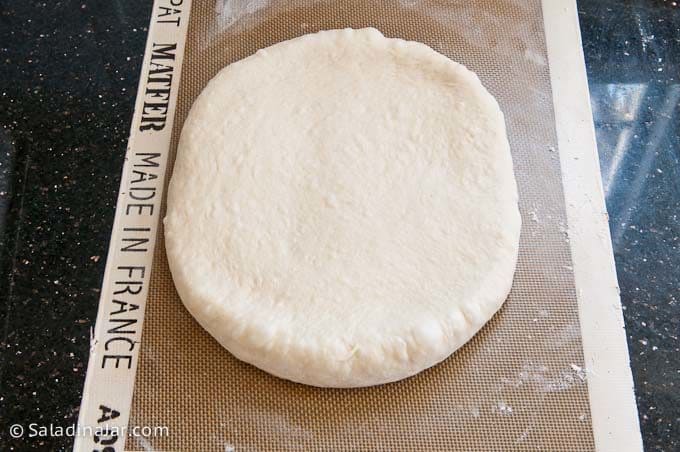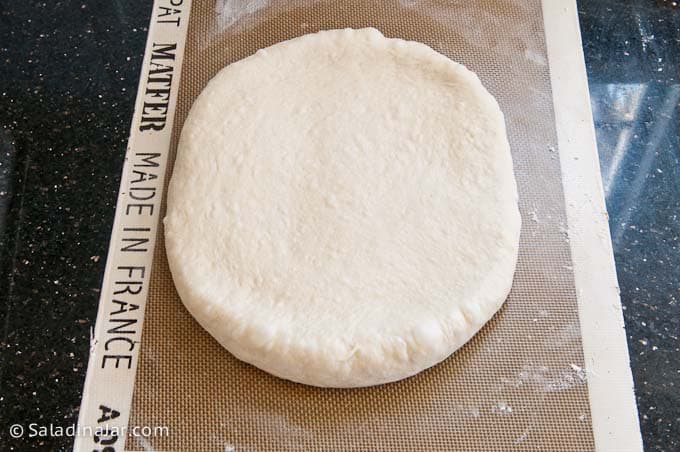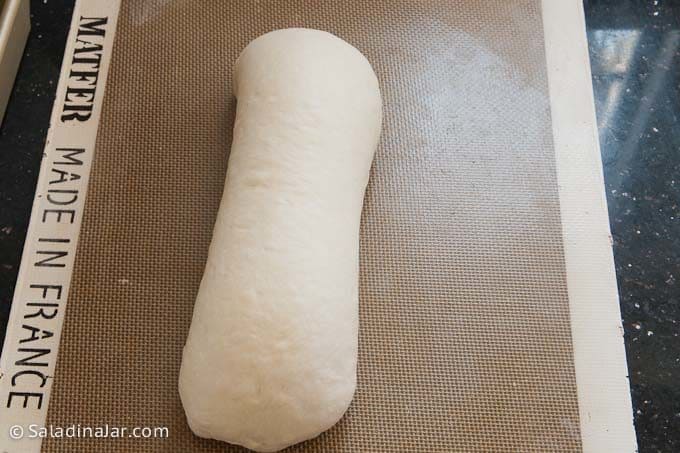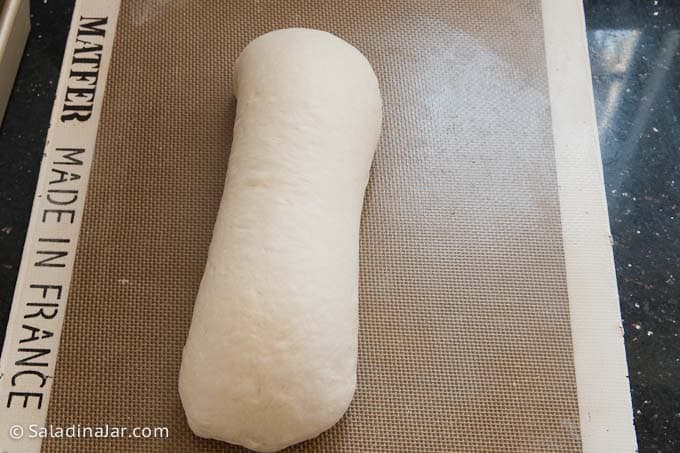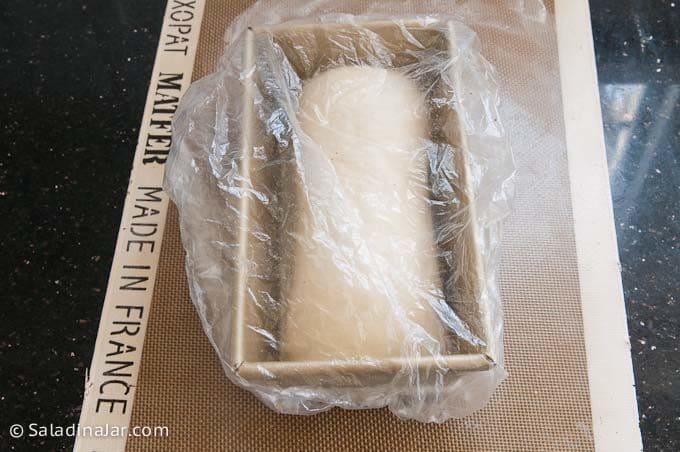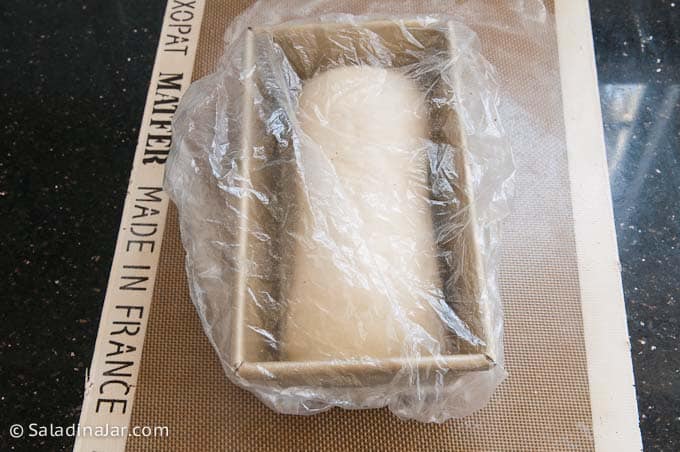 ---
---
---
Did you try this recipe and enjoy it? Consider helping other readers (and me) by returning to this post. Leave a rating on the recipe card itself underneath the picture. No comment required.
If you have a question or tip to share, please leave it in the regular comments after the recipe so I can answer back. Or email me: paula at saladinajar.com.

Thank you for visiting!
Paula
---
"Why is my bread dense?"
Download a FREE printable guide to help you diagnose the cause of dense bread when you sign up to receive my free updates and exclusive bread-making tips in your inbox.
Don't worry. I won't share your address. Unsubscribe any time.
---
Yield: 12 servings
Sweet-Milk Soft White Bread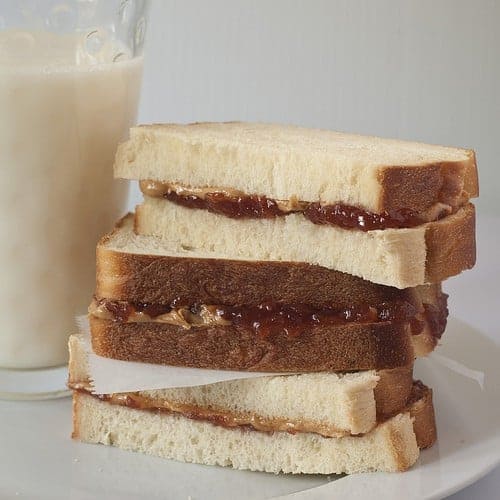 A finely-textured loaf of soft white bread--mixed, kneaded, and proofed in a bread machine, but shaped by hand and baked in a conventional oven for the best of both worlds.
Total Time
3 hours
30 minutes
Ingredients
8 ounces water
1/2 cup sweetened condensed milk
1 teaspoon salt
1 tablespoon butter
3 cups (+) bread flour (360 grams)
2 scant teaspoons instant yeast
Instructions
Add ingredients to the bread pan in the order listed.
Select the Dough Cycle and start.
Raise the lid and check dough after about 10 minutes. Add flour one tablespoon at a time, if necessary, until dough reaches the correct consistency. It should come together in a ball that sticks to the side of the pan, then pulls away cleanly. If dough thumps against the side of the pan, add warm water 1 tablespoon at a time. If the dough is sticky and doesn't pull away from the side, add flour 1 tablespoon at a time until the dough starts to form a slightly sticky ball.
Remove dough from the pan at the end of the dough cycle and place onto a lightly floured board. Knead by hand a little bit to press out any large air bubbles.
Roll into a rectangle approximately 9 x 11 inches. Roll up starting from the long end, and tuck ends to fit into greased 9 x 4-inch loaf pan. Let rise until the dough is doubled from its original size. Because this dough is a "high-riser," be careful not to let the dough rise too much or it will cave in on the sides and/or the top.
Preheat oven 15 minutes before you estimate your loaf will be ready.
Bake at 375˚F for 35-45 minutes. The Interior should reach 190 degrees. (My favorite quick-read thermometer for the task.)Place a foil tent over bread halfway through baking to protect from over-browning.
Allow cooling for 15 minutes before turning out to cool completely. It's best if you wait at least two hours before slicing so the loaf will hold its shape without squishing under the pressure of a knife.
Notes
If your loaf has a tendency to rise too much before baking, decrease the yeast by 1/2 teaspoon.

Alternate Mixing Instructions:
Directions for making bread with a stand mixer or by hand:
To make this recipe in a heavy-duty stand mixer, add ingredients to the bowl in the same order. Turn on low to mix until all ingredients are moistened. Using a dough hook, turn speed to 2 or 3 and continue beating/kneading until dough becomes smooth and elastic (about 5-10 minutes). Cover and allow to rise in a warm place. Deflate dough gently and shape as indicated in the recipe.
If making by hand, combine all ingredients into a shaggy ball in a large bowl. Turn dough out onto a floured surface and knead with your hands until dough becomes smooth and elastic, a process that will likely take 10-20 minutes depending on your experience. Place the dough ball into a greased bowl. Cover and allow to rise until double. Deflate dough gently and shape as indicated in the recipe.

Please note: You can substitute active dry yeast for instant or bread machine yeast. There is no longer any need to dissolve it. Be aware that it may be a little slower acting than instant yeast, but it'll get there.
Nutrition Information:
Yield:
12 servings
Serving Size:
1 slice
Amount Per Serving:
Calories:

175
Total Fat:

3g
Saturated Fat:

1g
Trans Fat:

0g
Unsaturated Fat:

1g
Cholesterol:

7mg
Sodium:

202mg
Carbohydrates:

32g
Fiber:

1g
Sugar:

7g
Protein:

5g
Sweet Milk White Bread was first posted in 2009, then updated in March 2019. The recipe is slightly adapted from The Bread Machine Magic Book of Helpful Hints by Linda Rehberg & Lois Conway.