Cranberry Sauce Rolls: The Best Buns for Leftover Turkey
Sneak Preview: These Cranberry Sauce Rolls are flavored with jellied cranberry sauce and dried cranberries. Perfect as slider buns for leftover turkey or ham.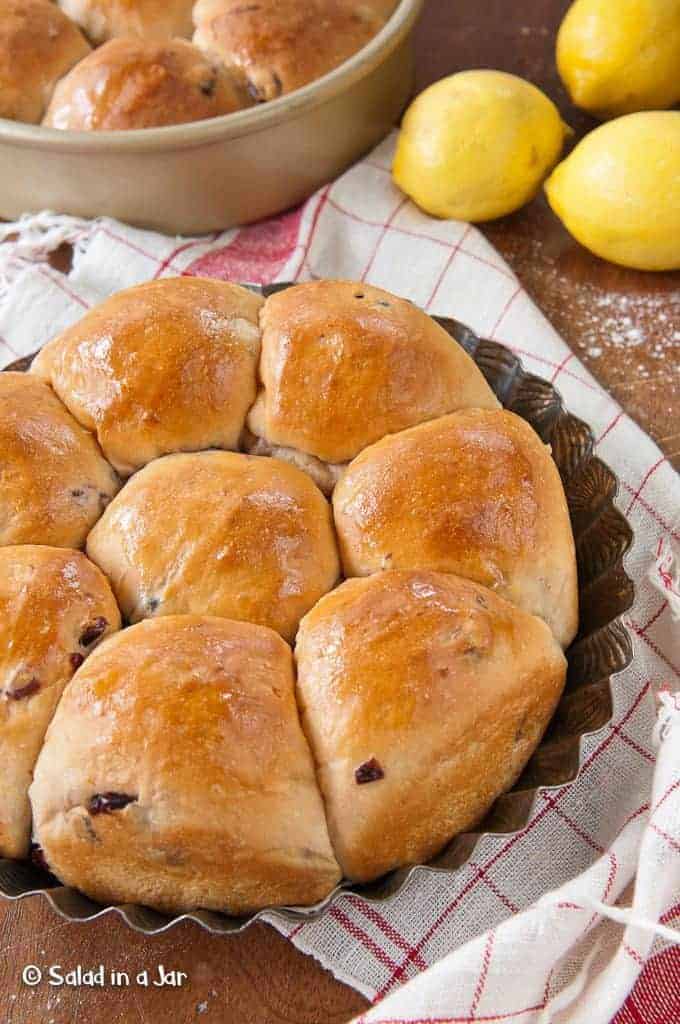 As an Amazon Associate, I earn from qualifying purchases.
Satisfy the tradition of having cranberries on your Thanksgiving menu with these delicious Cranberry Dinner Rolls. Or maybe Thanksgiving is over and you have some leftover Cranberry Sauce. It's the only excuse you need to make these rolls.
Although this recipe is written to be mixed in a bread machine, don't fret if you don't have one. Directions for making these rolls by hand or with a stand mixer are in the notes at the end of the recipe.
Recipe Inspiration
Jellied cranberry sauce, the smooth and sweet kind you buy in a can from the grocery store, was a tradition in my husband's family. He talks about it every Thanksgiving and likes to see it on our table.
His favorite part?
Admiring the little ring-like indentations left in the sauce by the shape of the can. For some mysterious reason, he is intrigued by the look of it.
When served, it must be sliced uniformly so that the slices fall over on each other like the New York City Rockettes when they dance to the Little Drummer Boy at Christmas.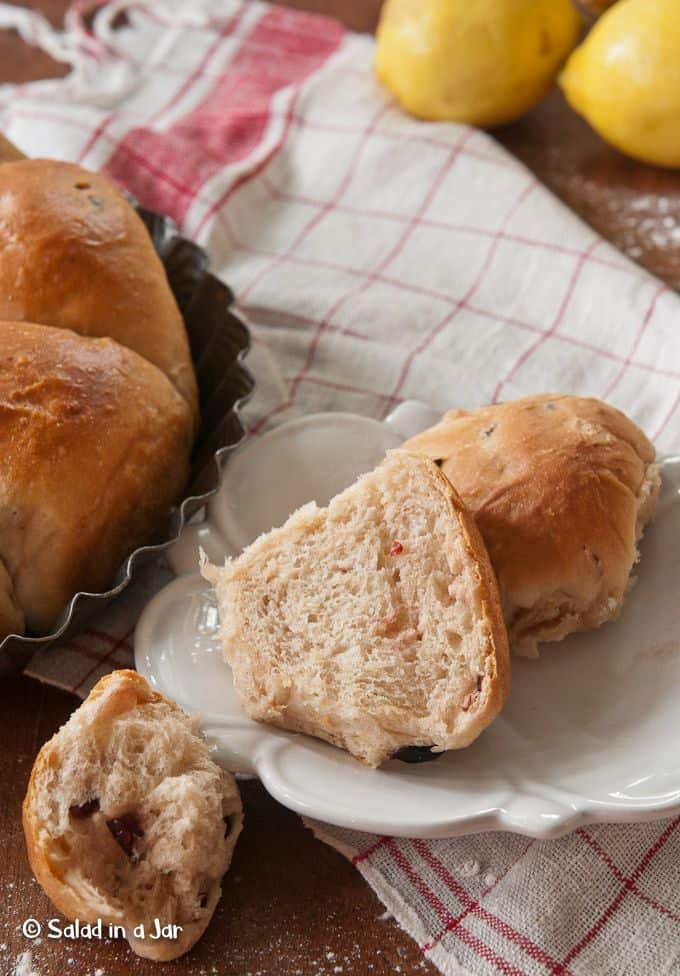 Turns out this cranberry sauce does amazing things for dinner rolls. Adding dried and sweetened cranberries to the dough will intensify the flavor.
This bread machine recipe makes tasty slider buns for leftover turkey or ham sandwiches. Add cheese and/or mustard to your sandwich if you want to be like the "condiment family." (That's our nickname.)
Leftover rolls are a breakfast treat with a little bit of jelly. Lemon curd is my favorite.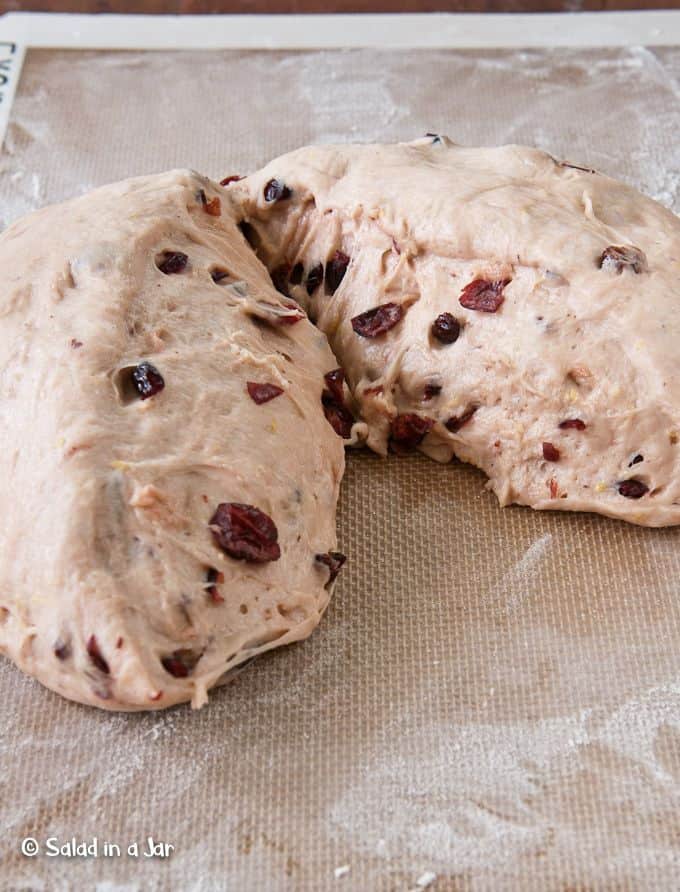 ---

---
Ingredients and substitutions:
CRANBERRY SAUCE: Canned cranberry sauce is the easiest way to go. I've only tested this recipe with the smooth variety.

MILK: Whole milk is always best in bread because of the higher fat content. When I don't have whole milk on hand, I substitute a tablespoon or two of cream for part of the milk.

EGG: All of my bread recipes are tested with "large" eggs. If you use a different size, don't forget to adjust your other liquid.

SALT: It doesn't matter so much the kind of salt you use (I prefer Kosher salt), but don't leave it out.

BUTTER: Some people substitute hydrogenated shortening or margarine for the butter but I would find a different recipe if I didn't have butter.

LEMONS: Fresh lemon rind gives the best flavor. Be careful not to grate into the white part of the lemon skin. The lemon flavor can be omitted if you like.

FLOUR: My first choice is all-purpose unbleached flour. Bread flour would also work but makes the rolls slightly chewier. All-purpose bleached flour will suffice if that's all you have.

YEAST: Bread machine or instant yeast is the easiest option. If you only have active dry yeast, you must dissolve it first. Let is sit in the warm milk for about 10 minutes. Stir to dissolve. You should see bubbles start to develop. Add to the other ingredients.

DRIED CRANBERRIES: These are optional. Substitute raisins, dried cherries, or dates if you prefer.
Using a Bread Machine To Make Dinner Rolls:
If you are new to my blog, you may not know that I use my bread machine in a rather unorthodox way. I almost never use it to bake bread. The DOUGH cycle is my favorite way to mix, knead, and provide a warm place for the first rising of the dough.
If you are a bread machine beginner, be sure to read 6 Secrets for Bread Machine Beginners to get started on the right foot. For nearly all my bread recipes, you will only use the DOUGH cycle.
After the dough cycle completes and the dough has doubled its original size,  remove the dough to a floured surface. (If your kitchen is cold, the dough may need to sit in a warm place for a while longer to rise until it doubles.)
Video for "An Easy Way to Make Balls from Bread Dough:"
Looking for easy clean-up?
Use a silicone baking mat as your "surface" when shaping bread. When you're done, clean-up is as easy as throwing the mat into the dishwasher.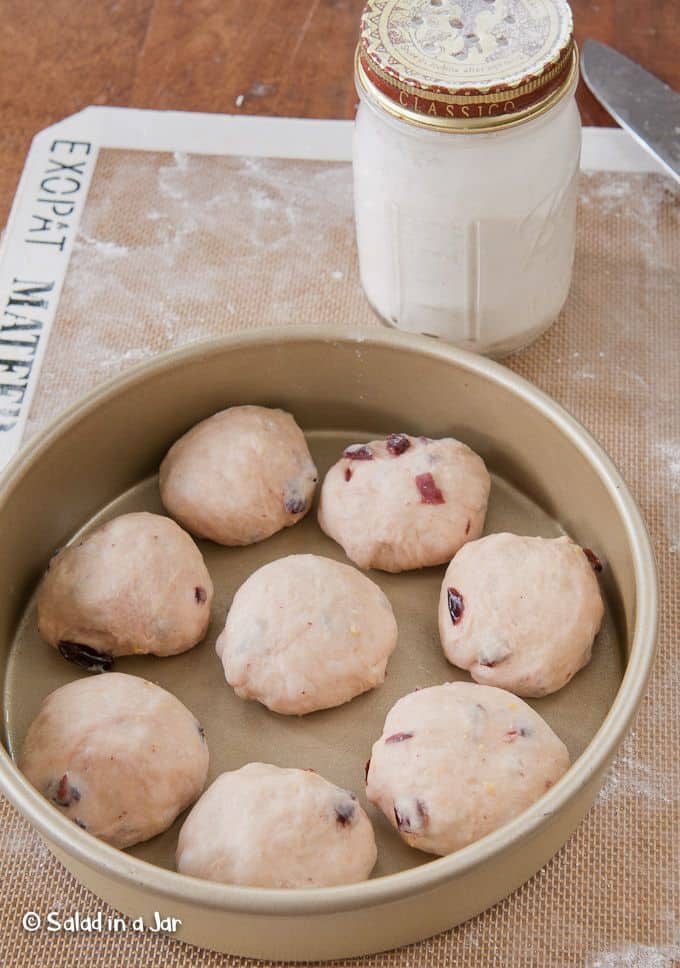 What is the best pan for baking yeast rolls?
Gold Teflon-coated cake pans are perfect for baking homemade dinner rolls. Mine came from Williams-Sonoma. They will help your rolls brown perfectly on the bottom.
If you don't have any gold pans, at least use dark pans as opposed to light-colored pans for the best golden brown color on the rolls. If you don't have two 8 or 9-inch cake pans, you could use a 9 x 13-inch pan instead. Avoid foil pans.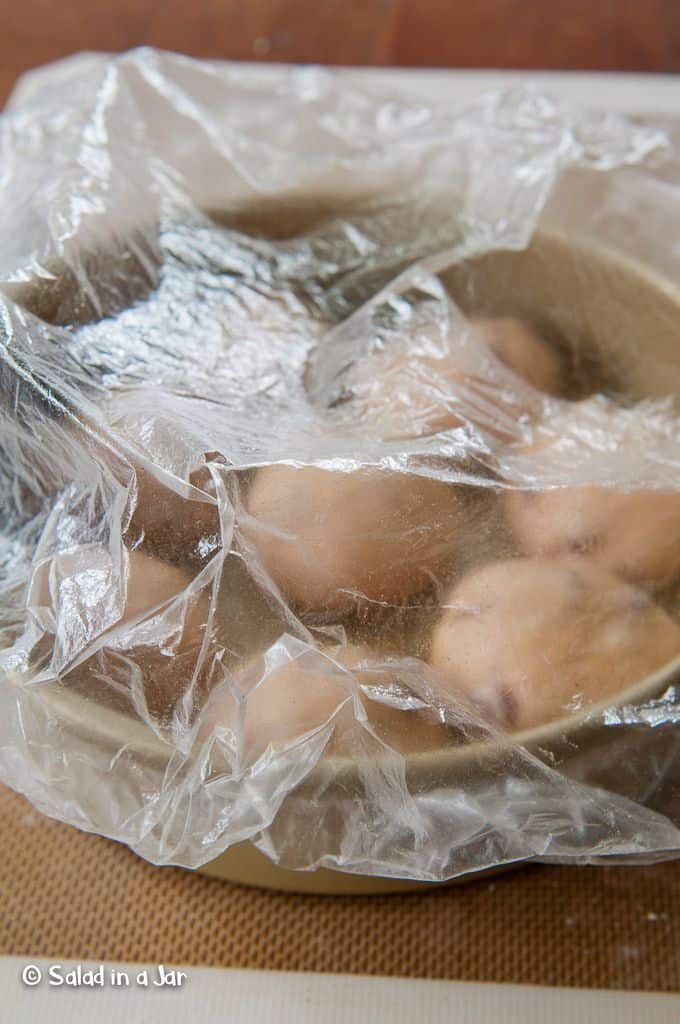 A trick for covering the rolls while they rise…
Use cheap shower caps (like the kind you get at a hotel) to cover your rolls while they rise just before baking. You could use a tea towel, but these caps are just the right size and hold in the moisture better. They're light enough to stand up which gives the rolls plenty of room to grow without sticking to the plastic.
---
What would you like to read next?
---
If you have questions or suggestions, email me privately to Paula at saladinajar.com. Hope to see you again soon! Paula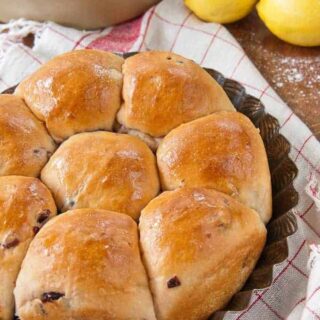 Cranberry Sauce Rolls–A Bread Machine Recipe
A light and fluffy dinner roll with lemon and cranberry flavors that go perfectly with turkey or ham; a delicious way to put cranberries on your Thanksgiving menu
Ingredients
1

cup

jellied cranberry sauce

-

room temperature (296 gr)

¼

cup

whole milk or half and half

-

lukewarm (57 gr)

1

egg

-

50 gr

1

teaspoon

salt

-

6 gr

¼

cup

butter

-

softened (57 gr)

Grated rind from two medium lemons

3

cups

all-purpose unbleached flour

-

360 gr

2

teaspoons

bread machine yeast

-

6 gr

1

cup

dried cranberries

-

130 gr
Instructions 
Add all ingredients to the bread machine pan in the order given.

Select the DOUGH cycle and push the start button.

Check the dough at least twice during the mixing and kneading phase by lifting the lid to take a peek. The first time, look immediately after the machine starts mixing to ensure the paddles are engaged correctly. 

Look again 15 minutes into the DOUGH cycle to assess the consistency of the dough. For most recipes, the dough should stick to the side, then pull away cleanly.

If your dough is too wet, add flour one tablespoon at a time.

Conversely, if the dough is too dry, add one tablespoon of liquid at a time until the dough looks just right. Read more about this surprising secret to success with a bread machine here.

When the machine beeps to indicate the best time for additions, add dried cranberries to the dough.

When the dough cycle completes, remove dough from the bread machine and place it on a floured surface. (I prefer to use a silicone baking mat so I can throw it into the dishwasher when I'm done.)

Divide dough into two equal pieces. Then divide each of those dough balls into 8 equal-sized portions and shape them into balls.

Place balls into two 8-inch cake pans as pictured above.

Cover rolls with a tea towel or shower caps and let rolls rise for approximately 45 minutes or until almost double in size.

Preheat oven to 350˚F.

Bake rolls approximately 14-16 minutes or until golden brown.

After removing rolls from the oven, let them sit in the pan for about 5-8 minutes. Turn out onto a wire rack to cool. If you leave the hot rolls in the pan, they will become soggy on the bottom.
Notes
To make this recipe in a heavy-duty stand mixer:  Add ingredients to the bowl in the same order. Turn on low to mix until all ingredients are moistened. Using a dough hook, turn speed to 2 or 3. Continue beating/kneading until dough becomes smooth and elastic (about 5-10 minutes). Cover and allow to rise in a warm place. Deflate dough gently and shape as indicated in the recipe.
If making by hand: Combine all ingredients into a shaggy ball in a large bowl. Turn dough out onto a floured surface. Knead with your hands until the dough becomes smooth and elastic. This will likely take 10-20 minutes depending on your experience. Place the dough ball into a greased bowl. Cover and allow to rise until double. Deflate the dough gently and shape as indicated in the recipe.
Please note: You can substitute active dry yeast. Dissolving it first is optional. It tends to rise slower in the beginning but will catch up eventually.
Nutrition
Nutrition Facts
Cranberry Sauce Rolls–A Bread Machine Recipe
Amount per Serving
% Daily Value*
* Percent Daily Values are based on a 2000 calorie diet.
Like this recipe? Thanks for leaving a 5-star rating inside the recipe at the top! 🤩