Soft Rum Raisin Buns: A Bread Machine Recipe
Sneak Preview: Make these Soft Rum Raisin Buns in your bread machine or stand mixer. Rum-flavored icing and raisins are the stars of the show.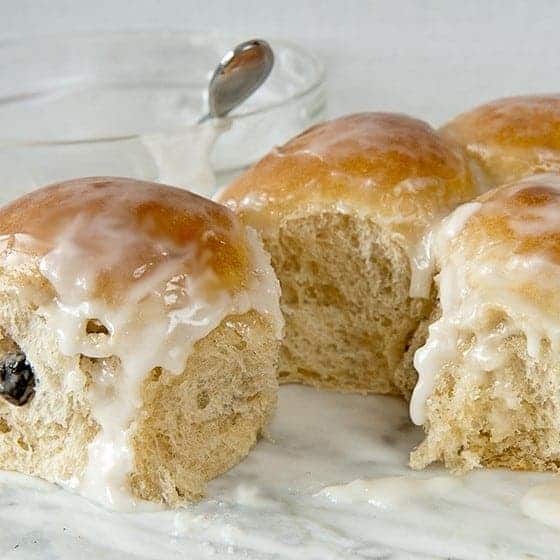 As an Amazon Associate, I earn from qualifying purchases.
Do you remember butter rum lifesavers? I guess they're still around, but I haven't had any for years. My love affair with rum flavoring goes back to those lifesavers.
Raisin rolls are a fond memory of my days as an exchange student in Holland. Adding raisins to these rum buns results in a delicious collision of flavors.
If you don't want a cinnamon roll, this is your recipe–no cinnamon/sugar filling is involved.
If you don't want icing, leave it off.
If you don't like raisins, try dried cranberries or cherries, currants, or nothing. Baker's choice.
Like most bread recipes on this website, you can mix the dough by hand or use a stand mixer if you don't have a bread machine. See the recipe notes for details.
Helen Corbitt inspired me with a recipe titled "Rum Buns" in her book, Helen Corbitt's Cookbook. Her recipe uses a brioche-type dough, but I wanted something a little easier.
My favorite dinner roll recipe, Classic Dinner Rolls, gets a makeover to produce these Soft Rum Buns with Raisins. Rum-flavored icing and raisins make these my favorite breakfast rolls. I could eat them all day.
Ingredients and substitutions:
MILK: Any kind of milk will work, but the higher the fat content, the richer and more delicious the bread.

BUTTER: Be sure to set your butter out before you start so it can come to room temperature. Substitute shortening for butter.

EGG: All of my recipes are formulated with large eggs. If you have smaller or larger eggs, adjust the liquid (milk) accordingly.

SALT: Use table or sea salt. If you prefer Kosher salt, add 1/4 teaspoon extra. Please don't leave out the salt. The yeast needs it to work right. You can experiment with cutting back but not out.

SUGAR: Granulated white sugar is best. If you want to substitute honey, reduce the amount by a couple of teaspoons. Honey is sweeter than sugar.

FLOUR: If you can't find white whole wheat flour, substitute bread flour. You can substitute whole wheat flour but I would cut back to 1 cup so the rolls won't be too heavy.

YEAST: Bread machine or instant yeast is my recommendation. If you want to use active dry yeast, add about 1/4 teaspoon extra as it is a bit slower on the uptake.

RAISINS: Substitute dried cranberries, dried cherries, or currants. Of leave them out completely.

ORANGE or LEMON OIL: I love to sprinkle this oil over the raisins to give them a fabulous new flavor dimension. You can leave it out or use extract (sparingly).

RUM: In this recipe, only the icing contains rum flavoring. If you don't plan to ice these buns, I would add the rum or extract to the dough and adjust the amount of milk accordingly.
How do you shape the dough into smooth balls?
I think ball shapes are the fastest and easiest way to shape these rolls. If you haven't seen it before, here's a slightly dorky video I made to show you my simple technique.
---
If you have questions or suggestions, email me privately for a quick answer: Paula at saladinajar.com. Hope to see you again soon!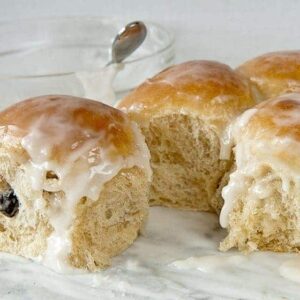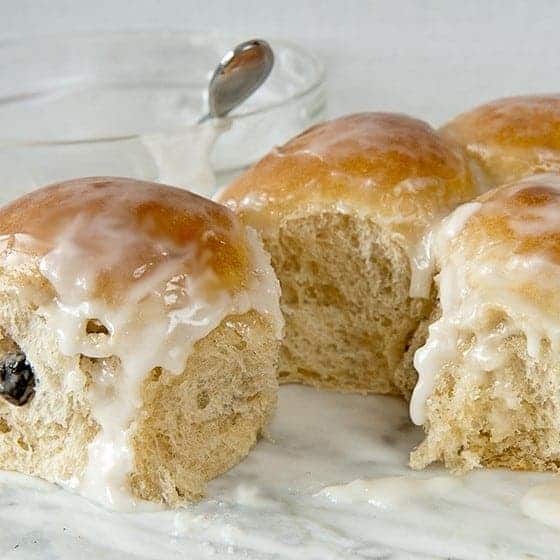 Soft Rum Raisin Buns Recipe
Get out your bread machine to make these fluffy and light rolls flavored with rum or rum extract and raisins.
Ingredients
Dough
1

cup

milk

-

I use 1 tablespoon heavy cream and the rest nonfat milk. (227 gr)

¼

cup

softened butter

-

57 gr

1

large egg

-

50 gr

1

teaspoon

salt

-

6 gr

3

tablespoons

granulated sugar

-

36 gr

1-1/2

cup

white whole wheat flour (see post for substitutes)

-

180 gr

1-1/2

cup

unbleached all-purpose flour

-

180 gr

2-1/4

teaspoon

bread machine yeast

-

7 gr

1

cup

raisins sprinkled with a few drops of orange or lemon oil

-

150 gr
Glaze:
2

cups

powdered sugar

-

227 gr

2

tablespoons

rum

-

28 gr or 2 teaspoons rum extract (to your taste)

½

teaspoon

vanilla extract

-

2.5 gr

2+

tablespoons

heavy cream to make a runny icing
Instructions
Add all ingredients but raisins to the bread machine pan in the order listed.

Select the DOUGH cycle, then press START.

Check the dough at least twice by lifting the lid to take a peek. The first time, look immediately after the machine starts mixing to ensure the paddles are engaged correctly.

Look again 15 minutes into the DOUGH cycle to assess the consistency of the dough. For most recipes, The dough should stick to the side, then pull away cleanly.

If your dough is too wet, add flour one tablespoon at a time.

Conversely, if the dough is too dry, add one tablespoon of liquid at a time until the dough looks just right. Read more about this surprising secret to success with a bread machine here.

When the dough cycle completes, remove the dough from the pan and place it on a floured surface. Knead raisins into the dough.

Divide the dough into 16 equally-sized pieces and form into smooth balls. Place the balls into 2 greased 8 or 9-inch round pans (preferably with a dark finish).

Lightly cover pans with a tea towel and allow the dough to rise until almost double.

Bake in an oven preheated to 375˚F for 10-12 minutes. Allow to rest for 5 minutes. Remove rolls from the pan and allow them to cool on a rack unless you want to eat them right away.
Icing:
Combine all ingredients, stirring until smooth. Pour over slightly cooled rolls.
Notes
Directions for making bread with a stand mixer or by hand:
To make this recipe in a heavy-duty stand mixer: Add ingredients to the bowl in the same order. Turn on LOW to mix until all ingredients are moistened. Then, using a dough hook, turn the speed to 2 or 3. Continue beating/kneading until dough becomes smooth and elastic (about 5-10 minutes). Cover and allow to rise in a warm place. Deflate dough gently and shape as indicated in the recipe.
If making by hand: Combine all ingredients into a shaggy ball in a large bowl. Turn dough out onto a floured surface. Knead with your hands until the dough becomes smooth and elastic. Kneading will likely take 10-20 minutes, depending on your experience. Place the dough ball into a greased bowl. Cover and allow to rise until double. Deflate the dough gently and shape as indicated in the recipe.
Please note: If you only have active dry yeast, use 1/4 teaspoon more than called for in the recipe.

It no longer needs to be dissolved first

, but you can if you prefer.
Nutrition
Serving:
1
|
Calories:
165
kcal
|
Carbohydrates:
31
g
|
Protein:
2
g
|
Fat:
4
g
|
Saturated Fat:
3
g
|
Polyunsaturated Fat:
1
g
|
Monounsaturated Fat:
1
g
|
Trans Fat:
1
g
|
Cholesterol:
22
mg
|
Sodium:
185
mg
|
Potassium:
114
mg
|
Fiber:
1
g
|
Sugar:
18
g
|
Vitamin A:
146
IU
|
Vitamin C:
1
mg
|
Calcium:
27
mg
|
Iron:
1
mg