Preview: Make these Soft Rum Raisin Buns in your bread machine or stand mixer. Rum-flavored icing and raisins are the stars of the show.
Do you remember butter rum lifesavers? I guess they're still around, but I haven't had any for years. My love affair with rum flavoring goes back to those lifesavers.
Raisin rolls are a fond memory of my days as an exchange student in Holland. Adding raisins to these rum buns results in a delicious collision of flavors.
If you don't want a cinnamon roll, this is your recipe–no cinnamon/sugar filling is involved.
If you don't want icing, leave it off.
If you don't like raisins, try dried cranberries or cherries, currants, or nothing. Baker's choice.
Like most bread recipes on this website, you can mix the dough by hand or use a stand mixer if you don't have a bread machine. See the recipe notes for details.
Helen Corbitt inspired me with a recipe titled "Rum Buns" in her book, Helen Corbitt's Cookbook. Her recipe uses a brioche-type dough, but I wanted something a little easier.
My favorite dinner roll recipe, Classic Dinner Rolls, gets a makeover to produce these Soft Rum Buns with Raisins. Rum-flavored icing and raisins make these my favorite breakfast rolls. I could eat them all day.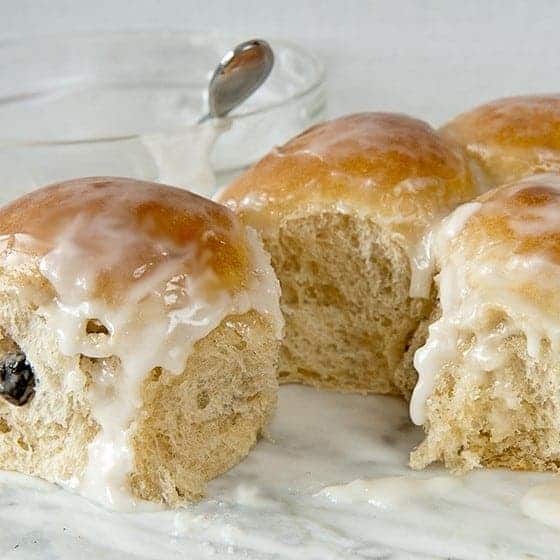 Ingredients and substitutions:
MILK: Any kind of milk will work, but the higher the fat content, the richer and more delicious the bread.

BUTTER: Be sure to set your butter out before you start so it can come to room temperature. Substitute shortening for butter.

EGG: All of my recipes are formulated with large eggs. If you have smaller or larger eggs, adjust the liquid (milk) accordingly.

SALT: Use table or sea salt. If you prefer Kosher salt, add 1/4 teaspoon extra. Please don't leave out the salt. The yeast needs it to work right. You can experiment with cutting back but not out.

SUGAR: Granulated white sugar is best. If you want to substitute honey, reduce the amount by a couple of teaspoons. Honey is sweeter than sugar.

FLOUR: If you can't find white whole wheat flour, substitute bread flour. You can substitute whole wheat flour but I would cut back to 1 cup so the rolls won't be too heavy.

YEAST: Bread machine or instant yeast is my recommendation. If you want to use active dry yeast, add about 1/4 teaspoon extra as it is a bit slower on the uptake.

RAISINS: Substitute dried cranberries, dried cherries, or currants. Of leave them out completely.

ORANGE or LEMON OIL: I love to sprinkle this oil over the raisins to give them a fabulous new flavor dimension. You can leave it out or use extract (sparingly).

RUM: In this recipe, only the icing contains rum flavoring. If you don't plan to ice these buns, I would add the rum or extract to the dough and adjust the amount of milk accordingly.
---
How do you shape the dough into smooth balls?
I think ball-shapes are the fastest and easiest way to shape these rolls. If you haven't seen it before, here's a slightly dorky video I made to show you my simple technique.
---
Did you enjoy this recipe? If so, you can help others and me by leaving a 5-star 🤩 rating in the recipe below. No comment is required.
Hope to see you again soon!
Paula
p.s. If you have any questions or suggestions, you can email me privately: Paula at saladinajar.com.
---