Need a portable afternoon snack? Try this Apple and Cranberry Yogurt Parfait with My Favorite Granola.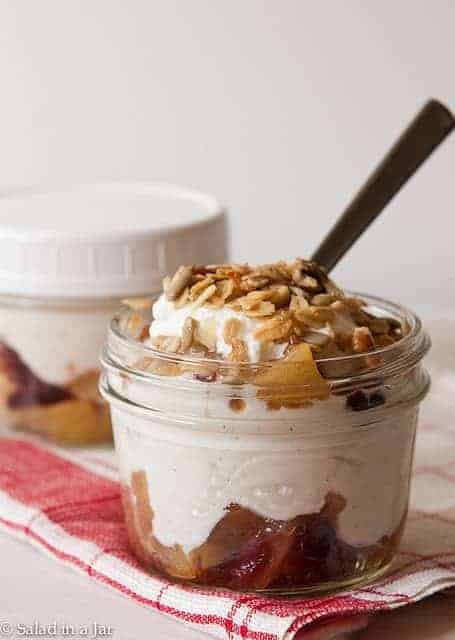 Do you have a hungry hour in the afternoon?
Mine is between 4 and 5 o'clock. My growling tummy makes like a ferocious bear, eating anything it can see, smell, or steal–even stale chips left on the free-for-all counter at work.
My solution is Greek yogurt. All that protein satisfies and takes me to dinner-time without ruining my dietary day. I will admit yogurt is an acquired taste for some, but I love the taste and creamy texture of homemade fat-free Greek yogurt although I never eat it without some flavoring.
I need additives–like fruit, granola, cream of coconut, vanilla bean paste, etc.  Apple and Cranberry Yogurt Parfait is just the latest in my collection of Greek yogurt variations.
How to make Apple and Cranberry Yogurt Parfait:
To make this, you could buy apple pie filling in a can, yogurt in a plastic carton and granola out of a cardboard box. But at my house, I start with this "Apples in a Bag" recipe with 1/4 cup dried cranberries substituted for the raisins.
Then I grab some nonfat Greek yogurt saturated with vanilla bean paste so it has lots of black specks. Love those specks!
Finally, a scant tablespoon of my favorite homemade granola on top adds a satisfying crunch. (Don't be thinking I'm some kind of Martha Stewart. It's all easy to make ahead and in quantity.)
"Apples in a Bag"–an easy, low-calorie way to cook apples.
Because I take this to work, I construct the parfaits in 6-ounce Mason jars with a lid to make the whole thing portable. Store the granola in a separate container if you don't plan to eat it immediately.
In case you're looking for a good granola recipe, this is my favorite as of late.
MY FAVORITE GRANOLA RECIPE
This granola is not your normal grocery store variety. It's not at all powdery or clumpy. Instead, each ingredient is clearly identifiable, crackly and crunchy. The sweetness contrasts nicely with the tang of Greek yogurt.
Modifications of the original recipe include increasing the amount of oatmeal from 3 to 4 cups to slightly dilute all that olive oil, maple syrup, and brown sugar. In the end, I can tell no difference in the flavor or texture.
Because I buy dried fruit from Costco, I feel compelled to add fruit–usually raisins and dried cranberries– to nearly every recipe I can. This is no exception. Chopped dates are good, too.
My favorite ingredient is coconut flakes (shaved coconut). Of course, you could substitute shreds, but coconut lovers will appreciate the bigger pieces of coconut. It's fun to pick them out of the mix and eat those toasty babies individually when no one is looking.
Krogers sells shaved coconut in the same area as shredded coconut. Check specialty markets, too, and don't forget to look in the bulk section to save money.
This recipe was introduced to me by Orangette and adapted from Nekisia Davis' Early Bird Granola and Food 52
If you make this recipe and enjoy it, consider helping other readers and me by returning to this post. Leave a rating on the recipe card itself underneath the picture. Although always appreciated, comments aren't required. Thank you for visiting! Paula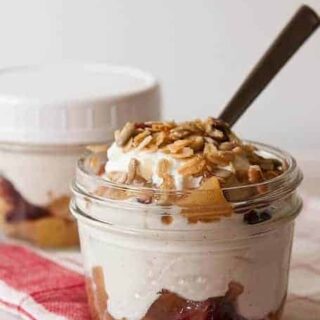 My Favorite Granola
My Favorite Granola is sweetened with brown sugar and maple syrup. Good for breakfast. Even better with yogurt.
Ingredients
4 cups old-fashioned oats (not instant or quick)
1 cup raw sunflower seeds
1 cup raw pumpkin seeds
1 cup coconut flakes
1 cup pecans
1/2 cup brown sugar
1 teaspoon salt
3/4 cup maple syrup
1/2 cup olive oil
1/2 - 1 cup dried cranberries, cherries, and/or chopped dates
Instructions
Combine first seven ingredients in a large mixing bowl with a large spoon or your hands.
Pour maple syrup and olive oil over oatmeal mixture and continue mixing.
Spread in a thin layer on a greased full-sheet cookie tray. Or, cover your tray with parchment paper or a silicone baking sheet for easier clean-up.
Bake in oven preheated to 300 degrees for 45 minutes, stirring every 15 minutes. Add dried fruit 5 minutes before granola is done.
Allow to cool completely before storing in glass jars or plastic bags.
Makes 1/2 gallon plus one pint.
Notes
For you vacuum-packers, put this in quart jars and vacuum-pack for long-term freshness.
Recommended Products
As an Amazon Associate, I earn from qualifying purchases. But don't worry. This doesn't change the price you pay.
Nutrition Information:
Yield:

30
Serving Size:

1
Amount Per Serving:
Calories:

184
Total Fat:

10g
Saturated Fat:

2g
Trans Fat:

0g
Unsaturated Fat:

8g
Cholesterol:

0mg
Sodium:

338mg
Carbohydrates:

22g
Fiber:

3g
Sugar:

11g
Protein:

3g
RELATED POSTS: