Creamy Rotisserie Chicken and Mushroom Chowder is packed with chunky chicken, mushrooms, and other vegetables. The recipe is written for an Instant Pot. But if you want to make it on top of the stove, see the notes in the recipe below for details.
I'm not a big convenience food lover. But there are those days.
Have you tried the rotisserie chicken at Costco? It's cheap–4.99 for a plump 3-pound chicken. It's already cooked and well-seasoned with a combination of spices I have been unable to reproduce.
A single rotisserie chicken at our house is good for at least 2 meals and a pot of bone broth.
The first will be straight off the bone, sliced, white meat. Best eaten it while it's still hot. Use the remaining chicken meat in chicken salad, soup, or a one-dish meal.
How To Make Rotisserie Chicken and Mushroom Chowder
If you want to use mashed cauliflower as a thickener, you can make it in your Instant Pot first before making the rest of the soup. See the recipe below. Set the cauliflower aside and proceed with the rest of the recipe as pictured below.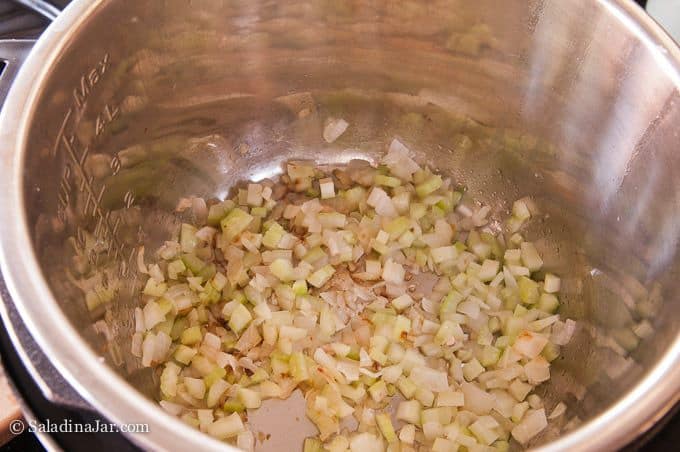 Kitchen Tips
Thickening your soup
I like a little bit of thickening in this recipe. On the other hand, it's not essential. Sometimes, I use xanthan gum. It's good, although slightly different from using flour or cornstarch.
However, what I like best is stirring in some mashed cauliflower. It gives a more hearty and chowder-like texture. I can't detect any cauliflower taste, but maybe I'm so used to it I no longer notice. It's just an idea you might try if you're into eating more vegetables like I am.
Making broth with rotisserie chicken bones
Bone broth will include everything that's left. Every bone, piece of skin and gristle, remaining bits of chicken, and gelatin left in the bottom of the chicken carrier will be utilized.
In case you're wondering, bone broth is a regular stock that has been cooked for a prolonged period. This causes the gelatin from inside the bones to leak out into the stock. Notice how your stock gels when it is chilled.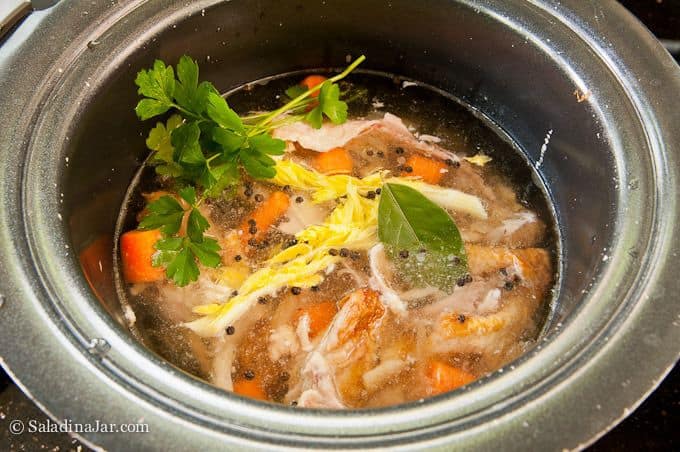 Before you make chicken stock, remove all the chicken meat you can from the bones. Place the remaining bones and skin (with the wonderful but mysterious spices) into a slow cooker.
I don't worry about fat in the skin. Most of it has already melted away in the rotisserie process.
Next, clean out the vegetable drawer. Onion pieces or limp green onions hanging around? Check. Dried out carrots–maybe even with some greenery growing out the top? Check. Celery with leaves in the middle you won't be using in your salad? Check. Grab a bay leaf, parsley or cilantro and add them, too.
Finally, throw in a tablespoon of whole peppercorns. Barely cover the whole mess with water.
Set your slow cooker on Low for 12 to 24 hours. When finished, pour bones and broth through a fine strainer. Refrigerate the broth up to five days or freeze.
More Recipes for Soup Lovers
---
---
Pin the picture below to save for later.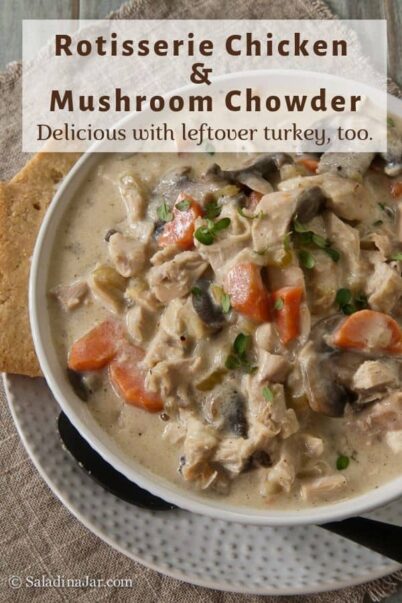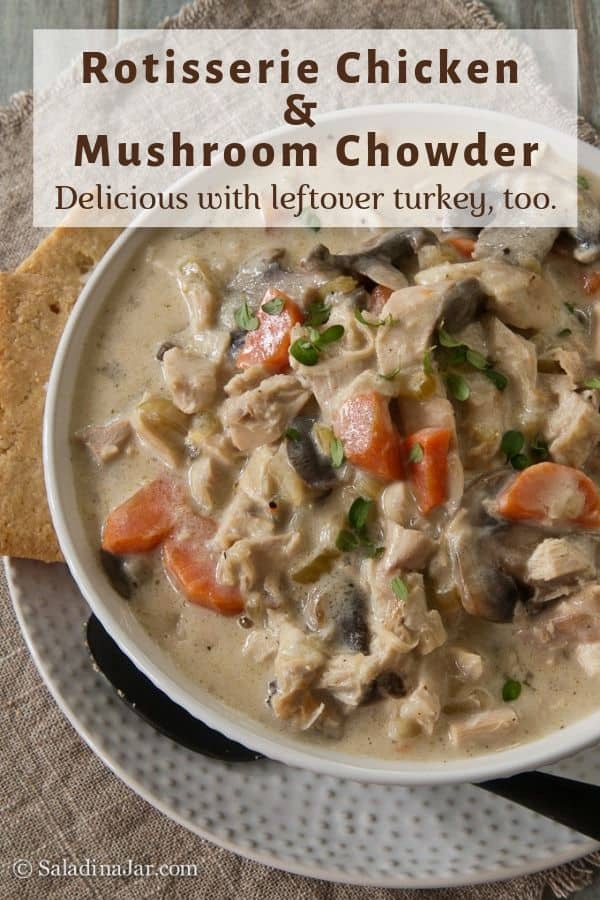 ---
---
Did you enjoy this recipe? You can help others (and me) by leaving a rating on the recipe card itself underneath the picture. No comment required. Thank you.

Hope to see you again soon!
Paula
p.s. Questions? Email me: paula at saladinajar.com.
---
Yield: 5 servings
Rotisserie Chicken and Mushroom Chowder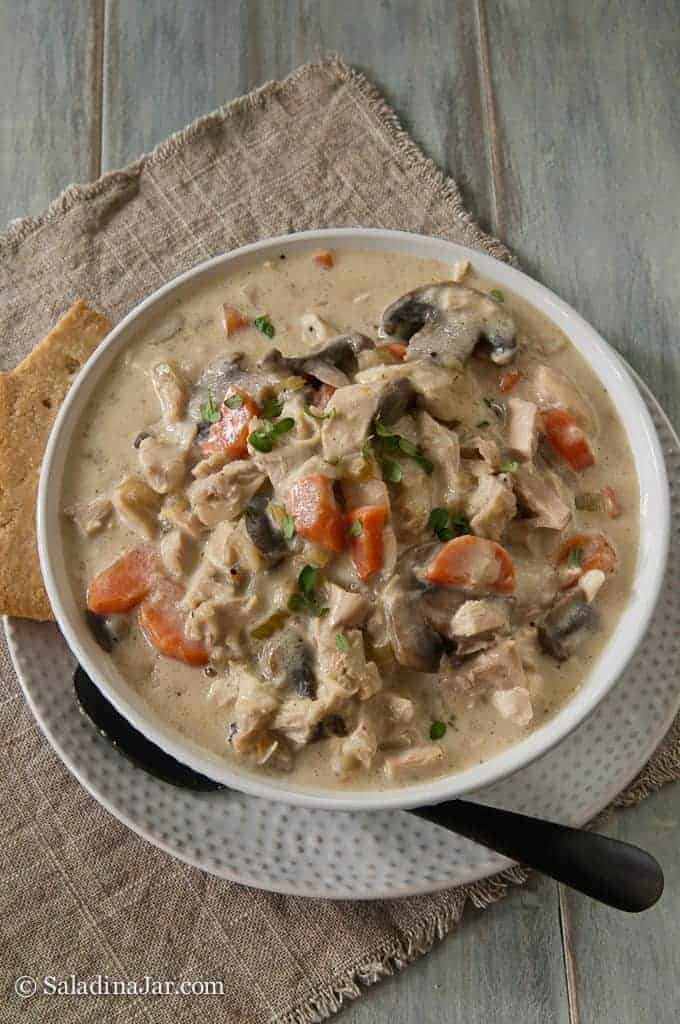 Try serving this hearty chicken chowder over a scoop of mashed potatoes or mashed cauliflower. Also good with cornbread or dinner rolls.
Ingredients
1 small head of cauliflower
2 tablespoons vegetable oil
1 cup chopped onions
2 stalks celery
4 ounces sliced mushrooms
3 medium carrots
3 cups chicken broth or bone broth (see recipe below)
1/4 teaspoon white pepper
Salt and freshly ground black pepper to taste
1/8 teaspoon crushed red peppers
Fresh thyme, several sprigs or 1/4 teaspoon dried thyme
1 teaspoon poultry seasoning
1 to 1-1/2 cup cooked chicken, finely diced
1/2 whipping cream
1 tablespoon chopped parsley
Instructions
Pour 1 cup water into your Instant Pot, then add a steamer basket. Remove the core from a head of cauliflower and break or slice it into small pieces. Set Instant Pot to High Pressure for 5 minutes. Use a quick-release (throw a towel over the lid and open the vent). Remove cauliflower to a food processor or a medium bowl and mash it until fairly smooth. Set aside.
Empty the water and remove the steamer basket from Instant Pot. Heat 2 tablespoons oil in a pressure cooker. Sauté onions and celery until tender.
Add sliced mushrooms and continue cooking.
Add remaining ingredients except for parsley.
Cook on High Pressure for 5 minutes. When complete, use a quick release. Add 1-1/2 to 2 cups mashed cauliflower and stir.
Garnish with chopped fresh parsley just before serving.
Notes
How to Make on the Stove:
Heat oil in large soup pot over medium heat on top of the stove. Add onions and celery and cook until softened but not browned. Add remaining ingredients except chicken, cream, and parsley. When vegetables are soft, add remaining ingredients, including mashed cauliflower, and heat another 5 minutes. Garnish with chopped parsley.
Recommended Products
As an Amazon Associate, I earn from qualifying purchases. But don't worry. This doesn't change the price you pay.
Nutrition Information:
Yield:
5
Serving Size:
1 bowl
Amount Per Serving:
Calories:

224
Total Fat:

13g
Saturated Fat:

3g
Trans Fat:

0g
Unsaturated Fat:

9g
Cholesterol:

45mg
Sodium:

781mg
Carbohydrates:

14g
Fiber:

4g
Sugar:

7g
Protein:

15g