Preview: This Creamy Costco Rotisserie Chicken Soup recipe combines leftover chicken and fresh mushrooms into a creamy white sauce thickened with mashed cauliflower. No grains or gluten.
Are you a fan of the rotisserie chicken at Costco? First, it's cheap–4.99 for a plump 3-pound chicken. It's already cooked and well-seasoned with a combination of spices I have been unable to reproduce. PLUS: It's grain-free and gluten-free.
No Costco nearby, or you're not a member? No problem. Use ANY rotisserie chicken for this recipe.
I wrote this recipe for an Instant Pot. See the recipe notes to make it on the stove.
Ingredients and substitutions:
CAULIFLOWER: A small head is all you need. If you don't like cauliflower, use mashed potatoes in place of mashed cauliflower.

OIL: Use a light vegetable oil like avocado or canola oil.

ONIONS: Either fresh white or yellow onions are suitable. If you prefer to avoid fresh onions, try the frozen chopped onions. The only difference is the tears you won't get when you open the package.

CELERY: Chop fresh celery in small pieces. Save a few of the leaves. Chop them and add to the soup at the same time as the parsley for more flavor.

MUSHROOMS: Button mushrooms (the cheapest ones at the grocery store) are delicious in this soup. If you have another kind on hand, I would add them, too. Even canned mushrooms will work. Can you tell I love mushrooms.

CARROTS: If you don't have whole carrots in the produce bin, go ahead and slice up the kid's baby carrots. The taste is the same, of course, and you'll save time.

CHICKEN BROTH: See the directions below for making broth with the carcass of a rotisserie chicken. It doesn't take long, the taste is much better. Of course, you can use bouillon concentrate or cubes + water if necessary.

PEPPER: I hope you have white pepper on hand. There's something magical about the taste of white pepper in gravy. To tell you the truth, this soup is gravy packed with meat and vegetables. If you want to serve this soup over the top of mashed potatoes in your soup bowl, it won't be the first time someone has tried that experiment. 😜

CRUSHED RED PEPPERS: These potent little specks will add some interest to your soup. Go light if you don't like your food very spicy. Add a little more if you do.

THYME: Fresh thyme is the way to go if you have it, but I'm not sure it's worth buying just for this recipe. Dried thyme is acceptable.

POULTRY SEASONING: Dressing, chicken broth, and gravy are all better with this seasoning. It's worth buying for this recipe because you'll find many more uses for it.

CHICKEN: I like rotisserie chicken because it's so well-seasoned. Leftover turkey or roast chicken would be excellent instead.

WHIPPING CREAM: Whipping cream is the secret to the creamy broth. It won't separated if boiled. Substitute with homemade creme fraiche if you have it.

PARSLEY: Fresh parsley adds a fresh taste and an inviting appearance to this recipe. Optional.
---
How to thicken soup without flour or cornstarch:
Stir in some mashed cauliflower for a chowder-like texture. The cauliflower taste is minimal. However, it's an idea if you are trying to eat more vegetables and lower carbs.
If you don't care for cauliflower, you can always thicken this soup by adding 3-4 tablespoons of flour or cornstarch to the whipping cream. Then, add it to the soup and simmer until thickened.
How to make broth with a rotisserie chicken carcass or bones:
Bone broth will include everything that's left. Every bone, piece of skin and gristle, remaining bits of chicken, and gelatin left in the bottom of the chicken carrier gets utilized.
If you're wondering, bone broth is a regular stock cooked for a prolonged period. Extended cooking causes the gelatin inside the bones to leak into the broth. Notice how your stock gels when it is chilled.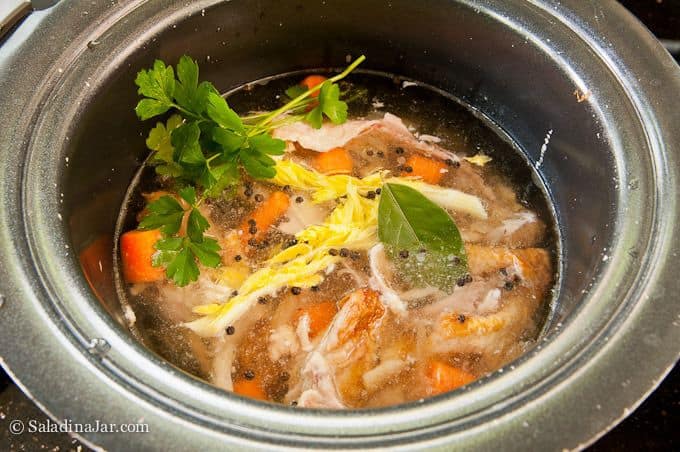 Before making chicken stock, remove all the chicken meat you can from the bones. Then, place the remaining bones and skin (with the mysterious spices) into a slow cooker.
Don't worry about the fat in the skin. Most of it has already melted away in the rotisserie process.
Next, clean out the vegetable drawer. Onion pieces or limp green onions hanging around? Check. Dried out carrots with some greenery growing out the top? Check. Celery with leaves in the middle you won't use in your salad? Check. Grab a bay leaf, parsley, or cilantro and add them, too.
Finally, throw in a tablespoon of whole peppercorns. Barely cover the entire mess with water.
Set your slow cooker on Low for 12 to 24 hours. When finished, pour bones and broth through a fine strainer. Refrigerate the broth for up to five days or freeze.
---
How to make Rotisserie Chicken Soup:
Make the mashed cauliflower using your instant pot. If you don't have an Instant Pot, use this mashed cauliflower recipe to make it in your microwave. Set the cauliflower aside and proceed with the rest of the recipe as pictured below.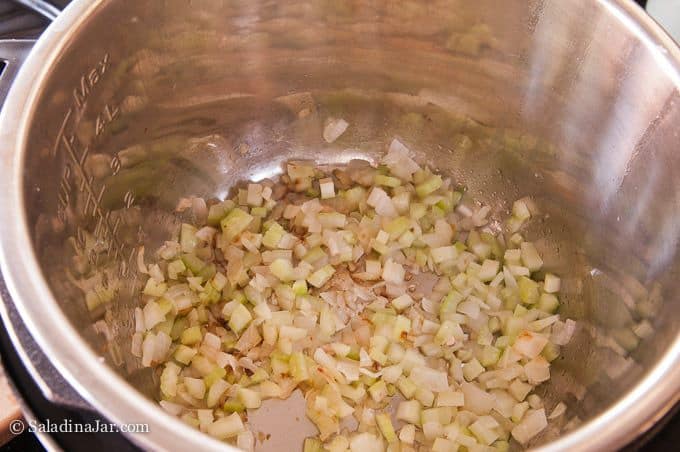 ---
FAQ about Costco Rotisserie Chicken Soup:
What can I do with leftover rotisserie chicken?
A single rotisserie chicken at our house is good for at least two meals and a pot of bone broth. The first meal will be sliced chicken straight off the bone. Then, use the remaining chicken meat in gluten-free condensed cream of chicken soup, chicken salad, or chicken flautas.
---
Did you catch the tip about using mashed potatoes instead of cauliflower? That's the way my husband prefers it. Serve with cornbread or biscuits.
---
More recipes for soup lovers:
---
Did you enjoy this recipe? If so, you can help others and me by leaving a 5-star 🤩 rating in the recipe below. No comment is required.
p.s. If you have any questions or suggestions, you can email me privately: Paula at saladinajar.com.
Hope to see you again soon!
Paula
---