Leftover Rotisserie Chicken Soup for a Soothing Meal
Sneak Peek: Make this Leftover Rotisserie Chicken Soup with leftover cooked chicken, sliced carrots, mushrooms, celery, and onions. Serve with cornbread, dinner rolls, or crackers.
As an Amazon Associate, I earn from qualifying purchases.
Are you a fan of the rotisserie chicken at Costco? First, it's cheap–4.99 for a plump 3-pound chicken (at last check). It's already cooked and well-seasoned with a combination of spices I have been unable to reproduce.
But if you're like me, unless you have a big family, you probably end up with leftovers when you buy a rotisserie chicken. This recipe with Thanksgiving flavors is one solution to the problem:
If you don't have much chicken left, compensate with more vegetables.
Leave out any veggies you don't have, no problem.
Do you have mashed potatoes, plain rice, or plain noodles left over? Warm them and spoon them into your bowl first. Cover with soup–the same as you would with gravy.
This soup makes a tasty chicken pot pie filling if you add an extra tablespoon of flour to make it slightly thicker. Cool the soup in the fridge. Fill individual oven-safe bowls with the cold soup (not too full, or the filling will boil over). Arrange store-bought or homemade pie crust over the top. Place prepared pot pies on a foil-covered baking sheet. Bake them at 400˚F until the crust is brown and the soup is bubbly.
(No Costco nearby or you don't have a Costco membership? No problem. Use ANY rotisserie chicken for this recipe.)
Ingredients and substitutions:
Oil: Use vegetable oil like avocado, corn, or canola oil. Salted or unsalted butter or margarine can substitute for the oil.

Onions: Either fresh white or yellow onions are suitable. If you prefer to avoid fresh onions, try frozen chopped onions. The only difference is the tears you won't get when you open the package.

Celery: Chop fresh celery stalks into small pieces. Save a few of the leaves. Chop them and add to the soup at the same time as the parsley for more flavor.

Carrots: If you don't have whole carrots in the produce bin, slice up baby carrots. Of course, the taste is the same, and you'll save time.

Chicken Broth: See the directions below for making broth with the carcass of a rotisserie chicken. It doesn't take long, and the taste is much better. Of course, you can use bouillon concentrate or cubes + water if necessary.

Pepper: I hope you have white pepper on hand. There's something magical about the taste of white pepper in gravy. To tell you the truth, this soup is like gravy packed with meat and vegetables. If you want to serve this soup over mashed potatoes in your soup bowl, it won't be the first time someone has tried that experiment. 😜

Crushed red pepper: These potent little specks will interest your soup. Go light if you don't like your food very spicy. Add a little more if you do.

Thyme: Fresh thyme is the way to go if you have it, but I'm not sure it's worth buying just for this recipe. Dried thyme is acceptable.

Poultry seasoning: Dressing, chicken broth, and gravy are all the better with this seasoning. It's worth buying for this recipe, and I'm betting you'll find many more uses. But in the end, it's optional.

Rotisserie chicken: I like rotisserie chicken because it's so well-seasoned. Leftover turkey or roast chicken would be excellent instead.

Whipping cream: Whipping cream is the secret to creamy broth. It won't separate when you simmer the soup. Substitute homemade creme fraiche if you have it.

Parsley: Fresh parsley adds a fresh taste and appetizing appearance to this recipe. Optional.

Mushrooms: Button mushrooms (the cheapest ones at the grocery store) are delicious in this soup. If you have another kind on hand, I would add them, too. Even canned mushrooms will work. Can you tell I love mushrooms?
---
📌Kitchen Secret📌
Instead of slicing the mushrooms as seen in the top picture, I now prefer to slice the stems and quarter the caps. Cut each cap into 6 or 8 wedges if the mushrooms are large.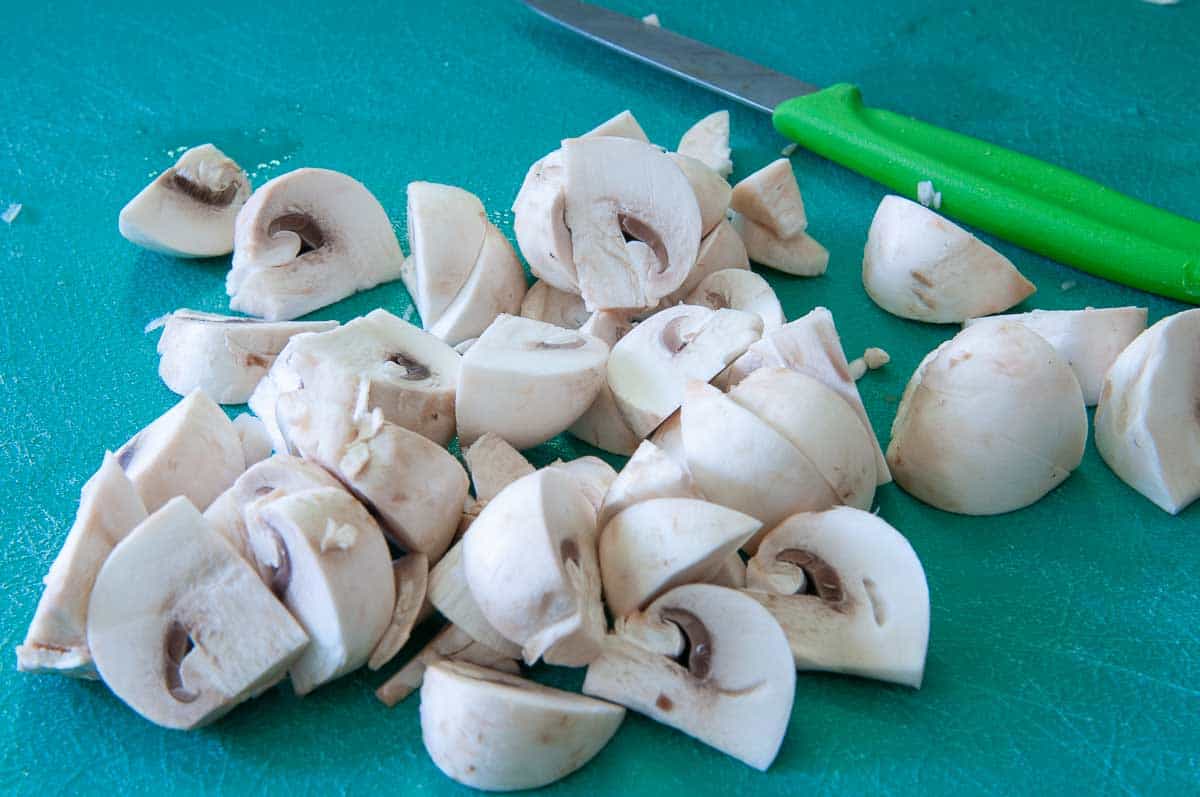 ---
How to make broth with a rotisserie chicken carcass or bones using a slow cooker:
Bone broth will include everything that's left. Every bone, piece of skin and gristle, remaining bits of chicken, and gelatin left in the bottom of the chicken carrier gets utilized.
If you're wondering, bone broth is a regular stock cooked for a prolonged period to break down the animal bones and connective tissue. Extended cooking causes the gelatin inside the bones to leak into the broth. Notice how your stock gels when it is chilled.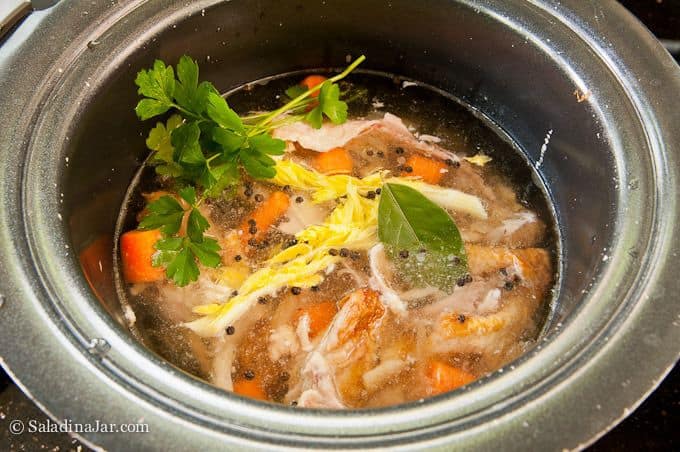 Before making chicken stock, remove all the chicken meat from the bones. Then, place the remaining bones and skin (with the mysterious spices) into a slow cooker.
Don't worry about the fat on the skin. Most of it has already melted away in the rotisserie process.
Next, clean out the fridge. Onion pieces or limp green onions hanging around? Check. Dried-out carrots with some greenery growing out the top? Check. Celery with leaves in the middle you won't use in your salad? Check. Grab a bay leaf, parsley, or cilantro, and add them, too.
Finally, throw in a tablespoon of whole peppercorns. Barely cover the entire mess with water.
Set your slow cooker on Low for 12 to 24 hours. When finished, pour bones and broth through a fine strainer. Refrigerate the broth for up to five days or freeze it.
---
How to make a comforting soup with rotisserie chicken and vegetables: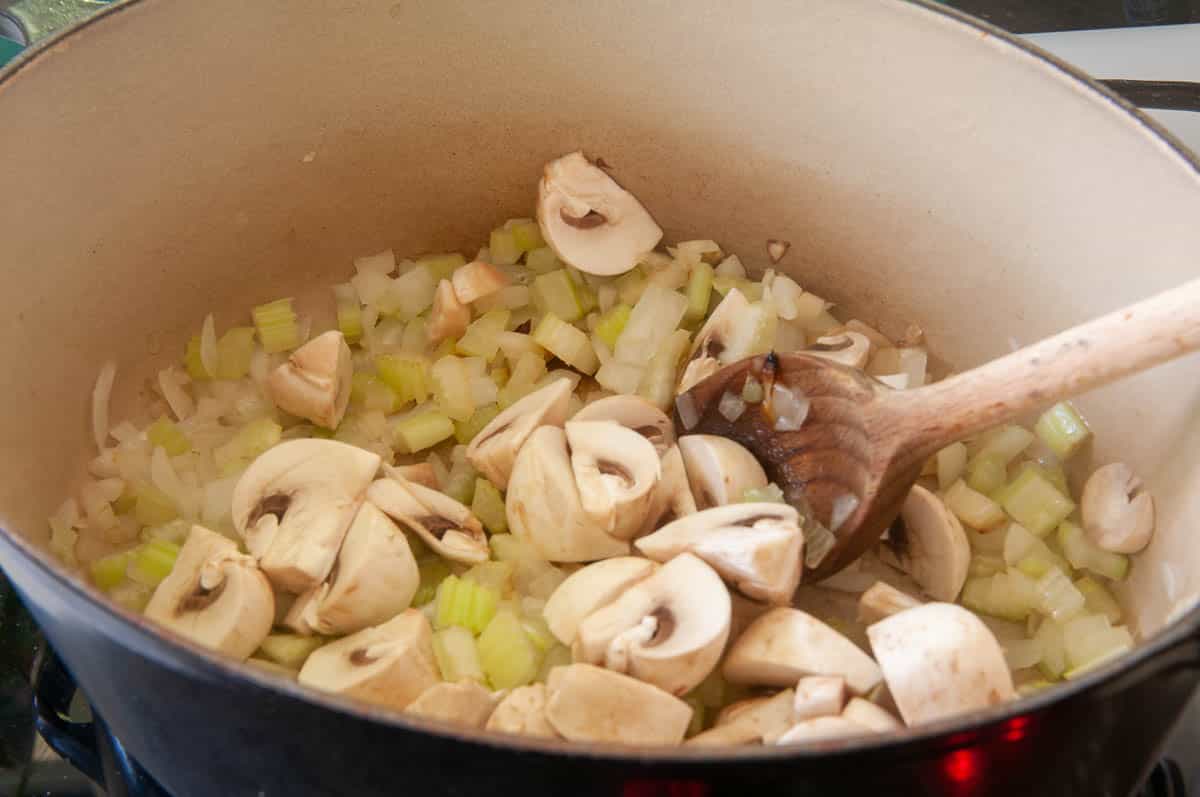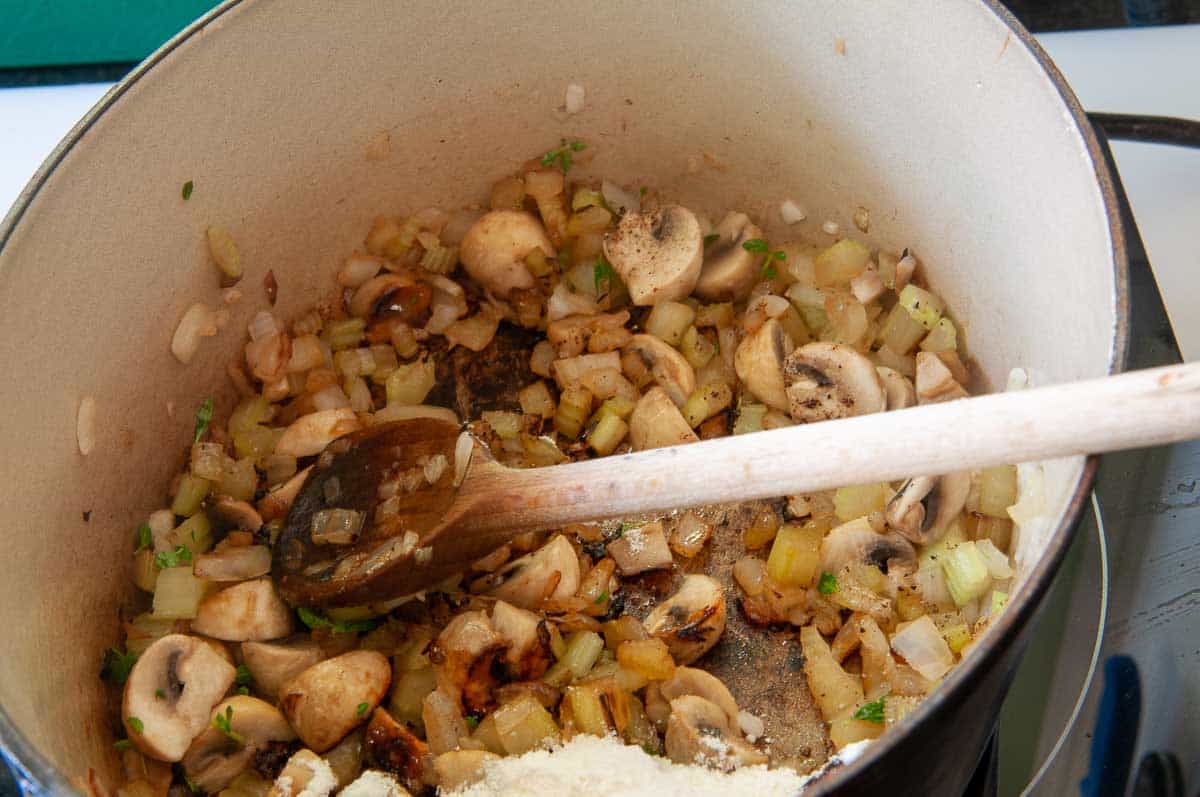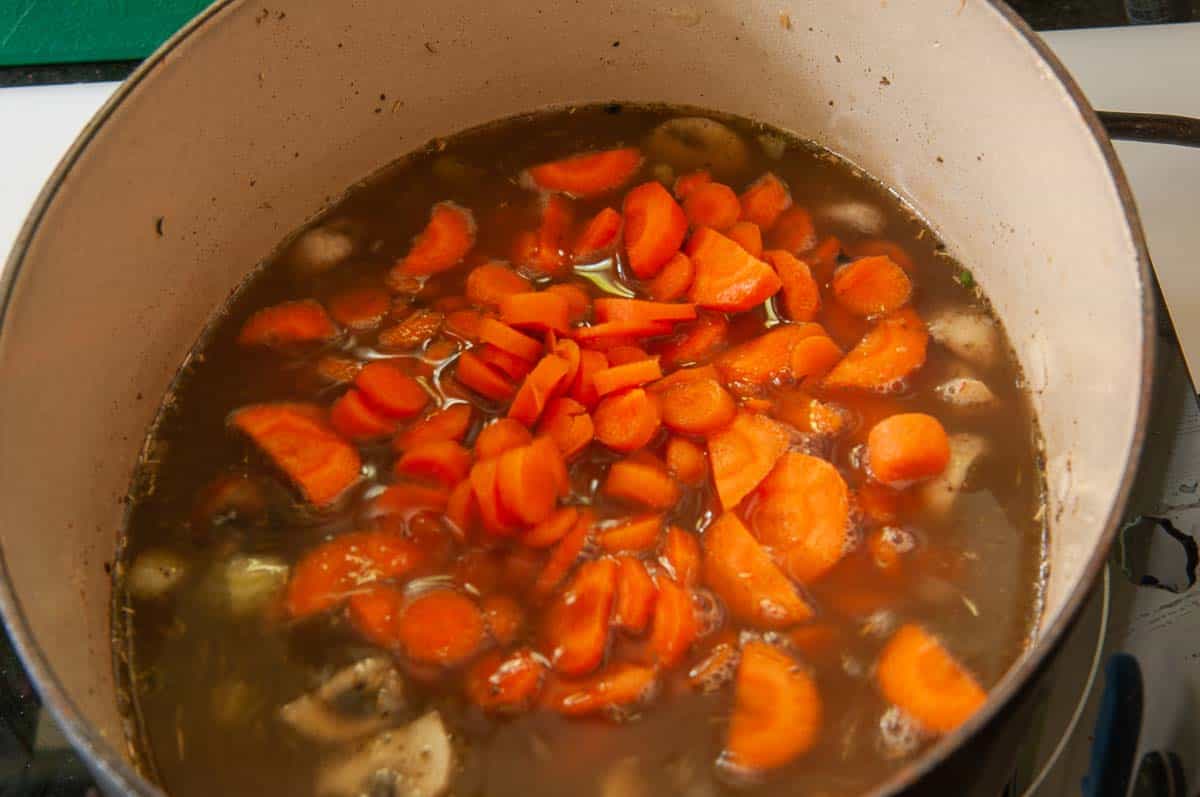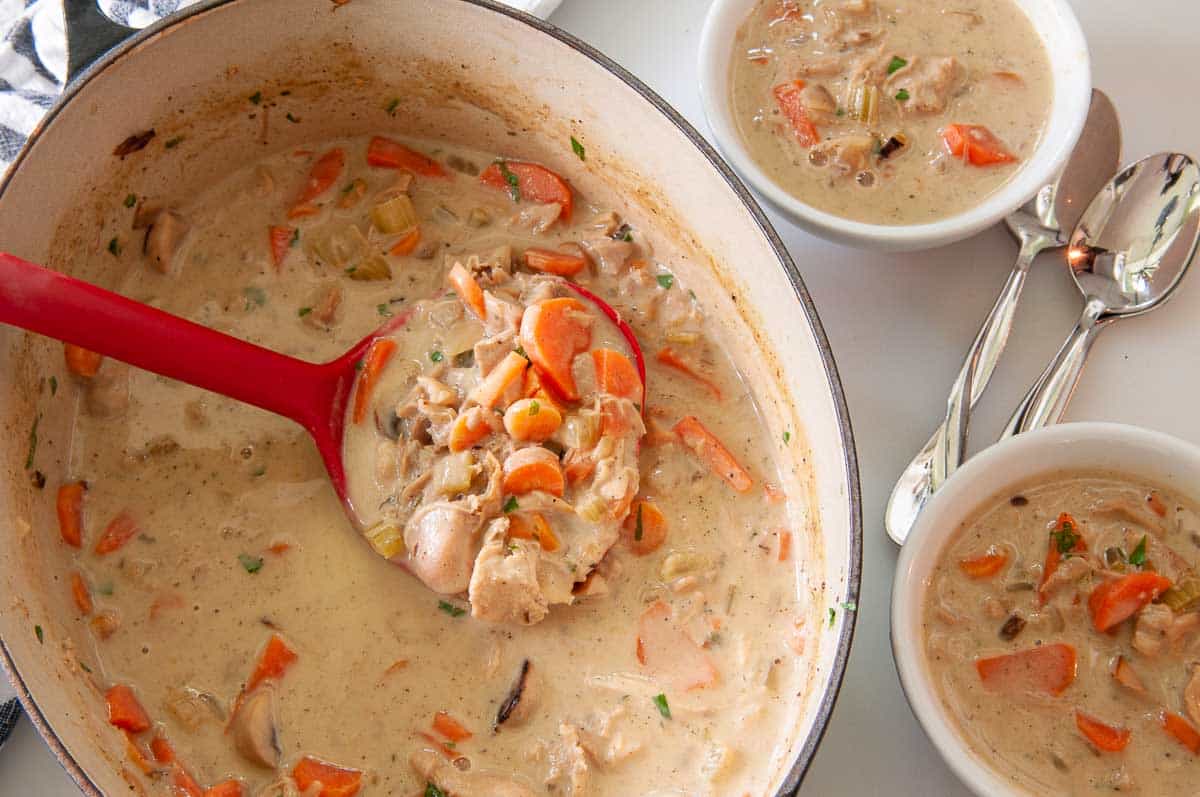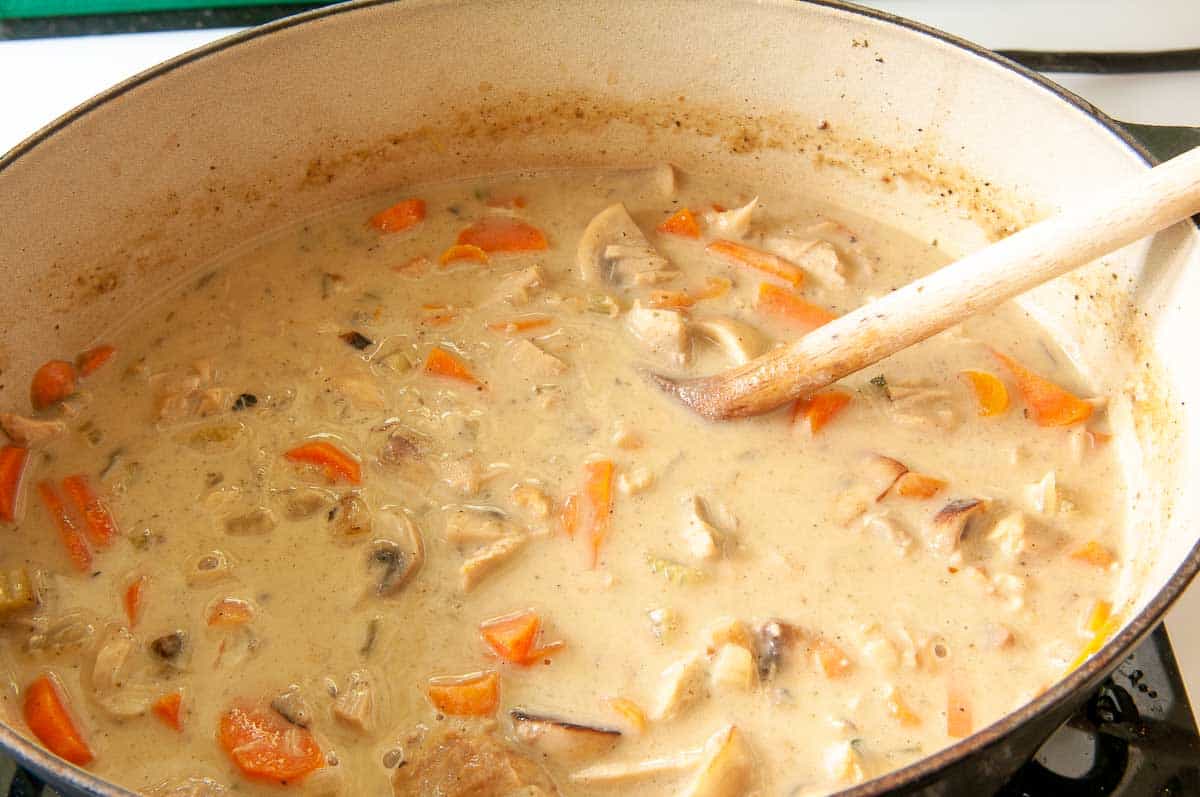 ---
FAQ about this rotisserie chicken soup:
Can I make bone broth with rotisserie chicken?
Yes. See directions for making it with a slow cooker earlier in this post.
How can I thicken the soup without flour or cornstarch?
Stir in some mashed cauliflower for a chowder-like texture. The cauliflower taste is minimal. However, it's a good idea if you are trying to eat more vegetables and reduce carbs.
What can I serve with chicken soup?
This soup begs to be dipped. Try cornbread, biscuits, yeast rolls, or crackers. I like to add mashed potatoes to my bowl first, then pour the soup over the top.
---
If you have questions or suggestions, email me privately for a quick answer: Paula at saladinajar.com. Hope to see you again soon!
---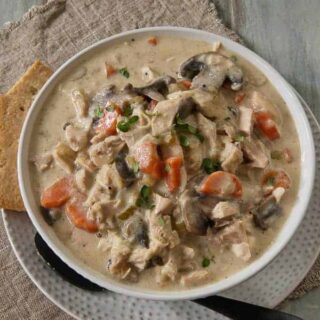 Leftover Rotisserie Chicken Soup Recipe
Leftover rotisserie chicken finds new life in this well-seasoned creamy soup full of chicken and veggies including mushrooms and carrots.
Rate this recipe here
Ingredients
3

tablespoons

vegetable oil

1

cup

onions

-

chopped

2

celery

-

finely chopped

4

ounces

fresh button mushrooms

-

quartered

¼

teaspoon

white pepper

salt and freshly ground black pepper

-

to taste

⅛

teaspoon

crushed red peppers

1

teaspoon

fresh thyme

-

or 1/4 teaspoon dried thyme

1

teaspoon

poultry seasoning

3

tablespoons

all-purpose flour

3

cups

chicken broth or bone broth

3

carrots

-

medium, thinly sliced

1 to 1-½

cup

cooked chicken

-

finely diced

½

cup

whipping cream

1

tablespoon

chopped parsley
Instructions
Heat 3 T of oil in a large heavy pot. Add 1 C onions and 2 stalks of celery, chopped, to a large, heavy pot and cook over medium heat until tender.

Add 4 oz. quartered fresh mushrooms and continue to cook until soft.

Add ¼ t. white pepper, salt and pepper to taste, ¼ t. crushed red pepper, 1 teaspoon of fresh thyme, and 1 teaspoon of poultry seasoning. Stir until you start to smell the fragrance of the spices.

Add 3 T flour and stir to coat the vegetables evenly.

Add remaining ingredients except for the whipping cream and parsley.

Cook over medium heat for 10-15 minutes or until carrots are tender.

Garnish with chopped fresh parsley just before serving.
Nutrition
Serving:
1
bowl
|
Calories:
285
kcal
|
Carbohydrates:
13
g
|
Protein:
14
g
|
Fat:
20
g
|
Saturated Fat:
8
g
|
Polyunsaturated Fat:
6
g
|
Monounsaturated Fat:
5
g
|
Trans Fat:
0.1
g
|
Cholesterol:
61
mg
|
Sodium:
602
mg
|
Potassium:
436
mg
|
Fiber:
2
g
|
Sugar:
5
g
|
Vitamin A:
6654
IU
|
Vitamin C:
7
mg
|
Calcium:
61
mg
|
Iron:
1
mg
Did you try this recipe?
If you loved it, don't forget to leave a 5-star rating 🌟🌟🌟🌟🌟 at the top of the recipe card. Thanks so much for taking the time to do that!