Preview: These chewy sourdough bread rolls are easy to mix and knead with a bread machine. No worries if you don't have a bread machine. See the recipe notes for how to make these rolls with a stand mixer or by hand.
After I gave a few of these sourdough rolls to my daughter-in-law, she texted back. "Those rolls were so good. How do you resist?" The honest answer is, "I can't." Maybe I should say, "I don't." Do you know what I mean?
The texture of these homemade sourdough bread rolls is soft and chewy with a close crumb, a beautiful crust, and a cute "ear." (That's what you call the effect of the slash.) Depending on your starter, you'll be able to taste the sourness in the best possible way.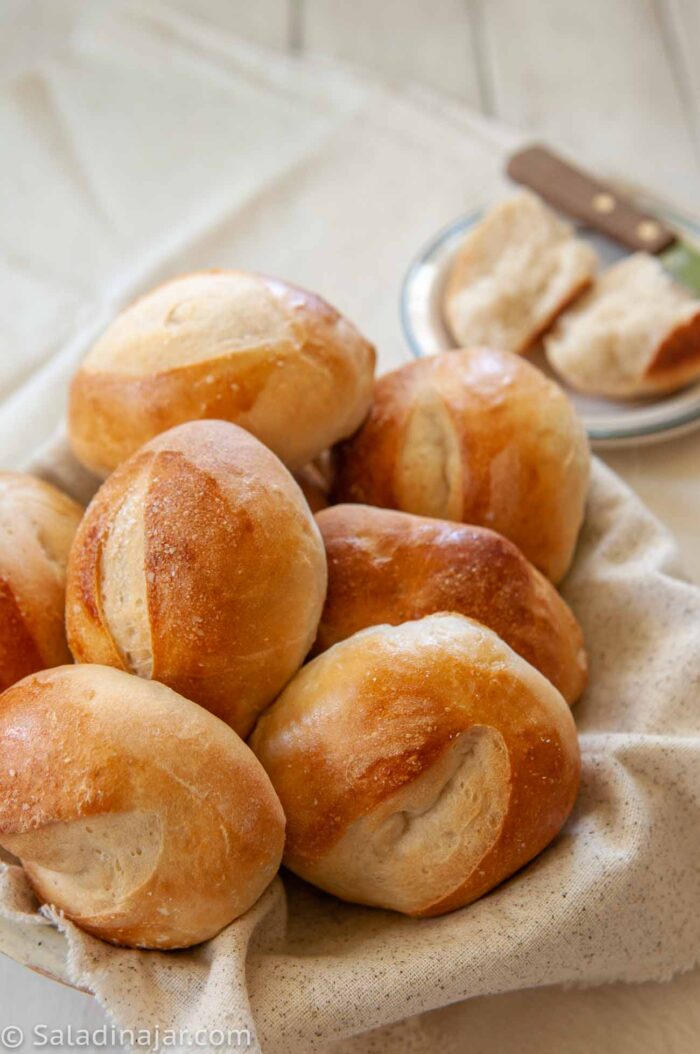 Heads-Up: Working with a sourdough starter requires time and patience. Previous experience with making bread will help.
Recipe Inspiration:
The most popular bread recipe on this website is Crusty French Bread. Probably because it's easy and turns out great for almost everybody. (Nothing is 100%.)
When I saw that sourdough can be used as a substitute in many bread recipes, I decided to try swapping a cup of starter for part of the liquid and flour in the original French bread recipe. It worked.
It's all about the starter:
Do you already have a sourdough starter in your fridge? If so, you can use it in this recipe.
If not, no problem. I will show you how I do it with yogurt or yogurt whey and flour. No extra yeast is added to the starter which means you'll need a little longer to get the starter established.
Why did I decide on a yogurt starter?
Bear in mind that many of my readers, including me, make yogurt at home. We usually have yogurt and/or yogurt whey sitting in our refrigerators. No worries if you don't. Buy unflavored yogurt at the store.
Yogurt starters tend to be sourer. Try a potato starter if you prefer a milder flavor.
How to make a sourdough starter with yogurt or yogurt whey and bread flour?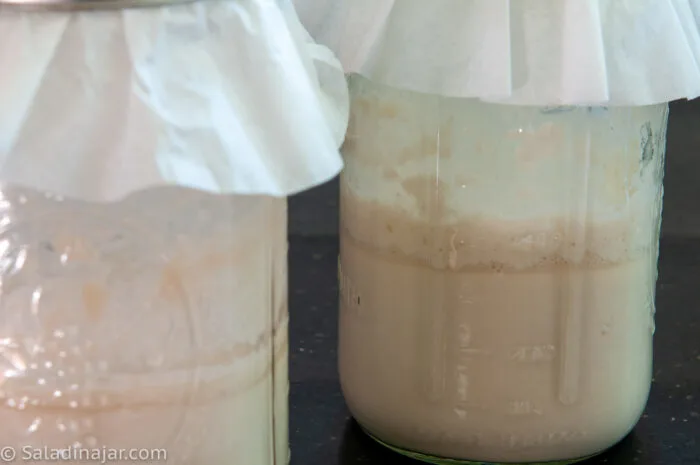 Ready to make bread?
Before making bread, discard all but 1/2 cup of starter.
Add 1/2 cup of water (or yogurt whey) and 3/4 to 1 cup of flour to the starter. Stir and let sit in a warm place.
When the starter mixture bubbles up after 2-4 hours, measure out the amount of starter you need.
Replenish starter with another 1/2 cup of water and 3/4 to 1 cup of flour. Stir and set aside in a warm place. When the mixture bubbles up, stir and refrigerate.
It's best to use your starter once a week. Once a month is the minimum.
If at any point, you see mold or funky colors appear in your starter, throw it away and start over again.
---
Can I use a different starter in this recipe?
Yes. Any active and alive sourdough starter should work. Because no two starters are alike, I'll show you how to make adjustments to the recipe on the fly.
Starters can be thick or thin depending on the ratio of flour to water used to maintain it. Some people use equal amounts of water and flour. Others use twice as much flour as water. Then there those who don't measure at all. You can see how writing a precise bread recipe with a starter in it is nearly impossible.
How to adjust this recipe for your specific sourdough starter:
Add all ingredients to the bread machine pan precisely as listed.
Select the DOUGH cycle and stand by to watch the action.
Observe how the dough is coming together after a couple of minutes of mixing. Is it dry and crumbly like biscuit dough before you add the liquid? or is it wet like cookie dough?
If it's dry, add liquid 1 tablespoon at a time. Wait for the liquid to be absorbed before adding more. The dough should come together into a loose and raggedy ball.
If the dough is too wet, add flour one tablespoon at a time. Allow time for the flour to be absorbed before adding more. You're looking for it to form a loose and raggedy ball.
Check the dough 10-15 minutes later. The dough should stick to the side and pull away cleanly.
Adjust again with water or flour until the dough sticks to the side and pulls away cleanly. You can see more pictures of this process in the post about the most important thing you should do when using a bread machine.
Ingredients and Substitutions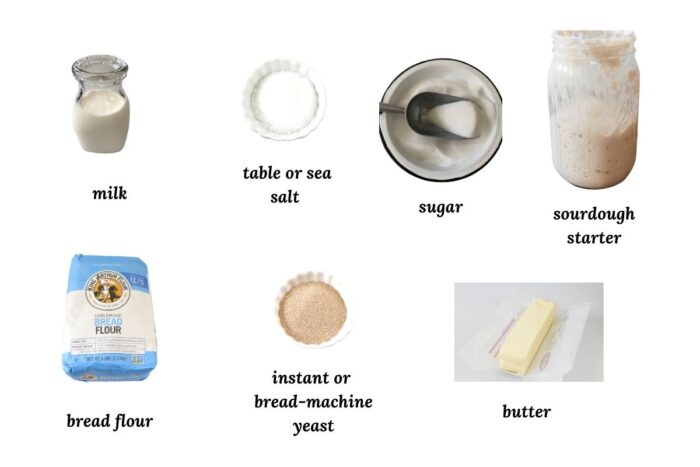 ---
MILK: I use 2% milk because that's what I have on hand. Use whatever you have.
SUGAR: You could substitute honey, but I have tested it with granulated sugar only. Sugar gives yeast energy for the work ahead.
SALT: Use table salt or sea salt. If using Kosher salt, add at least 1/4 teaspoon more.
BUTTER: Melt the butter but let it cool down before you add it to the other ingredients.
SOURDOUGH STARTER: This is the wild card on this list. There are many varieties, consistencies, and levels of sourness. You will most likely have to adjust for dryness or too much moisture after you start to mix the dough.
BREAD FLOUR: Use bread flour for maximum chewiness and a good rise. All-purpose flour will not give you the same texture because it contains less protein. You could add a small amount of Vital wheat gluten to all-purpose flour in a pinch. Follow the directions on the package.
BREAD MACHINE OR INSTANT YEAST: Do you make bread often? I recommend you buy instant yeast over active dry yeast. It's easier and works faster. Active dry yeast will work but it's slower.
---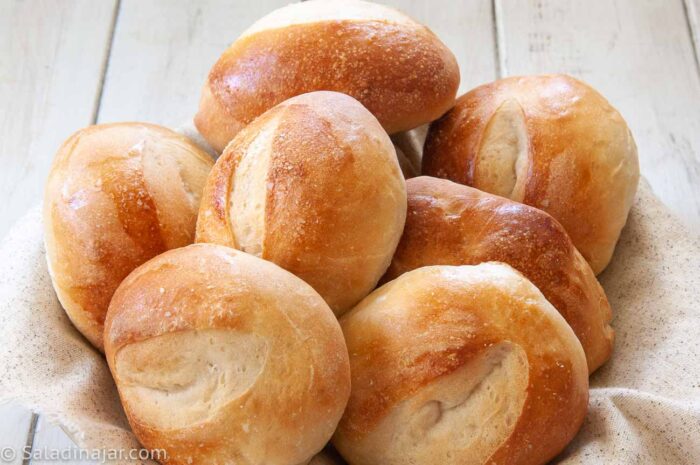 FAQ about these Sourdough Rolls
Can I make the dough ahead of time?
Make the dough the day before. After the first rise, push the dough down, cover, and refrigerate. The next day, shape the cold dough into rolls and give them extra time to rise until almost double. Bake as usual.
Can I freeze these rolls?
Yes. Wrap baked rolls in plastic wrap then a plastic bag or foil. Always wrap bread in double layers before freezing. Try to eat within a month or two.
Can I make smaller rolls or larger rolls?
Yes. This recipe makes 10 rolls the way it's written. Go bigger if you want to make hamburger buns. Make 6 or 8 rolls instead. Go smaller (12-14 rolls) when serving with a large dinner like Thanksgiving.
Would this be a good recipe for making a soup bowl?
Oh yes. The crust is sturdy and the bread is perfect for soaking up the soup. You can see directions for cutting and making soup bowls with bread here.
How long will sourdough rolls made with a starter stay fresh?
Using a sourdough starter keeps sourdough fresh for 2-3 days. This is a big deal to home bakers that don't normally use preservatives in the dough.
Why are my rolls dense?
There are many answers to this common complaint in the world of homemade bread. See the purple box below to download a free comprehensive list.
The most common reasons for dense bread with this recipe:
Did you allow extra time for the dough to rise after the DOUGH cycle finished? At my house, it usually needs another 45 minutes to 1 hour in addition to the rising time allowed in the DOUGH cycle.
Depending on the temperature in your house, the second rise can also take longer than an hour, sometimes 2 hours. Don't go by the clock. Look for the size to almost double. This is a slow-rising bread which leads to better flavor.
What did the dough look like when it was almost finished kneading? It should stick to the side, then pull away cleanly. If the dough won't stick, it is probably too dry.
Was your sourdough starter fully bubbly? A spoonful should float in water when it is ready.
Variations:
Sourdough Dinner Rolls with Toasted Onion and Poppy Seeds: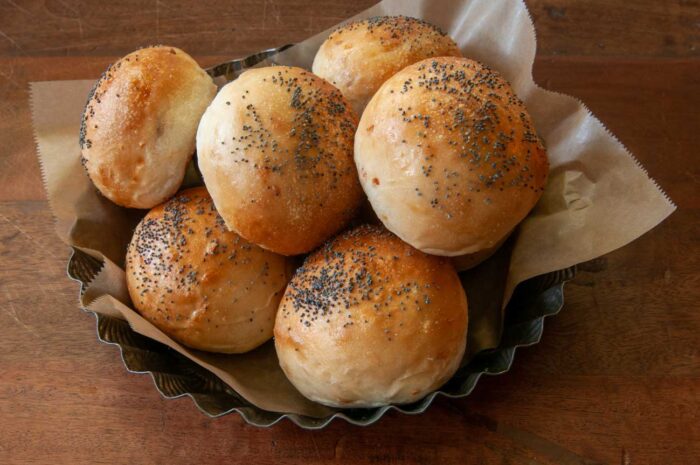 Add 1-1/2 tablespoons of toasted, dehydrated onion to the dough when you hear the signal for add-ons. Continue the recipe as directed. After glazing the rolls, don't slash. Sprinkle with poppy seeds. Bake.
Sourdough Loaf:
Make the recipe as specified. Press or roll dough into a rectangle shape. Starting from the short end roll tightly. Pinch the seam together. Turn ends under and seal. Place on a prepared baking sheet covered with a silicone mat, parchment paper or spray oil.
Coat loaf with glaze. Make 3 sharp diagonal cuts across the top. Sprinkle with coarse salt if desired. The recipe will make 2 loaves the size of the one in the picture or 1 large loaf.
Bake at 400˚F for 20-25 minutes depending on the size of your loaf. Internal temperature should reach 200-210˚F.
How to make these sourdough rolls: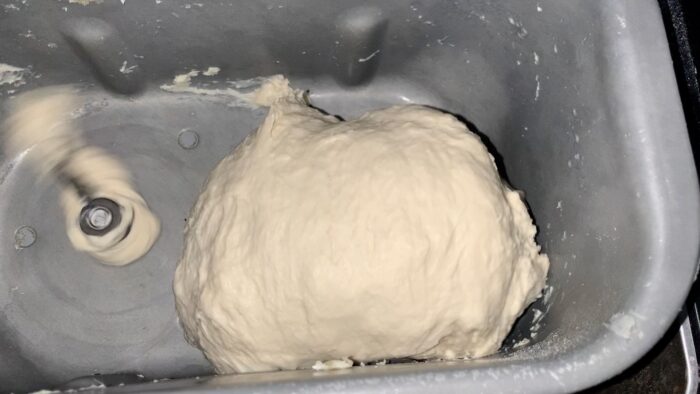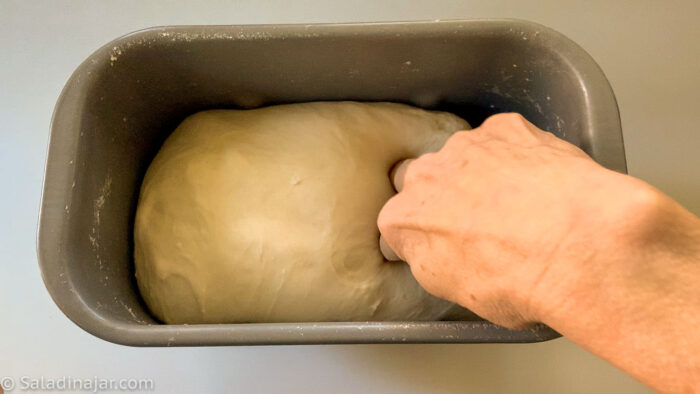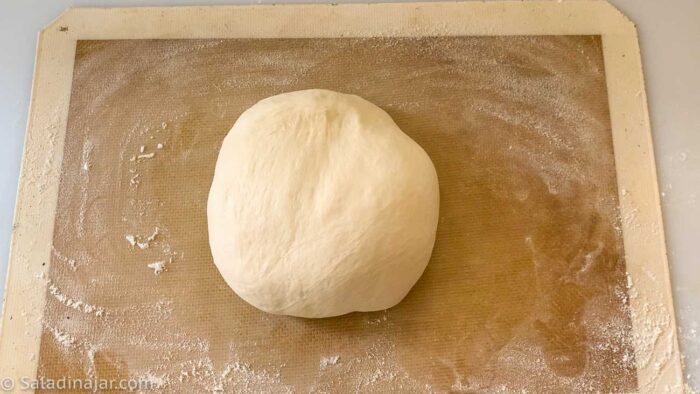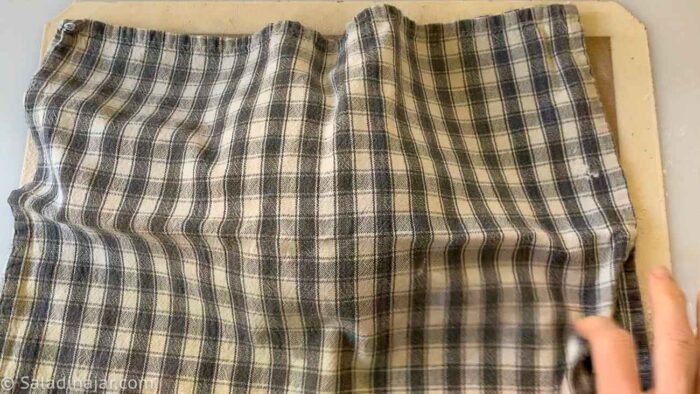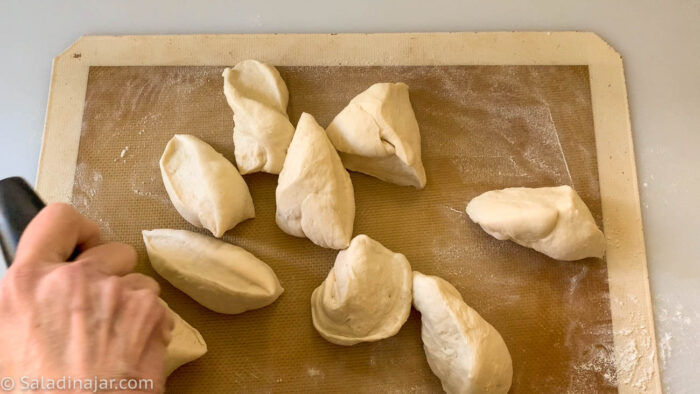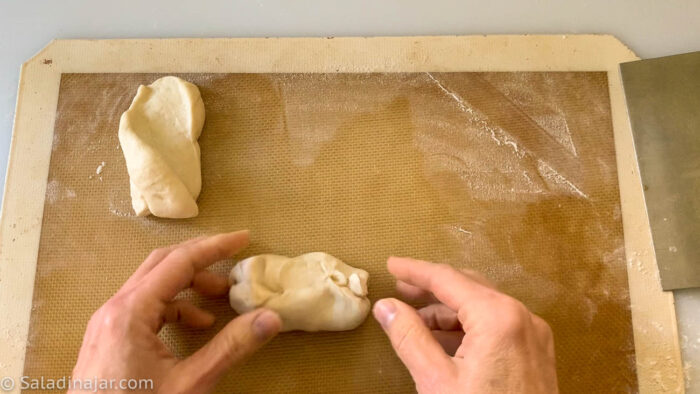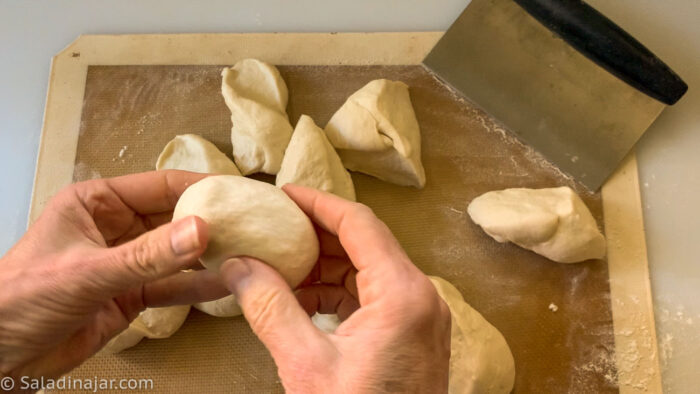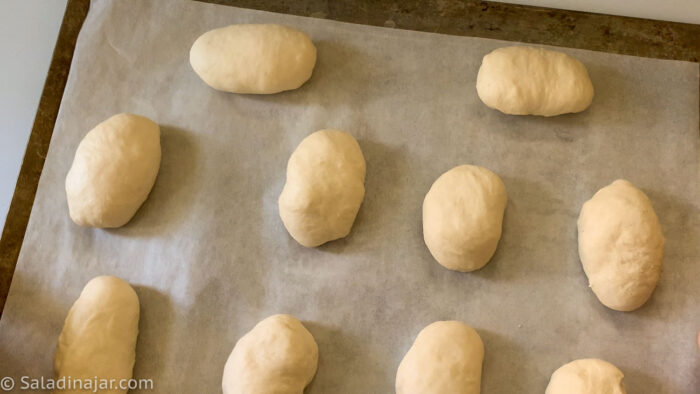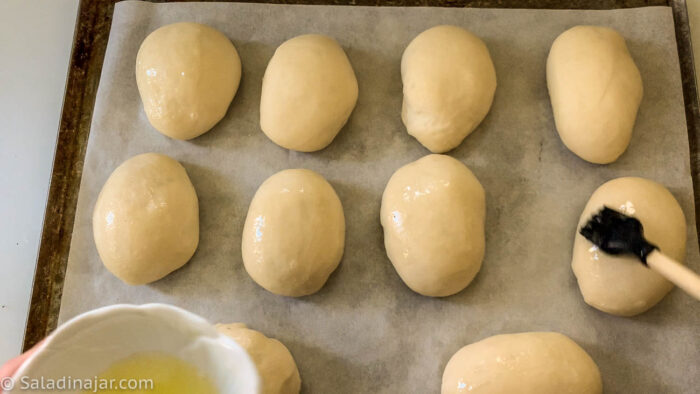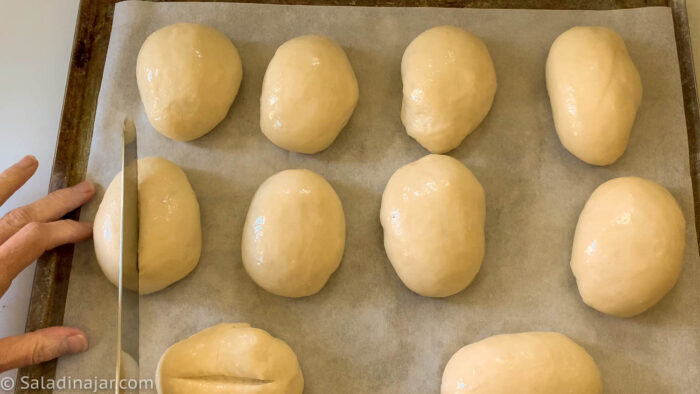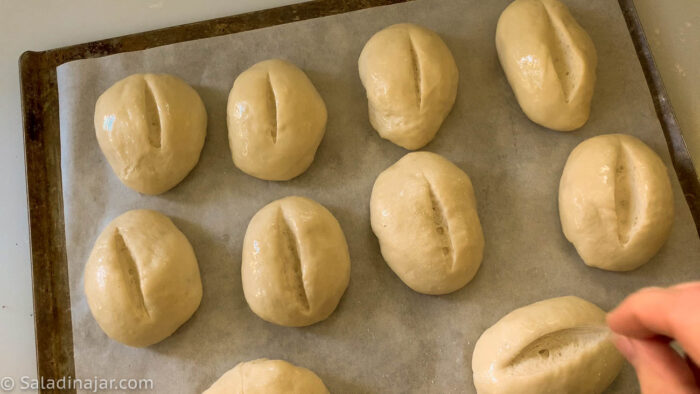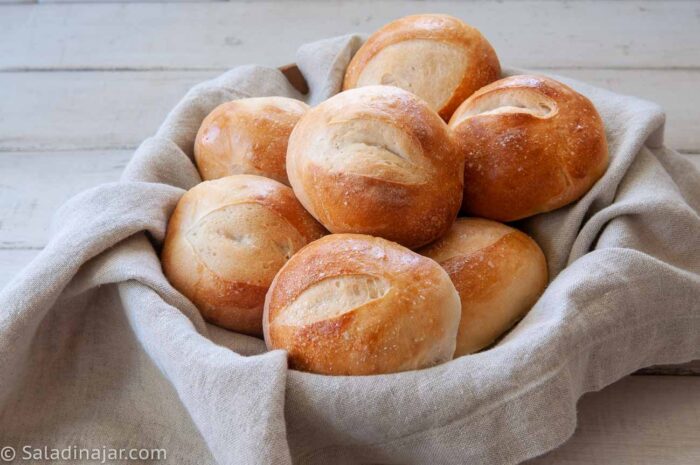 Bet you can't resist!
What to serve with these rolls:
---
Did you try this recipe and enjoy it? Consider helping other readers (and me) by returning to this post. Leave a rating on the recipe card itself underneath the picture. No comment required.
If you have a question or tip to share, please leave it in the regular comments after the recipe so I can answer back. Or email me: paula at saladinajar.com.

Thank you for visiting!
Paula
---
"Why is my bread dense?"
Download a FREE printable guide to help you diagnose the cause of dense bread when you sign up to receive my free updates and exclusive bread-making tips in your inbox.
Don't worry. I won't share your address. Unsubscribe any time.
Yield: 10 rolls
Bread Machine Sourdough Dinner Roll Recipe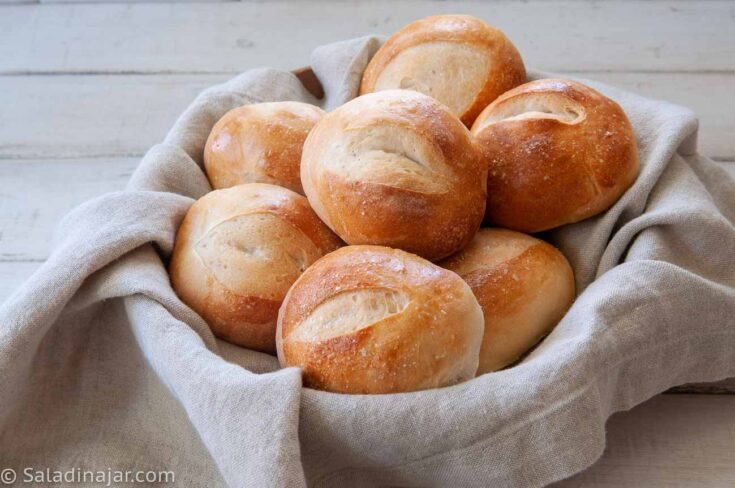 These chewy sourdough bread rolls are easy to mix and knead with a bread machine.
Total Time
4 hours
35 minutes
Ingredients
1/2 cup (4 oz) milk (room temperature)
1 tablespoon (13 grams) granulated sugar
1 1/2 teaspoon (9 grams) table salt
1 tablespoon butter, softened
1 cup bubbly sourdough starter
2 cups (240 grams) bread flour (depending on your starter, you may need more or less--start with 1 3/4 cup)
1 teaspoon instant or bread machine yeast
Glaze
1 egg white
1 teaspoon water
Instructions
Add all ingredients to the bread machine pan in the order given. Select the DOUGH cycle and start.
Check the dough after a couple of minutes to make sure the dough is coming together into a raggedy ball. If not, add more water 1 tablespoon at a time.
Check dough again after about 15 minutes. The dough should stick to the sides of the pan, then pull away cleanly. If too wet, add flour 1 tablespoon at a time. If too dry and the dough doesn't stick at all, add more liquid.
When the dough cycle finishes, leave it in the machine until the dough has doubled in size. If the ambient temperature is cool, consider moving the bread machine to a warmer location. My dough usually takes another 30-90 minutes to rise correctly.
Remove the dough from the bread machine pan to a floured surface. Shape into one large ball and cover with a towel for a 10-15 minute rest.
Uncover the dough ball and divide the dough into 10 equally-sized balls. Make into oval shapes like an egg. See the video for shaping instructions. Place each roll onto a heavy cookie sheet covered with a silicone mat or parchment paper.
Cover the rolls and allow to rise again until almost double in size. Halfway through, preheat the oven to 375˚F.
Before baking rolls, whisk egg white and water together to make a glaze. Use a small brush to cover each roll with glaze. Slash the tops with a sharp serrated knife or a straight edge razor blade.
Place in preheated oven on the middle rack.Bake rolls for 18-20 minutes until evenly browned or internal temperature reaches 190-200˚F. Remove from the baking sheet to a cooling rack immediately.
Notes
Alternate Mixing Instructions:
Directions for making bread with a stand mixer or by hand:
To make this recipe in a heavy-duty stand mixer, add ingredients to the bowl in the same order. Turn on low to mix until all ingredients are moistened. Using a dough hook, turn speed to 2 or 3 and continue beating/kneading until dough becomes smooth and elastic (about 5-10 minutes). Cover and allow to rise in a warm place. Deflate dough gently and shape as indicated in the recipe.
If making by hand, combine all ingredients into a shaggy ball in a large bowl. Turn dough out onto a floured surface and knead with your hands until dough becomes smooth and elastic, a process that will likely take 10-20 minutes depending on your experience. Place the dough ball into a greased bowl. Cover and allow to rise until double. Deflate dough gently and shape as indicated in the recipe.
Please note: You can substitute active dry yeast for instant or bread machine yeast. There is no longer any need to dissolve it according to King Arthur Baking.com. (https://www.kingarthurbaking.com/blog/2015/09/25/active-dry-yeast) Be aware that it may be a little slower acting than instant yeast, but it'll get there.