Preview: This Cinnamon Twist Bread with Pecans is a decadent yeast bread you can mix up with a bread machine or a stand mixer. It's actually a fancy-schmancy version of cinnamon rolls suitable for a special occasion.
My sister and I plan to open a bed and breakfast when we're both widows someday. (Please don't discuss this idea with my husband. It makes him nervous.) We already know this decadent Cinnamon Twist Bread with Pecans will be at the top of the breakfast menu.
What makes this Cinnamon Twist Bread decadent? Instead of milk, the recipe specifies half-and-half. Instead of the usual one egg, use two. Now we're talking a treat that's worth the calories.
This recipe isn't quite as quick as a coffee cake made with Bisquick. But mixing and kneading the dough in your bread maker will make the whole process much easier.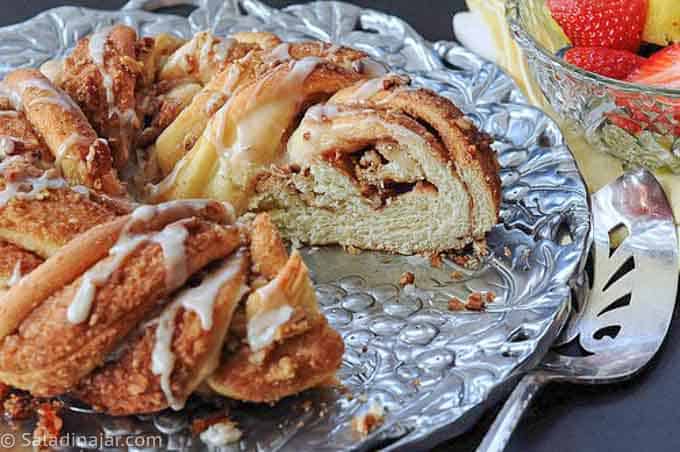 RELATED POST: How To Make Cinnamon Rolls That Stay Fresh Longer
Think sophisticated cinnamon roll with melt-in-your-mouth tenderness. The twisted configuration ups the fanciness quotient considerably.
Just like 95% of the yeast bread I make, this recipe is mixed, kneaded, and proofed in a bread machine.
However, using a big electric mixer or mixing by hand is fine if you're so inclined. Once the dough rises to double its original size, remove it from the pan, shape, allow it to rise again, and bake.
RELATED POST: How to Make a Texas-Sized Cinnamon Roll
---
Frequently asked questions about Cinnamon Twist Bread:
Can I freeze this bread?
Yes, you can freeze the baked twist. Always double wrap. First, cover completely with plastic wrap, then a plastic bag or a piece of foil. Use within a month.
Can I use active dry yeast instead of instant or bread machine yeast?
Yes. You no longer need to dissolve active dry yeast. Use 1/4 teaspoon more because active dry yeast usually takes longer to rise.
Can I substitute another flour for the unbleached all-purpose flour?
You can sub bleached all-purpose flour. I would not use whole wheat or bread flour. This recipe is meant to be rich and melt-in-your mouth tender. Bread flour makes a sturdier product–not what you are going for with this recipe.
Can I bake this recipe in my bread machine?
No. This recipe is written to use the bread machine as a dough mixer and kneader only. When the DOUGH cycle completes, you will need to remove the dough and make the twist by hand. Finally, bake the two twists in your conventional oven.
What can I substitute for half-and-half?
Half-and-half is the ingredient that makes this bread a rockstar. You could make your own half-and-half by combining equal amounts of whole milk and whipping cream.
Can I use this to make cinnamon rolls?
Absolutely. They will be gloriously rich and delicious. You can see the traditional way to roll out cinnamon rolls on this post.
---
---
How to shape the dough for this Cinnamon Twist Bread with Pecans:
Remove dough from bread pan after completion of the dough cycle.
Divide dough into two equal portions.
Combine streusel ingredients and sprinkle over dough that has been rolled into a rectangle.
Starting with the long edge, roll dough into a long, slender cylinder. Try not to stretch it.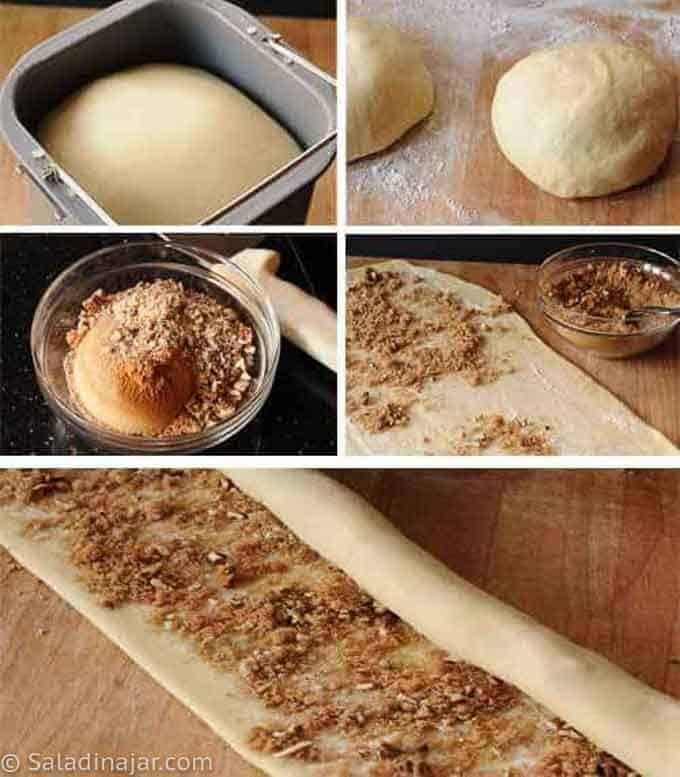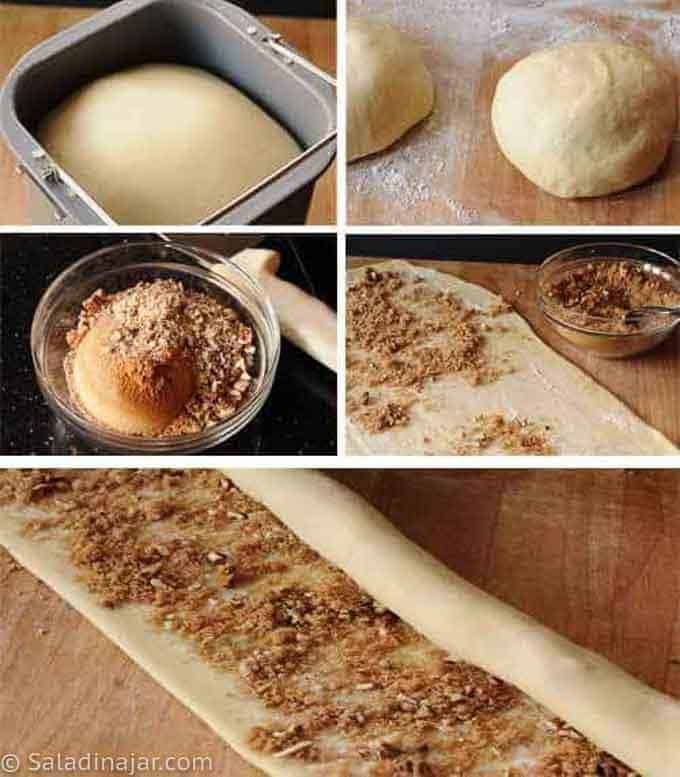 Now it gets a little tricky but the twist is what makes this sweet bread special. Proceed with confidence.
How to twist the dough:
Cut the roll you made as seen above in half lengthwise.
Roll each half so you can see all the layers.
Start at one end and entwine layers as shown below.
Join both ends of twisted dough to make a circle, and carefully placed in a greased round pan.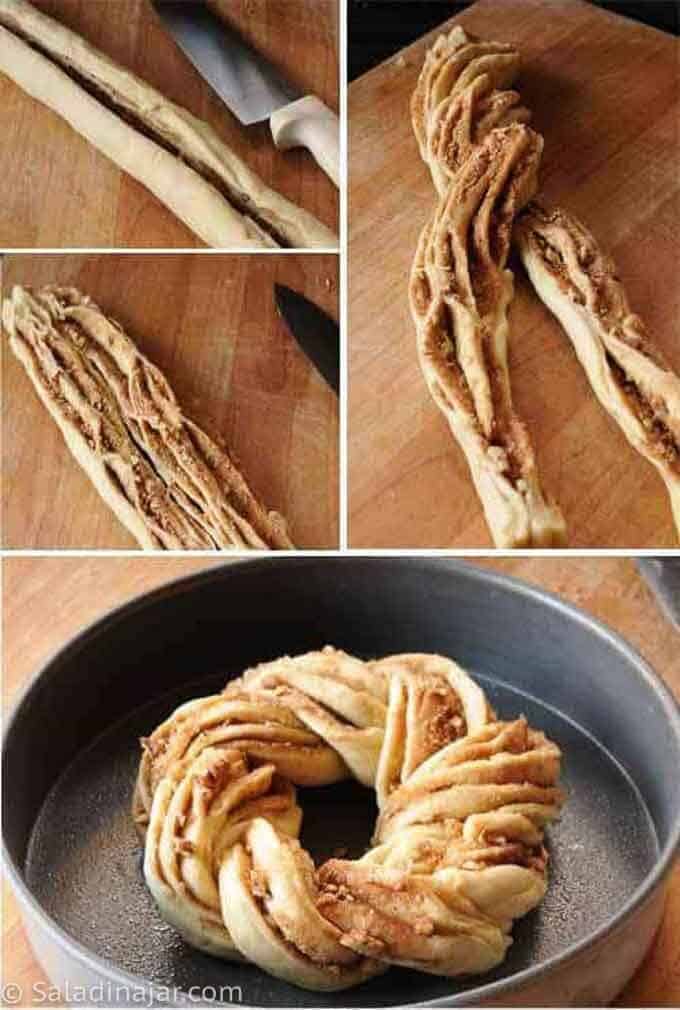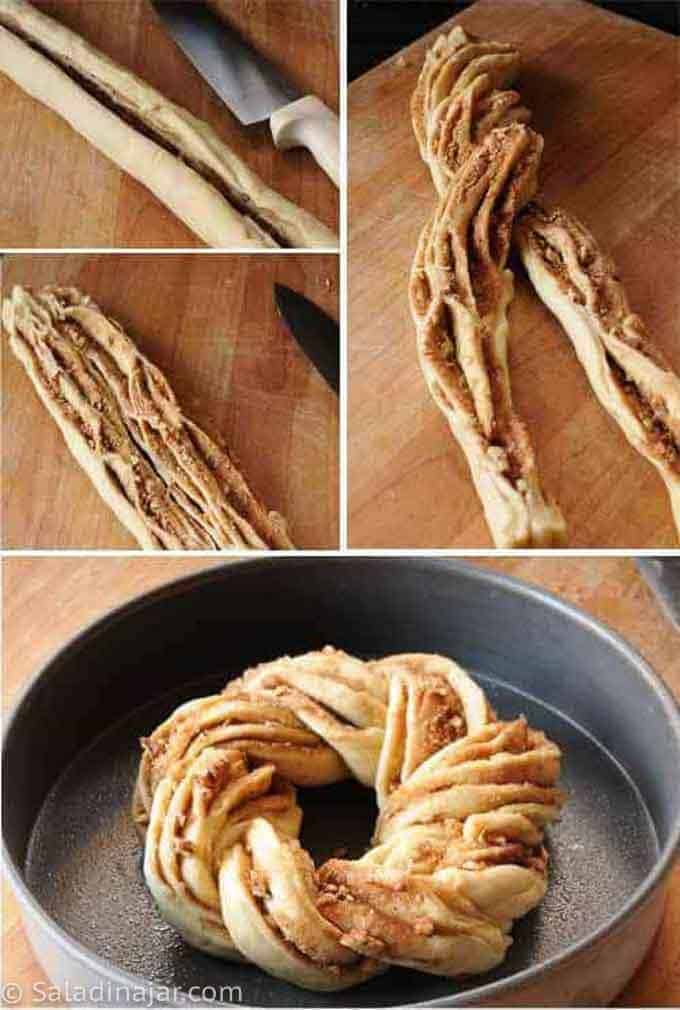 Don't be scared off by the shaping instructions. I've made many less-than-perfect twists in the past but they still tasted incredible. The glaze will cover a multitude of sins. I normally use more icing than pictured here but I wanted you to be able to see the twist.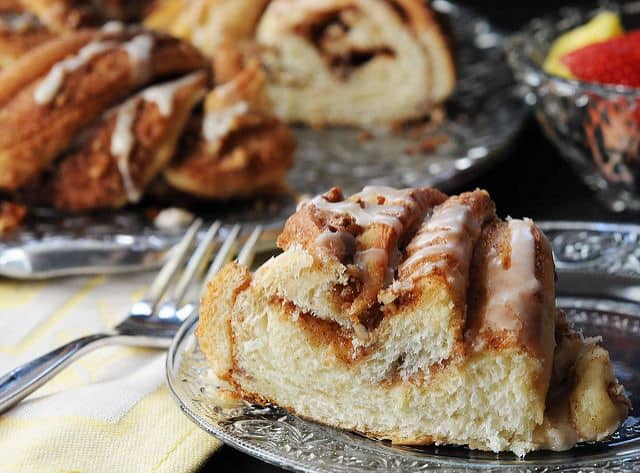 ---
If you enjoy making bread in a bread machine, keep reading.
If you enjoyed this recipe, it would help others and me if you gave it a five-star rating inside the recipe card below. 🤩 No comment required. Thank you.

Hope to see you again soon!
Paula
p.s. Questions or suggestions? Please email me: Paula at saladinajar.com.