Bread Machine Cinnamon-Pecan Twist Bread is a fancy version of cinnamon rolls with a rich dough worth writing home about. Start your day off right with this memorable sweet bread.
Directions for mixing and kneading in a stand mixer or by hand are included in the recipe notes.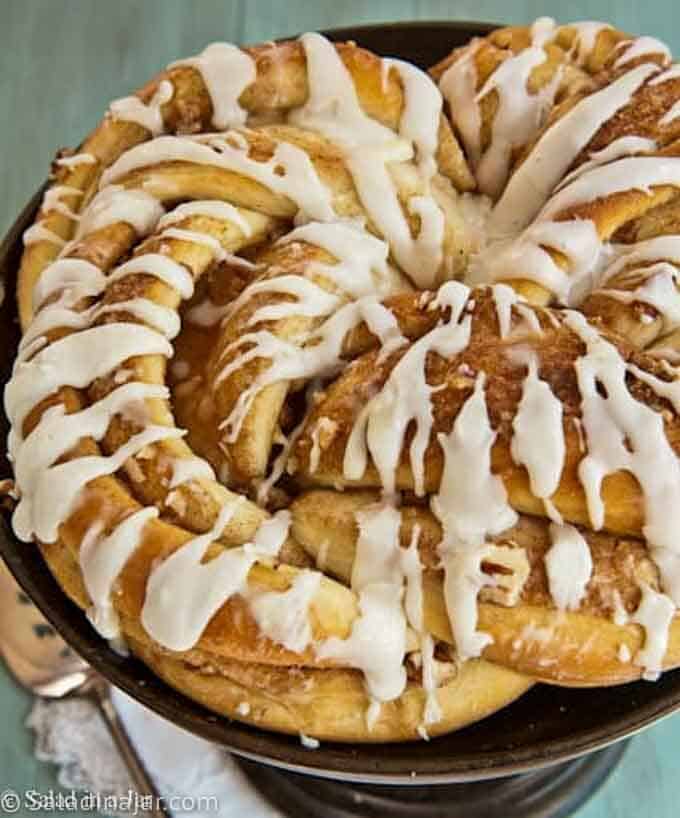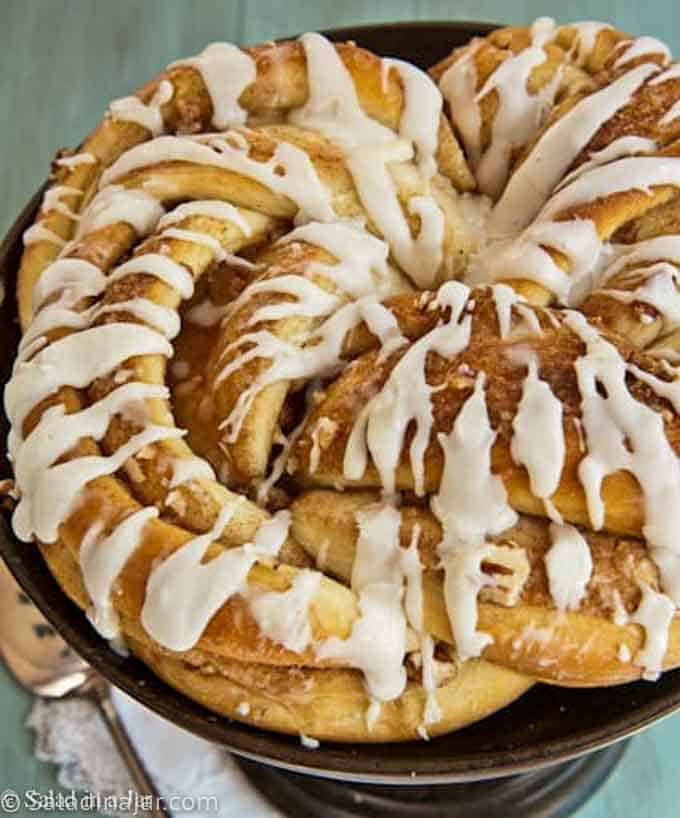 My sister and I plan to open a bed and breakfast when we're both widows someday. (Please don't discuss this idea with my husband. It makes him nervous.) This sweet yeast bread will definitely be on the menu.
RELATED POST: How To Make Cinnamon Rolls That Stay Fresh Longer
Think sophisticated cinnamon roll with melt-in-your-mouth tenderness. The twisted configuration ups the fanciness quotient considerably.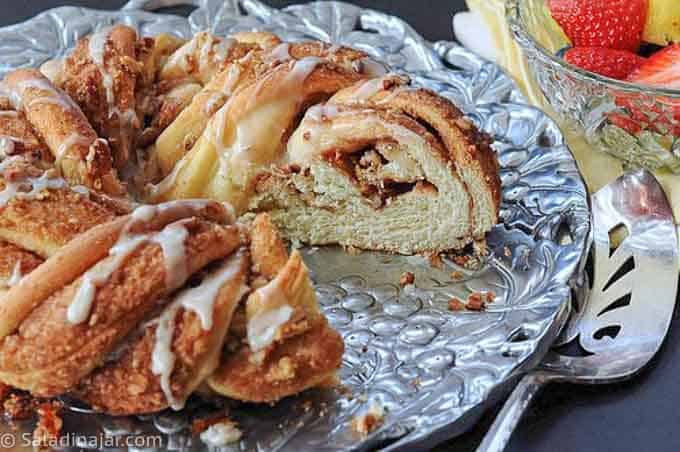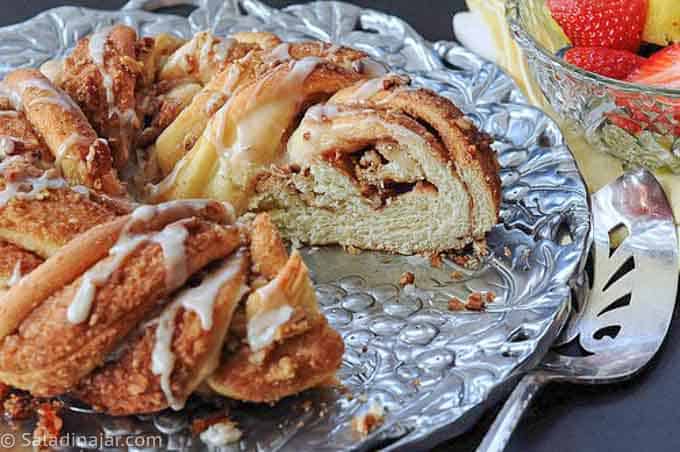 Just like 95% of the yeast bread I make, this recipe is mixed, kneaded and proofed in a bread machine.
However, using a big electric mixer or mixing by hand is fine if you're so inclined. Once the dough rises to double its original size, remove from the pan, shape, allow to rise again, and bake.
RELATED POST: How to Make a Texas-Sized Cinnamon Roll
---
FAQ about Cinnamon Twist Bread
Can I freeze this bread?
Yes, you can freeze the baked twist. Always double wrap. First, cover completely with plastic wrap, then a plastic bag or a piece of foil. Use within a month.
Can I use active-dry yeast instead of instant or bread machine yeast?
Yes. You no longer need to dissolve active-dry yeast. Use the same amount. Note that active-dry yeast usually takes longer to rise. Keep that in mind.
Can I substitute another flour for the unbleached all-purpose flour?
You can sub bleached all-purpose flour. I would not use whole wheat or bread flour for this recipe. It is rich and melt-in-your mouth tender. Bread flour makes a sturdier product–not what you are going for with this recipe.
Can I bake this recipe in my bread machine?
No. This recipe is written to use the bread machine as a dough mixer and kneader only. When the DOUGH cycle completes, you will need to remove the dough and make the twist by hand. Finally, bake the two twists in your conventional oven.
---
How to roll out the dough:
Remove dough from bread pan after completion of the dough cycle.
Divide dough into two equal portions.
Combine streusel ingredients and sprinkle over dough that has been rolled into a rectangle.
Starting with the long edge, roll dough into a long, slender cylinder. Try not to stretch it.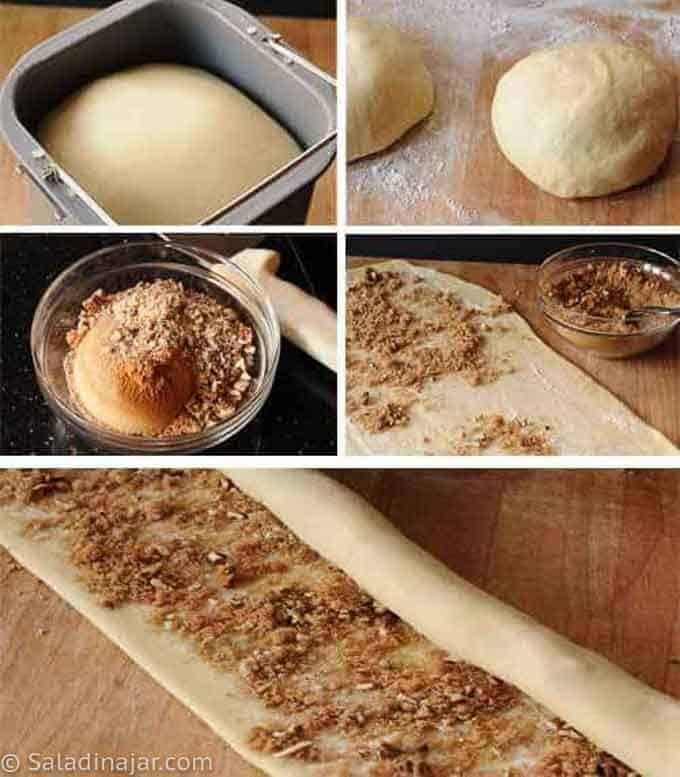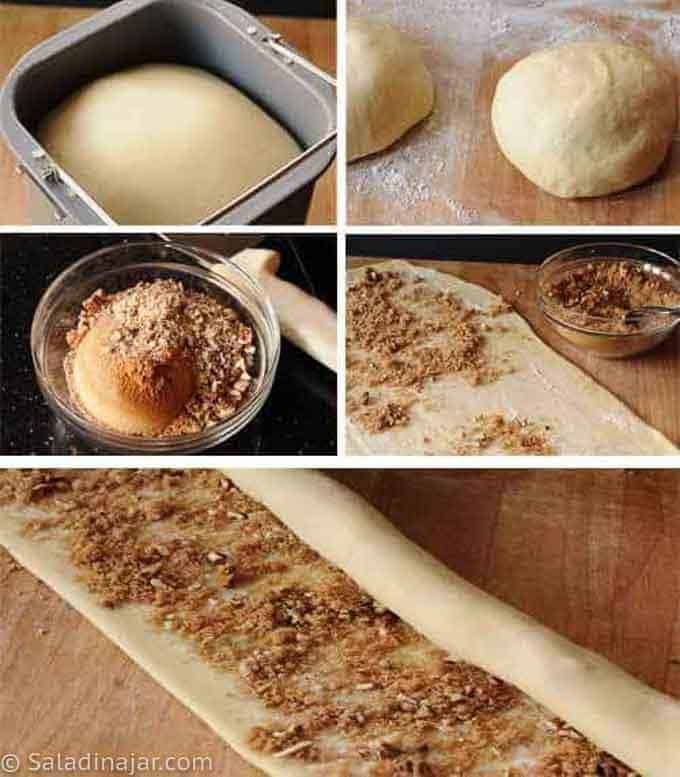 Now it gets a little tricky but the twist is what makes this sweet bread special. Proceed with confidence.
How to twist the dough:
Cut the roll you made as seen above in half lengthwise.
Roll each half so you can see all the layers.
Start at one end and entwine layers as shown below.
Join both ends of twisted dough to make a circle, and carefully placed in a greased round pan.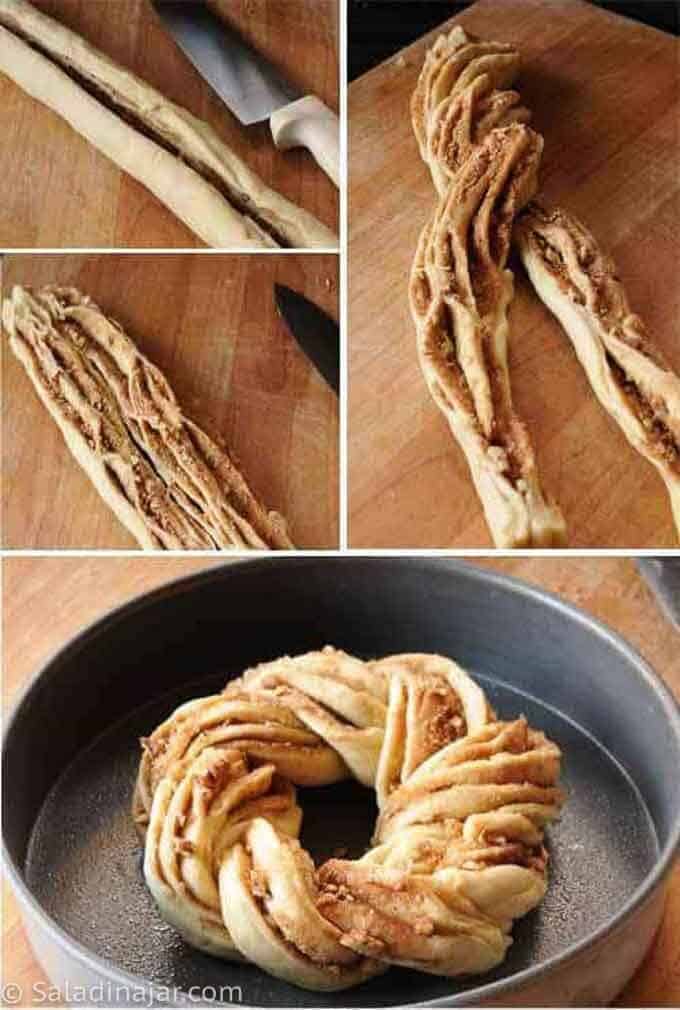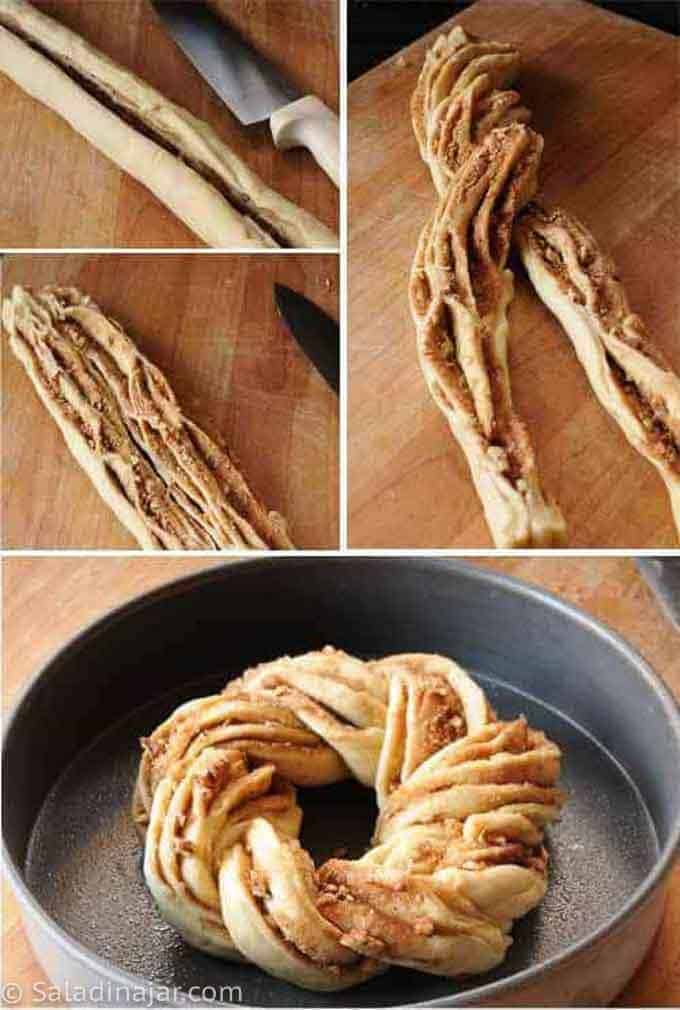 Don't be scared off by the shaping instructions. I've made many less-than-perfect twists in the past but they still tasted incredible. The glaze will cover a multitude of sins. I normally use more icing than pictured here but I wanted you to be able to see the twist.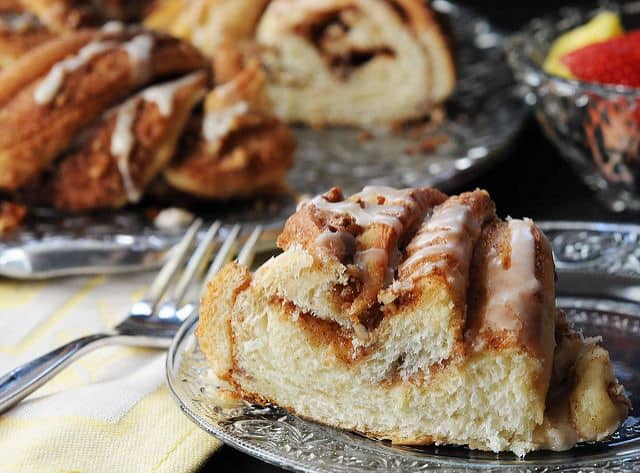 ---
If you enjoy making bread in a bread machine, keep reading.
---
Pin the picture below to save for later.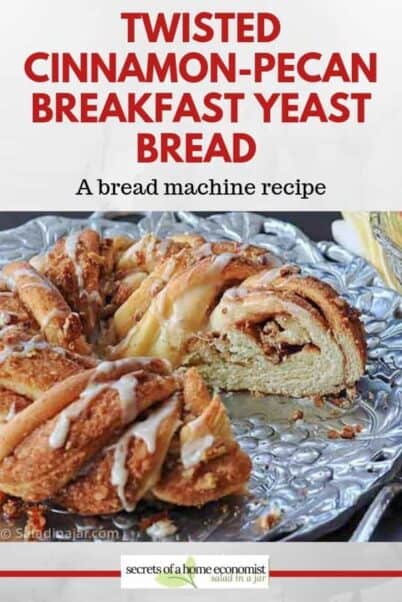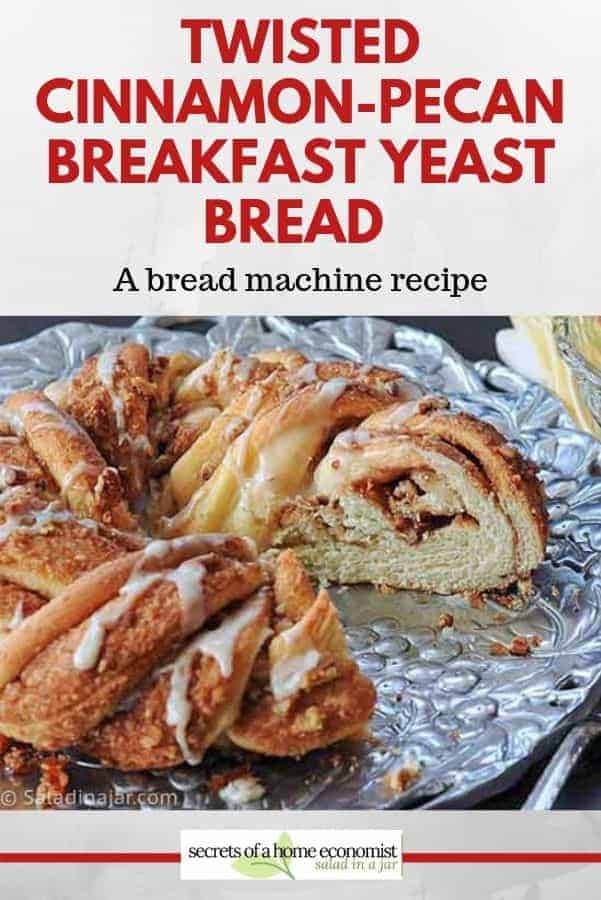 ---
---
---
Did you try this recipe and enjoy it? Consider helping other readers (and me) by returning to this post. Leave a rating on the recipe card itself underneath the picture. Although always appreciated, comments aren't required.
If you have a question or tip to share, please leave it in the regular comments after the recipe so I can answer back. Or, email me privately: paula at saladinajar.com.

Thank you for visiting!
Paula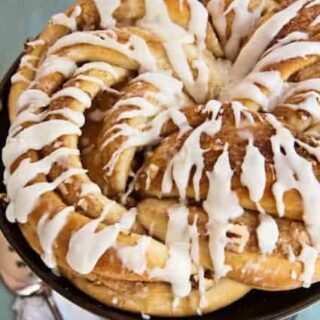 Twisted Cinnamon-Pecan Breakfast Yeast Bread
Prep Time:
2 hours
45 minutes
Total Time:
3 hours
15 minutes
Twisted Cinnamon-Pecan Breakfast Yeast Bread is a yeast bread in the same family as cinnamon rolls--directions for mixing and kneading in a bread machine included.
Ingredients
3/4 cup half & half (warmed for 45 seconds in the microwave)
3 tablespoons sugar
1 teaspoon salt
2 eggs
1/4 cup unsalted butter, softened
3-1/4 (390 grams)-3-3/4 (450 grams) cups all-purpose unbleached flour or bread flour
1 package instant or bread machine yeast or (2 1/4 teaspoons)
Filling:
3 tablespoons butter, softened
1/2 cup packed light brown sugar
2 teaspoons cinnamon
1/2 cup pecans, chopped and toasted
Icing:
2 cups sifted powdered sugar
1/2 teaspoon vanilla
2 + tablespoons milk or black coffee
Instructions
Place all ingredients in order listed into bread machine pan. Set on the DOUGH cycle. After 15 minutes, check the dough for consistency. Add flour 1 tablespoon at a time if too wet, or add water 1 teaspoon at a time if too dry. Dough should stick to the side and pull away cleanly.
When the dough has risen to double its original size, remove it from the bread machine pan and divide it in half. Cover each portion with plastic wrap and let rest 10 minutes.
Roll the first half into a 9 x 20-inch rectangle. Spread with half the butter. Sprinkle with half of filling mixture. Starting at long side, roll up jellyroll style. Pinch seam to seal.
Now it gets a little tricky but the twist is what makes this sweet bread special. Proceed with confidence.
Slice roll in half lengthwise. Place halves side by side, with cut surfaces facing up. Moisten one end of each portion with wet fingers. Push the ends together to join the two pieces of dough. Twist pieces together; shape into a ring and fit into a greased 8 or 9-inch pan. Moisten ends and press to seal.
Repeat process with the other half of dough and filling. Cover and let rise in a warm place until almost doubled in size. Preheat oven to 350˚ F.
Bake for about 25 minutes, or until golden brown. Let stand 3 minutes and transfer to serving platter with a spatula.
Make icing and pour over the top.
Notes
Alternate Mixing Instructions:
Directions for making bread with a stand mixer or by hand:
To make this recipe in a heavy-duty stand mixer, add ingredients to the bowl in the same order. Turn on low to mix until all ingredients are moistened. Using a dough hook, turn speed to 2 or 3 and continue beating/kneading until dough becomes smooth and elastic (about 5-10 minutes). Cover and allow to rise in a warm place. Deflate dough gently and shape as indicated in the recipe.
If making by hand, combine all ingredients into a shaggy ball in a large bowl. Turn dough out onto a floured surface and knead with your hands until dough becomes smooth and elastic, a process that will likely take 10-20 minutes depending on your experience. Place the dough ball into a greased bowl. Cover and allow to rise until double. Deflate dough gently and shape as indicated in the recipe.
Please note: You can substitute active dry yeast for instant or bread machine yeast. There is no longer any need to dissolve it. Be aware that it may be a little slower acting than instant yeast, but it'll get there.
Nutrition Information:
Yield:

16 slices
Serving Size:

1 slice
Amount Per Serving:
Calories:

206
Total Fat:

9g
Saturated Fat:

4g
Trans Fat:

0g
Unsaturated Fat:

4g
Cholesterol:

41mg
Sodium:

169mg
Carbohydrates:

29g
Fiber:

1g
Sugar:

22g
Protein:

3g