Learn how to use a bread machine to make bread you'll be proud to serve and anxious to eat.
Read to the end to get the recipe for Oatmeal-Sunflower Bread as pictured below. It's one of my best bread recipes.
No worries if you don't have a bread machine. You can still make the bread either by hand or with a stand mixer with the directions for conversion here.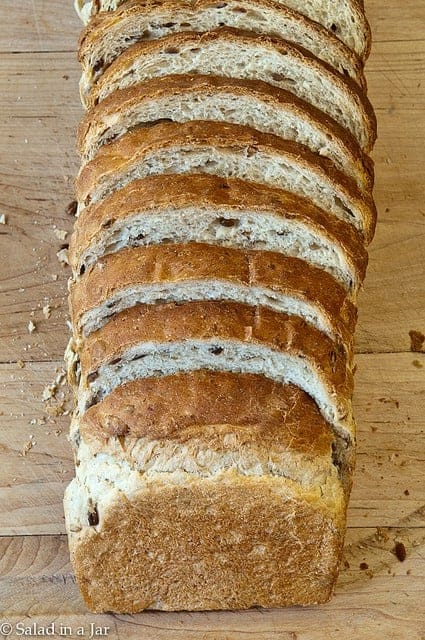 The "automatic-ness" of a bread machine can mess up a loaf when you try to bake it in a bread machine. After all, it operates on a timer, not with a brain. 🙂 When you make bread with the DOUGH cycle only, then take control over the shaping, second rise and the baking, you can finally produce a good loaf of bread every single time.
Why you will fall in love with the DOUGH cycle on your bread machine:
How can you avoid a too-dark and tough crust on my bread?
If you would prefer your bread with the crust and appearance of the bread on the right in the picture below instead of the crust on the left, only use the DOUGH cycle of your machine. Then you will shape the dough by hand, give it a second rise, and bake it in your conventional oven.
Keep reading for the specifics.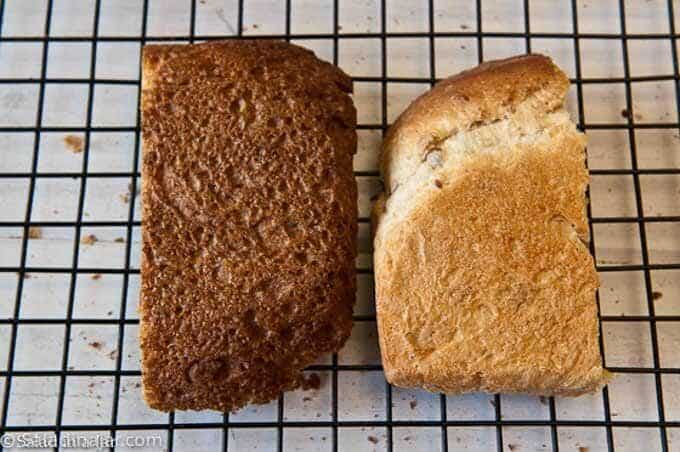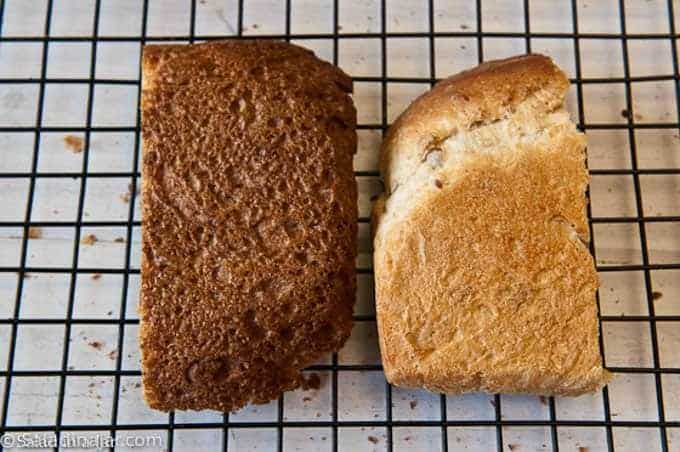 How To Improve Almost Any Bread-Machine Recipe
What follows are general instructions for converting any bread machine recipe baked in the machine into a loaf of bread you will be proud to serve and even happier to eat.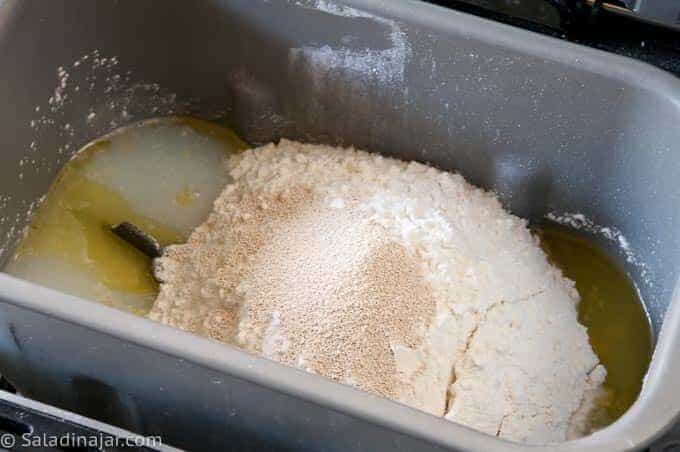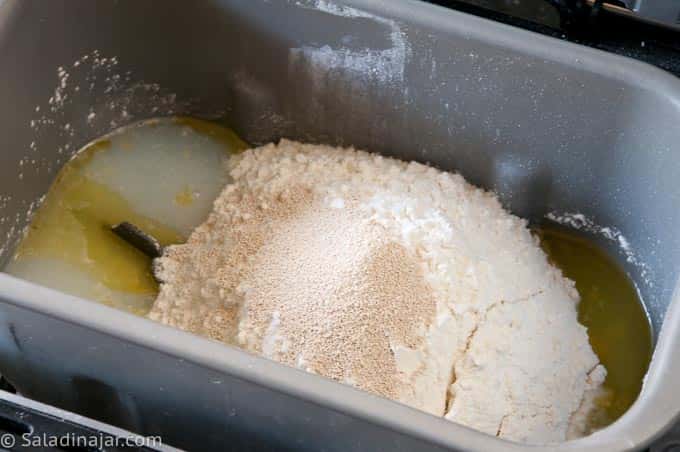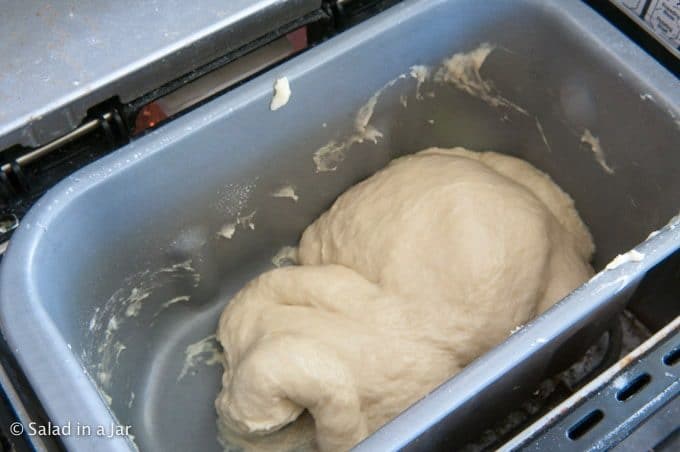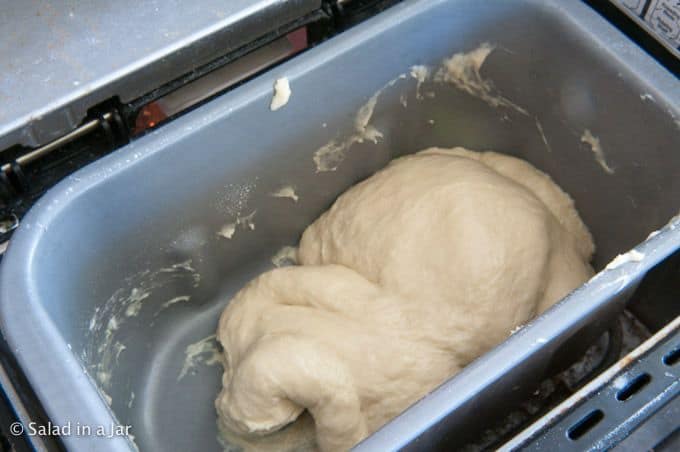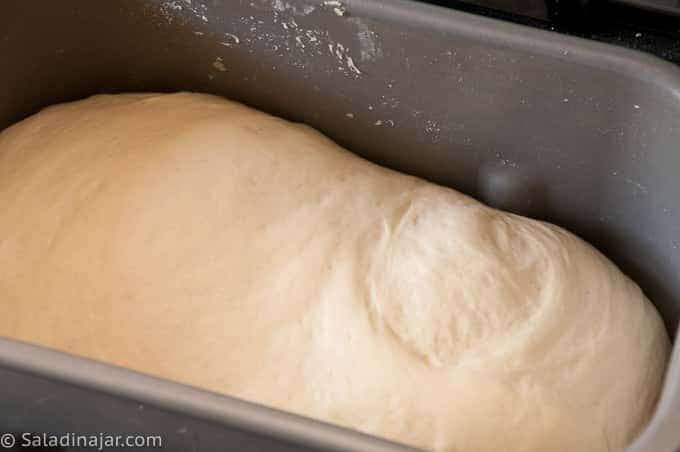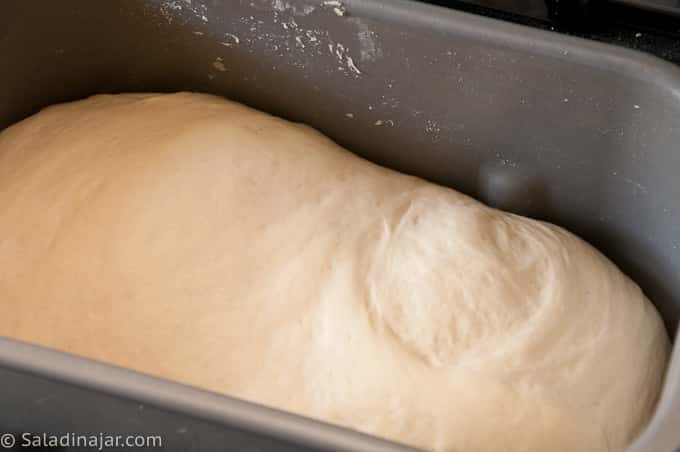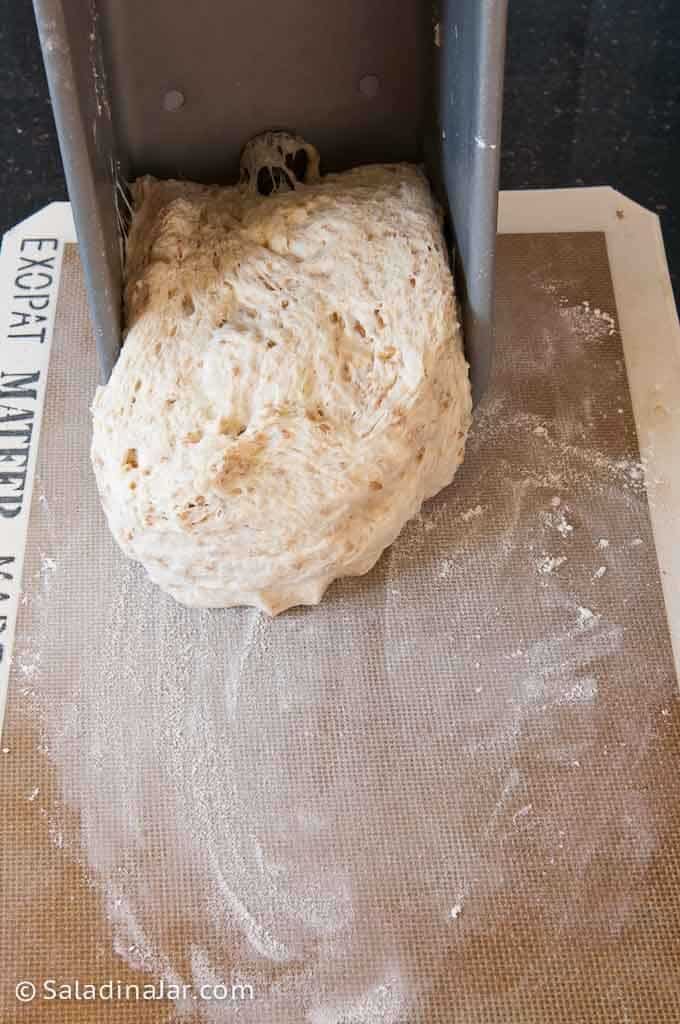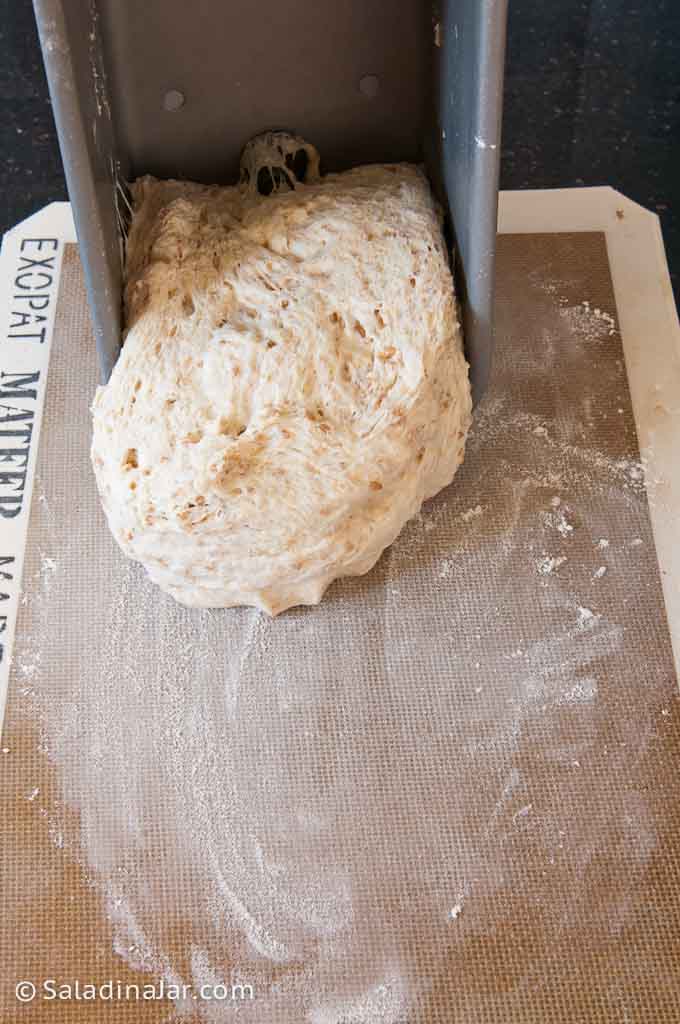 ---
How To Shape the Dough into a Loaf
At this point, you can shape the dough however you wish. The following picture shows how to make a standard loaf.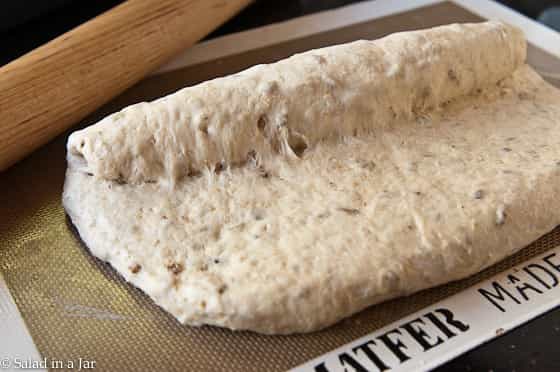 How do I know what size pan to choose?
Deciding the size of loaf pan you want to use is crucial to the end result. Too small and your bread will rise out of the pan. Too large and your bread will appear squatty or like it wasn't allowed to rise long enough.
For a recipe with 3 cups of flour (360 grams), my favorite size is 9 x 4 inches when measured on the bottom. (It will hold exactly 8 cups of water if you want to compare with a pan you already have.)
Your bread dough should roughly fill the loaf pan half full. If it's a dense recipe with lots of seeds, whole grains, or whole-grain flour, it won't rise as high so you could use a slightly smaller pan. If it's a high-rising light and fluffy loaf, you might want to use a larger pan.
If the only pans you have are too small, cut the dough into portions and make rolls, a free-form loaf or a second mini-loaf with the extra dough.
Coat the pan with a vegetable oil/flour kind of spray such as Baker's Joy for easy release.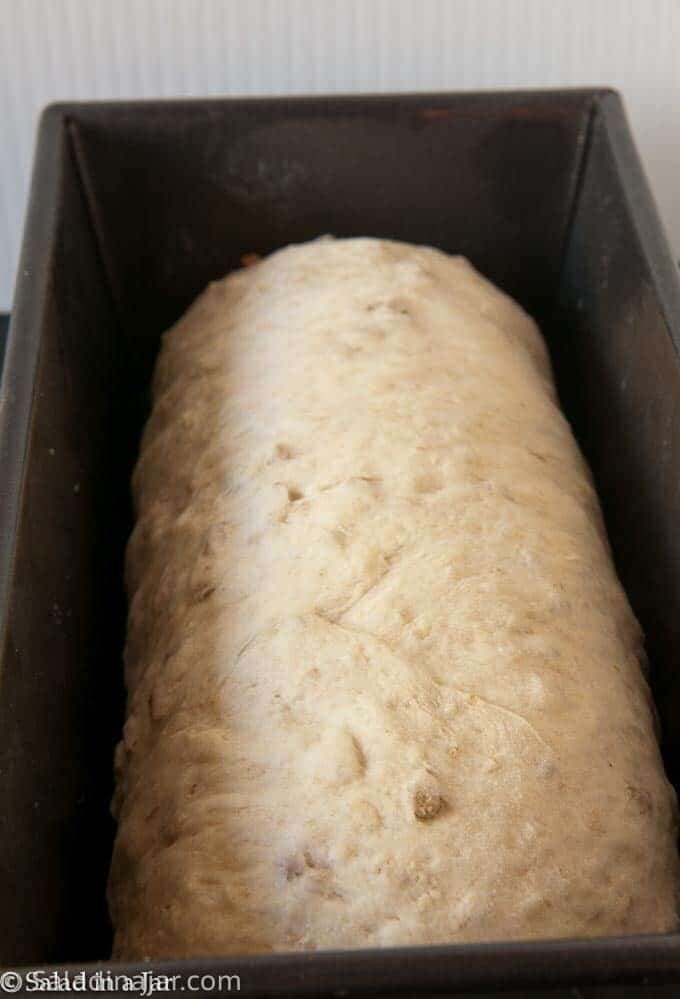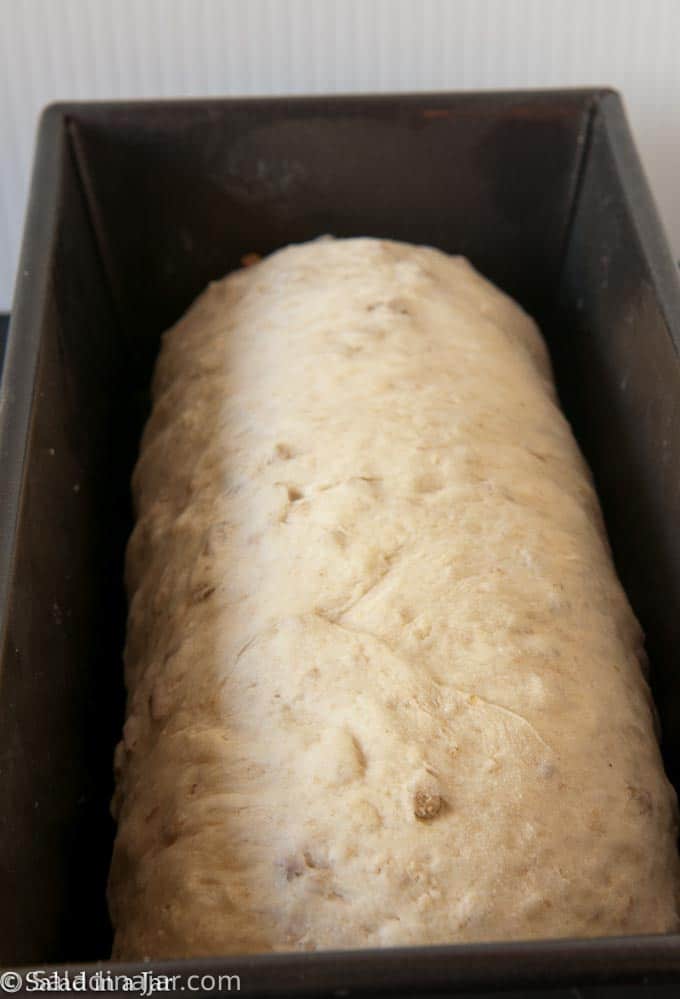 Proofing the Dough After it is Shaped
THE SECOND RISE IS CRUCIAL! Don't leave it out. It determines the final size and texture along with developing the best flavor from the yeast.
Just to clarify: The first rise happened inside the bread machine on the DOUGH cycle after the kneading process. When you pull the dough out of the machine after the DOUGH cycle ends, you are taking control of the rest of the process.
Ambient temperature and the ingredients in the dough will play a part in how fast bread dough rises. These factors are variable so when you control it yourself, you can get it right every single time.
How do I proof the dough the second time?
Place the loaf pan in a warm place to rise. My favorite way to create a warm place is to boil a cup of water in a microwave for 5 minutes. Leave it in there and place the covered dough next to it inside the closed and steamy microwave.
DO NOT TURN ON THE MICROWAVE WITH THE DOUGH IN THERE. It will usually take 30-45 minutes to rise.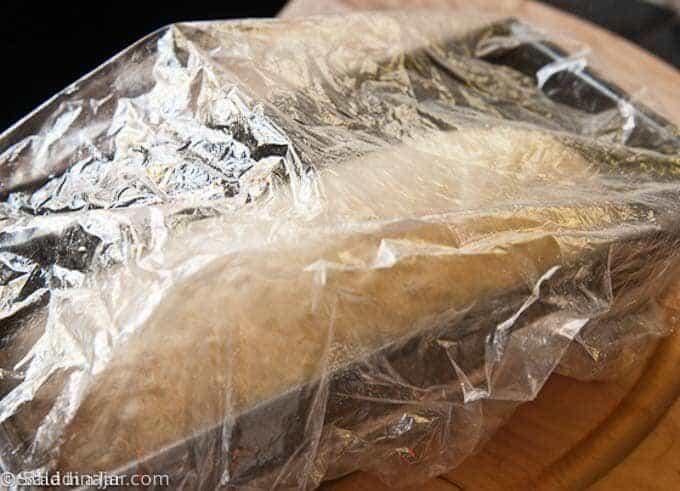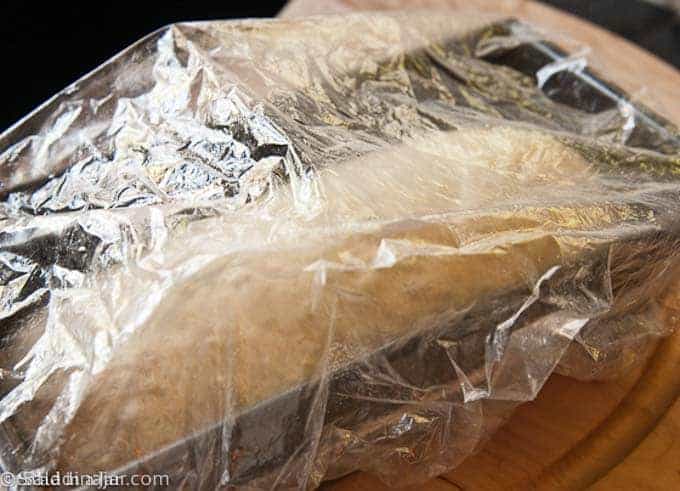 The dough should rise to about one inch above the top of the pan. If it proofs too much the power of the yeast is exhausted. Your loaf may fall or have a big hole in the middle. Unfortunately, you may not realize your error until you slice into the baked loaf.
What if my dough already rose too high on the second rise?
If you know that loaf has risen too much (maybe you forgot about it), dump the dough out of the pan onto your floured surface. Push it down, knead a couple of times and reshape it. Let it rise again, but this time watch closely.
No guarantees this will work, but it's better than baking a loaf that produces an overly yeasty flavor, a poor texture, or collapses in the middle.
How can I tell if the dough has risen enough in the pan?
If the dough doesn't rise enough, your bread will be compact and smaller than it should be. Use a gentle finger to press on the side of the bread. It should leave a dent that doesn't bounce back.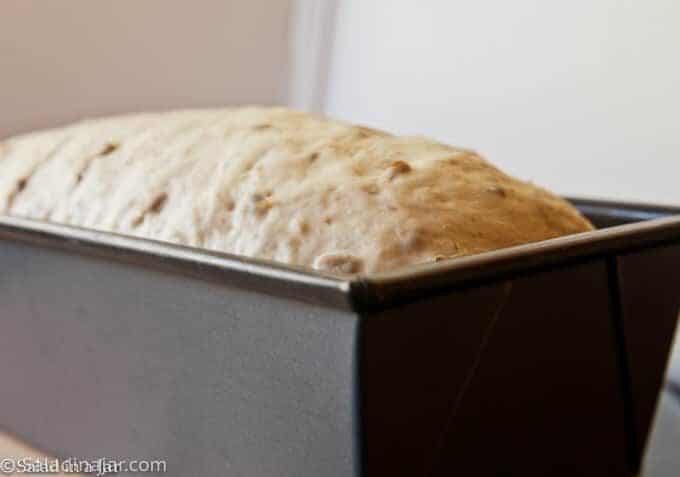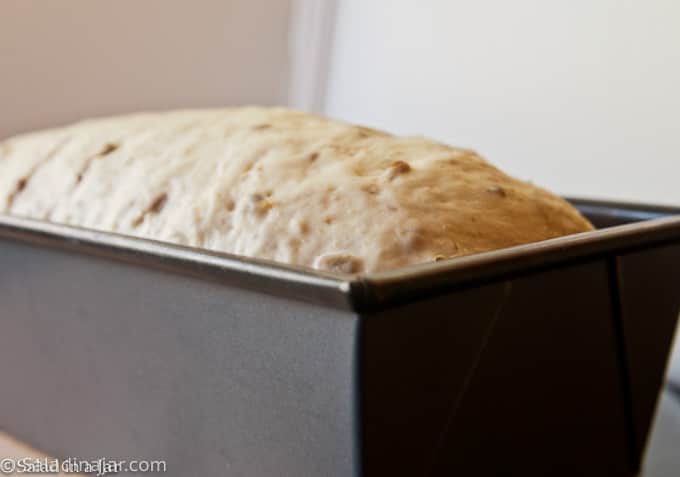 ---
Determining the Oven Temperature and Cooking Time
Besides choosing a pan, determining the oven temperature is your next challenge. A good place to start is 350-375˚ F for about 30-40 minutes. The heavier and denser your bread recipe, the slower you should bake it.
A light-textured loaf like a ciabatta or skinny French Bread will do better in a hotter oven somewhere in the range of 400-425˚F.
Some loaves may take more time or need to be covered half-way through the baking time. A piece of aluminum foil will protect a crust that is browning too quickly. Next time, move the bread to a lower rack in the oven and see if that doesn't solve the problem.
These details will require your attention the first time you make this bread, but once you make a recipe two or three times, you'll figure it out. It's worth the trouble!
---
Kitchen Secret for New Bread Bakers
If you are a bread-making beginner, I can't stress how helpful it is to buy a quick-read thermometer with a probe. When you put the probe into the middle of the bread, it should read 190˚F (or pretty close) when it's baked all the way through.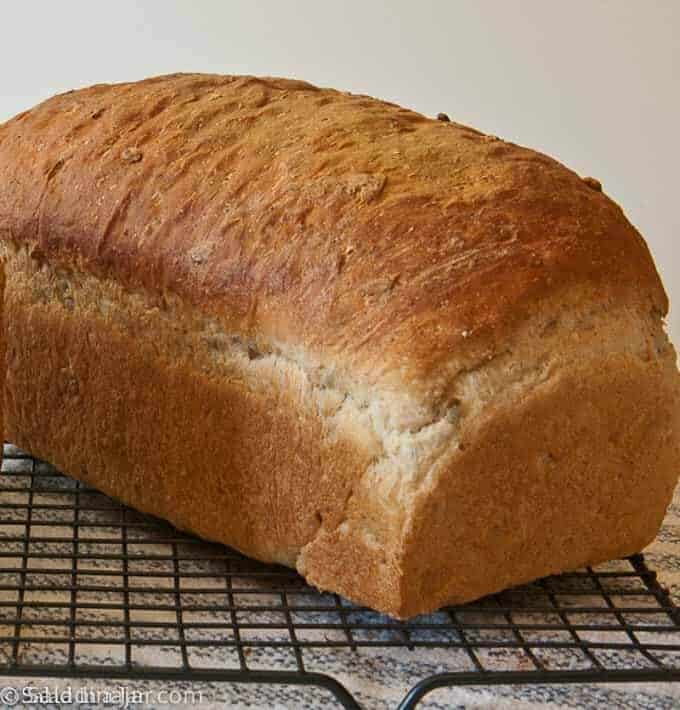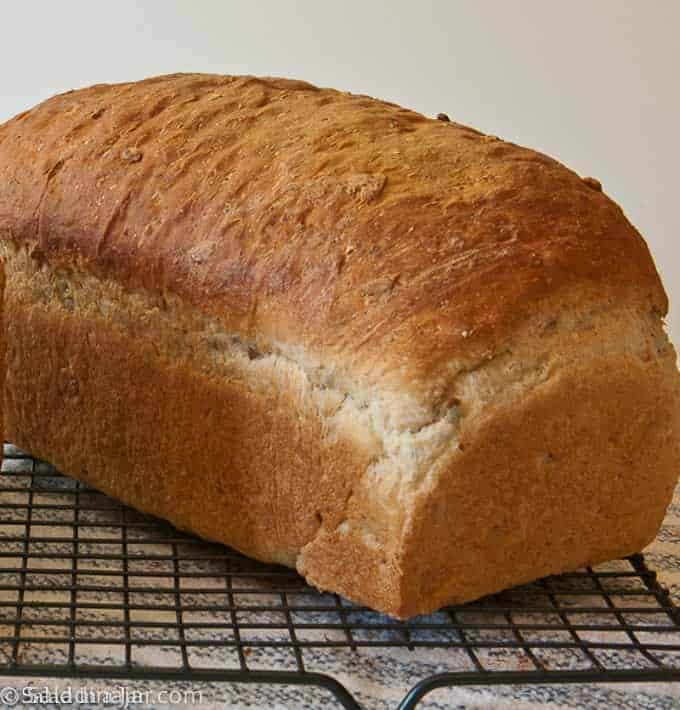 This particular loaf is a perfect sandwich bread because the flavors are rather unassertive and won't compete with sandwich ingredients. Nevertheless, it's more interesting and nutritious than a plain white loaf.
To freeze, slice it first, then double wrap it.
---
---
Pin the picture below to save for later.
---
---
---
Did you try this recipe and enjoy it? Consider helping other readers (and me) by returning to this post. Leave a rating on the recipe card itself underneath the picture. Although always appreciated, comments aren't required.
If you have a question or tip to share, please leave it in the regular comments after the recipe so I can answer back. Or, email me privately: paula at saladinajar.com.

Thank you for visiting!
Paula
---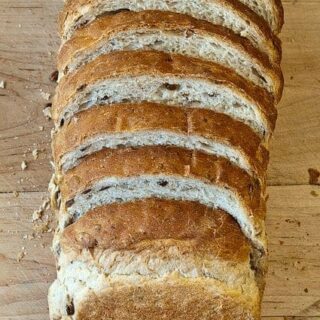 Oatmeal-Sunflower Bread Recipe
Prep Time:
3 hours
30 minutes
Total Time:
4 hours
5 minutes
Oatmeal-Sunflower Bread has a mild, non-assertive but nutty flavor that's perfect for sandwiches and toast.
Ingredients
1/2 cup (114 grams) milk
1/2 cup (111 grams) water
1/4 cup (85 grams) honey
2 tablespoons (28 grams)unsalted butter
1 1/4 teaspoon salt
3 cups (360 grams) bread flour
1/2 cup (50 grams) quick or old-fashioned oats (not instant)
2 and 1/4 teaspoons bread machine or instant yeast
1/2 cup (64 grams) hulled sunflower seeds, toasted
Instructions
Warm milk and water in the microwave for one minute on HIGH.
Add to bread machine pan along with remaining ingredients except seeds in order given.
Select "Dough" cycle and start. After about 5-10 minutes, lift the lid and add extra liquid or extra flour 1 tablespoon at a time, if necessary, to correct consistency. Dough should stick to side of pan, then pull away.
Add the seeds at the Raisin/Nut signal or 5-10 minutes before the kneading cycle ends. If you miss it, you can always work them in by hand when you get ready to form the loaf.
When dough cycle has completed, remove dough to a floured surface and flatten into a rectangle. Roll into a cylinder. Place into a 9x5-inch greased loaf pan with the seam down and tucking the ends under.
Loosely cover (I use a shower cap or tea towel) and set in a warm place until dough rises approximately 1/2 to 1 inch above the rim of the pan.
Preheat oven to 350 degrees.
Bake for 30-35 minutes or until internal temperature reaches 190 degrees F. I suggest you test it with a thermometer if you are a novice bread baker.
Note: Check loaf half way through baking and cover with foil if getting too brown.
Notes
Directions for making bread with a stand mixer or by hand:
To make this recipe in a heavy-duty stand mixer, add ingredients to the bowl in the same order. Turn on low to mix until all ingredients are moistened. Using dough hook, turn speed to 2 or 3 and continue beating/kneading until the dough becomes smooth and elastic, about 5-10 minutes. Cover and allow to rise in a warm place. Deflate dough gently and shape rolls as indicated in the recipe.
If making by hand, combine all ingredients into a shaggy ball in a large bowl. Turn dough out on a floured surface and knead with your hands until dough becomes smooth and elastic, a process that will likely take 10-20 minutes depending on your experience. Place dough ball into a greased bowl. Cover and allow to rise until double. Deflate dough gently and shape rolls as indicated in the recipe
Please note: If you substitute regular yeast for instant or bread machine yeast, you must dissolve it first before adding to the dry ingredients. Stir it into about 1/4 cup of the lukewarm liquid called for in the recipe. Let sit for about 10 minutes. Add to other wet ingredients and then add dry ingredients. Proceed as directed to knead and shape bread.
Recommended Products
As an Amazon Associate, I earn from qualifying purchases. But don't worry. This doesn't change the price you pay.
Nutrition Information:
Yield:

12
Serving Size:

1
Amount Per Serving:
Calories:

210
Total Fat:

6g
Saturated Fat:

2g
Trans Fat:

0g
Unsaturated Fat:

3g
Cholesterol:

6mg
Sodium:

563mg
Carbohydrates:

34g
Fiber:

2g
Sugar:

6g
Protein:

6g